Our 5 Picks for Airpoints Credit Cards in NZ
While booking flights by cash is great, you won't get any benefits or rewards than if you use a credit card. So in this article, we've collected Airpoints credit cards in NZ to give you value.
There is a wide variety of Airpoints cards available, differing widely in earning rates, fees, and rewards. Because of this, you might be at a total loss at where to start.
But we're here to help you with our guide on how to choose an Airpoints credit card. This will make you ready to pick one from our list later on.
After that, we'll be showing you Airpoints credit cards in NZ. So let's begin!
Things to Consider before Applying for an Airpoints Credit Card
An Airpoints credit card is a special type of card that lets you earn Airpoints Dollars.
With enough Airpoints Dollars, you can book a free flight or upgrade your flight, as well as enjoy a wide range of discounts and privileges.
In finding Airpoints credit card, here are the important things you should consider:
1. Travel Frequency
You have to first think about how much you plan to travel and spend each year. To get the most value for your Airpoints credit card, you would have to travel frequently.
Airpoints credit cards have costly annual fees and high-interest rates. So if you travel only once or twice per year, you can save more by using a cashback or rewards card instead.
2. Airpoints Earn Rate
Earning Airpoints Dollars is what it's all about. The easier it is to earn them, the better.
Go for easy-to-earn Airpoints Dollar like 1 AD for every $75 spent or $100 spent. Also, the minimum spend is lower when you buy products from Air New Zealand.
Aside from that, some cards, like those of Kiwibank, let you purchase Airpoints Dollars. These can be used to top up your Airpoints Dollars, say, if you come up short for a free flight.
3. Interest Rate
Airpoints credit cards have interest rates ranging from 16.95% to 20.95% p.a., higher than most cards. The safety net would only be interest-free periods of up to 44 or 55 days.
High-interest rates are influenced by Airpoints Dollars, rewards, and benefits of the card. And so, you should use them so that you'll save on costs and get rewards.
4. Annual Fee
For Airpoints credit cards, annual fees are incredibly high. This can be between $55 to a shocking $1,250, such as for American Express Platinum Airpoints Card.
But its interest rate is 0% and you earn membership rewards, which can then be converted to Airpoints Dollars.
Interest rates, cash transfer rates, and annual fees just balance out with each other. Thus, it's important that you consider the whole picture when choosing a card.
5. Rewards and Perks
Rewards and perks you can get with an Airpoints credit card include Status Points, travel insurance, partner cards, lounge and VIP passes, Koru club vouchers, and more.
These make your travels much more convenient and lighter on the pocket.
6. Bonus Offers
Never miss out on bonus offers such as interest-free periods or sign-up offers. These give you savings and Airpoints for buying from Air New Zealand, Star Alliance, and partner airlines.
Airpoints Credit Cards in NZ
Now that we have the basics covered, here's our roundup of Airpoints credit cards in NZ!
1) ANZ Visa Business Airpoints Credit Card
For Airpoints Credit Card for Business Travels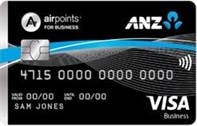 If you frequently travel abroad for business trips, the ANZ Visa Business Airpoints Credit Card would be perfect.
With this card, it's very quick to gather Airpoints Dollars. You earn 1 Airpoints Dollar per $75 spent or per $50 of direct purchases with Air New Zealand.
Additionally, you can earn 1 Status Point for every $250 of purchases. Status Points move you up until you reach Silver, Gold, or Elite status, which lets you enjoy premium travel benefits.
If your business is newly opened and less than 2 years old, the account fee—normally $145 p.a.—is waived for the first year.
The interest rate is relatively high at 19.95% p.a. However, ANZ Visa Business Airpoints card has 44 interest-free days.
Also, you can add up to 9 cardholders on one account for $10 each person. You are also protected by a Liability Waiver Insurance for unauthorised charges made on your card.
Pros
Fast-to-earn Airpoints
No joining fee and membership discounts for Koru Club
Additional way to earn Airpoints
Can have 9 cardholders on one account with individual spend limits
44 interest-free days on purchases
Increased warranty on your business purchases
Has Liability Waiver and Warranty Insurance
No account fee in the first year (for businesses less than 2 years old)
Cons
High cash advance rate of 19.95% p.a.
Customer Reviews
In using ANZ Visa Business Airpoints card, remember that you'll only be awarded Airpoints in your business account only and not in your individual account.
Moreover, here's a review from an independent review site, Point Hacks:
"The ANZ Visa Business Airpoints is an Air New Zealand Airpoints Dollars (APD) earning credit card issued by ANZ, targeted towards SME business owners. The card comes with a waived joining fee and membership discount to Air New Zealand Koru Club, and the ability for the business owner to earn status points on everyday spend."
2) American Express Airpoints Platinum Card
For Overall Airpoints Card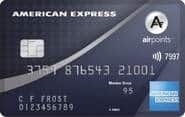 With the American Express Airpoints Platinum Card, you can maximise your Airpoints Dollars, while travelling in luxurious comfort and with peace of mind.
Its undisputed earning power of 1 Airpoints Dollar for every $59 spent makes it an impressive Airpoints credit cards in NZ.
There's even a special offer that lets you get 400 bonus Airpoints Dollar. Note that you have to apply first, and when approved, spend $1,500 using the Amex card within the first 3 months.
You also get complimentary passes to the American Express lounges in Sydney and Melbourne airports, as well as the Strata Lounge in the Auckland airport.
The purchase rate is 19.95% p.a., and the annual fee is $195. Apart from that, a 55-day interest-free period comes by owning this platinum Airpoints card.
Pros
Swiftest way to earn Airpoints Dollar
55-day free-interest period
Complimentary lounge access
Koru membership discounts
Travel Insurance
AMEX cards can be used in many places
400 Bonus Airpoints special offer
Fraud Protection Guarantee
Cons
Expensive account fee of $195 p.a.
3) Kiwibank Air New Zealand Airpoints Platinum Visa
For Airpoints Card for Frequent Flyers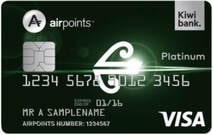 Kiwibank Airpoints Platinum Visa is a superior credit card with Airpoints and Status earns, a reasonable account fee, and built-in travel insurance.
Although Kiwibank Airpoints card's earn rate (1 AD for every $75 of eligible spend) is a bit lower than that of AMEX Platinum credit card, it's $200 less for annual spending up to $50,000.
You can be travel-insured if you pay for your travel and accommodation costs before your flight. However, note that COVID-19 claims are not covered by the travel insurance.
To sweeten the deal, you get 2 free Air New Zealand lounge access for $30,000 spend. Furthermore, no joining fee on Koru memberships and $145 off the yearly fee.
Pros
Earns Airpoints Dollars and Status Points
Reasonable account fee of $75 half-yearly
Built-in travel insurance (conditions apply)
Get 2 pairs of Air New Zealand lounge eVouchers per year for $60,000 spend
Koru membership discount
Interest-free period of 44 days
Cons
4) American Express The Airpoints Card
For Airpoints Credit Card with No Annual Fee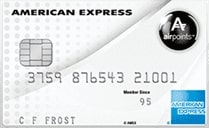 American Express is indeed 'The Airpoints Card' and the only one without any annual fees. However, for every $100 spent, you get 1 Airpoints Dollars.
The interest rate is slightly better at 19.95% p.a. Coupled with 6 months zero-Interest, it's a brilliant low-rate Airpoints credit card.
You can sign up for their bonus offer of 50 free Airpoints for $750 worth of spending in the first 3 months of having the card.
You can also manage your account anywhere and anytime. Furthermore, online fraud protection guarantee covers you from theft charges made using your Airpoints card.
Pros
Great Airpoints Dollar earn rate
No annual card fee
A little lower interest rate
0% interest for purchases on the first 6 months
55 Interest-free days
50 Bonus Airpoints to new cardmembers
Online Fraud Protection Guarantee
Cons
No benefits and perks
Airpoints are valid for 4 years only
5) Kiwibank Air New Zealand Airpoints Low Fee Visa
For Budget Airpoints Credit Card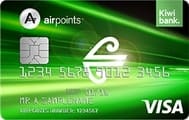 If you're on a budget and travel only a few times in a year, Kiwibank's Air New Zealand Airpoints Low Fee Visa is a fantastic option.
The card holds a mind-blowing interest rate of 16.90% p.a., and a low account fee of $25 every year.
However, 1 Airpoints Dollar would require you to spend $160. There is up to a 44-day interest period as long as your full monthly balance has been paid by the due date.
Since it's a VISA card, it can be used both domestically and internationally. Plus, any joint or additional cardholders would have to pay $10 each.
One caveat though: it would take a big $4,000 spend to break even on the $25 account fee per year. In this case, a better option would be cashback cards.
Pros
Market-leading interest rate
Low account fee
Up to 44 interest-free days
Ability to purchase Airpoints Dollars
Visa can be used worldwide
Cons
High cash advance rate
Takes $4,000 per year to break even on the annual fee
With that, we end our picks for Airpoints credit cards in NZ. These credit cards are excellent options to use whenever you travel.
Any questions or comments about our list? If you have one, just leave a comment, and we'll get back to you.
Once you get your new Airpoints credit card, you're ready to travel. And if you need someone to create a great itinerary for you, you can check out travel agents in Christchurch!