The 15 Best Alarm Clocks in New Zealand
With the brilliant invention of smartphones, we have seen less demand for alarm clocks. But if you're a fan of these classic gadgets, you're at the right place, as we rounded up the best alarm clocks in New Zealand for today's lineup.
Alarm clocks help a ton when you need to rise early to catch the train or bus to work. They're handy for professional athletes as well who don't want to miss their morning run or workout.
Just like all things tech, alarm clocks have modernised through time — from the classic analog model to digital displays through to quartz and a Doctor Who clock that displays the time in the air.
Here, we will go over the basics first so you know what clocks are the most comfortable for you, and to help you pick from our list below.
Without stalling any longer, let's start the clock!
Things to Look for in an Alarm Clock
Before we move on to our product list, here are the fundamental things you should look for in an alarm clock:
1) Alarm Clock Type
Determining the clock type will be a decisive factor that will dictate the rest of your use or function for it. An alarm clock can be of two types, analogue and digital.
Analogue clocks are composed of a dial, numbers from 1 through 12, and hands. They are battery-powered, with bells on top to ring the alarm.
Digital clocks are LED-lit with digital time. You will find a great variety of shapes and sizes with different features.
The great thing about analogue clocks is that they are travel friendly, and do not need a plug to function.
Only drawback is that the alarm can sound a hundred decibels when it goes off, and that is really disturbing.
Pricier digital models have more functions than the traditional ones — like you can play the radio or talk show as an alarm instead. But the lights can have too much of a glare at night, and that might prevent you from sleeping well.
2) Comfortable
It all comes down to what alarm clock you're comfortable with.
Look for ones where you can adjust the brightness or volume levels. But be careful in doing so that it won't come as a shock to your ears and neighbours.
3) Easy to Use
This goes hand-in-hand with being comfortable with the clock. Being easy to use means you can set the alarm, time, date or other features on it without difficulty.
In some wood-grain alarm clocks, the time display goes out every few seconds which can save the battery. But tapping a few times to make it pop up again is time-consuming and distracting.
4) Size
Size is another factor to consider in terms of the dimensions and the display. Are you more used to larger or smaller displays? Is the font just right and pleasant to glance at?
If you're moving or travelling with it, smaller alarm clocks are the better choice. Sony has this cube-shaped display that is sleek and portable so that will help.
As for larger clocks, they are suitable only to be used and left at home. There are many elegant designs that will go well with your room, bedside table, or mantle.
5) Features
Last but not least, you have to look for the features in a product.
Let's start with analogue features. Perhaps, it has an easy-to-press snooze button, glows in the dark, has decorative clock hands and a light-up function.
It gets even better with digital features where the design can look unique, come with a built-in mp3 player, USB connectivity, wireless phone charger and voice control, and so on and so forth.
This may add to the price of these alarm clocks, but if you're on the practical side, you simply need a clock that works and can sound off an alarm that you're comfortable with.
The Best Alarm Clocks in New Zealand
Now that you know about the features, we give you the best alarm clocks in New Zealand!
1) Doctor Who Dalek Projection Alarm Clock
Best Futuristic and Cool Alarm Clock
Price: $74.80
Okay, ready for a super-cool alarm clock? Check out the Dalek Projection Alarm Clock from the Doctor Who series. If you're a fan of that show, this is for you!
Let your room glow in blue with Dalek's projected digital time. Its focus can be adjusted so that you are comfortable in seeing the time.
The alarm can also be set with Dalek yelling out 'Exterminate!' It's quite futuristic, fun and unique — and can be a good way to impress your friends who are fellow Doctor Who fans.
But if you'd like to turn the digital time off, you can still see the time from a display on the droid's base. It's 9-inches tall and you can place it in your room, living room or kitchen.
This alarm clock is excellent to give as a present to others… but you can buy one for yourself too!
Highlights
Excellent and unique gift item
Futuristic digital display
Featuring Supreme White Dalek from the Doctor Who series
Alarm mode
9-inch tall
Customer Reviews
It operates on a set of batteries and has sound effects to make any Doctor Who fan's day as it did with lots of customers. However, some suggest that the projection alarm clock would be better if it had plug-in power rather than batteries.
Let's hear about Sister's review:
"OK, my granddaughter bought this because she's a rabid Dr. Who fan. I was unsure what to expect, but when it arrived, i was very impressed. Not only is it just as cute as can be, it fits easily on her bedside table. The projection of the time is great, even on our 15 foot ceilings. The next morning was the wonderful part. Through the entire house you heard the threat of the Dalek, and then the teenage AAAIIIGGGHGHH! as she poured out of her bed, trying to figure out how to turn it off. I no longer have to go in and repeatedly remind her that she had better get up or else. This does it for me."
Also, another customer mentioned:
"This is an amazing alarm clock. I bought it for my daughter for Christmas and was really impressed by it. Perfect gift for the Dr Who fan. She states it's extremely easy to operate. The instructions are easily followed and understandable. She had it out and set up within minutes. It's even loud enough to wake her up. Which is saying something, because she's a very heavy sleeper and works midnights. The projection is very clear and bright. The detail in this little thing is simply amazing. It's beautifully crafted. Great price and quick shipping. Perfect for a Dr Who fan!"
2) Lumie Bodyclock Spark 100 Wake-up Light Alarm
Best Alarm Clock for Gentle Sun-Mimicking Light
Price: $109.56
Feel the sunrise as you wake up to a great day ahead! The Lumie Bodyclock Spark 100 mimics the light of the sun by changing colour from gentle amber to dim red yellow.
Shaped like the sun (or an egg), it displays the time in a neat LED screen. You can adjust the light intensity and set an alarm with a beeping sound.
You can also use this as a bedside lamp while you're reading a riveting story or poignant biography at night. And it could be a pleasant night light too!
When this thing's alarm goes off, you can snooze it by simply tapping it. What's more, it is also light-sensitive, meaning it adapts to the lighting conditions in your room.
This would be an excellent choice for those who have trouble sleeping. That's because it reduces stress and therefore helps you start a positive, happy day!
Highlights
Uses mixed LED lights
Mimics the light of the sun
Neat and elegant display
Can be used as a bedside lamp or night light
Snooze by a simple tap
Optional beeping tone
Light-sensitive
Decreases stress
Customer Reviews
For one customer, this alarm clock offers gentle and sophisticated natural light to wake him up. The only design flaws he mentioned were that he couldn't see which buttons to press when it's dark, and the tedious process of setting it up every night.
One customer, Maria posted a review:
"I love waking with the light, but in the summer the dawn is too early for me so I sleep with black out blinds. Bodyclock Spark now wakes me at the time I choose with my own personal dawn. This is a simple product doing what I want and no more, the light it produces is lovely, and every detail has been well thought out, such as the clock display auto-dimming to low or off at night so it doesn't disturb my sleep. I found it very easy to use and set up. There's a sunset feature too though I've not tried that yet. This is the second Lumie light I've had and I'm especially pleased with this design, a nice clean look."
Additionally, Tink stated:
"I really struggle to wake up on dark mornings. However, I suffer from migraines, so can't tolerate a light that's too bright and glaring.
The colour of the light on this Lumie clock is beautiful and natural. Being able to adjust how bright it goes with the alarm is ideal.
It is incredibly easy to operate, I had the clock and alarm set up in a minute or two.
I didn't need extra alarm sounds, as I already have an excellent white noise/nature sounds machine. The optional 'beep' with the alarm is a useful addition, I find it enough to help wake me up without being shocking.
The clock is exactly as described, and I am very happy with it; it has made my mornings much easier."
3) Lenoxx CRW25 Alarm Clock with Wireless Charger
Best Alarm Clock for Wireless Charging
Price: $50.02
The Lenoxx Alarm Clock is an alarm clock, radio and wireless charger in one! That's why we know a lot of people will love it — it offers so much in one package.
First off, the digital time is displayed in quaint, bold numbers that make it easy to see.
The charger is compatible with newer phones like iPhones, Samsung Galaxies, and others. Just place it on top of the clock and the charger will do the work for you seamlessly!
There's also an FM mode with 20 stations you can tune in to. You can even set the clock to radio sleep countdown so that it'll automatically turn off in up to an hour and a half.
In addition to plugging the clock into an outlet, there's an option to also put in extra batteries. So, in case of a power outage, you won't have to set the time all over again.
And if your current phone won't jive with the clock's charger, there's a USB port you can use instead. So for great value, style and a bedside wireless charger, this alarm clock is a win-win!
Highlights
3-in-1 alarm clock
Charger works with most new smartphones
Quaint and large digital display
FM mode with 20 stations you can listen to
Works via power outlet, batteries or both
Radio sleep countdown
Has a USB port
Great-value clock
4) Secret Agent Alarm Clock
Best Novelty Alarm Clock
Price: $49.28
Have you seen the James Bond movies? You gotta admit, being a secret agent is awesome! And you'll feel like one with this Secret Agent Alarm Clock. Just point it at any surface and pull the trigger to see the time.
It projects a stylish red LED time readout on your wall, ceiling or floor. The time will then be displayed for a period of 30 seconds each time.
What's more, it can function as a vibrating alarm clock too! So you can place it under your pillow and it will keep you awake if somebody tries to betray you out of the blue — or if you have to get up early in the morning.
It uses 2 AAA batteries. Now you're ready to see the time whenever you want — just be careful not to point at someone!
Highlights
Projects time in stylish LED readout
Unique gift item
Vibrating alarm clock
Uses 2 AAA batteries
Customer Reviews
This spy alarm clock has satisfied many buyers who mostly gave it as a gift to their children. 'Easy to set up, very fun, and works well day or night' — you hear this a lot in the reviews.
An Amazon buyer, Mel, posted her review about the product:
"Read mixed reviews about this product but decided to purchase anyway…..I'm so glad I did! It is fantastic and my 13 year old son loves it. It is so simple to use and setting the time and alarm clock is easy if you read the instructions! At the touch of the trigger the time is projected onto most surfaces and is crisp and clear, even in daylight but, obviously much better in the dark! The alarm is a vibrating sound, and in my opinion, is very loud, even if you put it under your pillow it can be heard. My son now wakes up in the morning, loves his new alarm clock so I'm giving it the full 5 stars ⭐⭐⭐⭐⭐. Very very happy. Deffo recommend."
Also, check out Janet's unique take on this:
"So useful if you need to check the time in the dark, e.g. when camping or if you are disabled and have limited movement. It has an alarm too."
5) Grand Hotel Desk Alarm Clock
Best for Classic Desk Alarm Clock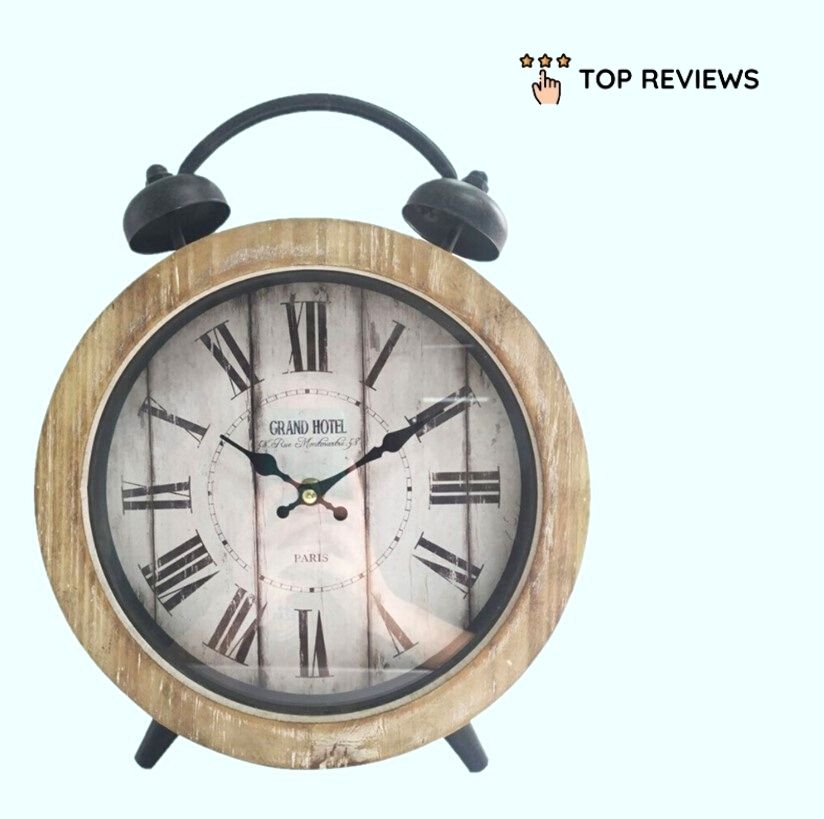 Price: $61.17
If you're going for an alarm clock with classic appeal, then you might like the Grand Hotel Desk Alarm Clock! It has an elegant and formal style only enhanced by its Roman numeral hour indicators.
This desktop clock is crafted from quality MDF and metal that will stand the test of time. Its natural colour scheme and design enables it to blend into any home background.
The alarm also rings at just the right loudness to wake you up. It is also easy to use and adjust.
This clock has dimensions of 25.5 x 8 x 32 cm, by the way. And a 1-year warranty is given to you for quality assurance and peace of mind when you purchase it.
Highlights
Excellent alarm clock
Elegant and formal style
Made from MDF and metal
1-year warranty
6) Philips AJ3400 LED Digital Alarm Clock
Most Reliable and Convenient Alarm Clock
Price: $61.36
Taking up just a small amount of space on your bedside table, the Philips AJ3400 is designed with reliable and convenient features to wake you up or let you rock out to the music.
A dual alarm feature enables you and your partner to set individual alarms. The repeat alarm mode provides an additional 9-minute interval before alarming again.
Listen freely to your favourite radio stations — you can save these as presets. Also, with the sleep radio mode, you can enjoy popular tunes as you doze off to sleep.
This unobtrusive Philips clock also features a large, neat yellow-green digit display that makes it very easy to see. This especially helps people with bad eyesight and seniors.
Basically, you can choose either to have a buzzer or radio tune alarm. Using the alarm, you'll be able to start your day not irritated and annoyed, but energetic and confident!
Highlights
Reliable and convenient
Sleek, slim design
Dual alarm
Choose from a buzzer or radio tune alarm
Large digital time display
Repeat alarm mode
Power backup
Customer Reviews
Some users noted that the volume of the alarm couldn't be adjusted and the gradually increasing volume was not very loud. These they regarded as design faults.
However, one customer, Stevekey1 said:
"Compact size with Big numbers that can be dimmed to suit. Very easy to set up and the radio works flawlessly thanks to the included long extendable antenna. The price was right considering it was an open box, although the contents were never touched."
And here's what Ausboof has to say:
"I've bought 24hr clocks from Europe back to Australia because you could never make a mistake setting the alarm. For someone who jumps between 4am and 7am starts, has the occasional afternoon nap. It's brilliant!"
7) Sony Radio Alarm Clock (ICF-C1)
Best Overall Alarm Clock
Price: NZ$64.99
Buy Now On The Market
Sony makes some of the best electronics hands-down as you can always expect a high level of quality with them. The ICF-C1 is no exception in that it has a gradual alarm system and is well thought out.
You can wake up to a buzzer alarm or your favourite radio station that gets gradually louder unless you hit the snooze button. Speaking of the snooze, it can be adjusted for longer durations.
Unlike ordinary digital clocks that are reset during power disruption, this sleek clock stays accurate with or without the battery.
What's more, it addresses common problems of the time display such as being too bright through the adjustable brightness settings.
And for music or radio lovers, you can listen to some beats and relax anytime of day or in your spare time with FM/AM radio.
Highlights
Buzzer or radio alarm
Gentle increase of alarm volume
Adjustable brightness and snooze
AC or battery powered
Customer Reviews
On the Sony website, the Sony ICF-C1 scored 4.1 stars from 92 reviewers. Let's take a look at what some of the customers said:
Markngvl from the USA states:
"Simply the best clock radio to buy if you are looking for simplicity in an alarm clock. Nice size – just right for a nightstand. Easy to set the alarm. Dimmable clock. Radio is not bad either! The DST is a plus… one less clock to reset when you have to "fall back" or "spring forward". Great purchase! I'm getting more for Christmas gifts!"
Concerning the radio, WontTakeMyName commented:
"I bought this to replace 20+ year old radio. It was up and running in seconds. Works perfectly. I would have preferred a digital tuner, but this is adequate. Reception is great!"
8) S-Digital Bluetooth Alarm Clock (Q7-B)
Best in Design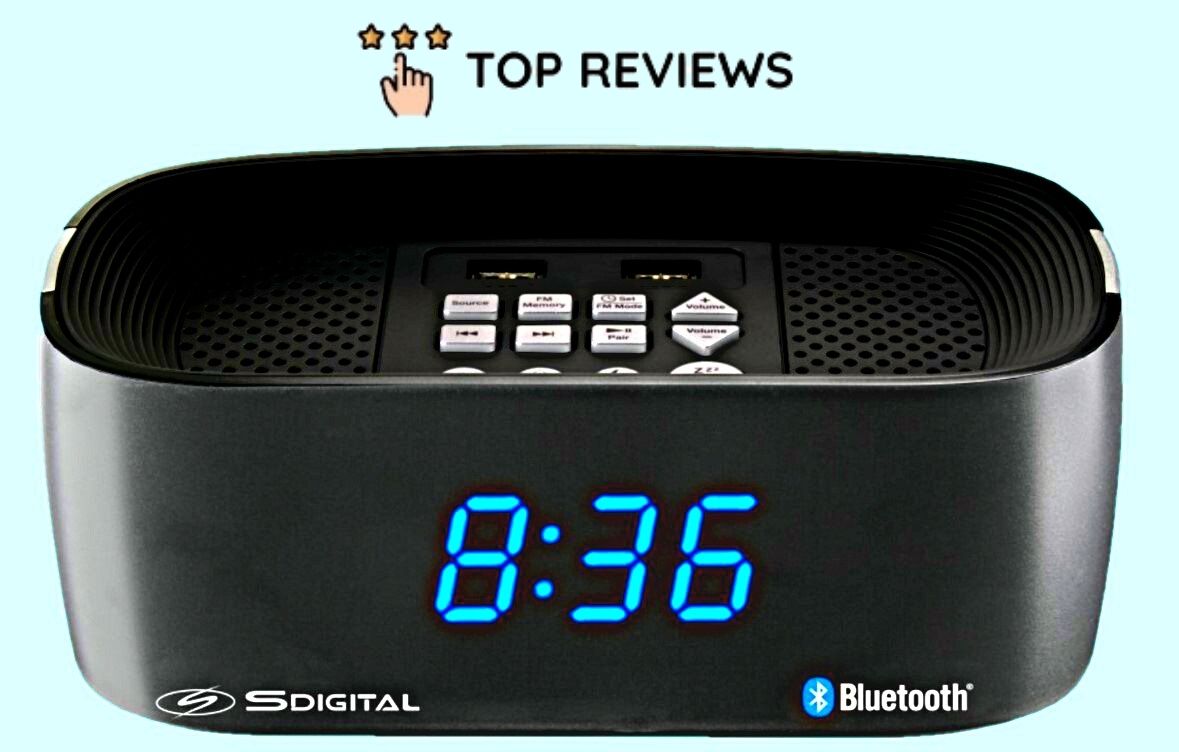 Price: NZ$59.99
Purchase Now On Noel Leeming
Cool design check, Bluetooth speaker check, and accurate time check. S-Digital has produced this all-in-one device cleverly with a quality that impresses and a design that captivates.
The frosted frames along with side aluminium trims give it a matte and sleek finish. This melds into any room easily.
It also offers some convenient features, as you can charge your phone or tablet through dual USB ports.
You can use the S-Digital Q7-B to wake you up with a buzzer or radio. Fitted with a dual high-bass speaker system, the speakers will bring fine and clear music to your surroundings.
You won't have a hard time tuning to radio stations too thanks to them already being preset. Whether at home, hotel, or office, this clock can be one of the best alarm clocks in New Zealand.
Highlights
Stylish round design
Buzzer and radio alarm
Bluetooth enabled
FM Stereo presets
9) JBL Horizon Bluetooth Clock Radio (JBLHORIZONBLKAM)
Best for Music Alarm Clock
Price: NZ$158.99
Buy It Now On Noel Leeming
If you are looking for the best alarm clocks in New Zealand, look no further than JBL Horizon Clock Radio. There are many hot features in this product that we liked a lot.
Firstly, it has an amazing time display on a mirror-like surface that makes it look very modern and premium. The shape is whimsical and playful with an ambient light on the back as well as an embossed JBL logo.
Next there are two separate alarms you can customise for simplicity. On top there is a snooze button, Bluetooth button, FM button that plays stereo quality sound — it's mind-blowing great!
You can set the alarm to either play preset digital tones, FM radio, or a traditional buzzer. There are also 2 USB charging ports and brightness adjustments for you.
Best of all, you get a 12-month manufacturer's warranty to cover for this alarm clock.
Highlights
Dual alarm clock settings
Premium, whimsical design
Excellent stereo sound quality
Has Bluetooth and FM modes
12-month warranty
Customer Reviews
People regarded the JBL Horizon as having great sound (even those that gave a lower score) and durable. Some like the gradual volume increase of the alarm, but some didn't.
Miss Literati cited the dual charger ports, mirror finish, and user-friendly setup to be a plus. Then she concluded, "I like JBL, the price was right, the specs were perfect for me."
And DaddyCool shares about how it went for him:
"We replaced an old dial radio alarm clock with this unit and the sound quality difference of this is amazing. It has really nice sound and a very easy to read logical display. Controls are reasonably intuitive and the night light feature is great."
10) Karlsson Pellet Feet Alarm Clock
Best Analogue Alarm Clock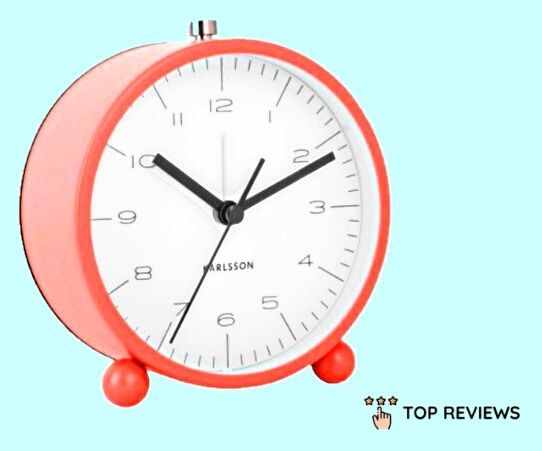 Price: NZ$43.99
Get It Now On Koop
If digital clocks are not your style, you should get Karlsson's Pellet Feet alarm clock. It's a classic clock designed for the contemporary user.
It has dimensions of 11 x 5.3 x 11.5 cm. The hours are appealing and pleasant to look at — and it comes without the usual analogue clock ticking for less irritation.
And it has a night light feature that you can press to see what time it is in the middle of the night. This colour is in coral pink for a mellow feel, but there's yellow as well.
On top of that, the alarm clock is easy to set so using it is a breeze.
Highlights
Easy-to-read dial
Works quietly
Night light feature
Coral pink design
11) Karlsson Lofty Alarm Clock with Light
Most Elegant Analogue Clock
Price: NZ$48.99
Shop Now On Koop
This maroon-and-gold clock by Karlsson helps to enhance the look of your room. It can be placed on your desk, shelf, or kitchen, and never fails to blend in.
It is quiet in operation, barely ticking when running. That will allow you to concentrate on your project or share stories with your family without someone saying, "Your clock is getting noisy."
It comes with a light feature, perfect for helping you find out what time it is at night when you can't find your smartphone. Also, it is durably made and stable with its golden feet.
The artist behind this clock is Armando Breeveld and it also comes in black and gold, with only one AA battery needed.
Highlights
Red and gold or black and gold design for elegance
Silent without any ticking noise
Elegant and impressive design
Available in black or red
12) HeimVision Sunrise Alarm Clock (A80S)
Best for a Smart Alarm Clock
Price: NZD87
Purchase It On Ubuy
Instead of the loud rings, shakes, or buzzes of the alarm clock, how about a natural sunrise light, accompanied with nature tones to wake you up?
That's what Heimvision Sunrise clock offers. It doesn't immediately create a blinding white light but does it from the natural and gentle red up to the bright but pleasant sunrise.
If the default brightness does not sit well for you, you can simply turn it up or down — this applies to both the brightness of the time display or the "sunrise's" brightness. You can ask Alexa to do this for you.
Perfect for all ages, this sunrise clock will be liked by both kids and adults. So aside from waking you up, it can also be turned on to act as a night light like when you tend to the baby or go to the loo.
Preset tones include birdsong, Hawaii Wave, Beep, Windbells, Stream, Chord, and Ringtone and Piano. Using this clock will decrease your stress level and help you for a relaxing morning wake up!
Highlights
Natural and gradual sunrise lights
Adjustable brightness level
Comes with 7 nature alarm tones
Can be used as a night light
Works with Alexa Voice Assistant
Built-in FM radio
13) Karlsson Alarm Clock Gummy Black
Best for a Minimalist Alarm Clock
Price: $59.90
Purchase It On Funky Gifts
Spare yourself from the trouble of having to travel and wait in line just to buy items that you want or need. With its ultra-large array of products, Funky Gifts lets you avail whatever you'd like in the click of a button!
The Karlsson Gummy Digital Alarm Clock Gummy Black is one product you should never miss out on buying. It is a stylish timepiece that sports a retro and minimalistic appearance, designed to suit your office or bedroom. You can also give it away as a trendy present!
With its stunning quality and versatility, you can never go wrong with purchasing this digital alarm clock. Buy it today from the Funky Gifts Shop.
Highlights
Affordable Price
Classy Style
Digital Alarm Clock
14) Newgate Chrysler Clock
Best for Retro Wall Clock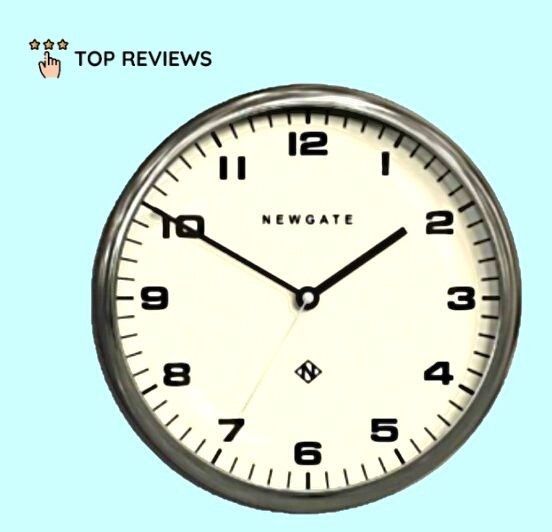 Price: $298
Purchase It On Cranfields
Keep track of time in style with the Newgate Chrysler Clock. It is a classy graphic wall clock, featuring a chrome metal case and a large, retro-style dial.
It also sports a burnished steel case, metal hands, and a convex glass lens. Its hands move with a smooth, sweeping motion, thus inducing zero sound.
The Newgate Chrysler Clock is available with a diameter of 40 cm and a depth of 11 cm. It is powered by a single AA battery.
Highlights
Vintage type
Affordable Price
No noise when ticking
Customer Reviews
On the Amara website, the Newgate Chrysler Clock scored 4.7/5 stars from 6 reviewers. Let's take a look at what some of the customers said:
"Good design and good construction"
15) Casio Digital Alarm Clock
Best for Travelling
Price: $29
Purchase It On Stonex Jewellers
Casio's digital alarm clock is lightweight and compact, perfect for people on the go. You can easily slip it into your bag and take it out whenever you need.
It features a digital display and an LED backlight. You won't have any problem telling the time, may it be day or night.
Best of all, it's available at a very low price. Get the Casio Digital Alarm Clock now!
Highlights
Lightweight
Compact
LED backlight
And that's all for the best alarm clocks in New Zealand! Not only will these clocks wake you up without irritation but they are going to be a great addition to decor for a cosier home.
Did you like the alarm clocks we suggested or did we miss anything that should be included in this article? Tell us your thoughts about it by messaging us and we'll get back to you in a bit.
And would you like to organise your new alarm clock along with your books, kitchenware, or knick knacks? If so, you can read up on the best floating shelves in New Zealand.
Oh, and if you'd like an independent speaker instead of a radio with a clock, we've covered some good models in the best WiFi and Bluetooth speakers in New Zealand. You may be interested in that too!