The 6 Best Arborists in Tauranga
Featured Image Source from Tauranga Tree Works
Need to trim or remove a tree by your house? If so, we got you covered, as we've put together the very best arborists in Tauranga here for you.
We'll first tackle the average cost of hiring an arborist. By doing this, you'll know how much money you have to spend when you use their services.
Ready? Let's go!
The Average Cost of Arborists in Tauranga
It's impossible to give an exact cost of arboricultural jobs as they differ in size, place, and ease of access.
In general, though, tree felling and removal costs around $100 to $1,000, while shaping or pruning works go from $75 to $250.
And a stump removal service can start from as little as $45.
Most arborists give a free onsite quote or phone estimate, in which case, you'll have to explain all the details clearly so you can get an accurate quote.
Depending on the arborist, they can accept cash, cheque, online banking, EFTPOS, or a combination of these.
Also, if you want to save up on the expenses, here are some pointers on how to do that:
Look for an arborist once you notice that the tree is closing in on your neighbour's property. This way, you have ample time to find the best price and contractor.
Know that a dead tree is often more expensive to remove as opposed to a living tree. So to pay less you can have the team remove it before it dies out.
Ask a friend or family member if they know of a good arborist with a great price. This will make you confident and save you from the effort of having to enquire or research.
The Best Arborists in Tauranga
Now that you have a general idea of how much arborist services can cost, we now give you the top arborists in Tauranga!
1) Eden Trees Professional Arborists

Services
Hedge trimming Landscape maintenance Tree removal & planting Tree pruning & shaping
Website
https://www.edentrees.co.nz
Address
Tauranga, New Zealand
Contact details
Phone: 027 742 0511
Email:

[email protected]

Office hours
Monday – Friday: 7.30 AM – 5.00 PM
Saturday – Sunday: closed
Locally owned and operated by Nathan and Esther Burgi, Eden Trees Professional Arborists offers a range of arboriculture services for large and small projects.
What they specialise in most are tree shaping and pruning. They believe it is an art and can thereby trim a tree to any shape or look that complements your external space.
Apart from that, they offer tree removal and planting, landscaping, and hedge trimming, while caring for the greenery, not ruthlessly cutting it or anything like that.
You can be confident of this as they carry liability insurance, meaning that in the unlikely event something happens, they can pay for damages to your home or client injury treatment.
Their philosophy shines through every time they work. They are dedicated to providing a professional and honest service while helping out their local community and beyond.
So if you want your house to look fresh and tidy afterwards with trees that stand majestic, tall, and proud, Eden Trees Professional Arborists is certainly one of the best arborists in Tauranga!
Tree-shaping specialist
Certified and experienced arborist
Liability-insured
Customer Reviews
Eden Trees has a 5-star rating that's well deserved. Nathan, according to clients, is prompt and professional, provides an aesthetic result, and always tidies up afterwards.
Mike and Charlie wrote this review of Eden Trees:
"Nathan from Eden Trees has done a fantastic job on our motley collection of trees. They have gone from gangly and awkward to beautifully rounded and contained. Nathan was prompt to reply, reliable and lovely to deal with. We've already booked him in for another shape-up in 6 months. Thanks, Nathan!"
Moreover, Nadine shares her experience with them:
"We got Nathan in to tidy up a tricky Phoenix palm and remove two fan palms. We were thrilled with the result and now have a much better view. Nathan and his team were professional, courteous and tidied all their mess (they also took a tree that was just lying on the section to the tip which we really appreciated). Eden trees were great to work with and we will definitely be calling them again."
2) Bay Stump Removal

Services
Stump removal
Shelterbelt removal
Hedge removal
Bamboo removal
Orchard thinning and removal
Section clearing
Website
https://www.baystumpremoval.co.nz
Address
39 Balmedie Ridge, Bethlehem, Tauranga 3110, New Zealand
Contact details
+64 210 834 1852
Office hours
Open every day from 7.00 AM – 8.00 PM
Have a large stump blocking your garden path and affecting your home's landscape? To remove it for good, just call the team at Bay Stump Removal!
Whether the stump is big or small, just one or many, in a free or hard-to-access area—it won't be a problem for them, thanks to their variety of high-tech cutting vehicles.
Stumps aren't the only thing they can remove. They can also remove hedges, trees, and shelterbelts (a whole row of trees), as well as clear sections for agricultural or building purposes.
While the removalists work, they always think about safety and health for themselves and their clients. They are also liability-insured up to $2,000,000 for your peace of mind.
On top of that, they always leave the worksite tidy and clean, evident on their before and after images. And the icing on the cake is that they also charge competitive prices.
For a pure removing job, Bay Stump Removal is a superb choice. But for landscaping, tree planting, and shaping jobs, there are other options out there.
Same-day service
Stump removal experts
Liability-insured up to $2,000,000
Does minimal shaping or pruning work
Customer Reviews
They achieved an average of 5 stars from many reviewers. Most were impressed with their on-the-spot quote and service—and the tidy and satisfying result afterwards.
Here's feedback coming from one client, Corbin:
"Fully recommend Bay Stump Removal to any of our friends and family now. Fast response to out enquiry paired with friendly follow up to get the job completed efficiently and quickly. When on site all work was communicated clearly and really went the extra mile, while still completing the job on budget on time and to our expectation. Very fair price and really friendly service. Don't hesitate to give Bay Stump Removal a call."
Additionally, Graham said this:
"We needed 8 stumps removed asap and was given Paul's phone number. He came the next day, gave us a very reasonable quote on the spot, and went ahead, resulting in a super job! Paul was really easy to talk with. He had efficient machinery, using excellent protection from flying wood chips and the job was finished in a short time. We recommend Bay Stump Removal to anyone. Thank you Paul."
3) Tauranga Tree Works

Services
Tree Works
Tree pruning
Tree felling
Stump grinding

Tree & Land Clearance
Tree removal
Hedge removal & reduction
Land clearance

Wood Chip & Firewood
Wood chipping
Wood-chip sales
Firewood sales
Website
http://www.taurangatreeworks.nz
Address
Mt Maunganui, Tauranga, New Zealand
Contact details
Phone: 022 011 9515
Email:

[email protected]

Office hours
Monday – Saturday: 7.00 AM – 5.00 PM
Sunday: closed
Based in Mount Maunganui, Tauranga Tree Works has professional, safety-trained tree surgeons who provide a wide scope of services from tree trimming to wood-chip sales.
Given that, you may not have to look for a different provider. Say, after letting them remove a tree for you, you can have them clear and level the entire area as well.
Their arborists have a lot of experience under their belts and are trained in using specialist vehicles of diggers, cherry pickers, chippers, stump grinders, and others.
It then goes without saying that they can accomplish both small and large works safely and efficiently, be it for residential or business clients.
One of the best arborists in Tauranga, they go over and beyond their service by doing more for the client and always ensuring that the area is spotless before leaving.
Health and safety-trained team
Fully insured
Affordable rates
Customer Reviews
Most of the clients were satisfied with the service they provided. The arborists arrived on their premises on time, tended to the job immediately, and left the area spotless.
Justine said this on Google:
"I used Tauranga Tree Works Ltd for the removal of a number of trees of varying sizes as well as a tidy up of other trees. They arrived on time, were pleasant to deal with, did a great job and even did a few extras. The section was left very tidy. Definitely recommend."
What's more, Pauline stated:
"We are also glad we found Tauranga Tree Works. Everything went smoothly. From the first contact of inquirey to end job. The guys had to work around a tricky situation (power Pole) and did this very proffesionaly. They were courtious and didnt waste anytime. Everything was explained as they went. We will be having them back again. And would highly recommend them to anyone. Once again Thankyou."
4) Arbor Care Ltd

Services
Crown lifting
Formative pruning
Crown reduction
Fruit tree care
Hedge & shrub trimming
Tree removal
Stump grinding
Tree transplanting
Website
https://www.arborcare.co.nz
Address
75 Keenan Road, RD3, Tauranga 3173, New Zealand
Contact details
Phone: 07 543 1775
Email:

[email protected]

Office hours
Monday – Friday: 7.00 AM – 4.30 PM
Saturday – Sunday: closed
Established in 1990, Arbor Care Ltd is a preferred tree specialist for public and private sectors in Tauranga and the Bay of Plenty.
They provide the ultimate tree care with their abundant knowledge of varied tree species and know how to best maintain it over the short or long term.
In Tauranga, they currently maintain 339 protected trees and 10 distinct groups of trees.
Accredited with the NZ Arboricultural Association (NZ Arb), you can trust them to keep your trees beautiful and healthy, which will in effect add great value to your property.
Compared to others on this list, their services are more diverse, ranging from crown lifting to transplanting. They even protect trees near power lines and in public parks.
Whether you need to remove the branches of a lofty tree, allow for a fruit tree to bear more crop, grind an army of stumps, or relocate a youngster tree, you can rely on them.
NZ Arb-accredited team
Long-term tree care services
Used by local councils and public agencies
Not available on the weekends
Complaints about customer service
5) Tree Wise Men

Services
Tree pruning & maintenance
Specialist tree services
Landscaping services
Website
https://www.treewisemen.co.nz
Address
24 Paerangi Place (Unit 2), Papamoa, Tauranga, Bay of Plenty, New Zealand
Contact details
07 808 1235
Office hours
Monday – Friday: 9.00 AM – 5.00 PM
Saturday – Sunday: closed
Tree Wise Men is an arboriculture and horticulture expert offering tree maintenance, pruning, and landscaping.
They do these services to help their clients while caring for trees. They can fell, maintain, trim, or shape trees to your liking to spruce up your home's backdrop.
For those wanting to create a garden paradise, they can also assist with planting native vegetation and keeping them lush year after year. It's important to note that not many arborists offer this service.
All of their team are experienced, licenced, and insured so you can rest assured they will give you a high level of work that will surely please you.
With their diligence, promptness, and versatility, they've earned themselves a spot here amongst the best arborists in Tauranga!
Qualified arborists
Adept in native revegetation planting
Public liability-insured
Not available on the weekends
6) Kowhai Treecare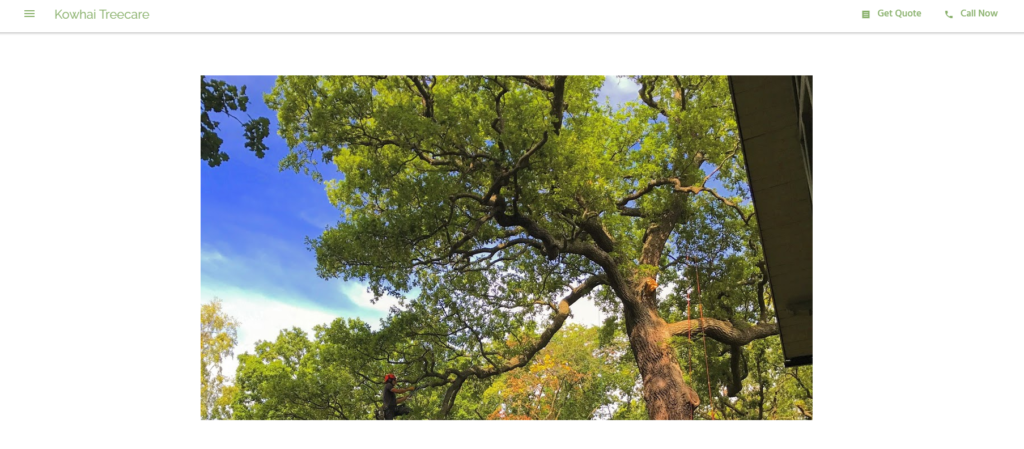 Services
Crown lifting
Formative pruning
Crown reduction
Fruit tree care
Hedge & shrub trimming
Tree removal and pruning
Website
https://kowhai-treecare.business.site
Address
Tauranga, New Zealand
Contact details
022 478 1046
Office hours
Mon: 7:30 AM – 5:00 PM
Tue: 7:30 AM – 5:00 PM
Wed: 7:30 AM – 5:00 PM
Thu: 7:30 AM – 5:00 PM
Fri: 7:30 AM – 5:00 PM
Sat: 7:30 AM – 5:00 PM
Sun: Closed
Kowhai Treecare is a locally-owned and operated arborist business whose main goal is to care for trees and the environment. Kowhai Treecare does so by offering a wide array of arborist services, which include hedge trimming, tree removals and pruning, as well as contract climbing.
While smaller than other businesses on this list, Kowhai Treecare more than makes up for it by being consistent and efficient in every job they take on. They're known to work on jobs of varying difficulties, from simpler tree care to more complicated and intricate removals of trees.
It's also worth noting that their post-job cleanups is one of the best in the area. Kowhai Treecare has great attention to detail and is very thorough with the cleaning.
Qualified arborists
Adept in native revegetation planting
Public liability-insured
FAQs about the Top Arborists in Tauranga
---
And that wraps up our top choices for arborists in Tauranga. They can help you trim or remove a tree and keep your property out of harm's way.
Has everything been clear thus far? If you have any questions about our list, kindly let us know by messaging us, and we'll get back to you promptly.
Want to breathe new life into your home's interiors and exteriors? You can also get the best painters in Tauranga who can make your house more picture-perfect, amid your already lush and tidy trees.