Top 6 Groups for the Best Asbestos Removal in Christchurch
If you've been working in an office that's over 30 years old, there is a high possibility that asbestos had been used. It is dubbed as New Zealand's number-one workplace killer by WorkSafe New Zealand and that's why we know it's an urgent problem. To help you out, we came up with a list of companies doing the best asbestos removal in Christchurch.
Unless it is tampered with, you shouldn't worry about the asbestos in your home or office. Still you will need to remove it — so we picked the companies with perfect safety records and expert teams.
1) Complete Asbestos Solutions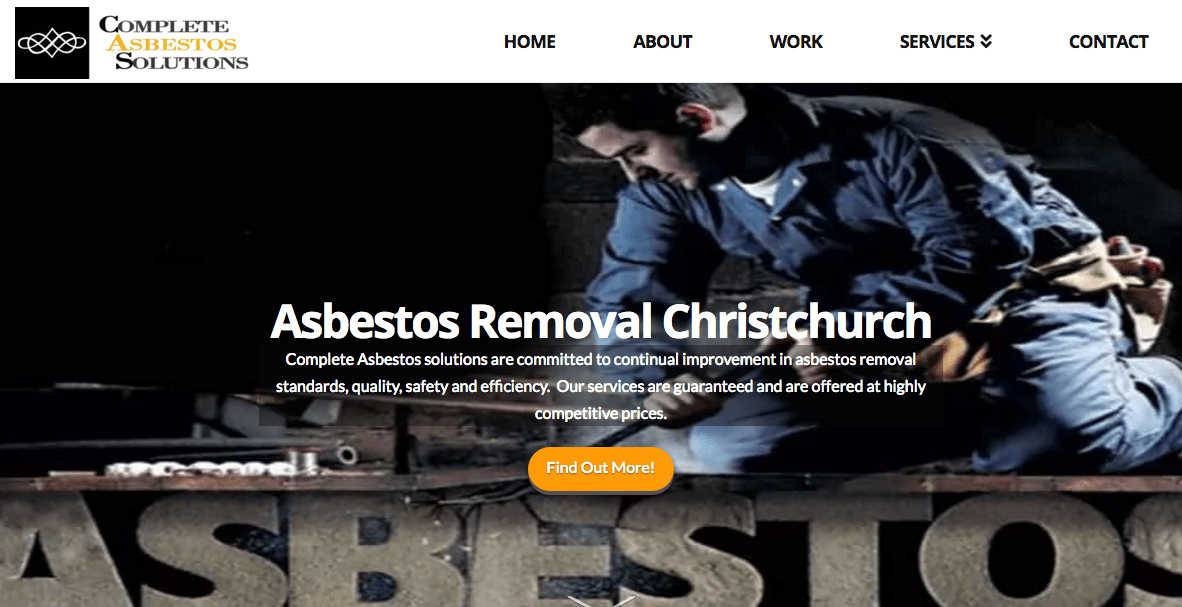 If you suspect or identify asbestos in your house, you can contact Complete Asbestos Solutions. They adhere to Health and Safety policies and Site Safe regulations for their people and clients.
Their team is composed of Class A licenced professionals who are authorised to assess or remove friable or powdery asbestos. This type of asbestos is the most toxically dangerous for the lungs.
Also, they can extract and dispose of the asbestos safely for private and commercial establishments. So, you can rest assured that no strand or dust of asbestos will be left afterwards.
Highlights
Follows health and safety standards
Class A licenced removalists
Serves in and around the South Island
Customer Reviews
Jessica Long rates 5-stars and writes a Google review:
"Great service from Craig and Lucie at Complete Asbestos Solutions. I was not very organised and under a time pressure to get asbestos checked but they were very dedicated to make time to come see us within 24 hours!. Craig had a lot of experience and knew what he was talking about which made us very confident with the feedback he provided."
2) ARL Solutions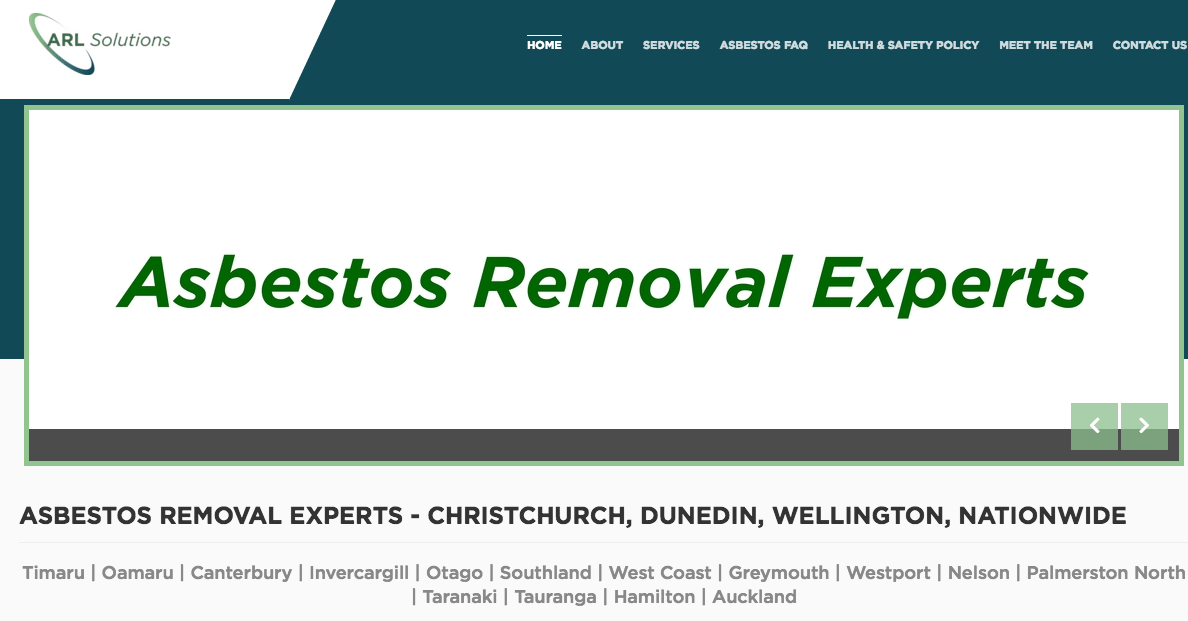 | | |
| --- | --- |
| Areas covered | New Zealand-wide |
| Services | Asbestos Removal, Management, Repair, Remediation |
| Address | 62 Factory Road, Belfast, Christchurch, New Zealand |
| Contact no | 03 312 6926 |
| Website | http://www.arls.co.nz/ |
For any scope or size of asbestos removal, ARL Solutions is made for it. They have the expertise and knowledge to make the place safe and asbestos-free.
How can you be sure of safety with this company? Well, they are regularly audited by an independent contractor after each job undertaken, in addition to their other reliable safety accreditations.
Their usual clients include homes, offices, stores, schools, and historical buildings. Safety and skill-wise, ARL Solutions is one of the top groups for the best asbestos removal in Christchurch!
Highlights
Audited by third-party company
Up-to-date equipment
Serves New Zealand-wide
Customer Reviews
Adele Childs comments about working with ARL specialists:
"I have used ARL twice now in commercial situations and they have been excellent in both instances. Both times I have been kept fully informed through out the process, they are exceptionally efficient and have gone well out of there way to help me when an urgent requirement arose. I could not recommend them highly enough."
3) Hazmat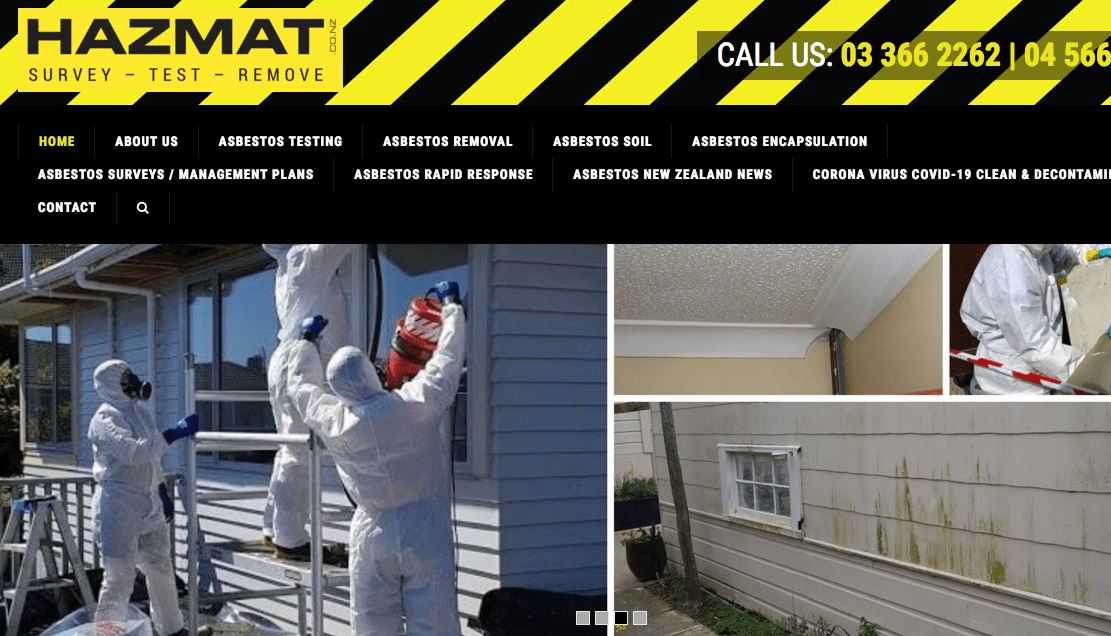 | | |
| --- | --- |
| Areas covered | New Zealand-wide |
| Services | Asbestos Removal, Testing, Remediation, Management |
| Address | 122 Hackthorne Road, Cashmere, Christchurch, New Zealand |
| Contact no | 03 366 2262 |
| Website | https://www.hazmat.co.nz/ |
A member of WorkSafe New Zealand, Hazmat is an industry leader in asbestos removal, testing, and remediation services. It serves areas in Christchurch and all across New Zealand.
Their Safety Management System is strictly audited for the work that they do. This enables clients, be they corporate or private, to be in a totally healthy, safe and habitable environment.
Other than that, they conduct testing to verify if materials have asbestos or other hazardous material. Plus, they can remediate or clean them up safely and out of harm's way.
Highlights
WorkSafe licenced
Offers big- or small-scale removal
Follows strict safety standards
Customer Reviews
This reviewer let the team check on the ceiling to find out whether or not it had asbestos. After it was confirmed, the team gave her a quick quote and soon completed the job in a few days time.
Then she continued about one of the top groups for the best asbestos removal in Christchurch.
"We were really impressed with their fast turnaround, attention to detail, professionalism and we had a clearance certificate to give to our new buyers. Great Job Hazmat."
4) Building Remediation Services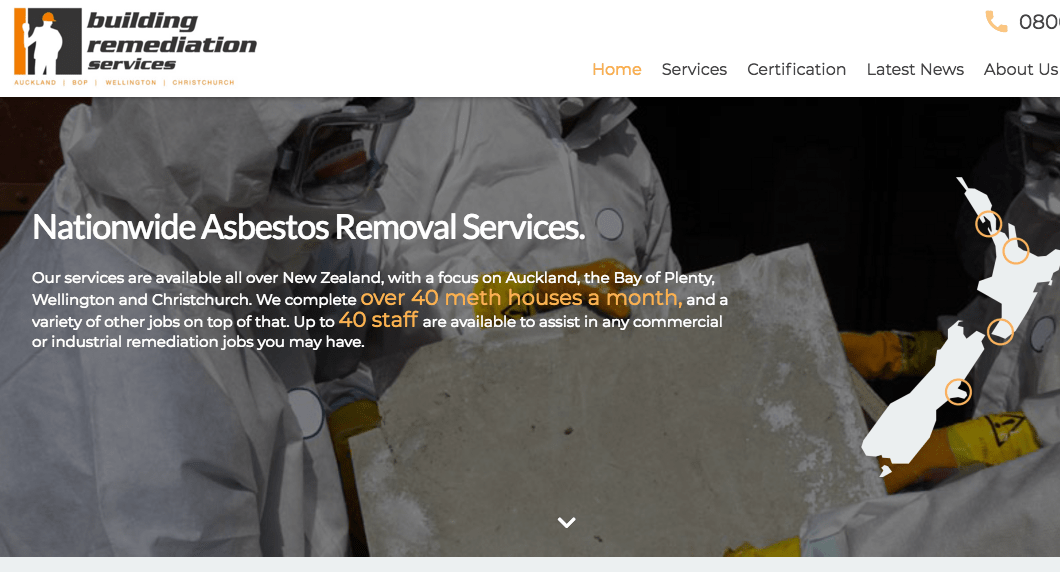 | | |
| --- | --- |
| Areas covered | New Zealand-wide |
| Services | Asbestos Removal |
| Address | 2/114 Antigua Street, Addington, Christchurch 8024, New Zealand |
| Contact no | 0800 757 511 |
| Website | https://brsl.co.nz/ |
If poor communication is the last thing you want, choose Building Remediation Services. This sets it apart from the other companies we suggested, but of course safety and quality is still intact.
They are members of Site Safe, WorkSafe New Zealand, and NZDAA. This proves their commitment to providing safety-focused asbestos removal for residential, commercial, and industrial clients.
Together with that is a highly trained team prepared to hunt down asbestos or asbestos-containing material (ACM), whether it's found in your cladding, wall, lining, soffit, roof, or window.
Highlights
Excellent customer service
Safety accredited and licenced
Experienced team
Customer Reviews
Nicole Dixon who works in Housing NZ as a health, safety, and security manager said as posted on the website:
"I was very pleased to see the care you were taking to ensure the removal works were completed in line with best practise standards. Well done!"
5) Natural Living Homes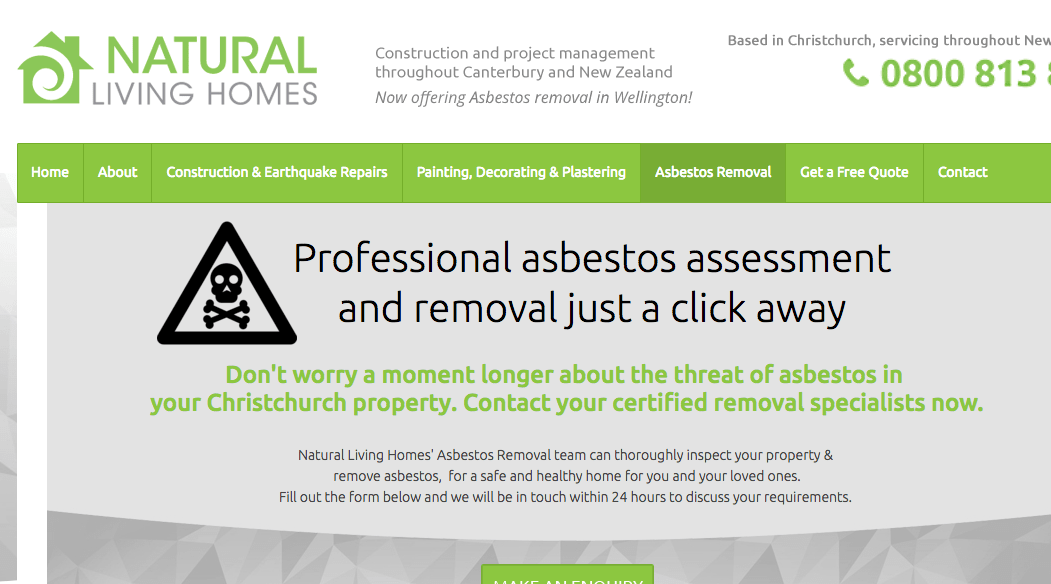 Natural Living Homes is a building and construction company that serves all of New Zealand. Their broad range of services includes construction, painting, plastering, meth testing, and asbestos removal.
Their asbestos removal is prefaced by a complete survey of the site including the out-of-reach areas. Once the asbestos has been identified, the certified team will remove it for you using industry-safe methods.
Highlights
Certified asbestos removalists
Thorough inspection
Safe removal and disposal
6) Chemcare
Areas covered
New Zealand
Services
Asbestos Removal, Meth Decontamination, Environmental Decontamination
Address
1 Des Swann Drive, Takapuna
Auckland, New Zealand
Contact no
0800 800 646
Website
https://chemcare.co.nz
They key to a successful asbestos removal is a thorough process and reliable team. Chemcare is one of the few companies that are more than capable of providing those.
Their team of technicians include expert and efficient staff, as well as a Senior Technical Adviser who's a licensed Work Safe Asbestos Assessor. You can rest assured that no matter the scale of your problem, Chemcare will be able to deal with it proficiently.
Highlights
Class A asbestos removal license
Transparent process
Experienced staff
Free quote available
Those were the top groups doing the best asbestos removal in Christchurch. You won't have to wait long for them to remove all the asbestos in your house, office, space, clinic, school, and others, so don't hesitate to ask them for help!
Has everything been clear so far, or have you any questions to ask us? Send us a message and we will reply shortly.
At any rate, you might be wondering about the top asbestos specialists in the North Island. For that, you can read about the best asbestos removal in Wellington!
Alternatively, if you live in the City of Sails, you can try the best asbestos removal in Auckland. We have great suggestions on that as well.