The 6 Best Auckland Golf Courses
Want to test out your golf skills on a golf course? If so, we've outlined here the best Auckland golf courses you can go to for recreation or competition.
We've selected those that are aesthetically pleasing and enjoyable. We also picked those that have reasonable rates, friendly and welcoming staff, and excellent client testimonials.
Luckily, these places are conveniently located in the heart of Auckland. Without further ado, here is our list of the best Auckland golf courses!
1) Chamberlain Park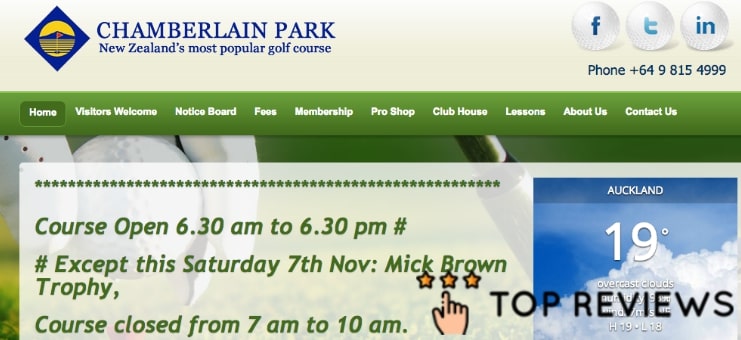 BEST FOR
Golfer-friendly golf courses
SERVICES
Golf Course

Memberships

Lessons with a Pro

Proshop

Clubhouse Facilities

WEBSITE
http://www.chamberlainpark.co.nz/
ADDRESS
46A Linwood Avenue, Mount Albert, Auckland 1025, New Zealand
CONTACT DETAILS
+64 9 815 4999
OPERATING HOURS
Monday – Sunday: 10.00 AM – 6.30 PM
Chamberlain Park is an 18-hole public golf course that accommodates golfers of any calibre all year round. It is located in the Mount Albert suburb, Auckland.
Playing golf in Chamberlain park is more enjoyable with beautiful, verdant hills set amongst majestic trees. Fairways are smooth-rolling and roughs are merciful, allowing you a great golfing experience.
You can hire everything from the shoes and trundlers to the golf clubs and carts. If you want to replenish your energy, you can visit their Proshop for snacks and drinks.
If you need to refresh on the basics, you can sign up for lessons. Professional golf instructors James Kupa and Ian Schofield will be training you.
Highlights
18-hole public golf course
Has nicely manicured greens and smooth fairways
Great for golfers of all levels
Golfing lessons available
Customer Reviews
One guest, Michael M., wrote a review about Chamberlain Park:
"Such a wonder asset for the immediate and broader community. People come from all over to experience incredible value golf in an unbeatable location. It's diverse, social and established as an important stepping stone for young and old to enjoy one of the most widely played sports. We don't know how lucky we are to have this course in public hands."
2) Titirangi Golf Course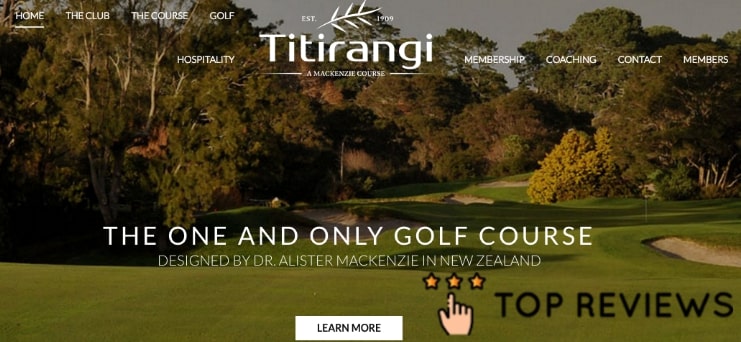 BEST FOR
Internationally-renowned golf courses
SERVICES
Golf Course

Memberships

Coaching

WEBSITE
https://www.titirangigolf.co.nz/
ADDRESS
11 Links Rd, New Lynn, Auckland 0600, New Zealand
CONTACT DETAILS
+64 9-827 5749
OPERATING HOURS
—
Designed by Dr. Alister Mackenzie almost a century ago, Titirangi Golf Course is one of the best Auckland golf courses you can play in.
It's a magnificent 18-hole course where each hole offers something different for golfers. The smooth greens, lush fairways, and bordering bushes make it a picturesque course.
Aside from amateur golfers, professionals have also played here. Among the famous golfers who've played in Titirangi Golf Course are Bob Charles, Peter Thomson, Arnold Palmer, Bernhard Langer, and Nick Faldo.
Titirangi Golf Course has also been featured in magazines such as Top 100 Golf Courses, US Links Magazine, and Robb Report. These magazines rank the golf course as number 1 in Auckland and among the top 8 in NZ.
Highlights
Designed by Dr. Alister MacKenzie
Picturesque 18-hole golf course
Internationally-renowned
Ranked no. 1 in Auckland by popular magazines
Customer Reviews
Check out this feedback from one customer of Titirangi Golf Course:
"Superb. I see why it's so highly rated. Open fairways and not very long but very challenging greens. A good wedge player's dream come true. Friendly members. Good clubhouse. Didn't eat at the restaurant. Good practice facilities. Will be back for sure!"
3) Pakuranga Golf Club

BEST FOR
Straight golf courses
SERVICES
Membership

Golf

Functions

WEBSITE
https://www.pakurangagolf.co.nz/
ADDRESS
199 Botany Road, Golflands, Auckland 2013, New Zealand
CONTACT DETAILS
+64 9-534 3818
OPERATING HOURS
Monday – Sunday: 7.30 AM – 5.30 PM
With a simple golf course design and reasonable membership prices, Pakuranga Golf Club is a great place to enjoy golf with your friends or family.
Most holes at the Pakuranga course lie on the north and south side–in a straight direction from tees to greens, so to speak.
They host Championships, Clubs, and Ladies Courses at Pakuranga Golf Club too. Also, you can rent out their function centre for conferences, weddings, and milestone celebrations.
Highlights
Spectacular course for all skill levels
Straight golf course
Reasonable membership prices
Customer Reviews
Harold H. shared his golfing experience at Pakuranga Golf Club in this review:
"It's a great course and offers a fair test to all skill levels. The club house has a cosy and friendly feel. The Golf Hub (Pro Shop) also serves all my needs-good pricing too."
4) Windross Farm Golf Course

BEST FOR
An unforgettable golfing experience
SERVICES
Golf

Membership

Practice Facilities

Cafe

WEBSITE
https://www.windrossfarm.co.nz/
ADDRESS
237 Alfriston-Ardmore Road, Ardmore, Auckland 2583, New Zealand
CONTACT DETAILS
+64 9-281 5414
OPERATING HOURS
Monday: 7.30 AM – 5.00 PM

Tuesday – Sunday: 7.30 AM – 5.30 PM
For a unique golfing experience, reserve a session at Windross Farm Golf Course. Windross Farm Golf Course is one of the very best Auckland golf courses and is highly acclaimed by top players and officials.
It's a spectacular link course measuring 60 hectares, with sweeping views of the wonderful countryside. It has well-placed bunkers and artificial lakes to give players a challenge.
However, remember that you have to book a slot before coming to Windross Farm. There's a driving range too so you practice the accuracy and form of your drive shots.
What's more, they have a cafe where you can have refreshing drinks and relax after a fun game of golf. Whether you're golfing or taking a break, there's never a dull moment at Windross Farm Golf Course.
Highlights
Unique golfing experience
Spectacular golf course
Has a cafe and practice facility
Customer Reviews
Here's the feedback of Bruce D. about Windross Farm Golf Course:
"Played 9/9/19 overcast day, paired up with strangers, most enjoyable day, course was wet but very playable. great fairways, great greens, shame cafe and bar were closed, also no towels to be able to shower as we were traveling on. Small moan because course and golf were great."
5) Takapuna Golf Course

BEST FOR
Accessible golf courses
SERVICES
Golf

Membership

Driving Range

Clubhouse

Proshop

WEBSITE
https://www.tgolf.co.nz/
ADDRESS
27 Northcote Road, Hillcrest, Auckland 0627, New Zealand
CONTACT DETAILS
+64 9-443 5002
OPERATING HOURS
Monday – Sunday: 9.00 AM – 11.00 PM
Takapuna Golf Course (TGC) is a premier public golf course where over 70,000 golfers play each year. You can come here whether you are playing for fun or training to compete.
They have a modern two-storey facility consisting of a driving range, putting practice area, and Proshop. There, you can meet and chat with other avid golfers and maybe even invite for a round of golf.
After playing golf for some time, you can rest and have a meal and a cold drink at their restaurant and bar.
Its convenient location in Hillcrest is another plus as you can come over whenever you like. For their accessible location and variety of facilities, there's no doubt that TGC belongs in the list of the best Auckland golf courses!
Highlights
Premier golf course
Fun and satisfying
Have practice facilities and a restaurant
Conveniently located
Customer Reviews
Benjamin K., a beginner golfer, shared his experience at Takapuna Golf Course:
"Just won it big and wanted to celebrate. Dropped in and they said they were full so we came back in 30 minutes and they had a spot for us. Never played golf before but it was a good time, didn't feel judged by the regulars around me. Was able to have a good laugh with the boys. Could have done with a table and chairs but honestly it was fine without it."
6) Maxwell's Golf Retreat
BEST FOR
Beautiful golf courses
SERVICES
Golf Courses, Cafe, and Lodging
WEBSITE
https://eatplaystay.nz/
ADDRESS
205B Ingram Road, Bombay, Auckland 2579, New Zealand
CONTACT DETAILS
Phone: 09 236 0911 | 021 850 924 Email: [email protected]
OPERATING HOURS
Wednesday:
9:00 AM – 5:00 PM
Thursday:
9:00 AM – 7:00 PM
Friday:
9:00 AM – 10:00 PM
Saturday:
9:00 AM – 6:00 PM
Sunday:
9:00 AM – 6:00 PM Monday & Tuesday: Closed
Enjoy a fun golfing activity with affordable bookings. They offer an indoor driving range and training facility.
They also have food where anyone can grab a drink and a bite to eat. They are fully licensed and offers an all-day cafe-style menu.
It's a good idea to book by phone or email for priority. Maxwell's Boutique Golf Course and Function Centre is much more than a golf course and can also function for weddings, engagements, birthday parties, corporate events and much more.
Highlights
Functions for over 20 people
Foot golf available
9 hole golf course with 8 par 3's and 1 par 4
Open any day or night with bookings
Enjoy membership benefits and perks
Customer Reviews
"Just attended one of the Sunday golf clinics that Kaye offers. As a beginner i found this to be very helpful. Followed up with a round of 9 hole which was great. We played at our own pace.. everyone was friendly and didnt feel rushed. It was a awesome day out. Decided to have lunch at the cafe and was delightful. Exceeded my expectations.. thank you"

"We had a wedding here which went very well, Kaye was amazing and made the day exceptional. We have been back for several visits. The current chef makes some great dishes for what is very reasonable prices, which you can eat while enjoying the landscape. Keen to try the roast. Keep an eye out for Max the friendly cat too!"

"Lovely house well kept and very Spacious, couldn't take advantage of the golf course due to weather however still managed to keep the kids active with Darts, Pool, Indoor Driving range and free putting green by the restaurant. Thankyou Kay and Yolla for looking after us. Will return 4 sure."
And with that, we conclude our list of the best Auckland golf courses. You'll certainly enjoy playing golf and meeting other golf enthusiasts at these spectacular courses.
Did we miss other golf courses on our list? If you think we did, please let us know by leaving a comment below and we'll get back to you shortly.
Think you need to improve your strength and conditioning to hit a perfect drive shot? If so, you may be interested in training with the best personal trainers in Auckland to help you achieve your fitness goals!