By Ruby Singh
Being a landlord is not easy — there are plenty of things you have to take into account. We'd like to help you with that by showing you a better way to manage your property with a minimum of fuss: that is, we've gathered the best Auckland property management firms you can hire!
Just think about the hassle of collecting undue rent from hiding tenants, making sure rental contracts comply with the law, or overseeing maintenance. If you're a one-man band, it could very easily overwhelm you.
So, we selected the firms with an experienced team who can give you the support you need. Now let's start with our lineup for the best Auckland property management firms!
1)  Metro NZ Property Management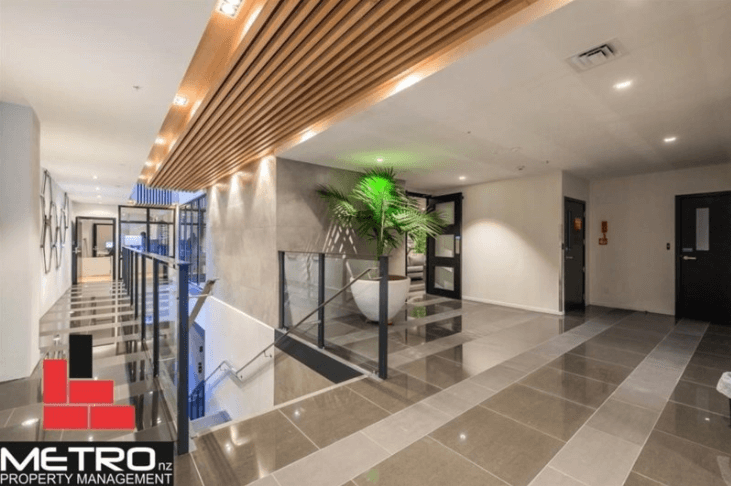 | | |
| --- | --- |
| Best for | Customer Service |
| Services | Property Management, Building Consultants, Investment Properties, Free Property Appraisals, and Rental Properties |
| Address | 23-29 Albert street, Auckland, New Zealand |
| Contact no | (09) 985 5706 |
| Website | https://www.metronz.co.nz/ |
Whether you're a tenant or investor, Metro NZ Property Management got you covered. Their business model is proven and will benefit you in countless ways.
Their team is supportive and friendly as they assist you through property management. This could range from finding you tenants to maximising your returns on the rented property.
They are one of the best Auckland property management firms for many reasons: competitive rates, wonderful homes to offer, excellent customer service, and a seamless reporting process.
Highlights
Excellent customer service
Competitive prices
Award-winning systems and processes
Helps maximise your property returns
Friendly and positive team
Customer Reviews
Kate Kendrick writes from Google Business:
"Really positive experience renting with MetroNZ. John Baatjes was amazing, even moved us in on Christmas Eve and gave us lots of help and advice about the local area. Quick responses with emails and a really genuine person. Thank you!"
2)  360 Property Management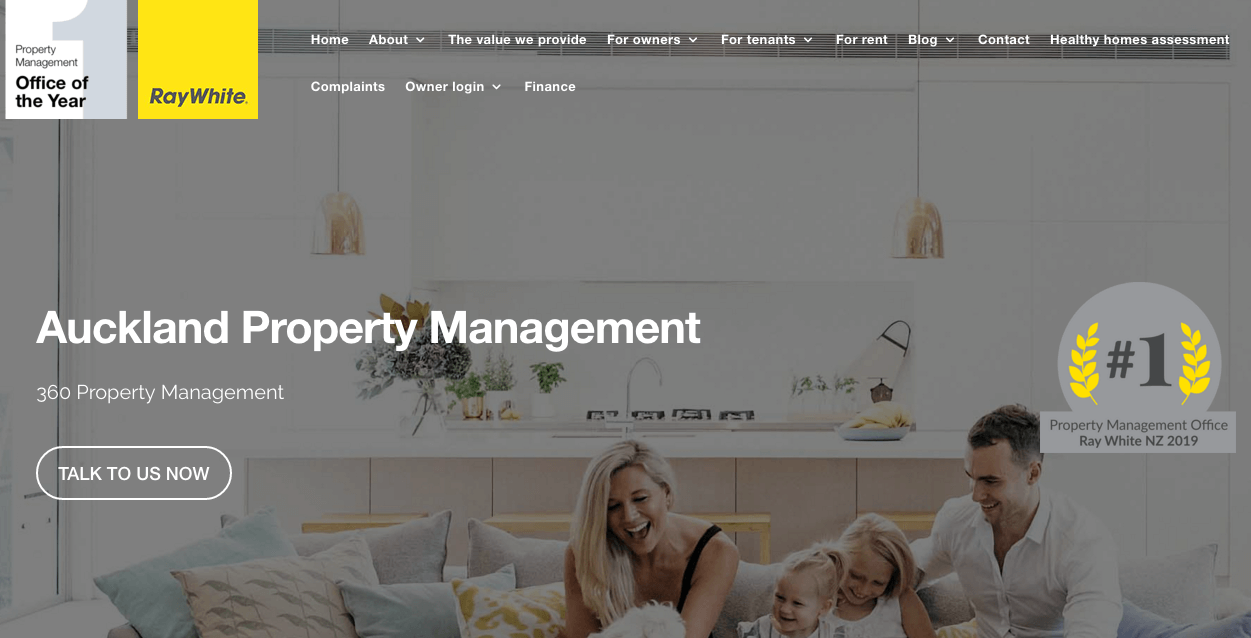 | | |
| --- | --- |
| Best for | Expert Support Team |
| Services | Tenant Sourcing, Maintenance and Repairs, Rental Collection, Legislative Compliance, and Tenant Support |
| Address | 1/597 Great South Road, Manukau, Auckland 2104, New Zealand |
| Contact no | (09) 636 7355 |
| Website | https://360propertymanagement.co.nz/ |
Going solo when managing your property can be complex and stressful. Fortunately, 360 Property Management is on your side. You have the full backing of their specialist team to make it easier for you.
They will help you find tenants, handle agreements, and follow up on rent collection. And they can also look after your property during renovation or maintenance work.
They're also the winners of the Ray White NZ 2019 award. Basically, 360 Property Management has a dedicated team to look after your properties while offering you full support.
Highlights
Dedicated and experienced team
Offers a wide range of services
Ray White NZ 2019 winner
Efficient and stress-free process
Customer Reviews
Let's see the Google review from Lloyd Vivian:
"Happy to recommend Dhyana at Ray White 360 Property Management. Been involved for nearly a year now and very impressed by her professionalism and friendly manner to date. Excellent tenants found promptly and communication/reports has been excellent. Welcome pack of information with a complimentary bottle of red wine was a thoughtful bonus! Thanks! :)"
3)  Crockers Property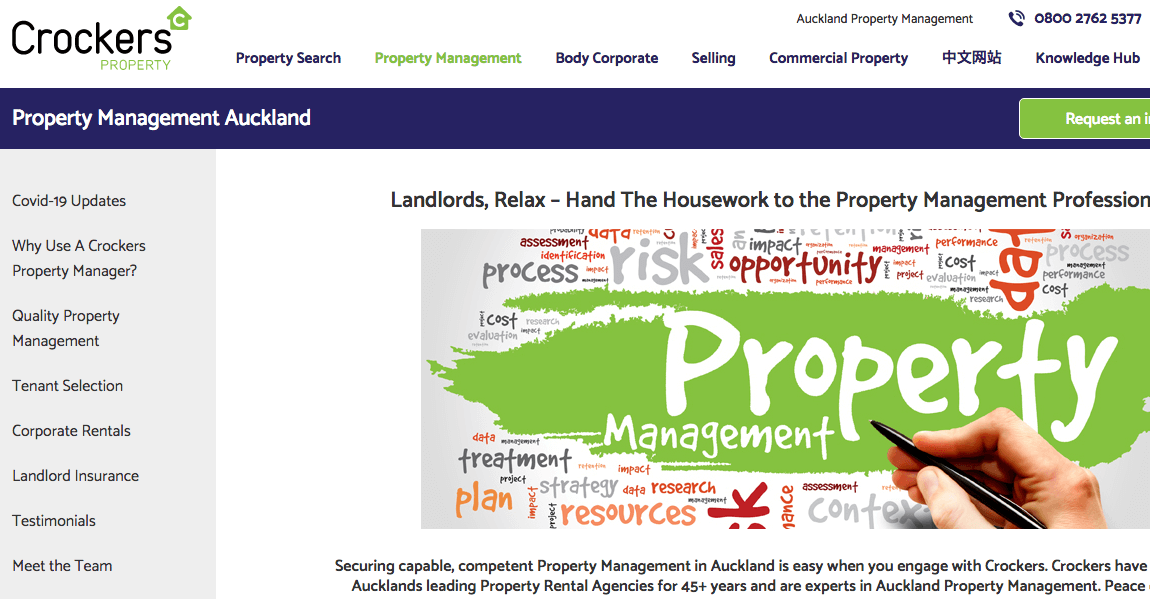 | | |
| --- | --- |
| Best for | Legislation Knowledge and Compliance |
| Services | Property Management, Property Renting or Purchase, and Building Consultants |
| Address | 525 Manukau Road, Epsom, Auckland 1023, New Zealand |
| Contact no | 0800 2762 5377 |
| Website | https://www.crockers.co.nz/ |
To get the best ROI from your property, hire Crockers Property! They have more than 45 years' experience and are flexible regarding changes in tenancy legal requirements.
Say when a potential client moves into the property with a pet, how frequent inspections should be made, or how much to raise your rental price — you won't have to scratch your head over how to deal with such matters any longer. These things and more are handled by the Crockers team.
In a way, they're like a consultancy company with action, and as such, they are one of the best Auckland property management firms you can find.
Highlights
Maximise your property returns
Know the tenancy law inside and out
Over 45 years of experience
Cares about your property
Customer Reviews
Another reviewer from Google Reviews, Suzanne Tindal, said:
"Nikki Wiseman has been a the best Property Manager that I have had in four years.  She is always professional, very efficient and expects high standards of her clients – just as you would if the property were your own.  This is very important to me as my property is an Executive residence in the Eastern Suburbs so you need to know that it is being taken care of.  I would not hesitate to recommend Nikki or the team at Crockers to any landlord or tenant."
4)  Wendell Property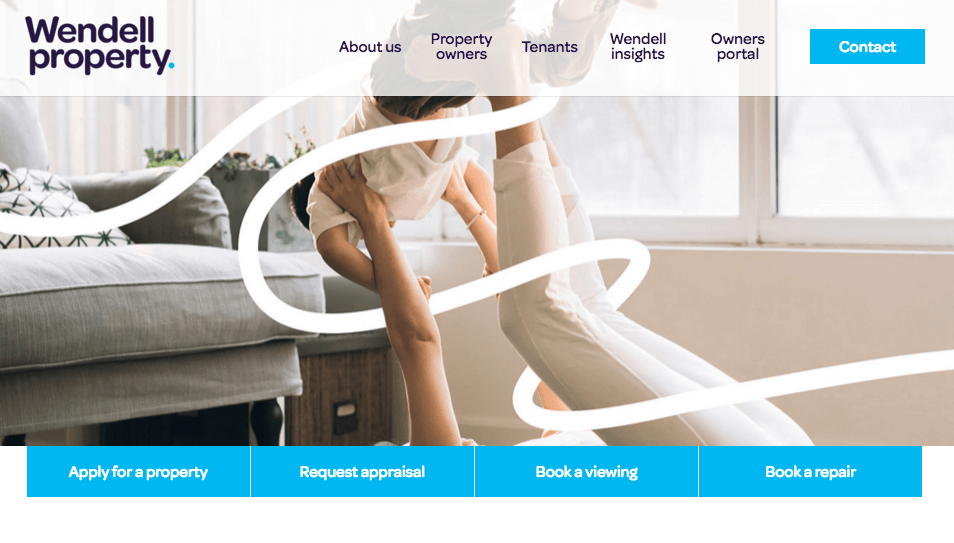 | | |
| --- | --- |
| Best for | Personalised Client Solutions |
| Services | Investor and Home Owner Property Management |
| Address | 10 Maidstone Street, Grey Lynn, Auckland 1021, New Zealand |
| Contact no | (09) 849 2588 |
| Website | https://wendellproperty.co.nz/ |
If you need a dependable and resourceful team, then Wendell Property is it! They are there to maximise your profit by keeping your property fully occupied as much as possible.
With decades of experience, they can advise you as to which property you should rent or invest in. Because every client's situation is unique, they tailor their approach and plan to suit them.
As they are another one of the best Auckland property management firms, having them on your team is a great investment. So, make the most of your property — through Wendell Property!
Highlights
Delivers results for your investment
Personalised approach
Experienced and talented people
Customer Reviews
Tom Walkowiak praised Wendell Property on Google Business: 
"Tom Rasmussen and the team at Wendell Property have been absolutely amazing to deal with. Every stage of the process, Tom kept me updated with what was happening. 
Tom took complete ownership of the whole process and delivered more than great result. Truly amazing customer service. Couldn't recommend Wendell Property Management more. 5/5"
5)  Aspire Property Management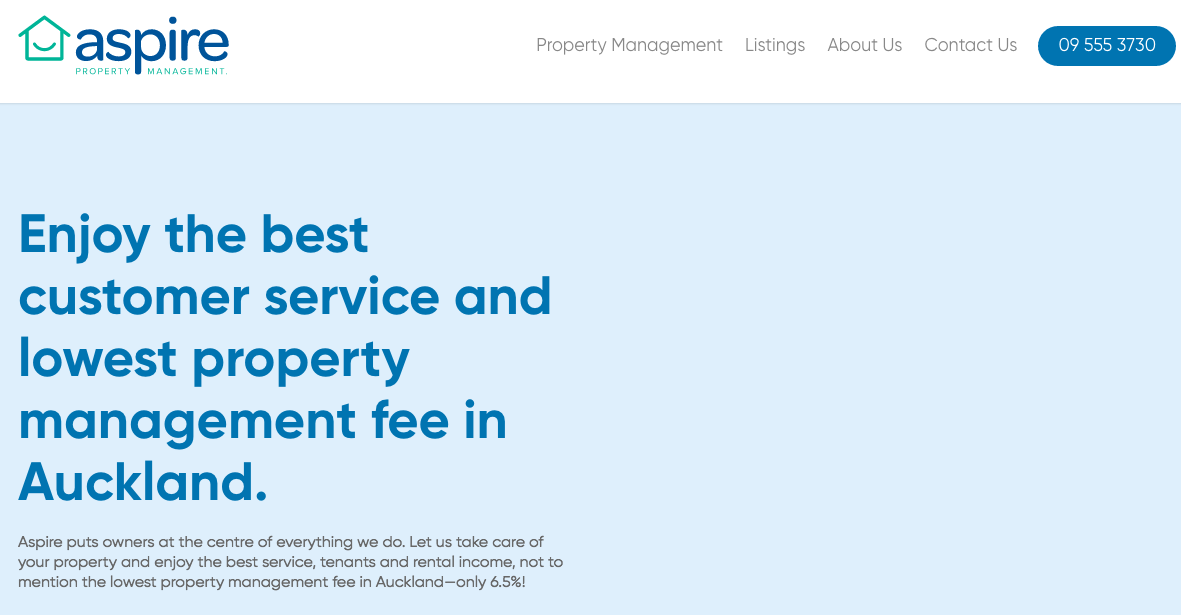 | | |
| --- | --- |
| Best for | Value for Money |
| Services | Property Listing, Tenant Selection, Rent and Finances, Maintenance, Inspections, and Property Compliance |
| Address | 32 Anzac Street, Takapuna, Auckland 0620, New Zealand |
| Contact no | 09 555 3730 |
| Website | https://aspireproperty.co.nz/ |
Looking for a property manager for a reasonable price? Then you've got everything you need with Aspire Property Management. Here, you only need to pay a 6.5% commission to them.
They are mostly focused on their customer service, innovation, and technology. They look for more tenants, repair and maintain, update you with new changes in tenancy law, etc.
You can entrust your property to them, as they'll ensure it's taken care of in the best possible way. With them, your big investment will shine for you and your tenants in the form of income.
Highlights
Lowest rate of 6.5% to pay property managers
Great service quality
Updates you with legislation changes
Gets you the highest potential for your rental income
Customer Reviews
Amit Chatrath comments on Google Business:
"Working with Aspire from more than 2 years. Really happy with their service and quick turnaround time on everything. Casey  handles my property and is very transparent about the cost etc.  Definitely recommend them."
6) Zodiak Management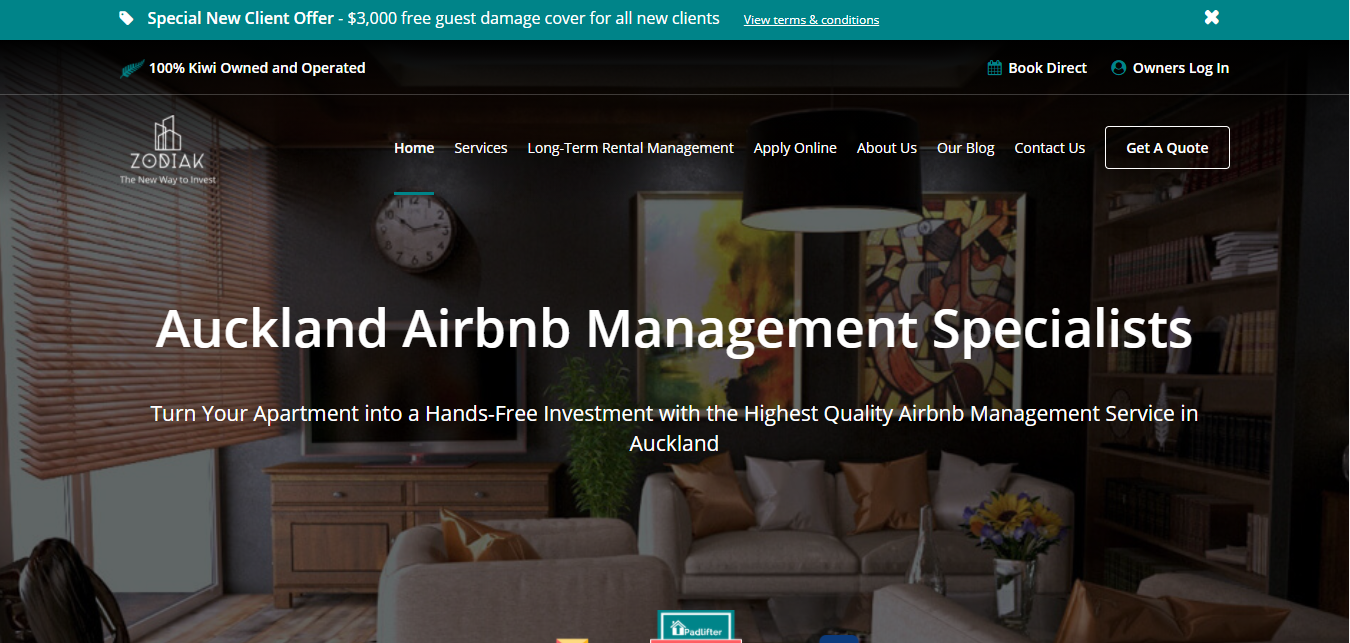 Zodiak Management's aim is to provide the best quality Airbnb management service that exists. The company focuses on quality above all else.
Most management companies simply let guests check themselves in using a key they leave in a lockbox. Zodiak Management go the extra mile and have employed staff who's job it is to welcome every guest to their managed apartments in person.
Staff members also answer any questions any client may have and make them feel welcome in a new city. Zodiak Management also inspect the property after every checkout, as well as after every clean, just to make sure that everything is perfect for the next guest's stay.
Highlights
Free quote online with 30 minutes consultation
Online application for property owners
Hassle-free transactions
Customer Reviews
"This has been really helpful with us in managing our property with professional consultancy and services."
"Fantastic service by Zodiak and a great website."
7. Residential Rents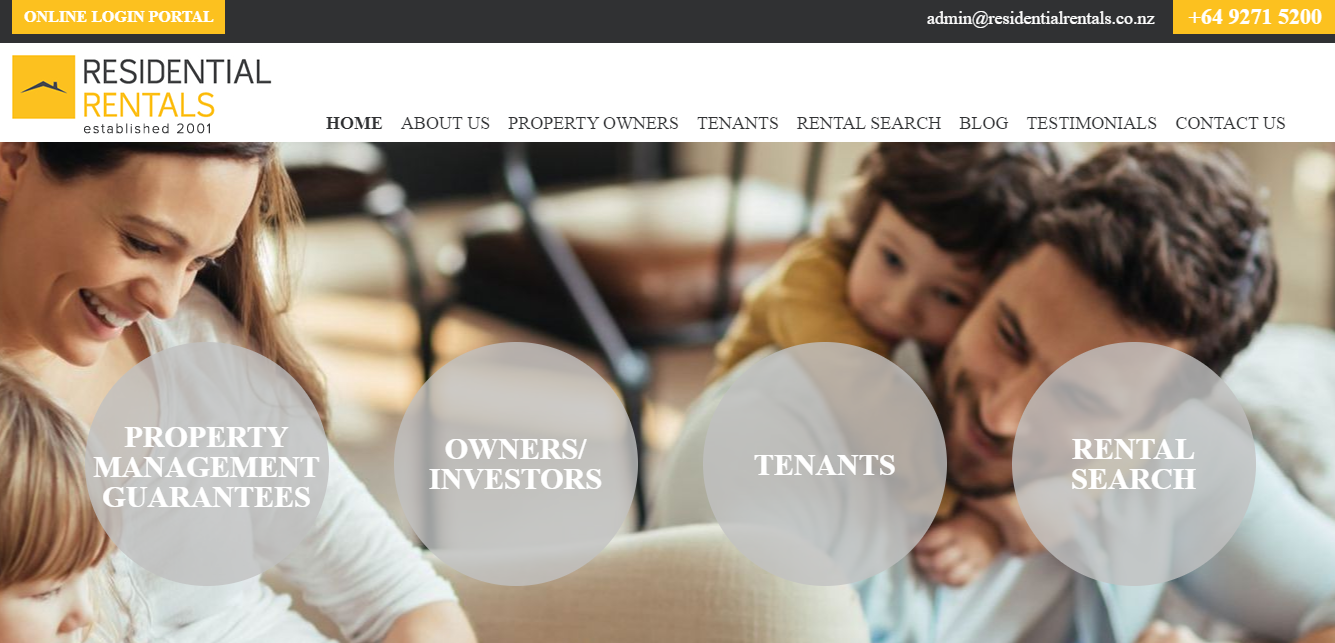 Landlords who come to Residential Rentals want reliable and trustworthy advice. The team at Residential Rentals is a family-owned and operated boutique agency that specialises in high-quality properties offering a professional, personalised service to both our owners and tenants.
They have an excellent staff-to-property ratio ensuring our staff can offer a hands-on personalised property management service. This can keep clients and tenants happy and providing the quality service with integrity that we pride our solid reputation on.
Residential Rentals has invested in the latest property management systems offering our owners their own personalised online portal. Residential Rentals gives peace of mind and optimal returns with unique service guarantees.
Highlights
Comprehensive online support
Professional marketing
Low maintenance and repair costs
Customer Reviews
"Many thanks to the team at Residential Rentals, always available and nothing is too much trouble. Highly recommended."
"From a professional property managers perspective, this team stands out in a very positive and professional light."
8. Parkit
Parkit is a specialist property management company focused on the Auckland area. Their goal is to provide a hassle-free property ownership experience to all their clients.
They understand that finding the right tenant is important in property management– which is why that is one of their utmost priorities. Parkit is able to handle all the aspects of property management, from maintenance to tenantship. If you're interested, make sure to contact them immediately.
Highlights
Over 20 years of experience
Experienced property managers
9. Your Property Manager

Your Property Manager is a company that provides excellent property management services. With their attention to detail and communication, you'll feel that they're a company that cares.
You can count on them to conduct periodic inspections, as well as give prompt responses to your queries anytime. Your Property Manager is someone you can count on to manage your property well.
Highlights
Periodic inspections
Prompt response
And there you have it for the best Auckland property management firms. All of them are incredibly skilled and will take care of your property for your business and tenants.
Do you have any questions as far as our discussion is concerned? If you do have one, feel free to send us a message and we will get back to you shortly.
In addition, you might also be interested in the best handyman services in Auckland. Check out that list, so that if something in your house needs some fixing, you'll know whom to call instantly.