The 10 Best Barbers in Christchurch Reviewed and Compared
It takes a skilled barber to cut your hair in a style that you want and get good-looking results. If you're looking for such a barber, you're just in time, as we've put together a list of the best barbers in Christchurch here for you.
We chose professional, experienced and precise barbers in Christchurch. Also, we opted for those who treat you amicably and give value for the service, as well as have epic client reviews.
Without further ado, allow us to show you the best barbers in Christchurch!
The Best Barbers in Christchurch Reviewed and Compared
1) House of Barber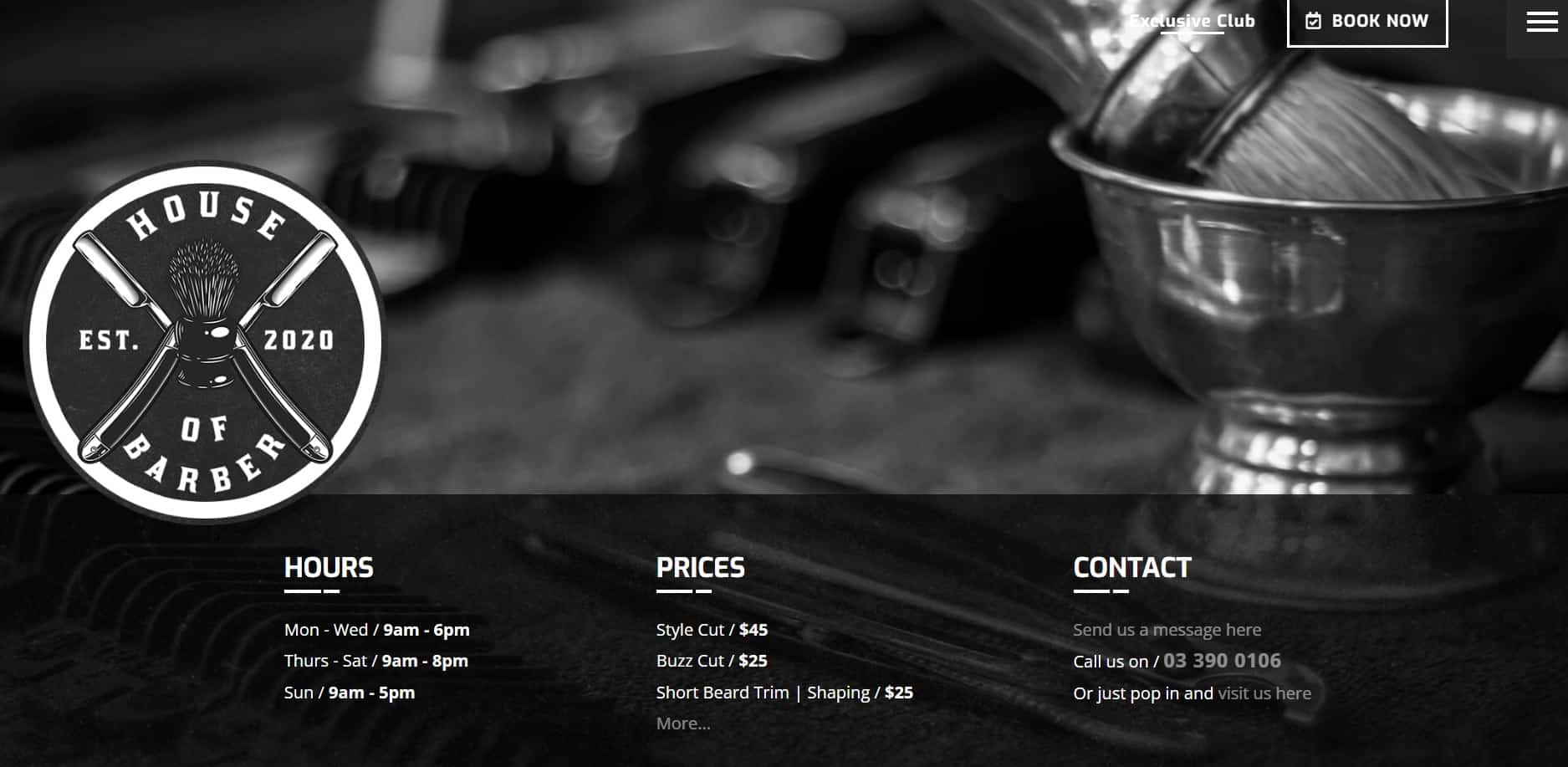 BEST FOR
Stylish and Quality Cuts
SERVICES
Basic cut, Style cut, Skin Fade, Full Scissors cut, Lad's Cut, Buzz cut, Short Beard Trim, Long Beard Trim, how Towels Shave, Restyle Cut
WEBSITE
https://houseofbarbernz.co.nz/
ADDRESS
3/88 Cashel Street, Christchurch City, New Zealand
CONTACT DETAILS
03 390 0106
OPERATING HOURS
Mon – Wed:  9am – 6pm
Thurs – Sat:  9am – 8pm
Sun: 9am – 5pm
House of Barber is a men's grooming shop that offers clients a comprehensive variety of cuts, trims, and hairstyles. Founded back in 2020, they have since then been providing inclusive and premium styling options for their clients.
We like that they have such a convenient online booking feature readily on their website that is assistive to both new and returning clients.
Furthermore, their shop also features drinks and a gaming corner to ensure that their clients get to relax and have a full pampered experience during their stay with them.
Note though that for clients looking to have their services done by their preferred barber, their schedules of availability may vary according to the influx of bookings.
Nonetheless, with their fun and engaging facilities, professional barbers, and highly inclusive barber packages and inclusions, we highly recommend them to individuals in the area looking for premier barber services.
Highlights
Certified and professional barbers
Convenient online booking
Engaging and unique facilities
2)  Grant – Barber & Co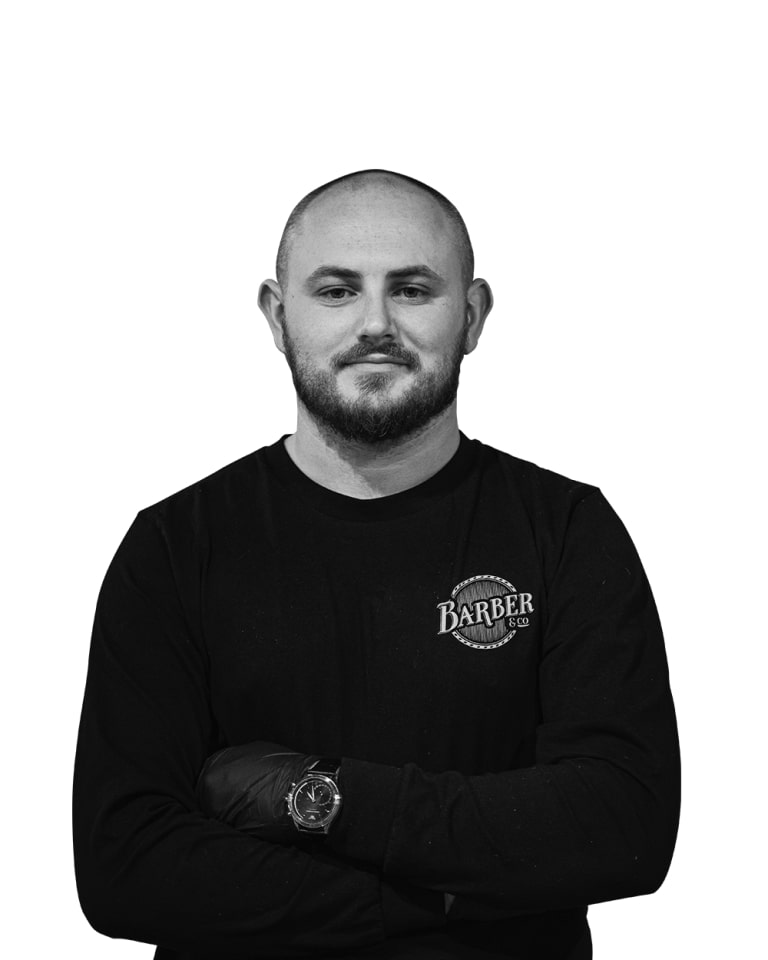 BEST FOR
Great style cuts
SERVICES
Styled cut

Beard trim

Hot towel shave

WEBSITE
https://barberandco.co.nz/
ADDRESS
ANZ Center, Level 1/135 Cashel Street, Christchurch 8011, New Zealand
CONTACT DETAILS
+64 22 475 5458
OPERATING HOURS
Monday to Friday: 9.00am – 5.30pm
At Barber & Co, Grant not only gives great cuts to clients but also gives a top service. These combined elements make Barber and Co popular in Christchurch.
He and the other barbers at Barber and Co are masters of the craft, whether for style cuts, beard trims or cut-throat shaves. They can pull off any style that you'd want for your hair at an affordable price!
Customers say that Grant is professional, laid-back and personable too. Hence, he's definitely one of the best barbers in Christchurch to schedule your next cut with.
Highlights
Gives great cuts
Top service
Professional & personable
Affordable price 
Customer Reviews 
Check out Aaron Davis's comment on Google Business:
"Grant from this place is a good bloke. Professional yet relaxed and does a stellar job. Went from scraggly  to clean and sharp lines and looking the part. Cheers grant"
3)  Ben – Benny's Barber Shop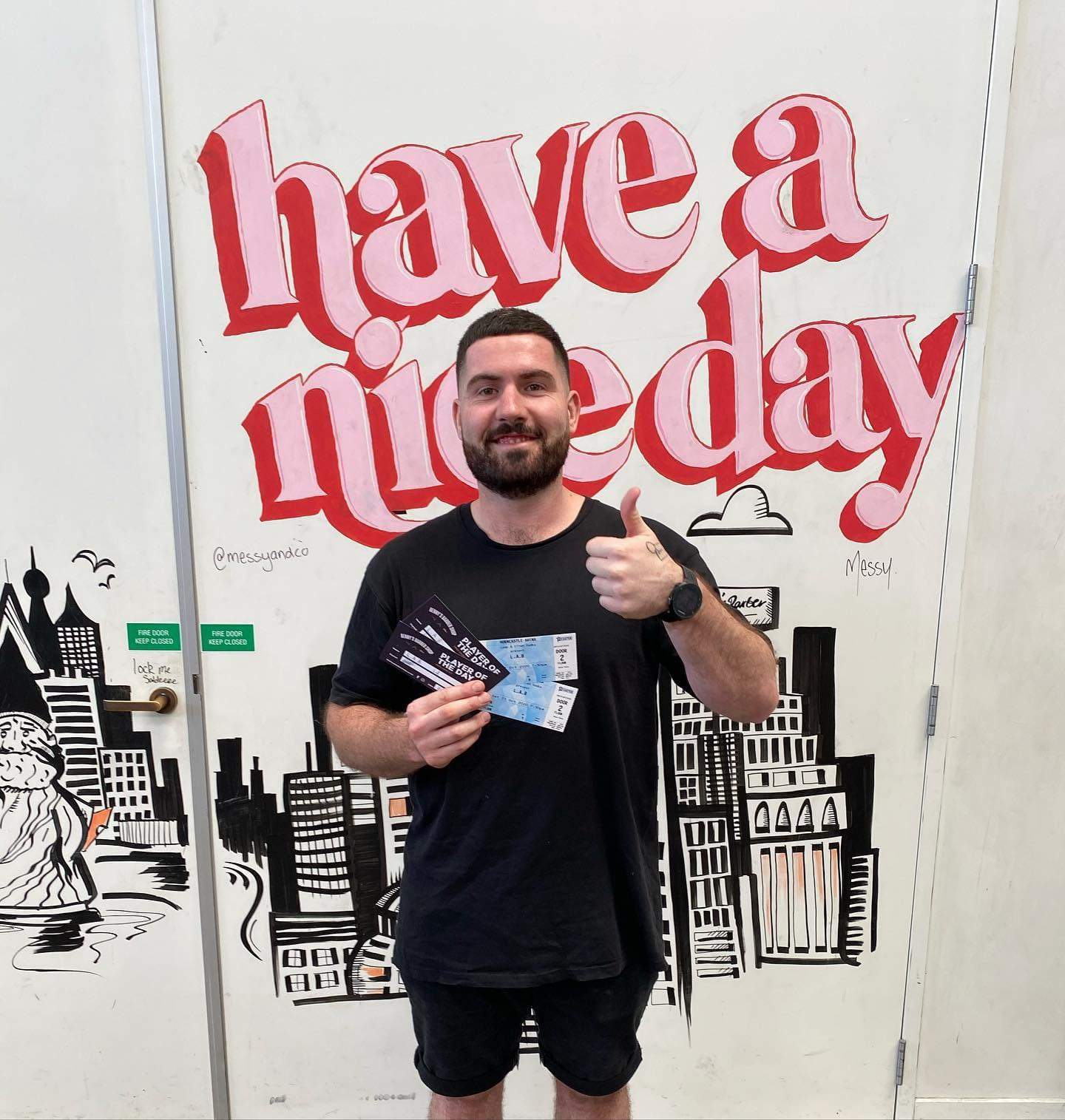 BEST FOR
Kids and teen cuts
SERVICES
Men's cut

Shave

WEBSITE
https://bennysbarbershop.co.nz/
ADDRESS
105 Disraeli St, Sydenham, Christchurch 8023, New Zealand
CONTACT DETAILS
+64 21 233 1270
OPERATING HOURS
Tuesday: 8.00am – 6.00pm

Wednesday & Thursday: 8.00am – 9.00pm

Friday: 8.00am – 8.00pm

Saturday: 8.00am – 4.00pm
Ben has set up the ultimate entertainment hub at Benny's Barber Shop where you can play PS4, shoot hoops, or have a cup of bloody delicious coffee while you're waiting.
He is great around children, being friendly and caring with them. He'll make the kids look neat and cool with their new haircut too.
When giving a haircut, Ben takes his time and doesn't rush, says one client. He gives an excellent cut and has great-quality banter too to break the ice with his customers.
For these reasons, we think Ben deserves a spot on our list of the best barbers in Christchurch!
Highlights
Excellent barber
Great with kids
Friendly and caring personality
Fun and laid-back barbershop
Customer Reviews 
On Facebook, Jacob Murray commented:
"Barbers are Incredible, Benny is not only an awesome barber and boss but a great human being who cares for his lads and his community- would recommend bbs 10/10."
4)  Chris Terry – New City Barbers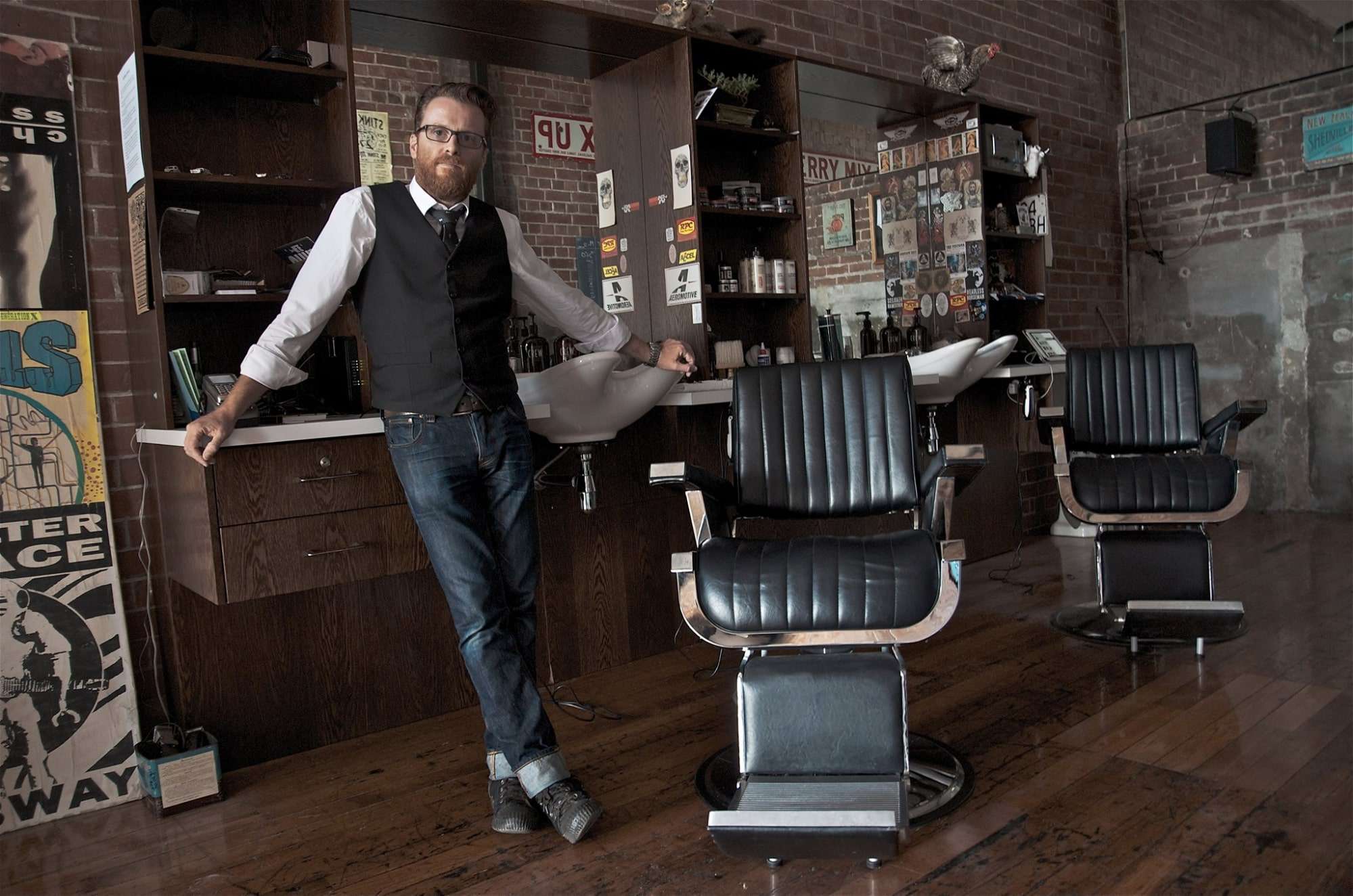 BEST FOR
Simple & friendly barber
SERVICES
Clipper cut

Dry cut

Wash, cut & style

Cut throat razor shave

Wash Cut, style & shave

Eyebrows, beards & moustaches

WEBSITE
http://www.newcitybarbers.co.nz/
ADDRESS
NG Building 212 Madras Street, Christchurch Central, Christchurch 8011, New Zealand
CONTACT DETAILS
+64 3-365 4420
OPERATING HOURS
Tuesday & Thursday: 10.00am – 8.00pm

Wednesday & Friday: 10.00am – 6.00pm

Saturday: 10.00am – 4.00pm
Chris Terry is the head barber and owner of New City Barbers in Christchurch. He's extremely good at handcrafted cuts and straight razor shaves, and also gives excellent hair advice.
The place is nice and down-to-earth and you can sit and flip through their various illustrated books. These range from punk rock to race car books — guaranteed not to bore you.
He offers simple, ready-to-go cut packages for a competitive price. Whether you are giving yourself a clean executive look or a beard trim-up, Chris has you covered. Definitely one of the most reliable barbers in Christchurch.
Highlights 
Specialises in handcrafted cuts
Offers ready-to-go cut packages
Competitive rates
Gives excellent advice 
Customer Reviews 
Brad Burks, one customer, said this on Google Reviews: 
"Chris & team are great and provide excellent results. The atmosphere is relaxed and the price is very reasonable for a quality haircut or beard trim. Highly recommended."
5)  Kris Foster – Bojangles Barber Shop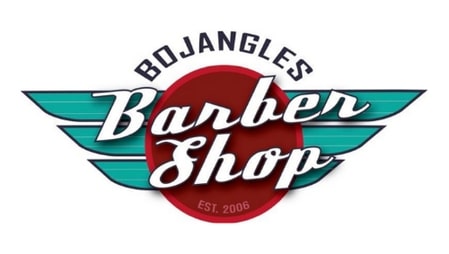 BEST FOR
Dedicated & passionate barber
SERVICES
Mens cut

High school student cut

Kids cut

Senior cut

Beard trim

Haircut & beard trim

Clipper cut basic

Clipper cut complex

Clipper cut with zero fade

WEBSITE
https://www.bojanglesbarbershop.co.nz/
ADDRESS
Tower Junction 14A/4 Troup Drive, Addington, Christchurch 8011, New Zealand
CONTACT DETAILS
+64 22 188 1726
OPERATING HOURS
Monday to Friday: 8.30am – 5.00pm

Saturday: 9.00am – 2.00pm
Kris Foster is the man who started Bojangles Barber Shop in Christchurch way back in 2006. He has over 24 years' experience and has worked in New Zealand, Sydney and even London.
At this traditional and inviting barbershop in Christchurch, he offers mens cuts, seniors cuts, students cuts, beard trims and hot face towels. Most of the staff have been working here for quite a while too, so they provide great support.
Kris is a Tier-A barber providing quality cuts every single time. He's one of the best barbers in Christchurch because of his dedication and passion to keeping his clients satisfied.
Also, you don't even have to set an appointment with them to get a haircut, as you can just walk into the shop. 
Highlights
Dedicated professional barber
Over 24 years' experience
Relaxing barbershop
Almost no waiting time
Customer Reviews 
Here's what one client, Paul Kempt, has to say on Google:
"Great crew, talented individuals – good value, convenience of parking at the door. What more can a man ask for?"
6) Clayden – Frederick Woodwards Barber Shop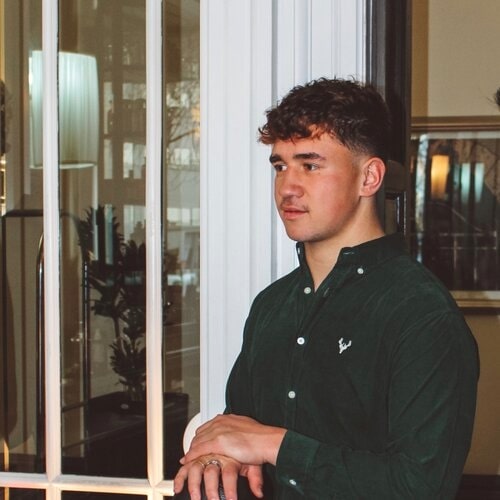 BEST FOR
Eye for detail
SERVICES
Junior style cut

Junior beard trim

Style cut & beard trim

Executive cut

Dad & lad cut's

Style cut

Beard trim / Shaping

Lad's haircut (Under 16)

Student cut

Wash & restyle

Razor finish

Straight razor shave

Style cut & shave

Groomsmen packages

WEBSITE
https://www.woodwards.co.nz/
ADDRESS
O.G.B Building, Cathedral Square, Christchurch, New Zealand
CONTACT DETAILS
03 366 6826
OPERATING HOURS
Monday to Wednesday: 9.00am – 5.00pm

Thursday & Friday: 9.00am – 8.00pm

Saturday: 9.00am – 6.00pm
If you prefer a stylish haircut and warm presence, then look no further than Clayden. Although he has just over a year's experience, he cuts well above and beyond it.
With his amazing eye for detail, Clayden will give the customer a great-looking haircut. It's also going to be perfect if you like a distinct style — as he's totally creative!
Frederick Woodwards Barber Shop is located at the OGB Building in Cathedral Square. It has pleasant afternoon sunlight and is spotless from floor to ceiling.
If ambiance and vibe are top priorities for you, then this is one of the best barbers in Christchurch for you.
Highlights
Adept and creative barber
Amazing eye for detail
Spotless barbershop
7) Golden Blade Barber Lounge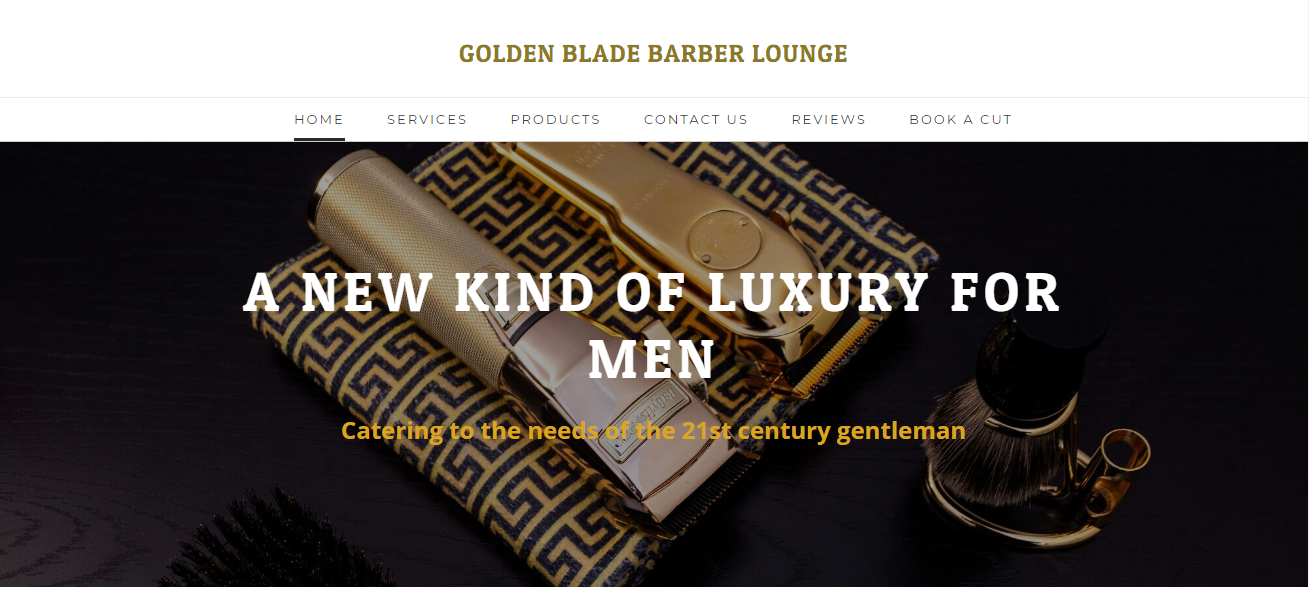 BEST FOR
Classic Barber Shop Experience
SERVICES
Services
WEBSITE
https://goldenblade.nz/index.html
ADDRESS
​228 Kilmore street
Christchurch, New Zealand
CONTACT DETAILS
Email: [email protected]
Phone: 03 261 6677
OPERATING HOURS
TUESDAY – FRIDAY
10am – 8pmSATURDAY
10am – 4pm

SUNDAY – MONDAY
Closed
For a truly luxurious Christchurch barber shop experience, there's no better place to go than the Golden Blade Barber Lounge. They take pride in offering the vintage barbershop experience for the 21st century gentleman.
Their expert barbers in Christchurch are committed to providing quality services to everyone that walks in their door. With their diverse set of cuts and grooming styles, you're sure to look your best after they're done working on you.
Highlights
Vintage barbershop experience
Stylish cuts and expert grooming
High-quality grooming products
Expert staff
8)
Pure Hair
BEST FOR 
Eco-Conscious Methods and Products
SERVICES
Styling, Post-Cancer Treatment Hair, Women's Cuts, Blow Waves, Men's Styling, Children's Cut, Ball/Formal Packages, Colour, Foils, Balayage/Ombre, Global Lightening, Colour Correction and Treatments
WEBSITE
http://www.purehairandbody.co.nz/
ADDRESS
449 Colombo St, Sydenham, Christchurch, New Zealand
CONTACT DETAILS
03 377 1044
OPERATING HOURS
Monday: 9am – 7pmTuesday, Friday and Saturday: 9am – 5pm

Wednesday and Thursday: 9am – 8pm

Sunday: Closed
Pure Hair is a leading hair salon and barber shop in Christchurch, known not only for just their service, but also for how they work. They're one of the first, and only few, salons that are focused on the impacts of an establishment on the environment.
They're popular for using sustainable products that are both vegan and organic, as well as for shifting to more ergonomic alternatives like using paper instead of tin foil, and having refillable stations for items like shampoo and conditioner.
In addition, they also collect the hair cut from customers and donate it to Sustainable Salons that in turn, creates wigs for cancer organisations and other charitable causes. If you go to their shop, you'll not only get your hair needs, but also be able to contribute to a more sustainable country.
So if giving back to the community is something big for you, then Pure Hair is absolutely one of the best barbers in Christchurch for you.
Highlights
Gives you a healthy and beautiful hair
Notable for their eco-friendly practices
Donate leftover hair to cancer organisations
Customer Reviews
Katherine Orme posted her comment on Facebook:
"I walked in to get my hair cut – morning of a wedding- and walked out with my hair cut, my hair done! and my nails painted! All in the one appointment. Phillipa and her team went out of their way for me. Offered under their own initiative to have my nails painted while my hair was cut. A BRILLIANT time saver and good company! This salon has a friendly trendy vibe. I get the feeling nothing would be too hard for this team."
9) Vj Barbers Men's grooming
BEST FOR 
Contemporary Barbering for Lads and Old Boys
SERVICES
Clipper Cut, High School Students, Old Boys (65+), Mens Cut & Style, Specialised Razor Cut/Restyle, Camo De-Grey, Highlights and Cut, Blading, Beard Grooming, Hot Shave, Head Shave Cut Throat, Facial, and Waxing
WEBSITE
https://www.vforhair.co.nz/
ADDRESS
Upstairs, Level 1 Merivale Mall, Christchurch, New Zealand
CONTACT DETAILS
+64 3 977 1666
OPERATING HOURS
Monday, Tuesday and Saturday: 8am – 5pm
Wednesday and Friday: 8am – 5.30pm
Thursday: 8am – 8pm
Sunday: Closed
Vj Barbers Men's grooming offer services catering to young lads and old boys with a modern-day twist.
All of the Christchurch barbers at Vj Barbers strive to provide high-class style and service in an upbeat and masculine environment. Whether it's the latest fashion trends or short back and sides, their barbers are all fully trained to the highest standards.
Vj Barbers Shop is a traditional full service barbering at its finest,  including haircut and styles, men's facials as well as their famous hot lather face shave menu.
All Haircuts are shampooed and are finished with a neck shave to get all of those unsightly neck hairs and not to forget ear and nasal hair and those eyebrows. The service is then finished with a styling product to suit your style.
Highlights
Provides high-class style and service
Refreshing and complete grooming service including waxing and hot lather shaves
Fine and precise barber stylists
Customer Reviews
Dylan J Page commented on Facebook:
"Highly recommend VJ Barbers I got my haircut by Kumar and he listen attentively to exactly what I wanted and executed the haircut with precision. He also was a great Barber and had some good chats. It's hard to find a decent barber in Christchurch coming from a city like Auckland but this place is exactly what I was looking for, 5 Stars!!"
10) Manscape Hair & Body for Men

BEST FOR 
Hair and Grooming Services for Men
SERVICES
Cut Colour and Shave
Waxing To Relaxing
Groom Grooming
WEBSITE
https://www.manscape.co.nz
ADDRESS
55 Sandyford Street
Sydenham
Christchurch
CONTACT DETAILS
0800 MANSCAPE / 03 377 0227
OPERATING HOURS
Manscape Hair & Body for Men strives to create an environment where clients can are pampered and provided with quality hair care and grooming services.
Upon entering, clients of Manscape Hair & Body are greeted by warm, friendly staff and offered complimentary drinks, either in the form of coffee or orange juice. The quaint establishment also has on-hand entertainment to keep clients preoccupied during their sessions.
In terms of actual service provided, Manscape offers haircuts, colouring, and shaving, as well as waxing and wedding grooming services. As per usual, these services are customised to fit the clients' needs and wants, and delivered by trained, highly professional grooming staff.
If you want a day of man-pampering from head to toe, Manscape is definitely one of the best barbers in Christchurch for you.
Highlights
Open six days a week
Accessible location
Excellent customer service
Offers wedding grooming
And that's it for now for the best barbers in Christchurch list. If you're in town, you can drop by the shop to let one of these maestros give you a fantastic cut and shave.
Has our discussion been clear so far? If you have any questions or comments, kindly let us know and we'll get back to you as soon as we can.
Alternatively, you can head down to the best hair salons in Christchurch. Here you can get an equally great cut and a relaxing, frothy shampoo and scalp massage. And when you're sporting your new haircut, there's no better way to flex it than catching up with your best mates at Christchurch's best cafes!