The 6 Best Bed Frames in New Zealand
Featured Image Source: HippoPx
Buying a new bed frame for your home? Today's your lucky day because this article you're about to dive into features the best bed frames in New Zealand!
We searched all across the country for the best bed frame your money can buy. We took into account the materials, durability, ease of assembly and aesthetic value of the bed frames featured below.
All of that means you can be certain we selected only the ones that met rigorous standards. But before we discuss our top choices, let's talk about cost first.
How much do bed frames cost in New Zealand?
Choosing the right bed frame is a lot easier than choosing a mattress and often boils down to your aesthetic preference. However, bed frames provide the support for your mattress and should be chosen carefully, with more considerations than aesthetics.
The average cost for a bed frame in New Zealand is around $1,000. Factors that can affect this price include the size and the materials the bed frame is made of.
We've summarized the prices of the bed frames we've featured in this article so that you can easily compare them. Take note that these prices are for bed frames only – mattresses are a separate purchase.
| | | | |
| --- | --- | --- | --- |
| Winkl | The Winkl Bed Frame | Double / Queen / King | $1,450.00 |
| | | Single / King Single | $1,250.00 |
| | | Super King | $1,650.00 |
| Coastwood Furniture | Reva King Bed Frame | King | $3,339.00 |
| Ecosa | Timber Bed Frame | Single | $1,400.00 |
| | | Double | $1,600.00 |
| | | King Single | $1,500.00 |
| | | Queen | $1,700.00 |
| | | King | $1,800.00 |
| | | Super King | $1,900.00 |
| | | California King | $2,000.00 |
| FlatPack Company | The Simple Frame | Double | $399.00 |
| | | Queen | $429.00 |
| Ikea | NORDLI | | $1,199.00 |
| BedShop Online | SS Drawer Bases | – | $1,099.00 – $2,399.00 |
| | Sleepmaker Base | – | $399.00 – $999.00 |
| | Sleepmaker Drawer Base | – | $1,199.00 – $2,499.00 |
The Best Bed Frames in New Zealand
Now that you know what they cost, we can take a look at our choices for the best bed frames in New Zealand.
1. Winkl Bed Frame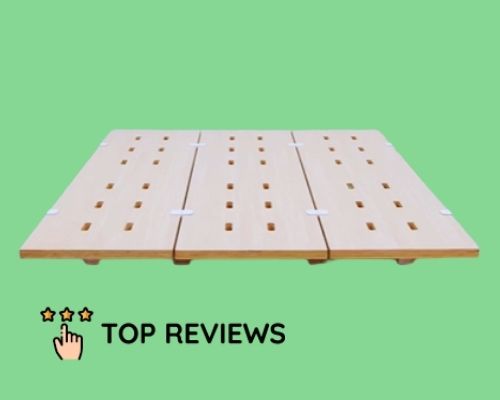 PRICE
Double / Queen / King – NZ $1,450.00
Single / King Single – $1,250.00
Super King – $1,650.00
Upgrade Kit – $475.00
DIMENSIONS
Single & King Single: 120W x 220L x 84H cm
Double, Queen & King: Width: 180W x 220L x 84H cm
Super King: Width: 195W x 220L x 84H cm
Under Bed: 20 cm
MATERIALS
Oak veneer, powder coated steel
WARRANTY
10-Year Warranty
OTHERS
Free Shipping & Returns; 120-day Trial
WEBSITE
https://www.winkl.co.nz/
CONTACT DETAILS
Email:

[email protected]

ADDRESS
19 Royal Tce, Sandringham, Auckland 1024, New Zealand.
Winkl is a homegrown New Zealand brand that has forever changed the Kiwi bedding scene. They've quickly amassed many satisfied customers primarily with their two premium luxury mattresses and easy online ordering system.
Today, this company is set to make waves once again by offering New Zealand a game-changing bed frame. With the Winkl Bed Frame, you're no longer limited to a single size bed since according to them, it's "designed to grow with you".
You can easily shift from a single, king single to a double, queen, or king due to its adjustable base panels. If you decide you want to upgrade to a larger size, all you need is to purchase their upgrade kit.
This kit includes an extra base panel, steel supports, and a new larger headboard. You will need to figure out what to do with your old headboard though, and Winkl suggests that you use it to make a table, a shelf, or anything else you can think of.
Now you may think the upgrade kit is expensive at $475 — some of our staff thought that at first too. But we realized that we could be looking at it the wrong way.
It actually costs less than half of what it would take to purchase a new bed frame – that's not even counting the cost of disposing of the old one either.
With the Winkl Bed Frame, not only do you get a larger bed frame but you get to keep the "old" one too. And judging by the quality of materials they're constructed from, it should last you quite a long time.
The Winkl Bed Frame is made from 40mm heavy-duty oak veneer panels with a honeycomb core that acts as breather holes. This lets it remain light but durable while providing adequate airflow around your mattress.
Its powder-coated steel supports easily lock into place without the need for any tools to assemble. The 3mm legs can support a fair amount of weight and force as well – they can handle rowdy kids jumping on the bed or any extracurricular activities you may have when the lights turn off.
Now, we found a small problem with the bed frame. The top is so smooth that mattresses tend to slip a little on it after a bit of rough usage and can end up off-center after a few nights.
That said, it's not a complete dealbreaker. You can always place an anti-slip mat between the panels and the mattress to keep it from slipping.
If you're still on the fence about getting this bed frame, it comes with a 120-Night trial and a 10-year warranty. They also offer free delivery anywhere in New Zealand and have a "help squad" known for being very responsive to questions and concerns.
The Winkl Bed Frame also provides you flexibility in sizing. With features like that and multiple financing options available so you can have a comfy night's rest now and pay for it later, this Winkl product easily earns its spot on our list of the best bed frames in New Zealand.
Base panels lets you adjust the size easily
120-night trial period
10-Year warranty
Same-day delivery (for certain areas)
Painting or altering the frame voids the warranty
Upgrade kit leaves you with an extra headboard
2. Coastwood Furniture Reva King Bed Frame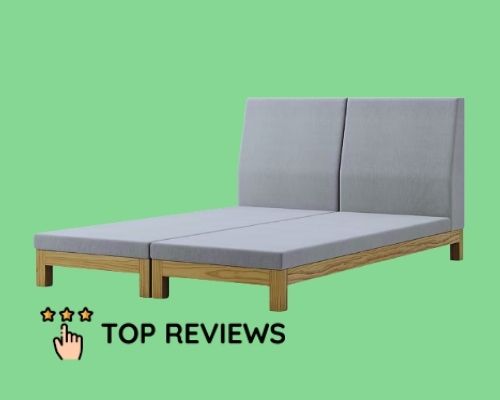 PRICE
$3,339.00
DIMENSIONS
Headend – 1150 mm high
Base – 290 mm high
MATERIALS
Radiata Pine, MDF
WARRANTY
25-Year Warranty
WEBSITE
www.coastwoodfurniture.co.nz
CONTACT DETAILS
Toll-Free: 0800-369-963
Fax: 0800-689-919
Email:

[email protected]

ADDRESS
72 Arney St, Greymouth 7805, New Zealand
Coastwood Furniture was founded in 1997 and remains a family-owned and operated business today. With humble beginnings as a chair manufacturer, they have grown to be one of the country's leading furniture suppliers, selling to over 250 brick and mortar retailers.
Using sustainably sourced and locally grown Radiata Pine along with American White Ash timber, Coastwood Furniture's work features beautifully grained wood. We don't know about you, but we're big fans of that.
What's more, they have a hugely varied inventory. Whether you're looking for a rustic bedside table or a modern bed frame, they've got something to suit your needs.
What makes Coastwood Furniture unique is that every piece can be custom-made according to your requirements. Their bespoke made-to-measure and made-to-order furniture can be adjusted in dimensions to suit your space.
You don't have to come up with your own design either – these customizations can also be applied to their ready-made products. If it won't fit inside your home or you need a little something modified, Coastwood Furniture is happy to oblige.
We particularly like their Reva Padded Bed American Ash bed frame, which is made of a combination of Radiata Pine & MDF. It has a padded base with angled back support that's customized for comfort, so you can sit in bed and read all day.
You can choose from 9 different shades of timbre stains from such as dark ash, cinder, or grey wash to make it uniquely yours.
The upholstery, which is available in any Charles Parsons or Warwicks Fabric, can be customized as well to suit your existing furniture pieces.
Although available sizes range from a Single to a Super King, Coastwood Furniture can fully customize the dimensions to suit your needs. For example, if you want a larger gap underneath the bed so you can store things, they can adjust the frame's height.
The only downside is that this bed is designed and manufactured exclusively for Harvey Norman, so you can only order it from them. However, there are conveniences: for instance, you can opt to finance the payment in as much as only $13.07 a month for 60 months.
Customizable dimensions according to your needs
Products are made-to-order
Supplies over 250 retail stores
Expensive
Can only purchase model through Harvey Norman
3. Ecosa Timber Bed Frame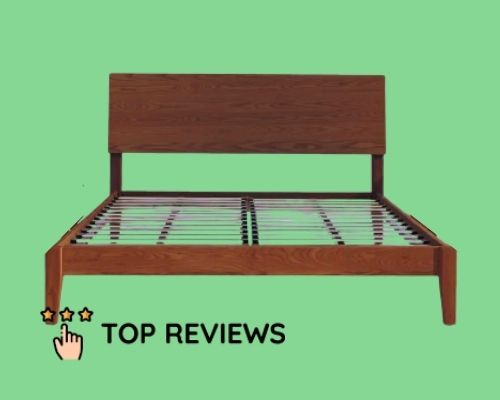 PRICE
Single: NZ $1,400.00
Double: NZ $ 1,600.00
King Single: NZ $1,500.00
Queen: NZ $1,700.00
King: NZ $1,800.00
Super King: NZ $1,900.00
California King: NZ $2,000.00
DIMENSIONS
Single: 105W x 205.3L x 20.5H mm
Double: 151W x 205.3L x 20.5H mm
King Single: 120W x 220.3L x 20.5H mm
Queen 166mm x 220.3L x 20.5H mm
King: 180W x 220.3L x 20.5H mm
Super King: 196W x 220.3L x 20.5H mm
California King: 216W x 220.3L x 20.5H mm
MATERIALS
American Ash Timbre
WARRANTY
5-Year Limited Warranty
WEBSITE
https://www.ecosa.co.nz/
CONTACT DETAILS
Phone: (09) 888-0677
Email:

[email protected]
BUY IT ON ECOSA
Ecosa is relatively new to the scene of sleep solutions, established only in 2015 and setting up in New Zealand a year later. While they might be known for their ergonomic mattresses and bamboo sheets, they've developed their own bed frame now as well.
The Ecosa Timber Bed Frame is made from sustainably sourced American Ash. It's only available in two finishes, but its natural wood grains impart a classic style that can fit well in any bedroom.
It has shock-resistant wooden slats that are strengthened by a metal internal support frame and can handle intense "action" with creak-free comfort. If your floor is uneven, its adjustable feet can help too.
Assembly is simple – it can be accomplished in five minutes since no tools are required and you even get a storage shelf ingeniously hidden behind the headboard.
Now, while the entire bed frame has a water-resistant coating, you may want to prevent it from getting wet to avoid any warping.
You'll also need to keep it away from direct dry heat, so you can't position this frame near heating ducts, radiators, or heaters. That may be a problem in some homes.
We're also not ecstatic about the rather short 5-year limited warranty, but it's better than what a lot of other companies offer. Make sure not to alter any part of the frame (which includes varnishing or staining) or else this warranty will be void, by the way.
Anyway, although it's only available in a Walnut or Ash variant, the wood used is certified by the Forestry Stewardship Council. So, if you're looking for an environmentally responsible product, this is a great choice.
If you live in Auckland, you'll benefit from same-day delivery, but if you're elsewhere in New Zealand, you can expect up to a week before you receive your order. However, you can choose what day you want it delivered as long as it fits reasonably within their delivery time frame.
Made from sustainably sourced wood
Covered with water resistant coating
Financing options via Zip and Hummm
Available in a wide range of sizes
Short warranty period
Only two colors or stains available
Customer Reviews
Kate H. purchased this bed frame to replace her old one:
"We love our new Ecosa bed base and matching bedside tables. The walnut timber is warming and really solid with a simple contemporary design. Very easy to put together and we really love the hidden shelf behind the bed head (which also protects the wall). I'd definitely recommend this to anyone."
4. FlatPack Company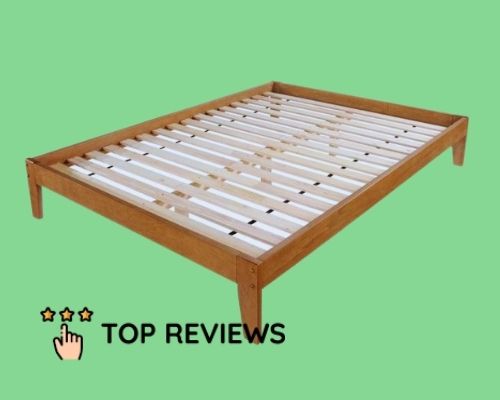 PRICE
Double: NZ $399.00
Queen: NZ $429.00
DIMENSIONS
Double: 144W x 196L x 35H cm
Queen: 159W x 209L x 35H cm
WEIGHT LIMIT
300 kg
MATERIALS
Popular Wood, Ply Slats
WARRANTY
1-Year Warranty
WEBSITE
https://theflatpack.co.nz/
CONTACT DETAILS
Phone: (021) 0230-4862
Email:

[email protected]
The FlatPack Co. was founded in North Dunedin primarily to provide students with an affordable bed when they move into their flats. After early success, this startup company now provides Kiwis all over the country a chance to own one of their quality products.
They've still kept to their main business model today, focusing on providing beds for those who are moving house, renting apartments, and of course, students. A completely online retailer, they offer two kinds of beds – a "regular" bed and a "student" bed.
They provide free delivery all over New Zealand for their regular mattresses and bed frames, but you can expect up to one week before an item lands on your doorstep. Student beds are only delivered to Auckland, Christchurch, Dunedin, Hamilton, and Wellington but offer same-day arrival.
Their warehouses are located in Auckland and Christchurch, so if you live near these areas, you can expect your orders to arrive sooner.
The FlatPack Co. offers only one kind of bed frame too, which is aptly called the Simple Frame, and comes in either an Oak or White finish.
Its design is refreshingly minimalist and modern, with a high-quality coating that we think will blend in easily into any bedroom, whether in a flat or a home.
Although we would have liked to have seen more sizes available other than a Queen or Double, these are the most common sizes, so it's not a dealbreaker. The Simple Frame has 16-slats and a middle support beam that provides comfort throughout the night.
We particularly like that there's enough room underneath the frame for you to store items. This makes it especially useful if you're in a flat and need that extra storage space.
If you're not happy with your bed frame, you have 28 days to return it, and it must be sent back with the original packaging. Although based on what we've seen thus far, it doesn't seem likely you'll return it any time soon.
Affordable prices
Easy assembly
Has enough room underneath for storage
Only two sizes and two colors available
Only one year warranty
Customer Reviews
Here's one from Chelsea S.:
"It's a good bed base and looks really nice in the white. A few of my uni mates had the same one in oak but the white option is great! It was super easy to put together and just made moving stress free. Thank you"
And another from Isobel C.:
"Really solid bed frame. Great how it has room under it for extra storage. Actually reasonably easy to put together too."
5. IKEA NORDLI BED FRAME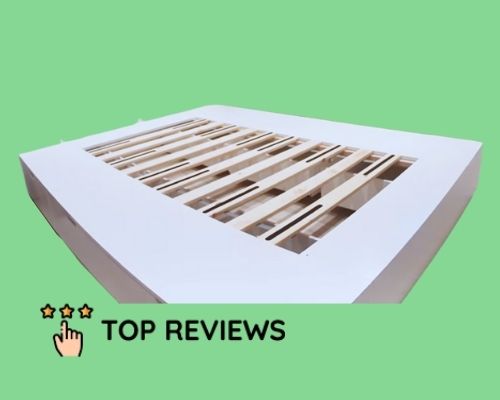 PRICE
NZ $1,199.00
DIMENSIONS
Bed Frame: 160W x 202L x 30H cm
Drawer Dimensions 51W x 58L x 15H cm
MATERIALS
Particleboard, ABS plastic, Fibreboard, Pine, Birch
WEBSITE
https://www.ikea.com/
It's probably not surprising that one of Ikea's products made it to our list of the best bed frames in New Zealand. Their NORDLI bed frame is a great choice for those who need extra storage in their home.
This bed frame has six spacious drawers underneath, which are roomy enough to keep extra beddings, duvets, or even clothes in. It also closes silently thanks to its integrated dampers, so you can take out your things even if your partner or child is still sleeping soundly on the bed.
This Ikea bed frame is made from several different materials such as particleboard, ABS plastic, and fibreboard. It's also coated with acrylic paint.
While it looks smooth and clean overall, we're not complete fans of using a host of so many different materials, if only because the question of variable durability and longevity enters the scene.
Nevertheless, the slatted base made from solid pine is suitable for different kinds of mattresses and foams, easily absorbing and distributing weight. Moreover, the rails on this frame are made from solid birch, which is a nice touch to make it more durable and sturdier.
You can likewise place FIXA stickers on this bed frame's feet to protect your floor from scuffs should the bed move around. These stick-ons are quite durable so they should provide several years of security before needing to be changed.
The NORDLI bed is best for mattresses that measure from 150 cm to 160 cm wide and up to 202 cm long. So, make sure you grab a tape measure or check the dimensions on the mattress that you want to pair with it.
Take note, it isn't the easiest bed frame to assemble and you'll need some basic tools and a companion to get the job done. However, instructions are included and you can always contact Ikea if you need expert assistance.
The NORDLI bed frame comes in a neutral but beautiful shade of grey that should easily blend in any themed room. This makes it easier to match with different colored beddings, which is why it's a great choice for those who like to constantly mix and match their decor.
Multiple financing options
Provides six drawers of storage
Neutral color makes it easy to mix and match beddings
Only available in one color
Expensive considering materials its made from
6. BedShop Online Bed Frames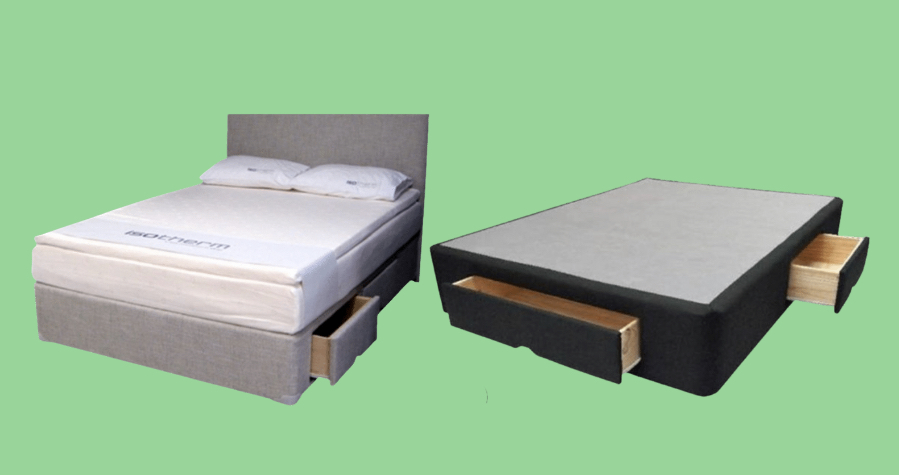 PRICE
Starts at NZ $399.00
SIZES
Single, King Single, Double, Queen, King, Super King, California King
WEBSITE
https://bedshoponline.co.nz
CONTACT DETAILS

[email protected]


03 377 8887
ADDRESS
242 Ferry Rd, Phillipstown, Christchurch
OPERATING HOURS
Monday to Friday: 9:00 am – 5:30 pm
Saturday and Sunday: 10:00 am – 4:00 pm
Based in Canterbury, BedShop Online has been operating for over 18 years. They specialise in locally-made beds and bedroom furniture.
BedShop Online's products include beds, mattresses, headboards, kids beds, waterbeds, and furniture. They offer a wide selection for your bedroom needs.
Those who look for bed frames might have limited options in BedShop Online because they already offer a complete set including mattresses. If you opt to purchase a bed set, you can choose from a variety of mattresses.
For your convenience, we have found some of the bed frames that they sell individually. These include the SS Drawer Bases, Sleepmaker Base, and Sleepmaker Drawer Base,
The BedShop Online accepts all major credit cards and is lenient with up to 36 months pay and 0% interest for an installment of 12 months. They also deliver throughout NZ but rates vary depending on the location.
Beds come in a package of bed frames and mattresses
Various selections
Accepts all major credit cards
Has installment methods of payment
Limited selection of individual bed frames
Delivery rates vary depending on location
Some products have only one color selection
FAQs about Bed Frames
---
And that's the end of our list for the best bed frames in New Zealand! Were you able to find a bed frame to suit your needs?
Did we miss a bed frame that you think should be added to our list? If so, please send us a message and we'll definitely check it out!
Now, if you have mobility issues or just want a better night's sleep, maybe you need more than just a simple bed frame. If so, you should check out our list of the best adjustable beds in New Zealand.