By Anders Wilson
A smile can brighten the day of the people you've come across. But if you feel self-conscious about your teeth, you may have difficulty showing that gorgeous grin. So here, we've put together a list of the top dental clinics for the best braces in Auckland — to give you a confident smile.
We opted for clinics with professional and experienced orthodontists. Also, we picked those with an amiable and pleasant team, clean facilities and advanced equipment.
Without any further ado, we now give you the premier dental clinics for the best braces in Auckland!
1)  Dental Today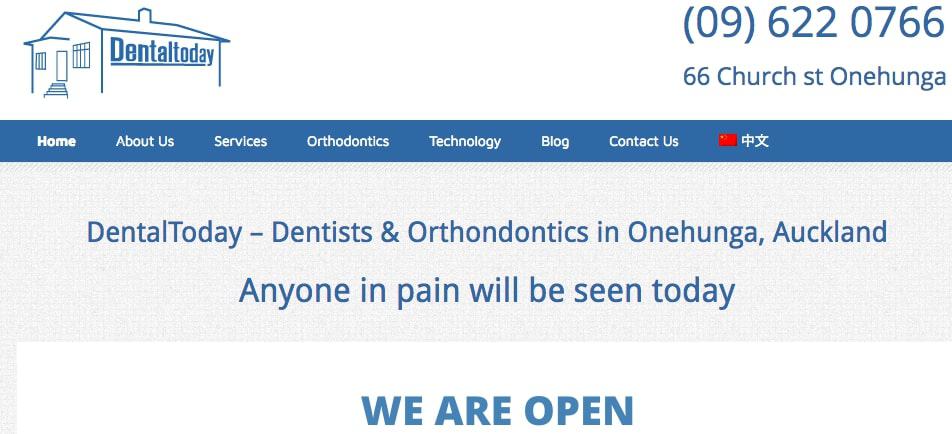 BEST FOR
Safe and Caring Dentists
SERVICES
Hygienist

Cosmetic Dentistry

Orthodontics

Veneers

WEBSITE
https://dentaltoday.co.nz/
ADDRESS
66 Church Street, Onehunga, Auckland 1061, New Zealand
CONTACT DETAILS
+64 9-622 0766
OPERATING HOURS
—
Treating your bite and tooth problems or looking to have that beautiful killer smile? If you need this, then Dental Today is a fantastic choice!
Dental Today has been providing quality dental procedures to clients for years. Their dentists work in a safe and gentle manner in placing or adjusting your braces, say their clients.
They also offer Invisalign aligners, which can straighten the teeth without requiring you to use traditional metal braces. Their prices are reasonable and won't break the bank.
Highlights
Quality orthodontic services
Safe, gentle dentists
Also offer Invisalign braces
Reasonable price
Customer Reviews
Jacqueline Neri reviewed the dental clinic on Google:
"Took me a while to find a dental clinic that is willing to do adjustments for my braces which I had installed back in the Philippines. I understand that it would not always be the case but I am just so happy that Dr. Johay accepted the job. It's been 7 months since I became their patient and so far happy with the results. Looking forward to that day when I can finally have my braces off! 🙂
Awesome staff, friendly and accommodating – special mention to my fellow Filipino Raissa. Clean and modest clinic with quality equipment and facilities. Dental services at reasonable price.
I am one satisfied client! Thank you Dental Today Onehunga! :)"
2)  Auckland Orthodontics

BEST FOR
A Beautiful Smile
SERVICES
Child, Teen and Adult Braces

Invisalign Braces

WEBSITE
https://www.aucklandortho.co.nz/
ADDRESS
6 Exminster Street, Blockhouse Bay, Auckland 0600, New Zealand
CONTACT DETAILS
+64 9-627 3555
OPERATING HOURS
Monday to Thursday: 8.30am – 5pm

Friday: 8.30am – 2.30pm
At Auckland Orthodontics, Dr. Nitin Raniga aims to create beautiful smiles for each of his patients through orthodontic treatments, regardless of age.
Everyone here is friendly, welcoming and highly skilled. Using cutting-edge technology and methods, they are some of the top dental clinics for the best braces in Auckland.
Due to this, dental treatments take less time while still producing life-changing results. Your smile will be sunny and beautiful and you'll have better confidence too.
They also have a range of payment plans tailored to the number of treatments you need and your budget.
Highlights
Create beautiful smiles
Friendly and highly skilled staff
Cutting-edge technology
Range of payment plans
Customer Reviews
Mrs Debbie Corrin, one client, wrote a review on the website:
"Dr Nitin Raniga and his staff are truly professional. We are delighted with the outcome of our daughter's orthodontic treatment and highly recommend Dr Raniga to anyone who wants to be assured of an excellent outcome and great service along the way."
3)  Eden Orthodontics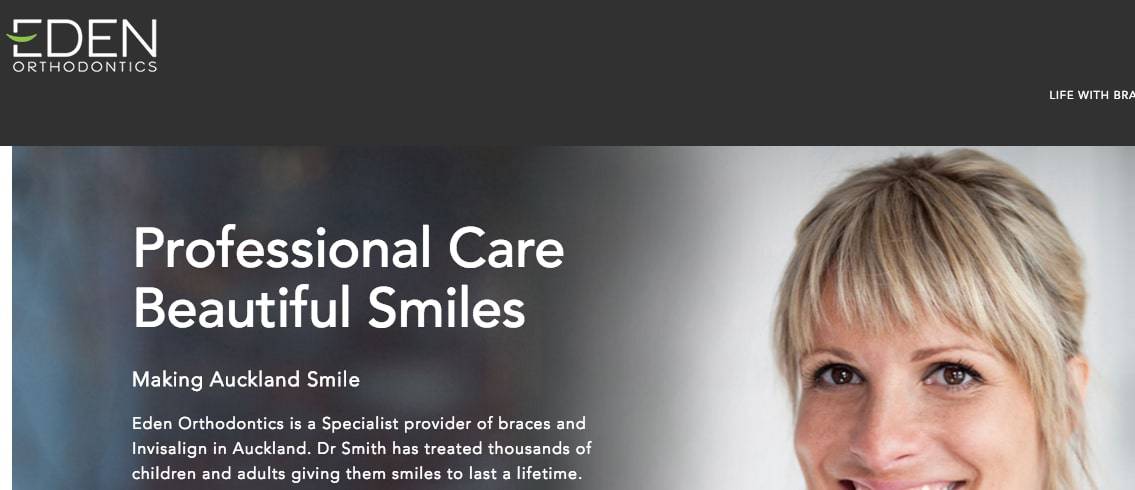 BEST FOR
Diamond Invisalign Provider
SERVICES
Early Orthodontic Treatment

Adult Orthodontic Treatment

Invisalign

WEBSITE
https://www.edenorthodontics.co.nz/
ADDRESS
114 Dominion Road, Mount Eden, Auckland 1024, New Zealand
CONTACT DETAILS
+64 9-623 4104
OPERATING HOURS
Monday & Friday: 9am – 2.30pm

Tuesday to Thursday: 8.30am – 5.30pm
Eden Orthodontics is a Diamond Invisalign provider giving as many as 200 patients Invisalign each year. Here, you will be looked after by Dr Rachel Smith.
The team is described by patients to be personable and highly skilled. They are also friendly to children and can make their butterflies go away in the clinic.
Through a customised treatment, Dr. Smith aims to create wonderful smiles that will stay with the patient, no matter if he or she is young or old.
As you can see, they are one of the top dental clinics for the best braces in Auckland. 
Highlights 
Diamond Invisalign provider
Personalised treatment
Skilled and personable team 
Customer Reviews 
Here's the feedback of one patient, Neel, on Google Reviews: 
"I have just finished my Invisalign treatment and I couldn't be happier. Great service and friendly staff. Thank you Rachel and team! I will definitely be recommending to others."
4)  Auckland City Orthodontics

BEST FOR
Flexible Payment Plans
SERVICES
Invisalign

Metal Braces

Tooth-Coloured braces

Insignia Custom Brackets

WEBSITE
https://www.aucklandcityorthodontics.co.nz/
ADDRESS
Level 2, 79 Queen Street, Auckland CBD, Auckland 1010, New Zealand
CONTACT DETAILS
09 377 7607
OPERATING HOURS
Monday: 9am – 6pm

Tuesday & Wednesday: 9am – 5pm

Thursday: 8am – 5pm

Friday: 9am – 1pm
Whatever your orthodontic issue is, Auckland City Orthodontics can help through its wide-ranging solutions. That includes Invisalign, metal, and tooth-coloured braces.
Auckland City Orthodontics is situated in the heart of Auckland CBD. They offer a personalised treatment for you to have an even and better set of pearly whites.
You can avoid big, one-off shocking prices with their payment plans. Their payment plans actually allow you to spread the cost over the duration of your treatments with them.
As one of the top dental clinics for the best braces in Auckland, they are excellent in fitting Invisalign aligners. You can check out the incredible results they've achieved for clients on their website.
Highlights
Flexible payment plans
Wide range of brace solutions
Great at Invisalign
Accessible location
Customer Reviews 
Jenny Zheng, one patient, shared on Google:
"Dr Ross is really professional and did not hurt me at all. There is no bleeding or bad feeling during the process. Positive and confident attitude and is really trustworthy. Friendly and easy to communicate if there is any problem. Really nice orthodontics experience!My teeth look much much better than before. Me and my family are happy with this result!Really recommend here if any one want to do orthodontics!"
5)  Shakespeare Orthodontics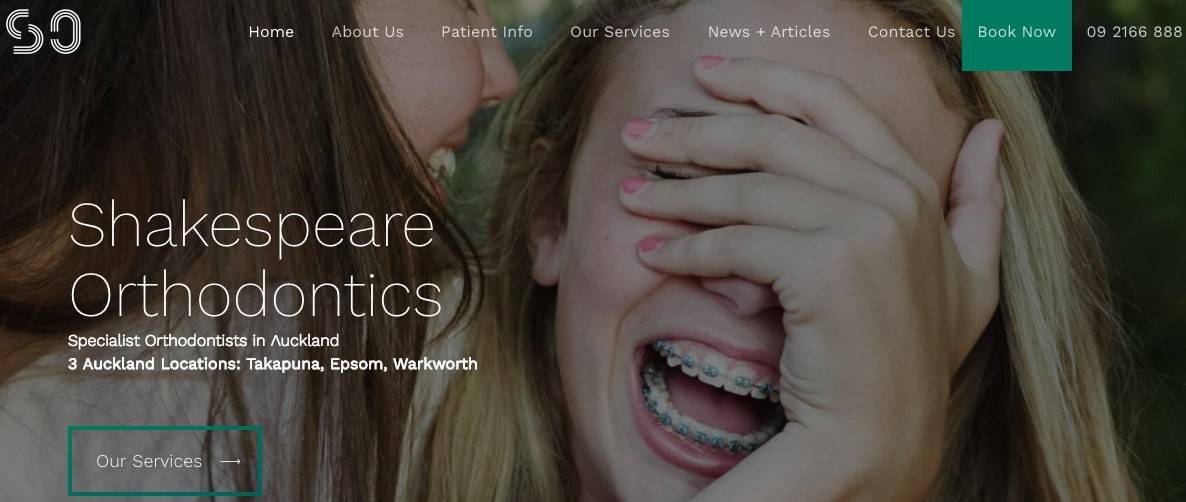 BEST FOR
Informative and Professional Orthodontist
SERVICES
Orthodontic Treatment for Children

Orthodontic Treatment for Teenagers

Orthodontic Treatment for Adults

WEBSITE
https://www.shakespeareortho.co.nz/
ADDRESS
39 Taharoto Road, Takapuna, Auckland 0622, New Zealand
CONTACT DETAILS
+64 9-216 6888
OPERATING HOURS
Monday to Friday: 8.30am – 5pm
Let experts straighten your teeth so that you'll look your best on any occasion. For this, Shakespeare Orthodontics have your back completely.
They have three convenient locations based in Takapuna, Warkworth and Epsom. They pride themselves on offering a superior service with their helpful and knowledgeable staff.
Whether for adults, teens or kids, the dentist here will make you feel comfortable and at ease. And with a perfect score from two hundred people, Shakespeare Orthodontics is indeed the Shakespeare of Orthodontics — it stands out above the rest! 
Highlights 
Adept orthodontist
Conveniently located
Helpful and knowledgeable staff
Perfect reviews on Google
Customer Reviews 
Here's the feedback coming from K. Michaelis on Google: 
"Very nice staff and good service! They are very kind and humorous and I enjoy being there to get my braces done! The services are really good and my family is really satisfied! Thank you so much for the hard work and service! I really appreciate it, thank you!"
So that's all for the top dental clinics you can go to for the best braces in Auckland. Not only will you get a fantastic service from them, but you'll also have an attractive smile!
Did we overlook other dental clinics that should've been on this list? If you think we did, please let us know and we'll update this post as soon as we can.
What's more, you may be interested in the best teeth whitening in New Zealand. Using those products will give you a whiter, fresher set of teeth within just a few weeks.