The 5 Best Bread Makers in New Zealand
The aroma of freshly baked bread in the morning is a simple thing that delights. If you're looking to make your own bread, we've gathered the best bread makers in New Zealand here.
With a good bread maker, you can pull off sourdough, rye bread, or bread with nuts and raisins, and more. A good bread maker should also be easy to use.
We've found all of the breadmakers that meet such criteria. But before we take you through them, we'll go over some fundamentals that will guide you in buying a breadmaker.
After that, we'll then be featuring the best bread makers in New Zealand. By then, you should know how to pick one that fits your needs.
Bread Maker 101: What to Look for before Buying
There are a variety of brands available, each with their strengths and weaknesses. Here, we'll touch on the basics to help you decide what to buy.
1) Bread Quality
Bread Quality is the single most important thing to look for. The bread maker you pick should be able to produce bread that satisfies you and your family's palates.
Note that each bread maker is better at making a certain kind of bread than the others. We've tried noting what each bread maker is best at in our picks below.
2) Multiple Options
This lets you make the bread of your choosing, such as whole wheat, white, rye, ciabatta, sourdough, and in some bread makers, even pizza and cakes.
Some even have a seed, fruit, and nut dispenser, by the way. You may want that for certain types of bread.
3) Timer Delay
These enable you to have hot bread just in time for that brunch or mid-afternoon snack. Without a timer, your bread might get cold before you eat it, which affects the taste.
4) Ease of Use
A bread maker that is very simple to figure out and use is ideal. Try the buttons and the LCD screen on the one you're eyeing to see if it's easy to use.
5) Loaf Sizes
This is basically the size of the loaf that you get after baking it. Most bread makers can bake for a size of 3 loaves, while for other models, they can make about 1 or 2 loaves.
6) Price
As long as the bread quality, loaf size, and convenience of the bread maker is good, you can purchase it. There's no need to spend more for features that you won't use.
There are loads of brands that have the basics with a lower price tag. But there are also those whose bread makers produce loaves with epic quality and crustiness, though they can be more on the expensive side.
The Best Bread Makers in New Zealand
Now that you know what to look for in a bread maker, here's our roundup of the best bread makers in New Zealand!
1) Panasonic Bread Maker (SD-2501WST)
Best for Baking New and Exciting Recipes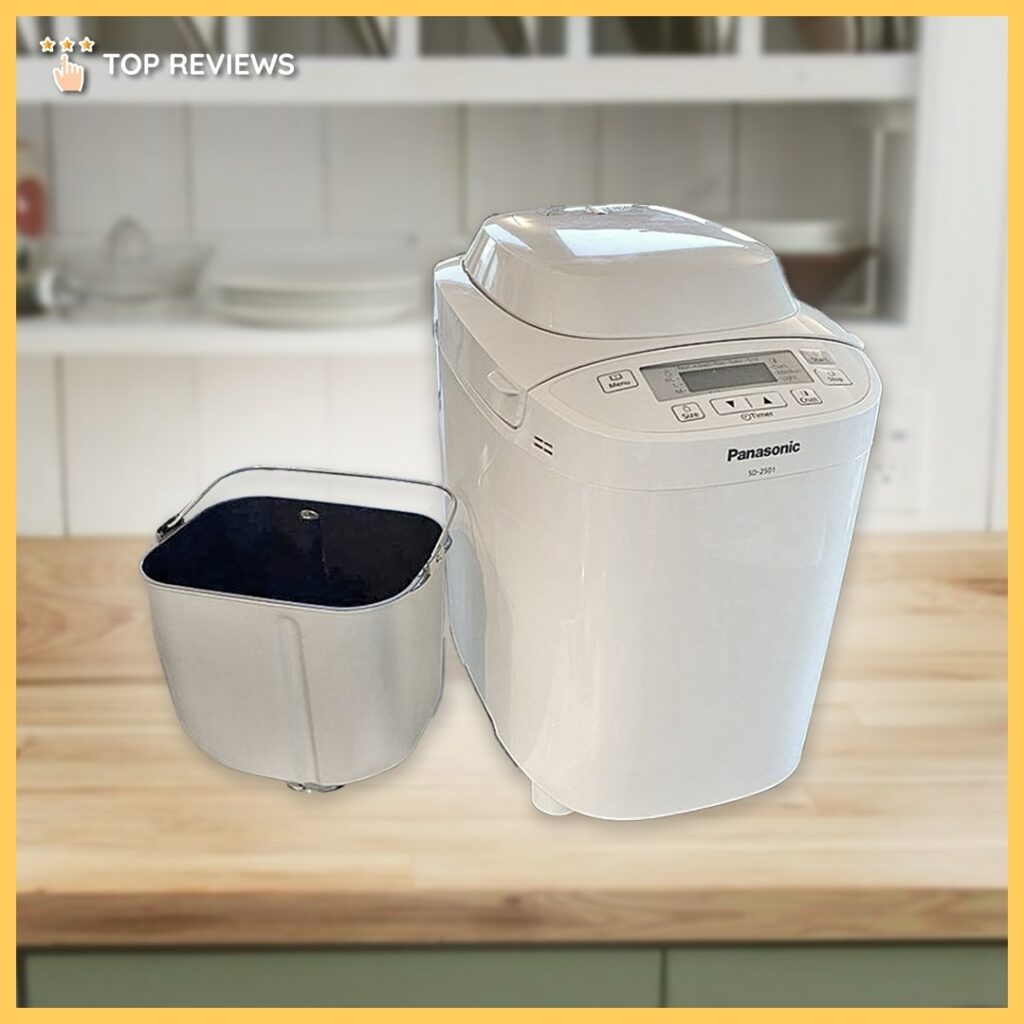 Price: NZ$389.99
The Panasonic SD-2501 is ideal for people who want some variety. It can make different breads, jams, and compotes, for instance, to create your own special recipe.
Some of what you can make are ciabatta and spinach artichoke dip, ginger bread, tea cake, chocolate brioche, lemon drizzle cake, and cranberry sauce – for your sweet tooth.
It has a fruit and nut dispenser compartment to mix up with your bread. This is to make your bread more flavourful and exciting for your family and kids.
The bread pan and kneading blade have non-stick properties, making them easy to clean. This lets you bake anew without the previous taste affecting your next batch of bread.
And slim housing and simple-to-use buttons make this awesome to have. So, if you're the kind of person that's easily bored, consider this one of the best bread makers in New Zealand.
Highlights
Makes a variety of delectable recipes
Slim structure and ergonomic
Non-stick bread pan
Built-in fruit and nut dispenser
Customer Reviews
This is from Tazy of the Bay of Plenty. He comments:
"After15 years of making a daily loaf, Panasonic Bread makers are the best, they last the longest of all machines that I have had."
2) Panasonic Artisan Bread Maker (SD-ZP2000KST)
Best Overall Bread Maker with an Appetising Crust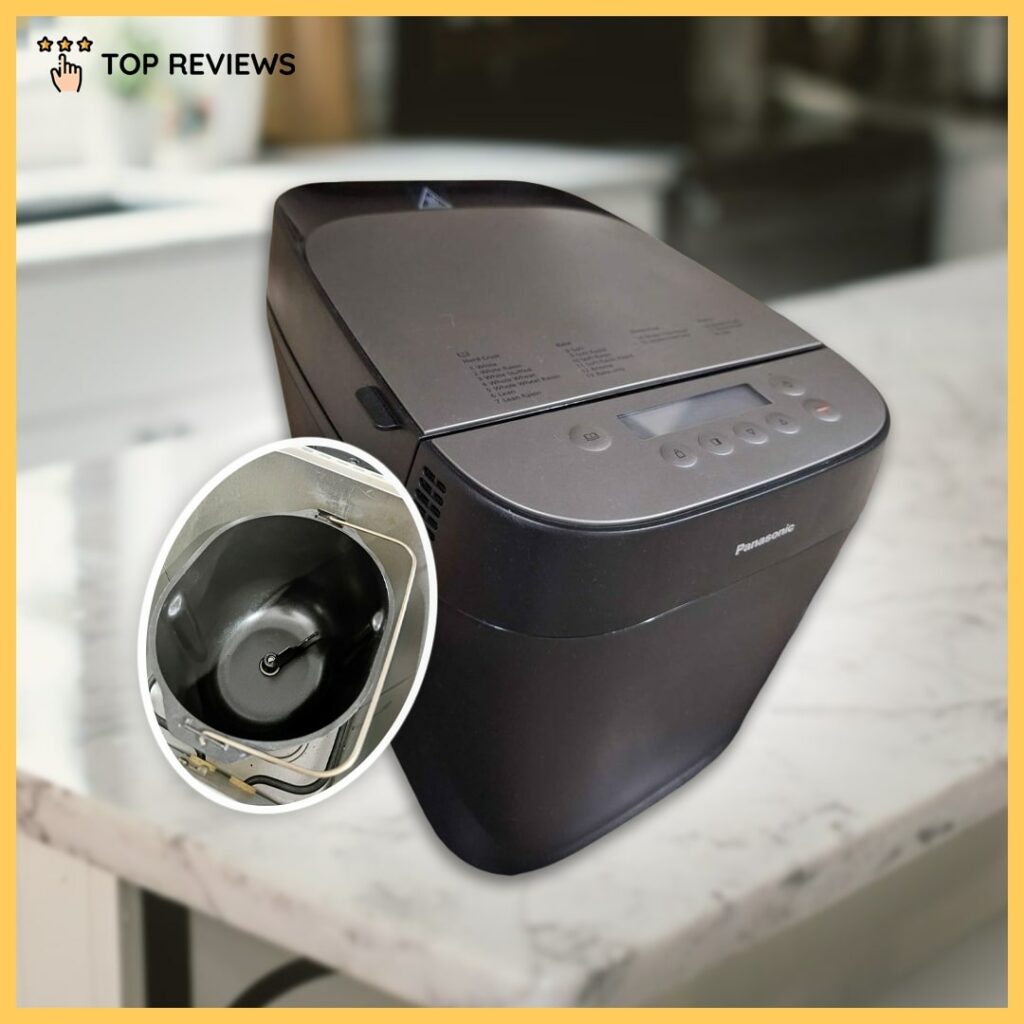 Price: NZ$396
The Panasonic Artisan Bread Maker produces delicious and crusty bread that tastes as though it was kneaded by a real artisan. You'll really be impressed by the quality of the bread.
Inside is an oven-like mechanism that heats your dough until it rises properly. Thanks to its temperature sensors, you always get the right consistency in the finished product.
It can make almost everything from white bread to cakes. Want a gluten-free diet or a healthy whole wheat bread? The Panasonic Artisan Bread Maker is the answer!
What's more, the shape is elegant and sleek, fitting any modern kitchen. And it's very easy to choose your baking settings, letting you walk away from it and just come back when the baking's done.
It's one of the best bread makers in New Zealand that you can use for a big party, morning breakfast and desserts.
Highlights
Makes crusty and delicious bread
Is equipped with blade and ribs
Dual temperature sensors
Lots of bread options, plus cakes!
Minimalist and sleek design
Customer Reviews
From myer.com.au, one customer like the Panasonic Artisan Bread Maker, saying:
"If you want the most beautifully baked, crusty, perfectly cooked fresh bread then don't look past this machine. It's worth the price tag. You will not be disappointed. Every bake is a joy. Family life is now so much more satisfying with home baked bread cooked to perfection every week. Highly recommend."
3) Breville Baker's Oven Bread Maker (BBM100WHT)
Best for Budget Bread Maker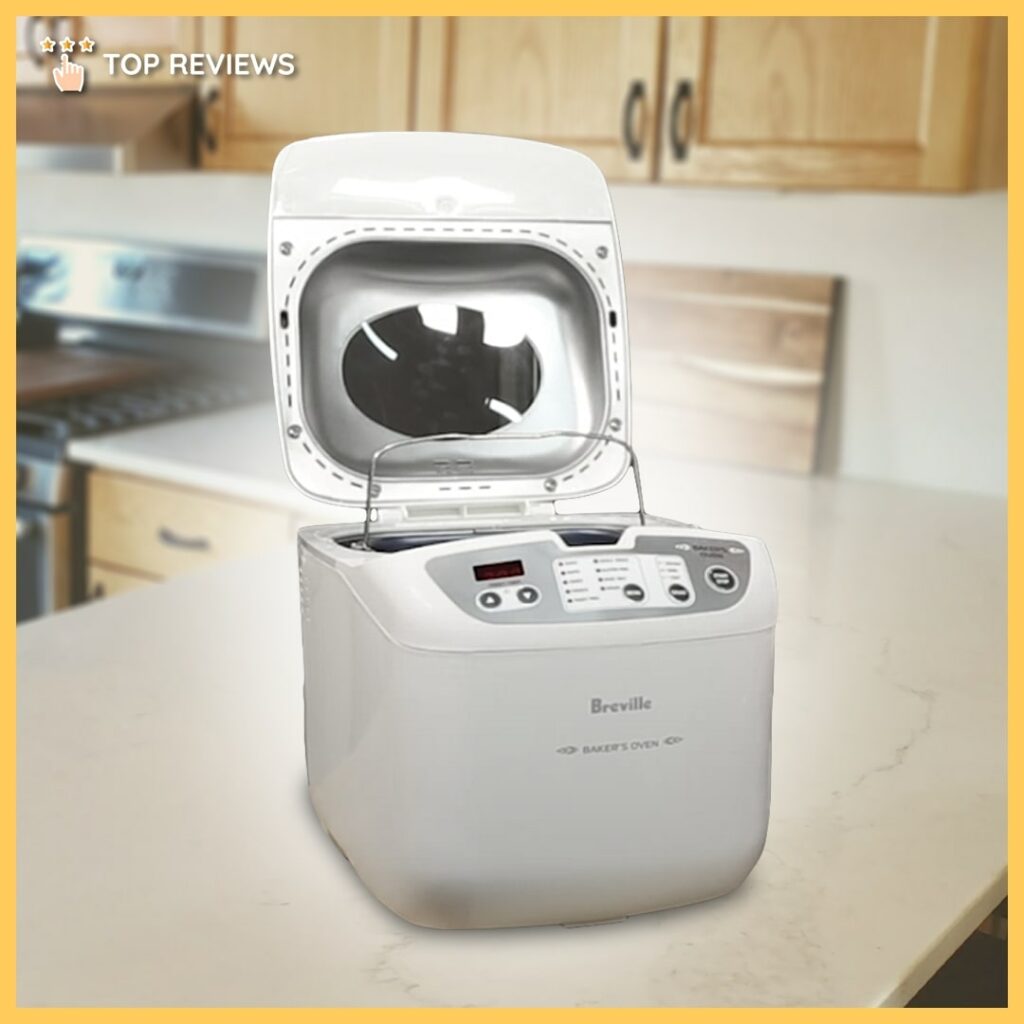 Price: NZ$149.99
If you want an affordable choice with great ergonomics, then Breville Baker's Oven will be a good choice! With 9 preset settings, fresh and tasty bread is readily available to you with it.
It has options like basic, rapid, French, whole wheat, gluten-free, bake — and if you like to knead yourself — dough. You can also control how crusty you'd like the bread to be in 3 options.
It's a tidy-looking appliance too, with a round design in white. It fit seamlessly on any kitchen counter and can be stored just as easily if not in use.
And last but not least, it comes with a start delay timer. This is handy if you'd like to take a power nap or dock in for the night and wake up to perfectly baked bread.
Highlights
Affordable product
Easy to use
Comes with 9 automatic programmes
Start delay timer
Customer Reviews
Pernille F from Noel Leeming gave a solid review:
"Top Bread Maker – very versatile, light, good value and makes a quality product. While it's too soon to say whether it lasts well, the product is all that you need for great bread. Would buy again."
4) Sunbeam Bakehouse Bread Maker (BM4500)
Best for a Gluten-Free Bread Maker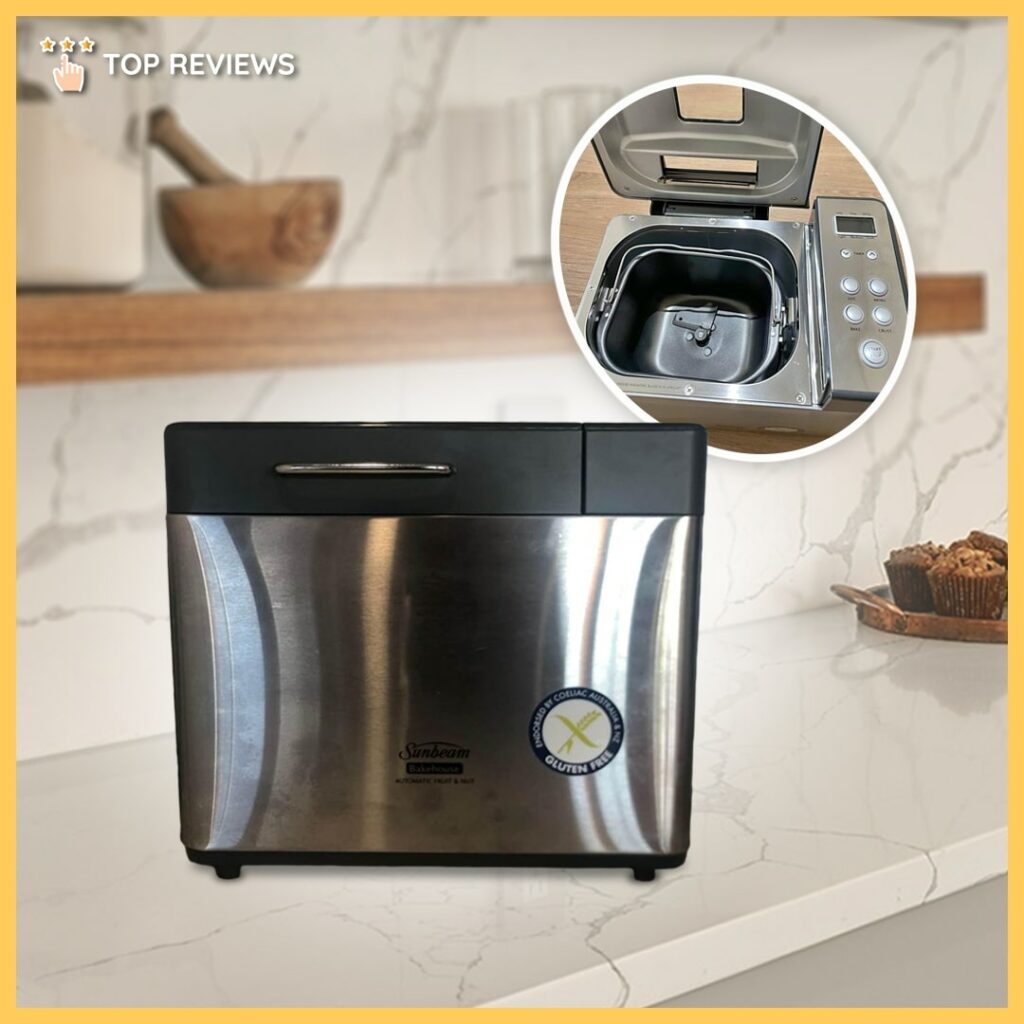 Price: $297
If you have a gluten allergy, take Sunbeam's Bakehouse Bread Maker. It comes with a gluten-free pre-set approved by Coeliac Australia.
Anyway, this stainless steel bread maker lets you bake at 8 different settings, including white, wheat, French, gluten or yeast free, sweet, rye, turbo, and bake.
Try out its 3 loaf sizes, crust options, and even turbo mode, which can finish the baking process in just an hour. Also, you can add some fruits and spices to the dispenser on top to keep your recipes fun.
Highlights
Has a gluten-free programme
8 bread options to pick from
Includes an integrated fruit or seed dispenser
Turbo mode for fast baking
Customer Reviews
From Heathcotes, Pctek weighed in on the Sunbeam Bakehouse Bread Maker:
"Totally awesome! I made one as soon as I unpacked it. the 750g loaf. French as we like. Perfectly browned, crusty on the outside, fluffy on the inside, a perfect shape, texture and consistency. No issues at all. Blade stuck as I tipped it out, but no drama, a wee flat dent is all I got. It mixed well (I checked as it went). Love it!!"
5) Breville the Bread Baker Breadmaker (LBM200BSS)
Most Customisable Bread Maker with 12 Programmes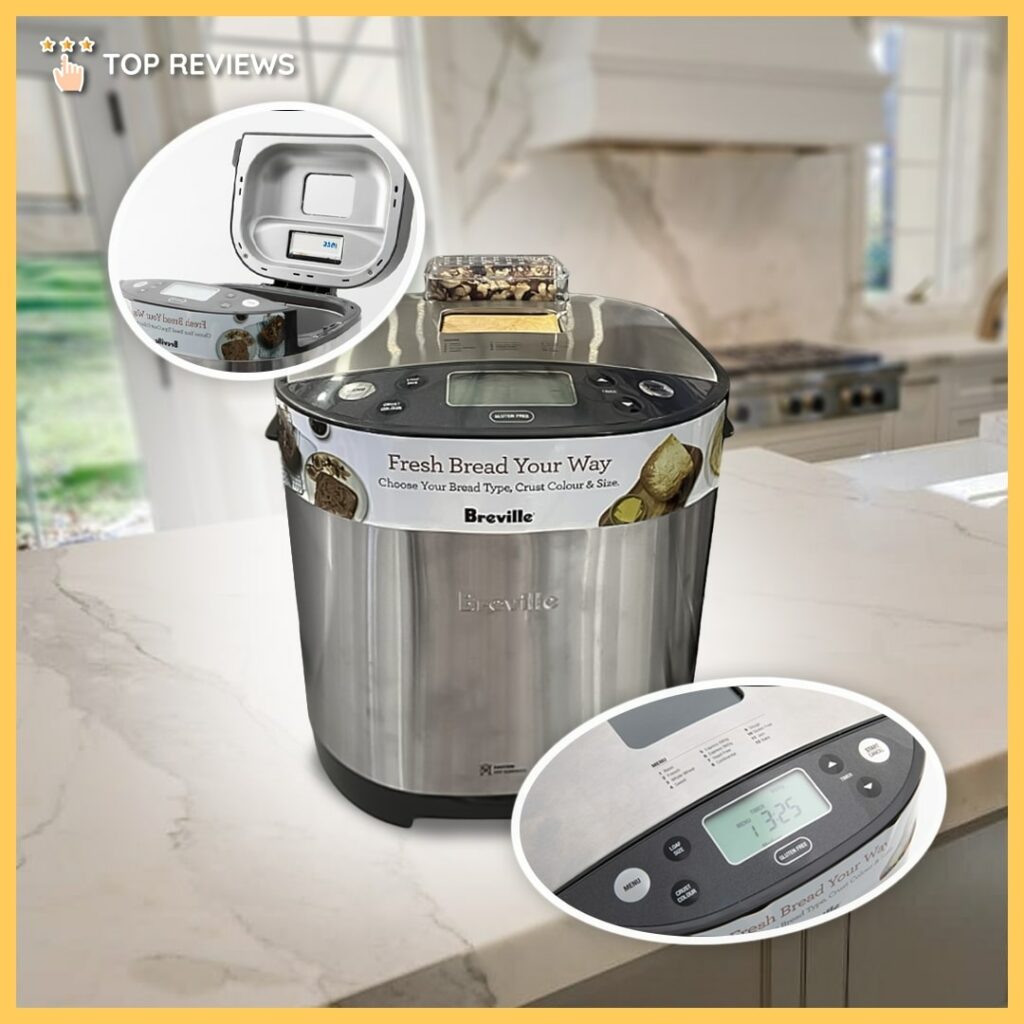 Price: NZ$179.99
Always innovating to make people's kitchen lives easier, Breville is a global leader in kitchen products. One of those products is Breville the Bread Baker (LBM200BSS).
It's rife with adjustable options for delicious bread baking. 12 automatic options create a wealth of new possibilities that you can use to heat up your bread, dough, jam, and cake.
Its black and silver never fails to look modern and stylish. What's more, the fruit and nut dispenser on top is very easy to use, as you only have to scoop up some ingredients and voila!
Loaf sizes aren't a problem either, whether you like small, medium, or large loaves. Likewise, you can pick the crust settings, be it light, or medium, or dark — to bake the bread just as you want it.
Timer delay can even be set for as long as 15 hours. And in case the power goes out for 7 minutes or less, Breville the Bread Baker can resume its activity where it left off.
Highlights
Bread is very tasty and delicious
Customisable settings
12 automatic pre-sets to choose from
Also includes a fruit and nut dispenser
15-hour timer delay
And that's all for the best bread makers in New Zealand. As you can see, these products will give you the freedom to bake many kinds of bread.
What do you think of our picks? Tell us your thoughts, opinions, or questions by sending us a message and we will get back to you in a bit.
Other than that, you may also be interested in reading about the best waffle makers in New Zealand. You might as well have waffles to go with your freshly sliced loaves in the morning, for a full breakfast spread!