Top 9 Spots for the Best Brunch in Auckland
Featured Image Source from Federal Delicatessen's Facebook
Brunch is not just about great food and coffee but a great experience too. For that, we've compiled a list of the top spots for the best brunch in Auckland for you!
Chicken salad sandwich, blueberry griddle cakes, flavoursome scones, and pane fritto with folded eggs and sausage… These are just some of the dishes you can find in our featured restaurants below.
But before we present to you our list, we'll talk about the price range of having brunch in Auckland. This will give you an idea of how much you have to spend on one.
The Price Range of Having Brunch in Auckland
Dining out in Auckland is more often than not expensive. This is reasonable since you get delicious and well-presented food made from seasonal ingredients.
According to Budget Your Trip, the average cost of a meal in New Zealand is $17. They add that breakfast prices are typically lower than those of lunch or dinner.
Therefore, it's safe to say that brunch lies in the middle-price range. Below is a table showing the price range and cuisine types of the top brunch restaurants in Auckland.
| | | |
| --- | --- | --- |
| Restaurant | Cuisine | Price Range |
| Federal Delicatessen | Jewish/American | $3.50 – $150 |
| Dear Jervois Cafe | New Zealand | $4 – $24 |
| Odettes Eatery | Mediterranean | $4 – $200 |
| Ortolana | European | $4.50 – $350 |
| Le Chef | French | $5.50 – $40 |
| Fondou Cafe | European | $7.90 – $16.90 |
| Hemingway's | European | $8 – $38 |
| Mudbrick Vineyard and Restaurant | European | $8 – $950 |
| Goode Brothers | Italian | $11 – $23 |
| Winona Forever | New Zealand | $11 – $70 |
Note that these prices are based on individual meal and drink items on the particular restaurant's menu.
Since you normally won't just order a single meal but also add drinks, sides, and desserts, the restaurant costs can add up in your bill, so you'll have to consider this.
Anyway, you'd want to go to a brunch restaurant where you'll enjoy their offerings, hospitality, ambience, and get value for your money.
The Best Brunch Spots in Auckland
Now that you know the prices of the top brunch spots in Auckland, let's proceed to our list!
1) Federal Delicatessen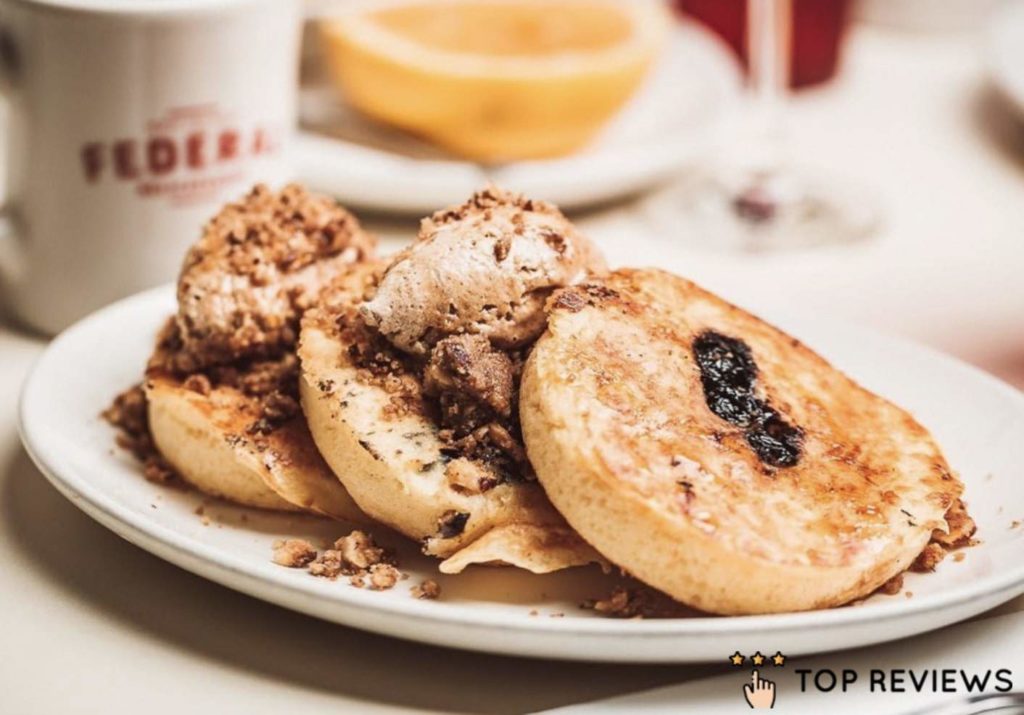 BEST FOR
Jewish-American deli dishes
SERVICES
Brunch
Breakfast
Lunch
Dinner
Takeout
ADDRESS
86 Federal Street, Auckland 1010, New Zealand
CONTACT DETAILS
09 363 7186

[email protected]

OPERATING HOURS
Brunch  
Saturday and Sunday: 8.00 AM – 3.30 PM  

Breakfast  
Monday – Friday: 8.00 AM – 11.30 AM  

Lunch and Dinner  
Monday – Friday: 12.00 PM – 10.00 PM
Saturday and Sunday: 4.00 PM – 10.00 PM
PRICES
$3.50 – $150 Please view their menu prices here
The owner, Al Brown, brings the NYC Jewish deli experience to Auckland people. The joint sells fine-quality meats, sandwiches, salads, and pies—and offers brunch, too.
They serve brunch on Saturday and Sunday from 8.00 AM to 3.30 PM. In their menu, you can find a great variety of fun and delicious dishes from sandwiches to desserts.
You can go for the Street Dog, a New York-style hot dog with Old Yella mayo and cart relish. For a taste of the sea, you can order The Best Ugly Sandwich which comes with smoked salmon, cream cheese, capers, and dill.
Then you can get bottomless coffee, tea, or fruit juice to pair your meal with. Alternatively, you can get yourself a Cracker Jack or Upper East Style cocktail.
The Fed is located at 86 Federal Street in Auckland. As no bookings are taken, you can come by whenever you want.
Pros
Offers vegetarian, vegan, and gluten-free choices
Outdoor seating available
Accepts major credit cards
Free Wi-Fi
Cons
Customer Reviews
One of the best brunch spots in Auckland, The Fed offers fantastic food and service, according to many customers.
Here's the review of one customer named Juliet:
"We had a lovely experience at Federal Delicatessen!
We popped in at 730am to see if they had scones ready (before our morning hike) and saw that there weren't any in the cabinet so we walked out. BUT, the lovely manager, Jayesh, ran after us to see if we were after anything in particular. He recognised us from the day prior when we did the same thing, but he assured us that their scones were always ready by 7am every morning. We were very pleased to hear this.
The date scones were delicious and the coffee was great! Jayesh was so lovely and his service was impeccable.
We plan to go there for another breakfast tomorrow before we leave to Auckland.
Thanks Jayesh and Federal Delicatessan!"
What's more, Paul said of the deli:
"Went for a quick meal and the customer service was outstanding. Had the pastrami plate and it was excellent. My only complaint and this is general to all places in NZ is the price of wine. We paid $70 per bottle that I would pay under $20 for. This makes it extremely expensive taking the bill to over $200.
However doesnt detract from the superb service and food."
2) Odettes Eatery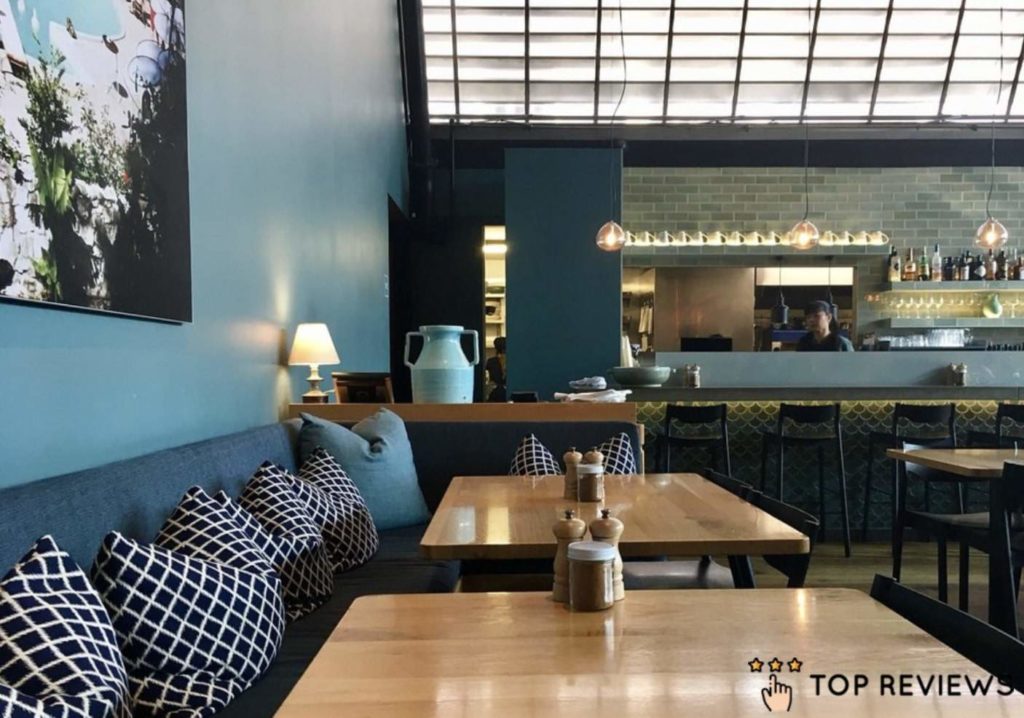 BEST FOR
Mediterranean-inspired cuisine
SERVICES
Brunch
Breakfast
Lunch
Dinner
ADDRESS
90 Wellesley Street West, Auckland Central, Auckland 1010, New Zealand
CONTACT DETAILS
+64 9 309 0304

[email protected]

OPERATING HOURS
Brunch  
Weekends and Public Holidays: 8.00 AM – 3.00 PM  

Restaurant Hours  
Monday – Wednesday: 7.00 AM – 3.00 PM
Thursday – Friday: 7.00 AM – 10.00 PM
Saturday: 8.00 AM – 10.00 PM
Sunday: 8.00 AM – 3.00 PM
Public Holidays: 8.00 AM – 3.00 PM
PRICES
$4 – $200 Please view their menu prices here
Odettes Eatery is a restaurant modelled after a conservatory. It is an urban oasis with lots of greenery and fresh air outside.
Inside, the restaurant has a cosy and elegant vibe with cushions, wooden tables, and artworks. It feels spacious and relaxing and is the perfect place to be on a Sunday.
Their focus is on bringing you a local and seasonal menu with gluten-free choices. As such, you will always find something new to indulge in for your brunch.
The food is Mediterranean-inspired with delectable options like Cauliflower and Lentil Salad, Herbed Scramble, Maple Roasted Carrots, and Portobello Mushroom Steak.
They also have a wide selection of drinks for you to choose from including homemade and organic tea, strong cocktails, fresh juices, and smoothies.
Pros
Offers vegetarian, vegan, and gluten-free choices
Outdoor seating available
Accepts major credit cards
Free Wi-Fi
Cons
Credit card surcharge of 1.7%
3) Ortolana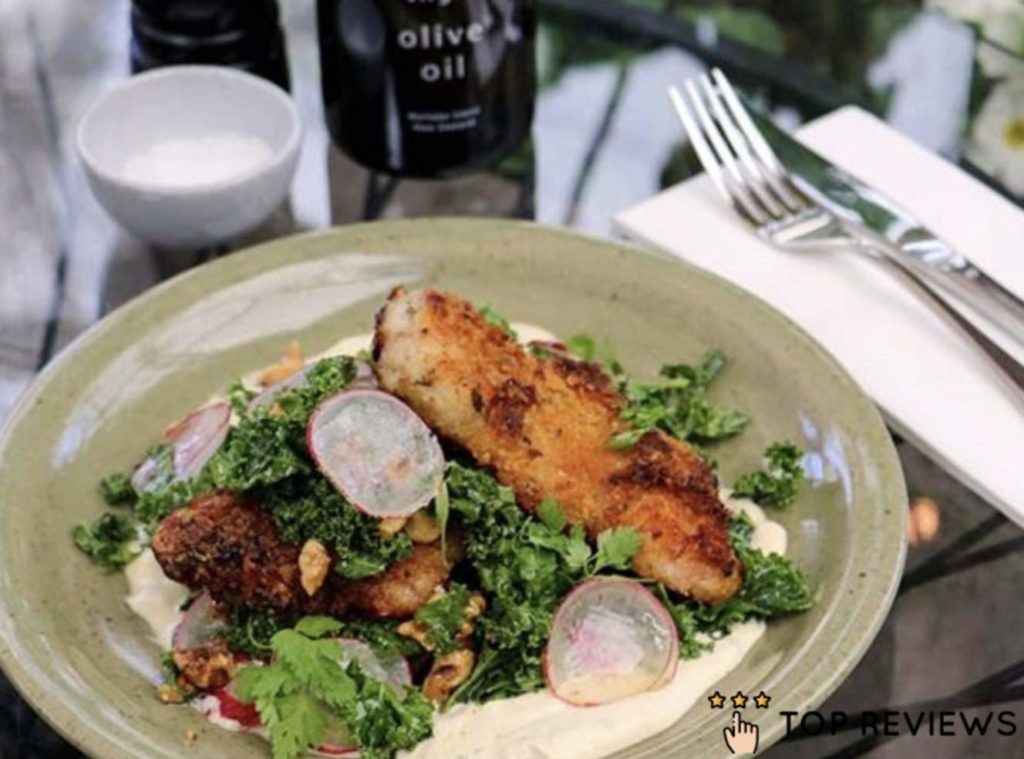 BEST FOR
Gentle and warm ambience
SERVICES
Brunch
Breakfast
Lunch
Dinner
ADDRESS
33 Tyler St, Britomart, Auckland, 1010
CONTACT DETAILS
09 368 9487

[email protected]

 
OPERATING HOURS
Monday: 7.00 AM – 4.00 PM
Tuesday – Saturday: 7.00 AM – 10.00 PM
Sunday: 7.00 AM – 4.00 PM
PRICES
$4.50 – $350 Please view their menu prices here
Ortolana prides itself on using locally sourced, seasonal ingredients for their European fare, which tastes very fresh and flavoursome.
Furthermore, the place has a warm, gentle vibe that makes you forget about your problems. It's up to you whether you'd like to dine in the restaurant or outside.
For your meal, why not start with croissants and scones? After that, you should try out their Tagliatelle Verde that comes with parmesan, ricotta, pancetta, and green bean.
After that, you can order the Chicken Cotoletta (pictured above) with kale, walnut underneath a base of goddess dressing. This goes well with some coffee, too.
Ortolana accepts cash and credit card payments. You can reserve yourself a table before coming for your brunch.
Pros
Offers vegetarian, vegan, and gluten-free choices
Outdoor seating available
Wheelchair accessible
Accepts major credit cards
Cons
Customer Reviews
Ortolana received excellent reviews from customers who had an amazing breakfast or brunch experience, thanks to the splendid food and their friendly and polite staff.
Here's a nice review from one customer:
"I have cone here on many occasions, never disappoints. The service is friendly and effective, the food is simple but flavoursome if you are in town give it a go!!"
Also, check out this feedback from another guest:
"We were so impressed with our first breakfast here we returned the next day! The multifarious menu is loaded with amazing options. The mussel fritter was my favorite, but we also enjoyed he folded eggs with pork sausage and the pane fritto. Great coffee and greta service are hallmarks. Dining al fresco is also a nice option!"
4) Winona Forever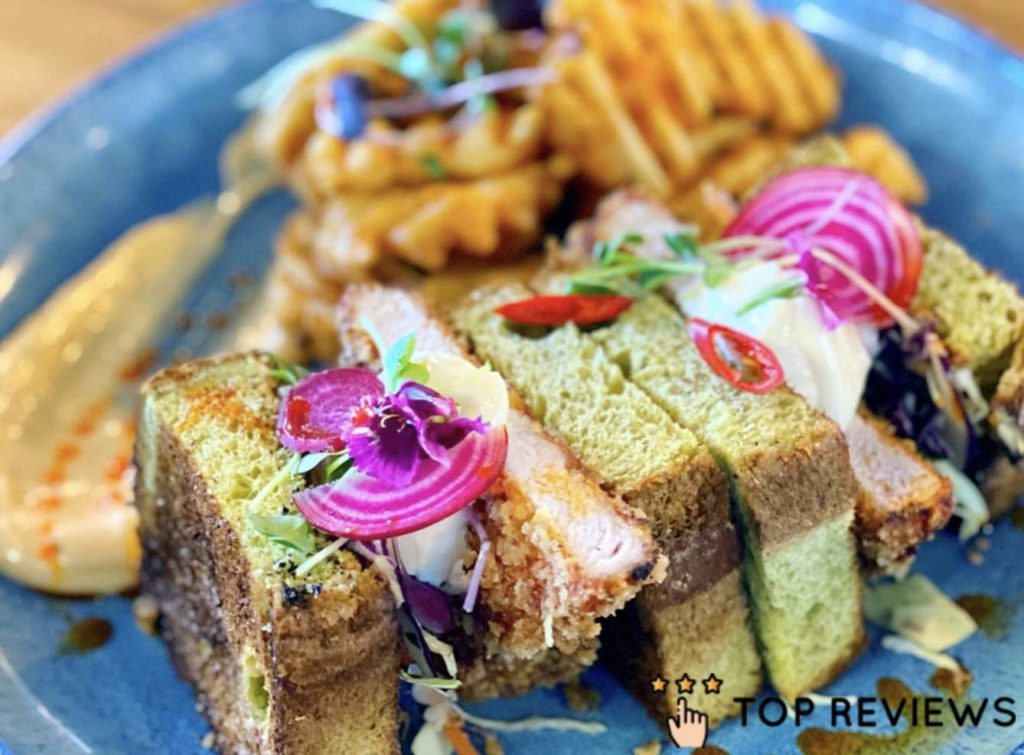 BEST FOR
Environmentally-friendly cafe
SERVICES
Brunch
Breakfast
Lunch
Takeout
ADDRESS
100 Parnell Rd, Auckland, New Zealand 1052
CONTACT DETAILS
+64 9-974 2796

[email protected]

OPERATING HOURS
Monday – Friday: 7.00 AM – 4.00PM
Saturday – Sunday: 8.00 AM – 4.00 PM
PRICES
$11 – $70 Please view their menu prices here
Winona Forever is a Parnell cafe offering Kiwi-favourite meals and beverages. It has vegan, vegetarian, keto, and gluten-free options to suit your special dietary needs.
For a fresh, energetic start to your afternoon, you should sample their Sumo Sandwich (pictured above), Salmon Benedict with poached eggs, or Big Breakfast Plate.
For a nutritious meal, you can try the Vegan Bowl or The Eton Rifle which consists of cinnamon brioche toast, poached pear, acai cream, fruits, and organic maple syrup.
Winona Forever is a 6-star eco-friendly cafe. Its team practices sustainability to reduce the carbon footprint on the planet.
Also, they have great music and atmosphere where you can hang out with your friends who woke up late to catch some breakfast.
Pros
Eco-friendly cafe
Offers gluten-free, dairy-free, keto, vegan, and vegetarian options
Outdoor seating available
Wheelchair accessible
Cons
Mediocre customer service
No deliveries
Customer Reviews
Despite the complaints about their service, the reviews have mostly been positive, especially about their cabinet food, presentation, and ambience.
Sebastian said this of the brunch eatery:
"Must try cafe in Auckland. Cozy vibes and food is so delicious and smell divine. Great coffee and cabinet food is so good to look at and enjoy.
Must try !!!"
Furthermore, Ruby shared her experience at Winona Forever:
"I have been following Winona Forever on Instagram for the last 3 years while I've been in London and was so stoked to finally try their food. Not only is it incredibly Instagrammable but it's bloody delicious! Pork belly for breakfast! I didn't even know that was allowed! ? Will definitely be coming back here WAY too often ?"
5) Dear Jervois Cafe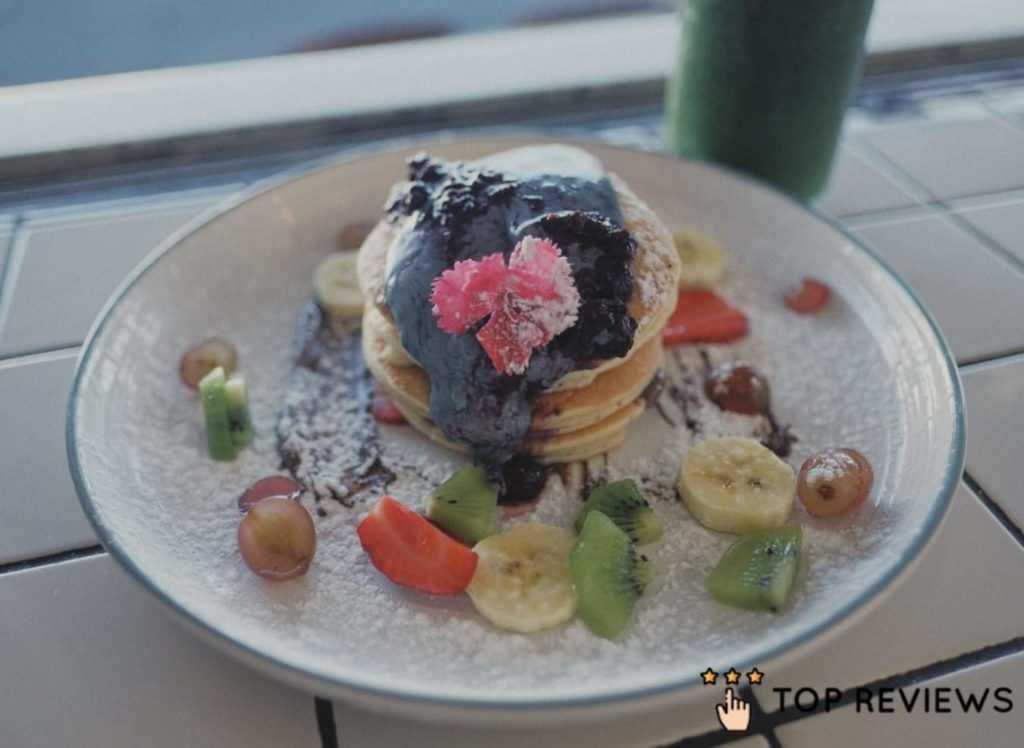 BEST FOR
Value for money
SERVICES
Brunch
Breakfast
Lunch
Functions
ADDRESS
234 Jervois Road, Herne Bay, Auckland, New Zealand
CONTACT DETAILS
09 376 7278

[email protected]

OPERATING HOURS
Monday – Friday: 7.00 AM – 4.00 PM
Saturday – Sunday: 8.00 AM – 4.00 PM
PRICES
$4 – $24 Please view their menu prices here
At Dear Jervois Cafe, you can get a scrumptious brunch without emptying the contents of your wallet. Their offerings are very affordable, ranging from $4 to $24.
Every day, they procure fresh and local produce for high-quality food and taste. Their food incorporates elements of both NZ and beyond that caters to all diets.
You have to have their Eggs Bene or Mushrooms and Potato Rosti Stack which satisfy! They have healthy Acai Bowl, Zucchini Fritter, and Vegan Taco as well.
Plus, they have a great range of fair-trade coffee. This benefits the coffee planters and their communities, as they receive fair remuneration for their coffee.
Pros
Affordable rates
Offers vegetarian, vegan, and gluten-free choices
Function hire available
Has outdoor seating
Cons
No deliveries
Reservations only during weekdays
6) Ground Coffee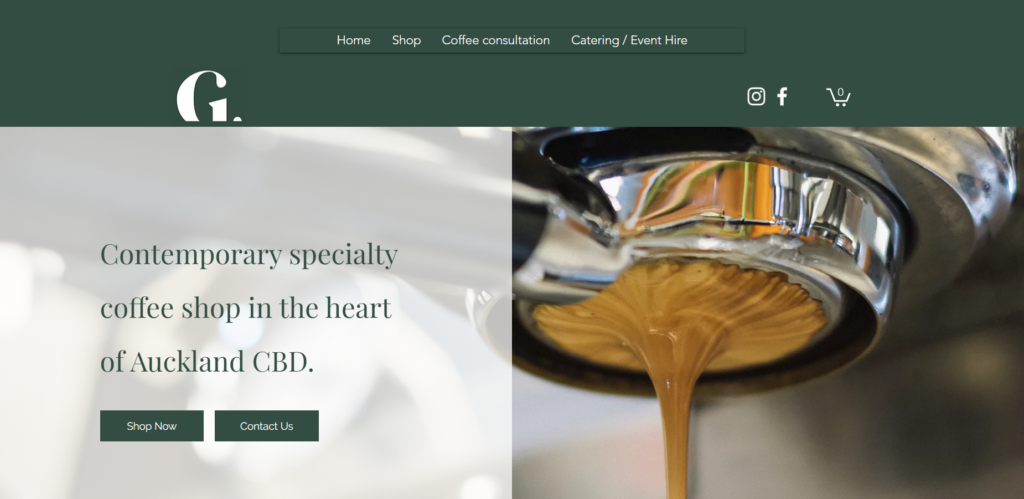 BEST FOR
Specialty Coffee
SERVICES
Office/Home Consultation, Vouchers, Coffee Products, Catering/Event Hire
ADDRESS
205 Queen Street, Auckland CBD,
1010, New Zealand
CONTACT DETAILS
[email protected]
022 497 7455
OPERATING HOURS
24/7
PRICES
Please view their menu prices here
Ground Coffee is a coffee shop that aims to provide their customers with specialty coffee. They also have coffee beans and coffee cups for sale.
Their staff is dedicated to providing the best customer service to everyone that steps foot in the cafe. Quality is guaranteed if you decide to try what they have to offer.
Their seasonal house blend is also worth checking out. They're located in the heart of Auckland CBD, which makes them the perfect place for a quick coffee break.
Pros
Serves staple brunch essentials
Quality meals
Good location
Excellent service
Cons
Gets crowded during peak hours
7) The Grounds NZ

BEST FOR
Modern Family Eatery
SERVICES
Breakfast Menu, All Day Menu, Kids Menu, Antipasto Menu
ADDRESS
8/14 Henderson Valley Rd, Henderson, Auckland
CONTACT DETAILS
09 393 8448
[email protected]
OPERATING HOURS
Wednesday: 9:00am – 3:00pm
Thursday – Saturday: 9:00am – 9:00pm
Sunday: 9.00am – 5.00pm
PRICES
Please view their menu prices here
The Grounds is a cafe that offers delicious food and quality wine to their diners. They have various menus available, such as their all-day menu, breakfast menu, seasonal menus, and more.
Their meals are prepared by seasoned chefs using the freshest ingredients. Their dishes are guaranteed to taste as good as they look.
They're well-known as one of Auckland's best destination restaurants, and for good reason — they're located near the beautiful and vibrant Waitakeres. It's definitely a one-of-a-kind place to dine in.
Pros
Creative, hands-on approach
Attention to detail
Seasoned head chef
Dedicated team
Cons
Can only accommodate up to 10 people without booking
8) Nonna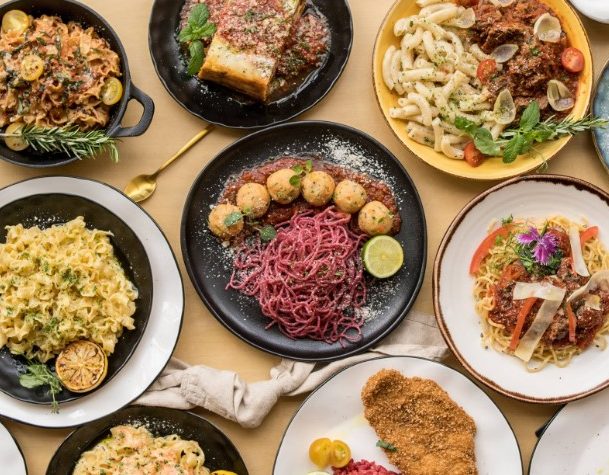 BEST FOR
Traditional Italian Breakfast
SERVICES
Brunch
Breakfast
Lunch
Dinner
Online orders for pick-up
ADDRESS
10-12 Teed Street, Newmarket
CONTACT DETAILS
022 644 1466 | [email protected]
OPERATING HOURS
Monday – Friday, 9:00 AM to 6:00 PM
PRICES

Mon – Wed : 7:30am – 3:00pm

Thu – Fri : 7:30am – 8:00pm

Sat : 9:00am – 8:00pm

Sun : 9:00am – 3:00pm
"Nonna" when translated to English means "grandmother". And true to this restaurant's name, they serve homemade, fresh pasta with soulful sauces just like how nonna cooks it in her own kitchen.
They have an extensive menu that highlights their freshly made pasta and a wide range of pasta sauces to choose from. You may opt to choose either a traditional, regional, gourmet, or special pasta dish. Nonna also offers a breakfast menu that's perfect for brunch, which includes their specialties: Spaghetti Bolognaise, Eggs in Purgatory as well as Salmon & Avocado Smash.
The best part of their menu is that they are inclusive of vegetarians because most of their menu items can be requested to be vegan. Enjoy the comfort of home-cooked food made by Nonna at her very own restaurant. 
Pros
Offers vegan menus
All-day menus
Discount for online orders
Glutten-free options available
Cons
Customer Reviews
Nonna is commended by many because of their authentic all-day Italian cuisine.

Read some of their reviews left on google:
"Absolutely amazing food. Love the fresh pasta and really puts other 'Italian' restaurants in Auckland to shame.
After living in Europe for over ten years, and been disappointed at the other Italian restaurants in Auckland, we've finally found this authentic gem. Will definitely return!"
"I tried Nonna for lunch on a Friday and it was the ambiance of the place was relaxed and smart. There were plenty of fresh pasta to couple with homemade sauces to choose from and my eyes went straight for tagliatelle with chicken cacciatore sauce.
The dish was quick to arrive and it looked and smelled heavenly, fresh and aromatic. The flavours were simple and clear with sizable chunks of tender chicken, plump olives and herbaceous tomato sauce. It was simply divine!
To finish off I had to try the sweet ricotta cannoli with an espresso and this was a wonderful close to my lunch. Highly recommended!"
9) Lily Eatery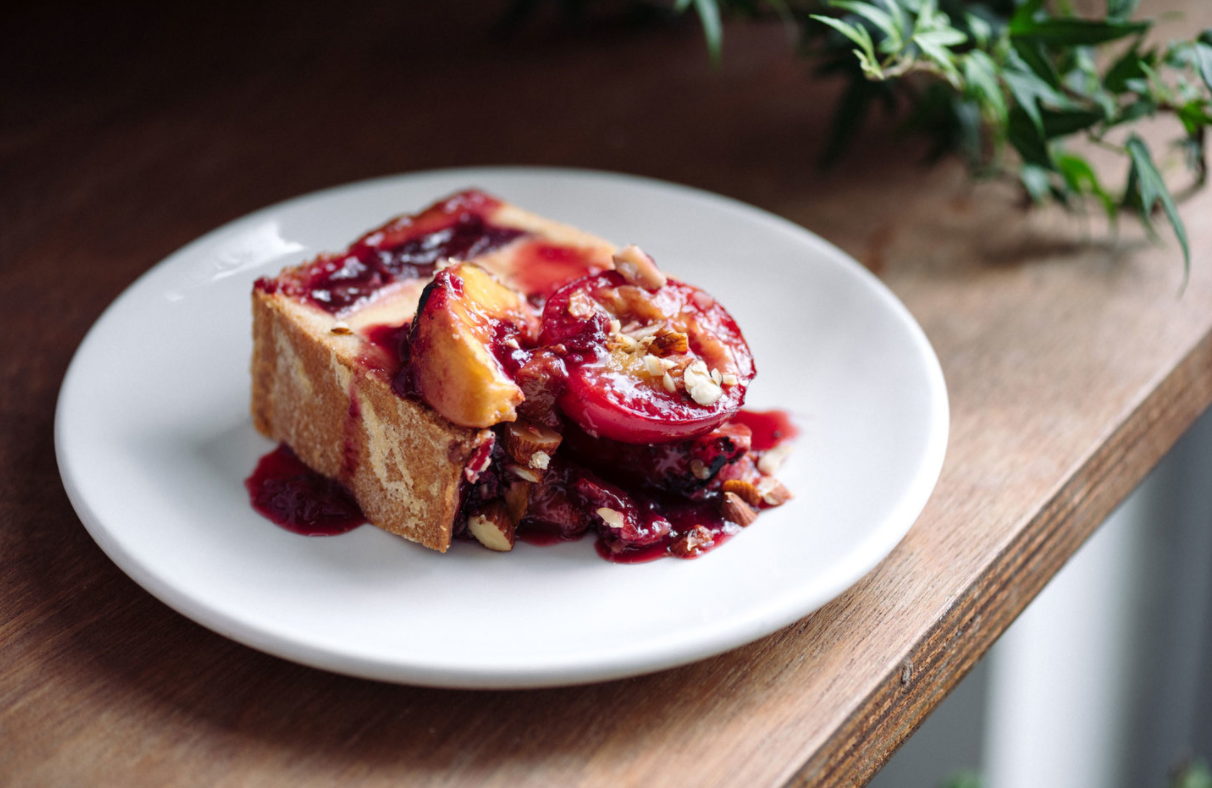 BEST FOR
Creative brunch cuisine
SERVICES

Brunch, Savoury and Sweet treats

ADDRESS
12 Wynyard St
Devonport, Auckland
CONTACT DETAILS
09 445 0243


[email protected]

OPERATING HOURS
Daily 7am – 3pm
Weekend 8am – 3pm
PRICES
View Full Menu Here
Located on a tiny side street near Central Devonport, Lily Eatery is a cosy and quaint cafe that offers bold flavours. Its breakfast and brunch menu may be one of the shortest on this list, but each and every option packs a punch to one's palate. 
Savoury and sweet treats are displayed on the counter, but the true stars of the show come out from the kitchen itself.
Those who are looking for a no-meat option can look at the Almond Porridge, which comes with spiced pears and ancient grains. If you want something more traditional for breakfast, Lily Eatery also offers French Toast, which is served prosciutto, bananas, and creme patt.
The menu also allows for add-ons to one's chosen dish. Sausages, smoked salmon, and small vine tomatoes are some that they have to offer.  
To accompany the scrumptious meals, Lily Eatery also serves freshly-made smoothies, cold-pressed juices, and kombucha for those on a health kick. 
Unfortunately, the kitchen closes early, so if you want to try out any of their selections, it's best to place an order before 3PM.
Pros
Offers vegetarian, vegan, and gluten-free choices
Light and airy interior
Coffee, tea, and sweet drinks available
Cons
Kitchen closes at 3PM
Small food selection
Customer Reviews
Lily Eatery has been praised for its friendly and professional staff and delicious menu. Here are some comments left by previous customers:
"Had the best salad there yesterday! Amazing flavours and super fresh! Will be making the trip over the bridge to go back for sure!"
"Had breakfast here this morning, out of this world!
I had the corn fritters which was an absolute banger and the waitress was great too. All round winner, next level food and awesome service. This is the new hot spot in Devonport."
And there you have it for the top brunch spots in Auckland. You'll certainly enjoy dining at these places with amazing food and coffee and then some!
Have you got any questions for us? If you have one, kindly drop us a line and we'll get back to you as soon as we can.
Don't have the budget to enjoy brunch? If so, you might also want to see our list of the best cheap eats places in Auckland.