Top 6 Restaurants for the Best Buffet in Auckland
Chances are, you already know about the craze behind "eat-all-you-can" buffets. While practically any buffet is guaranteed to stuff you, only the best buffet restaurants can leave you truly satisfied to the core with high-quality cuisine.
It's challenging to find buffet restaurants that actually serve a great selection of food, so we came up with a roundup of the top buffet restaurants in Auckland, as well as a price table and a guide to help you choose the best one for you.
How Much Do Buffet Services Cost in Auckland?
Rates for buffets in Auckland vary, typically based on the time of day, type of day (i.e. holiday), and demand.
For your reference, check out the table below for the average rates.
| | |
| --- | --- |
| Breakfast | $50 – $60/person |
| Lunch | $60 – $75/person |
| Dinner | $80 – $100/person |
| Holidays | $110 – $150/person |
The Best Buffet Restaurants in Auckland
Let's not keep your stomach waiting — here are the best buffet restaurants in Auckland!
Stay tuned after the list for our tips on how to choose the right buffet for you.
1. Eight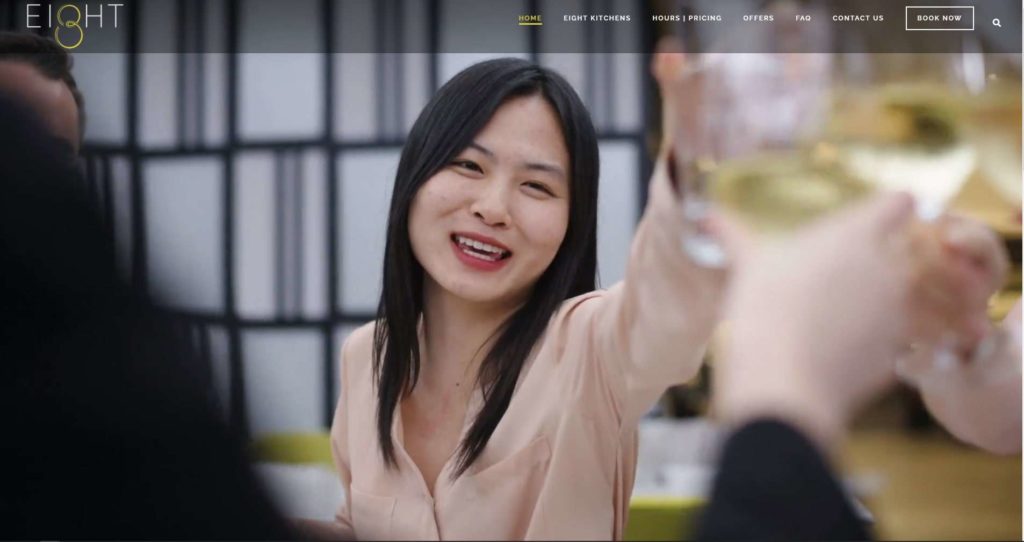 This restaurant is named "Eight" because it boasts 8 different kitchens, each dealing with a particular menu and handled by a main chef. That alone is already promising for those who want the most out of a buffet meal.
The menu features Italian, American, Indian, and Chinese delicacies, as well as various dishes designed for breakfast and dessert.
The best part about their menu is that it changes over time, based on new equipment and recipes. For instance, the addition of a wood-fired grill and a rotisserie in their American Kitchen allowed them to widen their selection of meat dishes.
A very recent addition is their Dessert Kitchen, which features a diverse selection of desserts and a chocolate fountain — perfect for those with a sweet tooth.
Due to how much they specialize in various cuisines, their asking price for entry to their buffets is very expensive at $49 for adults and $24.50 for children from Wednesday to Friday, increasing to $79 for adults and $39.50 for children on the weekends.
This, coupled with their 5-day-only operations, can make it difficult for you to manage a solid plan and budget to dine here. Take it from us, though — all that planning is so worth the unforgettable dining experience you'll have with Eight.
8 specialty selections
Multinational menu
Dishes change from time to time
Expensive rates
Open only five days a week
Customer Reviews
John Sun was satisfied by the food while he was dining at Eight:
"A bit of everything, most well done. The grilling stations are quite generic though, but the DIY sauces can produce differing tastes. A good nights experience with good and helpful waitstaff. Thanks for making our night 🙂"
And Frederick McFall had Eight to thank for an amazing Mother's Day celebration:
"Took mum and wife here for Mothers Day breakkie. Just lovely. Enjoyed the food and company. The waiters were cheerful and helpful. Checked on us regularly. Highly recommended."
2. Paldo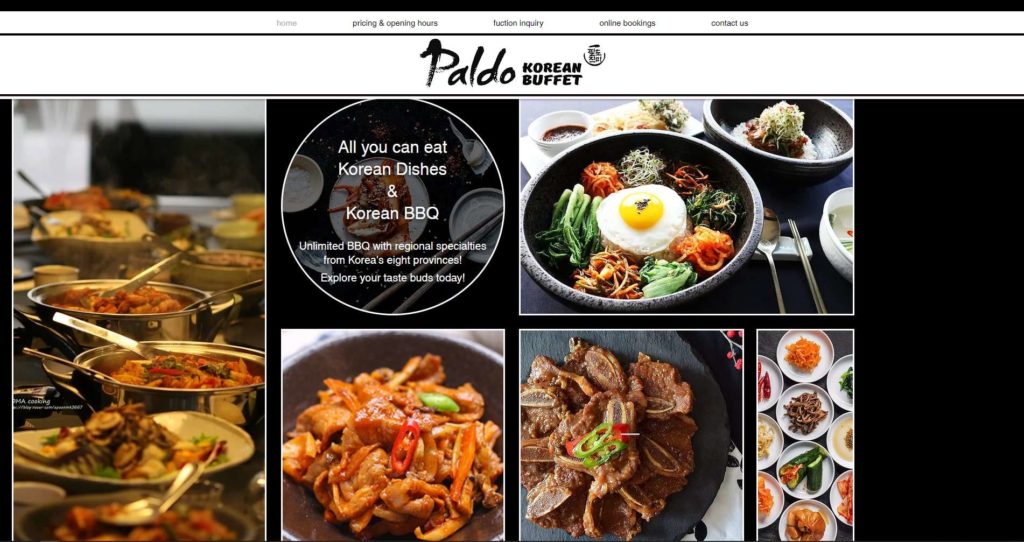 WEBSITE
https://www.paldokoreanbuffet.co.nz/
ADDRESS
298B Ti Rakau Drive, Burswood, Auckland, New Zealand
CONTACT DETAILS
+64 9 2739797


[email protected]

OPERATING HOURS
Sunday – Thursday: 11:30 AM – 2:30 PM, 5:30 PM – 10:00 PM
Friday – Saturday: 11:30 AM – 2:30 PM, 5:30 PM – 11:00 PM
For dishes like bibimbap, Korean noodles, and barbecue, Paldo is one of the top restaurants for the best buffet in Auckland.
Their name is Korean for "eight provinces" from which they base their specialities. They offer over 50 dishes from across traditional and modern Korean cuisine, which should satisfy even the most avid Korean food enthusiast.
In addition, the restaurant itself is designed with a predominantly modern aesthetic with traditional touches. It complements the whole dining experience and will make you feel immersed in Korea's cuisine.
It has a reasonable lunch price for both adults and children. The buffet will cost $21.90 per adult, less for children aged between 3 and 10 years old, and nothing for those younger than that.
Unfortunately, the dinner buffet costs much more at $32.90 per adult, and they don't offer a buffet for breakfast.
As long as you plan it well, dining at Paldo is an excellent choice and will leave you both satisfied and relaxed.
Wide selection of Korean dishes
Has vegan and vegetarian options
Warm atmosphere
Affordable lunch
Dinner is expensive
Not open for breakfast
Customer Reviews
Pita Uo thought that Paldo is fantastic for taking your loved ones out for a treat:
"Love it and a great place to be for a special treat for you and your family. Great variety of good food for your selection, help your self with the right price. Great Service that will help you feel at home, and satisfy your appetite."
Mark Atkinson and his family came back to Paldo many times before, always to great satisfaction:
"Excellent place that deserves a good mention. We've frequented Paldo many times with family and have always enjoyed it. This last visit was the best so far, and despite my limited vegan diet, I found lots of healthy options. I also find the staff really friendly and assertive. We're looking forward to our next visit."
3. Paradise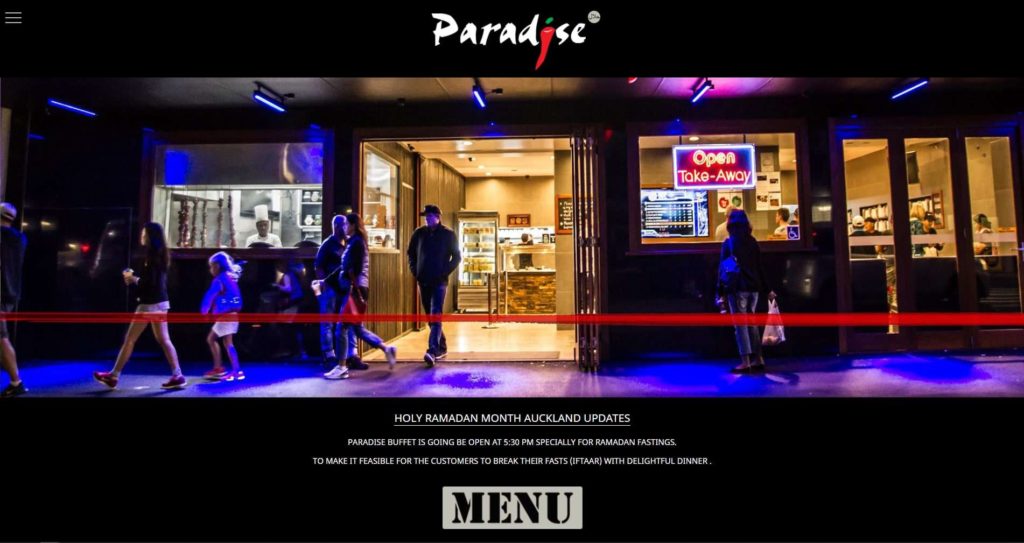 Paradise is a unique buffet restaurant in Auckland that has Indian cuisine made using the finest spices and produce imported from all over the world.
That enables them to make a smorgasbord of tasty dishes, including skewered kebabs, chicken curries, and dum biryanis, one of which is Hyderabadi-style Dum Biryani.
Should you have a particular diet, you can enjoy their vegan, vegetarian, or gluten-free options, also made Indian-style.
They price their menu reasonably, charging between $22 and $24 for adults depending on the day and a constant $16 for children.
The restaurant also offers takeaway and catering options, giving more ways for customers to enjoy their Indian-style menu.
While they operate daily, their opening time is from 6.00 PM to 9.30 PM. This does make the place quick to pack with customers, especially given its location along Kitchener Road.
However, their distinctive Indian cuisine infused with international spices is simply not something to pass up, short operating hours notwithstanding.
Halal cuisine with international ingredients
Has vegan, vegetarian, and gluten-free options
Value for money
Catering and takeaway options
Gets packed easily
Only open in the evening
Customer Reviews
In her glowing review, Vanessa Hu loved the authentic food and mentioned some of her favorites:
"I should say Paradise is one of the best Indian restaurant in Auckland, authentic food, and service is good. Love the fish malai curry with plan naan and chicken biriyani! Oh by the way pice is reasonable.."
Nick Nicholls recommended that everyone try out Paradise's curry:
"Wonderful curry as always. I am sure this is the best curry in Auckland, if not NZ. If you are nearby and love curry you must try Paradise. There is no alcohol license but that is a very small price to pay for such great food. My favorite is the chicken kolhapuri, but it is all great. There is an all day menu at about $20 or so a curry and a lunchtime menu at about $12."
4. Wellingtons Restaurant & Bar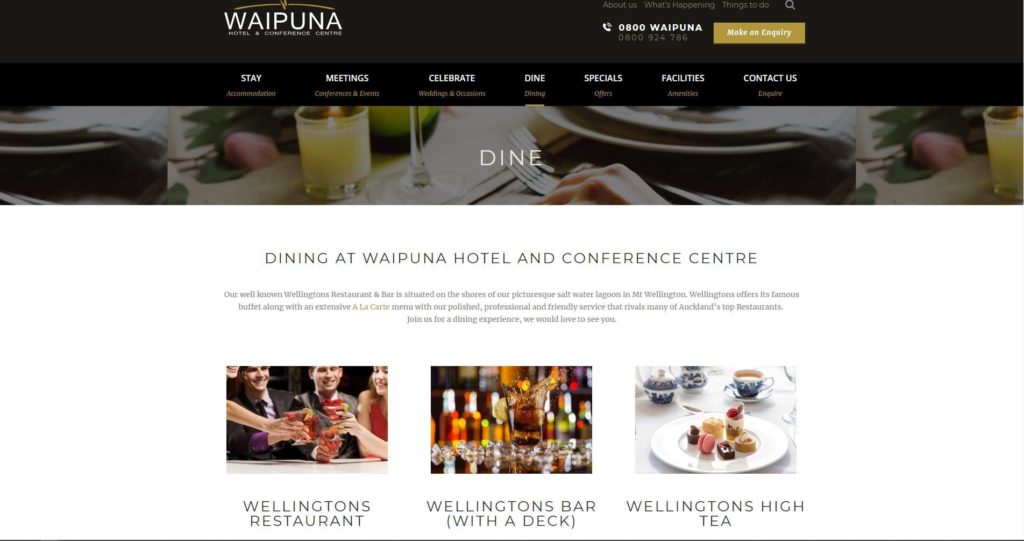 WEBSITE
https://www.waipunahotel.co.nz/dining/
ADDRESS
58 Waipuna Road, Mt Wellington, Auckland 1060, New Zealand
CONTACT DETAILS
+64 9 5263020
OPERATING HOURS
Monday – Saturday: 6:30 AM – 10:00 AM, 12:00 PM – 2:00 PM, 6:00 PM – 9:30 PM
Sunday: 5:30 PM – 9:00 PM
Wellington's Restaurant & Bar is a European-style buffet restaurant located at the Waipuna Hotel. It's the best choice for those with a tongue for refined European cuisine.
Their buffet dishes are centred on fine dining delicacies across multiple countries in Europe. Some of their selections include various types of bread, seasonal meats, freshly caught seafood, and high-quality desserts.
With such a menu, those with a Eurocentric taste will be greatly satisfied. As for people with very particular diets, Wellington's Restaurant & Bar offers alternative options that are vegetarian, vegan, or gluten-free.
While Wellington's aims to offer a luxurious experience, they also try to provide convenient amenities for all of their customers. Diners will enjoy Free Wi-Fi, as well as free parking through validation or off-street parking.
Due to the quality and variety of their dishes, it can be quite expensive to eat at their buffet menu. Their à la carte menu is a clear indication of how much you'll have to shell out to enjoy their buffet.
If money is no object for you and you want to enjoy authentic European cuisine in buffet-style dining, we highly recommend Wellington's Restaurant & Bar.
European multinational cuisine
Has vegetarian, vegan, and gluten-free options
Convenient amenities
Customer Reviews
Katrina Hunter gave a brief yet vivid description of her dining experience:
"The most tasty buffet with well presented food. Saturday night has a great couple singing and getting audience participation. Lovely views over panmure basin"
Sandi Lashbrook loved a lot of the authentic selections at Wellington's:
"Not many good places for buffet/all-you-can-eat left in Auckland but this is certainly no Valentine's! Attentive staff. Great salads. Plenty of fresh seafood including massive prawns and hot smoked salmon. Beef bourguignon the dish of the day. Lovely to get ham on the bone in the middle of the year. Great desserts too."
5. Genghis Khan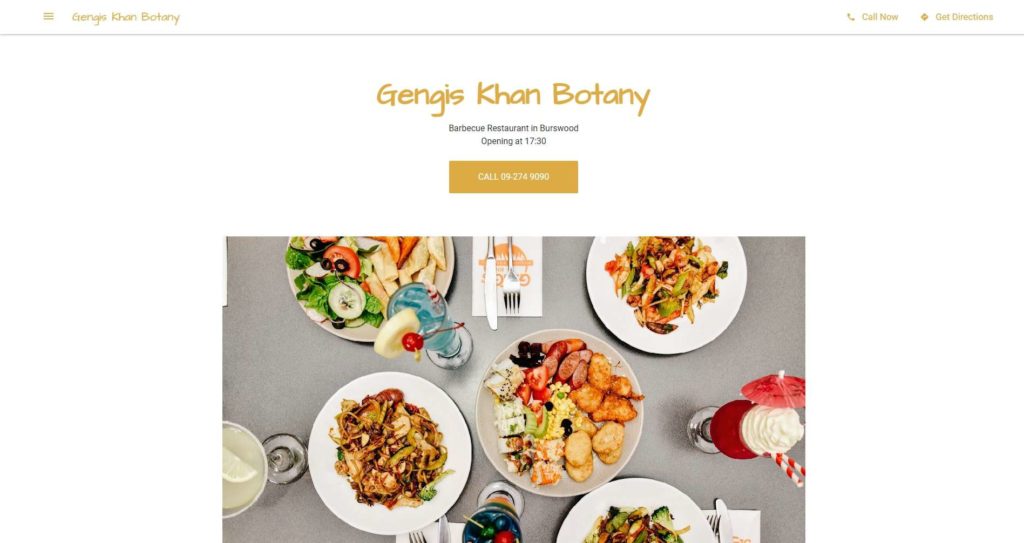 Genghis Khan is one of the top buffet restaurants in Auckland for its unique and welcoming overall atmosphere. Their cuisine is Mongolian-themed with tinges of other Asian delicacies.
Their flagship offering is their variety of Mongolian-styled BBQ meats from beef to chicken, though they also serve a lot of other dishes including seafood, salads, garlic bread, and desserts. The restaurant also offers vegetarian options for those who want to try out other Asian cuisine without the meat.
Every aspect of the dining experience here is aimed towards having an overall family-friendly atmosphere. Along with a spacious floor and a cozy decor, diners can ask for wheelchairs and highchairs so that older or younger guests get to eat comfortably.
All of these are offered together at an affordable price of $22.90 for each adult and $5.90 for each child.
The restaurant does fill up very easily due to families and buffet enthusiasts alike wanting to taste the overall cuisine offered, so you may have to wait your turn.
Once you're in, prepare to dig in for their delectable Mongolian BBQs and Asian specialties.
BBQ offerings and other Asian cuisine
Vegetarian options
Family-friendly atmosphere
Affordable pricing
Often packed, hard to get a seat
Customer Reviews
Lennart Schnuir would love to take their kids back for their incredible menu:
"The food was great and the staff is so friendly that they make you feel very welcome. The variety of the food is great as there are a lot to choose from, even for the kids. We will be visiting here more often as we really enjoyed our visit here. It is really worth going here for a affordable meal."
Kimi Taylor was amazed by the presentation of the dishes and the restaurant as a whole:
"Excellent customer service as soon as you come to counter, the waitresses were awesum at their service as well as the 3 chefs cutting up the food on the hot plate, they were amazing! And very impressed with the young female chef amongst the 2 male chefs cutting up the food as well? Loved the food, nice & hot & delicious with many choices to choose from, and the restaurant is huge with plenty of space to walk through, we'll definitely be returning again!
Thank you for your wonderful service!❤???"
6. Bawarchi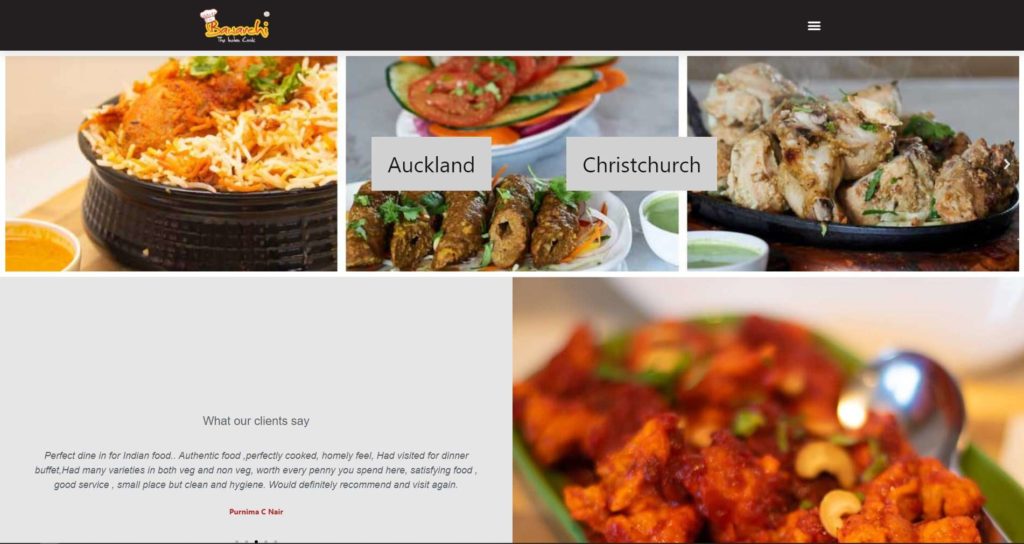 Bawarchi is a buffet restaurant that specializes in Indian-style food. In particular, they offer authentic Hyderabadi Mughlai cuisine, one of the most popular cuisines in India.
Their menu items cover a wide variety of meat dishes, vegetable dishes, desserts, and drinks. For discerning vegetarians, Bawarchi also has a section for vegetarians, so no one's left out from being able to taste Indian cuisine.
Those who want to avail of their food through pre-order can do so through either their takeaway or catering services.
On top of this, Bawarchi is open everyday from 11 AM to 10 PM. Altogether, this means that Bawarchi is easily accessible to a lot of customers.
Since it's known in the city for its unique cuisine, Bawarchi tends to have a full house during peak hours. You'll have to plan ahead and make reservations if you want to eat there.
Otherwise, we highly recommend Bawarchi as one of the best buffet restaurants in Auckland.
Wide variety of Indian dishes
Vegetarian options
Has takeaway and catering services
Open everyday
Customer Reviews
Soo Bae always went to Bawarchi whenever they have the chance:
"Absolutely love their dry and creamy curries. Go there everytime I can. Price is also reasonable. Tried Chicken Tawa masala and lamb bhunagosh and they were just superb"
Ben Mathew's experience with their catering service was beyond what they expected:
"First of all, thank you Srinivas !!! You have been absolutely awesome!! Thank you for arranging the catering order at such short notice. The food was amazing and the quantity was way more than I anticipated. It was only for a lunch function but I have enough leftover for a dinner party as well."
How to Choose the Best Buffet Restaurant in Auckland
Before you get immediately hooked into eating at a buffet restaurant, know that there are factors to consider when choosing which buffet to go to that will best satisfy your cravings.
See our tips below to make an informed (and satisfying) decision.
1. Look at menu
Prominent among all buffet restaurants is the variety of food, not only in terms of viands but also drinks, desserts, and starters.
Also typical of buffet restaurants is featuring a specific cuisine, sometimes changing it up on particular days depending on their "theme."
When choosing which buffet restaurant in Auckland to dine in, see first if their menus appeal to your palate based on your current cravings for cuisine and certain types of food.
2. Check prices
It's important to remember that buffet restaurants set their prices based on time and demand. Generally, prices are increased when more people are expected to go to buffets.
You'll have to judge if, for what you pay, what you're getting suits your interests. Quality, quantity, and variety of the food can determine if it's worth it for you to pay the price set by the restaurant.
3. Read reviews
Customer reviews can confirm a lot of vital information about how a buffet restaurant operates.
Positive feedback would mention speedy service, fast queues, freshly and quickly prepared food, or other features of a convenient dining experience at the restaurant.
It's also ideal to look for reviews that talk about experiences during peak hours. This allows you to plan ahead and cross out any restaurants that will be difficult or inconvenient to dine in on the holidays.
FAQs about the Best Buffet Restaurants in Auckland
---
And that's all for the top buffet restaurants in Auckland. Whether you're a foodie, a health nut, or just an ordinary customer, you can feast enjoyably in these places.
Do you have any questions or suggestions about our list? If you have any, feel free to send us a message, and we'll get right back to you.
If you happen to be curious about what Auckland has to offer for dining options, we have plenty of service lists for restaurants for you to read! For starters, try our list of the best Indian restaurants in Auckland.