Top 6 Contractors for the Best Carpet Repairs in Auckland
Image credit: Getty Images
Over time, carpets can become rippled or develop rips and tears, especially in high-traffic zones. To keep occupants safe from tripping hazards and remedy unsightly damage, we've listed the top contractors for the best carpet repairs in Auckland here.
We first chose qualified, trained and experienced carpet technicians. Then we opted for those who have the best tools and technology and are prompt and personable too.
You can get your carpet patched or re-stretched in under a short time with them. At any rate, here are the preferred contractors for the best carpet repairs in Auckland!
1)  Carpet Repairs Ltd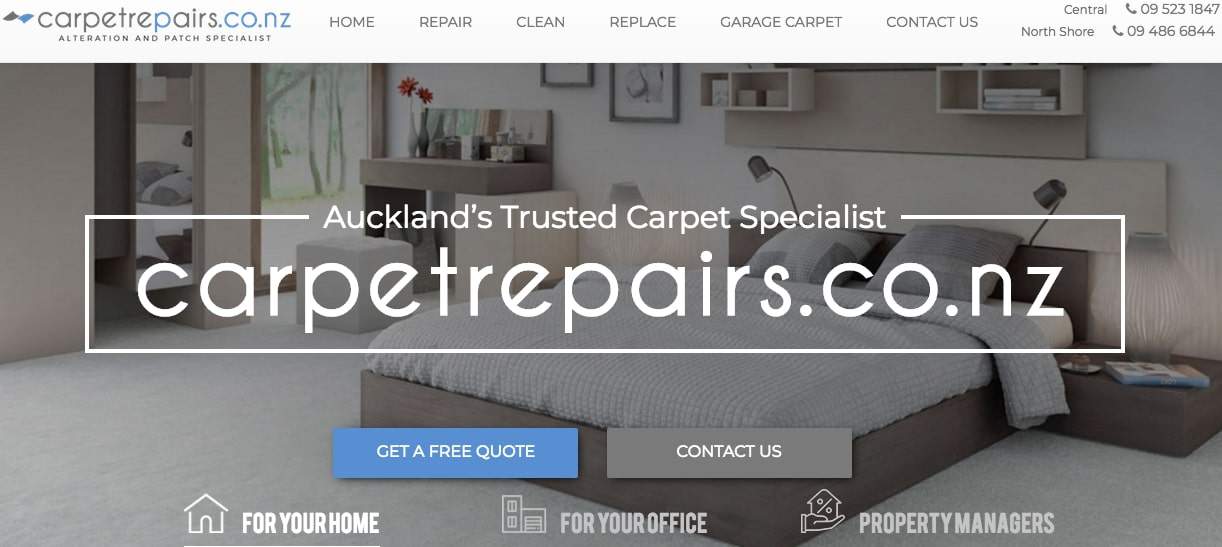 BEST FOR
Professional and Quality Carpet Patching
SERVICES
Carpet Repair

Carpet Cleaning

Carpet Replacement

Garage Carpet

WEBSITE
https://www.carpetrepairs.co.nz/
ADDRESS
130 Felton Mathew Avenue, St Johns, Auckland 1072, New Zealand
CONTACT DETAILS
Central: 09 523 1847

North Shore: 09 486 6844

OPERATING HOURS
Monday to Friday: 8am – 5pm
Need carpet repair specialists ASAP? Hit up Carpet Repairs Auckland. They pride themselves on delivering solid quality and service for a range of carpet services.
Does your carpet have mould staining or blotching, ripples, fraying split seams or pet damage? They can provide you an efficient and green solution that will restore your carpet like new, thanks to their induction iron equipment and eco-friendly glues.
Carpet Repairs Auckland is based in two locations: Central and North Shore, Auckland. Kindly call them with the number indicated above or drop them an email for a quote.
Highlights
Solid quality and service
Efficient and prompt solution
Based in two locations
Range of carpet services
Customer Reviews 
Barry Wallace from Barrier Roofing left a comment on the website: 
"After many years in contracting, I know I recognise good work. Your carpet layer was dexterous, polite and professional.   He handled a complicated job in a high traffic area and achieved excellent results. Thank you for your service."
2)  Steam 'n' Dry Carpet Repairs Auckland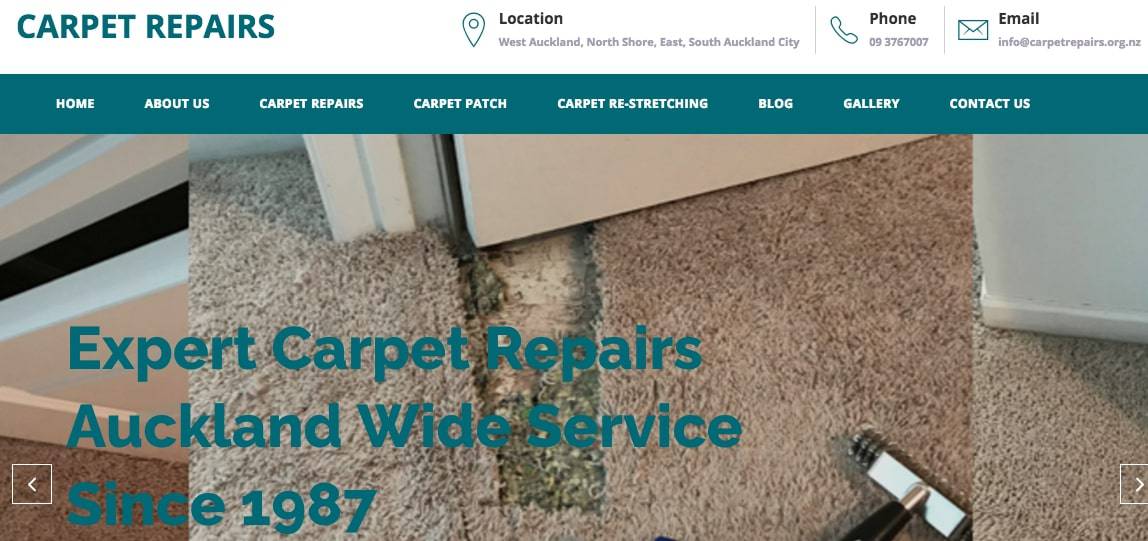 BEST FOR
One-Stop Shop for Carpet Repairs and Restoration
SERVICES
Carpet Cleaning

Restoration Repair

Re-Stretching

Upholstery Cleaning

Leather Care

Oriental Rug Cleaning

WEBSITE
http://www.carpetrepairs.org.nz/
ADDRESS
129 Howe St, Freemans Bay, Auckland City Cbd 1011
CONTACT DETAILS
09 3767007
129 Howe St, Freemans Bay, Auckland City Cbd 101109 8374545
Triangle Rd, Massey, West Auckland 061009 4897784
Old Lake Rd, Narrow Neck, North Shore Auckland 0627

09 2620720
Redoubt Rd, Goodwood Heights, South Auckland 2016

09 5200062
162 Pakuranga Rd, Pakuranga, East Auckland 2010

09 426 5008
Riverside Road, Orewa, Hibiscus Coast, Auckland 0931

OPERATING HOURS
24/7
Steam 'n' Dry Carpet Repairs Auckland is a one-stop destination for carpet and rug cleaning and repair needs. They have served Auckland and the surrounding areas since 1987.
Graeme Stephens, owner and lead carpet technician, is accredited with IICRC: that ensures he's highly skilled about carpet repair and restoration for small and big issues alike.
The amazing thing is that when the crew patches your carpet up for you, you won't even notice the cut area and where the new piece is inserted — masterful work!
As some of the top contractors for the best carpet repairs in Auckland, they also offer restretching, leather care and upholstery cleaning services.
Highlights
One-stop carpet shop
Complete range of services
IICRC-certified
Serves Auckland-wide
Customer Reviews 
Here's what Nelvin Salimbao, one client, has to say on Google: 
"Most attentive company to our needs when it comes to carpet repair and cleaning. Carpets were cleaned neatly and efficiently. We will use them in the future."
3)  Carpet Surgeon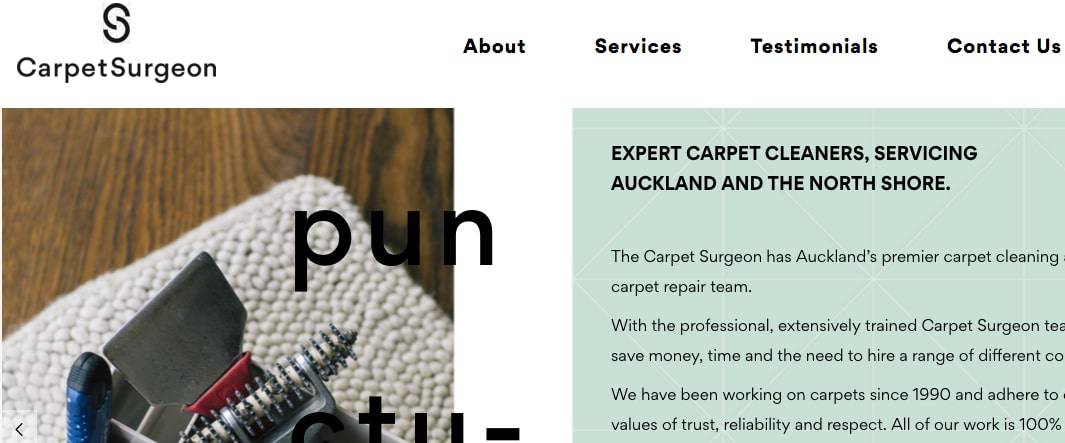 BEST FOR
Comprehensive Range of Offerings
SERVICES
Carpet Cleaning

Flood Restoration & Dryer Hire

Carpet Relay

Carpet Stain Removal

Fabric Upholstery Cleaning

Virus & Bacteria Sanitisation

Carpet Repairs

Leather Upholstery Cleaning

Door Bar Installation

Carpet Sewing

Mattress Cleaning & Sanitising

Rug Cleaning

Carpet Re-Stretching

Creaky Flooring Repairs

WEBSITE
https://carpetcleanerauckland.net.nz/
ADDRESS
1 Ferryhill Road, Epsom, Auckland, New Zealand
CONTACT DETAILS
0508 787 4366

0274 948 333

OPERATING HOURS
Monday to Saturday: 8am – 5pm
Carpet Surgeon has an experienced team of carpet repair technicians who offer a breadth of services, from repatching to flood restoration.
They are also equipped with cutting-edge technology to restore a carpet to its former glory. Eco-friendly and non-allergic options are available for carpet cleaning work.
Formed on the basis of respect, trust and reliability, you can count on them to give you a service second to none, just one of the many things that made us put them among the top contractors for the best carpet repairs in Auckland list.
Best of all, your utmost satisfaction is a given as all workmanship is guaranteed.
Highlights
Experienced carpet repairers
Cutting-edge technology
Company with values
Guaranteed work
Customer Reviews 
One client, Helen Plummer, wrote this on the carpet company's website: 
"I was really impressed with the overall service of The Carpet Surgeon. I was recommended to use their services and was pleasantly surprised. I have had my carpet serviced over a number of years and this is the first time that I used the carpet surgeon and they were BY FAR the most efficient, tidy, and professional company that I have dealt with thus far, and I felt that their serviceman Lorne was very trustworthy. Would definitely recommend their services to anyone looking for great job. 100% satisfied. Thank you."
4)  Carpet Repair Man Ltd

BEST FOR
Quick Response and Impressive Repair
SERVICES
Carpet Patch

Carpet Repair

WEBSITE
https://carpet-repair-man-ltd.business.site/
ADDRESS
139 Victoria Ave, Remuera, Auckland, New Zealand
CONTACT DETAILS
09 524 5534
OPERATING HOURS
—
From carpet patching to restretching to new carpet laying, you should talk about your requirements with Grant Moon of the Carpet Repair Man.
With 30 years of experience, Grant has fine attention to detail, knowledge and expertise in all things carpet. He's ready to take on any carpet work you may have.
From the pictures on his site, you can see that he delivers a finish that's invisible to the eye and that is nothing short of impressive.
Furthermore, customers say that he and his wife Liz pick up the phone promptly and set up a time and date to go over to your place to solve your carpet issues spot-on. 
Highlights
Impressive carpet repair results
Quick response
Fine attention to detail
Has 30 years of experience 
Customer Reviews 
One client, Susan R, commented on Google:
"Highly recommended! Grant was quick to reply to my message and did an excellent job in replacing a badly stained area of carpet. It looks so much better now – thank you."
5)  All Carpet Repairs

BEST FOR
Personalised Service
SERVICES
Carpet Restretching

Carpet Repairing

Carpet Patching

WEBSITE
http://www.allcarpetrepairs.co.nz/
ADDRESS
3 Shingleton Lane, Botany Downs, Auckland 2016, New Zealand
CONTACT DETAILS
+64 21 666 448
OPERATING HOURS
Monday to Friday: 7.30am – 6.30pm

Saturday: 9am – 1pm
At All Carpet Repairs, Jarrod, the owner and carpet technician, will be your point of contact from beginning to end. This ensures that you get the best possible value from the service.
He has worked within the flooring industry for a long time. This gives him knowledge and skill about all aspects of carpet repairs including carpet patching, repairing and re-stretching.
Jarrod uses advanced seaming equipment to repair your carpet for a neater and cleaner result, as opposed to using hot iron machinery.
Plus, to seamlessly blend the patching to your carpet design, he takes a piece of carpet fabric from under cupboards or wardrobes.
Highlights
Personalised service
Marvelous carpet work
Experienced carpet specialist
Use innovative equipment
Customer Reviews 
Jarrod certainly ranks among the expert contractors for the best carpet repairs in Auckland. Check out the feedback of one customer, Janice Riley, on the website: 
"Jarrod came in and worked his magic after we had taken the advice of a carpet company and let their carpet fitter come in, only to make a complete hash of the job and our carpet. Jarrod restretched, tidied up the frying edges and made it look like new again. Have recommend Jarrod to countless people now. Thanks again Jarrod."
6) Carpet Layer Auckland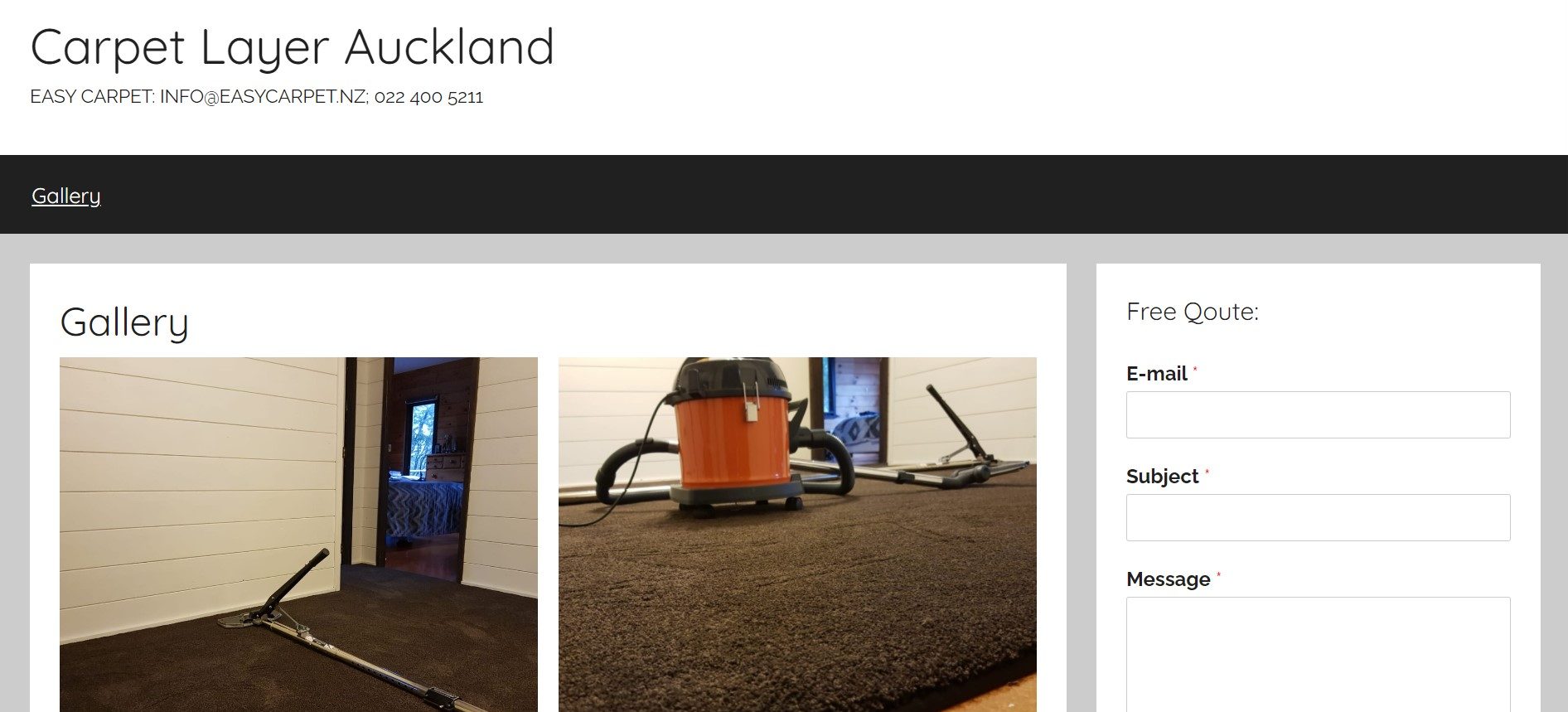 BEST FOR
Over 20 years of experience
SERVICES

Carpet and Vinyl Installation, Repair, Maintenance

WEBSITE
https://www.easycarpet.nz/
ADDRESS
North Shore, East, Central, West Auckland
CONTACT DETAILS
[email protected]
022 400 5211
OPERATING HOURS
Monday: 7am–7pm
Tuesday: 7am–6:30pm
Wednesday: 7am–7pm
Thursday: 7am–6pm
Friday:; 8am–5pm
Saturday: 8am–12:30pm
Sunday: 7:30am–7pm
Anything carpet related, and Carpet Layer Auckland is a company to consider. They have a wide range of fabrics, nylon being one of them. It's budget-friendly, and known to be durable.
There's also a warranty on their service in case there's ever a need of a quick maintenance or repair. Trust only a company that takes care of you even in the long run, consider contacting Carpet Layer Auckland now!
Head on to their website to get a free quotation on any of the service you have in mind.
Highlights
Lowest price on the market
At least a 2 year warranty on workmanship
Free quotation
So there you have it for the top contractors for the best carpet repairs in Auckland. With their help, your carpet will once again be smooth, flat and perfect.
Any questions at all about the topic thus far? If you have one, just send us a message and we'll get back to you in a jiffy.
Also, if your upholstery has sunken cushion or faded design, you can have it repaired to give it a new lease on life through the best upholstery Auckland companies.