By Ruby Singh
Need good food for your upcoming business event, beach gathering, or wedding day? If so, then you should call on the top companies for the best catering in Tauranga — the companies we've featured here.
We picked those that offer a variety of delicious and wonderfully-presented food. Then, we chose those who are personable and helpful to your guests on the special occasion.
Moreover, we listened in on what clients have been saying of them. They also think these caterers are the best, just like we do.
With them on your side, your event and the food will be the talk of the town. So read on to know about the finest companies for the best catering in Tauranga.
1)  Peppercorn Catering Tauranga
BEST FOR
Delicious and Presentable Finger Food
SERVICES
Finger Food
WEBSITE
http://www.peppercorncatering.co.nz/
ADDRESS
 5 Barberry Street, Judea, Tauranga 3113, New Zealand
CONTACT DETAILS
+64 7-578 4292
OPERATING HOURS
Monday to Friday: 5.30am – 5pm

Saturday: 6am – 5pm
Craving divinely sweet scones, a delightful clubhouse sandwich, or healthy Thai noodle salad? You can order them at Peppercorn Catering.
They offer exquisite and well-presented finger food around Tauranga City to private and corporate clients. For parties and celebrations, their food will be a perfect treat!
We suggest the satay chicken kebabs, pumpkin & feta salad, egg salad or frittata slice. For desserts, you might like to have their red velvet cake or fresh fruit platter.
You can view their menu by clicking the photo gallery tab on their website. However, if you can't find something you want there, you can ask them about it and they might make it for you.
Highlights
Exquisite and well-presented finger food
Great menu choices
Amiable service
Customer Reviews 
When it comes to finger food meals and desserts, you can't go wrong with Peppercorn Catering Tauranga. Here's the feedback of one client, Gary, on Google: 
"Delicious assortment of finger food platters Amazing presentation with friendly helpful service, highly recommended."
2)  Delicacy Cafe & JUZ Catering
BEST FOR
Scrumptious and Beautiful Meals
SERVICES
Christmas

Weddings

Deli Foods & Baked Goods

Take Home Meals

Giftware

Breakfast

WEBSITE
https://juzcatering.co.nz/juz-catering/
ADDRESS
Shop 7, 11th Avenue Shopping Plaza, Tauranga, New Zealand
CONTACT DETAILS
07-577-6026
OPERATING HOURS
Monday to Friday: 7.30am – 3.30pm

Saturday: 7.30am – 2pm
Delicacy & JUZ Catering prides itself on offering beautifully-presented and delicious food. They serve an array of foods, from cocktail canapes and barbeques to main meals and enticing desserts.
They have long been catering weddings, function meetings, anniversaries, graduations and the like in the Bay of Plenty, Waikato, Coromandel Peninsula and Thames Valley.
The staff is said to be friendly and professional, at least according to past clients. You only have to enjoy your special day and they'll take care of everything about the food and serving it to guests.
You can phone or email them — or drop by at the cafe. They'll discuss your plans and make a simple yet enjoyable menu for you and your guests on the day of the event.
Highlights
Simple but delicious meals
Great menu offerings
Friendly and professional caterers
Cover the Bay of Plenty area
Customer Reviews
They are some of the companies for the best catering in Tauranga, many claim. Yvonne and Dene Gilbert wrote this on the website, for example:
"We do want to say a very special thank you for an outstanding effort on the catering front which contributed to a wonderful wedding day.
From our first consultation, you exuded confidence and enthusiasm for a menu that was original and tailored to sharing food and celebrating a special occasion at our place.
And you maintained this with advice, fine tuning and fronting on the day. Nothing was ever too much trouble; it was the best day on all fronts.
Sunday was also memorable; delicious ham, and beetroot salad, much enjoyed."
3)  No Biggie Food
BEST FOR
Seasonal and Fresh Ingredients
SERVICES
Event, Corporate & Wedding Catering

Canapes

Grazing Table

Walk & Fork

Family-Style Sharing Plates

Dessert

Private Chef

WEBSITE
https://nobiggiefood.com/
ADDRESS
60C Aviation Avenue, Mount Maunganui, Tauranga 3116, New Zealand
CONTACT DETAILS
+64 20 4120 1329
OPERATING HOURS
Monday to Friday: 9am – 5pm
Searching for a fantastic wedding or events caterer in Tauranga? Try No Biggie Food. They only use seasonal and fresh ingredients to create gourmet and tasty meals.
Their menu is laid-back: think falafel, potato curry, hot dogs or cheeseburgers. You can have some of their family-shared plates such as skirt steak, wild rice, and lamb and asparagus.
The culinary experts at No Biggie Food aim to make your food unforgettable on your most important day. It won't matter how small or large the event is, they are here for you.
As such, we've considered No Biggie Food as one of the companies for the best catering in Tauranga.
Highlights
Uses locally-sourced, fresh ingredients
Scrumptious meals
Serve clients throughout Tauranga & the North Island
Talented chefs
Customer Reviews
Customers praised their delicious food as well their planning and communication leading up to the event. Also, one client from Flock Events said:
"Definitely the best event food we've ever come across. Constantly impressed with Jesse & Sarah and their incredible offerings. I've also worked with them as a planner on and event an find their staff professional and efficient. Service was incredibly smooth and stress free."
4)  El Mono Loco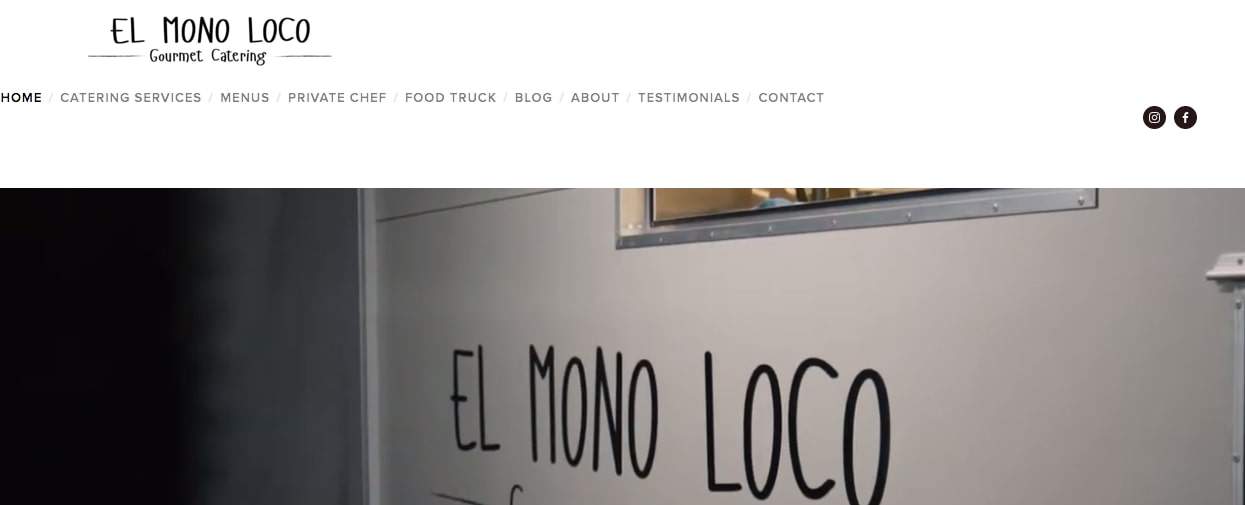 BEST FOR
Friendly and Hassle-Free Catering
SERVICES
Catering Services

Wedding Catering

Event & Function Catering

Corporate Catering

WEBSITE
http://www.elmonoloco.co.nz/
ADDRESS
51A Ascot Road, Mount Maunganui, Tauranga 3116, New Zealand
CONTACT DETAILS
+64 22 642 5903
OPERATING HOURS
—
El Mono Loco Gourmet Catering offers catering services for weddings, events and functions, and corporate meetings across Tauranga and the North Island.
Bridget Serafimidis, the head chef, has worked abroad in Europe for over a decade. Now back in Tauranga, she has brought home an array of flavoursome recipes for the clients.
Some must-try gourmet meals include Thai Marinated Lamb and Moroccan Chicken. These are cooked perfectly and are perfect with a glass of wine.
They also have something other caterers don't: a food truck that has all the food and ingredients cooked on-site for your dinner party, wherever you may be in the North Island.
Highlights 
Flavoursome food
Caters for weddings, businesses, functions and events
Over a decade of experience
Mobile food truck 
Customer Reviews 
Bridget, along with her staff, works beyond her line of duty to offer clients the best catering service. One customer, Becky Gardiner, wrote on the website:
"A huge thank you to Bridget and the team who provided us with amazing food for our staff function. The noodle boxes were delicious, a great way for people to try a couple of options, we received fantastic feedback from all staff who attended. Bridget and her team were very professional, friendly and created a fun atmosphere for our special night. I highly recommend El Mono Loco for your next event!"
5)  Kex Kitchen
BEST FOR
Corporate and Office Catering
SERVICES
Individual Lunches

Canapes

Corporate Catering

Grazing Tables

WEBSITE
https://www.kex.nz/
ADDRESS
373 Maunganui Road, Mount Maunganui, Tauranga 3116, New Zealand
CONTACT DETAILS
0277 3000 88
OPERATING HOURS
Monday to Saturday: 9am – 5pm
Since the office is a purely sedentary job, why not make up for that by getting workers something healthy to eat for your company events? For this, you can give Kex Kitchen a ring!
Kex Kitchen caters fresh, modern and healthy food to offices, business meetings and function events. Their menu consists of tasty gluten-free, vegan and vegetarian options.
Furthermore, canapes, platters and grazing tables are offered so you have everything that you need. Not only will your stomach be satisfied but you'll be super-healthy too!
The catering company serves Tauranga and the Bay of Plenty Region.
Highlights
Fresh, modern and healthy food
Caters to corporate and office settings
Covers Tauranga and the Bay of Plenty Region 
Customer Reviews
Marie-Clare, one client, said on the website about Kex Kitchen, one of the companies for the best catering in Tauranga: 
"Excellent caterer for our company, does a great job with fresh, modern food. Our staff were very, very impressed! Thank you so much Amy, we look forward to using you again soon."
And that's all for the top companies for the best catering in Tauranga. If you have a big event coming up, these caterers should be your first point of call for savoury food.
What did you think of the ones we included here? If you have any questions or comments, drop us a line and we'll get back to you promptly.
At any rate, you may also be interested in the best Tauranga hotels. These hotels offer event or wedding reception spaces where you can have delectable food catered for your guests.