The 10 Best Chairs In New Zealand
A stiff chair in the office can pose problems for your back, shoulders, and neck, decreasing your productivity. If you're looking for a good replacement, we can help you with this list of the best chairs in New Zealand!
It's worth noting that there's a very large selection of chairs available in the country. Their comfort levels vary, as do their designs and materials.
While we selected the chairs we think are most worth the average buyer's money, we admit that there are nonetheless special circumstances that may make some of these chairs less-than-ideal for you.
Besides, our bodies are shaped differently — what's comfortable for you may not be for another. That's why, before we go through our list of picks, we'll go through what to consider before buying a chair.
That way, you'll have a better notion of how to pick one specifically for you. In other words, you'll have a good sense of which of the products we've listed may be best.
What to Consider Before Buying a Chair
So, here, we've listed the factors that will help you make your chair-buying decision. Those things are comfort, durability, price, design, and the warranty on the chair.
Let's take them one by one!
Comfort
A comfortable chair feels good for your back and offers support so that you won't fall in the the slouching posture or position. More than that, you should be able to recline freely and not feel stiff as a bone.
Having armrests is also important since that assists in sitting upright. Otherwise, it'll take an extra amount of effort to sit up straight, putting more stress on your back.
Many high quality chairs have adjustable recline, armrests, and seat depth too. That's a big help as you can lean back a little, slouch to one side, or sit upright and ensure your own comfort.
Durability
Since lower-quality materials are used in producing a cheaper chair, it's likely to break, lose a part, feel unstable, and have saggy foam.
On the other hand, a chair with quality materials will be more likely to be sturdy and hardy.
Price
Prices for chairs mostly range from NZ$60 to NZ$2,000. Obviously, most of the higher-quality chairs will be on the higher end of that range.
But if the price doesn't sit too well for you, you can buy second-hand one that's still in good condition.
Design
Chairs vary a lot here. You'll get a massive range of options in colour, style, shape, etc.
There are a lot of chairs that offer both design and function, though, so don't feel you have to compromise. You can actually get the best of both worlds with a lot of good chair models.
Warranty
The best chairs come with warranties that can come in handy. For example, if in two years you find the castors sticking to the ground, you can use the warranty to get a repair or replacement.
Great brands offers up a warranty this long to prove how well their products are made. So, the longer it is the better.
Unfortunately, when buying from a retail store, the warranty may be reduced considerably. Take note of that when you go shopping for the best chairs in New Zealand.
Now that we've laid out the factors to consider, we are ready for our best chairs in New Zealand!
Best Chairs in New Zealand
The chairs that we have here are office, gaming, recliner, and bar chairs. Take a look at them and see which one might be best for you!
1. E-Blue Cobra Gaming Chair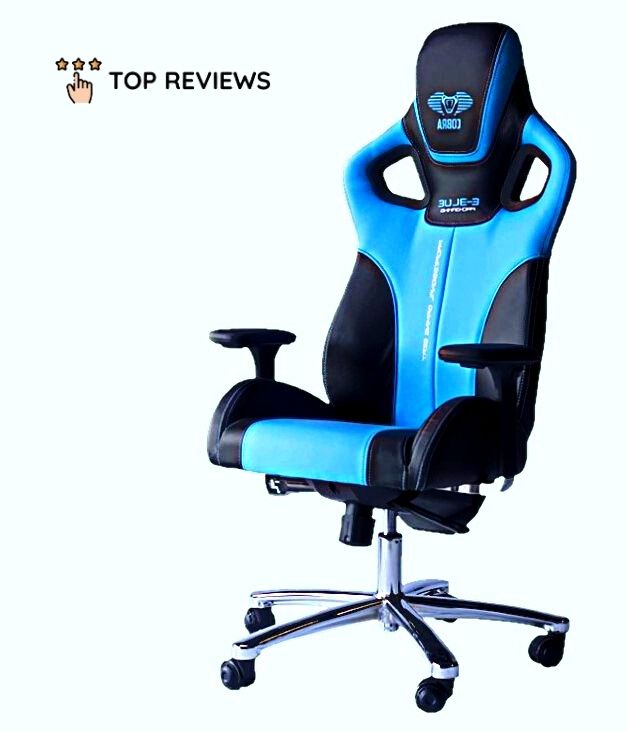 Price: NZ$499
Let's start with a great gaming chair for all the PC gamers out there. The Eblue Cobra Gaming Chair is made of a tough polyurethane leather cover that sports suede accents. Looks-wise, it certainly won't disappoint, what with its sleek, racer-seat aesthetic.
It's also designed to be adjustable, with the back rest having up to 118-degree tilt adjustment and a lock and tilt function. Both the chair's height and its armrests can be adjusted as well (the latter can even be moved backward or forward).
Finally, it's designed for ergonomic purposes and comes with a high-resilience sponge under the PU cover. Overall, it's one of the most comfortable and durable gaming chairs you can get right now.
Highlights
High density foam
Durable PU leather and suede cover
Adjustable back rest, height, and arm rests
High safety Class-4 gas spring with explosion-proof tube guarantees double security
Wheels designed for low noise and high abrasion resistance
Customer Reviews
Owners are big fans of the chair's ergonomics and quality construction, noting the excellent stitching, high-quality PU leather, and overall comfort of the chair.
Take a look at what one owner had to say about it:
"I have always used office chairs and wasn't sure if a gaming chair was the way to go or not. now the I have one I can tell you I wish I would have switched years ago. The best part of the chair for me is that it supports your back when sitting forward and typing. none of the other chairs I have owned have done that before. I would definitely recommend.."
2. Steelcase Gesture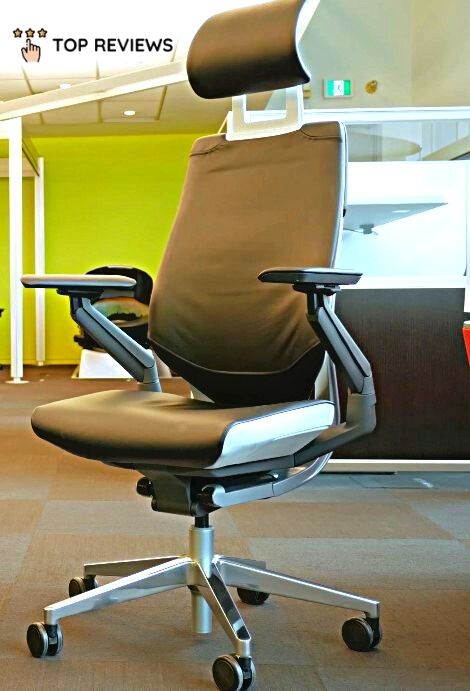 Price: NZ$1,667
In the search for the best chairs in New Zealand, you will most likely come across the Steelcase Gesture in various reviewers' lists.
It was inspired by the human body, so you sit in it as if it were an extension of your body. You can recline, reach out for files, or type on your computer with superior comfort and support the entire time.
And the back, arms, and height are all adjustable by the rotatable dials for ergonomics, together with your seat depth (you can move it forward or backward).
Select from a slew of options with fabric or leather seats and frame colour choices. On the manufacturer's site, you can even customise each aspect we mentioned just now, even the castors and lumbar support.
Though it's not exactly cheap, what you get from this chair is totally worth it. It's the ideal office chair for the support you need when working on tough deadlines.
Highlights
Follows your body posture and movements
Adjustable arms, recline, seat depth, and height
Great number of customisation options to choose from
Customer Reviews
The Gesture's users have praised the armrests for unprecedented flexible support. Many were also fans of the high degree of adjustability.
However, one was dismayed as the lumbar support was not included and required an extra fee. Another said that he tended to slide off the seat, resulting in more back strain.
Our takeaway here is that you may want to test one of these first, as is true of all the other models in this list. We ourselves loved sitting in the Gesture, but can't guarantee the same for all other users.
3. Herman Miller Aeron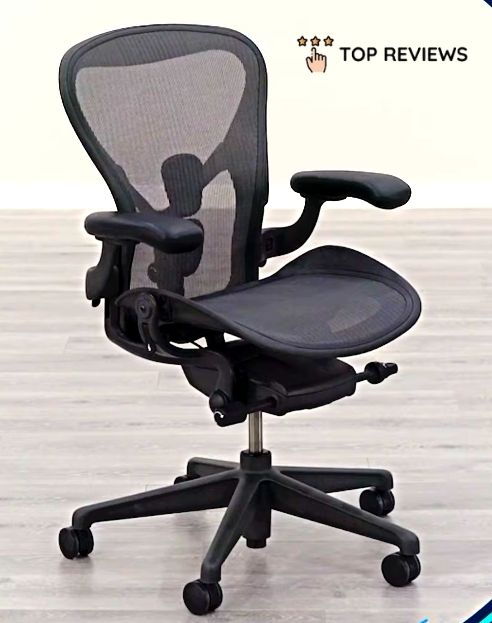 Price: NZ$1,695
Herman Miller started a revolution with Aeron chairs that are among the world's most comfortable chairs. The Aeron was designed by Don Chadwick and Bill Stumpf to fit every user and provide more comfort to them.
After two decades, work life has changed… and they thought about modifying it to suit modern workplaces. The result is the new Aeron Chair from 2016.
It has a beautiful form that's meshed to its robust skeleton frame if you see it from the back. It feels very nimble and light as you sit down with 8Z Pellicle suspension, better tilting, and back support.
From 3 styles, pick from graphite, carbon, or mineral. Take note that they not only differ in colour but also in size.
Highlights
Designed by Don Chadwick
Nimble and light
Better suspension, tilting, and back support from previous version
Choose from graphite, carbon, or mineral sizes
Customer Reviews
This is one of the best-reviewed chairs of all time. Many claim that it is an increasing must-have for offices or those working at home.
Taking a closer look at the structure and wonderful design of the Aeron chair, one reviewer from toolsandtoys.net sums it up:
"The Remastered Aeron only improves upon the Aeron's enduring legacy. With new colors, improved tilt functions, and a woven pellicle fit for a king or queen, it's hard not to get too passionate about this myself."
4. Herman Miller Sayl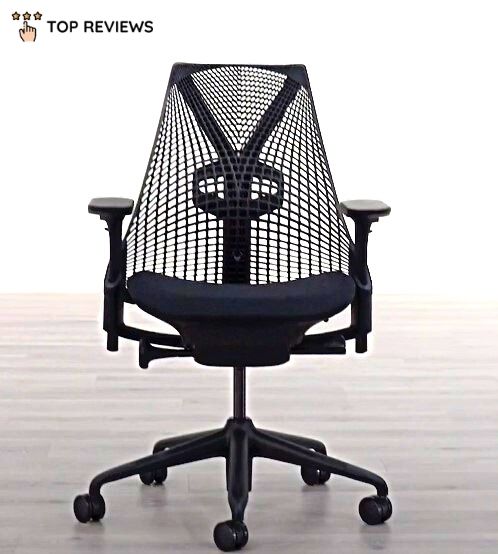 Price: NZ$999
With a unique frameless back that looks and works like suspension bridges, the Herman Miller Sayl is a stunning, ultra-comfortable, and eco-friendly chair anyone would be happy to have.
It uses an elastomer material that is firmer on the middle or chest area and lumbar down to your pelvis to give it healthy support.
Being frameless also means less material for the back, which benefits our environment and at the same time, lowers the chair's cost. Because of that frameless design, it's incredible that it's capable of supporting weight up to 160kg.
Plus, you can pull the armrests higher or lower depending on your choice. This gives you nice support when you're say, reading lyrics or scrolling through your Instagram.
And the best part is, you get a whopping 12-year warranty to see to it that you enjoy this chair for many years to come! That alone should tell you why we included this in our best chairs in New Zealand list.
Highlights
Suspension-bridge-inspired
Provides orthopaedic support
Adjustable armrests
Supports weight up to 160kg
12-year warranty
Customer Reviews
This is a spectacular chair, but it's not free of issues. For instance, there are several users who have complained about the armrests, saying that they break apart at the end.
Nevertheless, there were more users who praised the chair since it gave them good back support. Take a look at the review by Nicola M.:
"At first, I thought the seat was a bit shallow, but I soon realized that the shallowness of the seat was making me sit a bit straighter and improved my posture. Now that I've been using it for a few weeks, it's so comfortable and I wouldn't change a thing. I started having severe back pain after my 3rd baby and knew I needed to invest in a great office chair (I work from home). I noticed that my back pain started to get better within a week of using this chair. I hadn't realized how much my previous office chair and poor posture were impacting my health. This chair makes you sit up straight while feeling comfortable and supportive. It was also very easy to assemble. It was worth the cost."
5. Webster Fabric Chair with Ottoman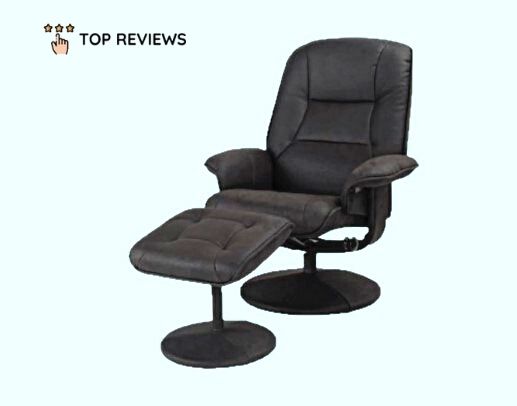 Price: NZ$699
After a hard day's work, go ahead and relax with the soft and cushioned Webster Fabric Chair with Ottoman. With your feet raised up by the ottoman, wouldn't it be nice to read a novella while you're sipping your drink of choice?
It's made from a strong type of wood, silver birch and blocks of plywood. The charcoal upholstery lends it a smooth and relaxing feel — certainly good enough to fall asleep in.
If it's not enough, just adjust the recline and lay back a little. Plus the swivel lets you roll around so that you won't be stuck in a single position.
It's taken out most of the weight too from chairs of this type, as you can see from its slim form factor. The style is fairly versatile, we think, and should fit into most interiors.
Pertaining to the warranty, you get an acceptable two years for fabric, parts, and framing.
Highlights
Made of silver birch wood
Slim and light frame
Exquisite charcoal colour
Swivels 360° for mobility
2-year warranty
6. La-Z-Boy Harbourtown Leather Recliner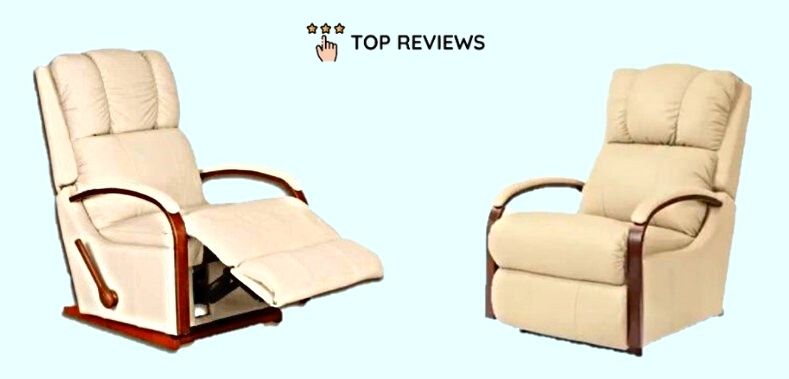 Price: NZ$1,999
For two thousand bucks, you get a chair sporting a premium-grade fabric and that adds elegance and style to any room. Not only that but it resists wear and tear through time.
It provides soft comfort and support thanks to the blown fibres. Moreover, it takes up only a small space in your room, having elegant arms presenting its gracefully shaped bentwood.
When you feel like watching Netflix, pull the handle on your right side until the leg rest comes up. And don't you worry, it has a 3-point safety mechanism that helps it come out carefully and stably.
With that sort of quality, you know that you're looking at one of the best chairs in New Zealand with the La-Z-Boy Harbourtown. You can choose from a colour you like—black, claret, cloud, fern, forest, ivory (above image), mocha, mushroom, pacific, and pebble.
Highlights
Premium grade fabric
Beautiful bentwood arms
3 point safety recline mechanism
Lots of colours to pick
Customer Reviews
Despite the Harbourtown's quality, there were still users with qualms. One noted that the cushioning was different from his other Harbourtown, for example and that covers were too fit.
However, others were completely satisfied. Some noted that it was helpful for medical support and comfort, while Lorilee said the following about it:
"We had two of these we purchased 20 years ago and they just wore out. So this last year we purchased another. The styling is a bit different but seems to be built the same. So comfortable and we are extremely happy with the purchase. We will be getting another in the very near future."
7. DXRacer Formula OH/FD01/NR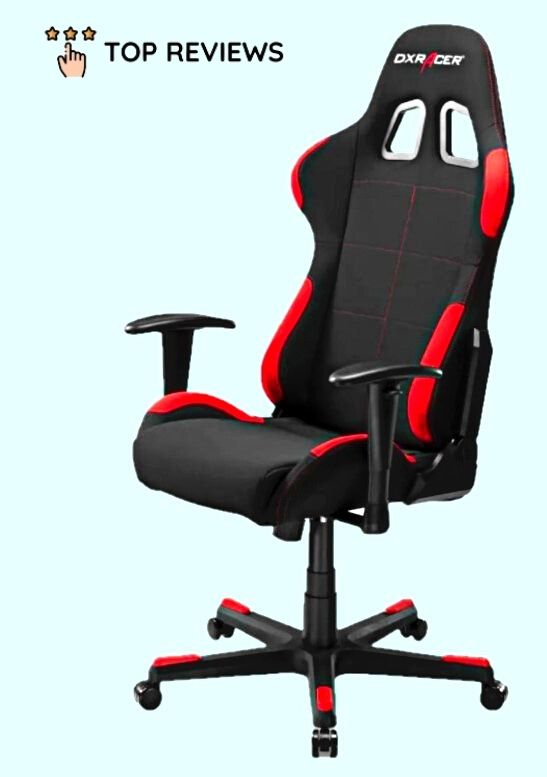 Price: NZ$398.99
Bring some black and red to your gaming session with the DXRacer Formula Gaming Chair. It offers tremendous support for your lumbar, arms, shoulders and head with its breathable, high-density foam.
There are cool adjustment features like the angle adjuster so you can be sure your back is always comfortable, along with the seat height. Plus you have a star base that's very stable as well.
It is really like a racer seat, if you will. So, game on, take on aliens with futuristic guns, create your warrior base, or level up your with your hero online!
Highlights
High density foam
Breathable fabric
Designed for long gaming sessions (8 hrs and up)
Lumbar, head and neck support
Customer Reviews
We looked at 24 reviews on PbTech and many of them are very satisfied owners. The only things that were criticised were the 91kg weight limit, narrow size, and misaligned back stitching (mentioned by only one customer).
Other than that, Robert writes:
"Best seat ever. Have had back problems which was aching more with my previous seat. since getting this chair haven't had any issues and i usually play 6-8 hours in a day. Relatively easy to assemble instructions are pretty straight forward. Highly recommended."
8. Larsson Bar Stool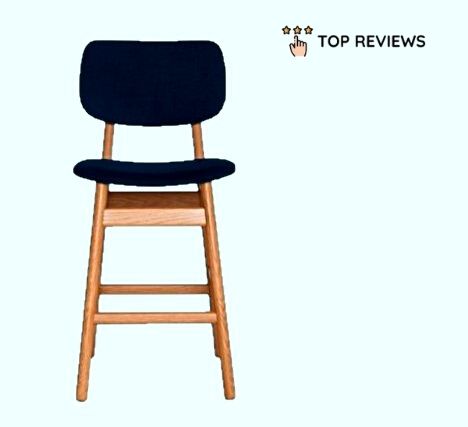 Price: NZ$244.30
Even something as small as a bar stool can give your room or restaurant a whole new cosy vibe. This one certainly improved the looks of our bar!
It stands high on four legs and offers a minimalist take on traditional bar stool design. In fact, this classy and elegant chair takes its inspiration from some 50's buffet chairs.
What's more, there's foam on the seat and back cushion that helps you feel comfortable. And it ships fully assembled so that it's ready to be used whenever you want.
This bar stool joins in perfectly with other Larsson furniture, by the way. So, if you already have a lot of Larsson items, this might be the perfect addition!
Highlights
Classy and elegant
Foamed seats and backrest
Pair up with other Larsson chairs
Ships fully assembled
9. Humanscale Freedom Headrest Chair – Vellum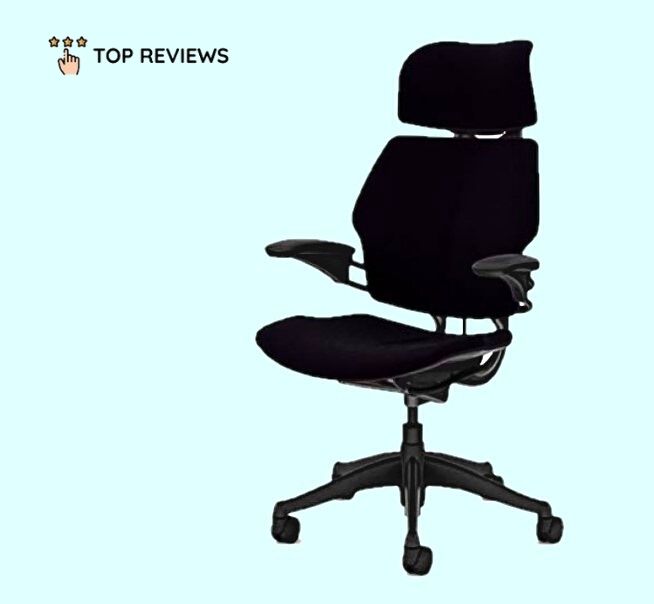 Price: NZ$1514.20
The Humanscale Freedom Headrest luxury office chair is built for durability and comfort. There is freedom with this chair because you can adjust its seat, backrest, and even its headrest for your convenience.
With an innovative design, the Humanscale Freedom Headrest Chair can even adjust according to how you're sitting. This way, you won't feel any pain in any sitting position.
Its frame is made from graphite and its fabric from vellum, so you can also rely on it to be durable and functional. However, if anything happens to your chair, you can still avail of the 15-year warranty of Humanscale Freedom chairs.
Highlights
Durable materials
Adjustable parts except for the armrests
Self-adjusting lower lumbar support
Built for comfort
15-year warranty
10. The HAG Capisco Office Chair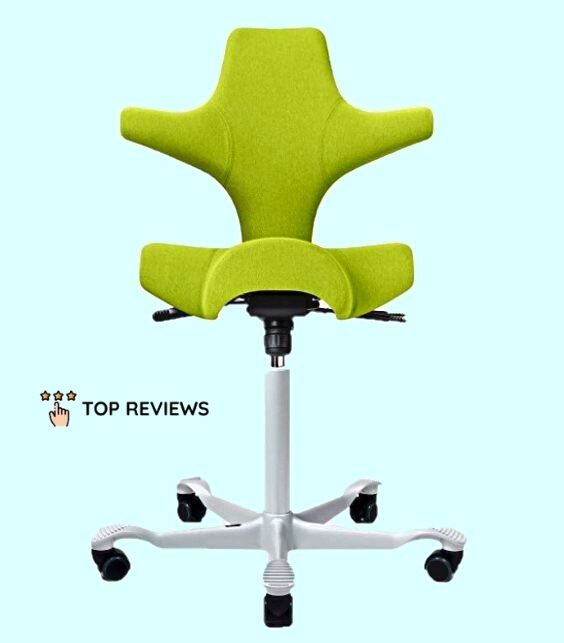 Price: NZ$1750
The HAG Capisco Office Chair is known for its ergonomic design. Because it comes with a saddle seat, it also guarantees support for proper blood flow, whatever your sitting position may be.
It comes with a 265mm lift height, so this chair is perfect for standing tables. Aside from the seat height, you can also adjust the seat depth, back tilt, and back height.
The chair is also made from 50% recycled material, of which 90% can still be recycled. Because of these properties, the HAG Capisco Office Chair has received various awards.
Highlights
Recycled and recyclable materials
Award-winning chair
Ergonomic for any sitting position
Adjustable seat height and depth, and back tilt and height
Customer Reviews
Read this review to know more of just how Hag Capisco Office Chair may bring you comfort:
"it's a great chair, I like how you can sit in it in a variety of ways that aren't just a gimmick. I find myself sitting in it sideways leaning to the side as often as sitting in it normally. it's been great for my back. after a few weeks of using it, I switched back to my old chair because it's a bit more comfortable and I immediately noticed a lot of back pain so I switched back."
That's all for the best chairs in New Zealand at this time. If you're looking for a comfortable chair to have, we think you'll like these products we suggested.
What kind of chair are you looking for and with what particular qualities? Share your thoughts and opinions with us so we can update the list if we've missed chairs catering to your needs.
By the way, to go with your new chair, you might like to get a new desk by checking out the best desks in New Zealand. That should give you all the basics for your study or office!