The 6 Best Chimney Sweep Wellington Professionals
Your fireplace and its chimney has to be cleaned regularly for safe and flawless operation. Wondering whom to call for that? Well, wonder no longer, as we've outlined the best chimney sweep Wellington professionals here!
To save you from the hassle of looking for great chimney sweepers, we've narrowed them down based on experience, punctuality and friendliness. Also, we factored in customer reviews when coming up with our selections.
Anyway, if you're ready, allow us to present to you the best chimney sweep Wellington professionals!
1)  Log Fire Services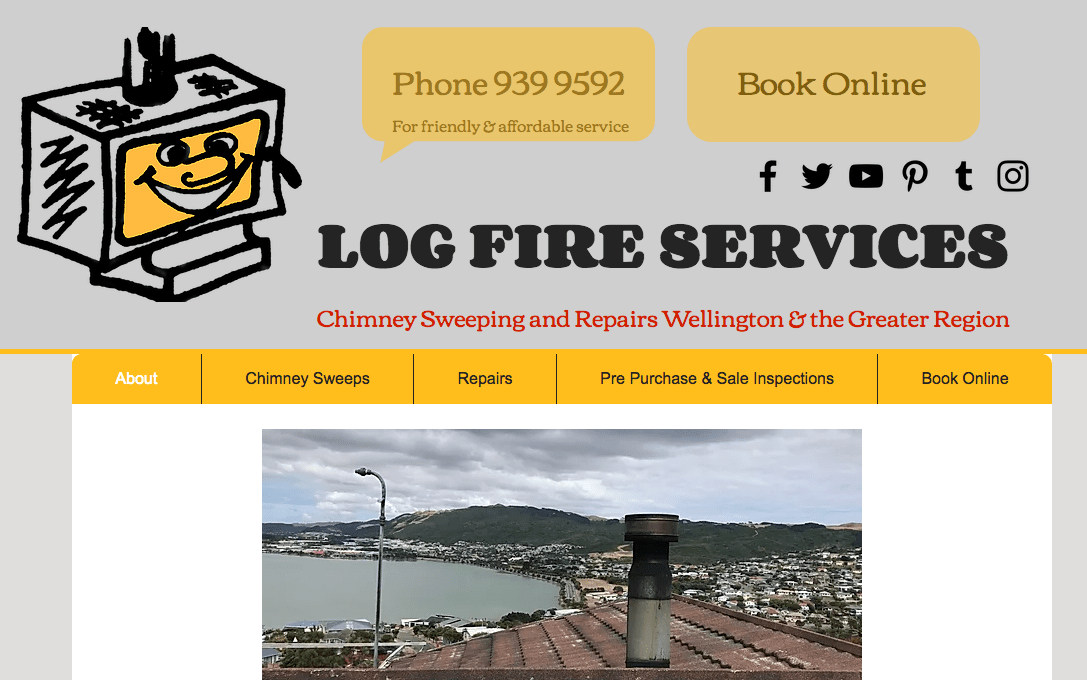 BEST FOR
Quality and On-Time Chimney Sweeping
SERVICES
Chimney Sweeps, Repairs, Pre-Purchase & Sale Inspections
WEBSITE
https://www.logfireservices.co.nz/
ADDRESS
New Zealand
CONTACT DETAILS
+64 4 939 9592
OPERATING HOURS
Monday to Friday: 9am – 5pm

Saturday and Sunday: Closed
To keep your chimney flue safe and well-ventilated, you have to call for a chimney sweeper regularly. And for one of the best chimney sweep Wellington professionals, you can call up Log Fire Services.
A family-owned company, its service is professional and punctual yet friendly to deal with. Tony and Alex, the people behind the company, have more than 15 years of experience in the field, so they're capable of taking on just about any job.
Whether it's a wood burner or open-fire chimney you have, they have your back. With them, no worries shall plague your mind and they'll make sure you can have a good fireplace ready for the winter.
Highlights
Professional and prompt service
Over 15 years' experience
Can clean your wood burners and open fire chimneys
Customer Reviews
Here's what one customer, Harnish-Dharini jariwala, has to say on Google:
"Tony and Alex were amazing. On time and did a great job sweeping our chimney that goes through two stories. Would definitely recommend."
2)  Chimney Clinic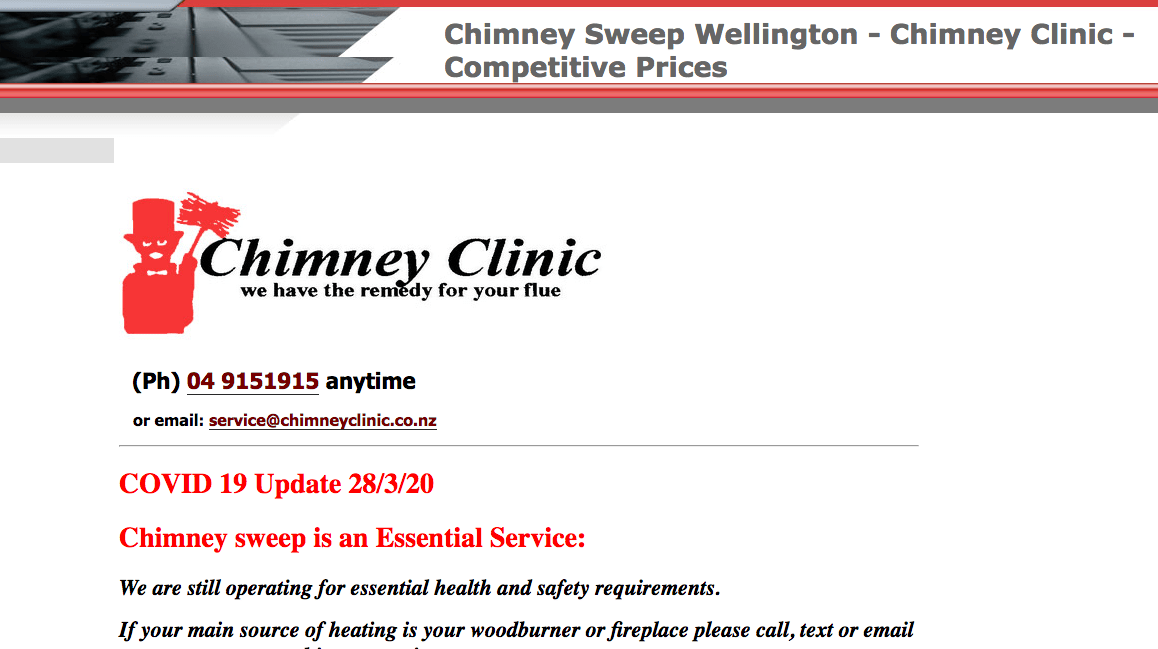 | | |
| --- | --- |
| BEST FOR | Competitive Rates |
| SERVICES | Chimney Sweeping and Repairs |
| WEBSITE | http://www.chimneyclinic.co.nz/ |
| ADDRESS | Hutt Valley Lower Hutt, Johnsonville, Wellington 6035, New Zealand |
| CONTACT DETAILS | 04 9151915 |
Chimney Clinic has some of the best chimney sweep Wellington professionals — they have over 35 years of experience! They offer residential chimney sweeping and repair.
A no-mess policy ensures the sweepers clean up after themselves before they leave your premises. They also always adopt a personable and helpful attitude when cleaning your clogged chimneys.
Plus, they carry liability insurance to protect against injuries or damage to the home. Chimney Clinic covers Greater Wellington from Miramar to Kapiti Coast, and anywhere in between.
Highlights
Competitive prices
Personable and helpful chimney cleaners
No-mess policy
Has 35 years' experience
Full liability insurance
3)  Chimney Magic Ltd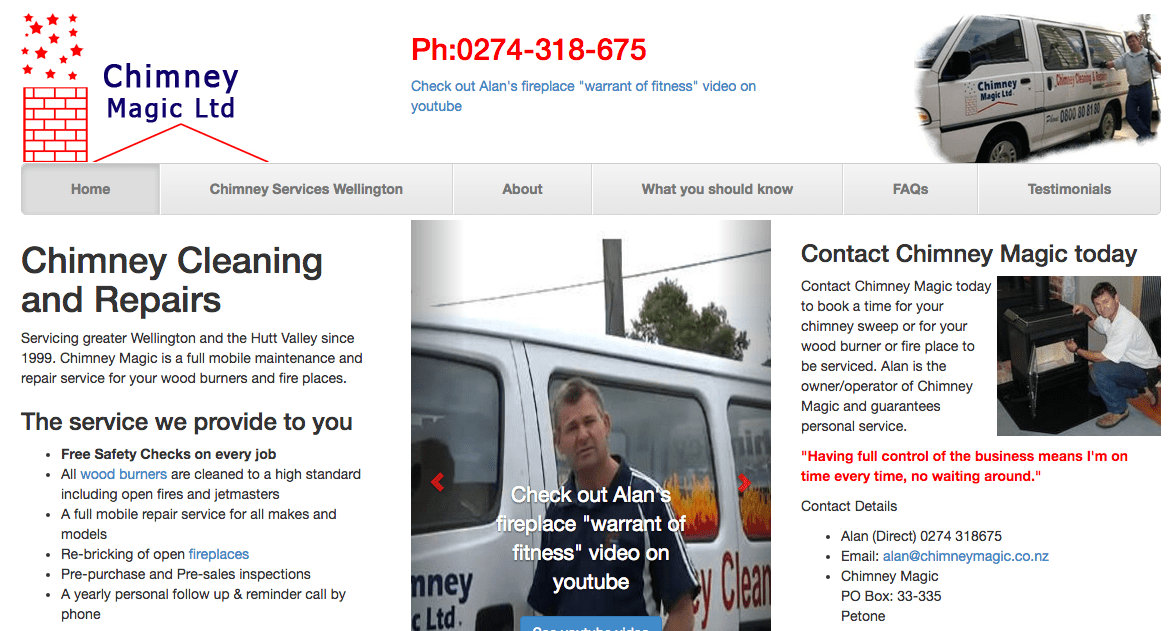 BEST FOR
Personalised, Efficient Service
SERVICES
Chimney Sweeping, Mobile Repair Service, Free Safety Checks, Rebricking, Pre-Purchase and Pre-Sale Inspections
WEBSITE
http://www.chimneymagic.co.nz/
ADDRESS
Wellington, New Zealand
CONTACT DETAILS
0274-318-675
OPERATING HOURS
Monday to Friday: 9am – 5pm

Saturday and Sunday: Closed
Keep your fireplace burning brightly with the harmful creosote removed through Chimney Magic! It is a small-size business owned and operated by Alan.
Since he has full control of the business, his service is always efficient and prompt in that you will never have to wait long when working with him. He will personally ensure that your jetmasters and fireplaces are working smoothly.
Aside from this, he also offers pre-sale and pre-buy inspections, as well as rebricking and free safety checks. So, for chimney sweeping and repairs, just give Alan a call at 0274-318-675.
Highlights
Personalised service
Efficient and prompt chimney sweeper
Offers a diverse range of chimney services
Customer Reviews
Here's J&K Beauchamp's review, which is posted on Chimney Magic's website:
"We are impressed with the service that Alan provides. He's been servicing our Kent fire place for about four years now, and did a flue replacement last year. We look forward to seeing Alan once a year to have the fire cleaned and maintained."
4)  Red Hot Chimneys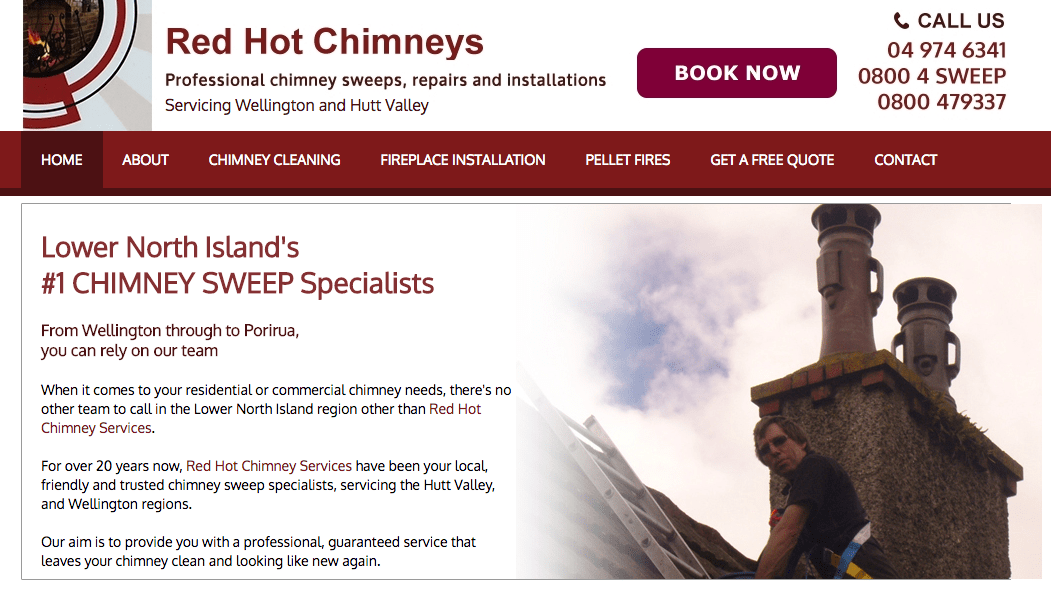 BEST FOR
Residential and Commercial Chimney Cleaning
SERVICES
Chimney Cleaning, Fireplace Installation, Pellet Fires
WEBSITE
https://www.redhotchimneys.co.nz/
ADDRESS
192 California Drive, Totara Park, Upper Hutt, New Zealand 5018
CONTACT DETAILS
04 974 6341

0800 4 SWEEP

0800 479 337

OPERATING HOURS
Monday to Friday: 8am – 4.30pm

Saturday and Sunday: Closed
Don't settle for anything less than a Red Hot Chimney! Red Hot Chimneys specialises in commercial and residential chimney sweeping throughout the Wellington and Hutt Valley Regions.
Their competent sweepers have the knowledge and skills to inspect damage and maintain your chimney. They will even check how your fireplace has been faring, even after the service.
What's more, if you need any expert advice, or a reliable hand in installing a pellet burner or fireplace, relay it to them, as they're some of the best chimney sweep Wellington professionals!
Highlights
Specialises in residential and commercial chimney sweeping
Competent and knowledgeable sweepers
Can provide professional advice
Great customer support
5)  Garth Heating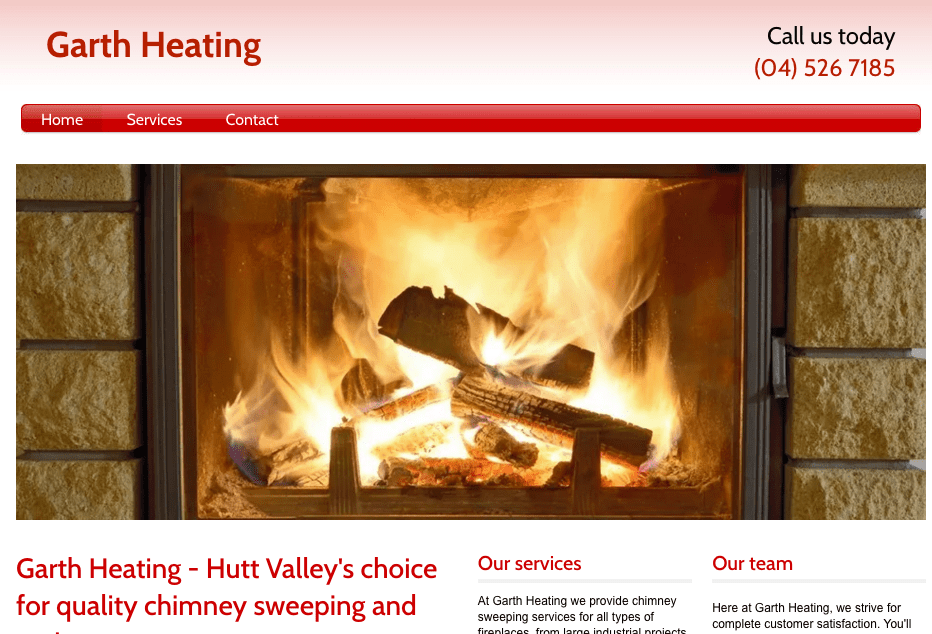 | | |
| --- | --- |
| BEST FOR | Customer Satisfaction |
| SERVICES | Chimney Sweeping, Fireplace, Log Burner and Wood Burner Maintenance, Additional Installation Services, Wood Burning Servicing |
| WEBSITE | https://www.garthheating.co.nz/ |
| ADDRESS | 231 Mangaroa Valley Road, Mangaroa, Upper Hutt 5371, New Zealand |
| CONTACT DETAILS | (04) 526 7185 |
Garth Heating is a chimney sweeping, servicing and installation specialist based in Hutt Valley. In terms of service, they respond promptly to your calls and focus on providing client satisfaction.
Their certified and knowledgeable team can assist you in your chimney cleaning needs. And they're not hesitant to provide advice in order to help lower your expenses as well.
No job is too large or small for them as they can take on industrial or residential chimney sweeping with the same amount of care and quality. That's how dependable and professional they are!
Garth Heating covers the entire Wellington Region including Hutt Valley, Porirua and Kapiti Coast.
Highlights
Specialises in chimney sweeping, installation and repairs
Provides helpful advice to lower your installation or energy costs
Fully certified team
Prompt and fast response
Customer Reviews
One loyal customer, John Crossland, wrote on yellow.co.nz:
"We've been using Garth Heating for over 35 years without complaint. They are really friendly, do a great job and will not rip you off like some try to do."
And those were the best chimney sweep Wellington professionals you can find! If it's been awhile since your last chimney cleaning, you can call them right away.
6)  Wellington Fireplace Studio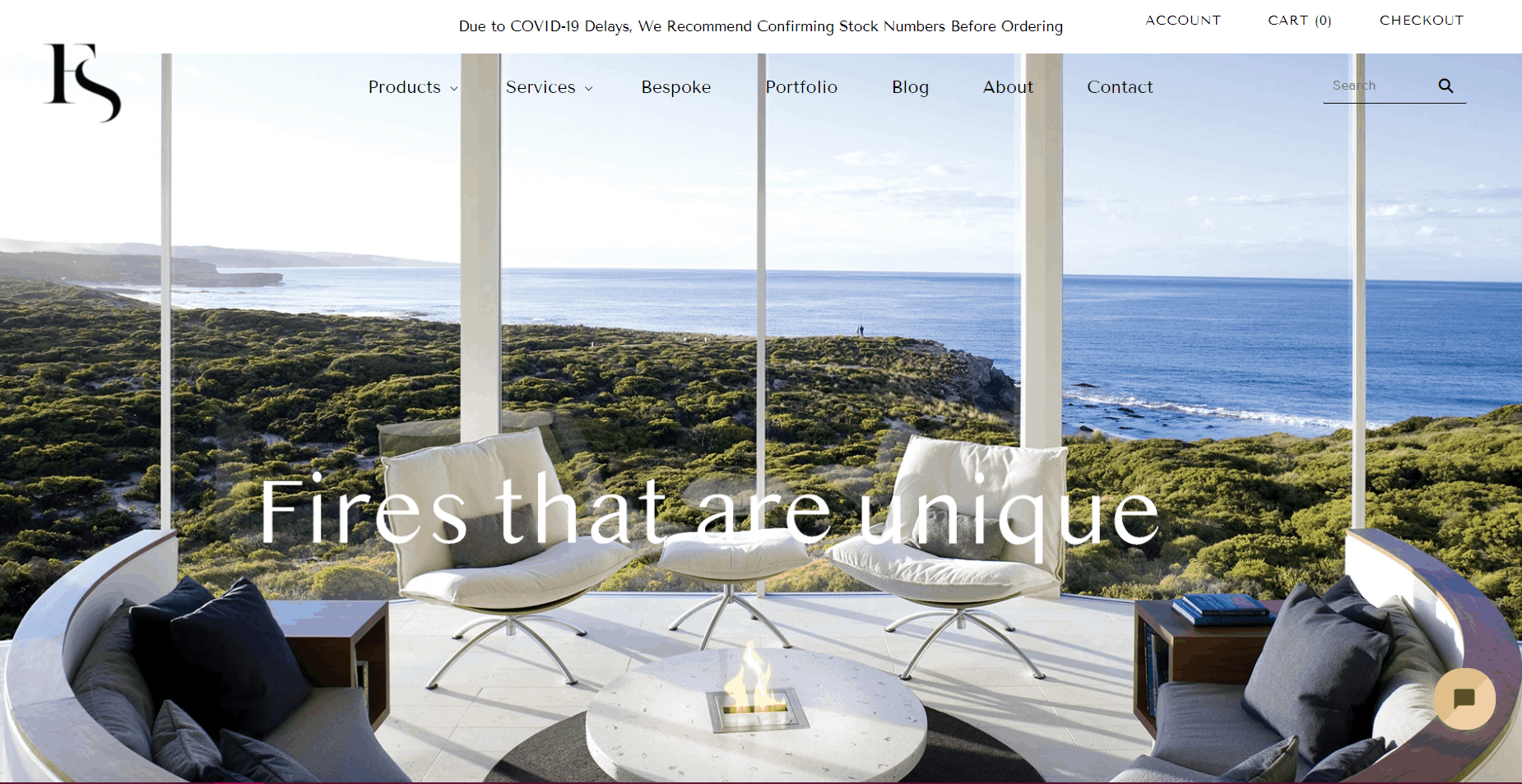 Next on our list is a company whose extensive services include not only chimney sweeping, but design and installation services as well.
Wellington Fireplace Studio has been serving the Wellington area for several years now. It's a highly regarded design firm with heating and entertaining design experts in its team.
This team has been known to use a unique range of products that are exemplary in the fields of design and functionality. With these products as well as a full suite of services, Wellington Fireplace Studio works to individualise clients' home with their designs.
Now, in terms of chimney sweeping, Wellington Fireplace Studio isn't lacking either. The company has been praised for its thoroughness when it comes to servicing different kinds of fireplaces.
The Wellington Fireplace Studio team takes the time to consult with each client and inspect the given fireplace before moving forth with any servicing needed. Many a client from the past have mentioned that Wellington Fireplace Studio plays a critical role in the cleaning and maintenance of their fireplaces, no matter what kind it is.
All in all, the extensiveness of services, quality of design and services, as well as skills and expertise make Wellington Fireplace Studio an excellent choice for fireplace needs.
Highlights
Comprehensive design and installation services
Offers outdoor fire builds
Quick and professional response
Do you have any questions about our topic? If you do have one, don't hesitate to drop us line, and we'll get back to you in a jiffy!
While your chimney hasn't yet been cleaned, maybe you can cosy up with a heat pump for now. In that case, you can read about the best heat pumps Wellington installers!