The 12 Best Services for Computer Repairs in Christchurch
Most of us use a computer daily for leisure and work. That's why it can be very frustrating and stressful for some if our computers suddenly stop working properly or get damaged.
If this happened to your device, don't worry, as we've listed here the very best computer repair shops in Christchurch, where you can have it fixed to be as good as new.
But we'll first inspect how much computer repairs cost in Christchurch. This will help you decide which repair centre from our choices to go to that's in line with your needs and budget.
The Average Cost of Computer Repairs in Christchurch
The labour cost of computer repairs in Christchurch ranges from $70 to $130 per hour. On average, the price is $100 per hour for desktop or laptop repair companies.
Computer repair shops have different rules for their pricing. Most of them charge a minimum labour fee, which then adds up after every 10 or 15 minutes.
Letting a technician assess the damage to your computer comes at a price. But this fee is usually waived if you then decide to get your device repaired by them.
Put simply, the total cost for computer repairs comprises the diagnostic fee and labour fee.
Now, below is a table showing the labour fees of various computer repair services in Christchurch. All the prices below are GST-exclusive, except for PC + Laptop Repairs.
| | |
| --- | --- |
| Repair shop | Labour fee |
| Computer Help NZ Ltd | $38 per 15 minutes |
| IT Fixed | $50+ per hour |
| Laptop Fix NZ | $70 per hour |
| Ohno! Mobile Computer Repairs | $75 (first 40 minutes), then $15 minutes for each 10-minute block (Onsite call outs) |
| PC + Laptop Repairs | $79.99 (inc GST) per hour |
These are the prices for the standard repair service. With it, your computer will be fixed for you within the same day. If it must take longer, the staff will inform you of it.
However, there are also other services for computer/laptop repairs, such as urgent services and onsite services.
An urgent service means that your computer will be repaired as soon as possible. However, this option may not be practical due to the higher costs you'll have to pay.
On the other hand, onsite service is when a technician comes to where you are to fix your computer. This option is best for issues with the Wi-Fi, wireless printer, and others.
If you choose this, you'll need to pay the call-out fee, labour, and travel cost. Travel cost is calculated by the extra distance travelled from their base to your home.
Also, for your reference, here is an overview of the average prices of fixing common computer issues:
| | |
| --- | --- |
| Computer or laptop issue | Average cost |
| Troubleshooting | $60 |
| Battery replacement | $60 |
| Virus or malware infection | $65 |
| OS install | $85 |
| Broken or cracked screen | $90 |
| Motherboard replacement | $95 |
| Motherboard repair | $140 |
| Hinges repair | $140 |
Apart from that, some computer repair shops offer discounted quotes too. These are for people whose computers have been damaged by an accident or due to a natural disaster.
With discounted quotes, you'll pay less and have more savings left to use for other things.
The Best Computer Repair Services in Christchurch
Now that you have an idea of how much computer repairs cost in Christchurch, here are our top picks!
1) Computer Help NZ Ltd

Expertise
Laptop, desktop, tablet, phone, Mac, and Windows repair
Website
https://chnz.co.nz
Address
160b Selwyn St, Christchurch, New Zealand
Contact details
Freefone: 0800 FIX NOW (0800 349 669)
Office hours
Monday – Friday: 8.30 AM – 5.30 PM
Saturday – Sunday: closed
Formed in May 1997, Computer Help NZ Ltd aims to create a painless computer repair experience for clients.
They offer three services including standard (same-day service), urgent (to repair your computer ASAP), and onsite (where they come to your place and iron out issues).
The repair will be performed by seasoned technicians with at least 15 years' experience. The team endeavours to treat you with friendliness and kindness from the get-go.
They can fix desktops, laptops, phones, and tablets that use Mac or Windows operating systems.
They accept various payment modes of cash, cheque, credit card, internet banking, and EFTPOS. Also, they are open from Mondays to Fridays from 8.30 AM – 5.30 PM.
Offers same-day or urgent service
Accepts cash, cheque, credit card, online banking, and EFTPOS
Explains in layman's language
Pricey service
Failure to repair certain issues for some clients
Customer Reviews
Most clients commended the shop's swift turnaround, efficient and helpful staff, and the use of simple language to report computer issues.
Check out this review from one client, Louise:
"They're helpful and non-tech people friendly. So far the work they do has been great and the cost pretty reasonable. They are busy and without the ability to book a day I can struggle to find the days it may mean to leave my computer with them. They do tend to over promise but in saying that I didn't want to pay the urgent price of $48 per 15 minutes."
Furthermore, Jo wrote of the business:
"Great service and communication. Checked in with me on assessment and provided detail on issue, potential cost and realistic advice on repair. Established simple issue, device was repaired within 24 hours. Great follow up with a call to check issue resolved."
2) PC + Laptop Repairs

Expertise
Computer repairs
Data recovery
HDD data recovery
iPad and tablet repairs
Phone repairs
Website design
Website
https://www.pc-repairs.co.nz
Address
33 Erin Crescent, Mairehau, Christchurch 8013, New Zealand
Contact details
Phone: +64 (03) 974 1413
Mobile: 0204 74 24 24
Email:

[email protected]

Office hours
Monday – Friday: 8.30 AM – 6.00 PM
Saturday: 10.00 AM – 4.00 PM
Sunday: closed
PC + Laptop Repairs can repair computers of any make and model, from Asus to Apple and everything in between.
The computer shop is known for having a no fix no fee policy, which means that if they cannot successfully repair your device, you won't have to pay them.
With A+ certified technicians, they can efficiently fix different issues, particularly, cracked screens, malware, system slow-downs, software upgrades, re-installation, and more.
Since they keep spare parts in their workshop, it takes less time for them to get your PC or laptop back to a good working condition.
As for their process, they start by diagnosing your device for problems, after which they'll come back to you with a quote. You can then decide from that point whether or not to proceed with the repair.
Their technicians usually finish the repair within the same day. Also, they have a 24/7 support team who can help you troubleshoot minor or trifling issues over the phone.
No fix no fee policy
Same-day service
A+ certified technicians
24/7 support
Complaints about customer service
Closed on the weekends
Customer Reviews
A lot of clients have had a great experience with the shop. However, some were talked off rudely by the staff just for putting a lower review score.
Ahmad shared his experience of their service:
"Came to the shop with my laptop making weird noises and wouldn't switch on last night. Bought it to see if there's anything needed to be done, but turns out the laptop just needs to be updated. He checked and consulted pretty quickly for free. Totally would come here if any issues come up.
Edit: My laptop apparently needs some repair, dropped it in again and he got it fixed within 2 hours. Fast service indeed and reasonable price too."
What's more, here's what Tim said in his review:
"So efficient and top notch communication. Same day fix which was unexpected. All for a fair and affordable price! Would recommend with no hesitation!"
3) IT Fixed

Expertise
Desktop, laptop, Apple, and Mac repair
Tablet repair
Internet email setup
Cloud storage
Data recovery
Website
https://www.itfixed.co.nz
Address
4/37 Geraldine Street, Edgeware, Christchurch 8013, New Zealand
Contact details
Phone: 033777697
Email:

[email protected]

Office hours
Monday – Sunday: 6.00 AM – 6.00 PM
IT Fixed is a same-day computer repair service based in Edgeware, Christchurch. It fixes computer, tablet, Wi-Fi performance, cloud storage, and data loss issues.
Their trained technicians specialise in Apple Mac repairs, including MacBook Air, MacBook Pro, and iMac devices. They can also get desktop computers up and running again.
If you bring your laptop or device over for examination, you can have the diagnostic fee waived if you proceed with their repair services.
Their strengths lie in their economical rates, remote 24/7 tech support, and speedy repairs within the day.
IT Fixed accepts cash, credit card, and bank transfer only. And if you work for a non-profit organisation, just show your ID and they'll give you a 30% special discount.
Same-day service
24/7 tech support
Accepts cash, credit card, and bank transfer
30% non-profit group discount
Doesn't offer screen or power jack replacements
Customer Reviews
From what clients have said, Vijay, the technician, went above and beyond to sort out their computer problems with superb skill, efficiency, and care.
Here's feedback from one client named Joshua:
"Fantastic service. Vijay is very friendly and messages you at every step of the way so you know what's going on. He has great expertise and I highly recommend him to anyone looking for computer repairs."
And Anna said this:
"IT Fixed assisted me with the process of disposing of old computer waste as well as upgrading my current computer which had become very slow. Now it is as if I have a new computer. Thank you Vijay; your help was greatly appreciated."
4) The Computer Doctor

Expertise
PC repair
Apple
iMac and MacBook repair
Business IT support
Virus and software bug prevention
Laptop and PC sales
Website
https://thecomputerdoctor.co.nz
Address
123 Blenheim Road, Riccarton, Christchurch 8041, New Zealand
Contact details
+64 3-377 7799
Office hours
Monday – Friday: 8.30 AM – 5.00 PM Saturday – Sunday: closed
Transferring old data to a new laptop? Getting rid of aggressive malware? Worried about your hard drive's clicking noise?
If you're facing any of these problems and others, you should get your computer treated by The Computer Doctor.
With a competent and professional team, they can give high-quality repair advice and solutions to their clients. They can fix Apple, Window, and Microsoft laptops and computers.
You can call them out to fix the issue at your office, shop, or home. They can take on the task on the same day at no call-out fee to pay—just the labour price.
What's more, they are an authorised distributor of ESET NOD32 antivirus software, which can guard your laptop against a wide variety of malware on the Internet.
In addition to computer hardware and software repair, they can also carry out cabling, server, and Microsoft Office 365 integration to make your computer business-ready.
Same-day service
ESET NOD32 antivirus software distributor
Affordable on-site repair service
High assessment fee of $69
Complaints about slow response
Customer Reviews
Despite some complaints about their slow response, the majority of clients had an amazing experience with them with their valued laptops fixed quickly and efficiently.
Take a look at Gillie's feedback of TCD:
"We got Terry to help us out with our laptops, transferring information and data from one laptop to another, purchasing a new laptop, printer and chrome book. Both my husband and I were blown away by how personable Terry was. It was so great to finally find someone who we could talk to about computers in a language we could understand. everything was sorted with no hassles and no glitches. And when I have had tech problems subsequently Terry's staff have been amazing sorting them there and then. I now recommend them to everyone I know. I have a friend who has been just as blown away by their awesomeness as we have. Thanks so much Terry."
Also, another client Ellen wrote this comment:
"I recently went to The Computer Doctor and was really impressed with their service. They were quick to respond to what I needed and did their very best to help me out. I would highly recommend this business. Thanks to all the team for their support! ?"
5) LaptopFixNZ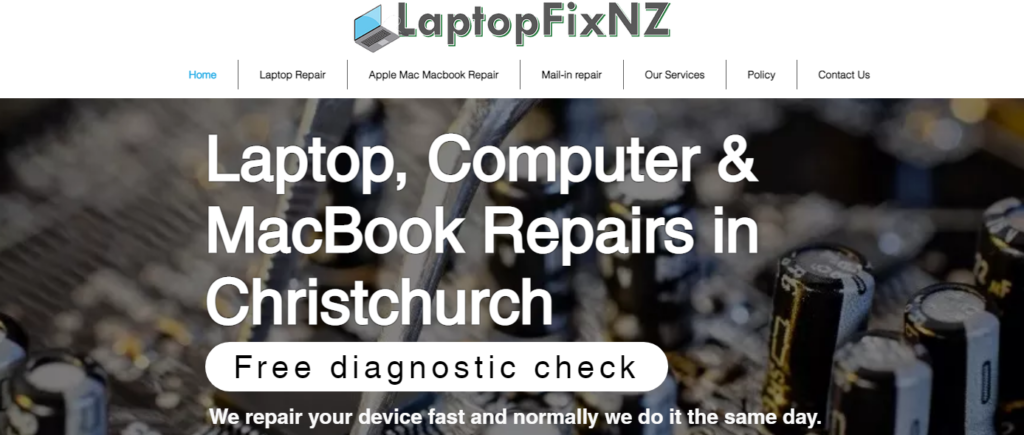 Next on our list is LaptopFixNz, a repair centre known for their speedy, efficient repair services.
The expert team at LaptopFixNZ is capable of handling any laptop or desktop device, regardless of its make, brand, model, or release year. Not only that, but depending on the problem, they're most likely to address and solve the issue within the day, making them an excellent choice for those in need of quick fixing for their devices.
Another noteworthy thing about LaptopFixNz is its pricing.
Many would expect that they would need to pay for a lot given how quick LaptopFixNZ can get the job done, but that isn't the case. LaptopFixNZ prides itself on transparent, honest pricing, so customers can expect fairly priced services — You pay for the service that you get.
Lastly, devices that have been handled by LaptopFixNZ are under 90-day warranty, so it's easy to bring it back to them on the off-chance that something goes wrong.
Caters to Windows, Linux, and macOS devices
Free diagnostic checks
Affordable quality repairs
90-day warranty
Closed on weekends
Short business hours
Customer Reviews
Learn more about LaptopFixNZ through the comments of their previous clients:
"I definitely recommend this company to anyone with some laptops issues. Service super fast and very professional ! My old Macbook Pro (Mid-2010) wasn't working properly anymore and this guy saved it! Thank you again!"
"I dropped my laptop off in the morning and by 3.00 pm it was repaired. I had been told by another company that it was too old to repair. It is a midrange spec laptop, 5 years old used for home use. I was absolutely delighted LaptopFixNZ were prepared to investigate the problem and of course fix it. I am delighted that a company was prepared to take it on. Thank you."
6) PC Support Christchurch

PC Support Christchurch seems to tick off the right boxes when it comes to computer repairs.
First, they offer fairly priced services, which are much lower compared to many others in the field.
Second, their full-time technicians have A+ certifications, with two having Microsoft certifications. They're also readily available to help during weekdays, and by appointment on weekends.
Third, they're highly professional, accommodating, and prompt in their services. When a customer is in need of help, the PC Support Christchurch team gives their best effort to reach out immediately, noting what the customer needs before offering the appropriate solution.
Fourth, and perhaps the most notable of all: they have a live booking system that makes it simple for customers to acquire their services. With this live booking system, customers can check when technicians are available and book their services online.
Aside from all of these, PC Support Christchurch also offers a wide range of services to their customers, not only computer repairs. They also help with virus removals and upgrades, and best of all, they can provide help remotely.
Unfortunately, they don't have Mac support, but Windows users can easily reach out to PC Support Christchurch and get in contact with a tech professional that can solve their problem quickly and efficiently.
Affordable rates
20+ years in the industry
A

uthorised distributor for ESET Antivirus software

Has mobile EFTPOS, with every technician carrying one
Accepts major credit cards, debit cards, and PayPal (upon request)
Customer Reviews
"I very much appreciated how quickly Michael responded to my phone call and how my problem was solved so efficiently. Thank you."
"Set up our computer when we had trouble doing so. Good service."
7) PC Service Centre

| | |
| --- | --- |
| Expertise | Computer repair for all makes and models |
| Website | https://pcservice.co.nz |
| Address | 2/289 Colombo Street, Christchurch 8023 |
| Contact details | 03 9820288 | [email protected] |
| Office hours | Monday – Friday: 9am – 5pm |
PC Service Centre is a top choice for computer repairs in Christchurch. This company's team, comprising of IT specialists, can render out computer repair services regardless of the model and hardware.
They cater to both home and business issues, offering a wide range of services that include battery replacement, hard drive upgrade, laptop screen replacement, memory upgrade, and antivirus solutions. Not only that, but they also have a 24/7 online store that carries various components, such as SSDs, security programs, monitors, and even printers.
Their physical location can be found just outside of Christchurch CBD, where customers can easily find parking space in the large lot. Those who wish to have private consultations can also call PC Service Centre ahead of time for booking purposes.
Quick and efficient service
24/7 online shop
Offers both home and business IT solutions
Customer Reviews
With an average 4.4 star rating on Google, PC Service Centre has proven to be an excellent go-to for various computer and laptop repairs. One customer wrote:
"We can't rate Maarty and the team at PC Services highly enough. They've consistently given us really robust advice, they've taken time to understand the needs of our organisation and offer solutions that are both cost effective and right for our needs. When we've needed urgent help, they've always stepped up. Maarty's always cheerful and patient in spite of the challenges we put in front of him! It makes such a difference to our team to know we've got such solid support behind us. Kia ora!"
Another wrote:
"PC Service Centre offered a fast, friendly and knowledgeable service. I was in need of a computer to run demanding Computer Aided Design programs (C.A.D), and the team at PC Service Centre delivered, offering a cost effective solution to my requirements. They are very knowledgeable on your specific needs and deliver the service well. They also took the time to talk me through the various options and discussed with me the best solution for my needs. Would highly recommend for others if they are in need of a fast, reliable and friendly service."
8) Affordable Computer Repair and Service Ltd

Expertise
Computer and phone repairs
Website
https://www.affordablecomputer.co.nz
Address
1 Stark Drive, Wigram, Christchurch 8041, New Zealand
Contact details
Freephone: 0800 222 691
Mobile: 021 190 0638
Email:

[email protected]

Office hours
Monday – Friday: 9.30 AM – 5.00 PM
Saturday: 12.00 PM – 2.00 PM (by appointment only)
Sunday: closed
Affordable Computer Repair and Service offers competitive rates for computer, phone, tablet, and TV repairs, as well as the smorgasbord of device parts they sell.
They can handle all sorts of computers and laptops with cracked screens, malware infection, water damage, and other technical issues. They can even help you with something as simple as a forgotten log-in password.
You get a confidence-assuring 3-month warranty for your PC or laptop. This will only apply if the computer has exhibited the same fault as when it was last repaired.
You can find their repair centre at Unit 3A, 1 Stark Drive in Wigram, Christchurch. And they make it convenient as they accept cash, credit card, and Discover card payments.
Affordable rates
3-month warranty
Accepts Visa, PayPal, Discover, Mastercard
$5 discount if you like their FB page
Open only for 2 hours on Saturday
Online store needs improvement
Customer Reviews
Many clients were satisfied with the repair service. Their edge over competitors is in their affordable rates and technicians that go the extra mile for clients.
Let's see the review coming from Holly:
"Had such a great experience with my computer repairs recently. Hard drive and battery replacement plus Catalina upgrade. Fast, friendly service at a great price. Was quoted something ridiculous by other places and even wanted to charge for assessing the situation. Glad i found you Eugene! Thanks man."
Furthermore, Megan stated this:
"Really impressed with the service from John and Eugene. I've used their services twice already, and I will definitely be back. Highly recommended if you enjoy, fast friendly service without an inflated price tag."
9) Ongoing IT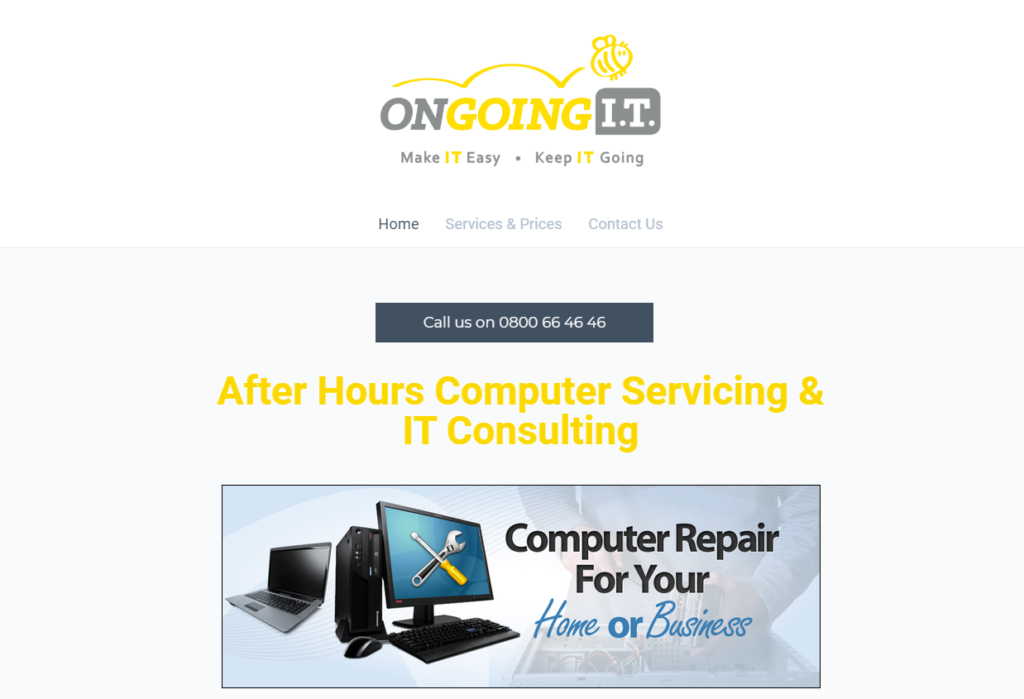 Ongoing IT is a locally owned and operated repair shop that specialises in computer repairs. They offer various repair services, including hardware and software troubleshooting, virus removal network setups, data recovery, system tuneups, and many more.
Depending on the issue, Ongoing IT endeavours to have the units repaired within the next few days, the next day being the earliest. The estimated time of repair and fees are typically discussed during assessments.
Aside from repairs, Ongoing IT also offers custom PC builds to those who are interested. As the service's name suggests, Ongoing IT gathers components that are to the customers' specifications, putting them together to have them readily used when complete.
Another services they offer are network setups, printer installations, internet and email setups, data transfers, and IT consulting.
Affordable rates

Ready to travel IT team

Team speaks plain English

Flexible services
30-min labour charge for quotes and assessments
Customer Reviews
Many clients were satisfied with the repair service. See comments left by previous clients below:
"Very helpful and professional. Fantastic support and looks after the customer to make sure they understand everything. This is my go to for IT support."
"Top service. Was quick to get to fixing my laptop. Will definitely be a returning customer for any future PC issues."
10. WHIP I.T.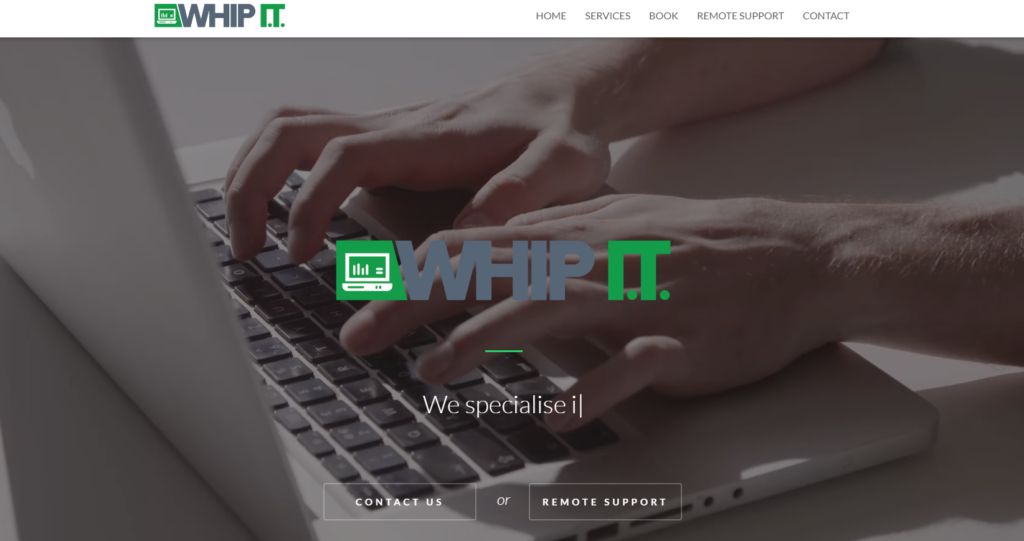 Expertise
IT Works for Individuals and Small Businesses
Website
https://www.whipit.nz/
Address
Christchurch, New Zealand
Contact Details
0204 944 748
0800 944 769
[email protected]
Office Hours
Monday to Friday: 9AM – 5PM

WHIP I.T. is a locally owned and operated Christchurch business known for their exemplary work in IT. They cater mostly to small businesses and individual requests, but medium sized businesses are free to check if the company's services suit them as well.
With that said, WHIP I.T. is an excellent choice for IT needs because the company knows to listen to their clients' concerns. Unlike other businesses, an in-depth consultation is done before WHIP I.T. proceeds with any solutions and procedures.
Doing so lessens any problems that may be encountered later on. Moreover, it's more efficient given that WHIP I.T. already knows what the clients want, and they can apply their skills and expertise to deliver.
If you're looking for other services aside from business IT solutions, WHIP I.T. may also have you covered. The centre offers computer support, network support, web design, and hosting, cloud services support, and even home theatre support.
Wide array of IT and technical services
Offers technical support for Windows and Mac
Remote support available
Known for mostly working with individuals and small businesses
11. ITstuff[ed]
Expertise
Residential and Business Computer and IT Support
Computer Repairs and Device Upgrades
Website
https://www.itstuffed.co.nz/
Address
5/78 Brighton Mall 5 Carnaby Lane New Brighton Christchurch 8061 New Zealand
Contact Details
0800 ITSTUFFED
0800 487 883


[email protected]

Office Hours
Monday to Friday: 9:00 AM – 5:00 PM
Since 2017, ITstuff[ed] has been providing in-home IT support to residential customers with high-quality services at reasonable prices.
They have highly trained and experienced technicians that can come to you and explain exactly what we are doing in simple terms so that you can follow and understand without all the unnecessary jargon.
When you contact them with a computer problem, you can expect them to evaluate each problem on an individual basis. Your initial meeting with them can be held in person, via video conference, or over the phone.
They will present several viable options and explain the benefits and drawbacks in an easy-to-understand manner plus they will work with you to resolve your computer issue as soon as possible.
It is impressive that they have this work behavior to strive to establish long-term relationships with their clients, which is reflected in the number of repeat customers we have.
This just reflects that they genuinely care about you and your computer issues.
ITstuff[ed] cares about your home and business as they offer a solution-oriented approach that is tailored to your specific requirements.
Customer Reviews
"These guys are awesome. They fixed a screen on a chrome book and let my son watch them repair it because he showed an interest. Would highly recommend ITstuffed to fix any device you have. They are friendly and helpful and the repair was great." – Rosie Collis
"Excellent Service from Daniel & the team. Polite & friendly when I went to them with my problem and it was solved within a few hours. I was expecting it to cost more, but I was only charged the base fee, so even better. Very Recommended A+++" – Stephen Green
12. HIT IT Limited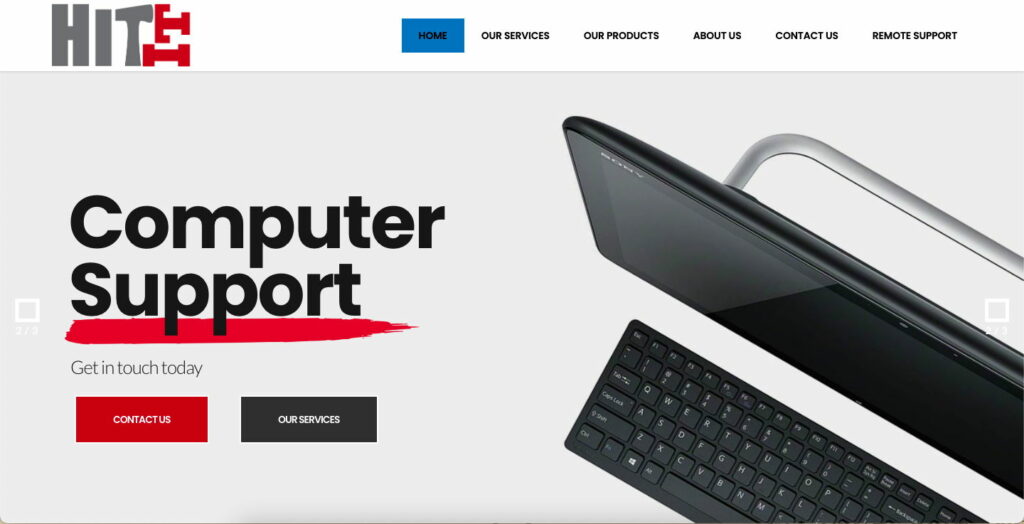 Expertise
Computer, PC and Laptop Repair
Website
https://www.hitit.co.nz/
Address
16 Banbury Street, Burnside, Christchurch, New Zealand
Contact Details
(03) 358 2806
[email protected]
Office Hours
Monday – Friday, 8:30AM – 5PM
Saturday – Sunday, Urgent only
If you're a business owner, you'd know how vital computers are to businesses these days. If anything goes wrong with them, that could spell trouble for you.
It's a great thing that there are IT specialists available that provide support for businesses. HIT IT Limited specializes in computer and laptop repairs, business computer support, cloud computing, and fixing all other types of PC issues.
They're made up of experienced IT experts who can solve any of your troubles from minor software problems to the worst of computer viruses.
Their patrons praise the team's ability to tackle different types of hardware and software issues, and with that, they've kept companies going. They haven't been in the business for more than 20 years for nothing!
What's great about them is that they can provide you with remote support as well. They also offer other products like MikroTik routerboard, GFI MAX, Ubiquiti UniFi and Office 365.
Offers computer and laptop repair
Offers cloud computing
Team of experienced IT specialists
Remote support available
FAQS about the Best Computer Repairs in Christchurch
---
And there you have it for the top computer repair services in Christchurch. You now know who to get in touch with if your computer fails to work to your expectations.
Any questions or suggestions about our list? If you have one, kindly let us know and we'll get back to you promptly or could update this list with your suggestion in it.
Have your important files on the computer been corrupted? Then you can call the best data recovery Christchurch technicians, who can recover all of them for you too.