The 6 Best Concrete Christchurch Specialists
Need a hand for your landscaping or concrete paving project? Looks like you came at the perfect time — we've outlined some of the best concrete Christchurch specialists here for you!
We selected the ones who have the experience, knowledge and creative flair to solve your concrete building needs. What's more, we picked those with competitive rates, reliable communication as well as a dedicated and friendly staff.
Additionally, we considered what previous customers said about these contractors — this let us know that we had been right in adding them to this list.
We know you can't wait to get started on your concrete project. So, here are the best concrete Christchurch specialists!
1) Affordable Concrete + Paving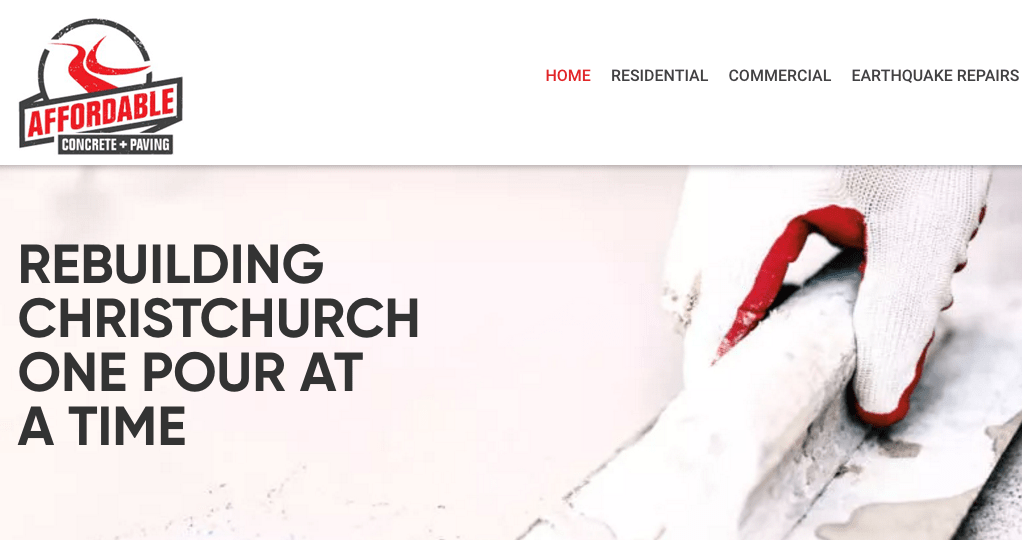 BEST FOR
Wide Scope of Concrete and Asphalt Works
SERVICES
Residential

Commercial & Civil

Earthquake Repairs

WEBSITE
https://affordableconcrete.co.nz/
ADDRESS
5 Bethel Crescent, Bishopdale, Christchurch 8053, New Zealand
CONTACT DETAILS
(0508 873 7483)
OPERATING HOURS
Monday to Friday: 8am – 5pm
Affordable Concrete + Paving is a family-owned and -run company specialising in a broad scope of concrete and asphalt works.
From concreting your pool area to taking on challenging architectural projects — you're covered! That also includes earthquake repairs, concrete sealing and asphalt installs.
Their team has over 30 years of experience and is focused on bringing their customers superior value through their service and workmanship.
Furthermore, they are passionate and keep up-to-date with the latest trends to pass on to you. Hence, they are one of the best concrete Christchurch specialists you can call!
Highlights
Superior value for workmanship and service
Broad scope of concrete and asphalt works
Over 30 years of experience
Passionate and adept concrete specialists
Keep up-to-date with the latest trends
Customer Reviews
Let's take a look at Colt Brown's comment on Google Business:
"Very happy with Affordable Concrete and Paving and their team of workers. They have just completed a Driveway and small backyard job for us at our investment property. Reliable and prompt service! Will hire these guys again for my big projects in future."
2) Flash Concrete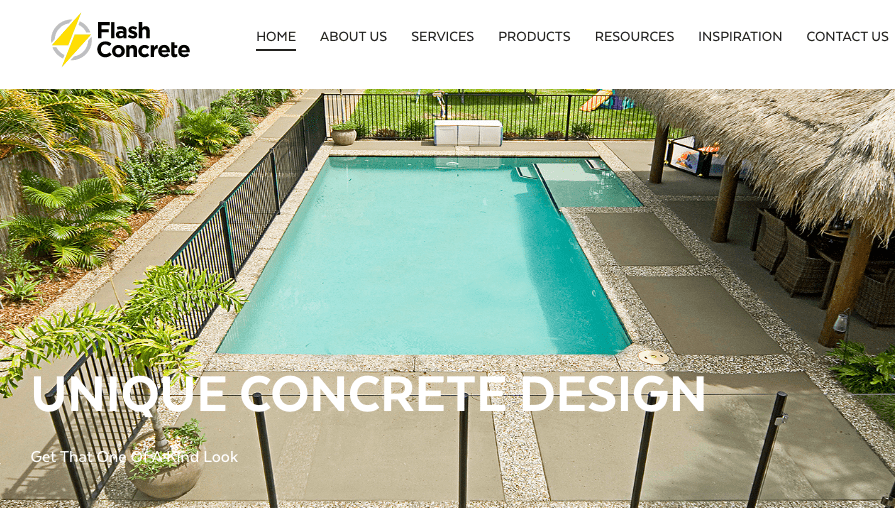 BEST FOR
Decorative Concrete
SERVICES
Interior Concreting

Exterior Concreting

Vertical Concreting

WEBSITE
https://flashconcrete.co.nz/
ADDRESS
32 Hawdon Street, Sydenham, Christchurch 8023, New Zealand
CONTACT DETAILS
022 463 5274
OPERATING HOURS
Monday: 11am – 2.30pm

Tuesday & Wednesday: 9.30am – 2.30pm

Thursday: 10am – 1.30pm

Friday: 11am – 1.30pm
Flash Concrete is focused on the aesthetic and practical side of concrete. They have a designer's mindset when it comes to the way they offer products and services — that's not something found with most other companies.
Using the latest machines and methods, they are able to produce concrete in many exciting and stunning finishes for your flooring, patio, driveway, benchtops and walls.
Like concrete with a timber or elegant stone finish? How about an acid-stained look for your living room floor? Perhaps you'd like microtopping for your bathroom walls?
Flash Concrete has been into decorative concrete for over a decade. Their team stays inspired and constantly keeps up with new designs and trends around the world, so go to them if you want artisanal concrete work.
Highlights
Specialises in decorative concrete
An extensive selection of finishes and solutions
Inspired, passionate and knowledgeable team
Utilises the latest equipment and methods
Customer Review
On Google Business, one customer, Lisa Hatcher, wrote
"We employed Flash Concrete to do our polished concrete floors for our new home. What a great team of people to deal with and what a fantastic job they did!! Totally love our new floors! This is actually the second job we have had Flash do for us – our first was our driveway which we just loved! I would have no hesitation in recommending this company for anyone looking to do internal flooring or external driveways or patios. Thanks guys for another great job! Such a professional job and with such friendly service!"
3) Concrete Placers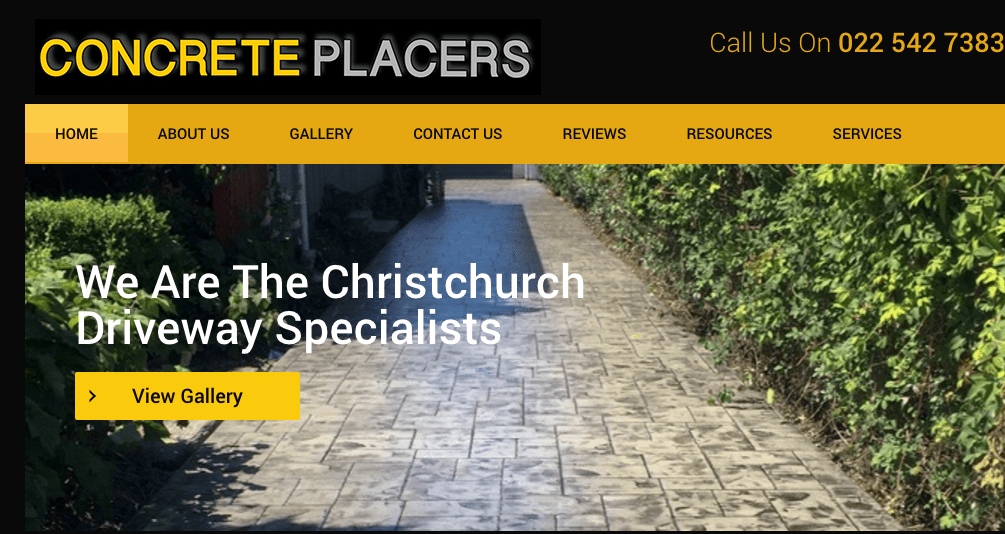 BEST FOR
Concrete Driveways
SERVICES
Concrete Driveways

Patios

Pathways

Garden Edging

And much more

WEBSITE
https://www.concreteplacers.nz/
ADDRESS
P.O. Box 5257, Papanui, Christchurch 8051, 8051, New Zealand
CONTACT DETAILS
022 542 7383
OPERATING HOURS
Monday to Saturday: 7am – 5pm
If you're concrete-paving your driveway, patio, garden, footpath or playground, then ring Concrete Placers! They are a respected concrete paver in Christchurch and Canterbury.
In fact, when it comes to driveways, they are one of the best Christchurch specialists. They provide awe-inspiring workmanship that will complement your home or shop.
They are a team of professionals with keen attention to detail. It won't be hard to know the progress of things as they will inform or report to you every step of the way.
Plus, they make sure to clean and tidy your place before leaving. There's no task that's too big or small for them and they can certainly help you in your concrete placing needs.
Highlights
Respected concrete paver in the Canterbury region
Awe-inspiring workmanship
Offer a range of concrete paving options
Keen attention to detail
Customer Reviews
One client, Hírêń Pâtël, comments on Facebook:
"Booked the job with Ben 1 year ago to build the driveway and Patios for our new house. Competitive pricing and communication with him has been top class. Excellent planning and execution of work. Great advise on concrete and has thorough knowledge of council specifications. It was pleasure doing business with Ben and would highly recommend him for any type of concrete works."
4) I Pave Concrete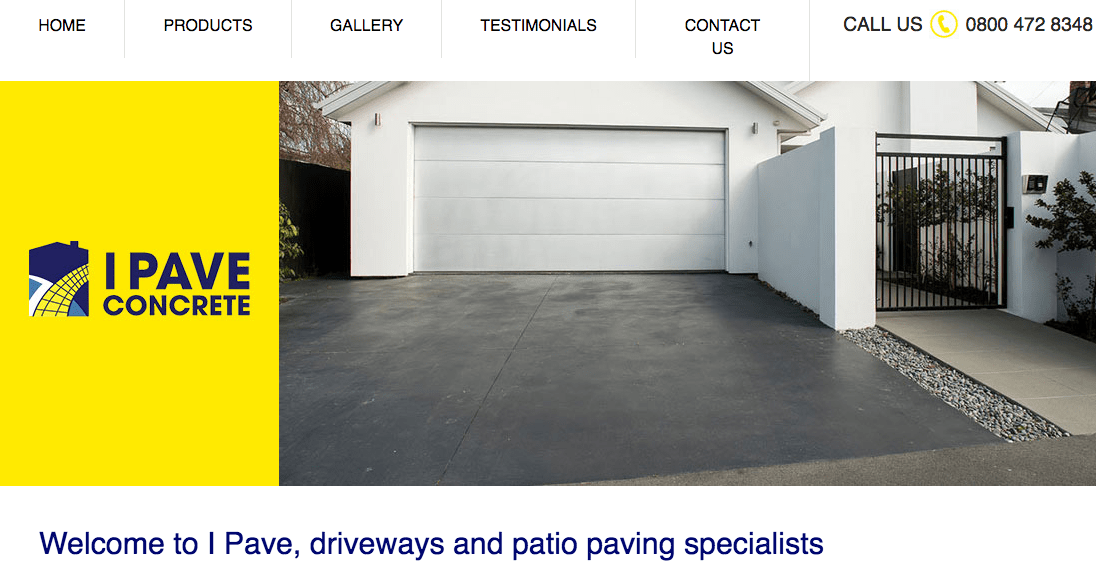 BEST FOR
Commercial Driveway Paving
SERVICES
Driveways

Patios

Concrete Cutting

WEBSITE
https://www.ipave4u.co.nz/
ADDRESS
395 Marshland Road Christchurch, New Zealand 8083
CONTACT DETAILS
0800 472 8348

027 435 2386

OPERATING HOURS
Monday to Friday: 7am – 5pm

Saturday: 7am – 1pm
I Pave Concrete is a concrete and asphalt paving specialist serving Christchurch and the Canterbury region. Its owner, Daryl McLachlan, has over 35 years of experience in this field.
Their specialty lies in placing concrete for driveways and patios. With an enormous team of 80 people, they can take on any project size, be it a small home paving task or large public walkway construction.
Plus, they have an array of concrete products to bring style to your house. This includes stencilled concrete, exposed aggregate concrete, coloured concrete, and plain concrete.
It's easy to see why they should be in the best concrete Christchurch specialists list. In addition to all the things we've already noted, they also have a long list of established clients, which is a testament of their superb work quality.
Highlights
Superb work quality
Specialises in paving driveways and patios
Over 35 years of industry experience
Have an array of concrete products
Customer Reviews
Here's the comment posted by B & A Williams on the website:
"The staff of I Pave who worked on our property were outstanding in all respects.
The drive and path are above our expectations.
To date we have had 3 different people walking past and commenting on how nice the drive and entrance way look.
As for dealing with I Pave, the owner Daryl McLachlan and his staff have been incredibly easy and friendly.
We would recommend them to anyone."
5) Concrete Brothers Ltd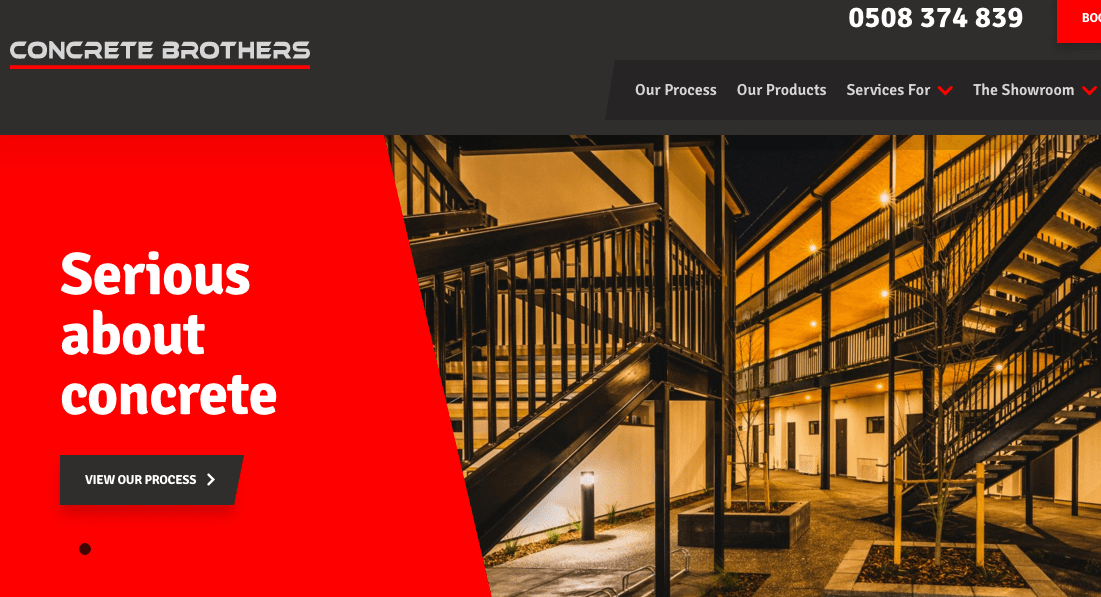 BEST FOR
Top-Class and Long-Lasting Concreting
SERVICES
Driveways

Paths

Patios

Landscape Packages

Commercial

Civil

WEBSITE
https://concretebrothers.co.nz/
ADDRESS
186 Carlyle St, Sydenham, Christchurch 8023, New Zealand
CONTACT DETAILS
+64 274 111 220
OPERATING HOURS
Monday and Tuesday: 7am – 5pm

Wednesday to Friday: 7am – 3pm
Whatever your concreting needs may be, just leave it to Concrete Brothers! Whether it's landscaping, civil, commercial, driveways, patios or paths — they have you covered!
To have top-class concrete, they follow a tried-and-tested 5-step process involving specialised staff at each stage. This makes your concrete long-lasting and perfect.
With 7 years of experience, they've seen and done everything, especially the hardest and trickiest jobs. Their team is innovative, highly skilled and well-equipped to ace every project.
As such, Concrete Brothers deserves to be among the best concrete Christchurch specialists!
Highlights
Top-class and reliable concrete
Has more than 7 years of experience
Innovative, highly skilled and well-equipped team
Offers a wide scope of services
Customer Reviews
One client, Suzette Brophy, wrote on Facebook:
"Can thoroughly recommend Concrete Brothers. Really impressed with the finished job. Completed on time, great communication from everyone on site and the team did a fabulous job of cleaning up. Thank you."
6) JFC Pumps
BEST FOR
Residential and Commercial Concrete Pumping
SERVICES
Concrete Pumping Services, Concrete Placing
WEBSITE
https://jfcconcretepumps.co.nz
ADDRESS
83 Branston Street, Hornby
Christchurch 8042
New Zealand
CONTACT DETAILS
[email protected]
03 349 8849
OPERATING HOURS
N/A
JFC Pumps is a company that works on both commercial and residential concrete projects. They offer a wide variety of concrete pumping solutions for their clients.
They work with multiple concrete placing teams, as well as traffic management providers for a smoothly run project. You can rest assured that they will get the job done.
Highlights
Has working relationships with many local concrete placing teams
Offers multiple concrete pumping solutions
And there you have it for the best concrete Christchurch specialists! Very soon, you'll have a concrete driveway or path you'll be proud of and can use for the years to come!
Do you have any questions or suggestions about our list? If you do, feel free to drop us a line and we'll get back to you as soon as can.
You can check out our other design and building lists also. For example, you can read about the best plasterers in Christchurch who will make your house look seamless and neat inside and out.