The 11 Best Construction Companies in Wellington
It's crucial to find the right builder for your business or home so you can get a great outcome while spending less. But if you're not sure which contractor to call, chill out, as we've rounded up the best construction companies in Wellington for you here.
Our choices are those with professional and experienced teams trained in health and safety. Furthermore, we chose those that make the process stress-free and give a prompt service and delivery.
If you're ready, here's our lineup of the best construction companies in Wellington!
1)  Capital Construction Ltd

BEST FOR
Top-level workmanship
SERVICES
Earthquake Strengthening

Interior Fitouts

Leaky Building Remediation

New Build Construction

Restaurants, Bars & Cafes

Refurbishments

Shops & Showrooms

Housing

Schooling & Pre-Schools

Civil Works

WEBSITE
http://www.capitalconstruction.co.nz/home.aspx
ADDRESS
36 Abel Smith Street, Te Aro, Wellington 6011, New Zealand
CONTACT DETAILS
04-384 5881
OPERATING HOURS
Monday – Friday: 7.00 AM – 6.00 PM
Capital Construction Limited is a trusted building company of high-calibre clients from a wide range of industries. Some examples are Victoria University Wellington and ANZ.
Its directors have over 50 years of combined experience. They have a qualified and licenced team of project and site managers as well as foremen and quantity surveyors.
You will rarely find a construction company that does it all with quality workmanship. Whether you're building a new home or refurbishing your bar, they can assist you.
Also, they follow HazardCo's safety system, helping them fulfil the requirements of the Health and Safety in Employment Act 1992, as well as its 2002 amendments. This will keep the employees, subcontractors, and the people involved safe at all times.
Highlights
Provides a quality workmanship
Qualified and licenced team
Robust safety system
Established in 1994
Customer Reviews
Here's a remark from one client, Tom Wood, about Capital Construction:
"Very well composed honorable people, would do business with this firm any day…"
2)  Hawkins Construction

BEST FOR
Great client experience
SERVICES
Accommodation

Airports

Arts, Civic & Culture

Education

Health

Sports & Recreation

Police Corrections & Defence

Tourism & Hotels

Offices

WEBSITE
https://hawkins.co.nz/
ADDRESS
 265 Wakefield Street, Te Aro, Wellington 6011, New Zealand
CONTACT DETAILS
+64 4-896 9600
OPERATING HOURS
—
Creating transformational building projects along with giving clients a great experience… Indeed, Hawkins is one of the best construction companies in Wellington.
The team can complete projects of any size and difficulty. This is made possible through their core values of partnership, dedication, forward-thinking, and determination.
Sports stadiums, health facilities, commercial buildings, educational institutions, and community structures, and high-standard shop fitouts — you can pitch your building plan to them.
But they always keep one thing in mind throughout the project, and it's to build better communities for the people in New Zealand, in order to make a difference.
Highlights
Great build and client experience
Wide range of building services
Can complete projects of any size and difficulty
Have great values
3)  L.T. McGuinness Building Contractors

BEST FOR
Cost-effective performance
SERVICES
Commercial Buildings

Heritage

Interiors

Multi-Unit Residential

WEBSITE
http://www.ltmcguinness.co.nz/
ADDRESS
9 Francis Place, Te Aro, Wellington 6011, New Zealand
CONTACT DETAILS
04 384 8455
OPERATING HOURS
—
Established in 1950, LT McGuinness has provided cost-effective construction and redevelopment of commercial and landmark buildings in the Wellington Region.
Through their innovation and experience, they can meet any building challenge that comes their way, be it a high-rise business tower or interior of a century-old church.
Along with this, they have a skilled workforce and equipment as well as project management to ensure your project is completed on time and without a hitch.
They're even more impressive if you take a look at their portfolio. The buildings they construct are total works of art that will fill you with both awe and amazement.
Highlights
Cost-effective performance
Skilled and innovative workforce
Specialises in commercial and landmark buildings
Finishes on time
Customer Reviews
One client, Jody Taku Harrison, left a comment about LT McGuinness:
"Good old l.t.m always get the job done right and finished on time 5 stars."
4)  Tracer Construction Ltd

BEST FOR
Interior commercial fitouts and construction
SERVICES
Interior Fitouts & Projects

Residential Development

Institutional & Educational Work

Commercial Construction

WEBSITE
http://www.tracer.co.nz/
ADDRESS
18 Kaiwharawhara Road, Kaiwharawhara, Wellington, New Zealand
CONTACT DETAILS
(04) 499 7656
OPERATING HOURS
Monday – Friday: 8.30 AM – 5.00 PM
Though the team at Tracer Construction undertakes residential, institutional, and commercial building works, their niche is in interior fitouts and construction.
With 17 years' service, they are one of the best construction companies in Wellington. They are more than capable of taking on time-sensitive and demanding work.
One of their notable projects was when they worked for Westpac to redevelop their space into a lounge area. During the work, they had to build new ceilings and flooring; add a discreet oval chair, shower and bathroom facilitie; and upgrade the lifts.
Highlights
Niche is in interior fitouts and construction
17 years of service
Capable of taking on challenging work
Professional and prompt team
5)  Naylor Love

BEST FOR
Commercial buildings
SERVICES
Design & Build

Pre-Construction

Interiors & Fitouts

Small Works

Seismic Strengthening & Earthquake Resistance

Heritage

Environmentally-sustainable Design & Construction

WEBSITE
https://www.naylorlove.co.nz/
ADDRESS
Level 1/275 Cuba Street, Te Aro, Wellington 6011, New Zealand
CONTACT DETAILS
+64 4-586 3192
OPERATING HOURS
Monday – Friday: 8.00 AM – 5.00 PM
Naylor Love has an impeccable track record in the commercial building scene. With excellent feedback from clients, it's a shoo-in for the best construction companies in Wellington.
The company has a great team culture with friendly and courteous staff, seamless coordination, and of course, extensive carpentry skills and knowhow.
They work closely with clients to bring about a pain-free and transparent build process. That means you won't be hit with nasty fee surprises and overbound costs.
Furthermore, they are committed to all aspects of health and safety for their workers and clients, ensuring you have peace of mind even after the building is finished.
Highlights
Commercial building specialists
Friendly and courteous staff
Pain-free process
Transparent prices
Committed to health and safety practices
Customer Reviews
Here's what one client, Jim McBirnie, has to say about Naylor Love:
"It has been a very rewarding project and we are very proud to see the high-quality design and construction of the finished hotel come together."
6) Kellahan Builders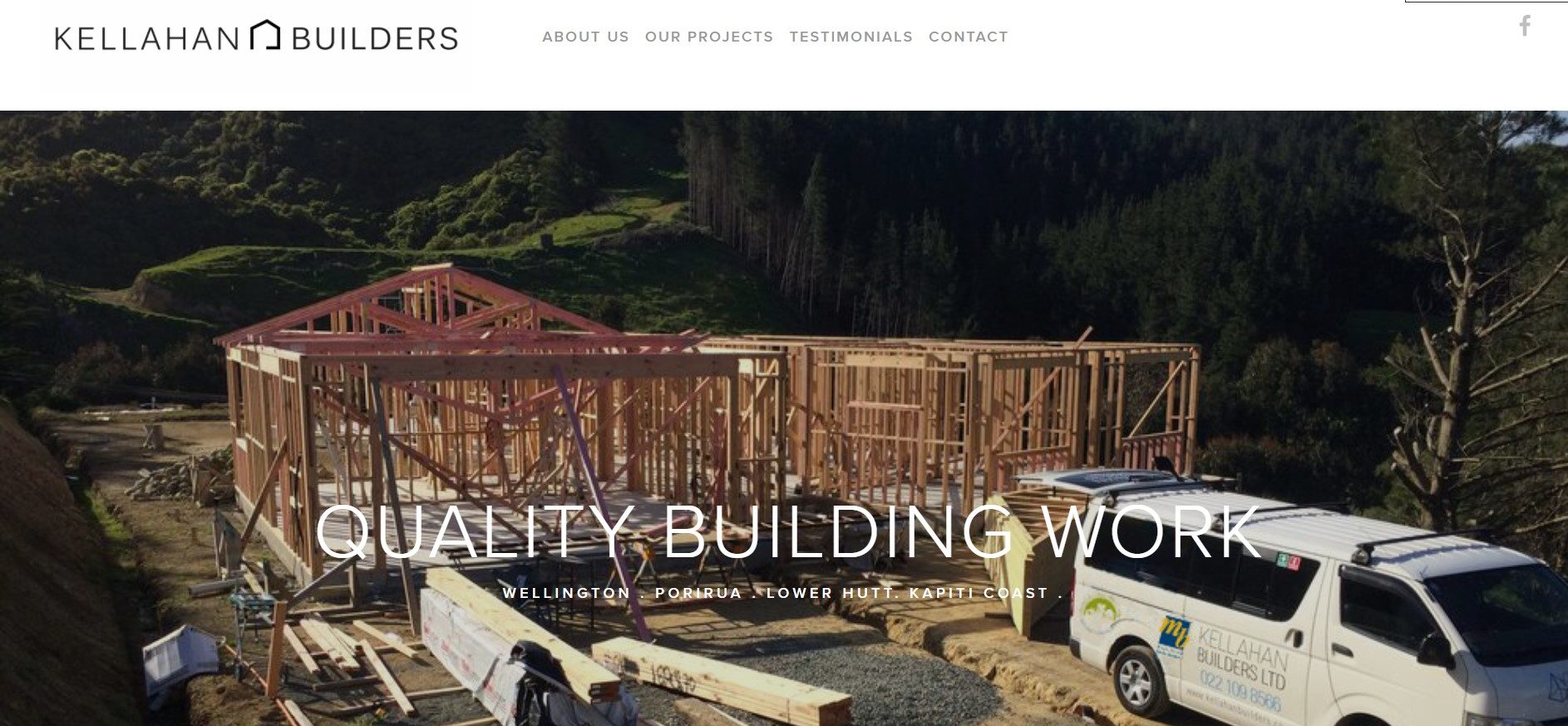 BEST FOR
Quality residential construction work
SERVICES
Renovations
Extensions
Kitchen Design
Bathrooms
Windows & Roofs
Landscaping – Decks & Driveways
WEBSITE
http://www.kellahanbuilders.co.nz/
ADDRESS
Porirua, Wellington, New Zealand
CONTACT DETAILS
OPERATING HOURS
Monday – Friday: 7:30 AM – 5 PM
Highly recommended by many, Kellahan Builders is definitely a construction company to consider if you're looking to have quality work at the best price.
To further their credibility, Kellahan Builders also took the gold award at the Master Builders House of the Year 2020 in the 'Renovation $500,00 – $1million' category. And of course, they are licensed building practitioners.
Contact them now for quotations and have them start up on your project immediately.
Highlights
Provides amazing professionalism and customer service
Efficient work ethics
Experienced builders and workers
Recycles materials
Customer Reviews
Here's what Phil Smith Te Aro, a very satisfied customer, had to say about Kellahan Builders' construction service:
"I contracted Kellahan Builders after a strong recommendation from a construction and design professional I trust. He was proven correct."
7) KiwiSpan

BEST FOR
Versatile solutions
SERVICES
Storage Sheds or Workshops
American Barns
Habitable Sheds and Sleepouts
Garages
Carports
Farm Sheds & Barns
Farm Storage & Machinery Sheds
Horse Shelters & Stables
Shelters and Canopies
Dairy Sheds
Commercial Buildings
Industrial Buildings
Aircraft Hangars
Shelters and Canopies
Commercial Storage Unit Buildings
WEBSITE
https://kiwispannz.co.nz/
ADDRESS

431 Hutt Road, Alicetown, Lower Hutt 5010, New Zealand

CONTACT DETAILS
0800 870 078
[email protected]
OPERATING HOURS
Monday – Friday: 7:30am–4:30pm
Partner up innovative technology, high-quality steel, and years of experience, and you get KiwiSpan's amazing construction service! They're known all over New Zealand for their cost-efficient work that will surely last you a lifetime.
Check out more of the details on their website. And if ever you have a design in mind, KiwiSpan offers their 3D Designer for you to layout your desired model building or fixture, and have them make that for you!
Highlights
Durable construction work
Cost-efficient services
Amazing quality build
Customer Reviews
Read what Garth S, a client of KiwiSpan, had to say about their services:
"KiwiSpan were great to deal with through the build process. The team were friendly and efficient and communicated really well. I wouldn't hesitate to recommend them for your next project."
8) Lockhart Construction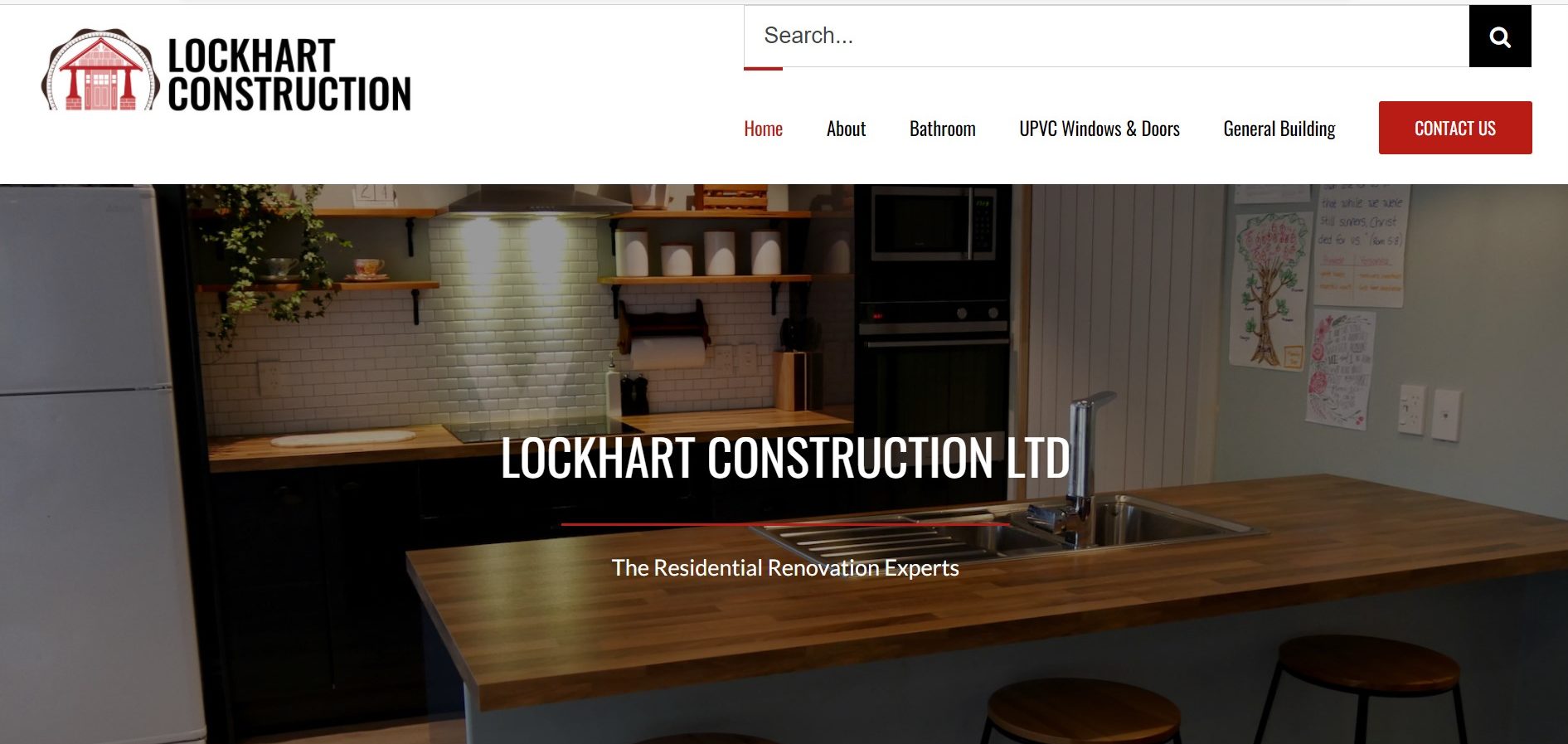 BEST FOR
Residential Renovation
SERVICES

Bathroom, UPVC Windows & Doors, General Building, Maintenance

WEBSITE
http://www.lockhartconstruction.co.nz/
ADDRESS

46c Lees Grove, Wainuiomata, Lower Hutt 5014, New Zealand

CONTACT DETAILS
274437865
OPERATING HOURS
Monday to Thursday: 7am–5pm
Friday: 7am–4:30pm
Saturday: 9am–1pm
If you're in the Hutt Valley and Wellington Region, Lockhart Construction is a company you would have definitely heard of. They specialize in home improvements for the bathroom, patio, and even the kitchen.
Experience high-quality construction work made with only the best materials, and you're sure to be satisfied with how your money's spent.
Contact Lockhart Construction for your needed services and they'll be happy to accommodate you.
Highlights
Great attention to detail
Quality workmanship
Competitive rates
Customer Reviews
Take a look at what couple, Aaron and Jessica Gabbie, had to say about Lockhart's amazing construction services:
"We employed Stan from Lockhart Construction to install new double glazed windows throughout our entire house. He completed the work to a high standard and we are really happy with the finished product. It is such a treat to have a double glazed house and Stan did a great job installing the windows imported through Thermascreen. He worked with us and provided ideas of how the finished frames (interior and exterior) would look and delivered on those ideas. Stan was very professional, he left things neat and tidy every afternoon when he went home and worked respectfully around our family."
9) Plumb1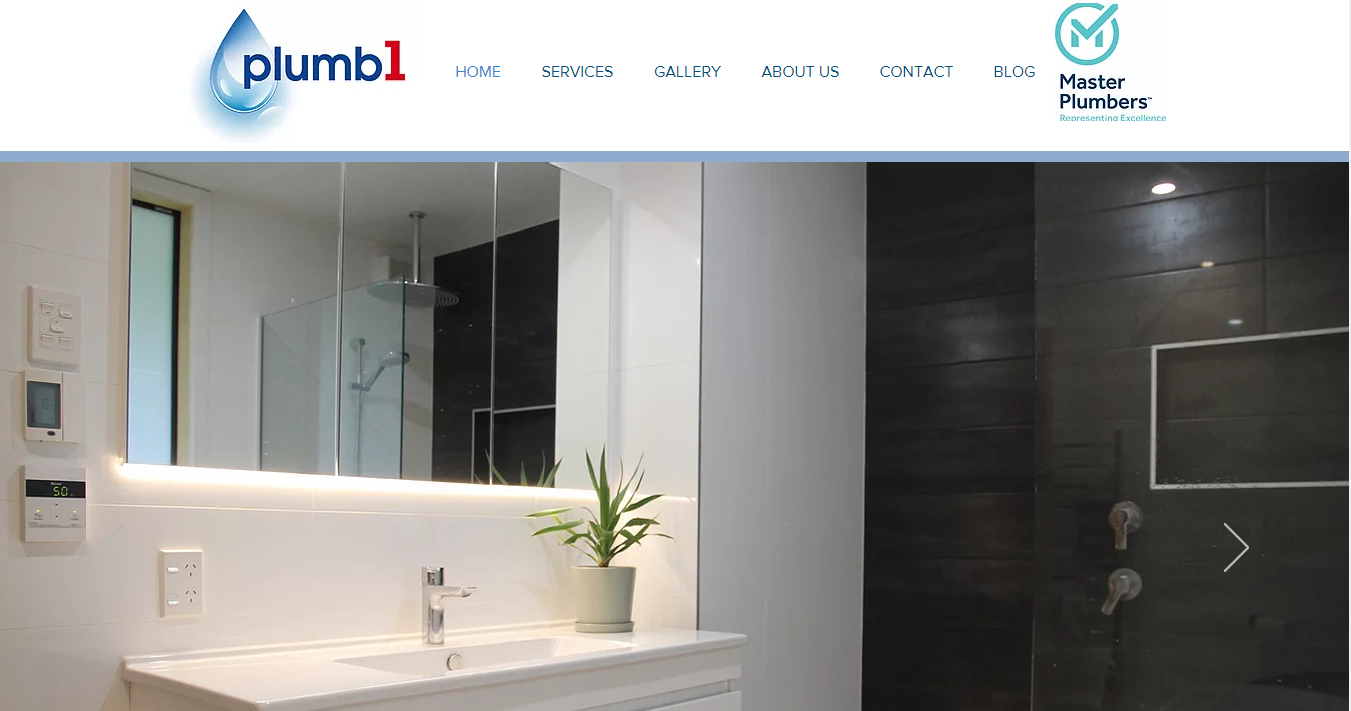 BEST FOR
Bathroom Maintenance and Installation
SERVICES
General Plumbing, Kitchens + Bathrooms, Drainlaying, Drain Unblocking
WEBSITE
https://www.plumb1.nz
ADDRESS
Wellington
CONTACT DETAILS
Tel: 04 387 2517

Mob: 027 431 3590

Email: [email protected]

OPERATING HOURS
Mon – Fri: 7am – 6pm
​​Saturday: 8am – 4pm
Plumb1 offers the full range of plumbing, roofing, and drainage services to their clients. No job is too big or small for their expert team of plumbers and drainlayers.
Fast, friendly, and honest services are all that you can expect from them. Make sure to approach their vans if you're in need of their help, especially if you're interested in getting your kitchen or bathroom constructed.
Highlights
More than 30 years of experience
Quality plumbing services
Expert plumber and drainlayer
Responds to emergency situations
10) JBuild Construction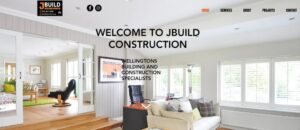 BEST FOR
High-End Residential Builds
SERVICES
Project Management
Home Renovations
Decks To New Builds
WEBSITE
http://www.jbuildconstruction.nz/
ADDRESS
Wellington, New Zealand
CONTACT DETAILS
[email protected]
0226210566
OPERATING HOURS
By appointment
Another construction company on the list is JBuild Construction Limited. It is owned and handled by Jason Hoare, an established figure in the field for over 12 years. He's known for his work in high-end residential construction, as well as his restoration of century-old manors.
What makes him great is that Jason is hardworking and passionate about his job, always putting 100% of his efforts into what he does. His skills are unrivalled, with his expertise being one of the best in Wellington.
Quality workmanship is what JBuild Construction is established upon, and they try to provide it in the best way they can to each of their clients. Bespoke construction services are what they offer, and they deliver with excellence.
You can look into their past projects on JBuild's website, as well as the list of the companies they partner up with for their clients.
Highlights
Fast and efficient processing
Expert construction services
Decade of experience
11) Bluestone Construction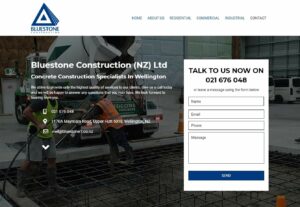 | | |
| --- | --- |
| BEST FOR | Concrete Construction |
| SERVICES | Residential, Commercial, and Industrial Construction Services |
| WEBSITE | http://www.bluestone1.co.nz/ |
| ADDRESS | 1170A Maymorn Road, Upper Hutt 5018, Wellington, NZ |
| CONTACT DETAILS | 021 676 [email protected] |
| OPERATING HOURS | By appointment |
If you're looking for a construction company that offers a complete range of construction services, then you may want to consider Bluestone Construction. 
Bluestone Construction is one of the oldest construction companies on this list, having served the Wellington area for over 30 years now. During the course of the years, Bluestone Construction made a name for itself by providing quality construction services to those who are in need of it. 
Bluestone Construction specialises in concrete construction, civil contract works, and landscape constructions. 
The company's services and products also include building and house foundations,  slabs, formed insitu concrete, concrete piles, tower foundations, concrete repairs,  driveways, retaining walls, and many more. 
Bluestone Construction is made up of a team with an extensive background in design and construction, which is why it isn't at all surprising that the company is offering the aforementioned products and services. Moreover, they also offer sound building knowledge and trade workmanship. 
To top things off, Bluestone Construction is large enough that it's capable of serving clients beyond Wellington. The company is known for concrete and civil engineering construction throughout New Zealand. 
Highlights
Large service area

Promotes health and safety in the work environment

Trained, highly skilled engineers and construction personnel

Wide range of construction services
So those were the best construction companies in Wellington that can assist you. They should be your first choice for quality building construction and design.
Do you have any questions or comments about this list? If you do have one, feel free to leave a comment and we'll get back to you as soon as we can.
Also, you may want to read about the best mortgage brokers in Wellington. They will be a big help if you need to secure a loan to start your business or residential construction project!