7 Best Cooling Fans in NZ New Zealand Reviewed
If you're looking for a nice, versatile cooling fan to beat off the summer heat, you're on the right page. Today's lineup of the best cooling fans in New Zealand should give you some idea of what to get.
Cooling fans have greatly improved from their predecessors and incorporated more speed settings and eco controls than ever before. And bladeless motors such as Dyson's are appealing and safe to use around kids or pets.
You have a smorgasbord of choices in the market, lots of brands out there! The good brands sport wonderful features and stylish looks that can seamlessly blend into your home style… as you'll see here.
But first, let's talk quickly about the basics so you have a better idea of how to pick a fan from our lineup. That is, let's discuss the types of fans you have available to you now.
The Types of Cooling Fans
There are many types of cooling fans — as well as different ways of categorising them, actually. But for most practical purposes, the following categories are the ones most buyers use:
Desk fans
These usually come with 3-4 speed settings, adjustable height, and horizontal oscillation. They're best for small areas like a personal room or study, living rooms, and kitchens.
Personal fans
These fans are portable, a little larger than the ol' handheld craze, and can be placed on your laptop table or atop your randomly stacked books. They are usually powered by a battery.
Tower fans
Tall and minimalist, they stand closer to the ground on their base than pedestal fans. Nowadays, they pack a lot of features that assist in saving energy and multiple speed settings.
Bladeless fans
The bladeless motors make these quieter and mean they require less maintenance. A bladeless fan takes in air from its base and, through a motor, multiplies it to produce a fresh burst of air at the top.
Pedestal fans
These are the tall ones often used in offices. Most pedestal fans today are more advanced and may even be controlled remotely.
Air circulators
These are the powerhouses of cooling fans. They stay low, are customisable in height, and pump in huge and domineering currents of air.
They're a great choice when you need to cool a larger area such as a gymnasium, warehouse, or your living room. The airflow setting can be adjusted, like the others.
If this is the sort of fan you need, rest assured that we've included at least one in our list below. At any rate, most of the types are represented, as you'll see with our picks for the best fans in NZ.
1. Dyson Cool™ AM07 Bladeless Tower Fan
Best Overall Performance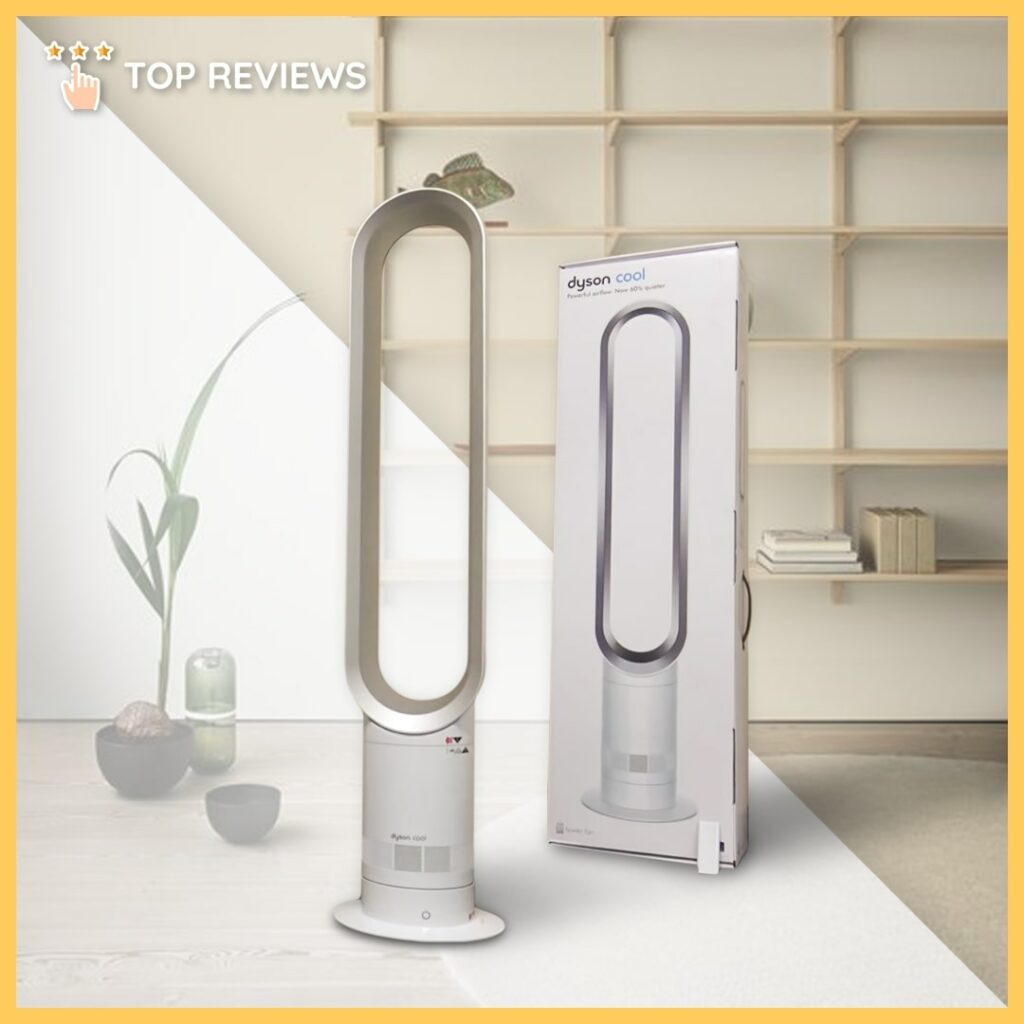 Price: NZ$649.00
Not only is the Dyson AM07 sleek, but it's also lightweight, harmless, and equipped with all the bells and whistles.
You get up to 10 airflow settings, a lot more than other prominent brands. So, you can just choose the right breeze that's comfortable for you.
You can control it from a distance, make it oscillate, or even set it to turn off in the afternoon. All at the touch of a button, with an incredible magnetic remote you can put back on the unit.
With the height and the tall oblong shape, it can circulate air around a room easily and take away the muggy feeling on a hot day in the mornings.
It weighs 2.85kg, so you can conveniently switch it from area to area.
Overall, if you want a bladeless fan in nz, want something with various settings, controlled by a remote, and you're willing to shell out a little more, then the Dyson AM07 could be the best cooling fan in NZ for you.
Highlights
10 speed settings
Remote control
Neat-looking and powerful fan
Safe, quiet, and lightweight
Customer Review
Dyson Cool AM07™ has been well-received on customer reviews from Amazon. They love the quietness, the powerful airflow, and the fact that it's very lightweight.
Buch3ste wrote:
"This fan is the epitome of style. It is gorgeous to look at, incredibly simply to set up and even easier to use.
It's lightweight which allows easy positioning throughout the house and just blasts the air out.
Also, having a four year old, it puts my mind at ease that she cannot hurt herself."
Countable on one hand are the people who gave it a lower review, one mentioning that the blue LED light prevents him from sleeping well. Another rated it 4 out of 5 stars due to the manual button not working.
2. Vornado 660 Air Circulator
Best in Quietness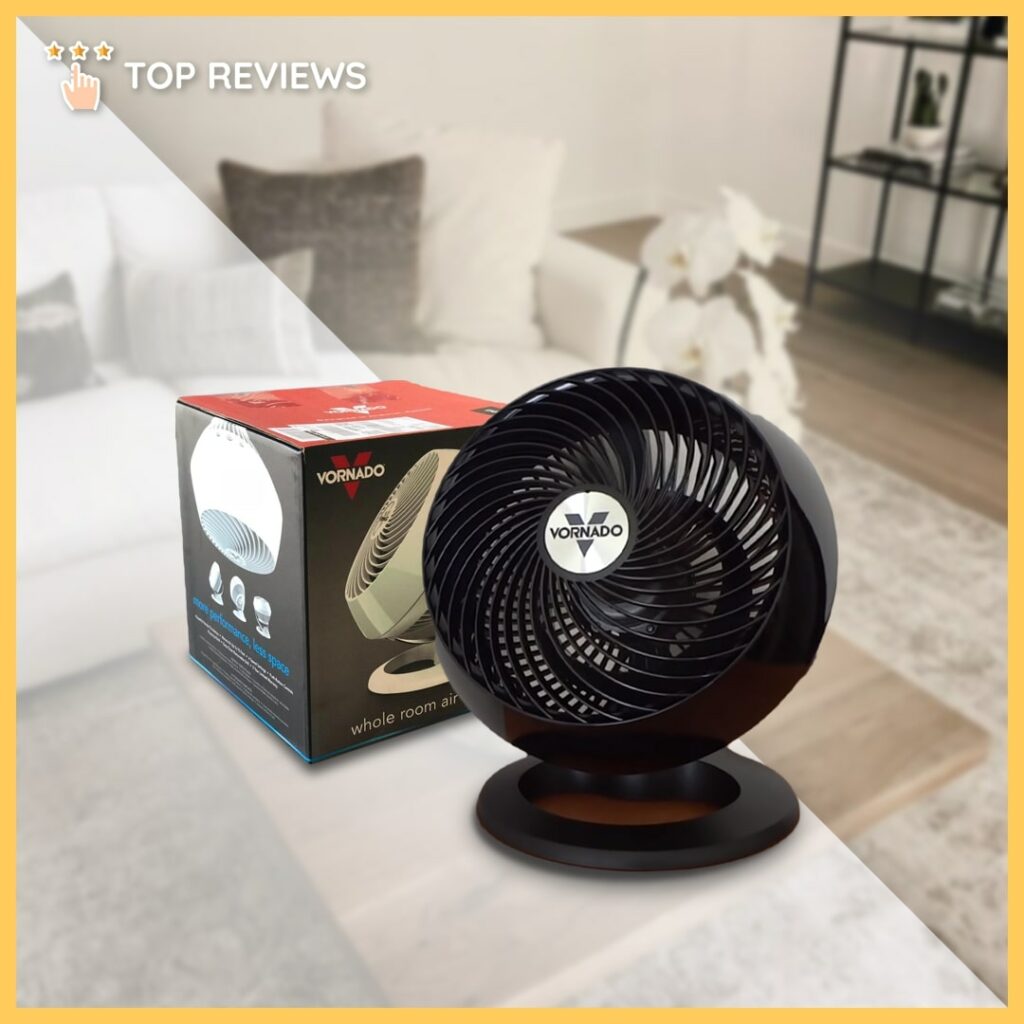 Price: NZ$219
Check out the Vornado 660 Here
Next on our list of the best cooling fans is New Zealand is none other than Vornado 660. Mind you, its nice geometric cuts and spotlight design are just the tip of the iceberg.
Unique about this quiet fan in nz is the vortex-action cooling, where a special cone structure lets this fan blow air in spiral motions across the boundary of a room. This results in a more even, total cooling effect.
You can also change its position to direct the fan for a cooler experience. Just turn and move it as allowed by the chrome glide bar.
The 660 also works quietly from the lowest setting to turbo. And the grille is easily removable for cleaning, which can help you keep it working smoothly and silently.
Highlights
Airflow reaches a distance of up to 100ft
4-speed settings
Patented vortex action
5-year warranty for the customer
Customer Review
Quietness, maximum circulation, and 4 speed settings get this one many nods. Alfred from El Paso, TX describes it in detail:
"I was in the market for a fan during the summer heat since my generic off the shelf fan wasnt cutting it. I did some research and read a few reviews which lead me to the vornado. i chose the 660 and I loved the 4 electronic button settingds rather than the three standard on conventional fans. First impression was HO BAH! I could feel the breeze from across the room. I was convinced. What was a bummer was it wasnt an oscillating fan. Dont be fooled though. I was laying in bed with the fan pointed away in another direction and still felt the air circulating around me. Im still amazed as how this fan does it. It catches me off guard every time i walk through the house and feel a breeze and the fan is pointed elsewhere."
3. Rowenta Pedestal Fan with Remote Control
Best in Energy-Saving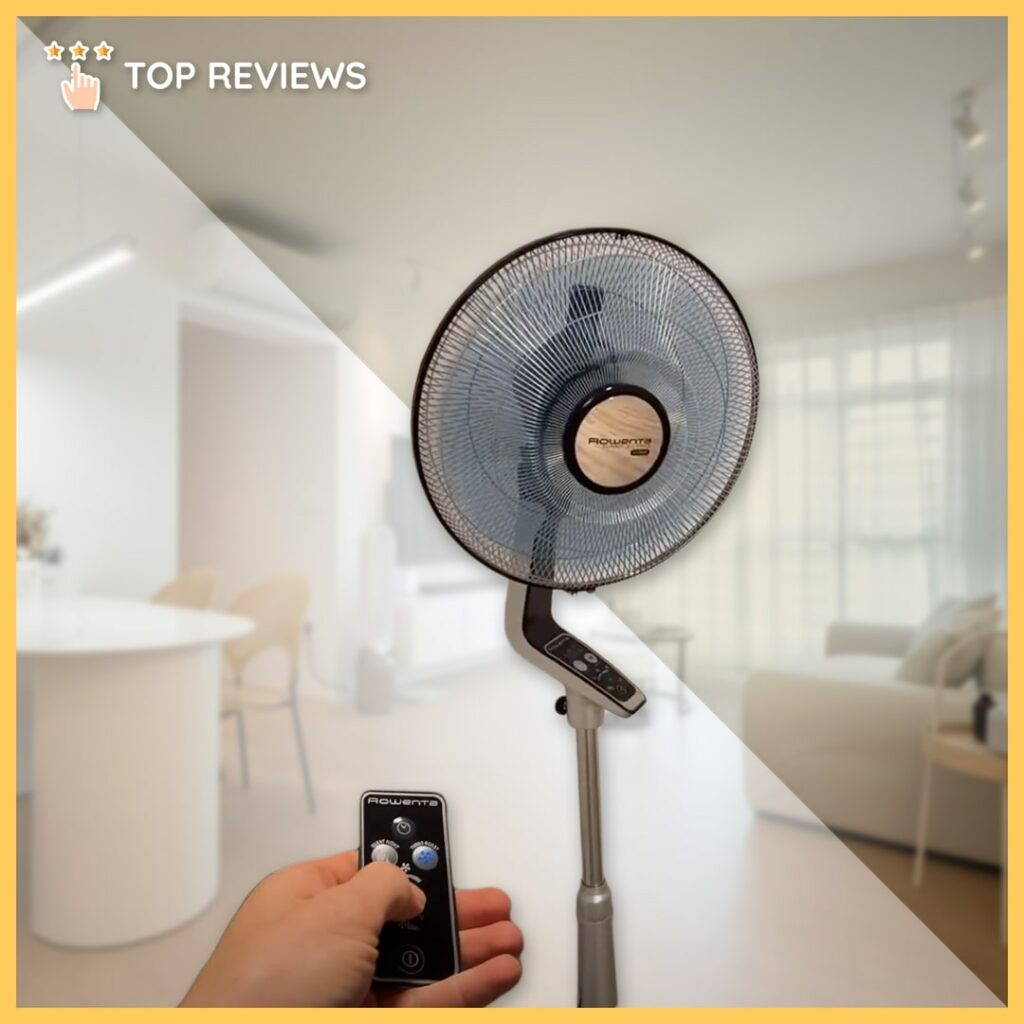 Price: NZ$214
With remarkable speed, turbo-quiet operation, angled design, and power saving features, this is your Rowenta VU5670U2 blue-bladed pedestal prodigy. Warm months will never get to you or cause you unexpected headaches again with this beauty!
First, it offers 5 speed settings to choose from. It also offers a Turbo Boost of up to 2400 cu ft./ min, which is great if you're cooling down a large space.
It also operates at a very tolerable 35 dB(A) on the lowest setting. That means it won't disturb you when you're concentrating whilst studying or watching your favourite show.
It also has a timer that lets you set an automatic shutoff or speed setting change. For example, you can set it to turn off automatically at night so that there's no need to get up in the middle of the night or morning!
It has clearly won itself a place in this list of the best cooling fans in New Zealand. To add to all of those, though, it's also equipped with remote control!
Highlights
Turbo-powered and silent
Energy-saving features
Comes with a timer
Remote control activation
A design unlike any other
Customer Review
One of the problems of the Rowenta as commented by more than a few buyers is that the grills rust after having used it for a while. But Amazon reviewer Happy Buyer wrote:
"At twice the cost of other adequate floor-standing fans it's easy to ask if the extra cost is justified. My opinion, yes. Overall, it's more substantial than other 16-inch non-commercial models. The weighted, wide base easily counters the top-heavy characteristics of these fans. There is nothing flimsy with the adjustable support, and it's easy to operate. The unusual angle that allows easy access to the control buttons is really brilliant–makes it so easy to operate. Although I don't use the remote I can see that for some it might be really handy. The fact that it stores on the fan itself is a nice touch. The manufacture's blah blah on the fan's Amazon page is pretty much correct–it's quieter that expected, easily moves volumes of air, and looks high-end.
So what's the downside? Some buyers have reported that the grill rusts. I've only had mine for about a month, but I don't see anything that would make it susceptible to corrosion. That only leaves the cost, is it justified? There are lower cost alternatives available, doubtless adequate. The fan this one replaced was way cheaper, but it worked for at least 10 years. But for me–again, just an opinion–the extra cost is justified for the reasons above."
4. Lasko R12210 12 Metal Desk Fan
Best in Grille Design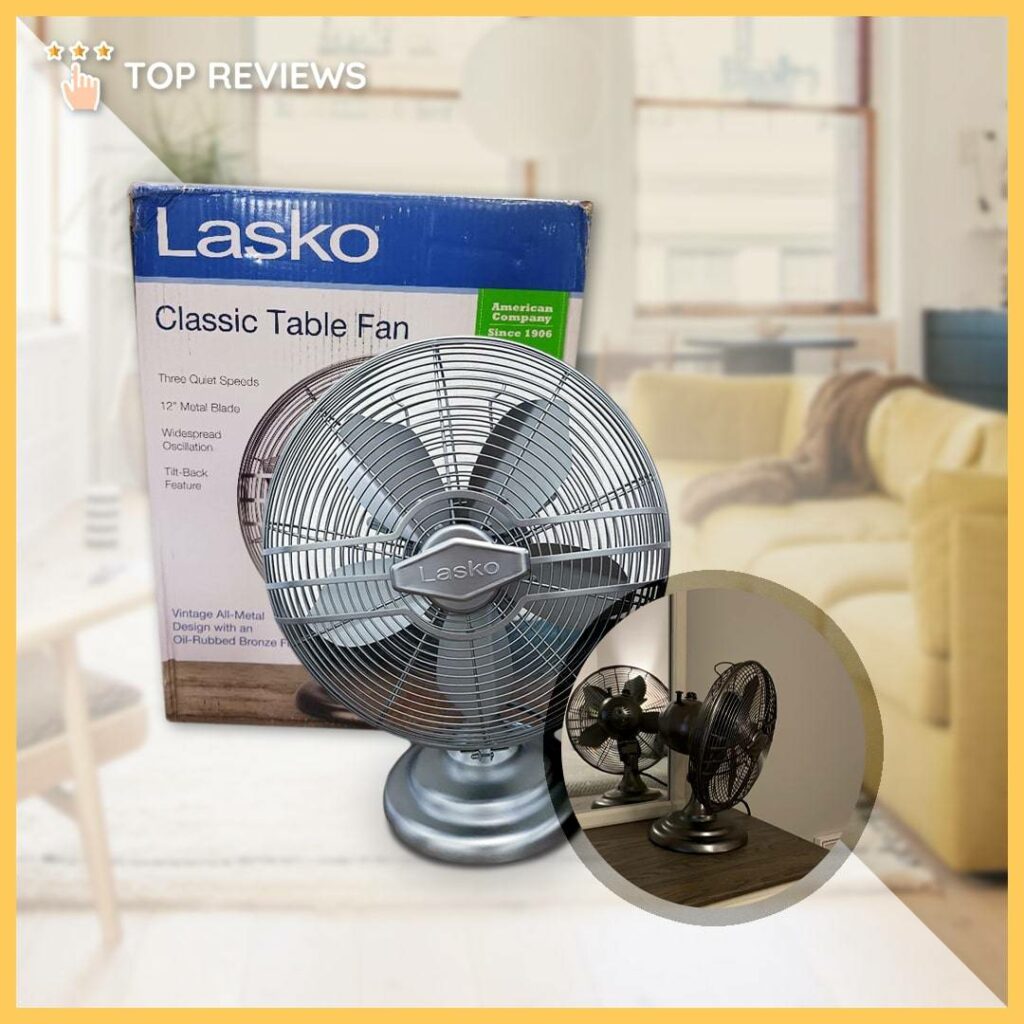 Price: NZ$113
If you're after a Lasko fan in NZ that's sturdy, has vintage aesthetics, and is portable, then this Lasko fan model for you.
When your home needs a little something to bring up the class in warm seasons, the vintage Lasko R12210 will do the job. It features an oiled metallic bronze look and 3 speed settings with oscillation.
The design even goes further, with the leaf-shaped blades and horizontal, circumnavigating bars to highlight the Lasko logo. It won't helplessly tip over either, thanks to the weighted base.
The oscillation goes 90° left to right and the fan is tiltable backwards to direct the air upwards. Putting it up a table works too if you want to let air circulate around the room.
When you need to relocate it, it's got a rear handle too that will make it easy to carry. It also operates quietly, so it's convenient in more ways than one.
Highlights
Retro design can provide a touch of style beyond most fans
3-speed settings
Quiet airflow
Can tilt-back and oscillate
Customer Review
Overall score is 4.3 out of 5 stars. Some reviewers liked the classic decorative look, though others deemed it a trifle compared to its actual functionality.
Jer commented:
"I love this fan. Got it on sale during black Friday. It has a nice balance of sophisticated throwback style and better than average modern construction. It is heavy and well built. The entire exterior is metal except for the on/off and oscillation knobs. Without knowing the specs, the motor feels stronger than most fans this size. It is a heavy duty cord and three prong plug.
Is it loud as some have commented on? not for me.
Any additional noise is not generated from the motor or oscillation. The fan guard grill has little spaces between wires and the fan drives a lot of air. Worth noting the base has a wider footprint than I expected. Mine came a handle on top. Another plus for moving around"
5. Honeywell HYF290B Quietset Tower Fan
Best for White Noise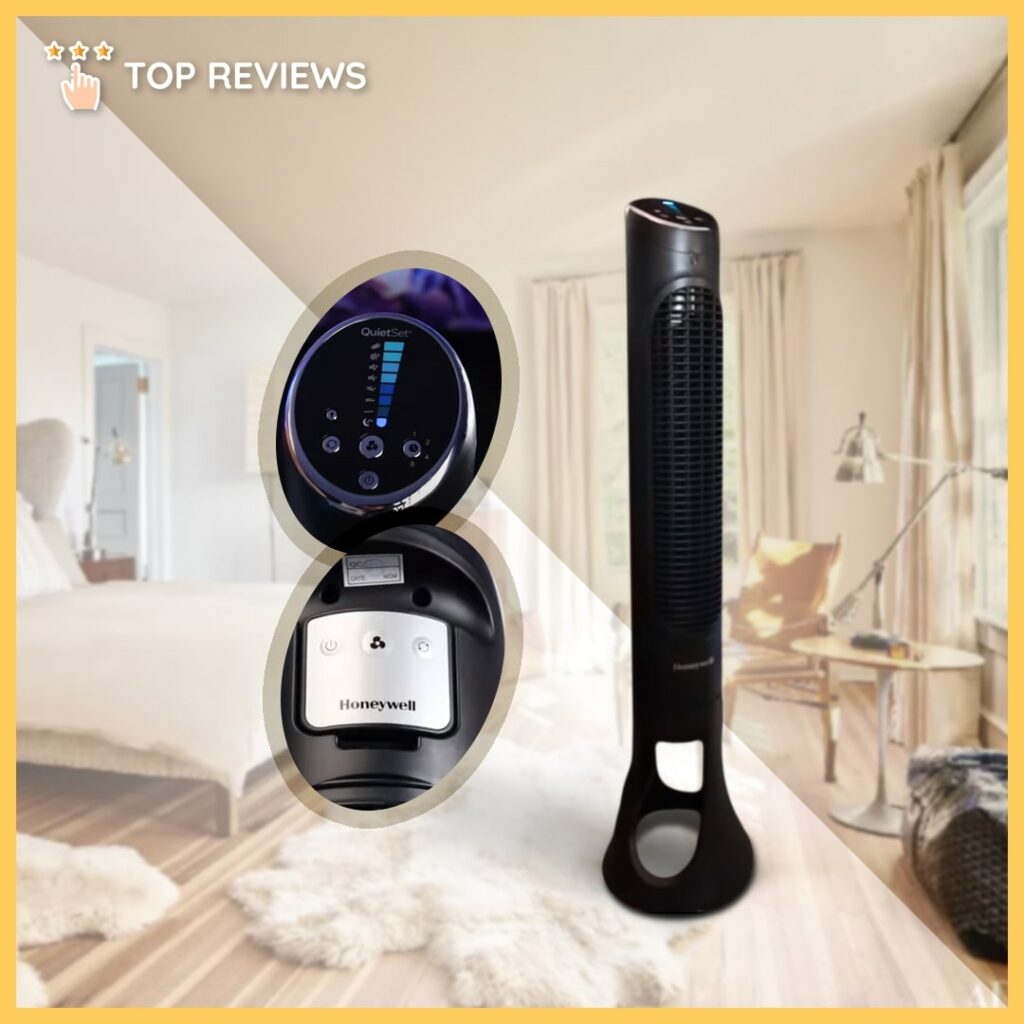 Price: NZ$101
Another tower fan in nz you might like is the super-slim Honeywell HYF290B. It's all about personalisation, as you can adjust its settings in various ways to ensure your comfort.
This tower fan offers no fewer than 8 speed settings to choose from. At each level, the noise level differs in intensity too.
The integrated timer is at 1,2,4, and 8-hour increments and the light is also dimmable, to prevent it from interrupting your sleep. It's a great idea to take advantage of these features, as they can help you save on utility costs.
The best part is of course the remote control, which lets you operate it whilst doing the laundry or writing an email. It can be docked at the top of the fan.
The whole appliance is housed in a jet black plastic frame with a chrome accent near the controls. The holed areas on its base are used for convenient carrying.
Overall if you want something sleek and a tower fan in nz controlled by a remote, then this Honeywell model could be the best cooling fan in NZ for you.
Highlights
8 speed settings
Powerful airflow for medium and large spaces
Ultra-slim frame makes it convenient
Timer and dimmer LED functions
Customer Review
From the review scores on Amazon, Honeywell obtained a very good 4 out of 5 stars. However, some have complained that the top speed setting is still weak for their tastes.
On the other hand, people noted the white noise of the fan to be a good feature. One reviewer said:
"I love the settings on this fan. They aren't simply 1,2,3 and oscillate. It even has a timer if you want to fall asleep with a nice breeze. I like the white noise setting but all settings apart from the top power setting are very quiet. Even when I am six feet away sitting on my couch I can easily feel the breeze on a lower setting. Also the assembly takes maybe 3 minutes, it's super easy."
6. Lasko B20200 Desk Box Fan
Cheapest Desk Fan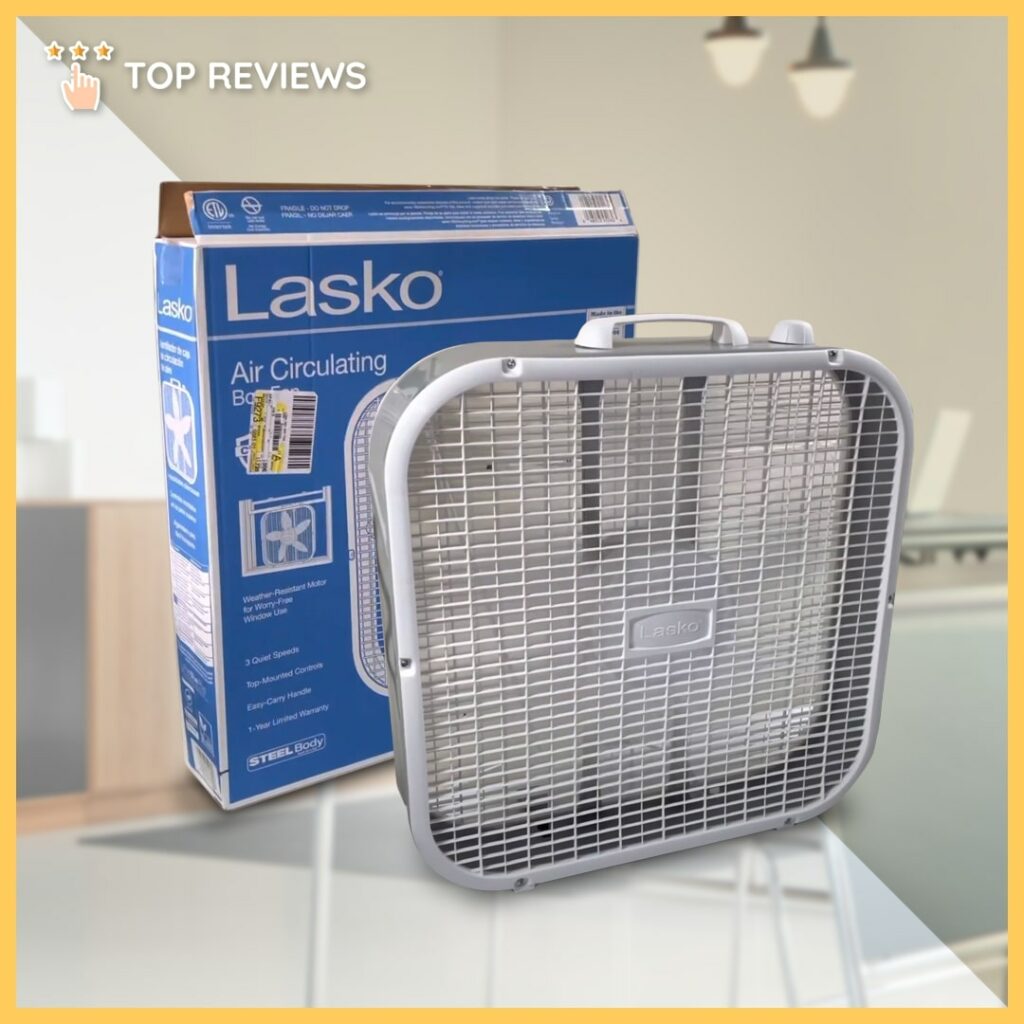 Price: NZ$52
If you're looking for a Lasko fan in NZ that's affordable and portable, then this is perfect for you.
The Lasko B20200 Desk Box Fan is designed in a way that is caged inside a squared steel frame, with efficient 20" blades. It also has a carry handle, white-clean finish, and a safety blue plug.
The fan's dial lets you adjust between 3 speed settings. You'll find it right at the top of the fan.
Dimensions are 21.5 L x 4.44 W, 22.56" H, which makes it a nicely tidy full-size desk box fan. This can be used not just on your desk, at this size, but also in your bedroom or the hallway.
The steel frame also gives it a nice durability and protection from bumps and scratches. But since it's white, grime and dirty handprints can show unless you clean it with a soft cloth.
Last but not least, it is ETL-listed, which means that it went through rigorous quality tests and complies with the industry standards. This may be small but in terms of performance, this portable little fan can be one of the best cooling fans in NZ.
Highlights
Steel frames that give durability
3 speed settings, adjustable by dial
White color is home-decor-friendly
Grill can be removed for cleaning
Customer Review
This got 4.1 out of 5 stars on Walmart. Though it isn't as strong as some other fans, it is fairly durable and lasts more than a few years, besides also being to carry or move around than most of them.
Let's see the review by SheSul of our no. 6 best cooling fans in New Zealand:
"For the low price of this fan it is amazing how strong it is! We bought a different brand at another store for about a dollar cheaper, and you could hardly feel the air on HIGH! We own three Lasko fans, one of which we have has for 5+ years, still going strong!"
7. Vornado VFan Sr Vintage Air Circulator
Best in Retro Design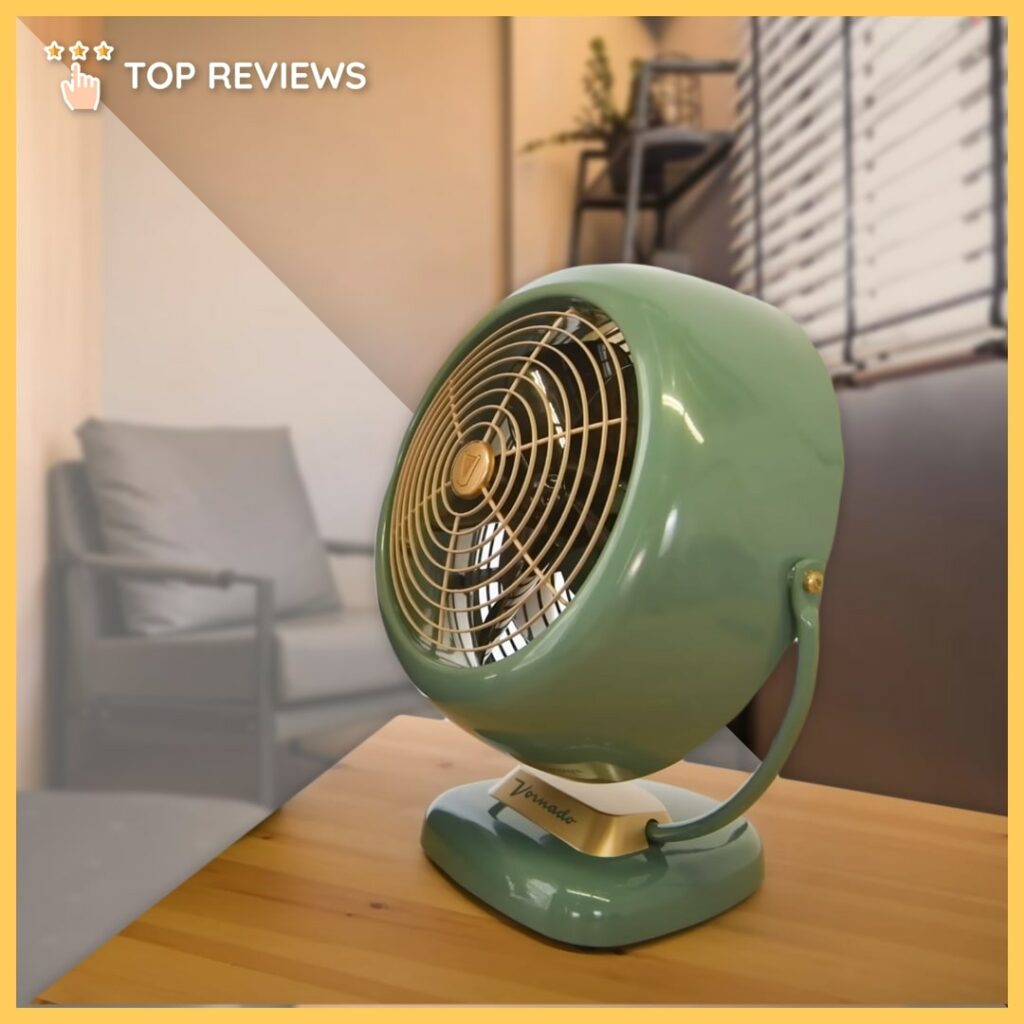 Price: NZ$440
This is the one to choose if you want a great-looking fan that imparts a classic 40's look. It also comes with Vornado's signature Vortex Action.
The highest setting is super-fast, great for streaming air across a large room. The first or lightest setting, on the other hand, is gentle and relaxing.
Though it has no oscillating features, the head of the fan is adjustable with the help of the pivot attachment. If you want more height, you can set it from 42-55".
Its unique design makes it a great conversation piece, so you shouldn't be ashamed to display it in your living room. It's also built with a stable base, so you don't have to worry about kids or big pets knocking it over.
What's more, it has a doubt-breaking 5-year warranty period. That's always a good thing in a product, as it tells you the manufacturer is willing to stand behind their assertions of quality.
If you want something that blends perfectly with an old world aesthetic but does not fall short in cooling power, then this could be the best cooling fan in NZ for you.
Highlights
3 speed settings to suit your needs
5-year warranty to be on the safe side
Nice vintage look
Customer Reviews
Bagging an excellent score of 4.7 out of 5 stars, Vornado has been well-received because of its attractive and sturdy design. Its powerful circulation and quietness are also praised by owners.
Let's read the review written by Cmagnis. Oh and note the manual indicating what position to set your fan on different seasons:
"This is the best fan on the market and I couldn't be more satisfied with it. The style is almost exactly the same as the original Vornado fans from the 1940s. This is a three speed fan. First speed is very soft and almost silent whereas third speed moves quite a lot of air and the fan is a bit loud. The second speed is the sweet spot. It moves a lot of air and has a pleasant hum. The only noticeable difference between this and the old 1940's Vornado fans are the blades. The newer model has plastic blades but the rest of the fan is metal and it's solid. The fan comes well packaged with a nice user manual which explains how the fan works and how to position it for each season. Assembly only took five minutes."
And that's it for the best cooling fans in NZ New Zealand! As we've seen, these fans are not only sleek but also high-performance—they'll cool your space and do it with a minimum of fuss.
Have you ever owned any one of them? If you have, we'd be happy to hear about your experience, so share them with us! And if you a cooling fan really isn't enough to cool you down in the sweltering heat, you'll want to check our list of portable air conditioners in NZ.
If you're here because you're trying to furnish a space, by the way, you can check out some of our other articles on appliances and furniture. For example, you might want to read the best sofa beds in New Zealand to complete your bedroom's furnishings.