8 Best Debt Collection Firms in Auckland
Having trouble collecting from some of your debtors? A good solution is to hire the best debt collection firms in Auckland, which we've listed here today.
Be they personal or business-scale debts, these companies can recover your money for you. It doesn't matter if the debtor tries to run — these companies will often track him down!
All of the companies below have very high and consistent success rates in collecting debt. Without any delay, we now show you the best debt collection firms in Auckland!
1)  Secure Collections & Investigations Ltd.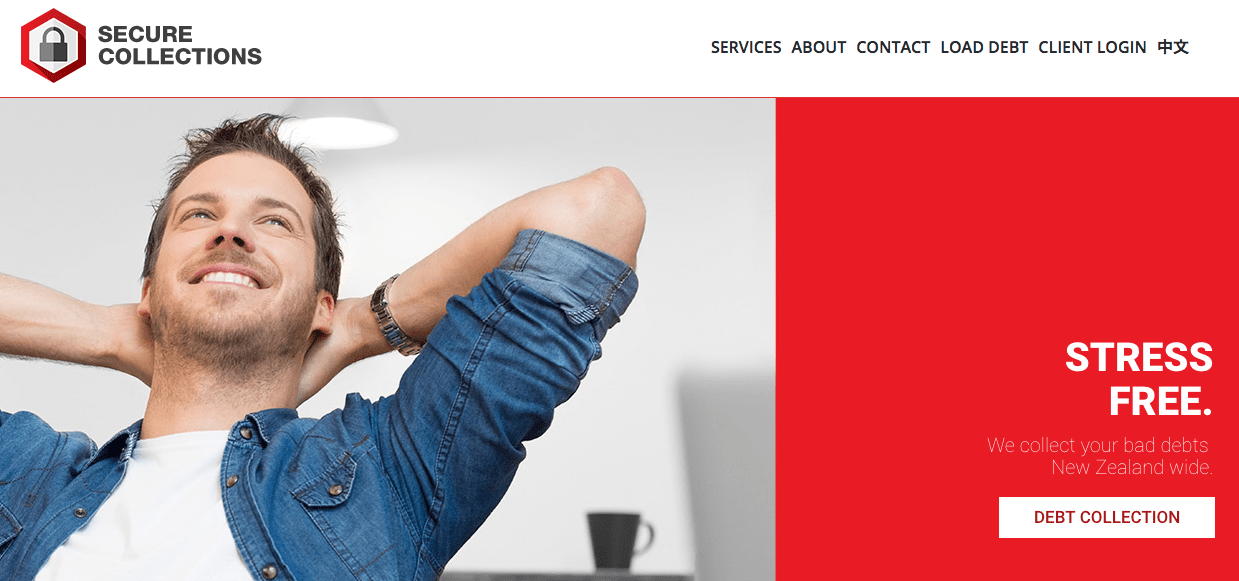 | | |
| --- | --- |
| Best for | Speedy Collection Process |
| Services | Debt Collection, Process Serving, Tracing, Enforcements of Judgments |
| Address | Newmarket Law Centre, Level 1, 19 Mauranui Avenue, Newmarket, Auckland 1149, New Zealand |
| Contact no | (09) 972 0034 |
| Website | https://securecollections.co.nz/ |
Debtors may be able to run but they certainly can't hide from Secure Collections. In the fastest way possible, you can expect that your money will be returned to you in full through Thomas and his team.
This is one of the best debt collection firms in Auckland for their seamless process and communication. You get real-time updates every step of the way via their online system.
If the debtor refuses to pay, they have no way out — they can be legally served by these debt collectors and risk becoming liquidated or bankrupted as a result.
Highlights
Super-fast and seamless process
Has a team of barristers and solicitors
Real-time updates
May take the issue to court
Can trace the debtor and his whereabouts
Customer Reviews
This company has a 5 star score out of 51 reviews on Google Reviews. Stephanie Foulsham writes a Google Review:
"Thomas has been fantastic in chasing our stray debtors. He gets straight onto the job, ensures the best action is taken and is persistent with those stubborn ones. He is and will continue to be our first port of call for any debt that we can't reign in. We appreciate his work, as well as his teams, and would definitely recommend him to anyone looking for someone to help chase overdue debt. Thanks again for all your help Thomas."
2)  Superior Credit Management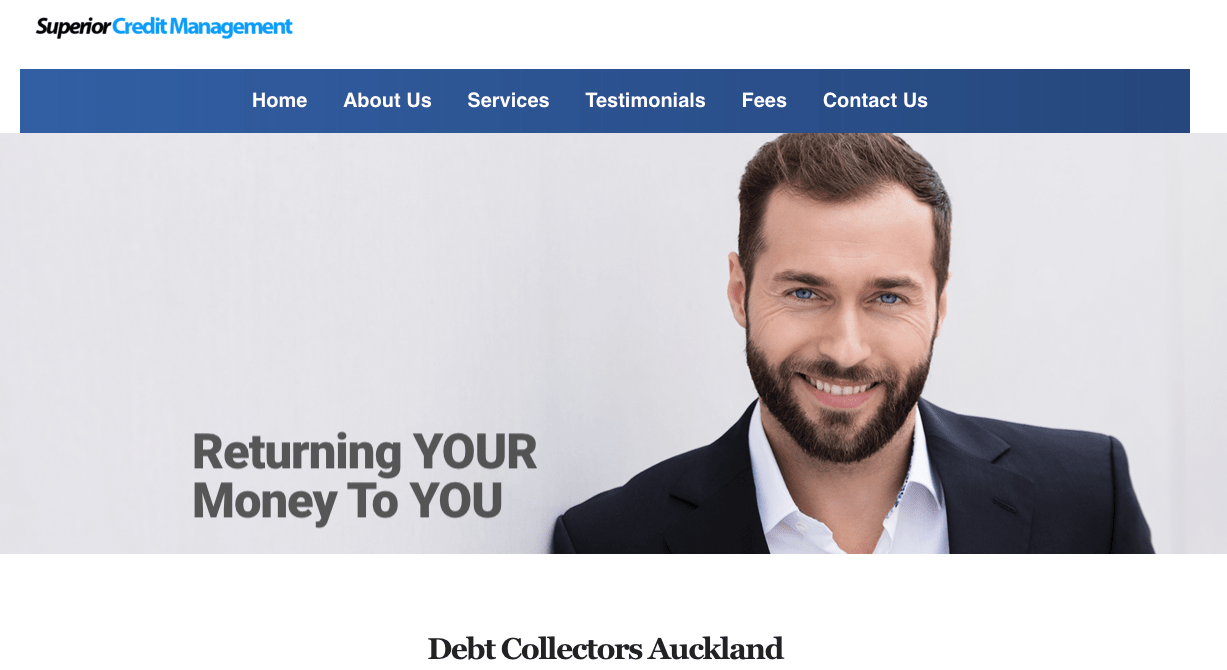 | | |
| --- | --- |
| Best for | Dedicated Client Service |
| Services | Debt Recovery, Credit Training, Tracing, Process Serving, Credit Searches and Checks, Contract Formation |
| Address | 89G Island Bay Rd Beach Haven, Auckland, New Zealand |
| Contact no | (09) 483 7243 or 027 227 9911 |
| Website | http://debtcollectorsauckland.co.nz/ |
At Superior Credit Management, your debt collection case is always a priority. The company prides itself on bringing a personal and no-stress approach to its wide range of clients.
They have built a reputation of collecting from the most reluctant debtors for more than 25 years. A credit agent will constantly do the follow-up with the debtor or settle the matter legally.
Their aim is to keep your costs at a minimum through the entire process. That's why you can say that this agency is one of the best debt collection firms in Auckland.
Highlights
Hassle-free and dedicated approach
Has credit agents all over the country
More than 25 years debt collecting
Reasonable prices
Customer Reviews 
Victoria victoria commented from Google Business:
"Fantastic collection company. Has managed to collect every debt we have loaded and collected all of our costs as well so it has cost us next to nothing! Easy to deal with, quick and very professional."
3)  Slater Byrne Recoveries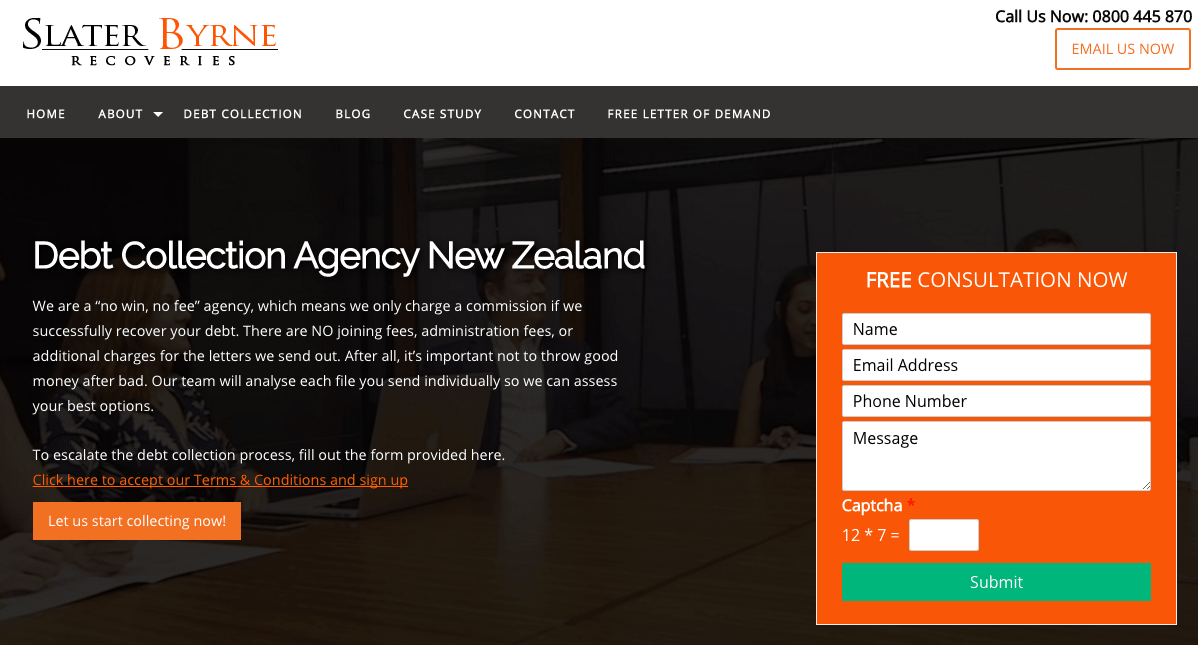 | | |
| --- | --- |
| Best for | Easy Communication |
| Services | Debt Collection, Debt Advice, Credit Consultancy, Deed of Settlement, and Business Strategy |
| Address | 6 Clayton Street, Newmarket, Auckland 1023, New Zealand |
| Contact no | 0800 445 870 |
| Website | https://www.slaterbyrne.co.nz/ |
Slater Byrne is a debt collection company in Auckland that has been outperforming the competition. Its branches are located in Auckland, Melbourne, Sydney, and Brisbane.
The staff's income comes only when they succeed in securing the owed money from debtors. This gives them a motivation and competence that also explains their high success rate.
Furthermore, their team is very pleasant to deal with, straightforward, and very skilful. They have worked with a variety of companies and individuals that have made them all better at what they do.
Highlights
Incredible success rate
No win, no fee policy
Talented and kind team
Also offers consultancy services
Customer Reviews
Irfan Mahboob's review is from Trustpilot with 267 reviewers rating Slater Byrne a superb 5 stars. It reads: 
"Annabelle and Ashleigh were such a pleasure to deal with from the start. Straight to the point, effective in a very pleasing manner.
Definitely recommend Slater Byrne Recoveries to anyone interested in debt collecting services."
4)  iCollect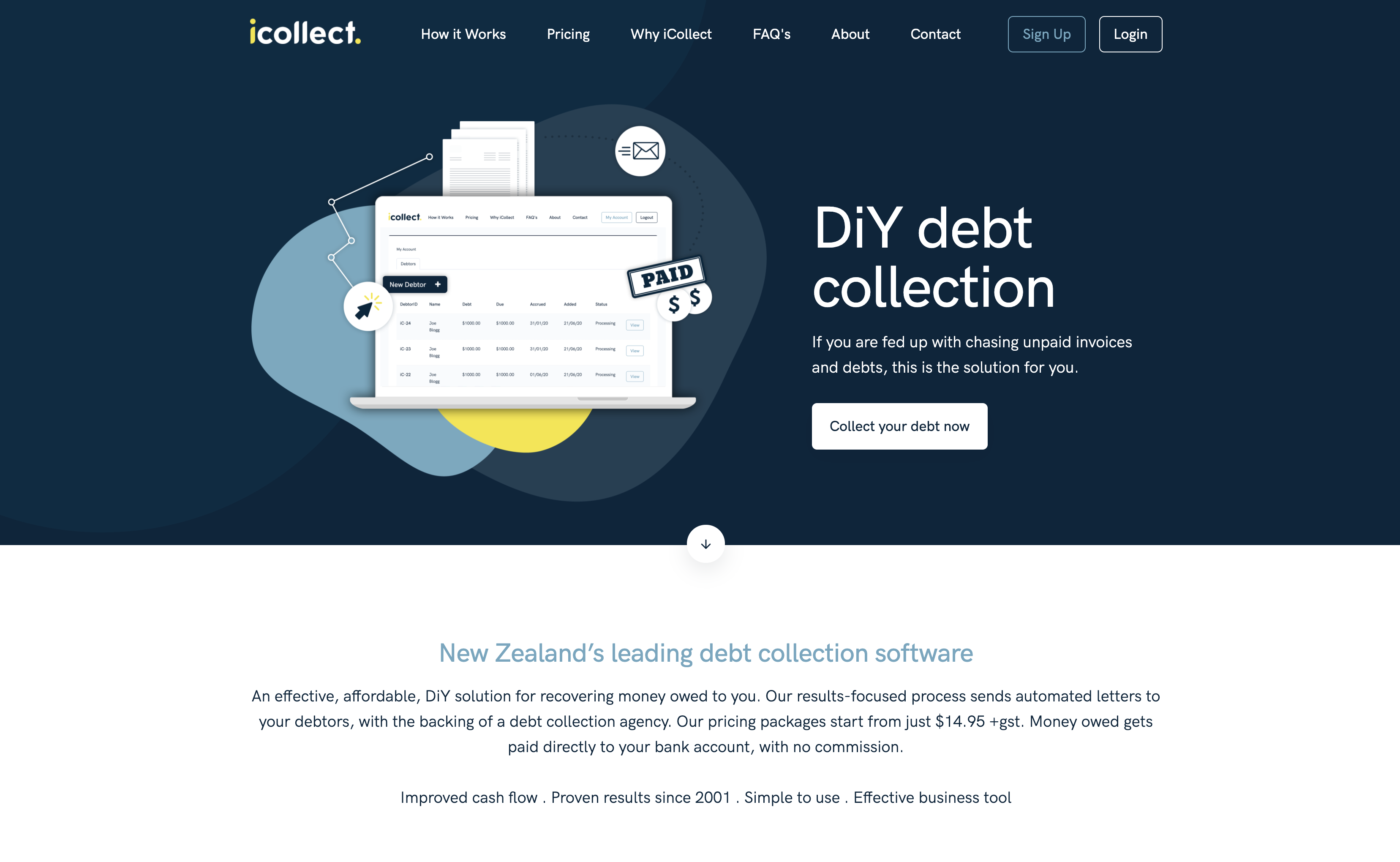 | | |
| --- | --- |
| Best for | Small Business Debt Recovery |
| Services | Debt Collection and Credit Management |
| Address | Auckland, New Zealand |
| Contact no | +64 800 738 853 |
| Website | https://www.icollect.co.nz/ |
There is an ingenious way to reduce your bad debts — and it's through the iCollect cloud software. It's an easy-to-use debt collection platform where your clients or debtors can pay up when they have to.
All you have to do is input the debtor's name, address, and amount of debt and that's it. iCollect does not normally take commissions, except when they have to collect the debt for you.
It packs a punch in its success rate. This is a great tool to incorporate in your business to drastically cut down your accumulated debts.
Highlights
Simple-to-use debt collector application
Great success rates
Persuade your clients to pay through friendly iCollect letters
Get less bad debt on your statements
Customer Reviews
On Google Reviews, Shane Hartley commented:
"Absolutely brilliant debt recovery software. Chasing business debt was proving to be quite frustrating, so this debt recovery system has proved invaluable. A more affordable option than using an Auckland debt collection agency."
5)  C.I.A. Debt Recovery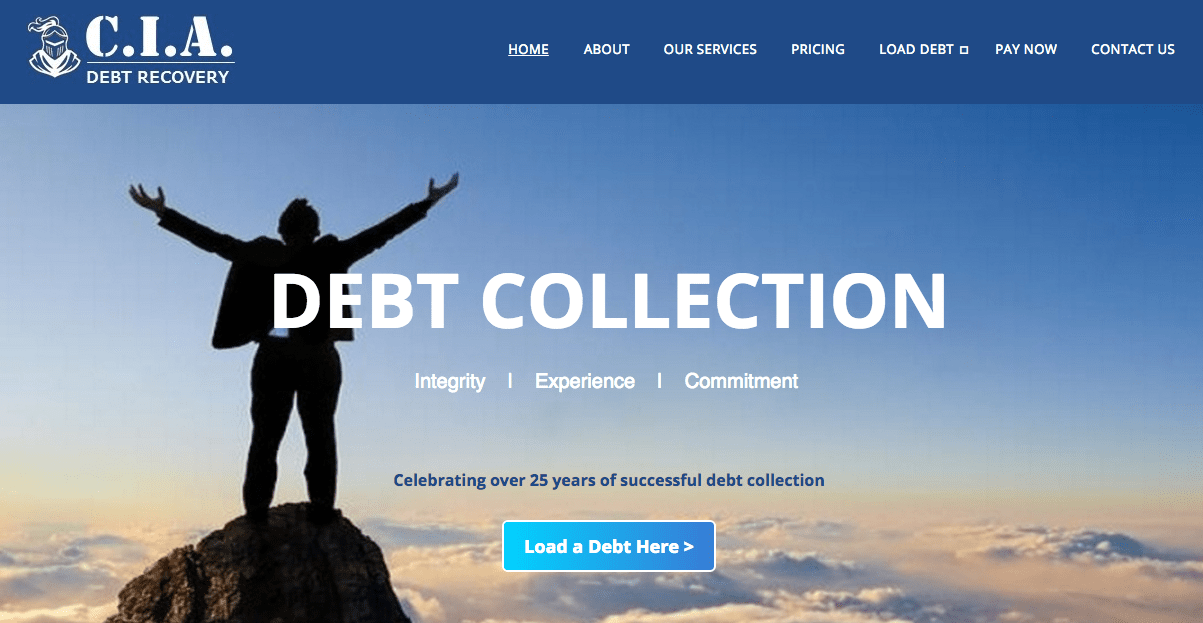 | | |
| --- | --- |
| Best for | Tenancy Debt Cases |
| Services | Debt Collection, Enforcement, and Tracing |
| Address | 61 Constellation Drive, Rosedale, Auckland 0632, New Zealand |
| Contact no | 0800 111 007 |
| Website | https://www.cia.nz/ |
CIA Debt Recovery offers a complete range of debt collection services for clients and corporations alike. Its specialty lies in the area of tenancy debt, such as in rent arrears.
Should the debtor try to escape from the premises, the experienced team can easily trace his location for collection. However, if he still doesn't pay, then the issue can be taken to court in order to resolve the matter.
For almost 30 years, they have racked up an extraordinary success rate — it can then be concluded that they are among the best debt collection firms in Auckland.
Highlights
Specialises in tenancy debt
Provides a breadth of services
Extraordinary collection win rates
27 years in the industry
Can take legal action
Customer Reviews 
Su-Lin Ong wasn't able to recover her money at first as her former landlord no-showed the proceeding. But after working with CIA Debt Recovery to resolve the issue, she concludes: 
"…We would like to express our appreciation to the team at CIA Debt Recovery for their expertise in handling our tenancy debt =D
We are pleased that the outcome resulted in every cent being fully recovered from our debtor and returned to us. We highly recommend their service!!"
6) Guardian Credit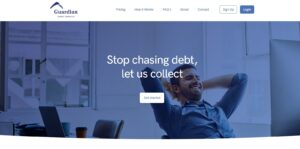 Guardian Credit begins with its 3-step processing. You start by signing up with their easy and convenient online registering process. Then you load your debtor and debt.
After these steps, Guardian Credit will take it from there by starting the debt collection process and will give full transparency when giving updates about plans or received payments.
On top of this, their credit service can also recover debts up to four years old! You'll be provided with great service and it's been proven with their experience of 25 years.
Highlights
Transparent pricing
Simple Process
Outstanding Results
7) Law Debt Collection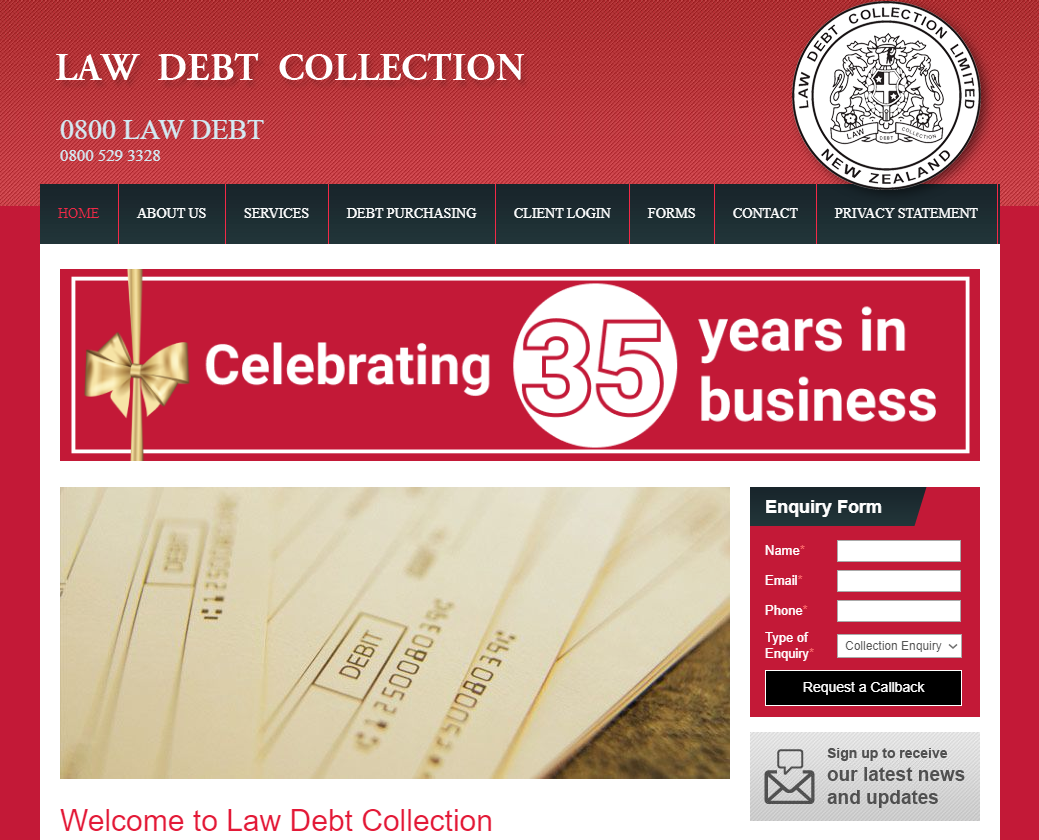 BEST FOR
Specialised recovery
SERVICES
Debt recovery, Dispute resolution, Legal and document services, Insolvency advisors, and Credit control services
ADDRESS
Auckland
CONTACT DETAILS
Telephone:
09 267 8999

Email:
[email protected]

WEBSITE
http://www.lawdebt.co.nz
Established in 1986, Law Debt Collection began as a small recovery agency. Over time, the business grew into a specialised recovery firm with four divisions: Insolvency, Commercial, Domestic, and Legal.
These divisions make it easy for the firm to address clients by needs. They also keep things organised, allowing the team at the firm to efficiently and quickly address any problems that are brought to them.
What we like the most about Law Debt Collection, however, isn't their organisation. Instead, the most noteworthy part about working with this firm is their "No Collection, No Commission" policy.
Now, this policy represents Law Debt Collection's drive for success. On the off-chance that their services don't succeed, clients need not worry about their money going to waste since Law Debt Collection won't charge them.
We should point out, though, that this rarely happens. Law Debt Collection is very diligent at their job, they have keen eyes and extensive knowledge on loans, allowing them to spot any "bad apples" for their clients.
Not only that, but the firm also has an in-house legal team, resulting in less expensive legal fees should the client need them.
Highlights
35 years in the business
Offers tracing, credit checks, and property and title checks
No hidden costs or membership fees
8) Debtworks

SERVICES 

Debt Collection

WEBSITE

http://debtworks.co.nz

 

ADDRESS

91 Central Park Drive, Henderson, Auckland 0610, New Zealand

CONTACT DETAILS

+64 9 834 0153

OPERATING HOURS

Monday 8 AM–8 PM

Tuesday 8 AM–8 PM

Wednesday 8 AM–8 PM

Thursday 8 AM–8 PM

Friday 8 AM–8 PM

Saturday 8 AM–12 PM

Sunday Closed
Debtworks' services revolve around providing efficient debt collection all throughout New Zealand. They understand that in order to maximize your profits, a debt-collecting approach must be adapted to your individual requirements. 
With this in mind, Debtworks has created an industry-leading approach to assist in achieving that desired conclusion.
They also recognize that a personalized procedure will only yield the best results when performed by qualified personnel. As a result, they place equal emphasis on who they hire as they do on what they do.
Debtworks is led by Bruce Cross and Leyden Tolhurst, two of New Zealand's top debt-collecting professionals. They provide substantial industry expertise, having held senior positions in publicly traded firms, industry organizations, and government committees in the collections sector.
Highlights
Old-fashioned personal service

Industry-leading knowledge

Experienced and dedicated team
And that's all for the best debt collection firms in Auckland. You can now close the debt issue you have with dishonest people and get what you're owed through these reliable companies.
Any questions about these featured debt collectors? Feel free to ask us by sending us a message and we'll get back to you in a jiffy.
Other than that, you can also check out the best private investigators in Auckland. Their agents can collect your debts as well and carry out investigative work to help you make great decisions in terms of your business, finance, and personal life.