The 6 Best Decking Auckland Professionals
Need a place where you can hang out on the weekends, contemplate, or grill some BBQ? If you said yes, perfect timing, as we are listing the best decking Auckland professionals right here.
We picked the ones that build decks to an exceptional standard. Along with this, we chose those with an experienced and prompt team, helpful customer service, and affordable prices.
Whether for DIY, renovation, or selling your house, they can help you. Now, without further delay, we bring you the best decking Auckland professionals!
1)  Ezy Deck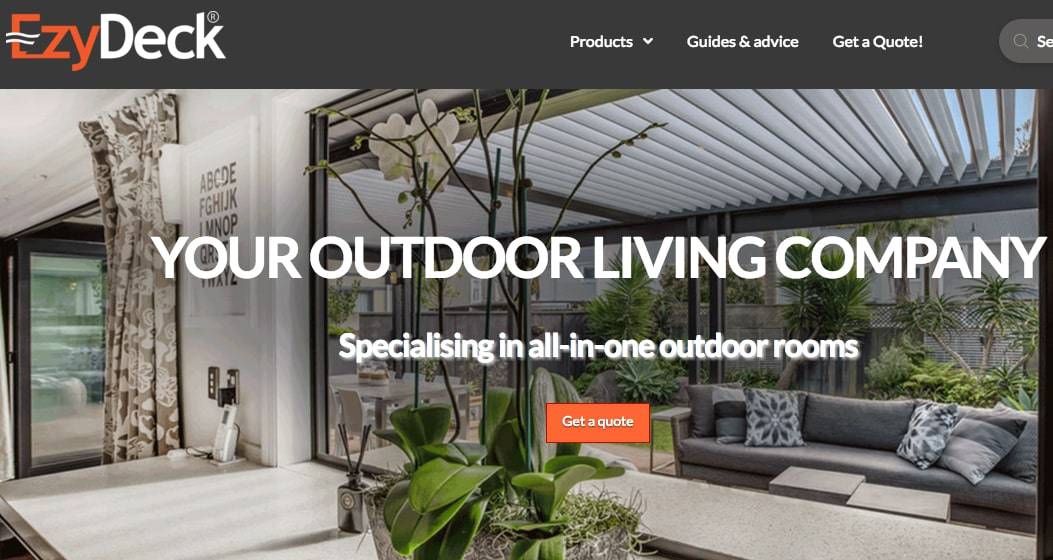 BEST FOR
Affordable Deck Building
SERVICES
Timber Decks

Pergolas & Louvres

Balustrades

Blinds & Screens

WEBSITE
https://www.ezydeck.co.nz/
ADDRESS
Unit 7, 65 Morrin Road, St Johns, Auckland, New Zealand
CONTACT DETAILS
09-527-0419
OPERATING HOURS
Monday to Friday: 9am – 4.30pm
Building the deck of your dreams with the complete package of pergolas, blinds or balustrades? For this, just give Ezy Deck a ring!
Since 1999, their licenced team has been building decks that will stand the test of time. They work with a range of materials including steel, aluminium and timber.
The process is "made Ezy" for you through their project management from start to finish. Furthermore, they stand behind all their work and products by offering great warranties.
Also, you can get a price lower than other deck builders without compromising the deck quality. Hence, they're some of the best decking Auckland professionals.
Highlights 
Builds decks that are built to last
One-stop shop for your outdoor living needs
Licenced Building Practitioners
Handles project management
Building decks since 1999
Affordable price tag
Customer Reviews 
One of their clients, Sidney Smith, commented on Facebook:
"-immediate response
-speedy start to the work
-efficient and polite builders, Sam and Calvin
-demolition and reconstruction completed in 6 days"
2)  Select Decking & Fencing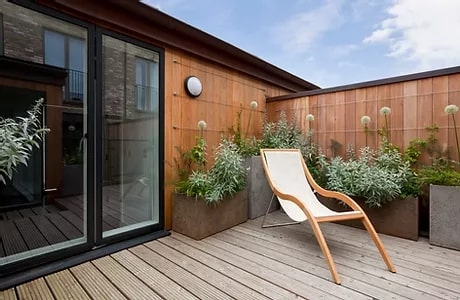 BEST FOR
Efficient and Reliable Deck Builders
SERVICES
Decks

Fences

Pergolas

Sheds

WEBSITE
https://www.selectdeckingandfencing.co.nz/
ADDRESS
Auckland, New Zealand
CONTACT DETAILS
021 253 5707
OPERATING HOURS
Monday to Sunday: 7am – 7pm
Select Decking & Fencing specialises in custom deck and fence building for clients in and around Auckland. They passionately work with you to bring your deck dreams to life.
Their focus is to provide top-quality work at competitive prices. They are amiable and efficient and can take on tricky and sophisticated jobs.
Your custom deck can be constructed up to 1.5m high or level with the ground. Whether grip-tread or smooth surface, kwila or pine wood, standard or thick board — you choose.
In addition, if you're looking for a deck repair service, the team at Select Decking and Fencing has you covered there too.
Highlights
Top-quality work at competitive prices
Custom built deck
Amiable and efficient contractors
Deck repair service available 
Customer Reviews 
One client, Richard Neunzerling, shared on Google Business:
"Mark and his team of builders were great to deal with and very professional. We had a tricky area to build a deck on they did a fantastic job, very happy with the workmanship too. We also got the team to build our fence and again very pleased with the out come. I will be using them for more projects later on and will be recommending as well."
3)  Futurewood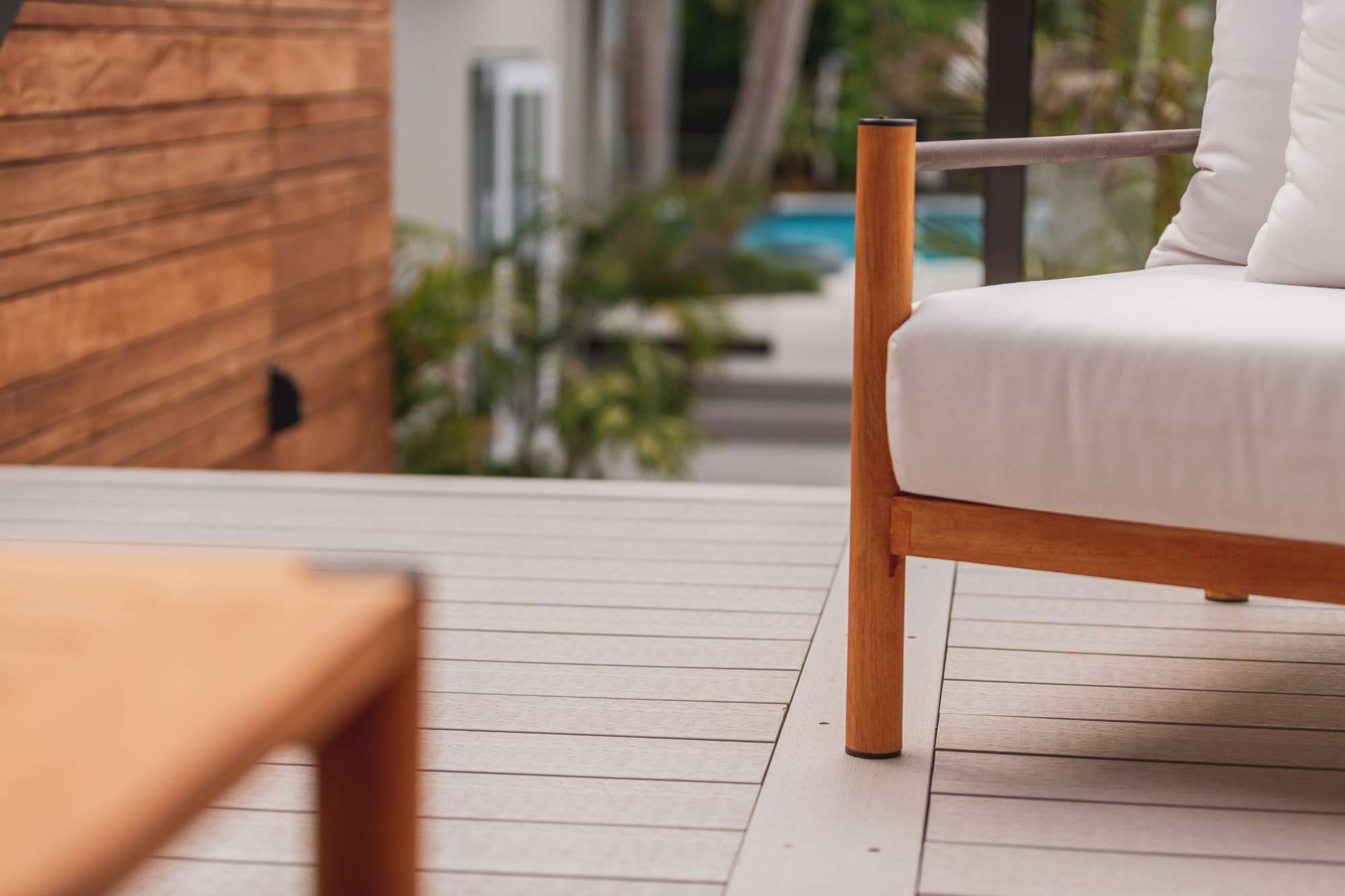 BEST FOR
Eco-Friendly Composite Decks
SERVICES
Decking

Cladding

Fencing

Pedestal & Ali Frame

WEBSITE
https://www.futurewood.nz/
ADDRESS
123 Diana Drive, Glenfield, North Shore City 0627, New Zealand
CONTACT DETAILS
+64 800 888 842
OPERATING HOURS
Monday to Friday: 8.30am – 4.30pm
Sick of your wooden deck splintering off or needing constant maintenance? We have a better idea — and it's an eco-friendly one — that can help you bypass those issues by using Futurewood composite decking.
Futurewood is a wonderful alternative to traditional timber decks. This comes in 6 designer colours, from traditional to contemporary, that cater to your personal style.
Furthermore, you don't have to sweep it very often or re-oil and re-stain it to perfection. It's also super-easy to install: you can just get the team to do it for you.
To top it off, a solid 15-year replacement guarantee comes with your Futurewood deck, ensuring you fully enjoy it for the years to come — What's not to love about it?
Highlights
Eco-friendly decking
Comes in 6 designer colours
Simple to install
Great installers
Solid 15-year replacement guarantee
Customer Reviews
Jill from Mt. Albert said on Google Business:
"We replaced our existing old deck with Futurewood. The difference was amazing! It's clean and we don't get splinters like the old kwila deck."
4)  Bakers-Builds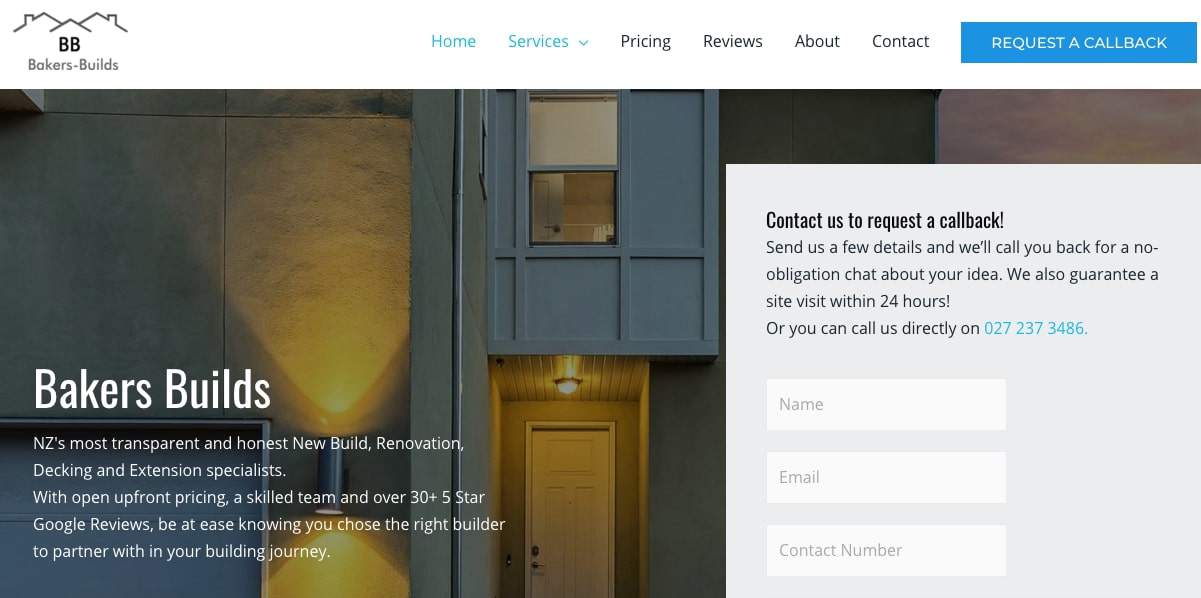 BEST FOR
Honest and Competent Deck Builders
SERVICES
New Builds

Decking

Renovations/Extensions

Home Maintenance

Light Commercial

WEBSITE
https://bakersbuilds.nz/
ADDRESS
7 Gunson Road, Mount Wellington, Auckland 1060, New Zealand
CONTACT DETAILS
+64 27 237 3486
OPERATING HOURS
Monday to Friday: 7.30am – 5pm
In any trade, working with someone you can trust is vital. With Bakers Builds, that's what you get: honest upfront prices so you shouldn't expect to pay more or extra.
Bakers Builds can create a stylish bespoke deck for you, whether it's for new builds, renovations, extensions, or maintenance — and they'll do it on budget and on time.
Licensed Builders, they are highly regarded among subcontractors, architects, builders and clients. Their quality service can be availed of at competitive rates.
Holding a perfect score on Google from 50+ reviewers, Bakers Builds just had to be included in the best decking Auckland professionals list!
Highlights
Competitive rates
Stylish bespoke deck
Licensed Building Practitioners
Transparent prices
Impeccable Google Business score
Customer Reviews 
On Google Business, one client, Elizabeth Wratislav, said this:
"It was a pleasure to work with Dave, Troy, Christine and crew. Super responsive from our first enquiry and great communication throughout the whole process. They were competitively priced and did a beautiful job on our deck extension."
5)  Backyard Solutions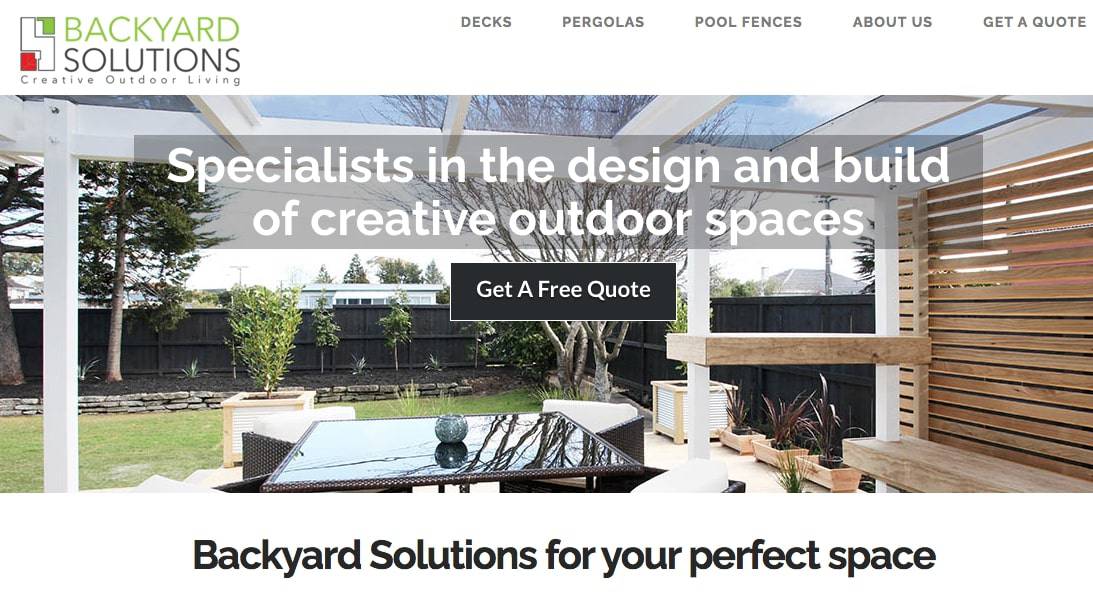 BEST FOR
Complete Decking Solutions
SERVICES
Decking

Pergolas & Gazebos

Pool Fences & Screens

WEBSITE
https://backyardsolutions.co.nz/
ADDRESS
145 Target Road, Totara Vale, Auckland 0629, New Zealand
CONTACT DETAILS
+64 9-449 1702
OPERATING HOURS
Monday: 7.30am – 12pm

Tuesday to Friday: 7.30am – 6pm

Saturday: 9am – 4pm

Sunday: 10am – 1pm
Planning to turn your outdoor space into a relaxing entertainment area? Well, you can relay your demands for that to Backyard Solutions, one of the best decking Auckland professionals.
Firstly, they provide a complete range of services including decking, pergolas and gazebos, as well as pool fences and screens.
Your decking can be either pine, hardwood, or composite depending on your particular needs. You can add bar leaners, privacy screens, stairs and railings, and seating too.
Using leading brands and supplies, you can rest assured of top-quality workmanship. How do you know this? Their work and products have a 5-year warranty on them!
Moreover, their builders have over 25 years of competence and know-how to realise the deck that you are envisioning.
Highlights
Premium workmanship
Myriad of options for your deck
Knowledgeable and skilled team
All work and products come with a 5-year warranty
Over 25 years of experience
Customer Reviews
On Google Business, Cole Hillman said:
"Professional and reliable at affordable prices. Will always find a solution to fit your needs and budget."
6) RHM Constructions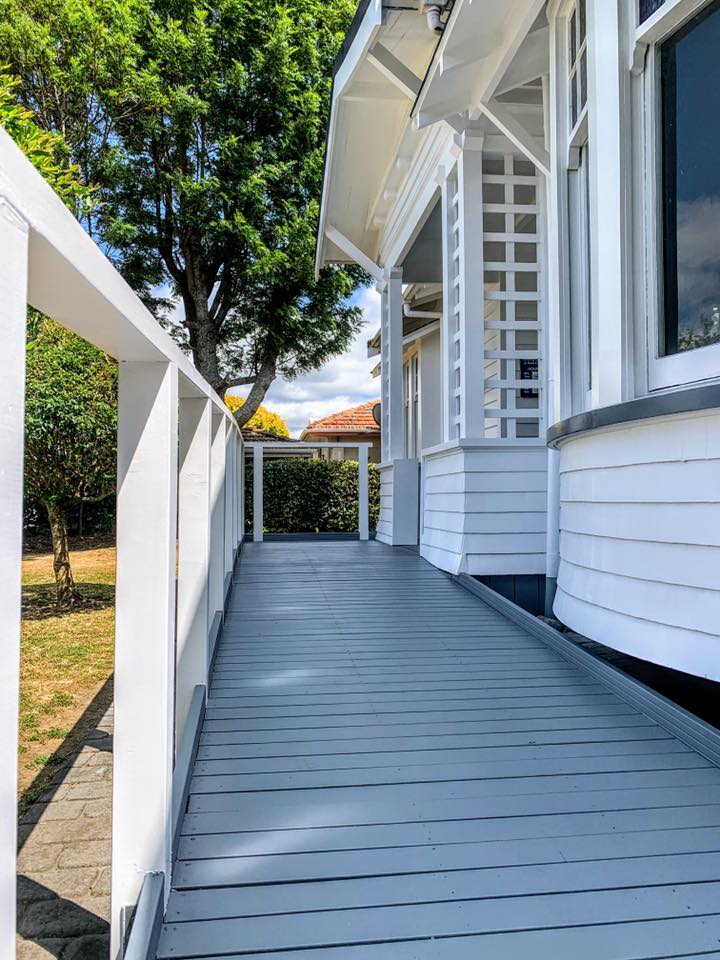 Located in West Auckland, RHM Constructions can create any style of decks good for residential and commercial places. They offer a wide array of different types of timber used to build your decks.
RHM Construction is concerned about the environment. They constantly think of ways to reuse and reduce their building waste.
Call RHM Construction, and experience an exceptional service of deck construction like no other!
Highlights
Eco-friendly builds
Competitive rates
Customer Reviews
Sathya Sai commended RHM Construction for their excellent job. See her comment below:
"RHM Construction has done major renovations for our organisations' building late last year and we, as an organisation, are very proud of his workmanship. Adding more to the work was his relationship with the people on site and no hidden cost. Additional cost was discussed before he carried the work. Recommend to anybody."
7) The Auckland Landscape Company
Best For
Stunning Landscape Designs
Services
Landscape Design
Decking
Garden Maintenance
Paving
Retaining Walls
Website
http://aucklandlandscaping.co.nz
Address
9a Spring Street, Onehunga, Auckland
Contact Details
0273498125
Operating Hours
Mon-Sat: 07:00 – 17:00
Next on our list is The Auckland Landscaping Company, an entry that we strongly recommend due to the quality of service it has to offer to all of its clients.
The Auckland Landscaping Company offers a wide range of services that work to improve one's property in terms of aesthetics, security, and longevity. These services include landscape design, decking, garden maintenance, paving, and retaining walls.
Now, the team at The Auckland Landscaping Company consists of young individuals whose imaginative minds and skilled hands allow the company to bring clients the best results.
They make use of quality and materials and equipment, and are professional and courteous to every client they take on. Their attention to detail is one of the best on this list, and they always make sure to deliver the service on time and in budget.
All in all, The Auckland Landscaping Company makes an excellent choice for those looking to spruce up their properties.
Highlights
Free 20-minute consultation
Excellent workmanship
Great attention to detail
Prompt and professional
Anyway, that'd be all for the best decking Auckland professionals. If you want durable and solid decks, as we've said, just call on these reliable contractors.
Have any questions, reactions or suggestions for us? Feel free to share them with us by dropping us a line and we'll get back to you shortly.
What's more, check out our other building or design lists. For instance, you can try the best hardwood flooring Auckland services for classing up your house or lifestyle block.