The 11 Best Dehumidifiers in New Zealand
A damp home keeps you hot and irritated with your room walls prone to mould and mildew. That's why we have the best dehumidifiers in New Zealand if you are looking for one.
Due to the variable weather in New Zealand, you have to deal with differing humidity or moisture levels often. Fortunately, a good dehumidifier can do a lot to make your home cosier.
But, before we get to our product lineup of the best dehumidifiers, we'll delve into how much they cost to help you narrow down your choices and spend your money wisely.
How Much Does a Dehumidifier Cost in NZ?
Dehumidifiers cost around $150 to $2,000 in New Zealand. But you can expect a reliable quality for products starting at $400.
Generally, refrigerant units are cheaper to buy and more common than desiccant models.
Like with all products, the most expensive product doesn't always mean that it's the best around. You would have to gauge its different variables, including the price, of course.
If you want the best price, you have to look around different online shops, but make sure they are reputable. We'll help you do that with our recommended products here.
And, you should also see whether the seller offers a warranty so in case the product doesn't perform as expected, it can be replaced for free.
The Best Dehumidifiers in New Zealand
Now that you know how much you have to set aside for a dehumidifier, let's now see the best dehumidifiers in New Zealand!
1) Philips 2-in-1 Air Dehumidifier (DE5205/70)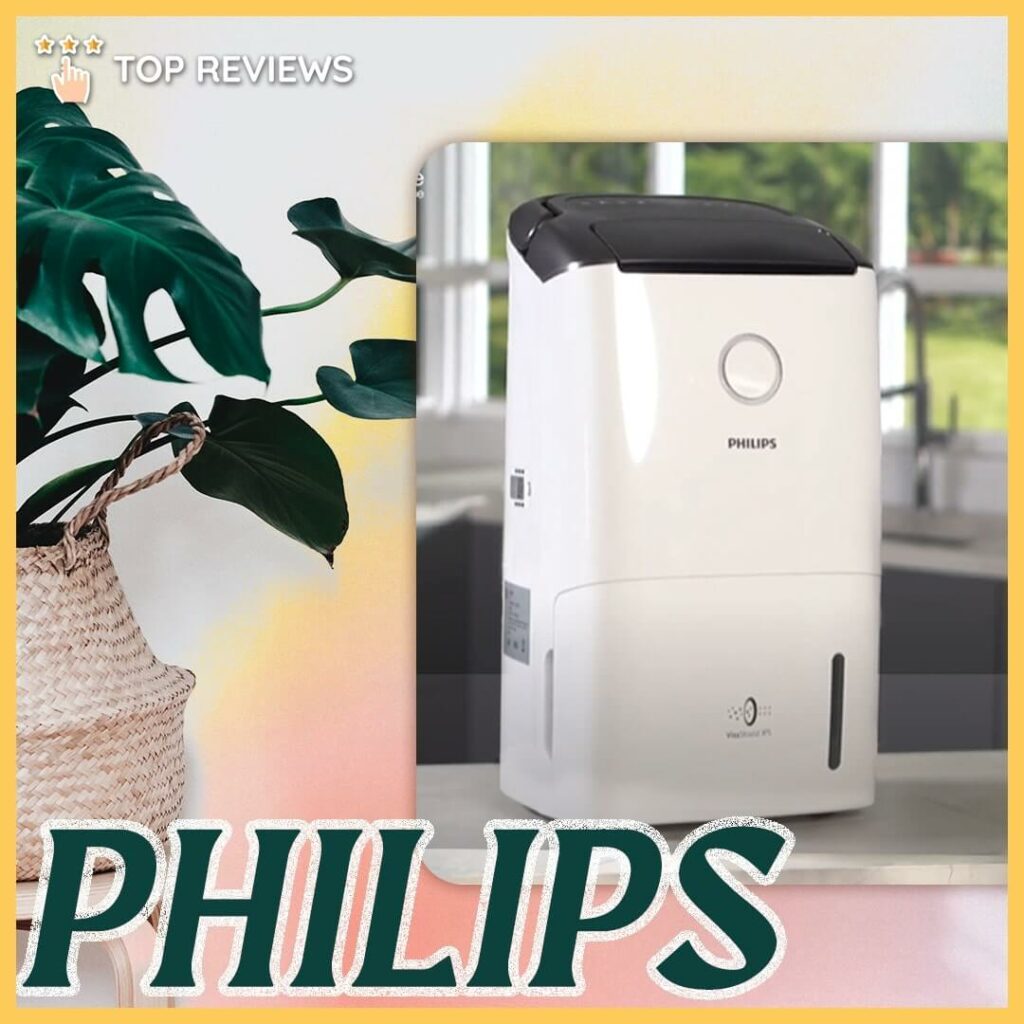 | | |
| --- | --- |
| Dehumidifying rate | 25 litres/day |
| Capacity | 4 litres |
| Noise | 52.9 dB |
| Product Size | 34.3 × 31.8 × 61.7 cm (L x W x H) |
| Weight | 14 kg |
| Price | $1,130.13 |
The Philips DE5205/70 dehumidifier can keep your home air healthy and clean throughout the year.
It dehumidifies 25 L of moisture per day in small to medium rooms. Since the water tank is just 4 L, you will have to empty the tank more often compared to other models.
It also doubles up as a purifier, making it easy to dry wet clothing, as well as get rid of dust and allergens.
The VitaShield purifying system can purify ultra-fine particles as small as 0.02 microns. This makes it perfect for a family member with asthma, allergies, and bad coughs.
What we like about it is the sleek controls atop the unit, displaying the humidity level and the ring light, which changes colours based on how clean or dirty your room's air is.
Aside from that, it will alert you if the water tank is empty or if your filter is covered in dust and dirt — in which case, it won't turn on to ensure only clean air for everyone at home.
This appliance indeed has a high price point, but if you're willing to spend that much, you'll benefit a lot from its performance, ease of use, and smart features.
Absorbs 25 L of moisture a day
5 fan speed options
Sleek and compact frame
Grade-A energy efficiency
Small capacity
Takes up more space
Customer Reviews
For most people, this dehumidifier has been a boon to their homes. It made the air purer, clearer, and healthier for them.
As part of a promotion, one user, Jiannyuh mentioned in his review:
"Tried the dehumidifying function. Almost half a tank was filled up each night. It's effective judging from th amount of collected water."
Anniecookie also reviewed the Philips dehumidifier. Her only complaint is that the dehumidifier could be a size smaller."
However, she said in her review:
"I am fairly impressed with its simple-to-use functionality with clear instructions. So far, the air is quite pleasantly free of doggies smell. For Dehumidifier function- As I tend to dry my clothes indoor, the dehumidifier play a part in clearing the air of the musky smell in the living room."
2) Ionmax Vienne Desiccant Dehumidifier (ION630)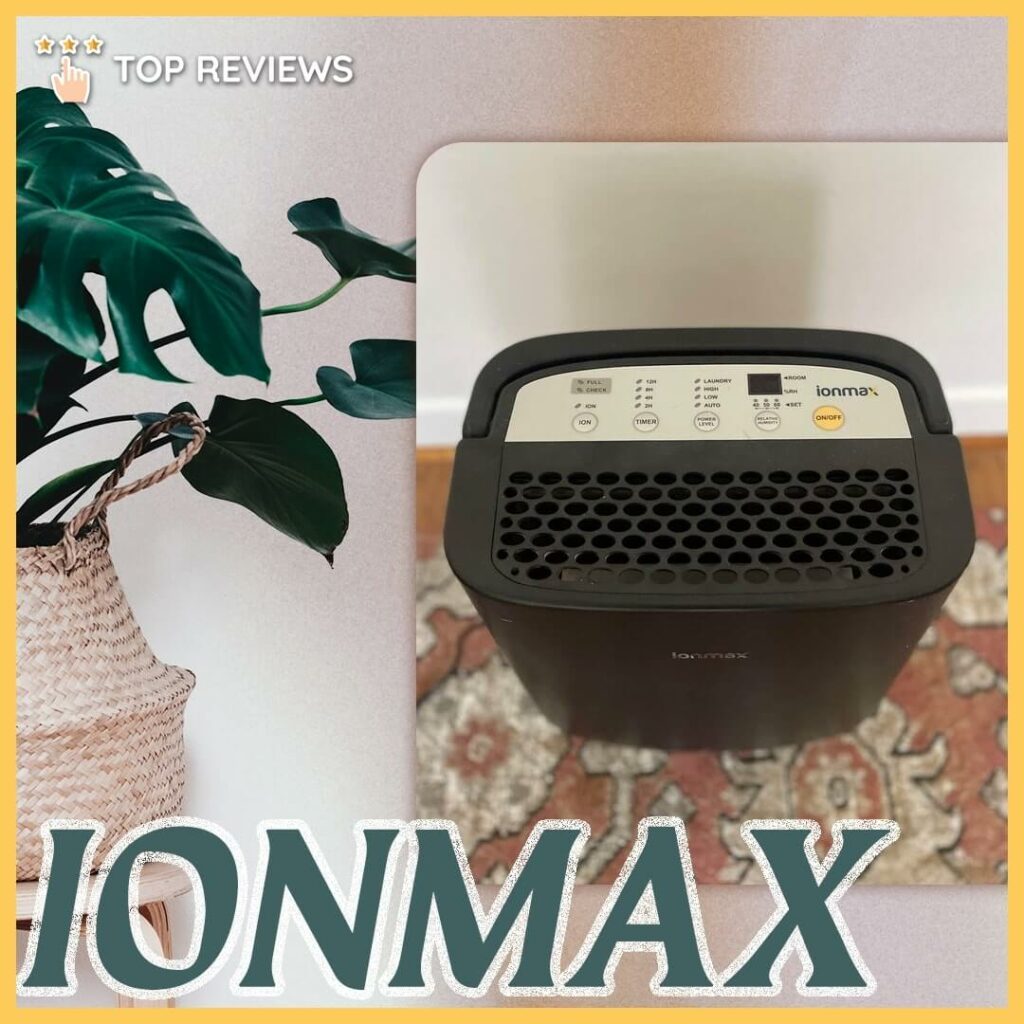 | | |
| --- | --- |
| Dehumidifying rate | 10 litres/day |
| Capacity | 4.2 litres |
| Noise | 35 – 46 dB |
| Product Size | 37.9 x 23.9 x 52 cm (W x D x H) |
| Weight | 8.5 kg |
| Price | $450 |
Being a desiccant model, this dehumidifier works outstandingly during cool seasons as opposed to refrigerant-type units.
Using a zeolite desiccant, it can function efficiently with minimal maintenance. You will only have to vacuum the air filter frequently, so it's ready to go again.
Though it only has 4.2 L capacity, it has the great benefit of continuous drainage in which a hose can be attached to the tank and the other end directed down the drain.
Ionmax Vienne has a stylish black design and graceful shape. Adding to it is a debossed water drop symbol denoting that the water tank is just behind it.
While only having basic features, it sells for an affordable price, runs silently between 35 and 46 dB, and can dehumidify spaces up to 42 square metres — so it's a great deal!
Great for medium to large rooms
Eco-friendly
4 power levels
Continuous drainage feature
3) De'Longhi Tasciugo AriaDry Pure Dehumidifier (DDSX220WF)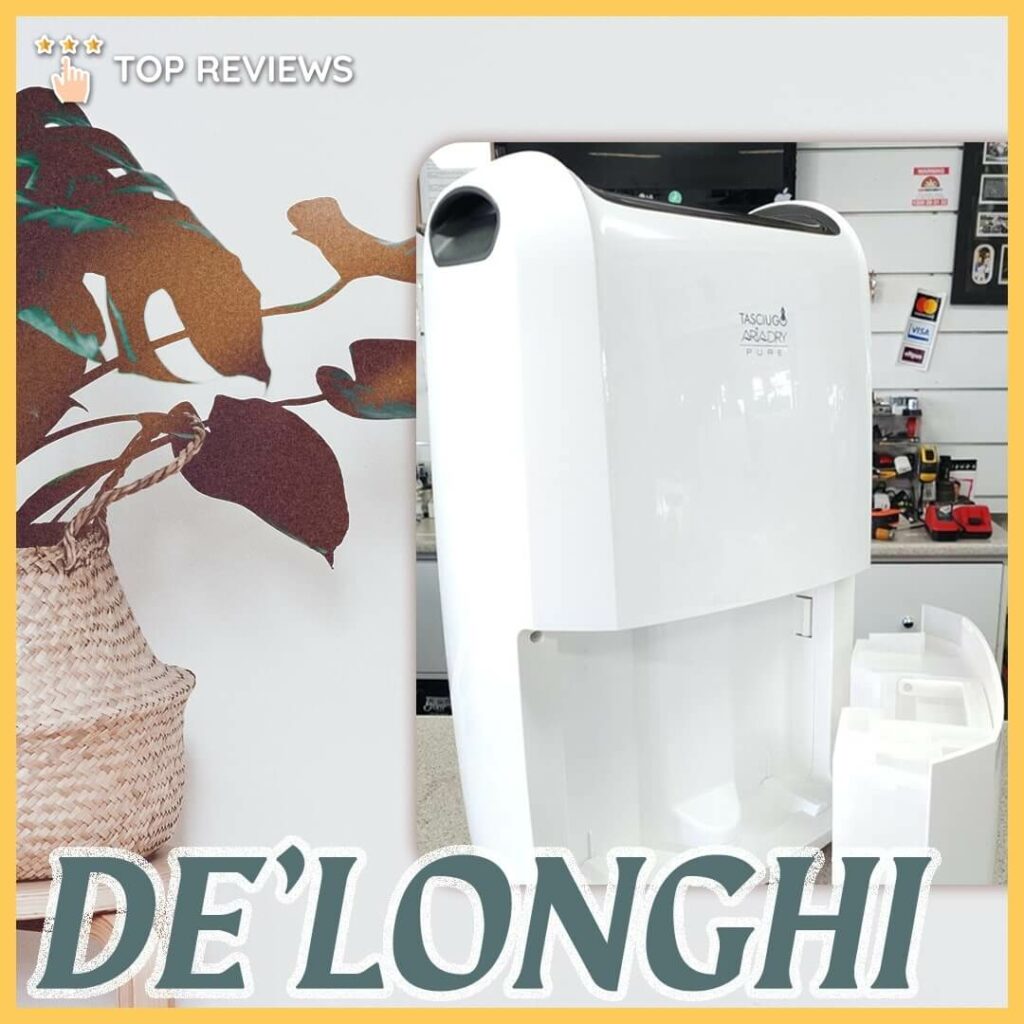 | | |
| --- | --- |
| Dehumidifying rate | 21 litres/day |
| Capacity | 5 litres |
| Noise | 44 dB |
| Product Size | 38.3 x 25.5 x 60 cm (W x D x H) |
| Weight | 13.5 kg |
| Price | $639.20 |
If you're a bit of a gadget lover who wants to keep the air clean and wholesome, you may like the DeLonghi Tasciugo AriaDry Pure Dehumidifier.
This dehumidifier has Wi-Fi capability, allowing you to monitor it through the app. With your phone, you can remotely turn the unit on or off or set it to run for the entire night.
This smart feature is something that other refrigerant units don't have. The drawback for this is a slight increase in price compared to them.
It's also well-designed with a slim form, elegant LCD panel, and round side holders. But for some people, its neutral grey colour can make their rooms look mundane.
In terms of performance, it's fairly reliable as it removes 21 L of moisture each day. Thanks to its carbon and dust filters, it removes lingering bacteria, viruses, and dank smells.
Made in Italy, De'Longhi has never ceased to amaze with their products' price and function. This AriaDry Pure Dehumidifier is one example of that.
Wi-Fi supported
Works via the AriaDry De'Longhi app
12-hour timer
Has caster wheels
Complaints about the unit's noise
4) Panasonic 17 L Dehumidifier (F-YCL17N)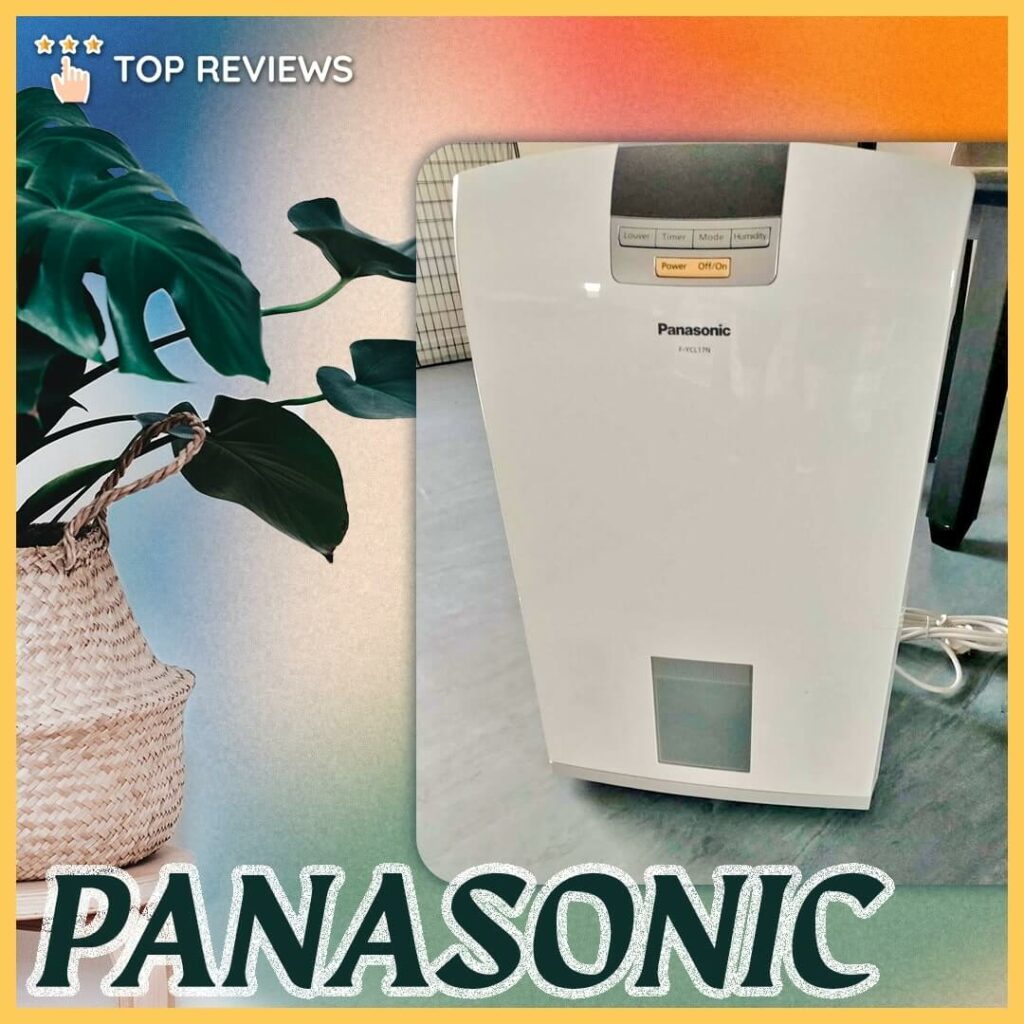 | | |
| --- | --- |
| Dehumidifying rate | 17 litres/day |
| Capacity | 4.8 litres |
| Noise | 42 – 44 dB |
| Product Size | 36 x 26 x 60.5 cm (W x D x H) |
| Weight | 14 kg |
| Price | $599.20 |
Though it may not have that many bells and whistles, Panasonic's FYCL17N dehumidifier has all the essentials covered.
It can remove the humidity in your room to stop mould, bacteria, and dust mites from wreaking havoc. It has a timer function that works for most people and it can also assist in drying your gear easier.
That said, the unit can't be controlled by touch but by just a few buttons. On top of that, its form factor looks like it came from several years ago.
It also has a fewer tank capacity but that won't matter because it's perpetually drainable. You just lay the hose over your basement or floor drain and let the unit do its work—no need to empty the tank.
This is almost the same size as the DeLonghi Tasciugo dehumidifier. This makes it excellent to place in your living room corner or roll it from room to room to dehumidify your kids' rooms.
An important feature it could have is the ECONAVI sensor. This smartly senses the people and sunlight around the unit and conserves its energy use accordingly, and can thus help lower your monthly power bills.
Despite its shortcomings, we reckon that the Panasonic 17 L dehumidifier is still one of the best dehumidifiers in New Zealand!
Quiet operation at 44 dB
8 L water tank
Timer feature
A bit noisy for some customers
Doesn't have the ECONAVI sensor
Customer Reviews
Although only a few people rated it online, it scored well on two NZ digital stores (Harvey Norman and Noel Leeming).
"Capt Hook" wrote this, even including a super short pro and con:
"very good product ,chosen by the canstar rating. doesn't use a lot of power but keeps atmosphere dry.
+low power usage
-wee bit noisy ,not too bad."
Furthermore, a Kiwi reviewer named Olsie explained:
"I brought this dehumidifier a couple of months ago and I really notice the difference. The house is drier and warmer. There's a timer feature that dehumidifies for 4 hours with the push off a button. It's a little noise, but not excessively loud. Big water container, which means less emptying. Overall I'm quite happy with it."
5) Mitsubishi Electric Oasis 16 L Dehumidifier (MJE16VX)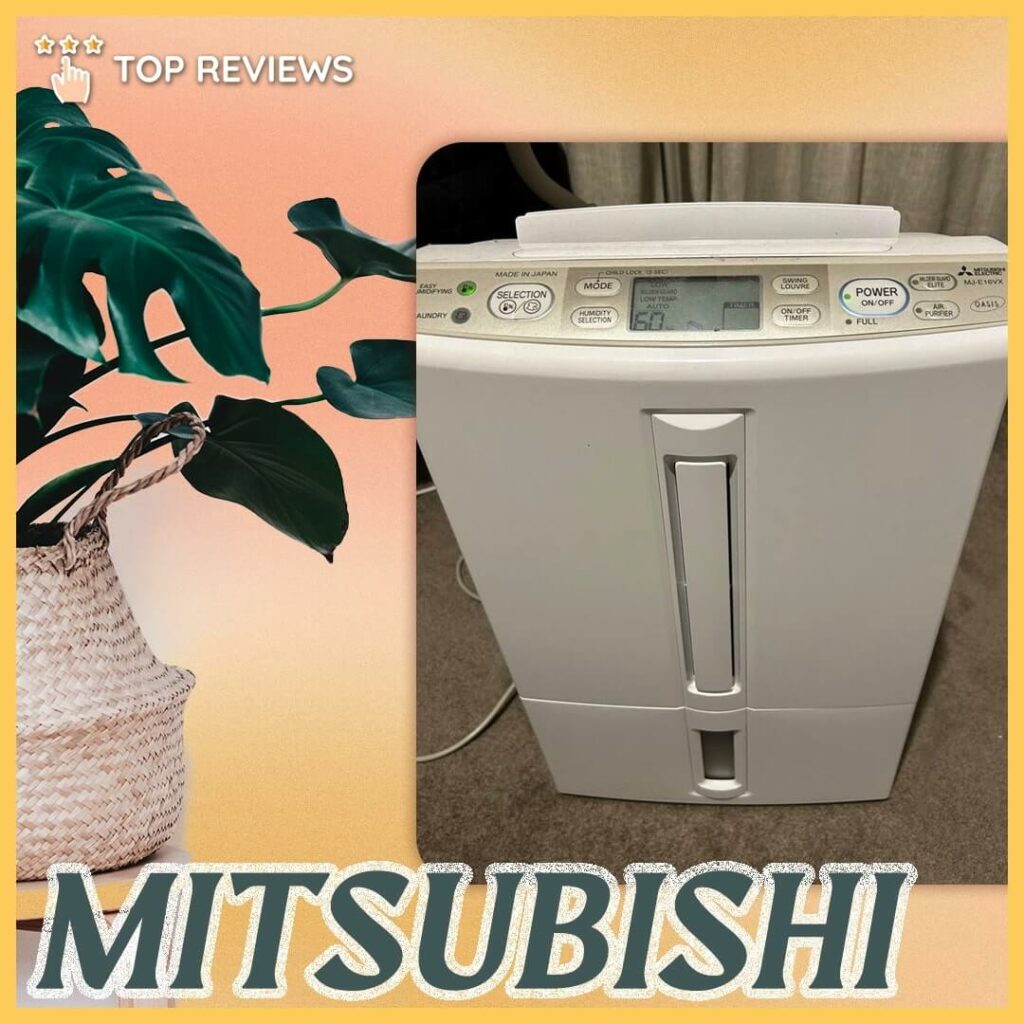 | | |
| --- | --- |
| Dehumidifying rate | 16 litres/day |
| Capacity | 4 litres |
| Noise | 37 dB |
| Product Size | 38.4 x 18.3 x 57 cm (W x D x H) |
| Weight | 11.7 kg |
| Price | $639.20 |
Lightweight and silent, the Mitsubishi Oasis 16 L Dehumidifier is hard to beat among the different products we've chosen here.
It can be placed along walls, under the window or in the bathroom. It can halt the growth of mould and mildew that might cause adverse health effects and property damage.
Moreover, it can work in extreme cold as low as 1 ℃ to be precise thanks to the hot gas defrost. Other compressor models freeze up or fail to operate in places under 15 ℃.
It can absorb less moisture, however, at just 16 L per day. Though its convenient size sacrifices the tank capacity a bit, it's an impressive device still!
And that doesn't end there. One client likes the Mitsubishi dehumidifier since it doubles for him as a tumble dryer for faster drying of clothes indoors.
You'll just only have to spend more on this thing. But other than that and with the reasons we've mentioned, it stands out as one of the best dehumidifiers in the country!
Washable air filter
Includes laundry mode
Timer with 1 to 9-hour increments
Very light at 11.7 kg
A bit pricey
Smaller tank capacity
Customer Reviews
This has a lot of positive reviews thanks to its ease of use (which we ourselves noted) and efficacy at dehumidifying spaces. Still, like most other products, it has its share of criticism too.
For example, a few said it could still be quieter, despite the 37 dB rating claimed on the Mitsubishi website.
Here's Sammy Joe's review of the 16 L dehumidifier:
"Having trawled through the internet I bought this for the reputation, the low decibels and the low wattage. It is excellant quality and so easy to use, fully automatic and very efficient at reducing the humidity, amazing how much water it extracts!"
Another review was shared by Mag:
"Ours has been runthemng from the day we bought it, in our cellar. We have linked it to a draining system, so do not need to empty it at all. Not one issue with it and the difference is amazing. I would most certainly recommend this unit."
6) Panasonic 33 L Dehumidifier (F-YWP33N)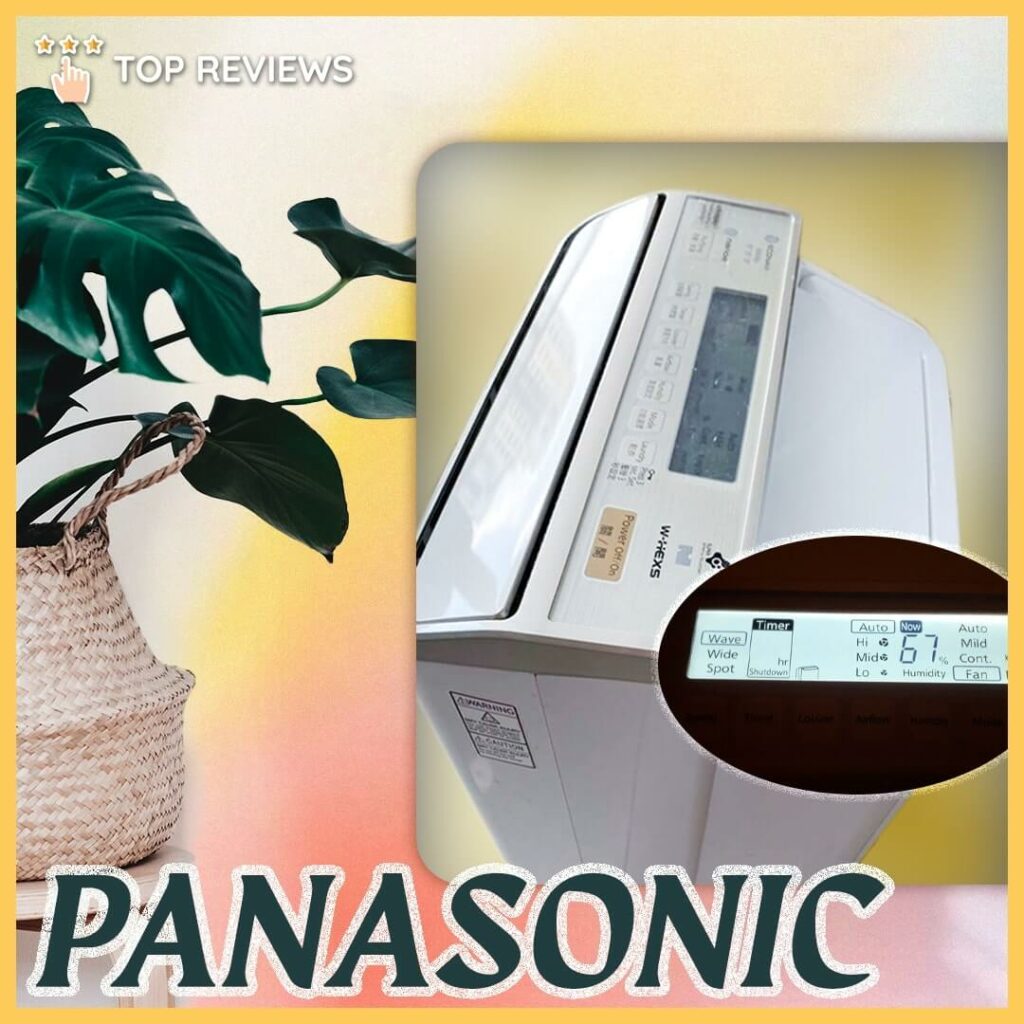 | | |
| --- | --- |
| Dehumidifying rate | 33 litres/day |
| Capacity | 5.2 litres |
| Noise | 43 – 52 dB |
| Product Size | 37 x 25 x 60.5 cm (W x D x H) |
| Weight | 18 kg |
| Price | $1,039.20 |
Do you need more moisture-removing firepower? Then pick this bad boy right here—the Panasonic 33-Litre Dehumidifier YWP33N.
When you turn this on, it will free the air of pollen, odours, and contaminants in your basement, living room, bathroom, or personal room. In fact, it's great to use in the regular NZ weather.
It offers its patented Nanoe purification system, which sends out invisible electrostatic particles to purify the air around you and get rid of transmissive bacteria and viruses.
You also don't have to worry about your electricity bills going up, thanks to its smart sensor. This detects the condition of your room and uses only the required energy to de-moisture your place.
Although this can be bulky, moving it won't be a problem with its smooth-rolling casters. It could be a tad noisier than the other dehumidifiers we've listed here, however.
Energy-saver sensor
Continuous drainage
Laundry mode
2/4/8 hour timer
Cannot operate below 14 degrees

Noisy operation
7) Black+Decker 24 L Dehumidifier (BDT50PWTB)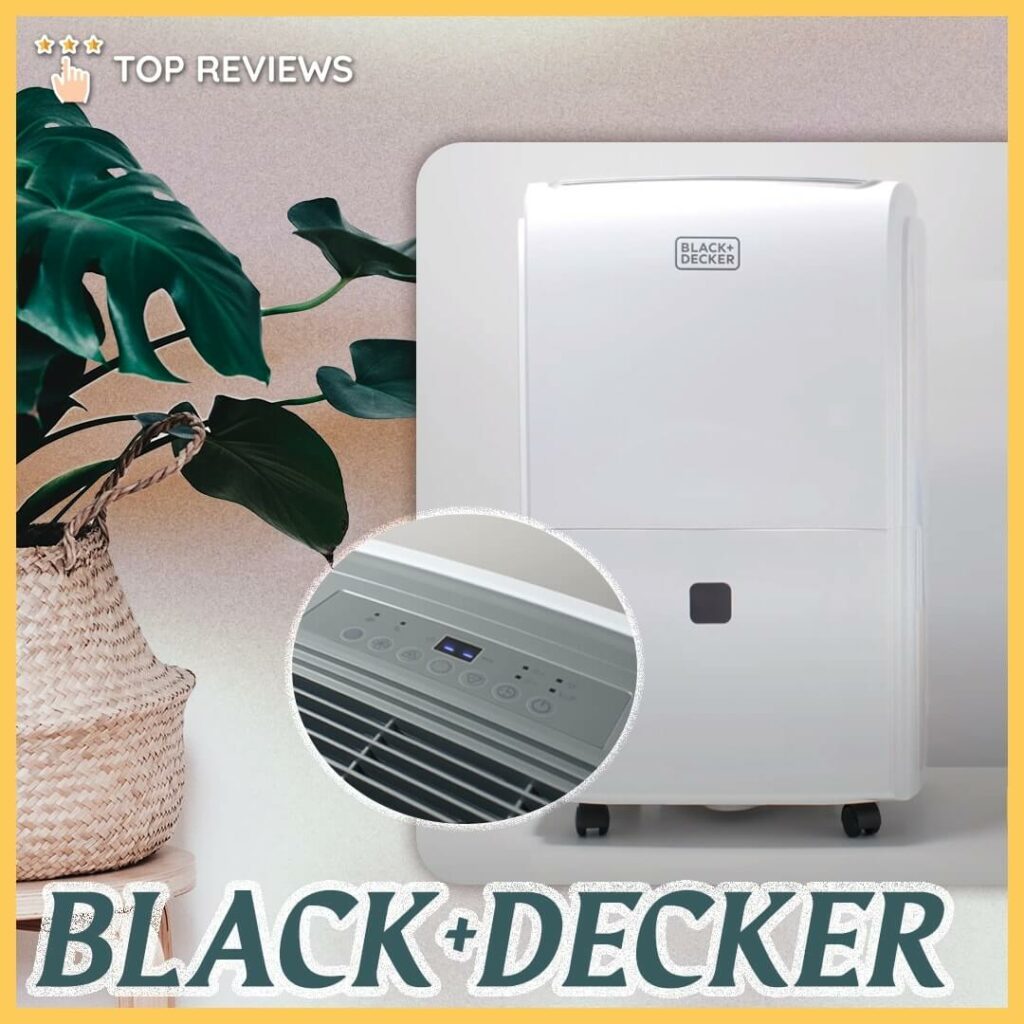 | | |
| --- | --- |
| Dehumidifying rate | 24 litres/day |
| Capacity | 6.77 litres |
| Product Size | 40.13 x 29.46 cm |
| Weight | 21.14 kg |
| Price | $555 |
The Black & Decker 24 L dehumidifier is a powerful model that's suited for use in homes, garages, cellars, offices, barrooms, campervans, and boats.
The brand is known for its sleek, often rounded appliances. The dehumidifier's recessed handles are unique in that they have open sides extending all the way down on the unit.
What sets it apart from the dehumidifiers featured here is its built-in pump and included drain hose that you can place out the window or up toward the washbasin.
Its drawback is its laden weight and larger footprint. However, it sort of makes up for it as it has a modern touch that can complement your home's aesthetic.
Because this is an older model, it is equipped with R410A. This has been shown to affect the environment, albeit small, compared to other refrigerants.
With a sleek design and incredible moisture absorption, this dehumidifier will cosy you and your family whenever your house is damp and musty! So we recommend it.
Built-in pump
Air-purifying filter
Can handle 35 to 80% humidity levels
Includes a 16.4 ft drain hose
Complaints about setting the humidity level and durability
Heavier than average
Uses R410A refrigerant
Customer Reviews
From more than a few reviews, this Black+Decker 50-pinter gets a 4 out of 5. Most were very pleased with its value-to-price ratio and ease of use.
However, one customer had an issue setting the level of humidity. Another said it stopped working for a month.
That said, such reviews were the minority. For example, Krystle Stolleis says:
"Love this super nice energy efficient dehumidifier! Great for a large 1500 sq fit area, we use it for our whole basement and it's perfect! It's on wheels and East and effective to room around from room to room or to empty out! Great rice for what you get and a great quality brand! Love the clear easy to read led display! Super easy to empty out and holds 8 pints of water before emptying so it's over all an awesome product in every way! Highly recommend!!"
Another user, Wea Wea, writes:
"There were no previous reviews on this unit on Amazon, so after a lot of research, I took a chance and bought it. And….I am very pleased with it. My house has 2 floors and near a lake, in a southern US state. Suffice it to say, it is hot and HUMID!!! Within 2 days of running this unit, the indoor humidity reached a desirable level. This unit is a workhorse!!!
Initially, I chose not to hook up the hose and use the pump, and for the first 2 days of use, I was constantly (every 6 hours) emptying out the water container. Everything works GREAT!!! I have decided to buy another unit, to not overload this unit.
Also, the unit is not too loud….the sound is like a central AC unit. You can hear it silently humming away. There are a couple drawbacks:"
The cons, Wea Wea continued, were that it emitted warm air and that the motor and fan were sometimes not in sync with each other when turned on.
8) Eva-Dry Petite Dehumidifier (EDV-1100)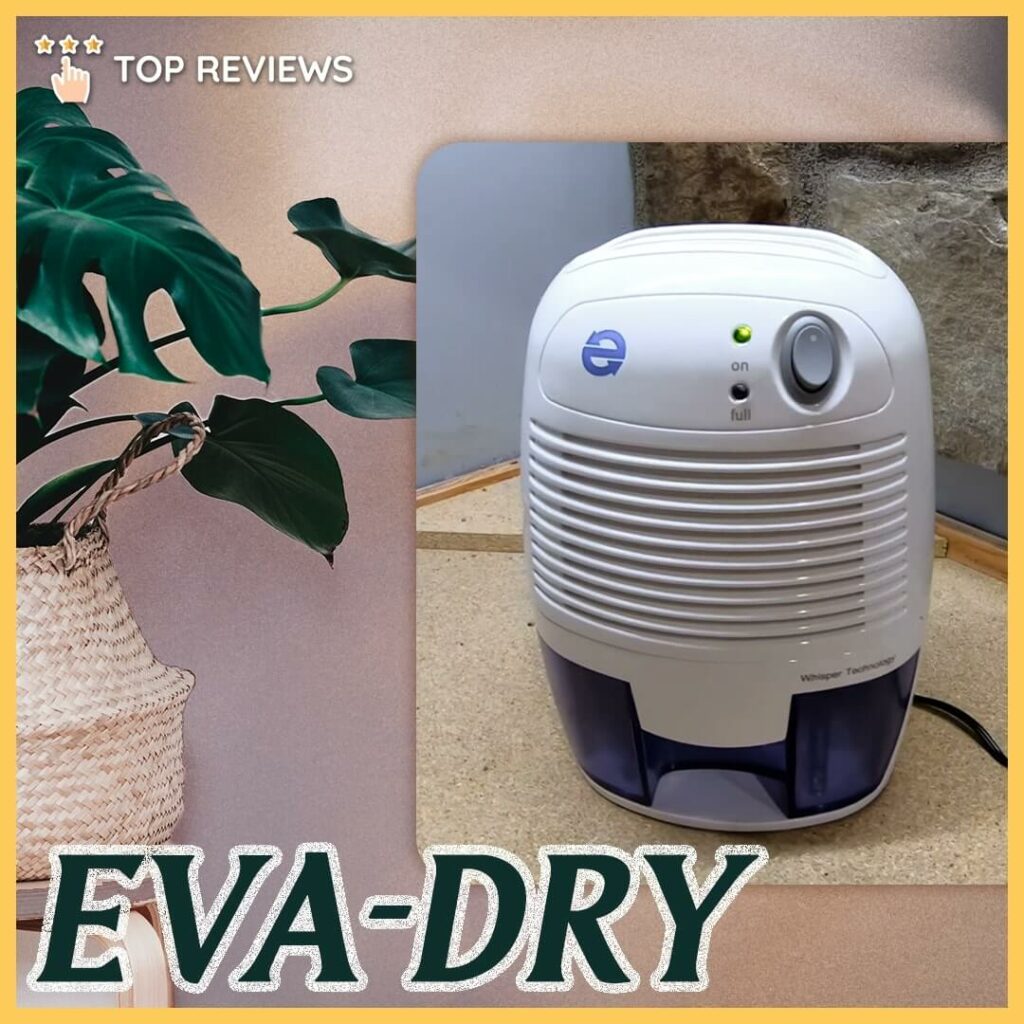 | | |
| --- | --- |
| Dehumidifying rate | 0.24 litres/day |
| Capacity | 0.47 litres |
| Noise | 50.9 dB |
| Product Size | 16.51 x 13.46 x 21.59 cm |
| Weight | 2.2 kg |
| Price | $115 |
Even though this unit is small, it performs like a champion—reliable, diligent, and solid. You can place it on your bathroom table, bookshelf, side table, or bedroom table.
This will be of great help if you have a runny nose, coughing, or itchiness. By getting rid of the moisture in the air, there will be less dust and allergens in your room or kitchen.
It's impressive that people benefitted from this petite dehumidifier. And even if theirs had broken down from several years of use, most users say that they'd still want to buy another one to use.
The purchase price is super-low and you can even get one for your parents as a gift. This one can work all day without its quality dropping, except if it ages, of course.
Now onto the cons: Eva-Dry's mini-model can be noisy at 50.9 dB. But this is so minor that other people would rather focus on how much moisture it can remove.
With those things in mind, we are pleased to include this model as one of the best dehumidifiers in NZ!
Mini 0.24-litre dehumidifier
Great performance (considering size)
Best for use in smaller places
Complaints about noise level
Not battery-operated
Customer Reviews
This little thing has gained the heart of customers thanks to its small but spectacular performance for a space of 1100 cubic feet. Many users also stated that it's quiet.
Let's see what they think. A verified customer from the Eva-Dry site, Scott Gatlin writes:
"I bought this unit in June 2013. After over 4 1/2 years of use, it has stopped condensing water into the tray. The fan still works. I'm going to give it a good cleaning and try it again. I'll be ordering the same unit again if I can't get this one up and working. I love the job it does."
And Barbara comments about the Eva-Dry Petite as well:
"Just purchased this at BB&B. I must say I am happy with this unit. It's small and does the job in my basement room. It's runs quietly and the plug does get hot so I use it solely in one outlet.
Will buy the medium size as well."
9) Sheffield 10 L Electronic Dehumidifier (PL611)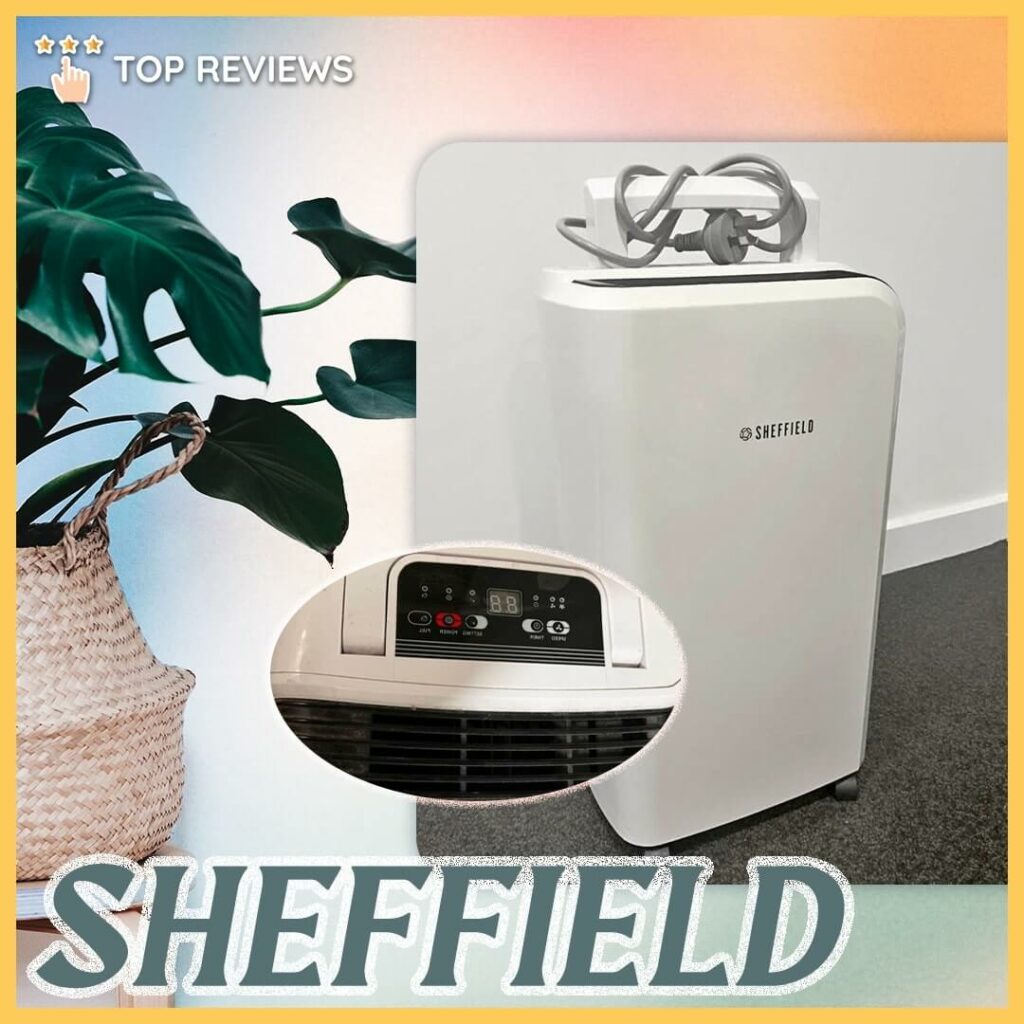 | | |
| --- | --- |
| Dehumidifying rate | 10 litres/day |
| Capacity | 2 litres |
| Product Size | 32.2 x 22.5 x 53.5 cm (W x D x H) |
| Weight | 9.9 kg |
| Price | $169 |
Sheffield's PL611 Electronic Dehumidifier removes 10 L of excess moisture in your room, laundry, or bathroom, to stop the spread of bacteria and mould and mildew damage.
From a distance, you may mistake this as travel luggage with its obliging casters and lay-flat handle. It features a white and clean design that will blend in wherever you place this in your house.
You won't have to empty the water tank all too often given its capacity. Alternatively, you can plug in a hose and direct it down the floor drain for constant drainage, whether night or day.
That said, this dehumidifier uses R134A refrigerant that harms the environment. This can be a deal-breaker, especially for those who want to leave a smaller carbon footprint.
Still, we only added this product here because it's reliable and affordable. For something better for the environment, there are lots of options out there.
24-hour timer
Continuous drainage
Built-in carry handle
Uses R134A refrigerant is harmful to the environment
10) Goldair 8L Desiccant Dehumidifier (GD330)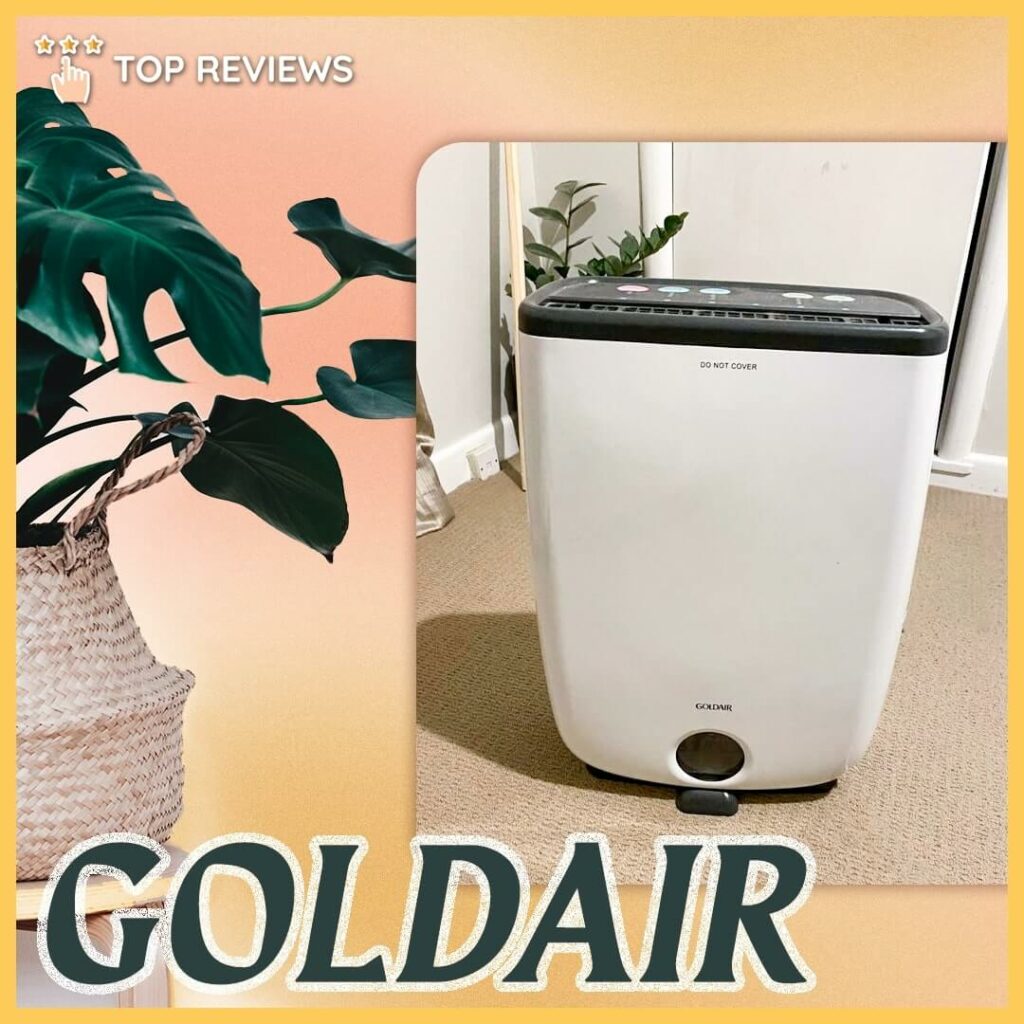 | | |
| --- | --- |
| Dehumidifying rate | 8 litres/day |
| Capacity | 2 litres |
| Product Size | 45 x 35 x 64 cm |
| Price | $599.99 |
Want another dehumidifier to use for the winter season? If you do, check out this 8-litre desiccant dehumidifier from Goldair.
It is suited for Kiwi weather and can be used in both big and small spaces. It works to bring cleaner, healthier air whilst keeping you snug at any time of the day.
But there's only so much it can condense (only 2 litres) compared to other desiccant models. Fortunately, you can port a hose into it for continuous drainage of the water.
Given its bigger size, you will have to have more space for it in your home. Relative to its size, we think that its dehumidifying rate and capacity could be better.
Some redeeming features, though, include a full water tank alert and overheat protection. Also, this product went through and passed rigorous testing for safety and quality — giving you confidence in using it.
Overheat protection
Optional permanent drainage
Full water tank alarm
High price point
Smaller tank capacity
Customer Reviews
Most of the praise for the Goldair GD330 came for its efficacy as well as its performance in very cold weather. In fact, this is generally one of the top recommendations from consumers for those who need dehumidification in cool seasons.
For the review of the Goldair GD330, let's consider the independent review from RNZ:
"The Goldair [GD330]'s performance doesn't degrade as much. We found it removed just as much water from the air at 8 degrees Celsius as it did at 16 degrees, whereas any of these refrigerant models which claimed to move 20 litres from the air, we found on average they only remove about 4 litres at lower temperatures."
11) Remington 90 L Industrial & Commercial Dehumidifier (RPDH90)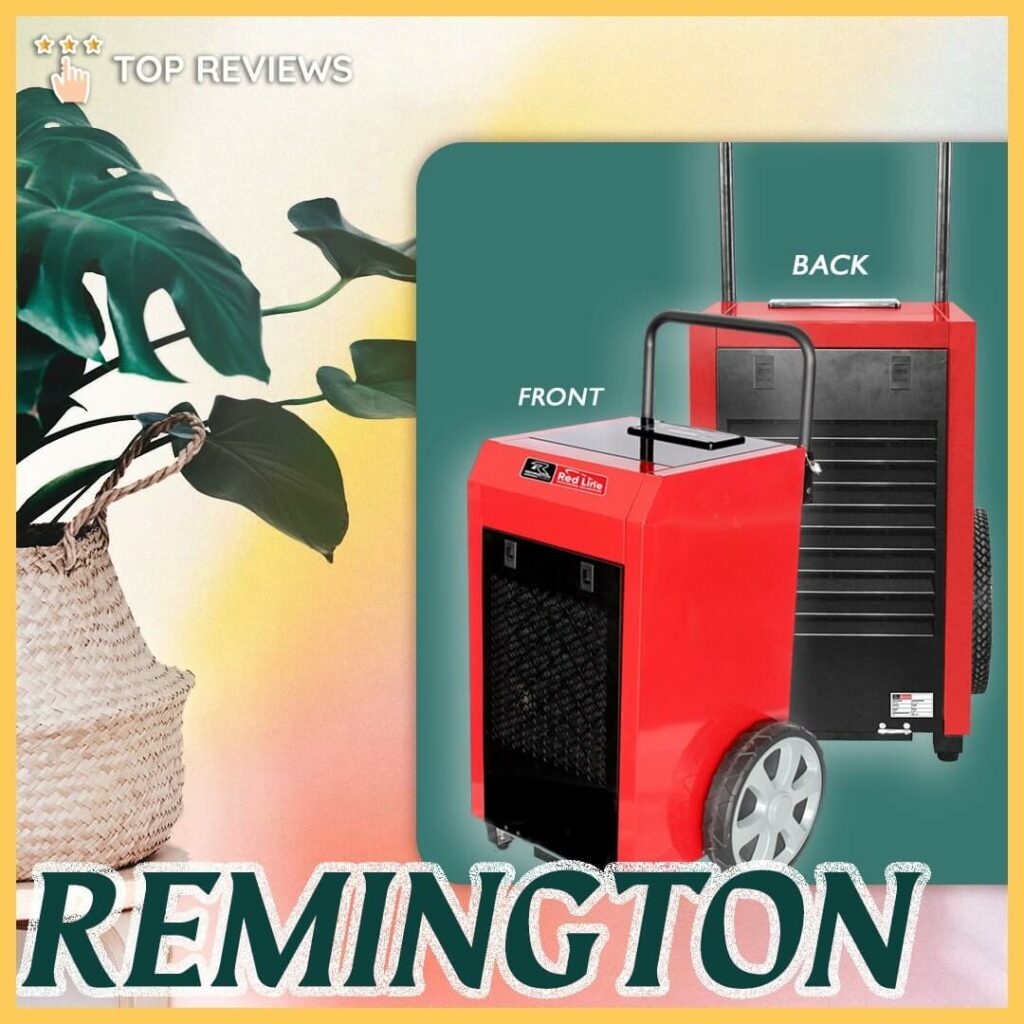 | | |
| --- | --- |
| Dehumidifying rate | 90 litres/day |
| Noise | 66 dB |
| Product Size | 55.5 x 59 x 106 cm (W x D x H) |
| Weight | 48.50 kg |
| Price | $2,064.25 |
If you're looking for a dehumidifier that packs more punch than the domestic models on this list, then the Remington 90 is the perfect choice for you!
The Remington 90 is typically used in large-scale construction and industrial projects due to the features it offers.
Aside from having a capacity of a whopping 90 litres a day, it also comes with removable air filters, allowing for easier cleaning and maintenance.
It has an evacuation pump so that water can drain out into a container or outside of the worksite. You can also attach the suction pipe to the machine, which can be bought separately.
What this does is allow builders to aim at certain spots, for instance, to dry paint, plaster, timber, or other materials, as well as maintain the right humidity level on the site.
In effect, this will save you a considerable amount of time, keep your team motivated and healthy, and make your building project easier to complete.
Also, the unit packs 66 decibels, which sounds akin to the noise produced in a business office. But compared to other industrial dehumidifiers, the Remington 90 is relatively quiet.
Large capacity (90 litres per day)
Shockproof wheels
Automatic defrost
Digital timer
Removable air filter
Factors to Consider When Buying a Dehumidifier
We have several factors to consider such as type, size, humidistat, price, water tank capacity, and more. With them, you can assess if a model suits your home or situation.
Anyway, let's take them up one by one:
1) Types
There are two types of dehumidifiers: refrigerant and desiccant. Let's differentiate them here:
Refrigerant dehumidifiers
Refrigerant or compressor models work just like air conditioners. They basically take in the moisture from the air and cools it down to a level so that it condenses into a water container.
They are great choices to set up in bedrooms, cellars, bathrooms, or offices. And refrigerant models are capable of removing moisture quickly — in most rooms, within minutes.
However, there is a limitation with this type of dehumidifier as it doesn't work well in colder temperatures. Thus, they may be less efficient during winter in New Zealand than desiccant models.
Next, we have the desiccant models that draw in damp air and filter it through a desiccant substance. The nice thing about these is that you don't need to empty collected water as its heating already dries it up.
With desiccant models, you can remove moisture effectively in colder conditions, such as below 12 °C.
The only drawback is that it costs triple to use compared to refrigerant types and is not that different in performance when it comes to temperate or mid-range weather.
2) Humidistat
This feature lets you set the humidity level you'd like to have in your room. A healthy level falls within the range of 30 to 50%.
With too much humidity, you'll feel hot in a room and may even get headaches. You need to open the windows or doors, anything that can increase the airflow.
On the other hand, too little moisture can make you feel too dry. That can cause dry skin and eyes.
3) Timer
A timer in your dehumidifier lets it automatically switch on or off at the appropriate time, depending on your settings.
Some models can be adjusted to run up to 12 hours — perfect for the entire night — whilst others can be set in 1, 2, 4, and 8-hour increments.
As such, a timer will help in lowering your energy use and giving you extra convenience!
4) Noise level
Desiccant models have a lower noise output than refrigerant models. The reason is that the compressor of the refrigerant model creates more noise.
That said, most of the products we chose for this list are quiet during use. You shouldn't suffer from noise if you choose one of them.
Noise levels can range from anywhere between 35 (a bit louder than a whisper) to 66 decibels (almost as loud as a vacuum cleaner in use) and up.
5) Energy Star rating
You also want to see a good energy star rating for your dehumidifiers. A higher rating means it has a more efficient compressor, evaporator coils, and heating.
Furthermore, an energy-efficient dehumidifier will result in lower bills and have less impact on the environment through reduced carbon dioxide emissions.
Therefore, it makes it all worthwhile to buy a dehumidifier like this.
6) Price
For $350 and up, you can get great-quality dehumidifiers. That's better than getting something that breaks down in the middle of when-you-need-it-the-most.
Other than that, if the cost is more than you can afford, we suggest getting a second-hand dehumidifier instead.
7) Water tank capacity
Three standard choices of water collection tanks include 30, 50, and 70 pints or in litres. We converted our products here into litres for simplicity.
The right choice here depends on the dimensions of the place where you'd like to use your dehumidifier. Bigger places typically need bigger tank capacity.
If you don't want to empty the water tank regularly, then you can opt for dehumidifiers with 'continuous drainage', which can either use a gravity-fed drain or pump.
The first requires you to attach a hose to the machine and direct the water into a floor drain. Alternatively, you might want to carry the unit up onto a chair and put the other end of the hose towards the drain.
If you want more flexibility, however, you can opt for a pump-equipped dehumidifier. Since this pump can push the water upward or in any direction, you're able to place the hose up onto your sink or out of the window.
FAQs about the Best Dehumidifiers in New Zealand
---
That's as good a place as any for us to end our list of the best dehumidifiers in New Zealand. Whether you need something for your closet or your house in winter, there's clearly a product on this list for you.
Do you have any questions, reactions, or suggestions for our list? If so, let us know and we'll hear you out.
By the way, keep in mind that dehumidifiers work best with heat pumps in the cooler months for a cosier and warmer home. Feel free to read our article about the best heat pumps in New Zealand.
Alternatively, for more direct heating, you could check out our list of the best heaters in New Zealand!