Top 5 Services for the Best Digital Signage in NZ
Today, many businesses are switching to digital signage. If you're a business owner looking to do the same, today's article is for you!
Whether you need vibrant menu boards, touchscreen sign kiosks, or an eye-catching digital billboard, we've gathered a list of the top services for the best digital signage in NZ here.
Read on to know which companies have made it into our list, what the price ranges are for digital signage, and more.
How Much Do Digital Displays and Screens Cost
Determining the total price of digital signage is not easy. You have to consider several things like the screen, media player, licence, mounting equipment, and installation.
Firstly, digital screens vary in brand, resolution, and screen size. Of course, the higher the graphical capability and screen size, the more expensive it will be.
Next is the media player, which lets you stream content on your digital signage. You have to get one or you won't be able to use the device.
For cloud digital signage, you'll need to subscribe to a plan to get a licence to use it. This will also give you access to a lot of features including apps, instructional videos, and 24/7 support, among others.
You might also need to add additional hardware to mount your TV in, say your conference room or main hallway.
And since setting up digital signage can require a lot of effort, most companies will charge a fee, depending on the number of screens or the complexity of the installation.
Sometimes, screen brand affects pricing too. Below are the price estimates of digital screens for digital signage from prominent brands:
| | |
| --- | --- |
| Brand | Price Range |
| Newline | $3,450 – $11,500 |
| LG | $1,104 – $4,642.71 |
| Samsung | $1,127 – $4,025 |
| Vestel | $2,086 – $16,329 |
The Best Digital Signage Companies in NZ
Now that you have an idea of the prices for digital signage, here's our roundup of the top services for the best digital signage in NZ!
1) Hydro Media Digital Signage

Best for
Commercial digital signage
Services
Commercial display screens Solid-state media players Setup and installation Content design and build
Address
Saturn Place, Rosedale, Auckland 0618, New Zealand
Contact Details
Phone: 021 630 301
Email:

[email protected]


Skype: hydro.media
Office Hours
Monday – Friday: 9.00 AM – 5.00 PM
Saturday – Sunday: closed
Prices
Kindly enquire for prices
Need digital signage for your cafe, store, or rental apartment? One company you can call is Hydro Media Digital Signage.
They specialise in providing high-quality digital signage designed for businesses. It won't matter whether you're a startup or already established on the market.
Your content will be shown on the screens in a synchronised manner. What's more, it's unlikely to give you tech issues.
That's because before the digital signage leaves their premises, it will be tried and tested to prevent any unwanted issues. And of course, an expert installer will deliver and install it for you.
Commercial-grade digital signage
Long lifespan
No digital signage rentals (purchase only)
2) ViewTV Digital Signage

Best for
Wall panels and billboards
Services
LCD and LED digital signage Setup and installation
Address
29G Peters Way, Silverdale, Auckland, New Zealand
Contact Details
Phone: 021 799 842
Overseas: +64 21 799 842
Email:

[email protected]

Prices
Kindly enquire for prices
Based in Auckland, ViewTV is a supplier and installer of a broad range of LCD and LED digital signage ranging from small stretched screens to sleek digital billboards.
They have software called the PlayList that allows you to manage and schedule your content on the cloud. It's very user-friendly too since it can play all sorts of media files.
With this, you can show your newest products to your customers in style, display current promotions or rewards, and play engaging video content.
ViewTV also rents out touchscreen displays for your customers to interact with. These can be used to display your store information, weather, and map, amongst others.
On top of that, they have outstanding customer service that can advise and guide you in getting digital signage.
Competitive prices
Offers rental and lease-to-own finance options
Solid after-sales service
2-year warranty
No content-design service
Customer Reviews
Clients praised the dedicated team that installed their digital signage. One of the clients said that the product was simple to use and had a lot of features.
Here's a review from Hallenstein-Glasson Holdings CEO Chris Reid:
"Every install was different and unique to its surroundings, nothing was ever too hard for Karl's team. One one occasions, the install location was near impossible but Karl and his team managed to get the job done.
With the scale of our operation and the number of the digital signage Displays we see in the future it was crucial we found a reliable & scalable product that could be centrally managed. The ViewTV content management software PlayList has delivered this.
I have no hesitation in recommending ViewTV for all digital signage display requirements."
3)   Vibe.fyi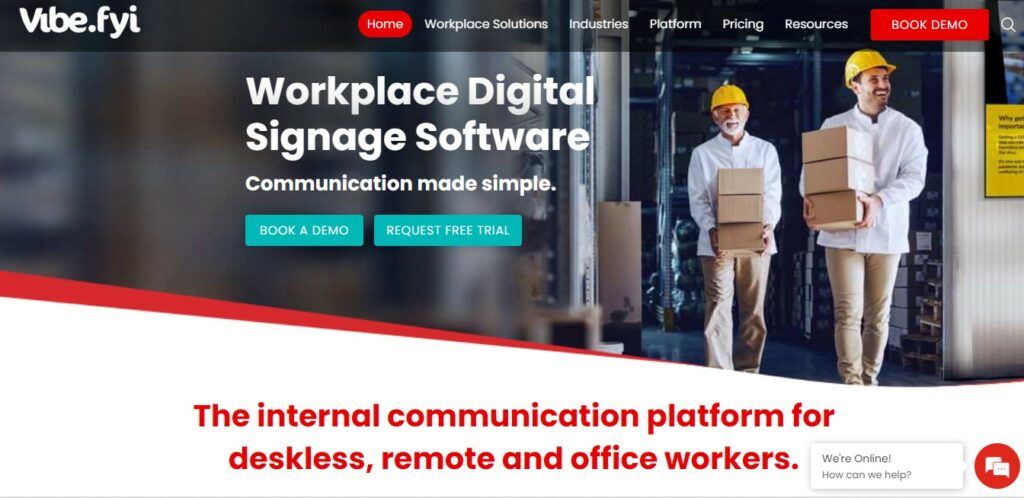 Best for
Workplace Digital Signage
Services
New Zealand's leading digital signage provider for workplace communications.
Address
Level 3, Florence House, 16 Florence Avenue, Orewa, New Zealand
Contact Details
09 415 9301 |

[email protected]

| https://www.vibe.fyi
Office Hours
Monday – Friday: 8.30 AM – 5.00 PM
Saturday – Sunday: closed
Prices
https://www.vibe.fyi/pricing/
Vibe.fyi is a specialist workplace digital signage software that connects organizations with their hard-to reach workforce in an impactful and meaningful way.
Communication teams can now engage their people and influence change with this purpose-built platform. Bring workplace messaging to life with our extensive library of beautifully designed templates, enabling communication teams to create stunning branded content within minutes. Their fully managed range of up-to-the-minute infotainment content and change programs means fuss-free content ready to go.
Achieve cut-through across the entire organization with their multi-channel approach across digital signage displays, screensavers, web browsers and mobile devices.
You can immediately tell they have some of the best digital signage in NZ with their powerhouse list of clients, including The Warehouse Group, Fisher & Paykel Healthcare, Zespri, Fletcher Steel, Burger King, Delonghi, and DHL.
Customized solution
Works on iOS and Android devices
Reliable customer support
Public and Private Cloud subscriptions available
Specialize in workplace digital signage
4) LG

| | |
| --- | --- |
| Best for | Innovative and attractive digital screens |
| Services | Digital signage supply Installation service |
| Address | 600 Great South Road, Ellerslie, Auckland 1051, New Zealand |
| Contact Details | +64 9-914 2444 |
| Prices | Kindly enquire for prices here |
For a quality digital signage product, you can also enquire with LG Electronics. As we know, it has been at the forefront of developing new products to benefit clients.
They have a vast range of digital signage solutions, from standard types to video walls, custom-made business signs, and accessories.
The standard type is moderately-sized and ideal for retail outlets. The video walls are larger and more dramatic in size and make an impact on your customers.
And they have special digital signages to fit your specifications. Touchscreen banners, ultra-stretched, transparent, and mirror digital signs are offered in this category.
If you're interested, you can enquire with them through the link provided above and a local LG representative will sort you out.
Quality-made products
Reliable customer support
Installation service available
5) Sign Foundry

Best for
Bespoke digital signage
Services
Digital signage supply Installation service
Address
483 Hutt Road, Alicetown, Wellington, New Zealand 14 Alloy Street, Sockburn, Christchurch, New Zealand Auckland, New Zealand
Contact Details
Wellington: +64 4 212 4760
Christchurch: +64 3 5952810
Auckland: +64 9 281 2098
Email:

[email protected]

Office Hours
Monday: closed
Tuesday – Friday: 7.30 AM – 4.30 PM
Saturday – Sunday: closed
Prices
Kindly enquire for prices here
Whether you need weatherproof, commercial, interior, or exterior signage, Sign Foundry offers cutting-edge solutions to advertise your product or service.
Their skilled team can craft bespoke digital displays or screens in line with your business goals, such as to generate more brand awareness or boost your sales.
Their signage products are top-notch, being sourced from leading suppliers of LED signage. Moreover, these can be installed for you wherever you are in the country.
Hence, Sign Foundry provides some of the best digital signage services in NZ. You can give them a call or fill in the form online to get started on your new project.
Custom-made to fit your needs
Installation service available
Ongoing client support
Customer Reviews
Sign Foundry holds a perfect 5-star rating on Google. Clients said that the team was great to deal with and provided an amazing service.
Check out Becky's review of the signage company:
"I've been really impressed with their service. Nathan is awesome to deal with and always happy to help with whatever I've needed. Have used them for multiple jobs now and will definitely be using them again in future. Cheers guys."
Moreover, here's what Aaron has to say of them:
"Grwat place for all you signage needs. Our business sign writers of choice with good honest service and product that is second to none."
FAQS about the Top Digital Signage in NZ
---
And that completes our list of the suppliers of the best digital signage in NZ. You now know whom to call if you need indoor or outdoor digital signage for your business.
Do you have any questions or thoughts about our picks? If you have one, kindly send us a message, and we'll get back to you as fast as we can.
Also, you could read about the best advertising agencies in Auckland next. They can help you create an effective marketing campaign that includes using digital signage.