Electric scooters can get you around the city with lower expenses and fewer late time-ins. If you haven't tried one yet, you're just in time, as we're going over the best electric scooters in New Zealand!
There are hundreds of options out there differing in terms of speed, distance, features, and usability—for adults or kids. Don't worry though, we did the research just for you with this list.
So, without any further ado, let's look at our picks for the best electric scooters in New Zealand!
1. Razor Power E100
Kids' Choice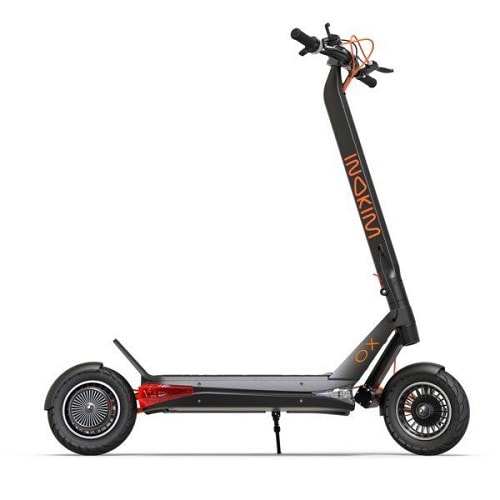 Price: NZ$399
This is a great electric scooter if you're looking for something that your kids can use. Capable of taking weights of up to 54kg, this kid's scooter uses an in-wheel hub motor that requires no alignment, chain, or belt for a nearly maintenance-free ride.
The motor can power the scooter to speeds of up to 18km/h and is a kick-start, 100W model. This is married to an extra-durable frame of aluminium and steel that your kids won't be able to destroy easily.
The front tire is pneumatic, but the rear is airless. It's also been tested and proven capable of standing 60mins of continuous use.
Highlights
Max speed of 18kph
Kick-start motor for easy operation
Very durable design — aluminium and steel components
Made for kids
Customer Reviews
Most users liked the easy operation and kid-friendly design of the scooter, although some also noted that they would have preferred the battery to last longer. Nevertheless, others noted that the company was fast at sending them a replacement battery. Here's a review worth reading:
"After 3 charge cycles and a 180 pound man riding it hard, one of the two 12 volt batteries failed. I don't believe weight or load was the cause of this, it ran well and the batteries went through full charge/discharge cycles. Until the last cycle when after a full 12 hour charge, one battery read 12.8v while the other was at 9v. Razor Company is kindly mailing me a replacement battery under warranty. However I replaced both 12v 6ah batteries with two 12v 9ah batteries (which required that I raise the deck 1/2".). The scooter now rides longer and seems to have a little more torque available-top speed is expectedly unchanged. Good value over all, but the power core E90 lasts longer on one battery even with me on it. What you get with E100 is slightly more foot space, slightly taller handle bar, and a pneumatic front wheel."
2. Inokim OX Super
Speed and Distance Champion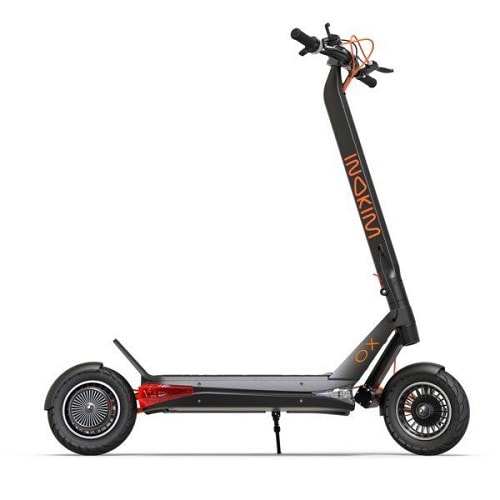 Price: NZ$2899
Round trips around and beyond the city are managed by the incredible power of Inokim OX Super! It rides on for a max speed of 46kph and the distance it can reach is a sure winner at 100km.
The Inokim OX Super comes with a brushless motor and a 60V battery responsible for its power and speed. Your braking distance is at 3 metres easing down from a 20kph speed.
Weighing 28kg gives it a bit of poor score in portability, admittedly. But it's forgivable when you consider other details such as it being able to support up to 120kg of weight.
Refilling the battery for this will take you 12 hours too, so that's another thing to remember. Don't forget to charge it when you get home after your trip!
Plus, the scooter comes with a bright LED tail and front lights.
The Inokim brand is beloved by adults and children alike internationally. It's no wonder that the Inokim OX is indeed one marvellous heavy-duty beast! 
Highlights
Max speed up to 46kph
Uses brushless motor for increased efficiency
Powerful for riding uphill
Popular brand in many countries 
Customer Reviews
In terms of sheer power and distance, many owners admit this one is hard to beat. It comes with tradeoffs, sure, such as a heft and charging time that goes above those of other scooters — but many still say the tradeoff is worth it.
Here's a review from Dave Y:
"The Ox Super was delivered in just a few days and I am so happy with my purchase! It has power, comfort, range and looks amazing. Easily the best eScooter on the market. Even better if you upgrade standard rear disc brake to a hydraulic hybrid caliper. Five plus stars highly recommended!!!"
Chrystopher Propster also reviewed it:
"While I didn't buy this scooter on Amazon, I saw that they were offering it here and had to leave a review. This scooter is by far the best on the market for the price. The speed is there but the real luxury is in the build of the scooter. It is the mot comfortable ride because of how the weight is distributed and the quality of the suspension. If you need a scooter to get around your city, this is the one."
3. Zoom Stryder Ex
Shock-Muffling Scooter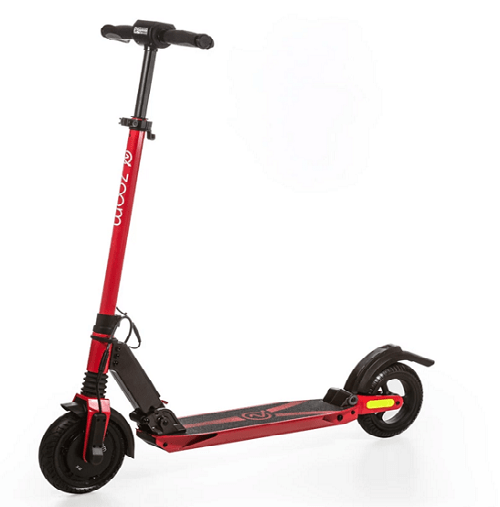 Price: NZ$1125
The Zoom Stryder Ex is designed to ride on all sorts of terrain through its front and rear suspensions. This gives it the reliable and hardy shock-absorbing performance the brand is known for.
It can reach speeds of 30kph for a max medium-length distance of 30km. Going up a gradient won't be a problem for you on this one either.
Dual brakes are equipped and the stopping distance is only at 4-5 metres from a run of 20kph speed.
The slender frame almost looks like a BMX version of a scooter too. It weighs only 10.9kg, so you can carry it with you very conveniently.
To add to the convenience, the recharge time only takes a short 3 hours. Ready for you to take it to new adventures in no time!
Although the price is a little higher, we think its capabilities and design more than make up for it. Note that you also have a choice of urban ninja or pulse gunner (shown above) for the colours.
Highlights
Top speed up to 35km/h (depending on rider weight/terrain/battery etc)
cruise contro
5 speed settings
solid rubber tyres (no punctures.. ever!)
Short re-charge time 2.5hrs
Front and rear suspension
Auto headlight and brake lights
12 month warranty
Accessories available
Demo's / test rides available at www.bluewolf.co.nz
Customer Reviews
This one got amazing scores and reviews from ridezoom.co. Most of the praise was for being able to ride uphill, utmost comfort and speed, and being foldable (deciding factor) that lightens travelling weight.
Fei P says:
"I have been searching e-scooters for a while and could not decide which one to buy. Not so many local stores carry them so that I can test ride, nor many reviews on most of them. Finally, I decided to buy and give this Zoom Stryder a try. It has been three weeks since I received this scooter and I am super satisfying and enjoying it. It makes my commute much more fun and convenient. Pros: • Eye catching (beautiful design and colour combination) • Fast acceleration • Foldable& lightweight • Sturdy • Dual suspension system: smoother and comfortable ride • Battery life up to 30 kms per charge • Uphill performance is great as advertised • Non-slippery board Cons: • Dual speed mode does not seem to work • No build in stand • No build in charger • Mileage display option not working"
Here's another review by Serge M.:
"I spent weeks reading reviews for many scooters before making my purchase. I'm often second guessing myself when it comes to these kind of purchases; but the Zoom Stryder Ex has completely reshaped the way I commute on a daily basis. I absolutely love everything about it. The suspension is great for potholes; and I know I'll never get a flat with the tires. Feels powerful enough to breeze through the city and is actually pretty fun to use in manual mode as well. Highly recommended."
4. Matt Black eRYD Scooter
Comfortable and Sleek Ride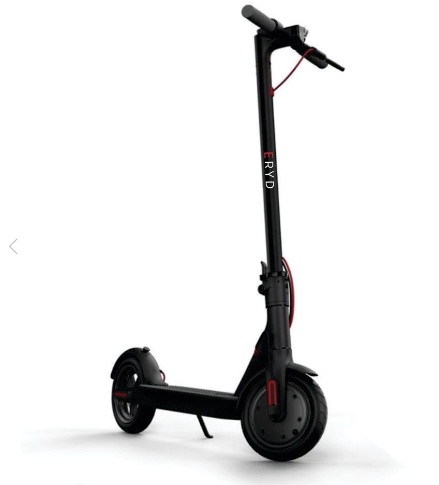 Price: NZ$649
A smooth and comfortable ride is what Matt Black eRYD Scooter is all about. It is designed with simplicity in mind yet is equipped with cohesively designed components and accessories. 
The whole frame of this scooter is made to be compact so it will be a lot easier for you to keep it in rather small storages. Simply flip down the folding lever to fold and the scooter bell catches onto a latch on the rear wheel.
It is also furnished with headlights and red tail lights that are designed to make your night ride safer. eRYD features an ultra-bright 1.1W headlight with a range of up to 6 meters for added safety
Weighing just 12.5kg, eRYD is a great portable size and weight for carry-ons and for maneuvering stairs and pavements.
Meanwhile, it uses energy-efficient batteries that can last up to 30km of travel on a single charge!
Highlights
18650mAh high-capacity lithium batteries supplied by LG

Responsive braking distance of just 4 meters

Maximum speed of 25kms/h
5. GOTRAX GXL Electric Scooter Version 2
Good Budget Scooter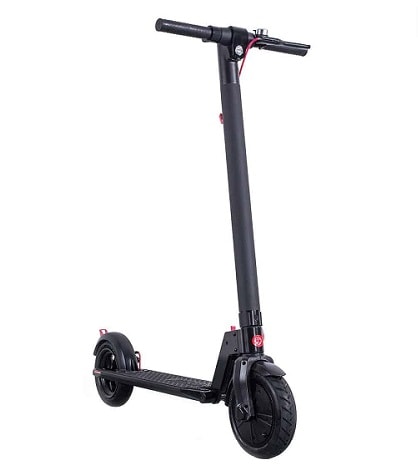 Price: NZ$437
You can find another awesome scooter in the GOTRAX GXL V2. Its fastest speed clocks at 25kph within a radius of 15-20km, short compared to that of the Inokim but tied with that of the ES2.
It uses a 250W motor and is equipped with 2 8.5-inch pneumatic tyres that make riding on battered surfaces and unexpected potholes manageable.
And it is only 10kg, besides taking no time to fold over and travel around with.
You can select between first or second gear modes. The first goes at a speed of 15kph for a relaxed, normal pace while the second gear runs for the scooter's top speed of 25kph.
To maintain your speed over a traffic-free path, you only have to press down the accelerator for ten seconds to enter cruise control mode. This is a nice feature that can help you get an even easier ride.
It only takes 3-4 hours to charge it fully too! 
Highlights
Mid-range scooter with 25kph and a 20km distance
Shock absorbing 8.5" tyres
Extremely light 10kg
Charges in 3-4 hours 
Customer Reviews
This is a great little scooter that may serve a lot of riders well, but owners do warn that its light weight means it is best used by light (and careful) users. Some even called it "fragile", especially compared to more robust options, so that's something to consider about this model.
One user, David, gave an in-depth review, even coming back after some time to update it. It reads:
"On my last ride I went about 5 miles through a hilly college campus with lots of elevation change, starting from a full charge. The scooter performed well with good acceleration and only struggled on the steeper hills (not sure what angle the hill was, but it's difficult to walk up these hills for a long period of time). The brakes worked great as well and I always felt like I was in control (see suggestions below). When I returned I still had 3 out of 4 bars, even though I suspect that it may be approaching 2 bars (see cons below). The handling was nimble enough to move around other pedestrians with ease, and yet still sturdy at higher speeds. I did not get a reliable top speed measurement since I wasn't able to find a stretch of flat road that was long enough, but even so, I reaching about 16 mph easily without full throttle. (rider weight, hill angle, and battery level will be the main deciding factors for top speed)"
6. Mi Electric Scooter Pro (Xiaomi)
Best-designed Scooter with LCD Display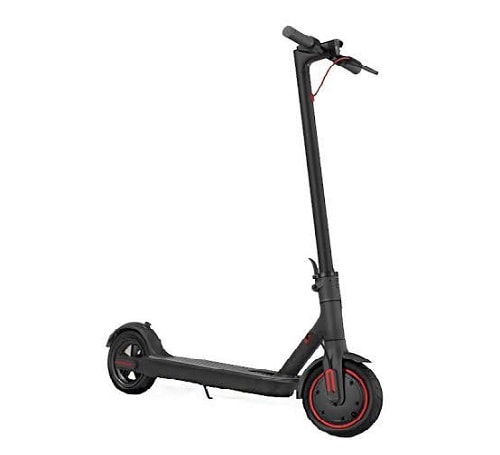 Price: NZ$698.99
If you're not doing anything in your spare time, then you can take Mi Electric Scooter Pro out for a roll. It's portable, lightweight, and speedy — all that you'd expect from the best electric scooters in New Zealand.
Folding or unfolding the scooter takes only 3 seconds. It weighs only 14.2kg, and is rugged and lightweight thanks to the aviation-grade aluminium it uses.
With an extended battery, its maximum range goes up to 45km. Switch between Standard, Eco, or Sports speed modes.
Let the cutting edge, vibrant display indicate your speed, distance, and battery remaining as well as other repairs that are needed. You can also see them via Bluetooth on your smartphone.
Fitted with a reassuring powerful headlight and tail-light, it will ensure you are enjoying a safe and smooth ride even during the evenings too.
Highlights
Capable of travelling 45 km on a single charge
Aviation-grade aluminium frame
Three modes of riding—Standard, Eco, and Sports
LED-illuminated display 
Customer Reviews
According to the reviews on PbTech, some of the owners of the scooter got lights that were not working, parts breaking down, and flat tyres. However, most of the complaints were actually about its slowdown on inclines and similar road conditions.
Some owners suggest this may be due to rider weight. One owner, Tim, said:
"I bought the Mi to commute. It's an extremely well built, but underpowered for a heavier adult like myself, so if your over 80kg i would look for something with at least a 800 – 1000W motor. It's 100KG rating is a bit optimistic. It noticeably slows down in head winds and will struggle even on slight inclines. The lack of suspension makes it a hard ride. This scooter nonetheless has brought a big smile on my face and changed my view on eScooters."
In spite of these concerns, others commented that it was speed consistent, pollution-free, and saved extra gas costs. Simon said:
"Excellent service from PB Tech and excellent price too. Nice Scooter with build-in apps, always know how much battery is left and how much distance can travel. Average speed is 20+km/hour and can do more than 25 Km."
7. Zukboard City
Super-customisable Scooter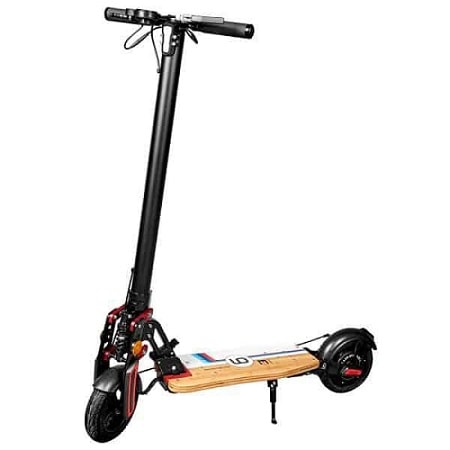 Price: NZ$1395
There's a new scooter in town with a cool and laid-back skater attitude and it's not to be messed with. Zukboard City is a new product that just became available last October.
It can cruise freestyle around the urban playground at a maximum speed of 30kph and up to 30-35km. You can scoot in style from one block to the next with this thing.
Slopes pose no threat due to the incredible motor of this electric scooter. It can climb up to 12-15 degrees of slope even with a 75kg person riding it.
Since it comes with a patented hybrid suspension, its wheels can withstand harsh ground and unevenness.
As for stopping, all the braking power can be found at the rear wheel—an electronic rear braking system and rear disc brake.
And the best part is you can customise the deck to your liking. Currently, there are 4 stylish deck designs to pick including this night ride (shown above), police, boy rider, and girl drifter.
Highlights
Skater-inspired design
Goes for a max speed of 30 kph
Climbs 12-15 degree slopes
Customisable deck
8. Mercane Wide Wheel 1000w Dual Motors 48v 13.2ah Battery
Ultimate Electric Scooter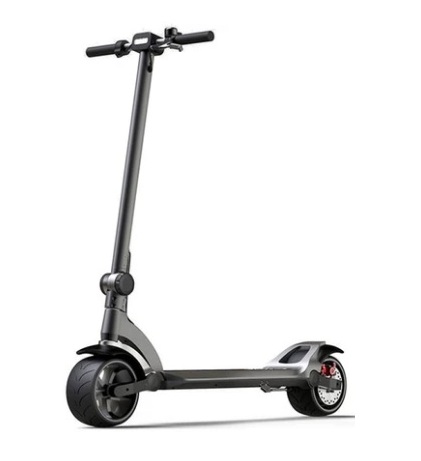 Price: NZ$1,799.00
Clocking in at an impressive top speed of 35km/h, powered by 48V 500W BLDC hub motors, this Mercane Wide Wheel is truly a beast on the road, thus your ultimate electric scooter.
This vehicle is relatively heavy weighing 23kg but its upgraded throttle delivers much smoother acceleration without the jerkiness. You can either ride at walking speed or go full speed.
Meanwhile, It is also equipped with a live and accurate display of current battery voltage so you can better judge your Wide Wheels charging status and overall battery health.
If you are looking for a powerful scooter to handle hills, keep up with cars and still collapses down to a small size, Mercane Wide Wheel is your perfect match.
Watch out for their redesigned WideWheel PRO which will be available in New Zealand next year. Check out the product description here.
Highlights
Ultra-wide tires and dual suspension

Up to 20 miles per single charge

Impressive Top-Speed
CUSTOMER REVIEWS
According to its users, Mercane Wide Wheel is best for uphill and long rides because of its strong motor system and long-lasting battery capacity. It is also praised for its speed yet extreme comfortability.
Here are some of the reviews it got.
"Love it, has plenty of power for the hills and enough battery to get around 5 stars"
"The ultra wide wheels and dual suspension make this a super easy scooter to ride to work or cruise down to the local coffee shop on.   
If you're looking for a comfortable and thrilling ride that's fun fast and not scary fast, then look no further."
9. Evolv Pro 2000w
Best for Off-road Adventures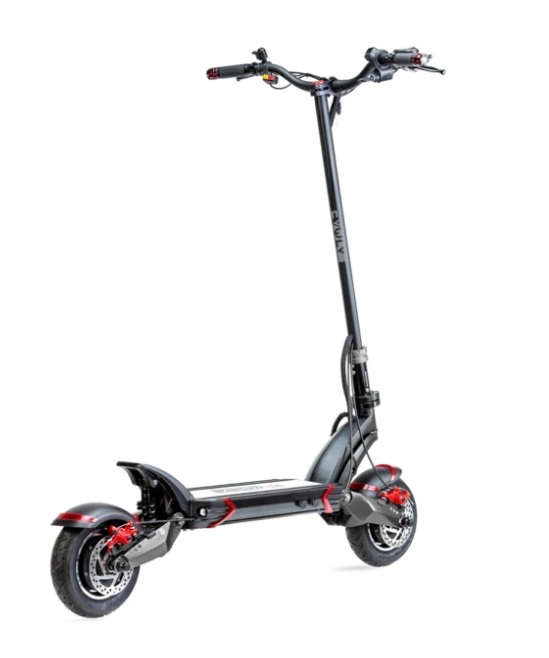 Price: $2,550.00
Evolv Pro 2000w is your best bud for off-road adventures. This beast has 1000W dual drive motors (2000w total output) within the front and rear wheels, combined with the powerful LG lithium-ion battery enabling the EVOLV Pro to reach a speed of 65 km/h.
It keeps you on balance especially on uneven terrain as it is equipped with a front 140mm disc brake and spring that effectively disperses shock and a 140mm rear disc brake for maximum stopping power.
It is also best for a nighttime stroll because it has double-LED headlights positioned low to the ground and the dual rear LED tail lights flashes when you brake, keeping you safe at dim terrains.
Highlights
Maximum load of 150kg

One-step lever for folding and unfolding

Ignition key for double security

Cruise control
Kickstart option
Eco/turbo modes
65-70km range per charge
Accessories/off-road tyres available
Frequently Asked Questions
Now that you know our top picks for an electric scooter in New Zealand, we'll go over a few of the questions most first-time buyers ask.
How do I know which is the best electric scooter for me?
The first thing you have to consider is your purpose for it. For example, commuting to work, to visit your friend, or as an alternative mode of transport.
From here, we can narrow down the choice to the speed, range, weight, brake, and recharge time. And then you could find the best one with the budget you have.
What is the best scooter in this article?
If you mean best by speed and distance, then it's the Inokim OX Super as reviewers as well as a lot of people would agree. The speed itself is unreal, clocked at a maximum of 46kph and an unbeatable distance of 100km.
Yet it wouldn't be the best scooter if what you need is something portable. At 28kg, that will be a little harder to travel with than most of the other scooters on this list.
Thus, "the best scooter" really depends on your needs and purposes. Review our descriptions of the scooters again to see which one seems to fit your requirements best.
Is a demo necessary?
Not always… But it can help you have a feel for the scooter so that you can tell the difference between brands.
Is the handling smooth and perfect around corners? How does it fare on up or downward slopes/ramps?
And what about the brakes? Go slow and take it out to see if you like it.
You can try to find someone with the model you like or a store nearby that sells it and is willing to let you try it out. Otherwise, just go based on what you know of a scooter's specs and what others say about it.
Can you operate any electric scooter in NZ without a licence?
Only low-powered electric scooters with wheels that have a size greater than 355mm and motor having more than 300W.
Most of the ones on our list are low-powered vehicles. Otherwise, you will have to register them for a licence.
Let's be clear on this matter. The aforementioned statement as made clear by the New Zealand Transport Agency or NZTA is referring to electric scooters like we have in this article: "an electric scooter in the form of a traditional push scooter, with a footboard, two or three wheels, and an electric auxiliary propulsion motor."
Some of the newer scooter models pack so much power that they exceed 300W. That's why this law was agreed on to keep safety as a priority and also conserve power use (for the environment).
Since safety is a priority, what are the steps we could take before scooting ahead?
Take the time to check the back brake, the front brake, the wheels if they are in sound condition for riding, and the front light. Always wear a helmet for safety every time you ride your scooter.
Secondly, given the many brands out there that cost serious money, you might want to get your vehicle insured to deal with theft or loss.
What does a front and rear suspension do?
Suspensions simply act as shock absorbers for the scooter's wheels, helping them take the impact of going down from curbs, or boosting through bumps.
You're going to feel those bumps and shocks less because of these suspensions. They can also help your scooter last longer due to improved impact force distribution.
Are there any accessories I could use for my scooter?
Yes, there are a few. Mounted phone holders, reflection stickers, baskets or storage bags, and of course, scooter locks.
At any rate, that's everything you need to know for our best electric scooters in New Zealand. This should help you to narrow down your choices!
Do you have any questions about the discussion today or any other products you'd like to see here? If so, feel free to let us know and we'll try to give you what you need!
Oh, and you might be interested in reading about the best electric bikes in New Zealand. Like electric scooters, you'll get to your destination in an instant and be able to better manage your time at the same time with the latest e-bikes.