The 5 Best Electricians in Levin
If you've got electrical problems in your home, it's crucial to get them sorted right away for your own safety. You shouldn't do it yourself, though – so hiring a professional is the best way to go about it.
Choosing an electrician or "sparky" can be a daunting task because your safety hinges on the quality of their work. To pick the best electricians in Levin, we considered the companies' track records, reputations, and services offered.
When it comes to contracted work though, cost is always a primary concern. So, let's discuss that first before we dive into our list.
How much do electricians cost in Levin?
Before we begin, it's important to take note that when it comes to electrical work, safety is of the utmost concern. This is why it's always better to hire a professional as opposed to doing it yourself.
With that out of the way, electrician's fees usually involve a charge for labor, cost of materials, and their call-out fee or transportation. If you need an electrician to visit after hours, you'll most likely pay a higher call-out fee or hourly rate.
Most electricians in Levin can charge anywhere from $45 to $90 per hour on average. If they need to bring an apprentice with them, an additional fee of half the electrician's rate will be charged.
Master Electricians or specialist work will charge significantly higher, which can reach around $120 to $140 per hour. However, you get extra guarantees that the work performed will be of higher quality than what you'd get from a regular electrician.
Now, the cost of electrical work will undoubtedly vary depending on the type and complexity of the project. However, it's always best that an electrician visually inspects the problem as opposed to simply giving you a quotation over the phone based on your description.
To give you an idea of how much hiring an electrician in Levin will cost, we summarized the average estimated prices of the most common electrical services in the table below.
| | |
| --- | --- |
| Electrical inspections | $250 to $400 |
| Power socket installation or replacement | $150 to $250 |
| Power point installation for washing machine or heater | $150 to $250 |
| Hot water cylinder repair | $200+ |
| Heat pump or air conditioning installation | $400+ |
| Heat pump or air conditioning repairs | $150 to $300+ |
| Wiring | Custom quote |
If you noticed, wiring is listed as a custom quotation because the total cost will ultimately depend on the size of your home and the complexity of doing the wiring. For a basic 100 square meter 3-bedroom home, you can expect costs to range from around $8,500 to $10,000.
For most jobs, your electrician will need to issue a Certificate of Compliance (COC) or an Electrical Safety Certificate (ESC). These are important documents and you should keep them in a safe place to have a record of the repairs conducted.
The Best Electricians in Levin
Now that you know what to expect financially when hiring an electrician, let's take a look at choices for the best electricians in Levin.
1. B.G. Buck Ltd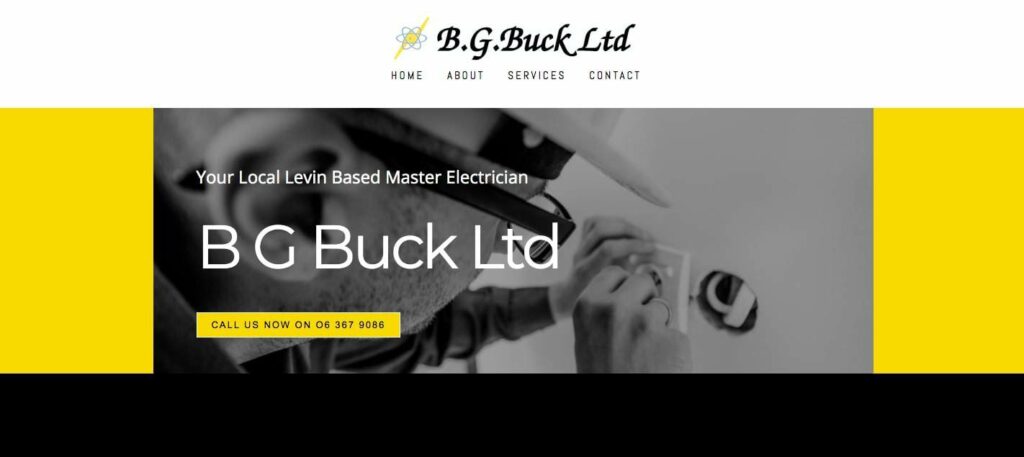 SERVICES
Residential Electrical, Commercial Electrical, Industrial Electrical Service, Heat Pump Supply (Installation, Repairs, Cleaning)
WEBSITE
https://bgbuck.co.nz/
ADDRESS
2 Sheffield Street, Levin 5510, New Zealand
CONTACT DETAILS
Phone: (06) 367-9086
Email:

[email protected]
B.G. Buck was established by Barrie Buck, a qualified electrical inspector, in the early 1960s. Together with his team of electricians and apprentices, they offer their services to residents in the Levin area.
This company offers a Master Electricians Workmanship Guarantee, which protects you as a customer from shoddy work. Do take note though, that this extra assurance only applies to residential work.
Nevertheless, as members of the Electrical Contractors Association of NZ, this means that B.G. Buck must adhere to a specific set of rules and standards in their work. This ultimately means that they're expected to provide the best service they can to customers.
Now, experience matters when it comes to skilled tradeswork and B.G. Buck has the decades to back up their work. For residential projects, they offer a range of services that include re-wiring, lighting, heat pump, and hot cylinder water repairs, just to name a few.
B.G. Buck isn't limited to homes but can service commercial and industrial businesses as well. We particularly like that they'll work around a company's operating hours to get the job done to minimize disruptions.
Moreover, B.G. Buck also offers its clients 24/7 emergency call-outs to ensure that your business stays running and keeps servicing its customers. So if one of your generators suddenly blows out or if your circuit board is acting up, you can call B.G. Buck any time of the day.
Their highly specialized services include repairs and maintenance of equipment, lighting, generators, and heat pumps, just to name a few. They can also manufacture control boards and perform design work for automation.
Now, if you're looking for an all-in-one shop to purchase a heat pump, then B.G. Buck is an option worth considering. They supply a range of top heat pump brands and can provide regular cleaning and servicing after the installation as well.
Master Electrician guarantee with all residential work
Member of the Electrical Contractors Association of NZ
24/7 hour emergency call-out services
Not everyone on the team is a master electrician
No special discounts or promotions
No free quotation offered
Customer Reviews
Highly recommend
"First class service. Taine was here within 15 minutes of calling with another young man. They worked tirelessly trying to find the fault liaising with Electra and came back again later to keep searching eventually finding the fault. Couldn't be happier and highly recommend." – Pamela Morris
Good workmanship
"Friendly staff, good workmanship, would recommend to others." – Rachel McLean
2. Phils Electrical Ltd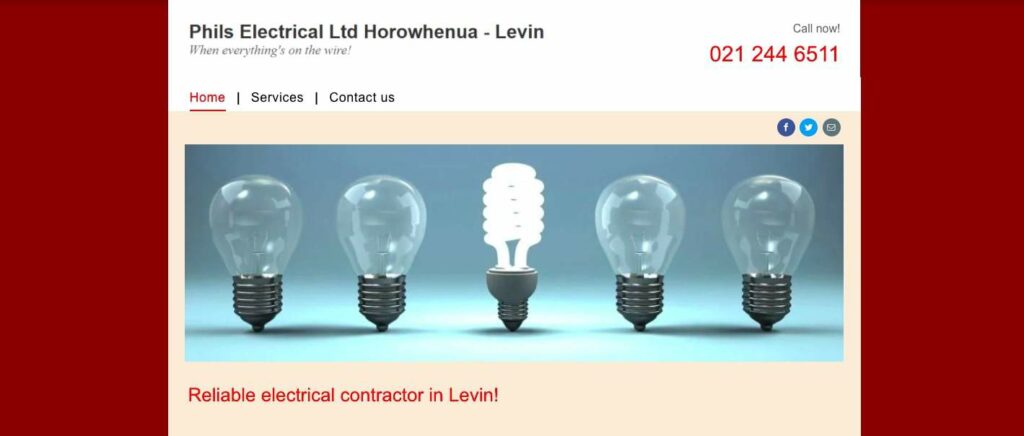 Phils Electrical Ltd was established in 2013 by Philip John Matenga, a locally owned company operating within the Horowhenua district. They provide electrical services to both commercial and residential areas in Levin.
As a licensed and qualified electrical contractor, Phils Electrical Ltd sticks to a tried and true method of marketing by word of mouth. It has built its reputation through customer referrals, which makes it a fairly trustworthy business for residents of the area.
So whether you need rewiring done in your home or need your oven repaired, Phils Electrical Ltd can handle a range of residential jobs. They can likewise install, service, and provide maintenance for heat pumps.
Other services that Phils Electrical Ltd provides are new wiring, installation of electrical components, rewiring, and servicing heat pumps.
While we would have liked this small business to make a more proactive approach on social media to market themselves, as residents of Levin, you can rest assured that this company will try to keep its reputation intact by providing the best service possible.
Phils Electrical Ltd provides its services 365 days a year and is typically just a phone call away. They have a van that's filled with all the supplies and tools they'll need to provide electrical services in any situation.
But while they can handle commercial needs, they can only handle small businesses. So if you have a large project or building site, they aren't the best people to call to fulfill the job.
However, Phils Electrical Ltd is an ideal choice if you're a fellow small business owner. They can conduct regular tests, maintenance, and repairs all on-site, which can save you potential time and money in the long run.
Available 365 days of the year
Provides a range of services
Advanced and fully equipped service van
Can't hand large commercial projects
Customer Reviews
Very helpful
"Good prices. Very helpful knows his stuff and can not find fault with his work." – Phillip Mercer
Excellent service
"Excellent service." – Lacey T
3. Levin Heat Pumps & Electrical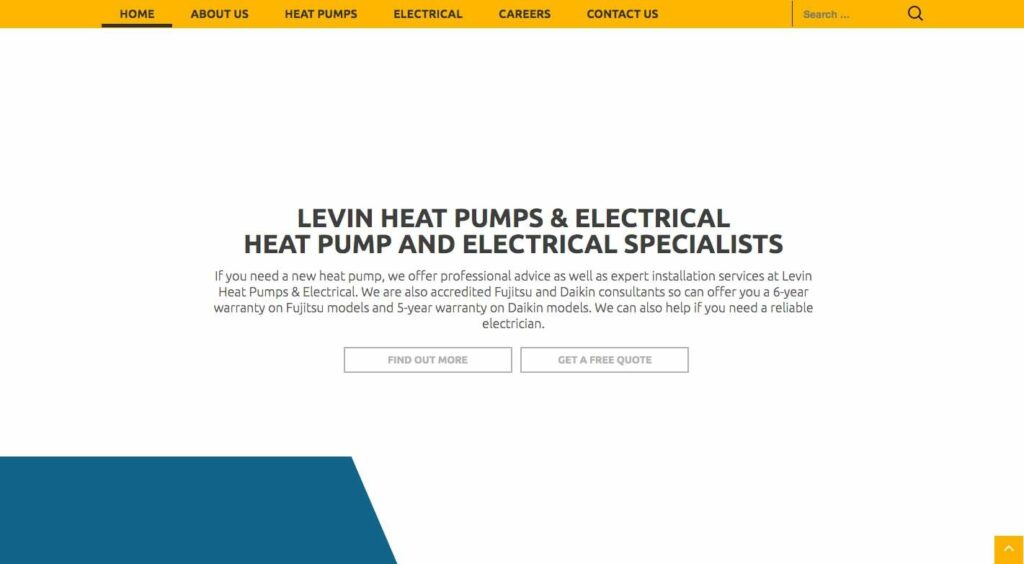 | | |
| --- | --- |
| SERVICES | Heat Pumps, Domestic Electrical, Commercial Electrical |
| WEBSITE | https://levinheatpumps.co.nz/ |
| ADDRESS | 70 Kimberley Road, Horowhenua, Levin 5571, New Zealand |
| CONTACT DETAILS | Phone: (06) 367-3561 |
Levin Heat Pumps & Electrical was founded by Daniel Gunther over two decades ago. Before moving to Levin with his family, he already had a previous business in Wellington that was operating for 12 years.
Today, their team of ten employees is a mix of electricians, heat pump installers, and design specialists. We like the varied composition as it offers a wealth of shared knowledge that can better tackle a variety of problems.
This company is also the sole supplier of heat pump and electrical services for Speldhurst Country Estate, a new residential compound in Horowhenua with over 500 homes. This large-scale undertaking should back their credibility as one of the top electricians in Levin, so don't be surprised if you have difficulty scheduling an appointment.
Levin Heat Pumps & Electrical employees are authorized Fujitsu and Daikin consultants and have been trained by the manufacturers themselves in installation procedures. They are also NZQA-qualified and can offer up-to-6-year warranties for any of their carried product brands.
Despite the potential to be fully booked, the majority of Levin Heat Pumps & Electricals work still focuses on residential and commercial work. They can tackle both small jobs and service entire buildings.
So whether it's handling all the wiring, lighting, and data cabling in a new build project or installing a single circuit breaker in a home, Levin Heat Pumps & Electricals can handle a range of different jobs.
If you need a property renovated for insurance purposes or need to install a commercial HVAC, this company is an option worth considering. The electricians on this team all have current and updated licenses with the experience to back it up.
Free no obligation quotations
Authorized Fujitsu and Daikin consultants
Manufacturer-trained installers for branded heat pumps
Can be difficult to schedule for a service appointment
Specializes more in heat pumpsH2: The Best Auto Electricians in Levin
4. Levin Auto Electrical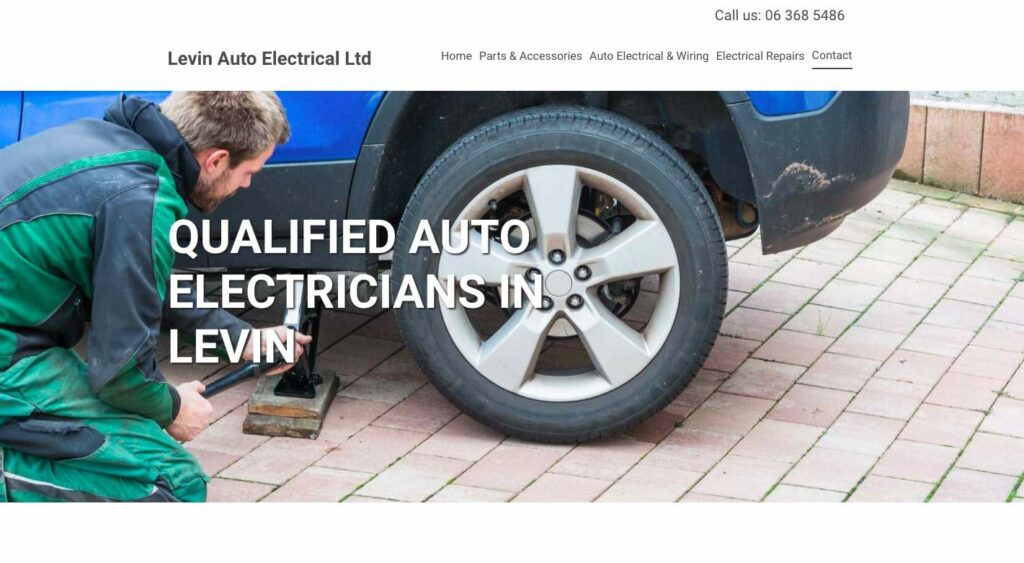 SERVICES
Parts & Accessories, Auto Electrical & Wiring, Electrical Repairs, Alternator Repair, Lights & Accessory Repair, Starter Motor Repair, Fuel Injection Repair
WEBSITE
https://www.levinautoelectricalltd.co.nz/contact
ADDRESS
2 Manchester Street, Levin 5510
CONTACT DETAILS
Phone: (06) 368-5486
Email:

[email protected]

OPERATING HOURS
Monday to Friday: 8:00am – 5:00pm
Levin Auto Electrical was founded by Ross Wilkins in 2006 with the goal of offering their services to the residents of the region. They specialize in auto electrical repairs, installations, and electrical maintenance for any kind of vehicle.
When we say they can handle any kind of vehicle, this is what they claim to be able to repair. So whether you need the electronics checked in an 80s sedan or a modern electrical system in an early 21st-century release, they've got it covered.
What we like about Levin Auto Electrical is that they can use both genuine or aftermarket accessories for your vehicle. Ultimately, the choice is yours to make, but having the option to choose is certainly an added bonus if you want to keep your costs down.
So whether you need some maintenance work done on your Anti Lock Braking Systems (ABS) or need to recalibrate some terminals and connectors, Levin Auto Electrical can perform a number of jobs. They can likewise repair your lights, alternator, starter motor or check out your fuel injection system.
Moreover, Levin Auto Electrical isn't limited to servicing personal vehicles – they can service vans and trucks in a commercial fleet as well. If you're a business owner, you just might appreciate their speedy diagnosis and their quick turnaround times to get your vehicle out on the road once again.
Can perform work on various makes and models
Can use genuine or aftermarket parts
Able to service vehicles in a commercial fleet
Quick turnaround times
Focused solely on vehicle electrical systems
Doesn't offer free quotations
5. RK Auto Electrical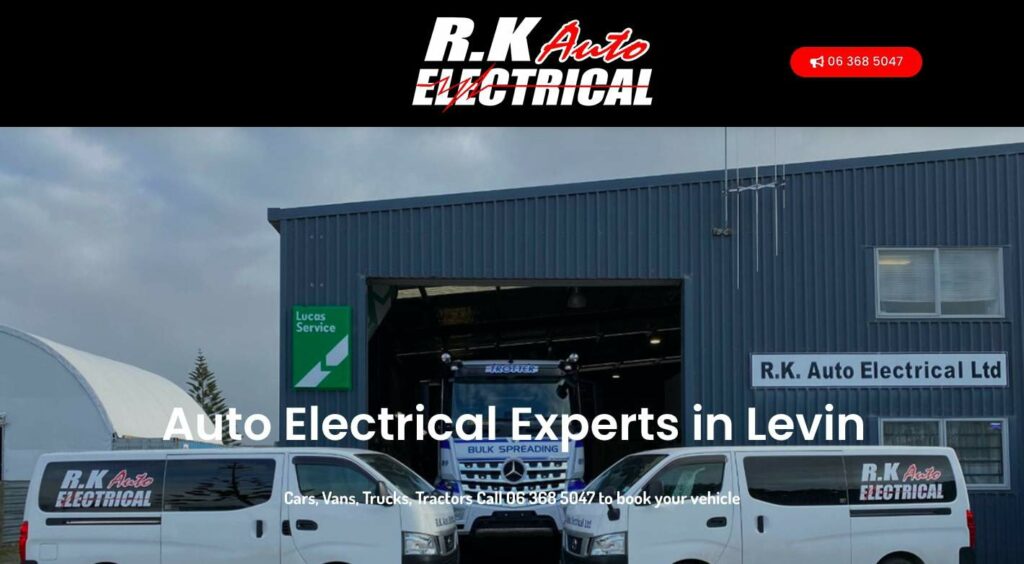 | | |
| --- | --- |
| SERVICES | Auto Electrical Repairs, Fuel Injection Service, Power Steering Service, Alternator & Starter Motor Repairs |
| WEBSITE | https://www.rkautoelectrical.co.nz/ |
| ADDRESS | 81 Hokio Beach Road Levin |
| CONTACT DETAILS | Phone: (06) 368-5047 |
| OPERATING HOURS | Monday to Friday: 8:00am – 5:00pm |
RK Auto Electrical was founded by Rodney Arthur Kitchener. Together with his wife Diane, they have been doing business in Levin for over three decades.
The primary service they offer is auto electrical sales, services, and repairs. While they can also handle more recent makes and models of cars, their specialty is centered toward vehicles with simpler electrical systems.
RK Auto Electrical can take on projects involving personal vehicles and heavy commercial vehicles. So whether you plan to bring your SUV to have its Bluetooth checked, or need to conduct regular maintenance on one of your cargo trucks, this company is an option worth considering.
Some of the things they can repair for personal vehicles include alternators, starter motors, heaters, airbag (SRS) systems, alarms, and electric windows, just to name a few. They are also experts in electronic fuel injection systems as well.
As for commercial fleets, they offer to check trailer lighting & braking systems, wiring faults, accessory installations, lighting upgrades, and more. They offer free battery testing as well and are authorized agents for Lucas, Varta, and Endurant products.
They have a broad range of diagnostic tools which include the G-Scan 3, Texta for commercial, and Snap-On. Plus, their affordable rates make them a great option if you need an electrical issue fixed immediately without breaking the bank.
Offers free battery testing
Experts in electronic fuel injection systems
Can handle heavy commercial vehicles
Has advanced diagnostic tools
No free quotations
Specializes in auto electrical services only
Customer Reviews
Guaranteed to get the job done right
"I've been using these guys a for a while and they do great work and are very thorough in what they do so you're guaranteed to get the job done right first time." – Craig D

How to Choose an Electrician
Choosing the right electrician can be a daunting task, especially since the quality of their work can directly affect your safety. Here are a few tips on how to choose the right one.
1. Check if the electrician is registered and licensed
It's actually not that difficult to check if an electrician is registered in New Zealand. You can ask to see their Electrical Workers Registration Board (EWRB) licence, which they must carry with them at all times when working.
Not everybody can get this license – electricians are required to pass several qualifications to attain it. These are: the National Certificate in Electrical Engineering – Electrician for Registration (L4) or the National Certificate in Electrical Supply – Electrician (L4).
2. Check if the electrician is a Master Electrician
As the title implies, a Master Electrician ensures that you, as a customer, receive the highest quality work possible. Moreover, an electrical contractor with this title provides a workmanship guarantee of 12 months from the date of work completion.
3. Find one that's close to your location
Electricians often charge what's known as a call-out fee, which is essentially their travel costs to go visit your home or location. Naturally, this fee will increase if the electrician is based far away, so try to find out that's as close to your location as possible.
4. Inquire about previous work and referrals
One of the best ways to get a sense of an electrician's workmanship is to literally ask other people about it. Getting a credible referral from a friend or a colleague is often best when it comes to contract work.
FAQs about Electricians
---
And that's it for our list of the best electricians in Levin! We hope you found the right tradesman for the job from our list.
Did we miss a sparky that you think we should add? If so, please send us a message and we'll check them out!
Now, if you would like to transform your home to a more sustainable and energy saving one, we would suggest checking out our list of the best solar panels in New Zealand.