The 8 Best Fat Burners in New Zealand
Sometimes, no matter how hard you exercise or diet, you just can't seem to shed the extra weight. Don't worry, because we've found something that might help you out!
Fat burners are dietary supplements that can help increase the rate at which excess fat burns from your body. There are various options to choose from in the market today, so we've rounded up the top ones based on their ingredients, effectiveness, flavors, and feedback from people who've actually used them.
If you're ready to start your weight loss journey, then read on to find out more about the best fat burners in New Zealand!
1. EHPLabs OxyShred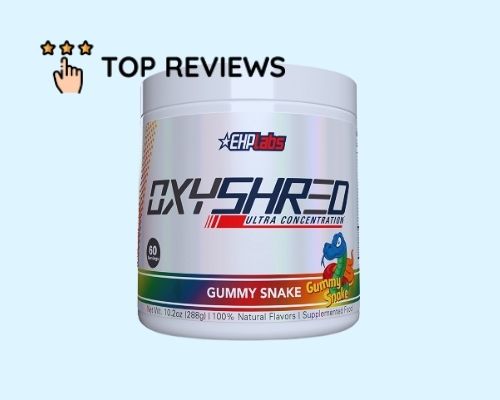 | Test | Info |
| --- | --- |
| PRICE | NZ $75.19 |
| NET WEIGHT | 288g (10.2oz) |
| SERVING SIZE | 1 Scoop (5g) |
| NO. OF SERVINGS | 60 servings |
| FLAVORS | Kiwi Strawberry, Passionfruit, Mango, Wild Melon, Guava Paradise, Pink Grapefruit, Gummy Snake, Raspberry Refresh, Cosmic Blast |
| KEY INGREDIENTS | Green Coffee Bean Extract,Chromium Picolinate, Acetyl L-Carnitine, Higenaine, Grapefruit Seed Extract, Naringin, Coleus Forskohlii, Phenylalanine, Oleuropein, Guggulsterone, African Wild Mango, Raspberry Ketones, L-Glutamine, Vitamin C, 1,3 and 7 Trimethylxanthine, Tyrosine, Taurine, B Vitamins Full Spectrum. |
| WEBSITE | https://ehplabs.com/ |
EHPlabs was founded in 2012 in Utah and provides a range of over 20 supplements to the global market. Their in-house scientists conduct research and formulate products specifically for the fitness industry, helping people reach their "Empowered Human Potential" or EHP.
The flagship product that put EHPLabs on the map is OxyShred, a thermogenic fat burner that quickly gained a cult following among athletes and fitness enthusiasts.
Oxyshred works by generating heat to burn calories faster, using stored fat as fuel. It can also curb your cravings for food and suppress your appetite, theoretically helping you lose unwanted fat even faster.
What makes Oxyshred different is that it limits your body's absorption rate of calories. It eradicates fat cells safely with its full strength Acetyl-L-carnitine (ALCAR) and a specially formulated Hyper-lipolysis matrix.
Another unique feature of this fat burner is that it has Vitamin C, L-Glutamine, and the complete vitamin B spectrum, to boost your immune system. Oxyshred can also boost your mood, helping you reduce "crankiness" and "mind fog".
Although Oxyshred isn't a stimulant-based product, it still contains 150mg of caffeine with each serving – this is equivalent to a little bit more than a cup of coffee. So if you're on special medication, have a health condition, or have a low tolerance for caffeine, you may want to consult your doctor before consuming Oxyshred.
However, if you're in good health or don't fall under any of the aforementioned conditions, Oxyshred has undergone triphase testing and is quite safe. You can always lessen EHPLabs recommended dosage if you find the caffeine content too strong.
Do take note that you shouldn't take more than two scoops a day. The recommended dosage is 1 scoop with 8-10 oz (240-295mL) of cold water on an empty stomach as soon as you wake up.
You may take an extra scoop in the afternoon, but no later than 5 pm because of the caffeine content. Moreover, you're advised not to eat food or drink a protein shake within 20 minutes after consumption.
EHP Labs offers Oxyshred in six different flavors that are made from natural ingredients. They are a little sweeter than its competitors, but the flavors are smooth and clean.
In short, Oxyshred has become a popular choice because it can boost your metabolism, help suppress your appetite, and give you focus and energy. If you're looking for a no-frills fat burner, this is one of our best choices in New Zealand.
Contains ingredients to boost immune system
Cost effective
Flavors are made from natural ingredients
Non-reactive ingredients
Moderately high caffeine content
Flavors might be too sweet for some people
Customer Reviews
High quality ingredients
"Good taste.High quality ingredients. No jitters, not too much caffeine and has a nice flavour. I love that it doesn't have beta alanine or other ingredients that cause a reaction. Very fine easy to mix powder." – Carolyn D
Boosts energy
"Rapid results! It's quite sweet but helps to reduce sugar cravings. It also boosts energy levels-but slightly, without the hype effect of too much caffeine." – Taina R.
2. BSc HydroxyBurn Shred Neuro-Thermogenic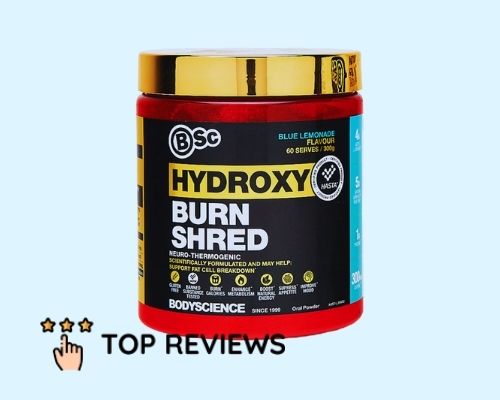 | Test | Info |
| --- | --- |
| PRICE | NZ $83.90 |
| NET WEIGHT | 300g (10.5oz) |
| SERVING SIZE | 1 scoop (5g) |
| NO. OF SERVINGS | 60 servings |
| FLAVORS | Blue Lemonade, Lemon Lime, Orange Sorbet, Passionfruit, Super Berry and Watermelon. |
| KEY INGREDIENTS | HydroxyCitric Acid, Caffeine, GreenTea, Acetyl L Carnitine, Chromium, Tyrosine, Commiphora Molmol Gum Powder, Guarana |
| WEBSITE | https://www.bodyscience.co.nz/ |
Body Science or BSc, is a brand from Australia that's been crafting supplements for athletes since 1999. They're known for prioritizing the use of natural ingredients to provide customers with "clean" and effective products.
Hydroxyburn Shred is one of their flagship fat burners, which has been formulated to help with alertness, metabolism, and thermogenesis. It does so with a special combination of vitamins, minerals, herbals, and amino acids, which also promote your health.
It has 4000mg of Acetyl L Carnitine per serving that helps with metabolism and energy. This is further enforced by Caffeine Anhydrous, Guarana, and Vitamin C, which aid with cognitive awareness as well.
Guarana is a notable ingredient, found only in the Brazilian Amazon tropical forests, which has served as a natural stimulant for the indigenous peoples. It's a popular weight loss supplement today, known to enhance athletic performance and reduce mental fatigue.
Hydroxyburn Shred has over 150 mg of caffeine per serving, so if you take it twice a day you can get up to 300mg dose. This is roughly the same as 6 cups of coffee, so if you suffer from anxiety or jitters, you may want to think twice before taking a double dose.
However, when combined with the fat burning ingredients, the caffeine intake can help speed up your calorie burn. It has Green Tea, Caffeine, Chromium, Garcinia Cambogia, and Hydroxycitric Acid which help you burn more fat throughout the day.
The nootropic ingredients, such as Tyrosine, have been systematically chosen by BSc to help keep you motivated while you work out or to mitigate the drain you might experience from calorie deficits. This can be critical to managing your mood because Hydroxyburn Shred can also suppress your appetite.
This fat burner is vegetarian-friendly, gluten-free but isn't suitable for vegans. Which can seem a little ironic to some because Hydroxyburn Shred has been formulated with a mix of herbal medicine and sports science.
Nevertheless, Hydroxyburn Shred can be used in a variety of applications, either as a pre-training supplement, to boost your energy or enhance your metabolism. It is versatile especially when combined with a healthy diet and exercise, making it one of our top picks of fat burners for Kiwis.
Contains a mix of herbal medicine and vitamins
Helps with mental alertness 
Vegetarian-friendly and gluten-free
Can be used in different applications
Not suitable for vegans
Expensive
Customer Reviews
Have used for years
"Ride or die product. Have used for years and something I love taking as part of my daily routine. Great- Sups team are always happy to go the extra mile and personalised cards are a great point of difference." – Claire R.
Easy to mix
"Love it! Great product! Tastes like a lemonade iceblock! Easy to mix." – Jason S.
3. JNX Sports The Ripper Fat Burner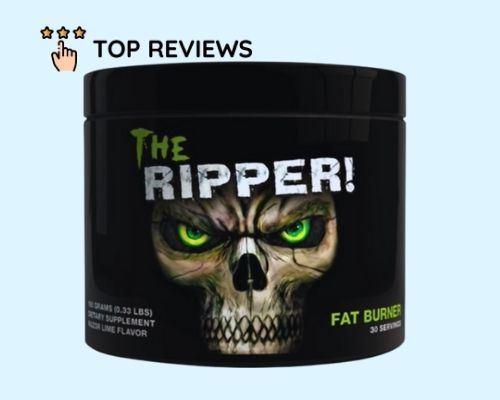 | Test | Info |
| --- | --- |
| PRICE | NZ $44.90 |
| NET WEIGHT | 150g (5.3oz) |
| SERVING SIZE | 1 scoop (5g) |
| NO. OF SERVINGS | 30 servings |
| FLAVORS | Razor Lime, Raspberry Lemonade, Pineapple Shred, Blue Raspberry, Watermelon Candy, Pink Mango, Blood Orange, Fruit Punch, Pixie Sticks |
| KEY INGREDIENTS | Raspberry Ketones, Beta-Alanine, Acetyl L-Carnitine, Cinnamon Bark Extract, Chromium, Green Coffee Bean Extract, Green Tea Extract, Olive Leaf Extract, Caffeine Anhydrous, Guarana Extract. |
| WEBSITE | https://jnxsports.com/the-ripper |
JNX Sports, formerly known as Cobra Labs, crafts a range of various supplements. The Ripper has been on the market since 2014, and the company claims to have sold more than a million worldwide.
This fat burner has an eclectic mix of vitamins, minerals, stimulants, and plant extracts but the concentrations are hidden in its proprietary blend of Ripper Shed Matrix and Extreme Muscle Fuel. This can make it difficult to pair The Ripper with other supplements.
One interesting ingredient in this fat burner is the Raspberry Ketones, which supposedly work as a thermogenic booster, similar to capsaicin. However, studies have yet to show conclusive evidence of its efficacy.
You'll also find low amounts of Beta-Alanine in The Ripper, an ingredient usually included in pre-workout supplements. Research suggests that in high doses, it can increase muscle strength and decrease fatigue.
The Acetyl L-Carnitine content in The Ripper is also in modest amounts. Although ALCAR is known to help with focus and endurance, its concentrations here may not be enough to make a noticeable impact.
The Ripper also has Cinnamon Bark Extract which is meant to help regulate glucose levels but it can stimulate appetite as well. However, the Chromium, Green Coffee Bean Extract, and Green Tea Extract can help manage your blood sugar levels and maintain your weight.
Curiously, you'll also find Olive Leaf Extract, which is a debatable ingredient that supposedly helps with reducing fat. Although it may simply be used as a filler in this instance to round out the proprietary blend.
The Ripper is a stimulant-based fat burner that contains a total of 200mg of caffeine per serving. This is mainly derived from Caffeine Anhydrous (dehydrated caffeine extracted from plants) and Guarana extract.
This is probably why JNX Sports warns against taking more than three scoops in a single day or mixing it with other caffeine-rich products. It would also be wise to avoid drinking it within six hours before going to bed.
Each 150g bottle of The Ripper can provide up to 30 one-scoop servings, and should be consumed before exercising. If you don't want to get the large tub, it's also available in a 5-serve variety pack with Blue Raspberry, Raspberry Lemonade, Razor Lime, and Pineapple Shred.
Stimulant based content can contribute to weight loss
Contains B12 and Vitamin C
Can aid in muscle strength and endurance
Best consumed as a pre-workout supplement
The ingredient amounts in its proprietary blend  are concealed
Several key ingredients are in moderate doses
Customer Reviews
I recommend this product
"Best taste! Got the watermelon and tastes amazing both with water and when dry scooped. Got the tingles like a pre workout for first couple of uses but not anymore. Although weight has stayed the same noticing a lot more definition of biceps and abs (muscle mass increase) which could be somewhat contributed to consistent training along with taking this fat burner. I recommend this product" – Shelby Rupa-Hayward
The best I have tried
"This had almost been a monthly purchase.. I absolutely love this fat burner, gives me the energy I need on the daily with my busy wee life! Def the best I have tried and will keep buying! Lime and blue raspberry are my fave flavors!" – Ash
4. Pharmafreak Ripped Freak Fat Burner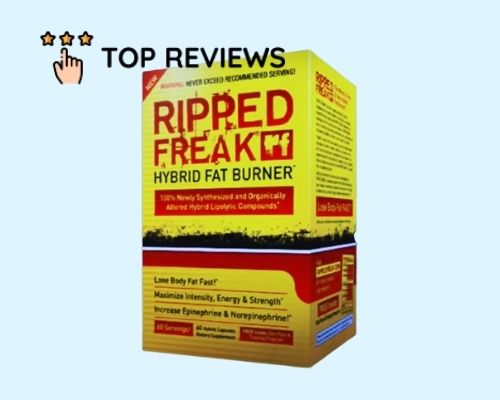 | Test | Info |
| --- | --- |
| PRICE | NZ $50.15 |
| NET WEIGHT | 60 capsules |
| SERVING SIZE | 1 capsule |
| NO. OF SERVINGS | 60 servings |
| KEY INGREDIENTS | Olive Leaf Oleuropein Aglycone, Sweet Red Pepper, Caffeine, Green Tea, Raspberry Ketone |
| WEBSITE | https://pharmafreak.com/ |
With its bright and flashy red-yellow packaging, it's almost impossible to miss the Pharmafreak Ripped Freak. It claims to be the first and only "hybrid" fat burner in the market on the shelves since 2009.
This award-winning fat burner's clinically tested formula claims to increase thermogenesis with only a single capsule. It can boost your metabolism, help with weight loss, provide energy and stimulate your brainpower as well.
It works by stimulating the metabolic activity in your body by releasing the energy stored in your fat. We especially like that it comes in capsule form, which makes it easy to consume and take around with you.
A single capsule comes packed with a potent dose of 350mg caffeine! So if you're sensitive to stimulants and prone to jitters, you may want to consider another option.
Nevertheless, this nootropic fat burner is taken the moment you wake up or at least a half-hour before you eat breakfast. Depending on your tolerance to caffeine, you can take a second capsule in the early afternoon.
Moreover, based on our findings and customer feedback, we found that the PharmaFreak Ripped Freak yields better results when consumed twice a day. With that said, in our opinion, it's better only for those who can handle the caffeine content.
PharmaFreak Ripped Freak also contains Green Tea Leaf Extract, which is meant to improve metabolic processes that could aid in processing calories more efficiently. It also has Olive Leaf Extract, which may curb your cravings and appetite, although its true efficacy is still up for debate.
One of its unique ingredients though is the 200mg of CH-19 Sweet Red Pepper Extract per capsule, which is supposed to prevent fat from stacking up. While it's just essentially another form of capsicum, when combined with the Green Coffee Bean Extract, can actively promote thermogenesis.
Pharmafreak Ripped Freak also has Raspberry Ketone which can provide a mental boost and help with managing your weight management. Since it also contains Gallic Acid, the two ingredients can minimize excess storage of fat and provide antioxidant qualities as well.
If you're looking for a stimulant-based fat burner in capsule form, we think the Pharmafreak Ripped Freak is an option worth considering. For those that can tolerate its caffeine content, it can easily be their top fat burner of choice.
Comes in convenient capsule form
Contains CH-19 Sweet Red Pepper Extract
Can take up to two capsules a day
No flavors to choose from
High caffeine content
Customer Reviews
Easy and quick to take
"Like that these are in capsule form so they're easy and quick to take with other morning pills. Find these curb my hunger well and help me make better food decisions as I'm not feeling so hungry anyway. Usually take 1 a day, sometimes 2 depending on what I'm doing. No jittery or unusual feelings with these pills, have already ordered a second bottle for when the first finishes." – Victoria
Keeps me toned
"Love this! Take it every morning and gives me so much energy! Been using it for so long and defs keeps me toned" – Monika
5. Ghost Burn V2 fat burner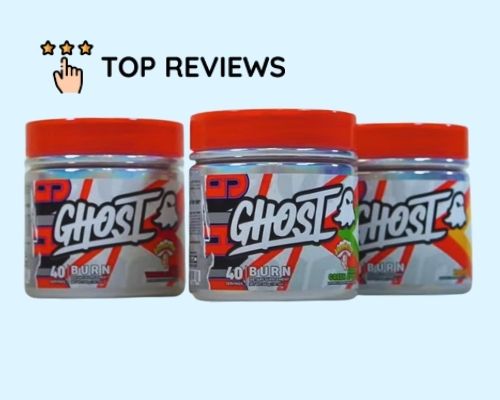 | Test | Info |
| --- | --- |
| PRICE | NZ $63.20 |
| NET WEIGHT | 240g (8.5oz) |
| SERVING SIZE | 1 Scoop 6g / 2 Scoops 12g |
| NO. OF SERVINGS | 40 servings (1 scoop) / 20 servings (2 scoops) |
| FLAVORS | Sour Watermelon, Spicy Pineapple Margarita, Passion Fruit, Mango |
| KEY INGREDIENTS | L-Carnitine L-Tartrate, Acetyl-L-Carnitine, Choline Bitartrate, L-Tyrosine, NeuroFactor Coffee Fruit Extract, Caffeine Anhydrous, Grains of Paradise (Paradoxine), KSM-66 Ashwagandha |
| WEBSITE | https://www.ghostlifestyle.com/ |
We like Ghost for many reasons, but perhaps the transparency of their formula is our favorite. The dosage of each ingredient is indicated in detail which makes this fat burner easy to partner with any other supplements you may be taking.
Ghost is also known for using only scientifically proven boutique ingredients. This does make their product slightly more expensive, but at least there are no "gray" ingredients in their formula.
Now Ghost Burn, unlike most of its competitors, uses two forms of Carnitine that aid in fat loss by transporting fatty lipids to be burned off as energy. These are L-Carnitine L-Tartrate and Acetyl-L-Carnitine (HCl or ALCAR) – both of which appear in doses of 1,500mg.
Ghost Burn also has a "cognitive-enhancing ingredient" or nootropic appearing in the form of 1,000mg of Choline Bitartrate and 500mg of L-Tyrosine. Studies have shown that these two ingredients assist in alertness and can improve focus.
As if that weren't enough, Ghost Burn also throws in NeuroFactor Coffee Fruit Extract from FutureCeuticals at 100mg. This ingredient aids in what is known as BDNF or Brain-Derived Neurotrophic Factor, which is essential to higher brain functions such as retaining information and critical thinking.
Ghost Burn has one of the highest caffeine content we've seen, with 300mg for each serving, making it ideal as a pre-workout powder. The large amount of Caffeine Anhydrous in it means you'll need to abstain from consuming other caffeine products simultaneously.
However, it is the 40mg Grains of Paradise (Paradoxine) that will help increase your fat loss, which increases your body temperature to help you burn off excess fat quicker. It works especially well since combined with the 30mg of Bitter Orange Extract, which increases fat oxidation.
Another unique ingredient in Ghost Burn is the 600mg of KSM-66 Ashwagandha, which has mood-boosting capabilities by regulating cortisol levels. It is also notorious for increasing testosterone levels, which can dip as your body fat burns.
We like this fat burner because it essentially provides you with "clean" energy and increased focus without burnout. However, there aren't any ingredients that help to suppress your appetite or curb your cravings.
Ghost Burn only has four flavors so the lack of variety isn't exactly exciting. Moreover, the taste of the Grains of Paradise is quite bold and spicy, which can be off-putting for some.
Nevertheless, Ghost Burn is a great formula of premium "luxury" and boutique ingredients that you don't typically find in other fat burners. It is vegan-friendly, gluten-free, and soy-free which earns it a spot on our list of the best fat burners in New Zealand.
Only contains tried and tested ingredients
Focused on nootropic elements
Vegan-friendly, gluten-free, and soy-free 
Doesn't suppress appetite
Only four flavors available
Customer Reviews
Keeps me feeling alert all day
"Very impressed with this! Firstly super tasty… has an interesting spiciness to it which may take some time to get used to but I love it! Keeps me feeling alert all day which is amazing! I'm the nap in the afternoon kind of girl usually" – Rebecca
Absolutely hooked
"I've used this product multiple times and have been absolutely hooked since it came out. I thoroughly enjoy all of "Ghost's" products and enjoy switching it up will all the exciting flavours they release. Passion fruit is my preferred flavour." – Nicola
6. Fat Burner NZ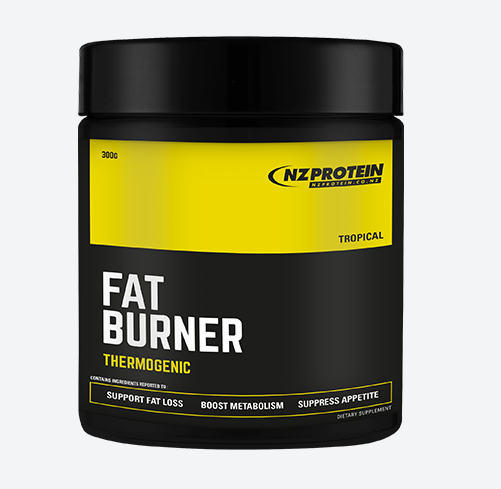 | | |
| --- | --- |
| PRICE | NZ $750.00 |
| NET WEIGHT | 300g |
| SERVING SIZE | 1 Scoop (5g) |
| NO. OF SERVINGS | 60 servings |
| FLAVORS | Tropical |
| KEY INGREDIENTS | Cayenne Extract, Garcinia Cambogia (60% HCA), L-Carnitine L-Tartrate, Vitamin C, Caffeine, Chromium, Green Tea Leaf Extract, Tyrosine, Piper Nigrum |
| WEBSITE | https://www.nzprotein.co.nz/ |
Fat Burner NZ is a thermogenic powder supplement that is specifically formulated to help burn fat in three ways that do not harm the body's natural processes. It contains ingredients such as Cayenne extract, caffeine, and L-Carnitine that are all carefully put together to stimulate the best results.
The product can regulate blood sugars, increase metabolism, and the energy products to enhance weight loss results.
The brand itself is acclaimed to be credible and in general offers the best value of such supplements that actually was reviewed to be effective.
Flavors could be improved into tastier blends so clients will have a wide array of choices and stay motivated to take the said supplement daily.
Overall, from the shipping down to the end results, the product may need more than 2 weeks and continuous exercise for it to take effect and cannot be treated as a standalone.
Plant-based ingredients
Gluten-free, Soy-free
Complements exercises
Has only one flavor
Cannot be treated as a standalone
Customer Reviews
Here are some reviews from their clients:
"I've tried so many different fat burners and pre workouts….. nothing that I could say were enjoyable or worked. NZ Protein fat burner is a game changer, it tastes amazing, reminds me of the raro sache drink you had as kids. I take it daily and love it, it really works with assisting with fat loss. Also I highly recommend this to be used as a pre-workout too, as for me personally it gives me the same kick of energy without the tingles. This is the best fat burner I've used and will continue to use 🔥👌🏻😁"
"Awesome product, great taste, not too sweet or strong. Gives great energy boost without jitters and I am seeing results with my weight already. I will definitely be purchasing again, highly recommended."
7. Reactiv Supplements: TR2 Fat Burners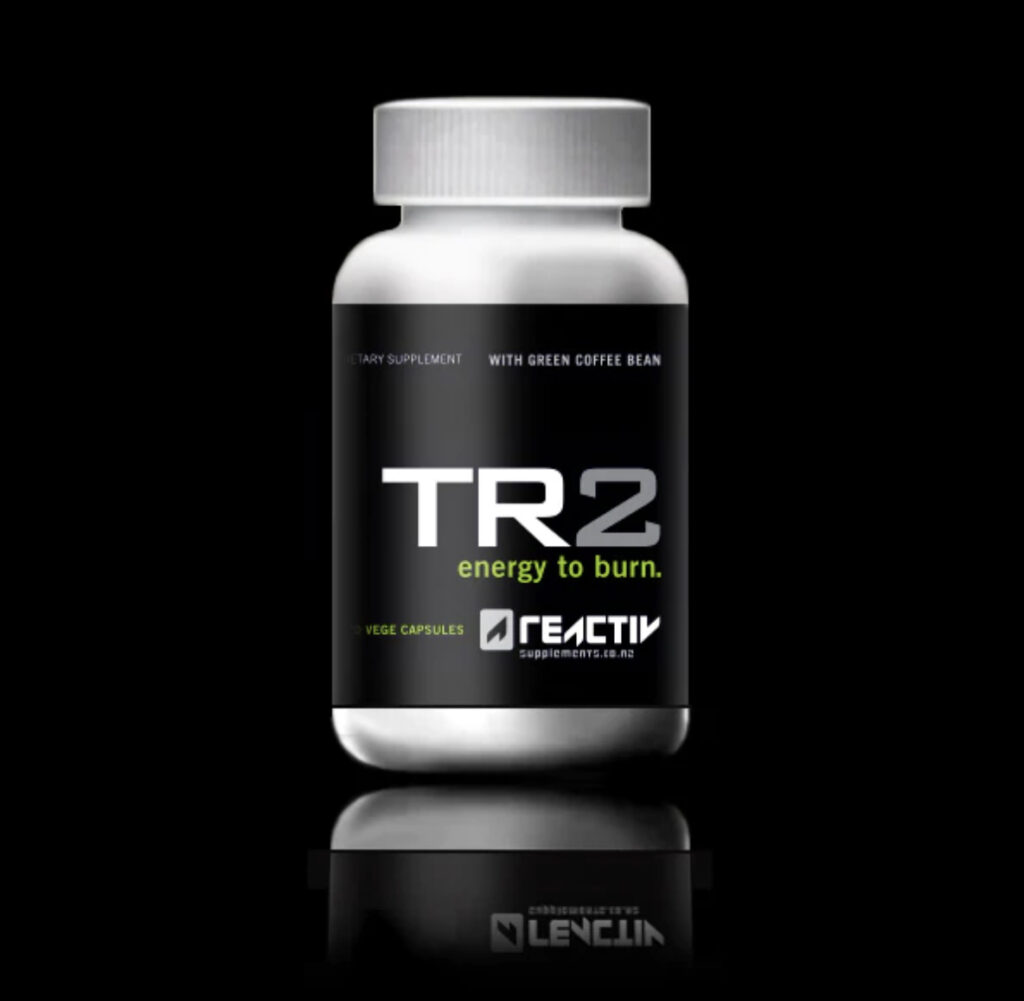 PRICE
NZ $79.80
SERVING SIZE
1 capsule
NO. OF SERVINGS
2x a day, OR
2 days on, 2 days off, and so on for 6 to 12 weeks, OR
5 days on, 2 days off, and so on for 6 to 12 weeks, OR
7 days on, 7 days off, and so on for 6 to 12 weeks.
KEY INGREDIENTS
Green Coffee Bean Extract, Guar Bean Extract, Caffeine, White Willow Bark Extract, Green Tea Extract, Cayenne Capsicum, Ginger Root, Green Tea Extract, Citrus Aurantium
WEBSITE
https://www.reactivsupplements.co.nz
Reactiv Supplements offers a wide range of supplements for protein, muscle, weight loss, and vitamins. They offer TR2 supplements as fat burners.
TR2 is a hundred percent vegan product that contains green coffee bean extract which has high levels of active compounds for weight loss. TR2 has a balanced ratio of ingredients that aid to your weight loss diet and training plan.
To effectively see the results of the supplement, it must be used along with diet and exercise. On the other hand, TR2 is not recommended to be used by drug tested athletes as it may cause a false positive result in a test.
Each bottle of TR2 contains 120 capsules. They cost at a retail of $79.80 or $19.95 in 4 payments using Afterpay.
If you want to lose weight and not just burn fat, they also provide other weight loss products aside from TR2. Some of these supplements include their Pure Acetyl L Carnitine, Pure Stevia, and Low Calorie Flavouring.
Has green coffee bean extract content
100% vegan supplements
Flexible payment options
Accepts card payments
Free shipping all over NZ
Not advisable for drug tested athletes
Caffeine content may affect sleep routine
Customer Reviews
Weight Loss and Motivation
"I've been taking TR2 for 6 weeks, I've had a good bodyfat drop considering my diet isn't perfect and I don't count calories. It's helped me feel more motivated for the exercise too. Very happy with the results. Will keep going for another 6 weeks." – Matthew
Strong and Effective
"This is the strongest fat burner I've used. As well as helping me drop my bodyfat for this summer it's also taken my training energy to another level. I just started combining it with Carnitine Fumarate which has been going well with more burning and energy for training while on low calories" – Joseph
8. Svasthya
PRICE
NZ $79.95
SERVING SIZE
1 capsule
NO. OF SERVINGS
Take 1 to 2 capsules in the morning or early afternoon.
Never take more than 2 servings in a 24-hour period
KEY INGREDIENTS
Green Tea Extract, Green Coffee Bean Extract Guarana Seed Extract, and Yerba Mate Extract
WEBSITE
https://svasthya.nz/
Svasthya has been operating since late 2019. We prefer them over other companies because they are the cheapest retailer and they make sure that their customers get the lowest price of the item from them as much as possible.
The product above is their Gaspari Detonate DTN8 New Formula – Fat Burner Pills. What's great about this is that it does not only incinerate body fat but also covers three other key areas to create the ultimate explosive fat burning and energy experience, which is something that other pills do not offer.
We prefer this fat burner because Gaspari has proved that every ingredient in these pill can truly liberate and burn fat. Aside from this, another benefit is that this can fuel you for your work out as it has natural stimulants.
Unlike others, the formula of this will not make you feel like you're crawling out of your skin. Rather, it can help with your mental focus to make you focused in the gym.
If you are not a fan of taking pills, do no fret as they also offer other types of fat burners. Some of these are EHP Labs Ultimate Fat Burner Bundle, EHP Labs Oxyshred Fat Burner Trio, Ghost Burn Fatburner V2 Combo, EHP Labs Fat Loss Stack, and more!
Extensive range of products
Also sell creatine supplements, mass gainers, protein bars, and more
Payment methods are cash, VISA, mastercard, POLI, humm, afterpay, and LAYBUY
Operating hours of shop is not available on their website
Customer Reviews
Weight Loss and Motivation
"I've been taking TR2 for 6 weeks, I've had a good bodyfat drop considering my diet isn't perfect and I don't count calories. It's helped me feel more motivated for the exercise too. Very happy with the results. Will keep going for another 6 weeks." – Matthew
Main Points to Consider When Choosing a fat burner
With so many fat burners in the market today, it can be difficult to choose, especially if you don't know where to start. Here are the things to watch out for to help you choose the best fat burner for your needs.
1. Ingredients:
There's no getting around the fact that you need to look at the quality and quantity of ingredients. It's important to research what each one does and if they contribute to weight loss.
If in doubt or if you have any medical conditions, always consult your doctor. There is a slight chance that some of the ingredients may conflict with medication you are taking, if any.
2. Type
Fat burners come in different varieties and each has their own strengths and weaknesses. There are appetite suppressants, thermogenic fat burners, fat blockers and stimulant-free fat burners.
3. Form Factor
There are three main forms of fat burners and it's up to you to decide which one is most agreeable with your lifestyle and preferences.
Capsules, for instance, are extremely convenient and easy to consume. Powders and teas, on the other hand, require mixing with water and can't be transported that easily.
FAQs about Fat Burners
---
And that's our list of the best fat burners in New Zealand! We hope these products can help you reach your fitness and lifestyle goals!
Did your favorite fat burner make our cut? If you think it should be on our list, please send us a message so we can read up on it!
Looking for other ways to boost your fitness goals or improve your lifestyle? Then you may want to check the following articles below: