Floating shelves let you embellish your room with your books and knickknacks, giving it a harmonic mix of color. If you're looking for a creative design, we have you covered, as we've rounded up the best floating shelves in New Zealand.
Without floating shelves, your wall only stays plain and ordinary. Furthermore, chances are you have lots of things around your room that hinder your movement because you don't have somewhere to place them out of the way.
Besides making your room look quaint and attractive, floating walls can also help you organize various things. That makes it easier for you to find important objects or tools when you need them.
Before we go on with our product selection, however, we'll just discuss a bit about floating shelves that will give you an idea what to use them for, so that you can pick the design that best fits your decor.
Some Tidbits about Floating Shelves
Floating shelves come in all shapes and sizes. There are millions of designs that might appeal to you and be exactly what you're looking for your home.
Anyway, here are some tidbits and facts about floating shelves:
It's always useful to have a measurement or at least an estimate of the space you have for the shelf before buying.
The weight capacity is also important, so make sure to double-check and think about what kind of items you are going to put there. Consider fastening it to a wall stud if it's heavier.
Floating shelves are flexible in terms of altering your home or matching them to your new paint. Most are also quite easy to replace without leaving any damage or breakage on the wall.
Some shelves can also be used to cover unsightly bumps, dents, cracks, or holes.
For a cheaper alternative, you can DIY and customize your shelves — if you're handy with tools, that is.
The Best Floating Shelves in New Zealand
With these things in mind, let's round up the best floating shelves in New Zealand that will bring not only a functional shelf but also a nice aesthetic touch to your home:
1.   IKEA Lack Wall Shelf Unit, Stained Oak Effect
Best Space-Saving Floating Shelves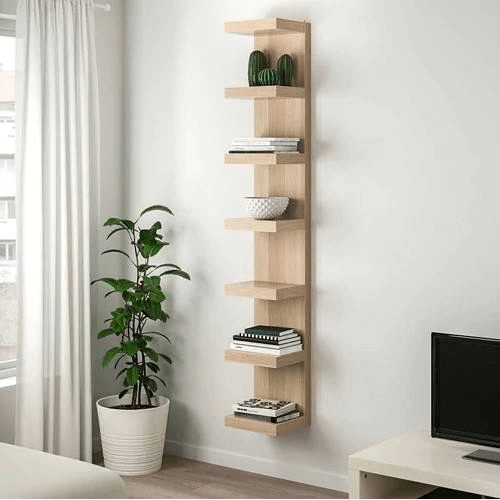 Price: NZ$129 exclusive GST
Maximize your space while taking your decor up a notch with IKEA's Lack Wall Shelf. Note that it can also be mounted or fastened horizontally for a wider space and outlook.
Your best bet would be to stack planners and magazines in threes, display a comely planter, and fancy items.
Though made from particleboard and fiberboard, it recreates the look of stained oak. The result is elegant and neutral, perfect for any house regardless of its style.
In the vertical position, each square board holds up to 3kg. In the horizontal position, it can support a max weight of 25kg.
Highlights
Saves your space in vertical position
Classic stained oak finish
Holds a max weight capacity of 3kg (vertical) and 25kg (horizontal)
2.   IKEA SVENSHULT Wall Shelf, Stained Oak
Best in Design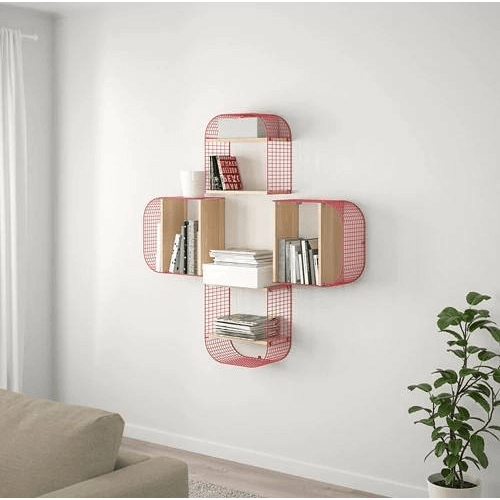 Price: NZ$79 exclusive GST
Let's be honest: a plain shelf set up in your room is fine, but modify it with a red steel mesh net, and it's going to look far more interesting.
Turn it upside down, attach it to the wall by the side or in its original front position — the IKEA SVENSHULT does it all. Each set can take one or two boards that can act as a bookshelf or an extra holder.
It has a stable and versatile mesh that can support small items like albums, letters, power banks etc. And it is also convenient to use as a stand when charging your smartphone, as the wire easily goes through the mesh.
Max weight supported is 16kg for the 2 shelves. With its quaint design, versatility and personalization features, including it among the best floating shelves in New Zealand was pretty much a given for us.
Highlights
Simple and decorative look with red steel mesh
Can be mounted in many creative ways
Stores your items without taking much space
Customer Reviews
Like we've mentioned, you can use the IKEA SVENSHULT in several ways. Two reviewers share where they use it and how.
Tracey28 wrote with a 5-star rating in the IKEA website:
"This shelf does exactly what it needs to. The enclosed storage shelf is great for toy cars that might roll off but you have the shelf above for more sturdy items or ones to show off. The shelf can be used in all rooms."
Then, RobW82 said:
"Holds plenty of books. Easy to construct. Great option for extra boom storage. Could see this working well in a home office / study. Great value."
3.   Leather Strap Shelf
Best Overall Floating Shelf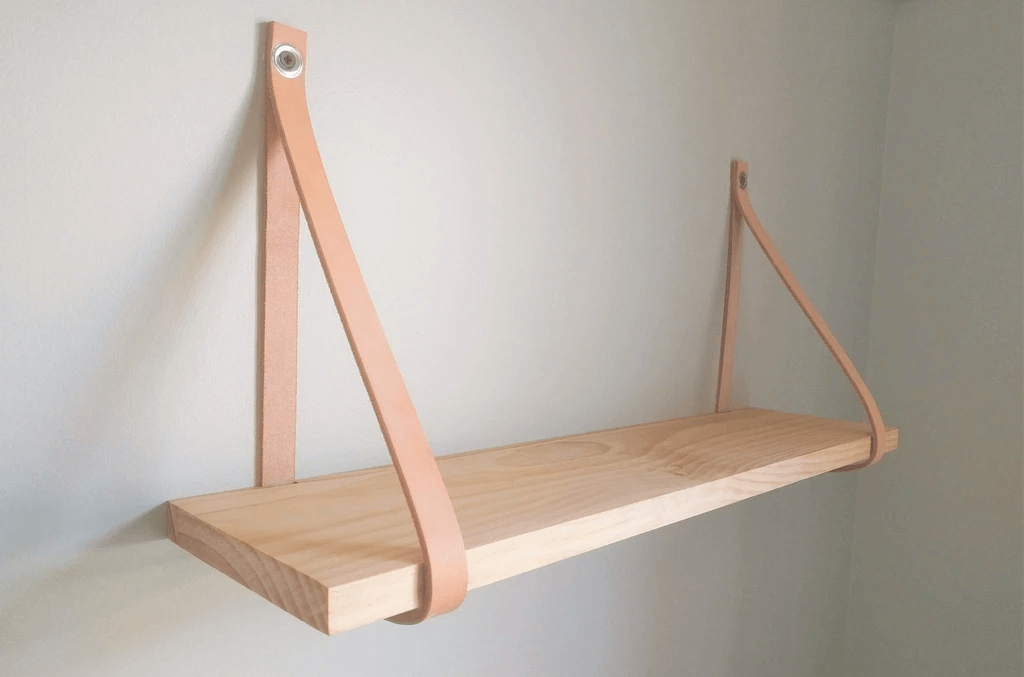 Price: NZ$75
Do you want a stylish floating shelf that will be the admiration of your friends? Then you should try this special Leather Strap Shelf that's made in Christchurch.
Two leather straps securely hold a polished pine board. It's simple, modern, and unusual enough to be a conversation piece.
Maybe you have a garden or greenhouse where you don't have much space to hold some of your plants. Or maybe you just need a place for your little one's stuffed toys or teddy bear.
This shelf can do it all, and comes in Beige, Light Brown, Dark Brown, or Black. You can add more shelves and arrange them diagonally or even in a letter Y.
Mounting it is a piece of cake, as you will only have to screw it on both sides.
Highlights
Elegant pinewood board
Leather strap makes it unique
Choose from Beige, Light and Dark Brown and Black colors
4.   Pegboard
Best Multipurpose Floating Shelves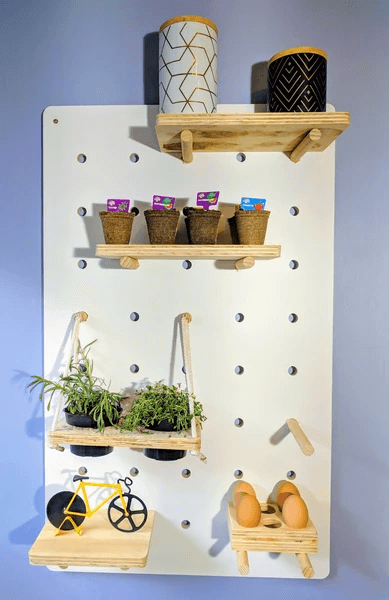 Price: NZ$149
Looking for something more modular? Well, you're in luck, because there's always the extremely cool Pegboard when it comes to the best floating shelves in New Zealand.
With the facade mounted, all you have to do is insert both pegs and lay wooden shelving over them. This wood is particularly thick, made of plywood.
You can decide which area you would use and include a board. And you can also leave some pegs unused if you recognize the need for negative space in your shelving unit.
You can choose from either white or natural wood colors. Did you know you can even have an egg holder or hanging garden add-on too?
When you purchase this, you have the entire kit with screws, drywall anchor, pegs, and boards. It's really cool and was a natural entry on our list of the best floating shelves in New Zealand.
Highlights
Groundbreaking design with pegs and board
Add an egg holder or a nice plant holder
You get the complete kit when you order
5.   Living and Co Wall Shelf, Diamond Wire and Wood
Best Buy Floating Shelves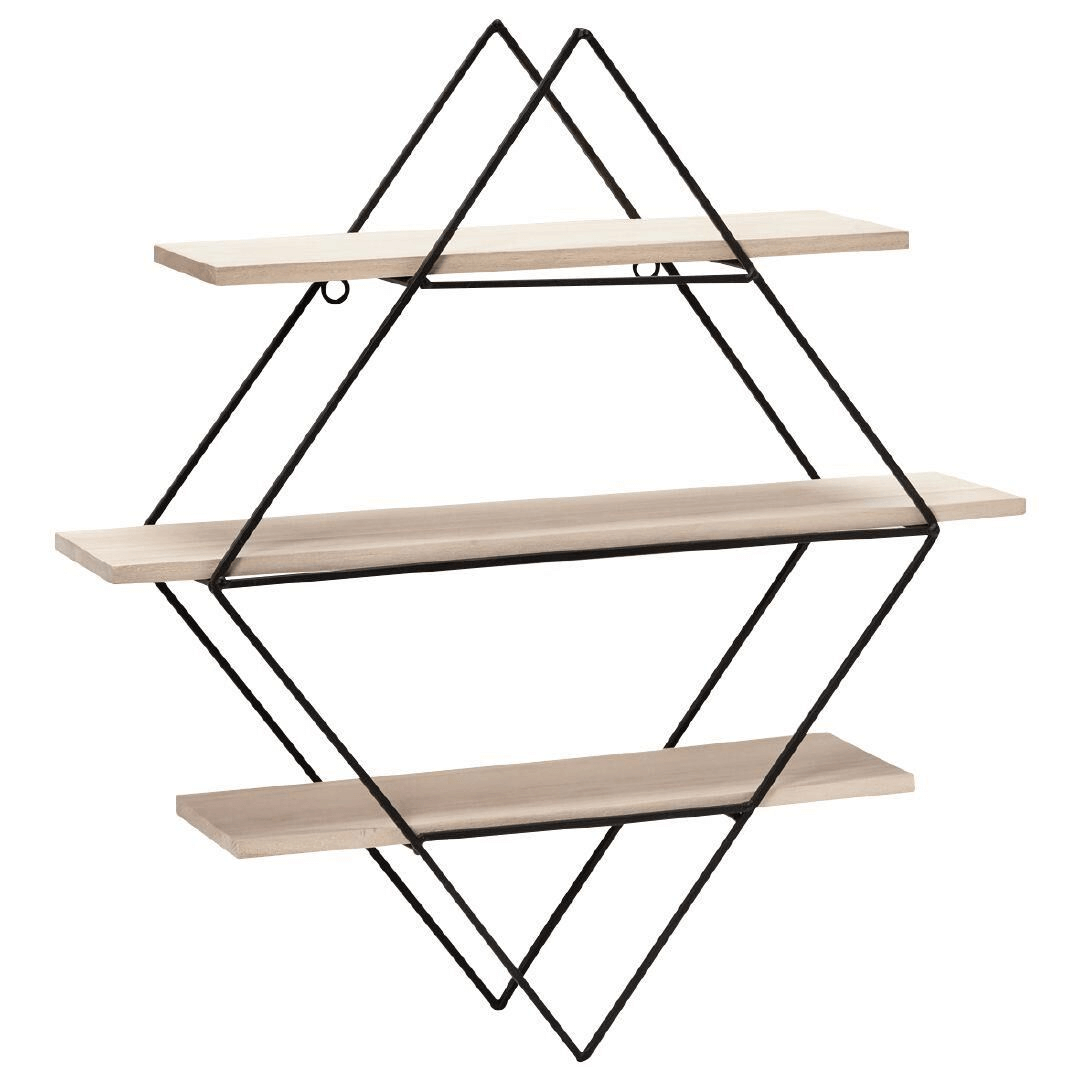 Price: NZ$15
The design and storage of this Diamond Wire and Wood shelf integrates perfectly into a contemporary home and lifestyle.
It has three levels, with the middle being the widest at 56 x 14 x 60cm. That's enough space to display your clear and colored wine bottles, vases, glass displays, or souvenirs.
It will hold your items secure and stable… and blends without effort into most modern settings.
However, it doesn't stop there if you happen to still not be contented. You can, for instance, hang bulbs that light up or hang a cute decoration on it.
It's nicely versatile while being easy to set up and sturdy when installed, which is why we included it in our list of the best floating shelves in New Zealand.
Highlights
Modern diamond shelf design
Not subject to rusting or corrosion
Space-saving and comely
6.   Umbra Conceal 3 Pack Floating Shelves
Best for Booklovers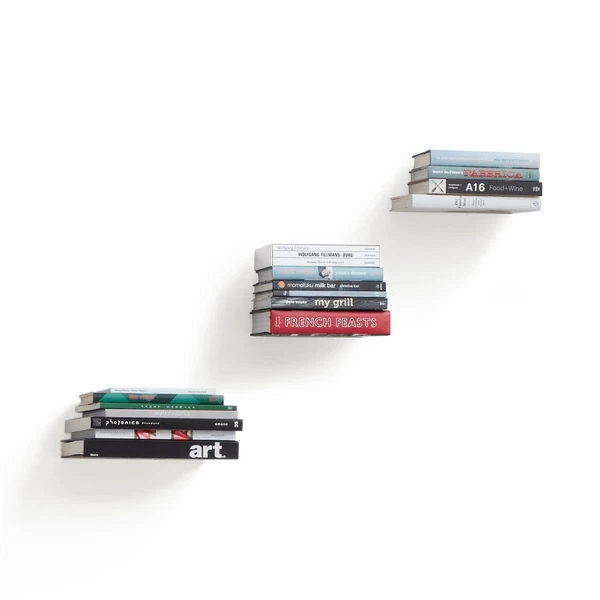 Price: NZ$69
If you are an avid reader and writer, you would find the Umbra Conceal Floating Shelves amazingly cool. They are designed specifically to hold your books, not larger items such as clocks or speakers.
Each shelf uses metal brackets that are screwed against the wall. This package comes with everything so you don't have to get anything from your toolbox, by the way.
Your books will cleverly be held in the air for an artistic, striking look. At the same time, you can simply grab a novel while sipping a cup of tea in the evening.
Furthermore these metal brackets are powder-coated to resist dampness, rusting, and chipping.
And most importantly, you can organize each shelf in a different orientation, say in a straight line or slanted.
Highlights
Cool stack-of-books floating shelves
Discreet and invisible metal brackets
Powder-coated for durability
Complete kit with screws
7.   3 Pack Black Boxed Shelves
Best for Small Plant Displays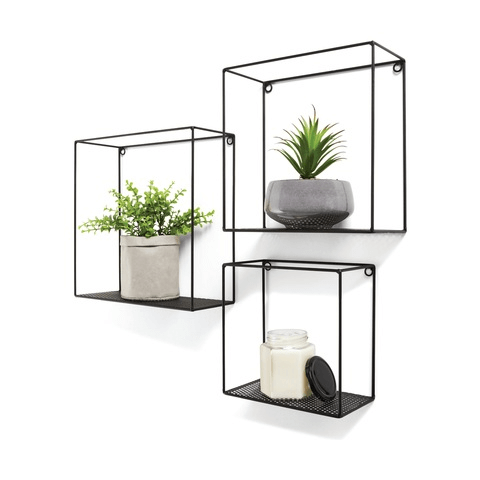 Price: NZ$18
If you are a nature lover, you can use one of these Black Boxed Shelves. This will be wonderful for your porch, terrace or patio, and you can use them to display your mini bonsai trees or aloe veras.
They are not of the same size, with 2 large units and 1 small unit. In any arrangement, you can mount them to make a statement with their decorative factor.
Alternately, you can go traditional (or modern actually) wherein you could display a laughing Buddha, flower in a vase, and special pictures you have.
Highlights
Decorative boxed floating shelves
Comes with 2 large and 1 small
Setup is very easy
And that's all for the best floating shelves in New Zealand. These are the ones most worthwhile and definitely easiest on the eyes while being durable.
Do you have any questions regarding these? If you do, send them our way and we'll get back to you shortly.
If you need a good desk too, by the way, you could read our roundup of the best desks in New Zealand.
Or, if the mugginess at your place is making it hard for you to display things like books on your shelves, try our list of the best dehumidifiers in New Zealand. Doing so can protect your furniture, furnishings and belongings… and make it easier to breathe in your home too!