The 7 Best Flooring Specialists in Auckland
Choosing the right flooring is vital for your property since you'll obviously be using it for quite a while. Whether you have a new build or are simply replacing your flooring, we've outlined the best flooring specialists in Auckland to install it for you.
These can give expert advice based on your preference, flooring type, and if it is suitable or not for your home environment. At any rate, here we present to you the best flooring specialists in Auckland!
1) Flooring Xtra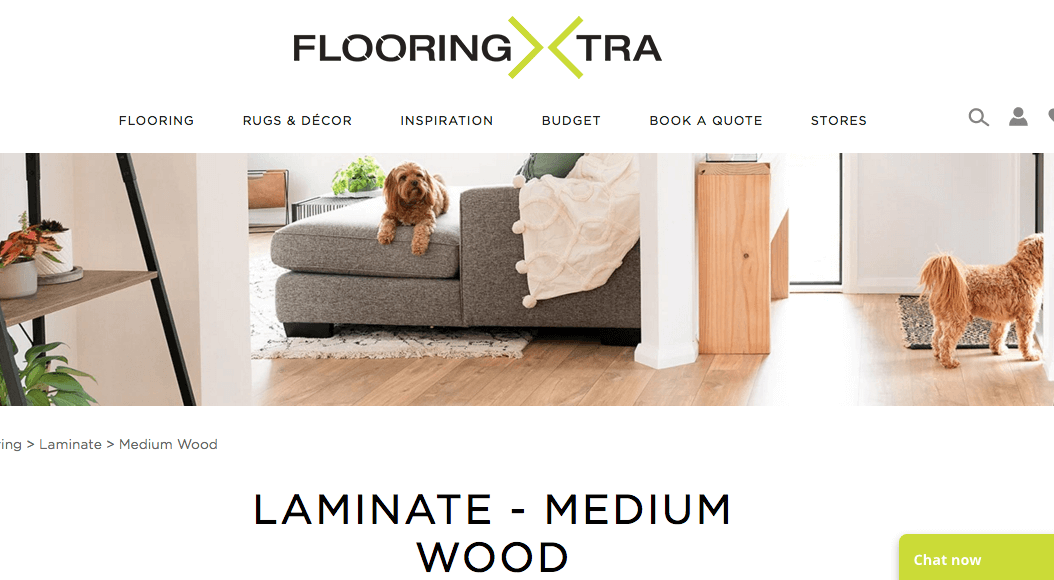 | | |
| --- | --- |
| Areas covered | Auckland and throughout New Zealand |
| Services | Carpet Flooring, Laminate Flooring, Timber Flooring, LVT and Hybrid Flooring, Sheet Vinyl Flooring, Tiles Flooring, Coating and Accessories |
| Address | Auckland, New Zealand |
| Contact no | 09 447 1414 |
| Website | https://www.flooringxtra.co.nz |
Flooring Xtra is among the largest flooring retailers and installers in New Zealand with over 60 stores. They were established in 2008 and pride themselves on being locally accessible and having a highly trained staff.
The great range of flooring they offer means you'll find the best style and finish you need for your house or office easily. This includes laminate, carpet, timber as well as vinyl, tiles, and hybrid flooring.
We have no doubt that this is one of the best flooring specialists in Auckland because of their excellent products and price!
Highlights
Great quality and price
Wide range of flooring
Experienced staff
2) Freedom Flooring Ltd.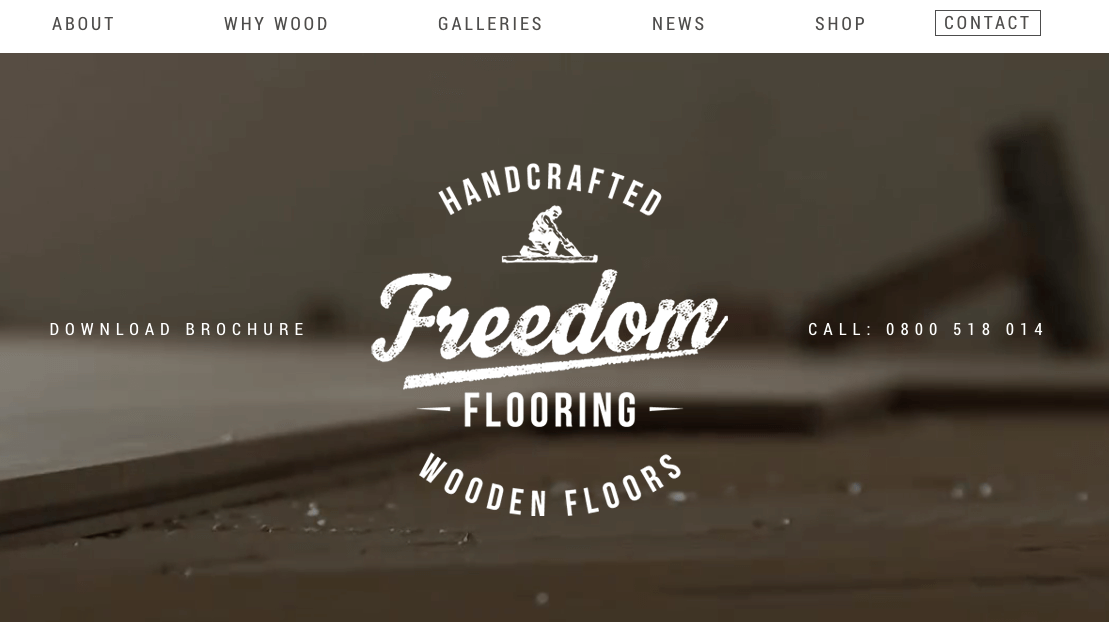 | | |
| --- | --- |
| Areas covered | Auckland-wide |
| Services | Timber Flooring such as Softwood, Medium Wood, Hardwood varieties, Floor Sanding |
| Address | Shop A, 9 Airborne Road, Albany, North Shore, Auckland, New Zealand |
| Contact no | 0800 518 014 |
| Website | http://www.freedomflooring.co.nz/ |
Wooden floors have never lost their popularity as a residential or commercial choice. For well-made, eco-friendly timber flooring, look no further than Freedom Flooring!
They offer a large selection of timber flooring, including softwood, medium wood, and hardwood. Not every type of wood is the same, however, as they differ in texture, colour, and elegance.
If a family member has asthma or allergies, these timber selections are easily cleaned and maintained. And what's more, you will save your electricity costs since the timber adapts to your home climate.
That's why we're choosing this company as one of the best flooring specialists in Auckland. They carry superb products that anyone would be happy to have in their home.
Highlights
High-quality timber flooring
Great for people with asthma
Eco-friendly
Customer Reviews
On the client reviews section in their web page, Cathy said:
"We are very pleased with the outcome of our floor. Freedom Flooring worked very closely with us despite our property being in the Coromandel. Communication was the key in getting this floor completed on time."
3) Power Dekor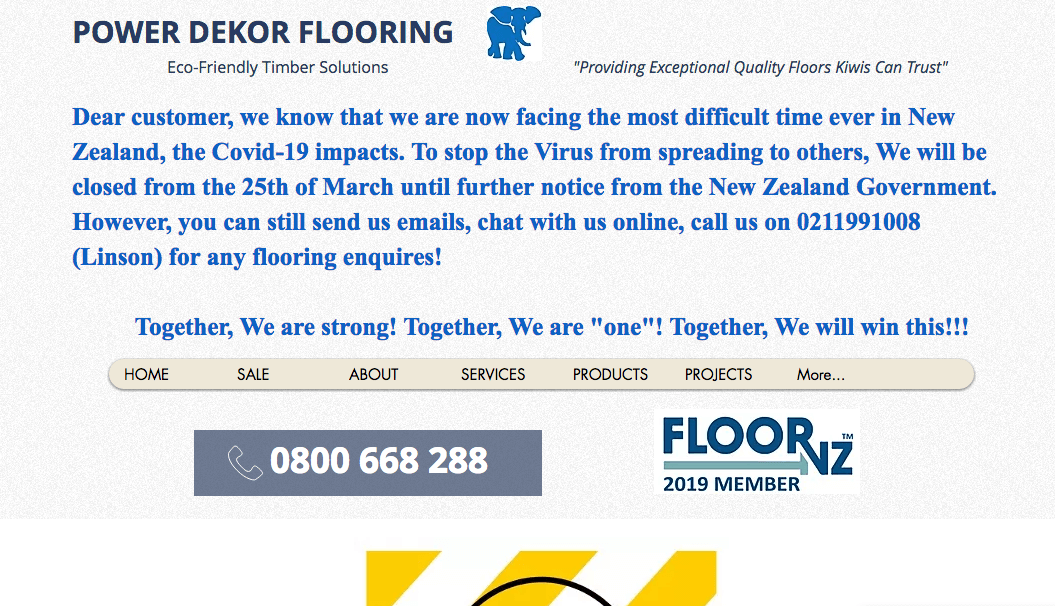 | | |
| --- | --- |
| Areas covered | Auckland-wide |
| Services | Engineered Hardwood, Strand Woven Bamboo Flooring, Laminate Flooring, Premium Acoustic Underlay, and Accessories, and Installation Service |
| Address | 6/63 Arrenway Drive, Rosedale, North Shore, Auckland, New Zealand |
| Contact no | 0800 668 288 |
| Website | https://www.powerdekorfloors.co.nz/ |
A trusted supplier in timber and laminate flooring, Power Dekor can install for homes and commercial projects around Auckland. Their products are made with quality and care, with the customer always in mind.
Unlike other companies, the formaldehyde in their laminate flooring is mostly taken out. This results in a healthier and fresher living space for allergy sufferers, kids, and pets.
Their products are engineered to be of topnotch quality and to have a comfortable feel that will last up to 20+ years. And also, as a way of proving that claim, they offer reliable product warranties.
Highlights
Quality timber and laminate flooring
Environmentally-friendly
Cares about the customer
Comes with a product warranty
Customer Reviews
What makes Power Dekor one of the best flooring specialists in Auckland? Nancy Zhang commented:
"Very good quality. I was worried about getting marks after moving heavy furnitures, but to my surprise there is no scratch at all!"
4) Prime Floors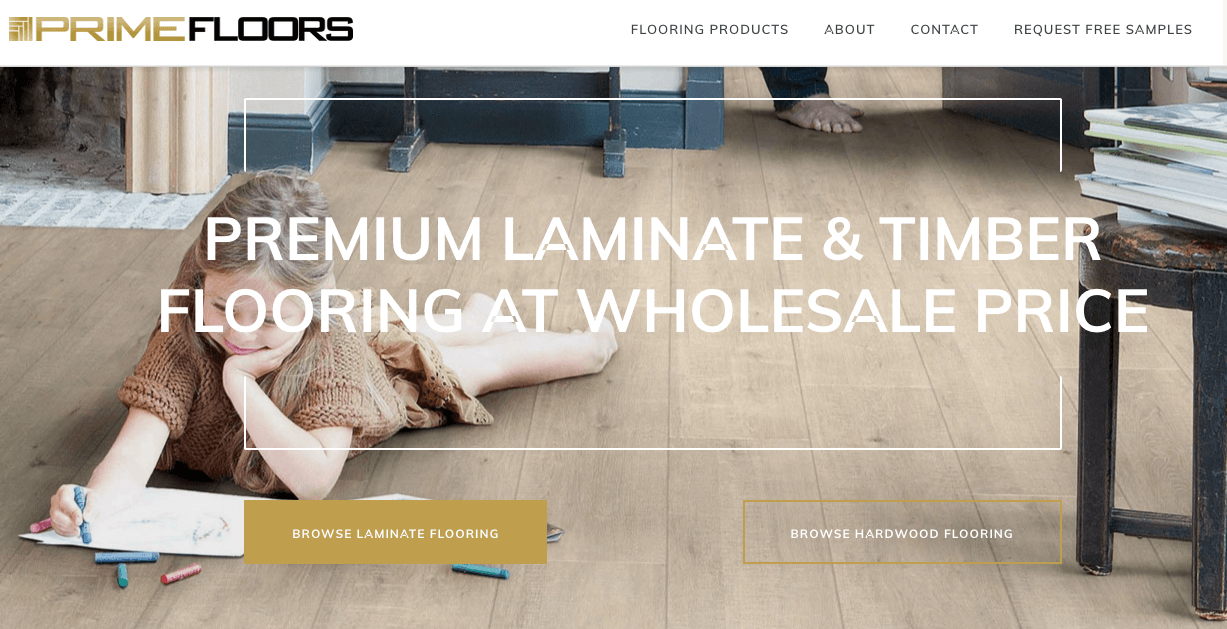 | | |
| --- | --- |
| Areas covered | Auckland-wide |
| Services | Laminate Flooring, Hardwood Flooring, and Cleaning Accessories |
| Address | Unit 3, 930 Great South Road, Penrose, Auckland 1061, New Zealand |
| Contact no | +64 9 580 2479 |
| Website | https://www.prime-floors.co.nz/ |
If you want a resilient and long-lasting flooring solution, Prime Floors has got your back. Their timber products are sourced from top suppliers and come with a warranty that lasts up to 30 years!
Their full flooring range includes laminate and timber flooring, plus floor cleaning products and accessories. For DIY'ers, their glueless and snap-and-fit laminate flooring are perfect for what you need.
Aside from that, they provide installation for residential and commercial projects throughout Auckland. More importantly, the prices are low thanks to their discounted wholesale buys.
Highlights
Timber flooring from respected brands
Simple-to-install laminate flooring
Wide range of flooring products
Lengthy warranties
Customer Reviews
Taylor Botha said on Google Business:
"Great pricing on floors and very helpful staff. Make sure though you get a sample first as website photos differ from actual colour."
5) Advance Flooring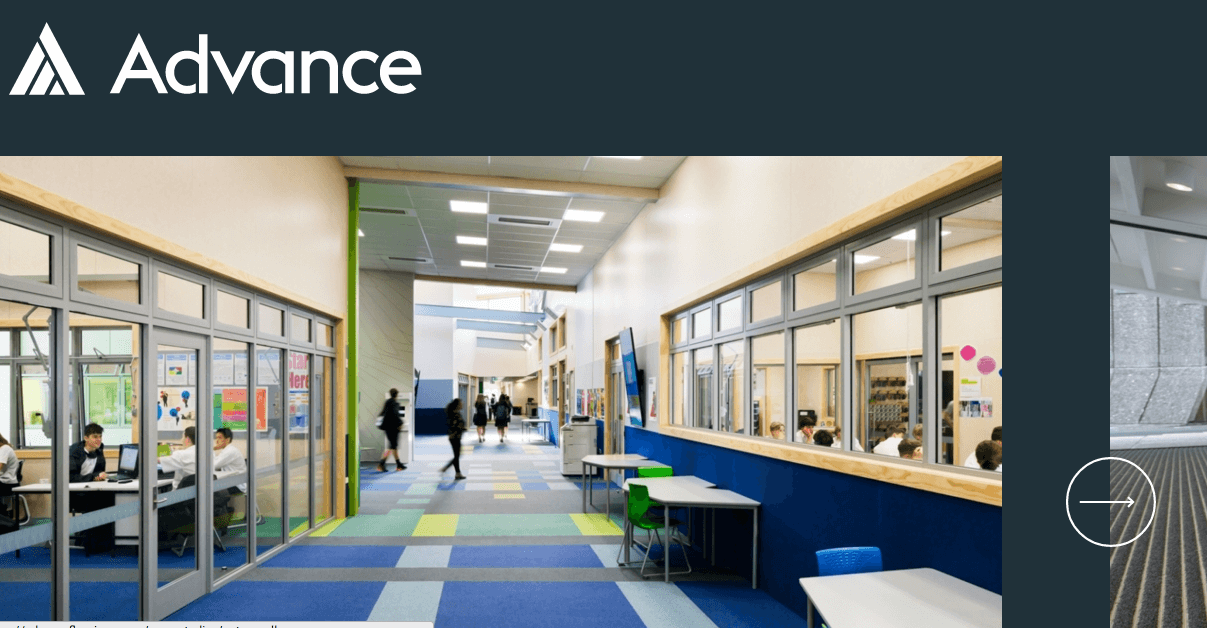 | | |
| --- | --- |
| Areas covered | Auckland-wide |
| Services | Carpet Tiles, Rubber Flooring, Entrance Matting, Stair Nosing, Sports Flooring, and Throwdown Mats |
| Address | 10 Harbour Ridge Drive, Wiri, Auckland 2104, New Zealand |
| Contact no | 0508 238 262 |
| Website | https://advanceflooring.co.nz/ |
Change up your plain office floors for a carpet or matting that's durable, fun and comfortable. When it comes to these things, Advance Flooring is the one to call.
They offer a range of functional selections such as entrance matting, rubber flooring, sports flooring, and carpet tiles. This makes it excellent for commercial and private settings alike.
Their products are sourced from leading international suppliers or made through their own factory. Without question, they are one of the best flooring specialists in Auckland.
Highlights
Offers commercial-grade carpet and matting
Best for gyms, offices, restaurants, theatres, churches
Wide selection of products
Sourced from renowned brands
6) FloorMasters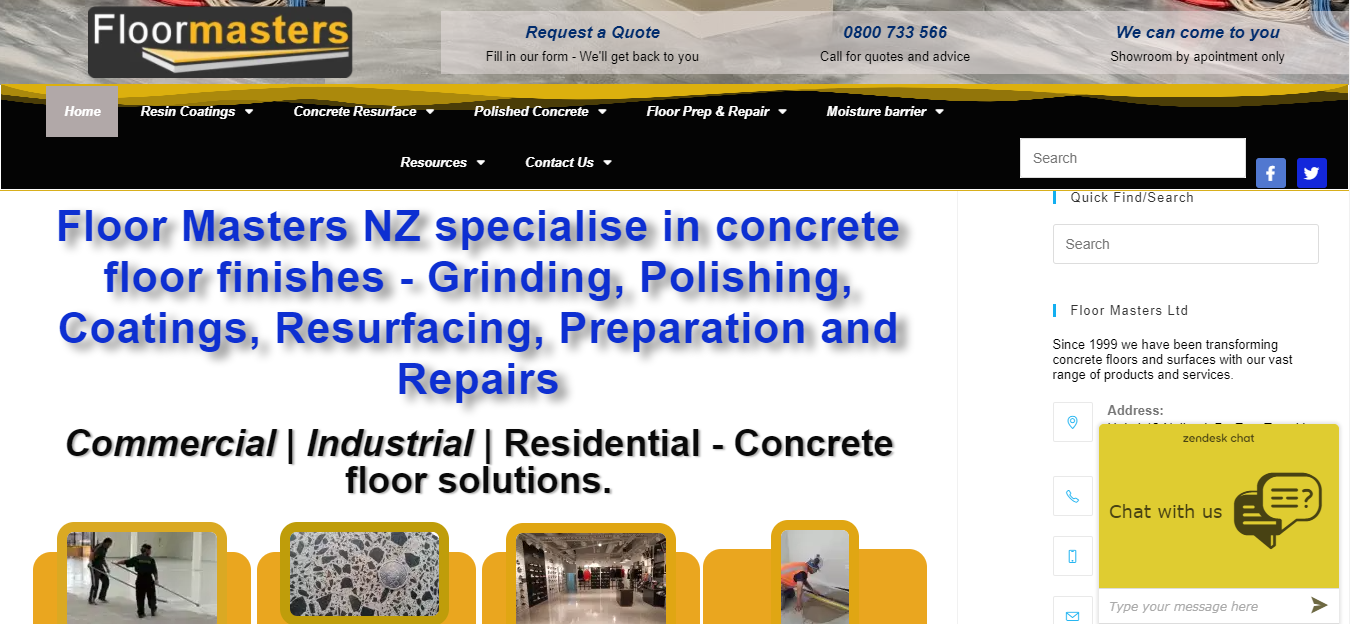 Services

Concrete Flooring, Concrete Resurfacing, Concrete Sealing, Maintenance, and Repairs, Resin Furnishing

Address

12D Neilpark Dr, East Tamaki Auckland

Contact no

+64 21 426 627 |

[email protected]

Website

https://www.floormasters.co.nz/
If you're looking for ways to make concrete flooring stylish and functional for residential, commercial, and industrial spaces, then FloorMasters can be a good option.
This contractor does concrete polishing, grinding, and even decorative concrete resurfacing to make concrete floors aesthetically pleasinAdditionally, FloorMasters provides maintenanc and repair services for abused concrete floorings that are already filled with cracks and joints.
FloorMasters also does concrete sealing services to protect floors and walls from spills and stains. Another way FloorMasters protects floors and surfaces is by applying moisture barriers.
And since it has different kinds of sealers, its clients are free to choose among glossy, matte, and even invisible sealers. With these options, surfaces can further add to interior aesthetics.
Besides concrete, FloorMasters also has decorative furnishing products. So, clients who want resin-coated floorings or finishes that look like tiles or natural stones can still benefit from FloorMasters.
Highlights
Offers resin coatings and decorative finishes

Expertise in concrete flooring

Offers flooring repairs and maintenance

Concrete sealing and moisture barriers available

Suitable for residential, commercial, and industrial spaces
Customer Reviews
Here's a customer review to tell you what to expect should you choose FloorMasters for your flooring needs:
"We decided to polish a concrete floor, but when our polisher started to grind the concrete it was discovered the concrete was too weak for this process. We used Floormasters to provide us with a Cretevova finish and we're very happy with the result."—Mark Gardiner
7) Floorco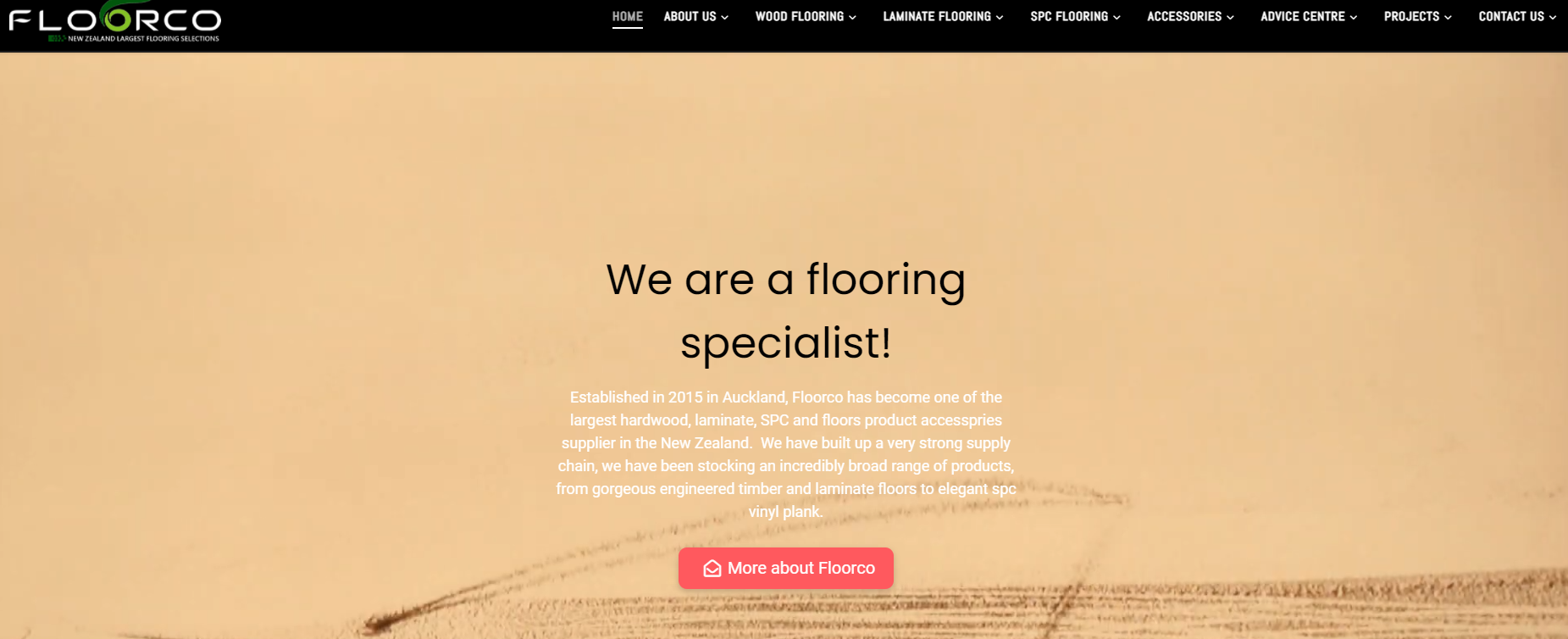 Services

Wood flooring, Laminate flooring, SPC flooring, Flooring accessories

Address

TRADING CENTER&WAREHOUSE
118 Carbine road.
Mt Wellington

DESIGN CENTER&SHOWROOM
25 Enterprise street.
Birkenhead

Contact no

Phone: Michelle 021 059 1393
Phone: Terry 021 199 0887
Email: [email protected]

Website

https://www.floorco.co.nz/
If you're in need of new flooring and are unsure of what to get, then you may want to consider one of the largest floor product suppliers in New Zealand.
Floorco was established in 2015 and has steadily grown to be a go-to for quality hardwood, laminate, and SPC floors and accessories in the country. The company has an excellent supply chain, stocked with a wide range of products, including but not limited to engineered timber, laminate floors, and SPC vinyl planks.
Aside from the flooring, Floorco is also known for its design centre and showroom, a location in which clients can check their desired flooring before making a process. By establishing this design centre, Floorco has managed to offer both convenience and accessibility.
Combined with its quality products, these make Floorco one of the best and most recommended flooring companies in New Zealand.
Highlights
Offers both hardwood and laminate flooring

Showroom available
Sells flooring and accompanying accessories
Plenty of stocks available
And those were the best flooring specialists in Auckland. Whether you need timber, vinyl or carpet tiles for your house or office, you can't go wrong with these flooring companies.
Do you have any questions about the companies we listed? Kindly send us a message and we will get back to you soon.
Anyway, we've also featured the best laminate flooring shops in Christchurch. You could take a look at some of what we suggested for some ideas on Christchurch flooring specialists.