7 Best Free VPN NZ: Choose the Best VPN in NZ New Zealand
Want a New Zealand VPN server but unable to foot the bill for it? If so, you don't have to worry, as we're featuring the best free VPNs in NZ New Zealand here for you!
There's a caveat, though: free VPNs in NZ are not as secure and complete as paid VPNs, unfortunately. This makes it even more important to pick the right one for your needs.
Luckily for you, we'll also go over how you can do that below.
How to Choose a Free VPN in NZ New Zealand
Here are the factors you should consider before downloading a free VPN:
1) No. of Servers
Compared to paid VPNs, free VPNs in NZ have exponentially fewer servers that your device can connect to.
Depending on your provider, their free VPNs can number from 1 to 50+ servers stationed in different countries.
Due to this, you are limited as to the blocked content you can browse or watch.
Your Internet speed can also be affected by the number of servers. The closer the server is to the source of the content you're viewing, the faster the connection.
2) Data Limit
With a free New Zealand VPN, you want to browse the Net as seamlessly and fast as possible. This is why it's also important to consider the data limit.
The data limit varies between free VPN providers. You can find limits from 500 MB per day to 10 GB per month to an unlimited data cap.
Having unlimited data means you can stream or torrent large files. Often, this also means having a faster Internet connection.
3) No. of Device Supported
With the VPN protecting your device from hackers and malware, you want to share this perk with your other devices, as well as those that your family uses.
Unfortunately, free VPNs in NZ don't support a lot of devices, except if you sign up for a free month's trial or upgrade to a better plan.
It's not necessary to always get a New Zealand VPN that supports many devices. It's usually enough for it to support at least one or two devices – once a VPN meets that requirement, you can look at other things that it offers.
4) Security Features
Although free VPNs in NZ don't have a lot of security features, these are some of the reliable ones:
No-logs policy – Doesn't keep logs on your online activities to store or profit from them by selling the data to third party companies.
256-bit encryption – This secures your data and hides your online tasks from ISPs, hackers, and marketing companies. It's also used by the US government.
Kill Switch – Activates if your VPN connection suddenly drops. This is your safety net so your data and location stay protected.
P2P Data Transfer – This lets you share and download files on the Internet. These could be games, music, movies, and files.
Private DNS – Keeps your online searches confidential. As the information you put in is encrypted, even your VPN provider won't know what you're doing on a certain site.
Split Tunnelling – This allows you to route some of your traffic through the VPN server, at the same time send the less important traffic to the Internet directly.
The purpose of this is to keep your Internet speed high, as having a lot of traffic at a time slows down your network.
5) Money-Back Guarantee
VPN providers that don't directly offer free VPNs still allow you to enjoy the benefits through a money-back guarantee, such as through a free 30-day trial.
This lets you maximise your Internet security and stream geo-blocked content. Then if you are satisfied with the VPN service, you can switch over to a paid subscription.
The Best Free VPNs in NZ New Zealand
Now that you know how to choose a free VPN in NZ, let's proceed to our list!
1) PureVPN
| | |
| --- | --- |
| Best for | Compatibility with multiple devices and platforms |
| Servers | 6500+ servers, with 300,000+ IP addresses coming from 78+ countries, 96+ locations |
| Data limit | Unlimited |
| Supported devices | Windows, Mac, Android, iOS, and Linux |
| 24/7 support | Yes |
If you're looking for one of the most reliable VPNs in New Zealand, then PureVPN might be the one for you. VPN service is a software that helps you break free from location restrictions so that you can enjoy the content you love with less restrictions.
With their dedication to be the one of the leading VPN services in New Zealand, they moved their HQ from HK to the British Virgin islands in order to ensure better privacy and security. Furthermore, they support industry-leading protocols such as OpenVPN, ikev2, and many more.
To enhance their security even more, they implemented the Quantum Resistant Encryption so that they can automatically protect your privacy, keep you anonymous, and secure your data through an encrypted tunnel.
We liked how they have all types of browser extensions for a variety of browsers. This includes Chrome, Firefox, Edge, and Brave. These extensions are also protected by encrypted proxy making it a secure and fast loading.
Other features that included in PureVPN is their 10 Multi-logins, unlimited devices, internet kill switch, split-tunneling, 24/7 live chat, and 31-day money-back guarantee. Wth PureVPN you can enjoy over 6500+ servers, with 300,000+ IP addresses coming from 78+ countries, 96+ locations, with 20gbps server speeds.
Highly secured VPN
Fast browsing speeds
31 days money back guaranteed
2)   ProtonVPN

| | |
| --- | --- |
| Best for | Unlimited monthly data |
| Servers | 3 servers in 3 countries |
| Data limit | Unlimited |
| Supported devices | Windows, Mac, Android, iOS, and Linux |
| 24/7 support | No |
ProtonVPN is one of the best free VPNs in NZ as it has a strict no-logs policy and unlimited data, letting you surf online with basic privacy and security.
That said, it can only access servers in the US, Holland, and Japan. Another massive con is that it can't bypass geo-locked movies on Netflix as well as do file sharing.
It also supports only 1 device using a Windows, Mac, Android, or Linux operating system.
For secured web browsing, Proton VPN is an excellent free VPN. But if you want to have the full features, you can try its basic, plus, or visionary packages, all of which come with a 30-day money-back guarantee.
Strictly no-logs policy
Unlimited monthly data
Works with Windows, Mac, Android, and Linux
Doesn't work with Netflix and torrenting
No 24/7 customer support
3)   Surfshark

| | |
| --- | --- |
| Best for | Simultaneous device support |
| Servers | 3200+ servers in 65 countries |
| Data limit | Unlimited |
| Supported devices & browsers | Windows PC, Mac, Android, Android TV, iOS, Linux, Chrome & Firefox |
| 24/7 support | Yes |
With over 3200 servers around the world, Surfshark camouflages your online identity whilst providing supernatural speed for surfing, streaming, and torrenting.
It can support gadgets simultaneously irrespective of their number. Devices it works with include Mac, Windows, Android, Android TV, iOS, and Linux.
It features the AES-256 security standard, which can block any malware or phishing attempts on your device.
Additionally, there are a ton of great features such as Kill Switch, Private DNS mode, CleanWeb, and Whitelister, among others.
You can try SurfShark for up to 30 days free with the option to cancel before your plan upgrades. As users can attest, it's one of the best free VPNs in NZ, if not the best!
Industry-leading encryption
Strict no-logs policy
Works with a vast array of apps
Supports unlimited devices
Customer Reviews
Surfshark scored 4.3 out of 5 stars on Trustpilot. Most users said that it was fast, consistent, and easy-to-use and that the customer support had been impeccable.
One user wrote this feedback:
"I have been using SurfShark for the past 30 days and I am indeed impressed thus far. The install was seamless using the app on my phone devices and computers. The connection speed has been fast and solid in terms of consistency and reliability. I have tried several other VPNs and believe my search for a long term solution is finally over. I highly recommend Surfshark and with the 30 day trial and unlimited device support that they offer, are just additional reasons why they should be at the top of your list when searching for a VPN solution."
Furthermore, here's another review about Surfshark:
"Surfshark is absolutely amazing and so are the support staff 24/7!!! Glenn in support is really good! Helped me and lots of my buddy's with this vpn! I would not go for any other vpn! I have tried them all and this is by far the fastest and the best!!! Winner winner vpn dinner! M-O-D ?"
4)   TunnelBear

| | |
| --- | --- |
| Best for | Easy-to-use free VPN |
| Servers | 26 countries |
| Data limit | 500 MB/month |
| Supported devices | Mac, Windows, iPhone & iPad, Android |
| 24/7 support | Yes |
Fun-loving yet digitally ferocious, TunnelBear has impenetrable security, super-fast connection, IP address safety, an easy-to-use-app, and other attractive features.
The free plan only provides you with 500 MB of data in a month, but that is enough to ensure you are safe online, whether you're using public or private Wi-Fi.
With TunnelBear, your virtual location will change on demand so you can book tickets at a more affordable price or watch classic mafioso or intergalactic adventure movies.
Mac, Windows, iPhone, iPad, and Android devices are compatible with this free New Zealand VPN. Plus, the team has your back 24/7, so if you have a problem, ask away!
AES-256-bit encryption
Yearly security audits
Intuitive app
24/7 support team
500 MB monthly cap
Fewer servers
Customer Reviews
TunnelBear has rave reviews from many users. According to them, the app is whimsical, fun, and easy to use, while providing great security on their network.
VentureBeat left this review on the website:
"…TunnelBear has gained a reputation as one of the easiest, most user-friendly VPNs. Indeed, when you switch the TunnelBear VPN to a new location, the little bear tunnels across the screen to the desired region. This is perhaps a little gimmicky, but this fun element serves to make the experience less technical and ease new users into the world of VPNs."
Another user from the media industry said:
"TunnelBear VPN takes the mystique and technogeekery out of the VPN and does so with a delightful and whimsical user interface. I've tried a few of these types of apps and this is the one I come back to again and again."
5)   Windscribe

| | |
| --- | --- |
| Best for | Wide scope of security features |
| Servers | 10 countries |
| Data limit | 2 – 10 GB/month |
| Supported devices | Windows, Mac, Chrome, Firefox, iPhone, Android, Linux, FireTV, and Routers |
| 24/7 support | No |
Windscribe offers a secure, free New Zealand VPN plan with up to 10 GB of monthly data. It's great for streaming light music and movies online—and yep, it works with Netflix.
It has a complete range of security features starting from the AES-256-bit and SHA512 encryption through to split tunnelling, which keeps your network fast.
You can set up Windscribe on your laptop, phone, tablet, and even on your FireTV. Setting it up will be a cinch and won't consume much of your time.
The free VPN can link you to servers in only 10 countries. But this can be upgraded for a small price if you subscribe to their monthly or yearly plan.
Strong web encryption
IP and domain blocker
No-logs policy
Easy to set-up
Fewer servers compared to other free VPN
Low monthly data limit of 2 GB
Customer Reviews
Most people mentioned that it was an excellent free VPN despite the low monthly data limit. Now, let's hear about these reviewers' opinions of the product:
Check out this review from VPN Mentor:
"Overall, Windscribe VPN has a lot to offer. It can help you torrent, stream Netflix US, and is packed with privacy features. There's one major drawback, though. While you have access to Netflix US, all other countries are off limits."
Here's one more from an independent review site, Tom's Guide:
"Windscribe is a powerful yet easy-to-use VPN with a comprehensive free plan. Although its support features could do with a rethink as they trail behind some of its competitors, Windscribe's worth trying out for yourself – with such a great free plan there's very little to lose, even if you burn through your data allowance in a couple of days."
6)   OperaVPN

| | |
| --- | --- |
| Best for | Simple but reliable VPN |
| Servers | 4 server in 3 countries |
| Data limit | Unlimited |
| Supported devices | Windows, macOS, Android, and Linux |
| 24/7 support | No |
If you're looking for a simple VPN in NZ that's completely free—meaning no automatic subscription or payments of any kind—then go for OperaVPN.
By installing the Opera browser, you automatically get this VPN as an extension.
This has no data cap and provides you with online security against the prying eyes of your ISP and third-party organisations.
It can unblock Netflix and let you access all of the new series, movies, and animes. It has 4 server locations in the USA, Asia, and Europe so you're all covered.
No subscriptions or payments
Top-notch 256-bit encryption
Unblocks Netflix
No-logs policy
Only works with Opera browsers
Only has 4 server locations
7) hide.me VPN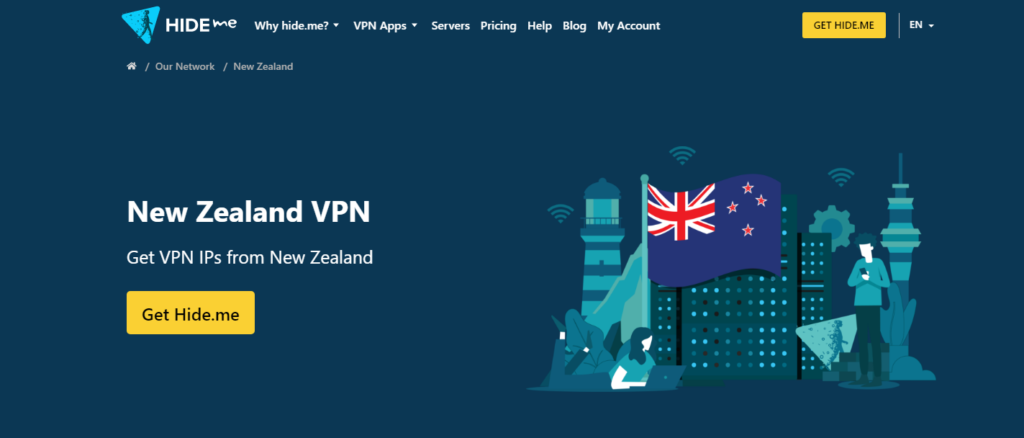 | | |
| --- | --- |
| Best for | New Zealand VPN |
| Servers | 1900 servers in various countries |
| Data limit | Unlimited |
| Supported devices | Windows, macOS, Android, iPhone/iPad, Linux, Amazon Fire TV, Chrome, Firefox |
| 24/7 support | 24/7 |
hide.me is a server for free VPN in NZ that's is trusted by millions of global users because of its simplicity and functionality.
It features a wide array of features for both free and paid subscriptions, some to note are IP lead protection, split tunneling, secure VPN protocols, and no logs.
It's worth noting that the free plan has a 10GB data cap and is restricted to one device and five server locations. If this isn't enough, the paid plan offers unlimited data, access to the 1900 servers, and allows for ten simultaneous connections.
Not only that, but paid plan users also have fixed IP addresses and streaming support.
hide.me VPN is also compatible with multiple devices, from Android and iOS to Windows and Linux systems. Those who may run into trouble need not fret since the customer service is stellar and available 24/7.
1900 worldwide servers
Strictly no logs
Apps for all devices
Strong AES-256 encryption
Unlimited server switching
Free plan only allows use for one device

No streaming support for free plan
FAQS about the Top Free VPNs in NZ New Zealand
---
And that's it for the top free VPNs in NZ New Zealand at the moment. We carefully chose these VPNs based on research, as well as expert and user reviews.
Do you have any questions for us? If you have one, feel free to send us a message and we'll get back to you in a flash.
Also, you may want to check out our list of the best VPNs in NZ. This is a step-up from free VPNs so your digital security is optimised! And if you want to stay connected, do visit our list of the best internet providers in NZ.