By Isla Thompson
Looking for a way to keep your food fresh and rich with flavour and taste at home? Luckily for you, we've rounded up the best fridge freezers in New Zealand today.
But with tons of options, kinds, and features available, which one should you get? Essentially, you should pick the ones that answer your needs best — which you can determine by taking a close look at their specs and features.
We'll do that as we go into detail on each of our picks. Now with no more delay, let's go through the best fridge freezers in New Zealand!
1.  Westinghouse 370L Bottom Mount Refrigerator (WBB3700AH-X)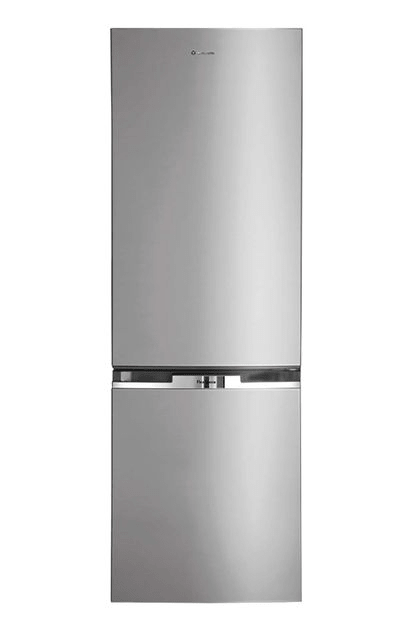 Price: $1,649
For a fridge freezer that has all the essentials, look no further than Westinghouse Bottom Mount Fridge 370 Litres! It offers reliable quality at an affordable price.
This fridge is built to store all shapes and sizes of food. Featuring FlexStor, it enables you to customise the shelves your way for tall or short food items.
A humidity controlled crisper keeps your fruits and vegetables at their best. It will keep those flavours and nutrients locked in for the exciting recipes you plan on making.
Then the bottom freezer has ample space to store your frozen foods like meat and fish. To get ice, simply turn the knob and it will rain down on the tray, ready to be served!
Aside from these, the transparent shelves and compartments mean you can make the most of your fridge. These are extremely easy to clean and maintain too.
Note that the doors can also be reversed to open from the other side in order to match your kitchen layout.
Highlights
Slim and practical design
FlexStor storage system
Affordable price tag
Humidity controlled crisper
Twist ice and serve tray
370-litre capacity
Customer Reviews
Small but spacious is what you'll often hear from customers on the Westinghouse Website. This scored 4.4 out of 5 stars from 44 reviewers — that tells you'll get great value.
Kimberley wrote about it here:
"The fridge can look small but the amount of different areas to store food really makes it quite spacious. The ice maker is great to easily make ice. The design is simple which means it won't date."
2.  Daewoo Side By Side Fridge Freezer 562L (FRNH23BVS)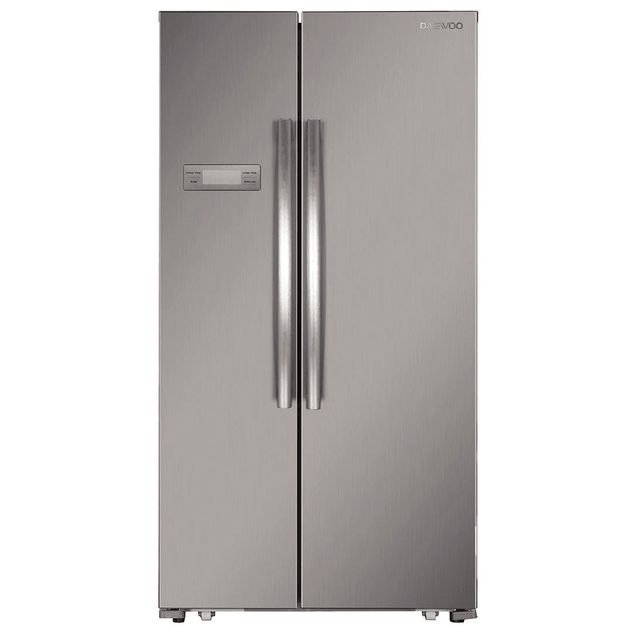 Price: $1,399
If you have a lot of people in the house and are looking for a great value fridge freezer,  this Daewoo Side by Side Refrigerator is probably for you!
Its size alone is massive, as it's capable of holding 562 Litres of food! You can put a week's worth of groceries in this fridge, and can easily stock up on fruits and veggies inside the crisper.
Smart and stylish, it has touchscreen controls on the fridge exterior. Here, you'll be able to set the temperature for the fridge and freezer, change modes, or put it in child safety lock.
Inside there's a bright and clear light, so you'll see everything in a glance. For your daily dozen, you can make use of the egg tray located on the side.
The Daewoo side by side fridge only has a 2-star energy rating, though, which is only average in efficiency. Nevertheless, it's capacious, durable and stores and keeps your food fresh!
Highlights
Great value for price
Smart and stylish design
LED touchscreen interface
Bright and clear interior
Capacious and durable
2-year warranty
Customer Reviews
Raving about how the fridge gave them value for money, they also said that it had a great and spacious design with the shelves being easy-to-access.
One buyer, Brenda S commented:
"Bought this on special for half price & was delivered just before Labour weekend. Really pleased with it, beautiful finish, have had no issues & more spacious than our previous single door fridge freezer. Good value for money & can actually see everything."
Also, Max P stated:
"Considering this cost no more than the sum I paid for a F&P fridge freezer half the size in 1990 amazing value for money. Functions perfectly and is quick to chill and quiet.
The "short cord" other reviewers comment on was not an issue for me."
3.  Samsung 450 Litre Fridge Freezer (SRL458ELS)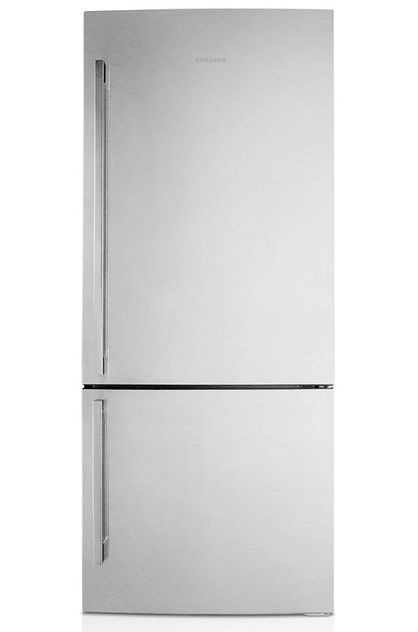 Price: $2,299
Don't be deceived by the traditional, ordinary look of the Samsung 450 Litre Fridge Freezer. In fact, it's so modern and smart that it can match up to the best fridge freezers there are!
For starters, it's fitted with Inverter Compressor Technology allowing airflow to circulate throughout the interior. It can also self-adjust based on user pattern and humidity level.
Along with this, it has 5 integrated sensors that monitor the internal and external environment. This brings about the ideal temperature for the foods you've stored.
A triple foldable shelf lets you store bigger items like a wine bottle and/or a box of cake. Plus, you can even adjust the 4 door bins higher or lower depending on what's required.
For the controls, you can find them above the top shelf as you swing open the fridge door. This makes for a stylish, unobtrusive detail for this high-quality Samsung fridge.
And best of all, the fridge is highly efficient, having 4 stars on its energy rating! And you get a decade-long parts warranty for the inverter compressor.
Highlights
Fitted with an Inverter Compressor Technology
5 smart sensors for the ideal fridge temperature
Stylish, unobtrusive controls
Triple foldable shelf
10-year parts warranty for the inverter system
4 star energy rating
Customer Reviews 
You get what you pay for. The Samsung Fridge Freezer (SRL458ELS) is truly exceptional when it comes to performance. It has pleased many customers for various reasons.
They include its quiet operation, the fold-back shelf, interior lights and durability… while the cons are really minor, such as the freezer drawer slipping out on occasion.
That said, one owner wrote about his experience with it here: 
"I bought this 3 weeks ago to replace another samsung fridge (which i gave to my son) and it has performed flawlessly so far.
Everybody has commented on how great it looks in my kitchen… it is also ultra quiet… it's hard to work out whether or not it is running, the only give away is the interior lights!!
Appears smaller than it is… the interior is very well designed and allows for excellent use of space.
Overall a great fridge at a great price!!"
Also, Adam12345 said:
"Have had this product for about a month now and hasn't missed a beat. Has ample room with excellent lighting and lots of flexibility with trays and shelving to however you wish to have it set up. A very quiet machine and with a great energy rating should keep the power bills down!"
4. Mitsubishi MR-CX370EJ-ST-A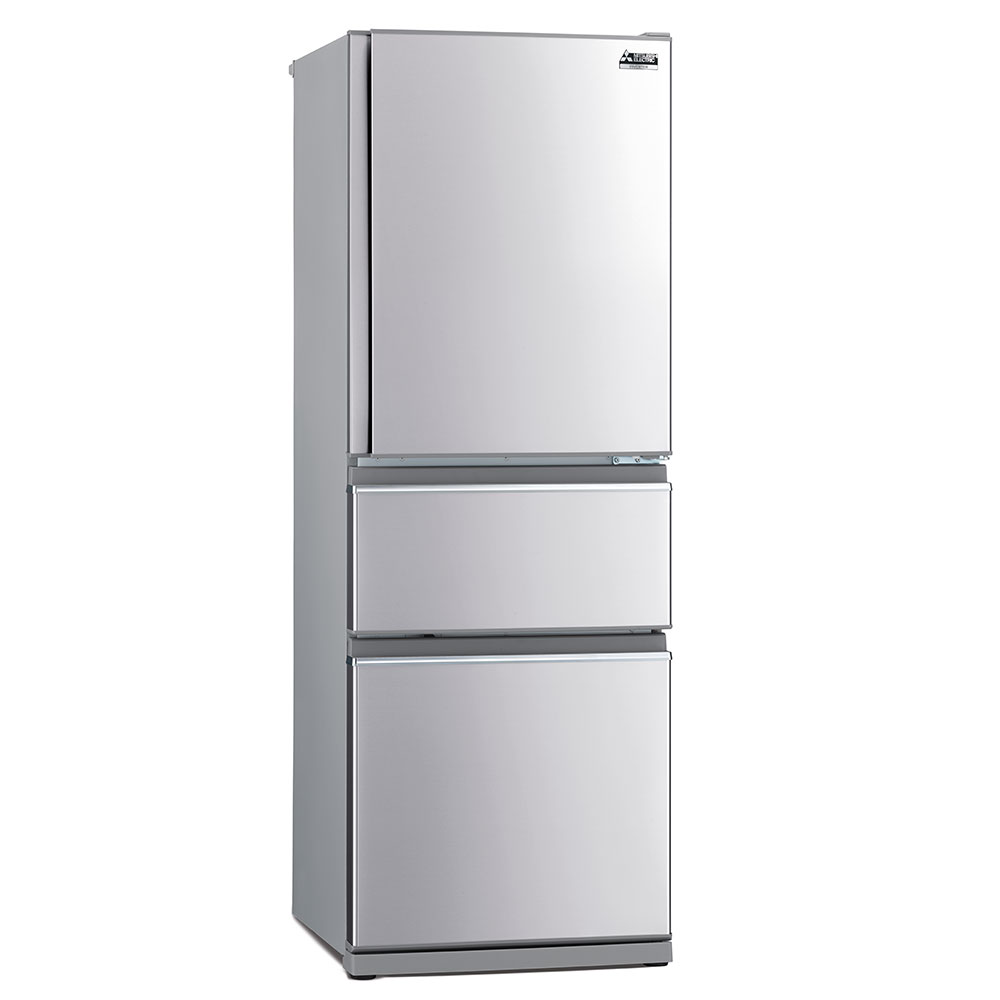 Model: MR-CX370EJ-ST-A | Capacity:  370 Litres | Dimensions: H 1698 x W 600 x D 660mm | Frost free : Yes | Energy Rating: 3.5 stars |
Price: NZ$2,098
There's a lot to like about this Mitsubishi model. Sleek and efficiently designed, it also boasts an Energy Star rating of 3.5 — pretty good for a fridge of its capacity!
Mitsubishi markets it to those who live in apartments or have smaller-than-average fridge cavities. The produce compartment is separated for energy efficiency and a sliding tray can also be found in the bottom-located freezer compartment, to help users organise their freezers more effectively.
It has flexible glass shelving, a deodoriser filter, Mitsubishi's VitaLED technology, a door alarm, and an auto ice maker.  It also sports MultiAirflow technology for cooling efficiency.
Highlights
370 litre fridge freezer capacity
Freezer compartment: 55L Net / 104L Gross
Refrigerator compartment: 167L Net / 189L Gross
Vegetable compartment: 44L Net / 77L Gross
Bottom-mount freezer
Customer Reviews
This fridge has received 4.9 out of 5 stars from owners on Appliances Online. Generally, reviewers praise the build and looks of the fridge, calling it modern and attractive in their kitchens.
That said, some did note that it is on the slightly smaller side if you have a big family. As such, most owners recommended it for individuals or couples instead of big groups.
5. Bosch Freestanding Fridge Freezer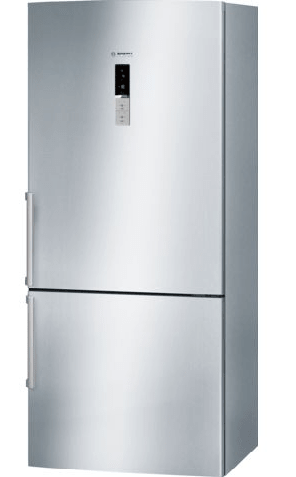 Model: KGN53AI30A | Capacity:  409 Litres | Dimensions: 170H  x  70W x 77D cm | Frost free : Yes | Energy Rating: 3 stars |
Price: NZ$1,495
You get a solid performance as well as invaluable features with this Bosch KGN53AI30A. It has dual cooling fans, hefty division of space, touch buttons, and FreshSense temperature.
A chiller drawer holds your fish or chicken and cools them more than the shelves outside. This results in preserving the tastiness and flavour of the food.
FreshSense constantly checks the current temperature zone of your fridge and deftly adjusts to save your energy. No more waiting to defrost — which means more time to tend to other kitchen tasks.
Then there's the SuperCooling and SuperFreezing feature, which quickly delivers a lower temperature for your produce. It does that while not affecting the other items in the fridge (to avoid unwanted frosting)!
As for the rating, it gets 3 stars for energy efficiency.
Highlights
409 litre fridge freezer capacity
MultiAirflow distributes air completely
3-star energy rating
Plenty of space for your food
Customer Reviews
This fridge is so well-liked that it has earned an overall score of 4.5 out of 5 stars. Ed8080 wrote:
"I've had this fridge for more than two months now and it does what it needs to do: keeps things at the right temperature. However, it makes it easy to do this with the precise temperature dialled in on the front panel allowing precise control. The LED lighting inside is fantastic, making everything in every part of the fridge easy to see. The fridge looks great, too, and the stainless steel finish is pretty finger-print resistant so you can keep it looking good. The drawers have a quality sliding action and the glass (not plastic) shelves also feel quality apart. Let's see if the fridge proves reliable in operation and can stand the test of time. My only criticism, and it's a minor one at best, are the pretty useless free-floating egg holders – shallow and flimsy and nowhere in particular for the fridge they can go – so I have store them away. This point isn't quite enough to detract from a 5-star overall rating, though."
6. LG 570L Slim French Door Fridge Freezer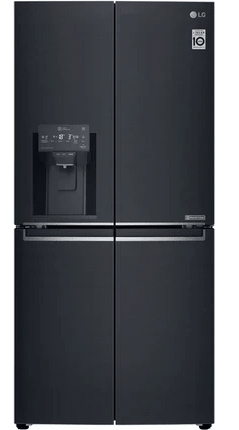 Model: GFL570MBL | Capacity:  570 Litres | Dimensions: 178.7H x 83.5W x 73.4D cm | Energy Rating: 2.5 stars
Price: NZ$3,499
This sleek and modernistic French door fridge is the perfect choice to join or slot into 85 cm alcoves in your kitchen. Note that it also boasts NatureFresh, a feature that retains the juice and crispness of salads and fruits.
With it, you'll have tons of space for your frozen foods and groceries. To further increase its convenience, its shelves are retractable too (for your tall carafes or wine bottles).
It features a door cooling system that reaches all parts of the fridge. This cool air sends odours into a carbon filter as well, ensuring that it distributes only clean and cold air constantly.
Plus, you'll see everything from top to bottom with long-lasting LED lighting. That further reduces your energy usage.
Thanks to the LG Inverter Linear Compressor, it also pumps cool air efficiently and produces less noise.
Highlights
Massive 570L space for fridge and freezer
Tremendous cooling for a fresh and cleaner air
Offers 10 year parts warranty
Has Smart ThinQ app
Customer Reviews
With its impressive features and large space, the LG 570L Slim French Door easily grabbed a spot in the list of best fridge freezers in New Zealand. Here's what Enzo said on the LG site.
"EASILY ONE OF THE BEST FRIDGES WE'VE OWNED FOR ACCESSIBILITY AND EASE OF USE. THE ONLY DRAWBACKS AS THAT THE SLIDING SHELF THAT ALLOWS FOR SOME TALLER ITEMS E.G. BOTTLES DOESN'T STAY PULLED FORWARD AND CAN EASILY BE KNOCKED BACK…"
Another owner, Kiara, gave this product a perfect 5 stars out of 5 stars. She comments:
"THE FRIDGE IS GREAT FOR ENTERTAINING AS THE SHELVES CAN HOLD LARGE PLATTER WITHOUT BEING IMPACTED BY THE ICE MACHINE AS IT IS LOW PROFILE."
7. Fisher & Paykel 610L Side By Side Fridge Freezer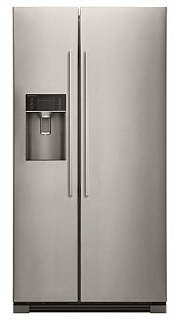 Model: RX611DUX1 | Capacity: 610 Litres | Dimensions: 179.5H x 91W x 70D cm | Frost free : Yes | Energy Rating: 2 stars |
Price: NZ$1,998
Based in New Zealand, Fisher & Paykel is one of the top choices among fridge freezer brands here. The 610L is a particularly good product from them.
Inside, you have the freezer to the left and the chiller over to the right. Tall, convenient, and minimalist, it can easily store your groceries and keep them cold for you.
You can also set the humidity level through a lever atop the drawers. No spills can occur because you have a high edge that prevents them from trickling down.
Probably the most attractive feature is the ice maker. It can make either cubed or crushed ice and, of course, get you a glass of water at anytime.
Aside from these, it's got a holiday feature excellent for turning on and saving energy while you're away on a trip. Moreover, you get a 2- and 3-year warranty for parts and sealed parts respectively. 
Highlights
610 L fridge freezer capacity
Has Ice & Water feature
Minimalist space
Humidity control for chiller drawers
Customer Reviews
While this fridge has a lot of fans, it has its critics too. Mainly, the latter complained about the freezer/chiller not working and said that their produce wilted as a result.
Conversely, others took a liking to this fridge, saying that it's spacious and quiet. One reviewer, Thakshi, put it in detail:
"All of the compartments maintain a consistent and reliable temperature. We love the fact that we can get cold water and ice whenever we want from the fridge which is a bonus to the fridge. This fridge is super easy to open. We bought it like more than 3 years ago and we have so far never have had a problem with it!" 
8. Panasonic 342 L ECONAVI Fridge Freezer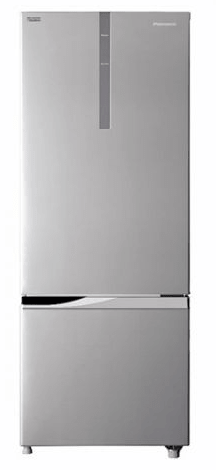 Model: NR-BR34BPSAU | Capacity:  342 Litres | Dimensions: 173.20H x 60W x 62.6D cm
Frost Free:  Yes | Energy Rating: 3.5 star |
Simple-looking on the outside, but ingenious on the inside. Panasonic brings two reliable features that makes the freshness stay longer with this particular fridge.
Depend on ECONAVI, an innovative cooling technology, to keep your food fresh and store them longer. You can place your fresh vegetables and fruits in the special drawer that gives the ideal humidity and temperature.
AG Clean then inhibits the formation of bacteria and mould in the fridge. This offsets any bad odour and spoilage that may result in food being kept too long.
It also boasts a slim and sleek design that will find favour with many users. Overall, this is more than worthy of being named one of the best fridge freezers in New Zealand. 
Highlights
ECONAVI keeps food fresh and healthy
Prevent bacteria with AG Clean
Affordable price
Clean silver finish
Customer Reviews
Except for a small-ish freezer, owners have had only praise for this fridge. Customers have even given this Panasonic Fridge Freezer a rating of 4.6 out of 5 stars.
Take it from Robocop Aussie:
"Good energy saving fridge and freezer. 12 year motor warranty for a piece of mind. Nice and useful fridge space. High quality tampered glasses. The only improvement area is the design of freezer compartment that could be better to save more space." 
9. Acqua Single-Door Eco Fridge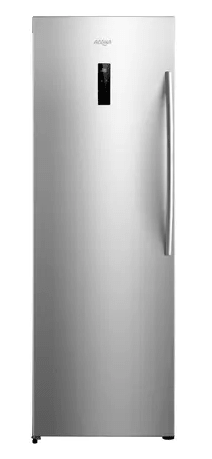 Model: Capacity: 355 Litres | Dimensions: (H)174.60 cm x (W)59.50 cm x (D) 65.20 cm | Frost Free: Yes
Price: NZ$1,214
Fridge and freezer are under one door in this case. With this fridge, you can enjoy useful features that let you control the temperature, stack up your tasty treats, or freeze meat or chicken.
Temperatures inside the appliance are well-maintained thanks to Multi Air Flow cooling. There are several compartments too that let you arrange your food in a pleasing (and convenient) way.
Highlights
Touch screen controls
Slim and convenient design
LED lights up the interior
Pigeon pairs with GY-NE42RFS
2-year product warranty
Customer Reviews
Most users were complimentary this product's size and quiet operation. Shaggyspaz left a good review:
"Previously had a chest freezer and could never find anything in it. This upright freezer is great – easy to use and easy to see what you have in the drawers. Doesn't take up very much room either and sits nicely beside my fridge. Very quiet running as well."
10. Smeg 330L Bottom Mount Fridge Freezer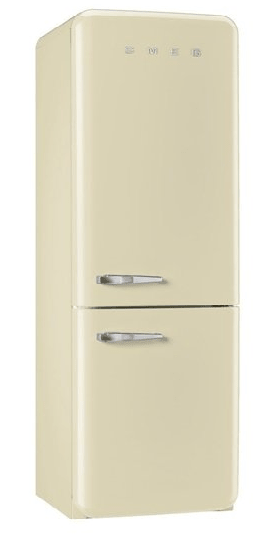 Model: FAB32RCRNA1 | Capacity:  330 Litres | Dimensions: 192.6H x 60W x 54.2D cm | Frost free : Yes | Energy Rating: 2.5  stars |
Price: NZ$3,999
Check It Out On Kitchen Things
 A fan of the retro look? Well, you can go back in time with the aesthetic shape of the Smeg 330L Bottom Mount.
It's a courageous voyager on the sea of modern fridge freezers with its decidedly throwback style. Inside you have a full, exquisite space that includes the mains, metal wine racks, pockets, and even egg receptacles.
It's doesn't have a very big space, although each level is arranged to fit in your food conveniently. You'll be able to adjust the temperature settings for your food inside.
Apart from that, the complete and dispersed cooling is thanks to the tropicalised compressor. It minimises your energy consumption while performing at its best.
Highlights
Nice retro look
Uses tropicalised compressor
Great fridge for smaller homes
Customer Reviews
Its style never fails to impress and there's more to it than meets the eye. Jacky1 says:
"I bought this fridge a month ago and just love it! Beautiful looking, lots of room inside, does the job well. When the motor is running you can hear it but most of the time it is silent." 
11. Electrolux 524L French Door Fridge Freezer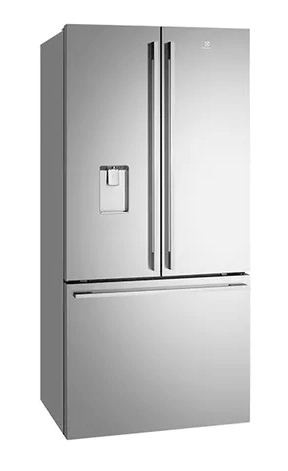 Model: EHE5267SB | Capacity:  524 Litres | Dimensions: 172.5H x 79.6W x 78.1D cm | Frost free: Yes | Energy Rating: 4 stars |
Price: NZ$3,418
 The Electrolux 524 Litre French Door sports a bold and utilitarian design. It also has many useful features to go with that design, including a 4-star energy efficiency rating.
Two cooling modes will get you started quickly — Fast Ice and Boost Mode. They impart quick, powerful cooling that gets as low as -23 °C, all to ensure your food stays fresh.
What makes it stand out from other fridges is its original deli compartment. Here you can place in your whole bread or dairy products such as cheese or cold cuts.
Moreover, you get a considerable amount of space inside, with an accessible crisper and chiller drawers. The humidity of the drawers is adjusted automatically too, so you have nothing to worry about.
It even has a built-in icemaker. In short, it has practically everything you could imagine in a fridge freezer!
Highlights
Large storage capacity
Auto humidity control
4 star energy rating
Customer Reviews
Electrolux's 4-star energy efficiency and reliable performance won it a place on our list of best fridge freezers in New Zealand. Here's a review by Alanbl: 
"I bought this fridge 3 weeks ago to replace an older one that was 100L larger with an in door water dispenser and ice maker. The Electrolux offers heaps more usable space in both the fridge and freezer area. The water dispenser is great and the automatic ice maker is excellent.A truly well thought out efficient design. .." 
12. Sharp 339 Litre Fridge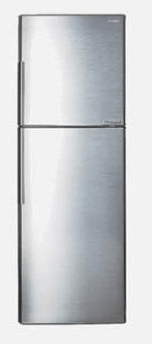 Model: SJX339SSL | Capacity:  339 Litres | Dimensions: 176.7H x 61W x 67.2D cm | Energy Rating: 4 stars |
Price: NZ$899
 Japanese appliance company Sharp brings in an affordable fridge here that isn't too big or bulky. It features a J-Tech inverter compressor, Ag Cu nano deodoriser, and LED in the interior.
The classic top mount design allots sufficient space for your frozen foods. As usual, you also get a chiller compartment.
The Ag Cu deodoriser eliminates the presence of bacteria in the air. As a result, odours from food won't mix together and your food will stay pure and fresh.
To top it off, you're going to get reduced power costs due to efficiency thanks to the J-Tech inverter compressor. That's a lot of value for something at this price point!
Highlights
339 Litre top mount
4 star energy rating
J-Tech inverter for durable and fast cooling
13. Panasonic 407 Litre Fridge Freezer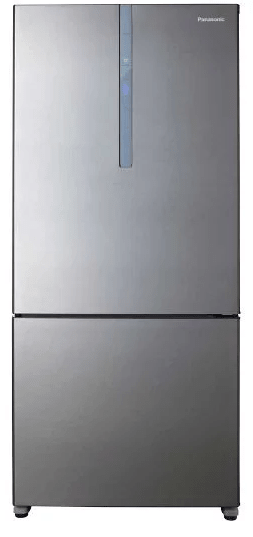 Model: NR-BX41CXSNZ | Capacity: 407 Litres | Dimensions: 162.4H x  68.5W x D 69.8H cm
| Frost free : Yes |
Price: NZ$1,399
In a standard home setting with a family of 4 or more, the Panasonic 407 Litre Fridge Freezer is nigh-perfect. An inverter compressor and ECONAVI keep it well ahead of the pack.
The ECONAVI feature detects your kitchen temperature as well as lighting. When the kitchen is dark, for instance, it determines that you are likely to be asleep and thus switches into energy-saving mode to reduce power usage.
It offers a lot of storage space too. Besides being durable, the glass shelves in it are also simple and neat-looking.
There's no need to defrost either as it stores your proteins at -3 °C, as opposed to other fridges that harden food into ice. That means preparing your recipes after taking ingredients out of the freezer will be faster than ever.
It's also worth noting that Panasonic's inverter compressor alone makes the fridge worth buying. You get an amazing 12-year warranty for it, which is much better than the warranties from other brands.
Highlights
Stylish and compact design
Uses Inverter compressor
407 Litre storage
Has energy-conserving ECONAVI
Customer Reviews
Panasonic expresses the Japanese ideal for durability and quality. And we see that through the review of Gina N:
"Great fridge freezer for the price point. Took us a little trial and error to get the temperature right. Only minor draw back is limitation around adjusting the shelving meaning we can't stand as many bottles up but not a big deal. The vege bin keeps things fresh for ages and I like the separate meat storage. Would recommend as a good option for a small family." 
Those were by far the best fridge freezers in New Zealand we could find at this time. Any one of these will store your food dependably and for optimum freshness.
What are thoughts about our lineup? If you think we missed a great fridge, you can leave us a note and let us know which fridge should be in this list!
Other than that, you may want to review our other articles on home appliances if you need more electronics for the household. For example, if you're looking for a washing machine, you might want to see our best washing machines in New Zealand.