9 Best Fridge Freezers in New Zealand Reviewed
Looking for a way to keep your food fresh at home? Luckily for you, we've rounded up the best fridge freezers in NZ today.
But with tons of options, kinds, and features available, which one should you get? Essentially, you should pick the fridge freezer that answer your needs best — which you can determine by taking a close look at their specs and features.
Before we discuss any of those details though, let's check out how much fridge freezers generally cost in New Zealand first.
How much do fridge freezers cost in New Zealand?
Refrigerators on average cost anywhere from $1,000 to $3,000, but this can vary based on a number of factors. This includes the finish, capacity, and any smart features the appliance may have.
Moreover, if your fridge freezer has a water dispenser or ice maker built in, this will usually require plumbing to be installed. The labor costs for this usually average around $100 to $120.
Aside from the actual cost of the fridge freezer, another specification or feature to watch out for is the appliance's Energy Star Rating. You'll generally want to go for one that has a higher rating so that you can save on your energy bill in the long-term.
In order for you to have a better idea of how much a fridge freezer costs in New Zealand, we've summed up the average price ranges of different types below.
Average Cost of Fridge Freezers in NZ:
| | |
| --- | --- |
| Type of Fridge | Average Price Range |
| Freezer on top | $500 – $1,400 |
| Freezer on bottom | $1,000 – $3,000 |
| French doors | $1,500 – $3,600 |
| Side by side | $950-$2,400 |
| No freezer | $700 – $1,900 |
| Smart fridge | $3,000 – $6,000 |
The Best Fridge Freezers in New Zealand Reviewed
Now that we have a general idea of what to expect in terms of cost, we can take a look at our picks for the best fridge freezers in NZ.
1. Westinghouse 370L Bottom Mount Refrigerator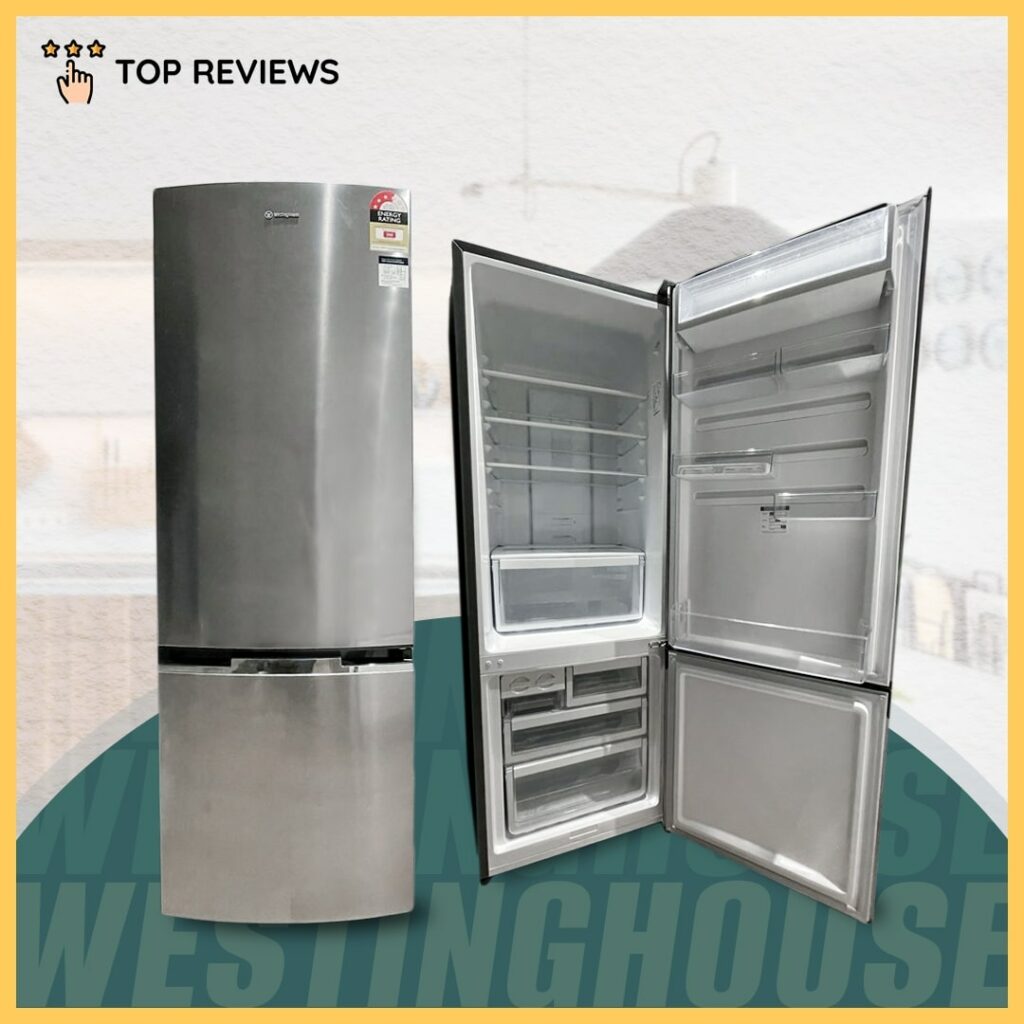 | | |
| --- | --- |
| PRICE | NZ $1,319.00 |
| MODEL | WBB3700AH-X |
| DIMENSIONS | 598W x 650D x 1755H mm |
| FEATURES | Reversible Doors, Optional Door Kit, Dairy Compartment, Self Closing Doors, Door Alarm |
| CAPACITY | 370 Liters |
| ENERGY STAR RATING | 3.5 |
| WARRANTY | 24-Months |
| WEBSITE | https://www.westinghouse.co.nz/ |
The 370L Westinghouse is a bottom mount fridge that offers reliable quality at an affordable price. It can be ideal for a couple living together in an apartment or a small family of three people.
This Westinghouse's FlexStor storage system provides you the flexibility to adjust the height and position of door bins. This essentially helps you to fit in items of virtually any size, such as multiple containers of oversized leftovers or open wine bottles.
The bottom freezer has enough space to store your frozen meat and fish. If you need to get ice, simply twist the knob of the tray, and the ice is ready to be served!
There are separate temperature controls for the fridge and freezer, so you can adjust how cool it is independently, depending on what you have stored inside.
It also features a full-width humidity-controlled crisper bin and a full-width dairy bin with adjustable Spillsafe glass shelves. Combine this with multi-flow air delivery and a door ajar alarm, and you've got a mix of features that helps ensure your items stay fresh for longer.
However, you'll need to be extra careful when pulling out this fridge's crisper bin as the runners aren't firmly secured. Users have reported that it often drops if pulled too hastily.
Although this Westinghouse fridge is only available in one color, the arctic silver and charcoal grey finish are sleek and modern. Moreover, with its reversible doors and hidden hinges, you can customize the way this fridge opens to match the layout of your space.
Its reversible doors make it the best fridge freezer in NZ for small or tight living spaces, so we highly recommend this to those in small apartments.
FlexStor storage system
Humidity controlled crisper bin
Twist ice and serve tray
Only one color available
Crisper bin may come off the rollers occasionally
Customer Reviews
Small but spacious is what you'll often hear from customers on the Westinghouse Website. Kimberley, a verified buyer, shares her thoughts:
"The fridge can look small but the amount of different areas to store food really makes it quite spacious. The ice maker is great to easily make ice. The design is simple which means it won't date."
2. Samsung 450 Litre Fridge Freezer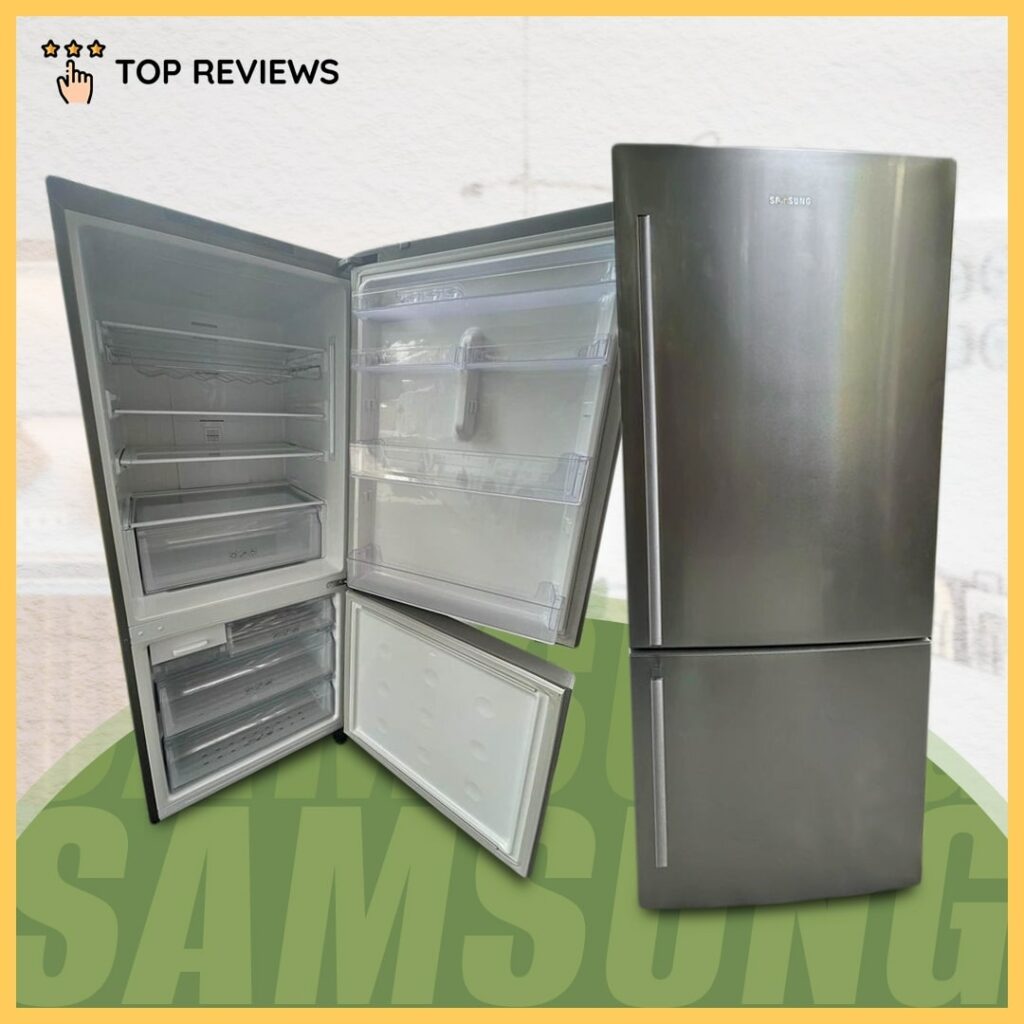 | | |
| --- | --- |
| PRICE | NZ $2,099.00 |
| MODEL | SRL458ELS |
| DIMENSIONS | 700W x 705D x 1700H mm |
| FEATURES | Multi Flow, Digital Inverter, Top Table LED Display with Electronic Control, LED lighting, Triple Foldable Shelf |
| CAPACITY | 450 Liters |
| ENERGY STAR RATING | 4.0 |
| WARRANTY | 10-Year Parts Warranty on Digital Inverter Compressor |
| WEBSITE | https://www.samsung.com/nz/ |
At first glance, the Samsung 450L looks both ordinary and out of the ordinary at the same time. Its sleek and suave design is ideal for modern kitchens and a family of three to four people.
It features Samsung's smart 5-sensor system which has been designed to keep a watchful eye on the temperature and humidity both inside and outside your fridge. Cooling will automatically adjust depending on how the fridge is used while detecting external climate levels at the same time.
Not everything is automated though – you can adjust settings by accessing the digital display on the fridge's top-shelf. This makes it convenient because you no longer have to reach towards the rear of the chiller where most traditional panels are located.
We like the triple foldable shelving system that helps you store larger, heftier items like an open bottle of wine or a birthday cake. You can even adjust the door guards higher or lower depending on what you need to store inside.
While the fridge's shelves might seem durable, the freezer drawer is less desirable – it tends to become dislodged and might prevent the freezer door from closing properly.
Nevertheless, Samsung has thought about the interior layout quite well in this fridge freezer, eliminating awkwardly placed light fixtures or vents. The Simple Inner Wall Design creates more storage and makes it look sleeker at the same time, especially when the energy-saving LED lights illuminate the interior.
Featuring a digital inverter compressor that helps promote adequate airflow inside, the 10-year warranty on this essential part of the fridge freezer is most welcome. With an impressive 4-star energy rating, this stylish, silent, and sleek fridge is a great addition to any home.
It's one of the best fridge freezers in NZ for young families or even a couple who want a roomy fridge.
5 smart sensors for the ideal fridge temperature
Triple foldable shelf
10-year parts warranty for the inverter system
4 star energy rating
Silent operation
Freezer bin may get dislodged
Door doesn't completely close automatically
Customer Reviews
This Samsung Fridge Freezer has a great reputation for its performance and energy efficiency. It has pleased many customers for various reasons.
One user from Samsung's website, Adam12345, has this to say:
"Have had this product for about a month now and hasn't missed a beat. Has ample room with excellent lighting and lots of flexibility with trays and shelving to however you wish to have it set up. A very quiet machine and with a great energy rating should keep the power bills down!"
3. Mitsubishi Multi-Drawer Fridge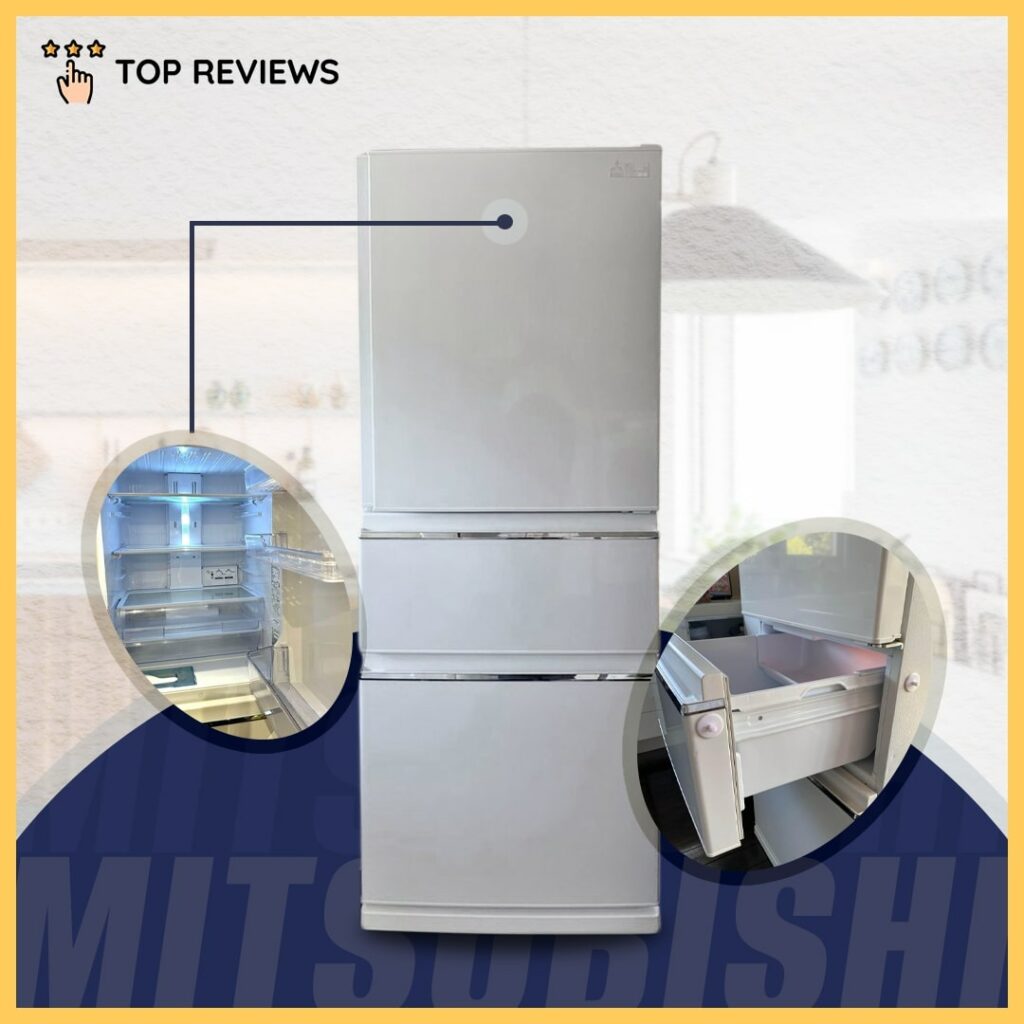 | | |
| --- | --- |
| PRICE | NZ $1,799.00 |
| MODEL | MR-CX370EJ-ST-A |
| DIMENSIONS | 600W x 660D x 1698H mm |
| FEATURES | LED Lighting, Two-Way Flexi Shelf, Multi Airflow Cooling System, Neuro Fuzzy Logic Technology, Vitalight Amber LED |
| CAPACITY | 370 Liters |
| ENERGY STAR RATING | 3.5 |
| WARRANTY | 2 Years Parts & Labour |
| WEBSITE | https://www.mitsubishi-electric.co.nz/ |
Mitsubishi markets this Multi-Drawer Fridge to those who live in apartments or have smaller-than-average fridge cavities. It's quite slim, measuring only 600m wide, and can fit through small doorways.
Available in a variety of finishes, you can choose from classic stainless steel, white, red, or black options. They likewise have a left-hand opening model as well to suit the layout of your kitchen.
When it comes to its overall aesthetics, you'll either love or hate the way this multi-drawer fridge freezer looks. Although having a third compartment is unconventional (and might not be visually pleasing for some), it is a useful feature that many might enjoy.
This fridge freezer features two independent chilled drawers allowing you to separate any dairy, meat, or beverages from one another. With its multi-airflow cooling system, the air is circulated evenly throughout and helps regulate the temperature in each compartment.
The humidity drawer is located in the middle and features Vitalight Amber LED lights. This unique illumination can help make produce last longer and maintain its nutrient levels.
The freezer on the bottom is likewise divided by a sliding tray to reveal a larger "tub" beneath to store bulkier items. The top tray is best for flat items such as processed meats while the bottom can hold fish, meat and frozen vegetables.
The Two-Way Glass Flexi Shelf helps you create more space to store your items on demand. Made out of tempered glass, the shelves can hold up to 100kg, which is more than enough for the average person.
It also features a non-plumbed automatic ice maker, which a lot of users will appreciate, especially for those who live in rented spaces.
There's a lot to like about this Mitsubishi model – it's sleek and efficiently designed and provides ample space for your food and beverages. Although it only has an Energy Star Rating of 3.5, it's still pretty good for a fridge of its capacity.
Overall we think this is the best fridge freezer in NZ for those living in small spaces but have a not-so-small appetite for fresh food- there will always be room in this tall fridge!
Separate humidity drawer
Available in various colors
Non-plumbed ice maker
Glass shelving can hold up to 100kg
Not energy efficient
Compartments are small
Customer Reviews
While some users needed to adjust to having multiple drawers, others welcomed the intuitive design. Ian, a verified buyer, shares his thoughts:
"Needed to upgrade my older fridge. Only need a smaller unit to fit my kitchen.Decided on the Mitsubishi as it seemed to have the best warranty and reviews.
After only a few days use, can only say I am totally sold on this fridge, especially the ingenious ice maker and the crisper drawer with a special light.
The flexibility of the shelving is convenient and more than adequate for storage.
Great Fridge."
4. LG 570L Slim French Door Fridge Freezer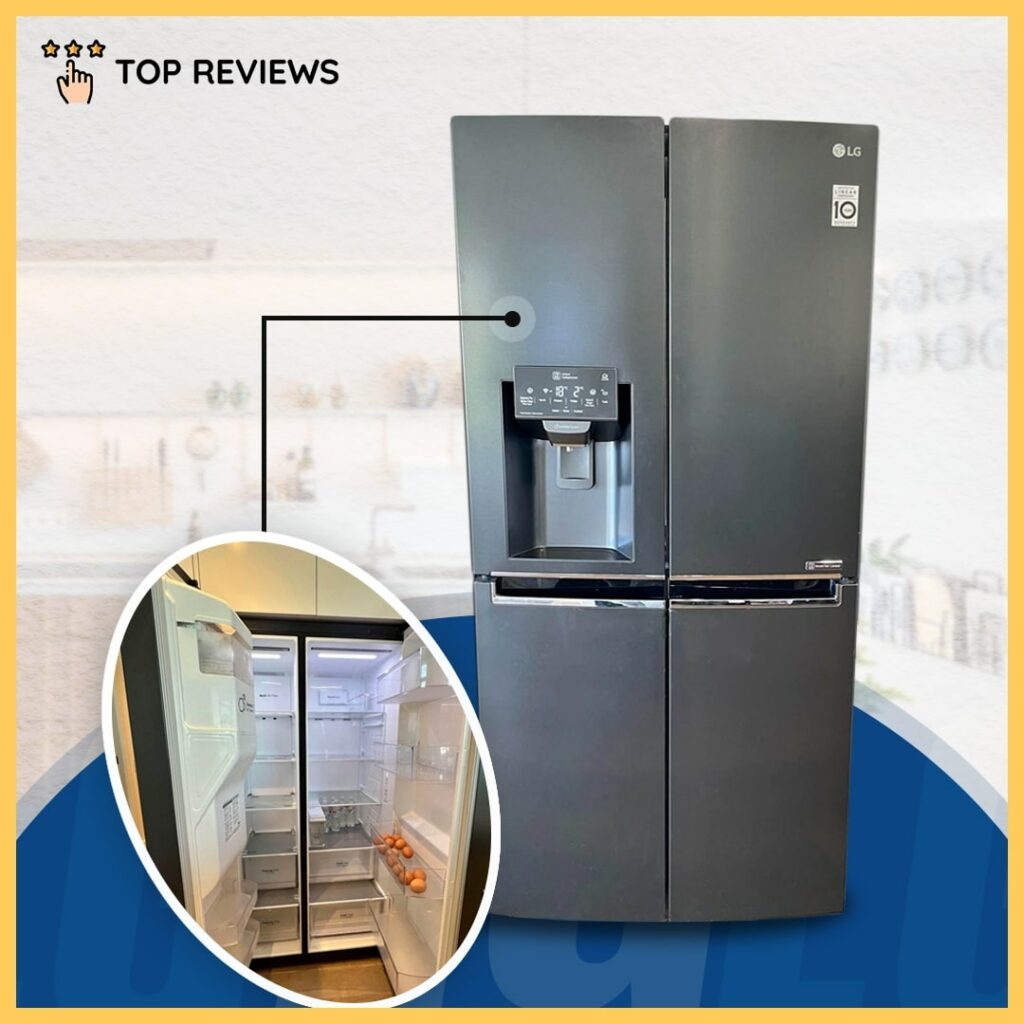 | | |
| --- | --- |
| PRICE | NZ $ 3,499.00 |
| MODEL | GFL570MBL |
| DIMENSIONS | 835W x 734D x 17870H mm |
| FEATURES | Slim Width, Inverter Linear Compressor, Less Noise & Moving Parts, Pure N Fresh Reduce Fridge Odours, ThinQ Remote Adjust Fridge Settings |
| CAPACITY | 570 Liters |
| ENERGY STAR RATING | 2.5 |
| WARRANTY | 10-Year Warranty on Compressor |
| WEBSITE | https://www.lg.com/nz |
This LG fridge gets a thumb's up for its slim modern French door design. Measuring only 835 mm wide, it can easily fit into small apartment doors or kitchen spaces.
That's not the only space-saving feature it boasts though – its icemaker is ingeniously built into the fridge door! What's more, there's still space leftover to store items alongside of it as well!
This LG fridge's shelves are retractable too, so you can easily fit in wine bottles or other bulkier items inside its chiller. When you're done, you can simply pull out the shelf to provide more space as you need it.
You'll need to take care when setting items in the retractable shelves though. The shelves can be easily knocked back while you're storing things, causing it to retract unwittingly.
Regardless, LG claims that its Inverter Linear Compressor can regulate temperature better, keeping your produce and fruits healthier and fresher at the same time. The cooling system also circulates the air through a carbon filter before flowing into the interior, ensuring that
it distributes only clean and cold air constantly, so it's not too surprising that many find this to be the best french door fridge in NZ.
Now, if the fridge is too warm or too cold for you, the LG ThinQapp conveniently allows you to easily adjust its settings remotely!
One example of its usefulness is to make the chiller's temperature cooler as you leave the grocery so that it's nice and cold when you store your newly-bought items. The app can also warn you if something needs your attention and you need to troubleshoot the fridge.
In short, if you want a fridge with a reimagined design, modern features, and intuitive operation, then look no further. This fridge freezer from LG easily makes it to our list of the best fridge freezers in NZ.
Massive 570L of space
Offers 10 year parts warranty
Can be used with Smart ThinQ app
Slim width that can fit into small spaces
Low energy star rating (not energy efficient)
Expensive
Customer Reviews
With its impressive features and large space, the LG 570L Slim French Door easily grabbed a spot in the list of best fridge freezers in New Zealand. Here's what one user, Enzo, said on the LG site:
"Easily one of the best fridges we've owned for accessibility and ease of use. The only drawbacks as that the sliding shelf that allows for some taller items e.G. Bottles doesn't stay pulled forward and can easily be knocked back…"
Another owner, Kiara, gave this product a perfect 5 stars out of 5 stars. She comments:
"The fridge is great for entertaining as the shelves can hold large platter without being impacted by the ice machine as it is low profile."
5. Fisher & Paykel 610L Side By Side Fridge Freezer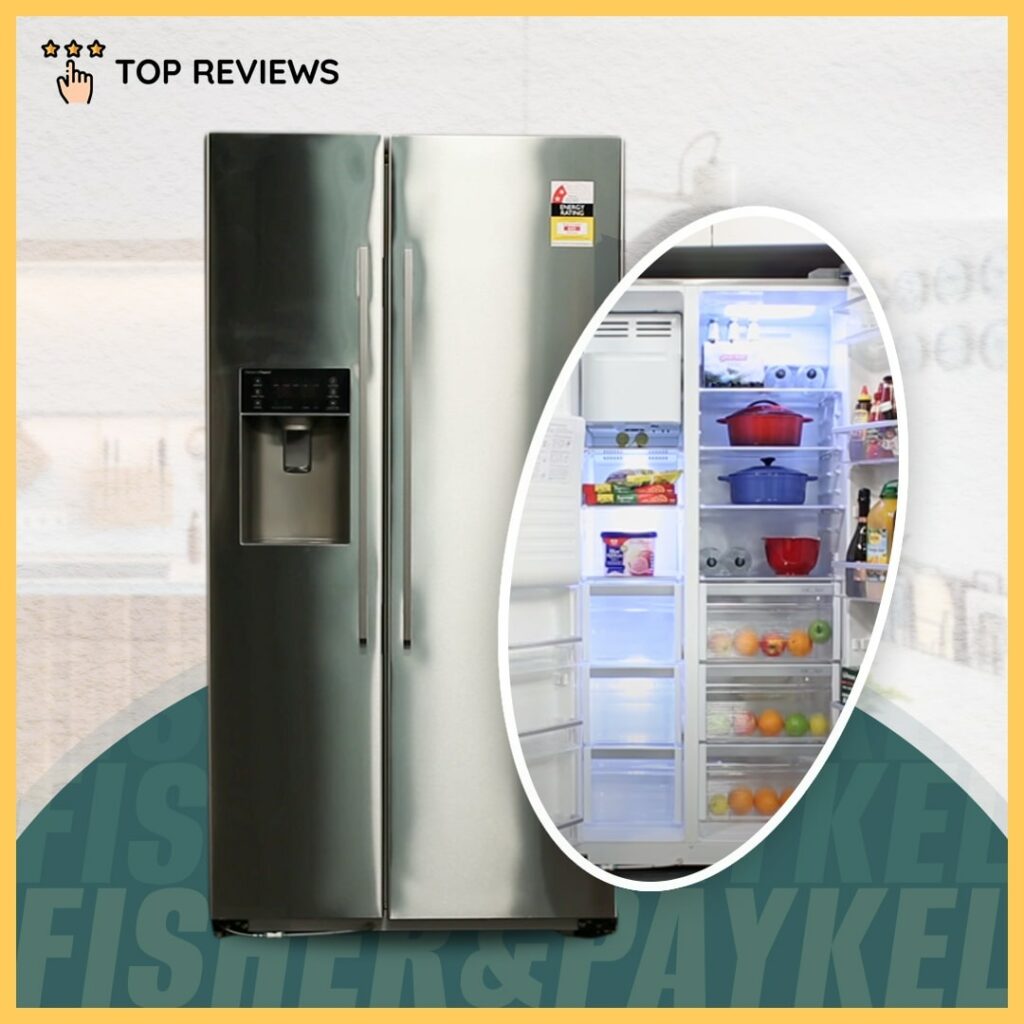 | | |
| --- | --- |
| PRICE | NZ $2,557.00 |
| MODEL | RX611DUX1 |
| DIMENSIONS | 910W x 700D x 1795H mm |
| FEATURES | Door Alarm, Quick Chill and Quick Freeze, Holiday Mode, External Ice Maker and Water Dispenser, |
| CAPACITY | 610 Liters |
| ENERGY STAR RATING | 2.0 |
| WARRANTY | 2-Year Manufacturer Warranty; 3-Year Sealed System Parts Warranty |
| WEBSITE | https://www.fisherpaykel.com/ |
This list of the best fridge freezers in NZ isn't complete without at least one product from Fisher & Paykel. This New Zealand-based company is one of the top choices among fridge freezer brands among locals.
The 610L Side by Side Fridge Freezer offers generous storage space housed in a visually pleasing design. Tall, convenient, and minimalist, it can easily fit well into any kitchen layout.
The freezer is accessed via the left door while the fridge is on the right-hand side with enough space for a family of four. With 6 adjustable shelves, slide-out bins, and trays, organizing your items will be a breeze.
Moreover, since the drawers feature humidity control, it ensures that all your fruits and vegetables will stay crisp and retain all of their nutritional qualities.
One of its most attractive features is the integrated ice maker and water dispenser on the door of the fridge, which can generate up to 1kg of ice a day. However, it requires plumbing for it to function, which some people may not want to spend extra for.
Nevertheless, with its Quick Cool and Quick Freeze functions, you can easily chill or freeze food quickly. This is handy for preserving your grocery items that may have warmed up while on your way home.
Another thing we like about this product is the Holiday Mode setting, which can be switched on to conserve energy while you're on vacation. It can be accessed via the Smart Touch Control Panel that's located conveniently on the top shelf for easy access.
This Holiday Mode setting is a welcome addition, especially since this fridge freezer has a rather low Energy Star Rating of 2.0. So if you want to keep your utility bills low, you may want to keep an eye on the settings.
610 L fridge freezer capacity
Has Ice & Water feature
Humidity control for chiller drawers
Plumbing required
Non-reversible door
Not energy efficient
Customer Reviews
This Fisher & Paykel product is spacious, quiet and looks great. One reviewer, Thakshi, put it in detail:
"All of the compartments maintain a consistent and reliable temperature. We love the fact that we can get cold water and ice whenever we want from the fridge which is a bonus to the fridge. This fridge is super easy to open. We bought it like more than 3 years ago and we have so far never have had a problem with it!"
6. Panasonic 342 L ECONAVI Fridge Freezer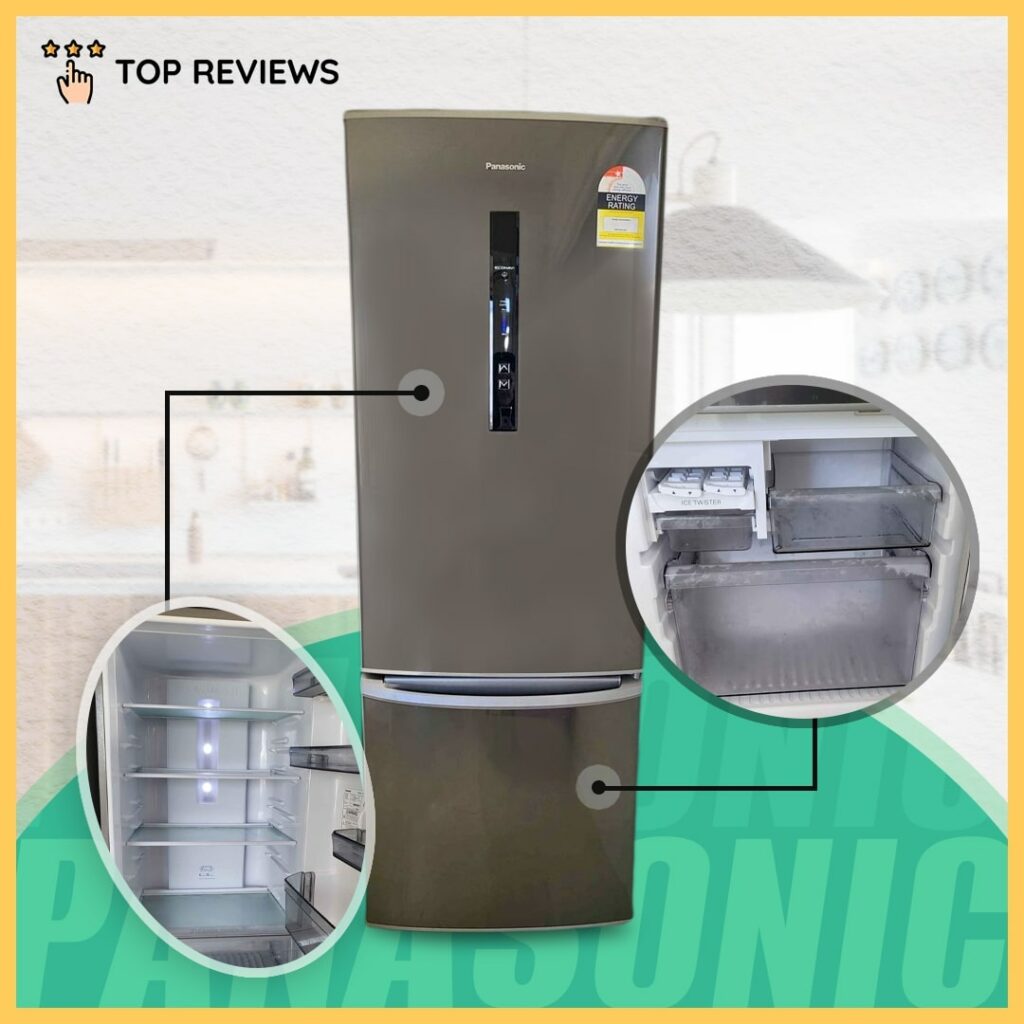 | | |
| --- | --- |
| PRICE | NZ $1,199.00 |
| MODEL | NR-BR 34B SAU |
| DIMENSIONS | 600W x 626D x 1732H mm |
| FEATURES | Frost Free, ECONAVI Technology, AG Clean, Tempered Glass Shelves |
| CAPACITY | 342 Liters |
| ENERGY STAR RATING | 3.5 |
| WARRANTY | 12-Year Warranty on Compressor |
| WEBSITE | https://www.panasonic.com/nz/ |
It might look simple on the outside, but this fridge freezer has some pretty impressive features. Panasonic brings two of its brand's reliable features to this appliance that helps keep your food and beverages stay cooler and fresher longer.
Panasonic's ECONAVI cooling technology can be found in many of their products, so it isn't surprising that it has made its way to this fridge. Although primarily known to be part of air conditioning systems, it can help keep temperatures cool in your fridge as well.
You can place your fresh vegetables and fruits in the specialized drawer that provides an ideal 90% humidity and temperature of 6-degrees Celsius.
Moreover, this fridge has three sensors that monitor the state of the internal, external, and door so that the compressor knows when and how it should rotate and function accordingly. Panasonic is so confident in its compressor that they've placed a 12-year warranty on it, one of the longest we've seen thus far offered on a fridge.
With a freezer temperature strictly regulated to maintain 20-degrees Celsius, our only gripe is that the freezer is quite small and there are no door shelves to store extra items. The 42-liter capacity is not as generous compared to its competitors, so you may find yourself with a full freezer on more than one occasion.
This fridge freezer also comes with AG Clean, which inhibits the formation of harmful bacteria and mold in the fridge. It also offsets any bad odors from spoilage that may result from food being kept too long inside.
With a slim and sleek design that will find favour with many users, this Panasonic appliance is definitely one of the best fridge freezers in NZ for overall use.
Has ECONAVI cooling technology
Prevent bacteria with AG Clean
Affordable price
12-Year warranty on compressor
Small freezer compartment
Extended warranty is for compressor only
7. Electrolux 524L French Door Fridge Freezer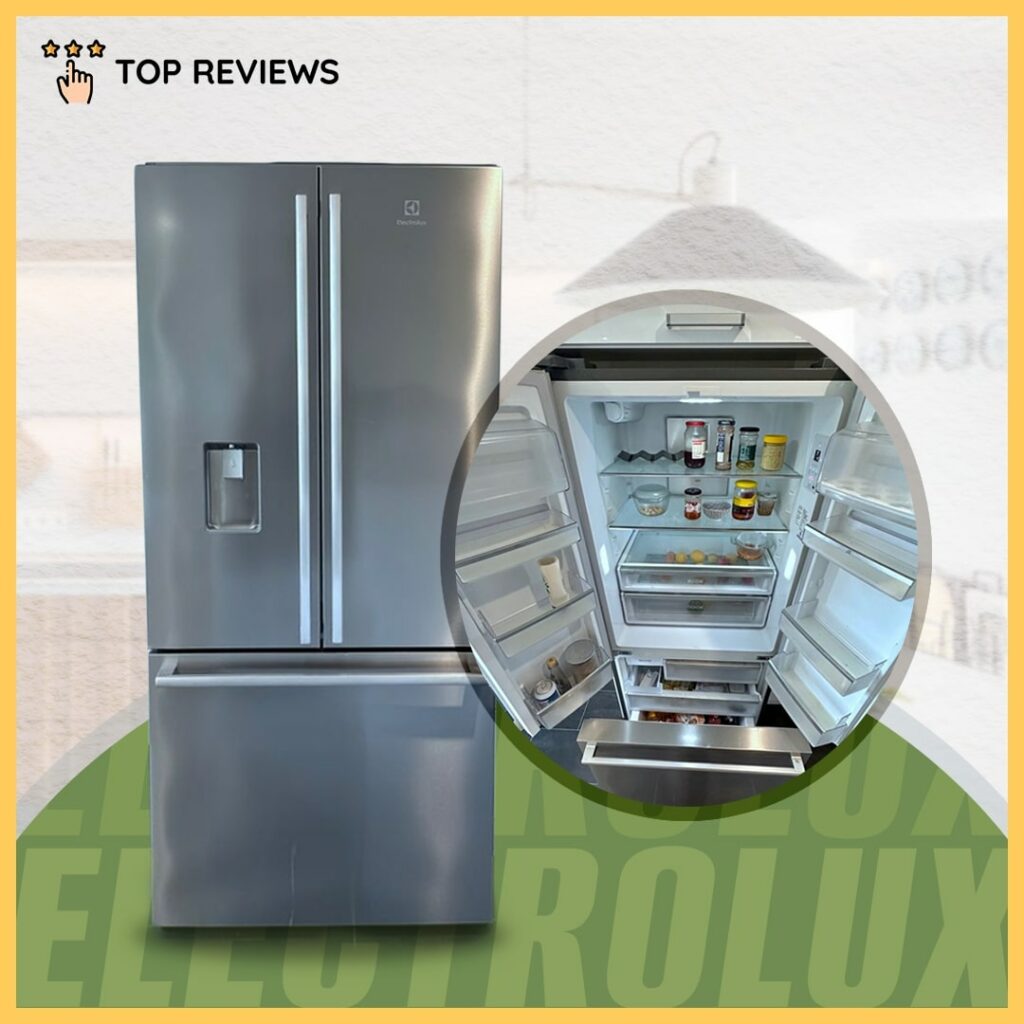 | | |
| --- | --- |
| PRICE | NZ $3,666.00 |
| MODEL | EHE5267SB |
| DIMENSIONS | 172.5H x 79.6W x 78.1D cm |
| FEATURES | Frost Free, Tastelock Easy-Glide Crispers, Mark Resistant Real Stainless Steel, Flexstor, Freshplus Cooling, Multizone Deli Compartment, Fast Ice Function, Boost Mode |
| CAPACITY | 524 Litres |
| ENERGY STAR RATING | 4.0 |
| WARRANTY | |
| WEBSITE | https://www.electrolux.co.nz/ |
If you're looking for one of the best French door fridges in NZ, you'll like this one.
The Electrolux 524 Litre French Door sports a bold design with a scratch-resistant stainless steel finish, that's also available in a darker color.
It has French doors that open up the chiller, with a traditional door for the bottom freezer. These split-style doors create more space, preserve temperatures, and help consume less energy.
Temperatures are kept cool inside thanks to the TasteGuard tech and TasteLock crispers that can automatically regulate the humidity levels to keep your produce fresh. These easy-glide drawers open effortlessly, even when they're full of fruits or vegetables.
This fridge freezer has a 4.0 Energy Star Rating, which will also keep your bills at manageable levels while still giving you the performance you need.
What makes it stand out from other fridges is its original deli compartment. Here, you can place in your whole bread or dairy products such as cheese or cold cuts.
Moreover, you get a considerable amount of space inside, with an accessible crisper and chiller drawers. The humidity of the drawers is adjusted automatically too, so you have nothing to worry about.
It even has a built-in icemaker and water dispenser, although it will need plumbing to be installed for it to function. Another great feature is the two cooling modes that can fast-track your fridge to colder temperatures.
Fast Ice lowers the temperature in your freezer to as low as -23 °C for 12 hours, so that you can quickly generate ice and quickly freeze any items inside that have thawed out. Don't be surprised if you see this rank highly when you do your search of fridge freezer reviews in NZ.
Boost Mode, on the other hand, will cool down the temperature in your chiller for a 90 minute period. This essentially pre-preps your fridge so that store-bought produce or other grocery items can be kept in a cold environment right away.
Overall, if you're a gourmand and love cooking at home (the deli compartment is really a nifty bonus!), this could really be the best fridge freezer in nz for you.
Large storage capacity
Auto humidity control
4 star energy rating
Fast Ice and Boost Mode functions
Expensive
Plumbing required for water dispenser
Customer Reviews
Electrolux's 4-star energy efficiency and reliable performance won it a place on our list of best fridge freezers in New Zealand. Here's a review by Alanbl:
"I bought this fridge 3 weeks ago to replace an older one that was 100L larger with an in door water dispenser and ice maker. The Electrolux offers heaps more usable space in both the fridge and freezer area. The water dispenser is great and the automatic ice maker is excellent.A truly well thought out efficient design. .."
8. Sharp 339 Litre Fridge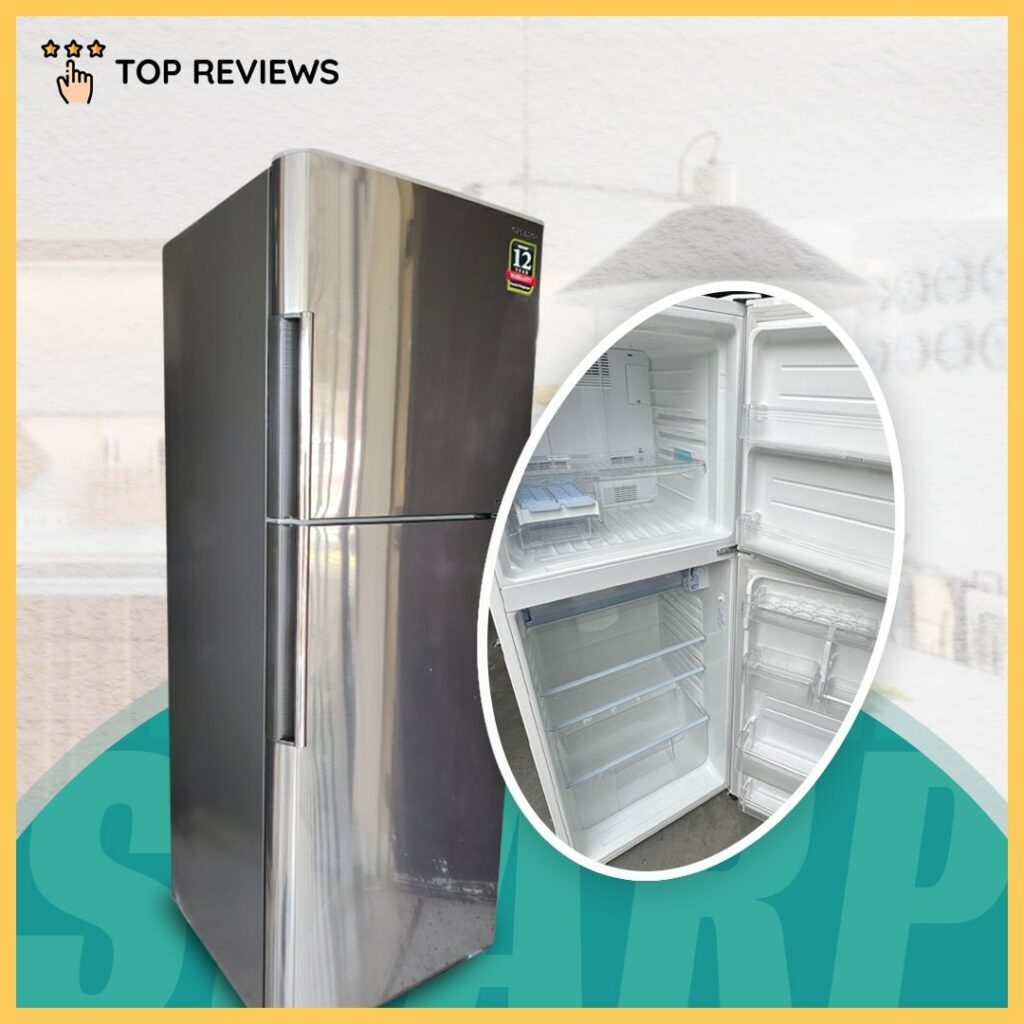 | | |
| --- | --- |
| PRICE | NZ $1,199.00 |
| MODEL | SJX339SSL |
| DIMENSIONS | 610W x 672D x 1767H mm |
| FEATURES | J-Inverter Technology, Tempered Shelves, AG CU Nano Deodorizer |
| CAPACITY | 339 Litres |
| ENERGY STAR RATING | 4.0 |
| WARRANTY | |
| WEBSITE | https://www.sharp.net.nz/ |
This Sharp top mount fridge freezer features a J-Tech Inverter – a Japanese invention that conserves energy and helps regulate temperatures. This smart technology can help keep your food fresher for a longer period of time.
J-Tech is the force behind the Extra Cool function in the Fresh Room compartment. This allows you to chill your drinks or fruits up to 0-2°C without freezing!
Even though it has a J-Tech Inverter, this fridge freezer doesn't feature Express Freezing though. We would have liked to have this included because it can have ice cubes in as little as 90 minutes.
Nevertheless, the 339L Top Mount is a relatively compact freezer boasting a modern and streamlined design. The classic configuration provides sufficient space for your frozen and chilled items.
It has a built-in AG CU Nano deodorizer that utilizes silver and copper ions to control odors and bacteria. Even if food is left too long in the fridge, they guarantee the interior will remain smelling fresh and clean.
With five door pockets and tempered glass shelving, you'll have plenty of space to store your food and beverages. It's not the roomiest fridge freezer in the market though, so it's better suited for a single person or a couple in an apartment.
Regardless, this fridge freezer is energy efficient with a 4.0 Energy Star Rating. Even though it's quite small in size, you'll get equally small utility bills as well!
So overall, with its J-Tech inverter technology and high energy rating this could be one of the most energy efficient fridge freezers in NZ.
339 Litre top mount
4 star energy rating
J-Tech inverter for durable and fast cooling
No door alarm
Doesn't have reversible doors
9. Panasonic 407 Litre Fridge Freezer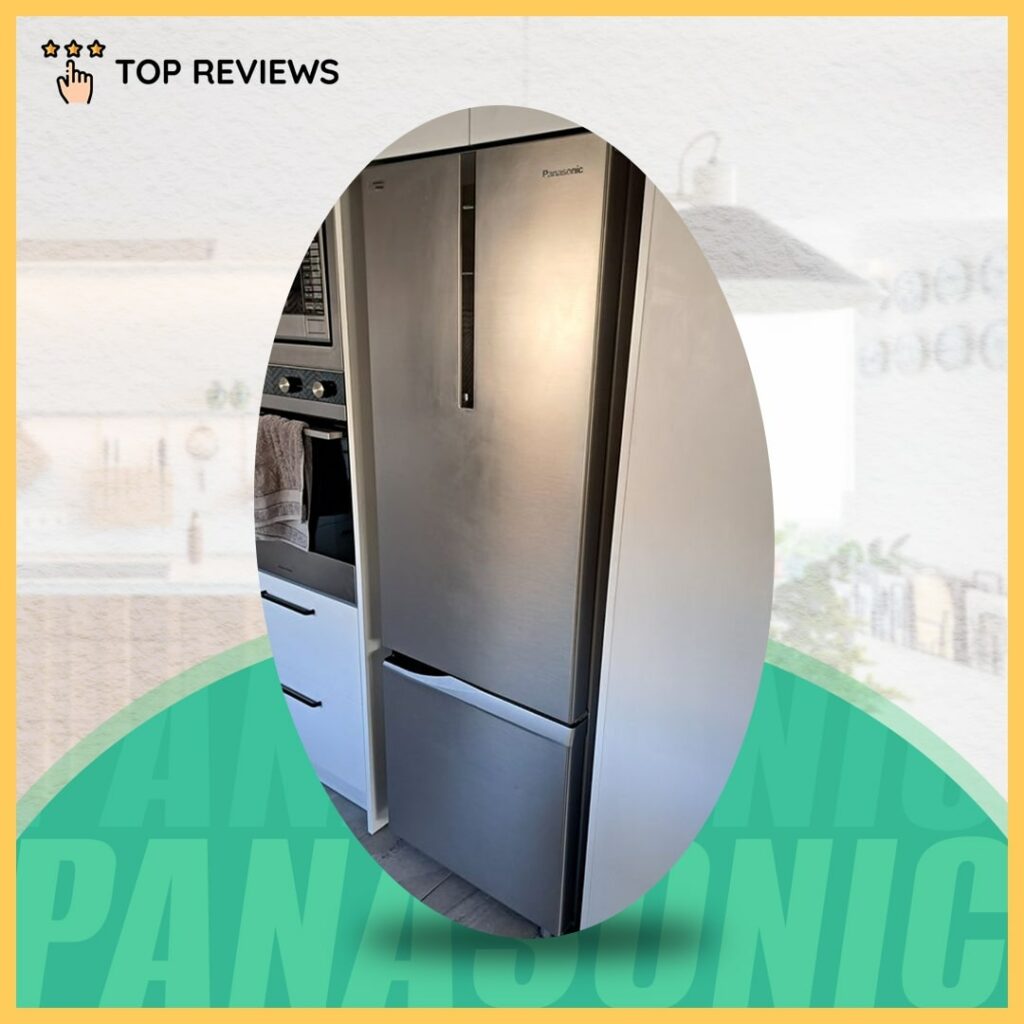 | | |
| --- | --- |
| PRICE | NZ $1,954.46 |
| MODEL | NR-BX41CXSNZ |
| DIMENSIONS | 68.5W x D 698H x 1624H mm |
| FEATURES | ECONAVI Inverter, Water Dispenser, Primefresh+, Ag Anti-Bacteria And Deodorising Filter, Led Interior Light, Adjustable Tempered Glass Shelves, Twist Ice Tray |
| CAPACITY | 407 Litres |
| ENERGY STAR RATING | 4.0 |
| WARRANTY | 12-year Warranty on Compressor |
| WEBSITE | https://www.panasonic.com/nz/ |
If you're looking for a stunning looking fridge freezer, then you might want to check out this latest offering from Panasonic. Featuring a full-flat design with no visible protrusions, it gives new meaning to the word "streamlined".
With a capacity of 407 liters, this fridge freezer will suit a family of four or more in a standard home setting. It offers plenty of storage space with its durable glass shelves that look sleek and clean when you take a look inside.
You'll find Panasonic's familiar ECONAVI technology here as well, working to regulate the internal temperature of the fridge freezer.
One of its highlight features is Prime Fresh Freezing, which keeps your food safely frozen at only -3 °C. This means that there's no need to defrost for hours because your proteins are all iced up – you can start preparing your recipe after only a few minutes!
It also features the company's AG Clean antibacterial and deodorizing filter, which keeps the inside smelling fresh and free from odors and bacteria.
Moreover, ECONAVI takes it a step further by detecting your kitchen's temperature and lighting. When the kitchen is dark, it determines that you are likely to be asleep and thus switches into an energy-saving mode to reduce power usage.
The fridge will likewise switch to a more powerful cooling mode when it senses that the fridge door is being opened and closed frequently. This is useful if you have kids in the house or if you're rearranging the items stored inside.
With a 12-year warranty for its compressor and a 4.0 Energy Star Rating, this Panasonic offering is one of the best fridge freezers you can buy in New Zealand.
Stylish full flat design
Can adjust temperature based on lighting
ECONAVI technology
Small freezer drawers
No water dispenser
Customer Reviews
Panasonic's products are almost always a great purchase for their durability and quality. And we see that through the review of Gina N:
"Great fridge freezer for the price point. Took us a little trial and error to get the temperature right. Only minor draw back is limitation around adjusting the shelving meaning we can't stand as many bottles up but not a big deal. The vege bin keeps things fresh for ages and I like the separate meat storage. Would recommend as a good option for a small family."
FAQs about Fridge Freezers in NZ
---
And that's the end of our list for the best fridge freezers in NZ (New Zealand)! We hope you found the perfect one for your kitchen!
Did we miss any other great fridge freezers out there? If so, send us a message so we can check them out!
Now, if you already have a chest freezer and just want to get a fridge, then check out our list of the best fridges in New Zealand.