The 6 Best Fumigation Auckland Specialists
Sighted cockroaches or a stray wasp lately in your room? If so, it's the end of your discomfort as we've rounded up the best fumigation Auckland specialists here for you.
We chose the companies that have a qualified, experienced and knowledgeable team. Also, we picked those who use safe and efficient chemicals, offer a reliable service guarantee, and work with passion.
They'll ensure that your home is meant for you and not for the pests. If you're ready, let's now see the best fumigation Auckland specialists!
1)  Aces Pest Control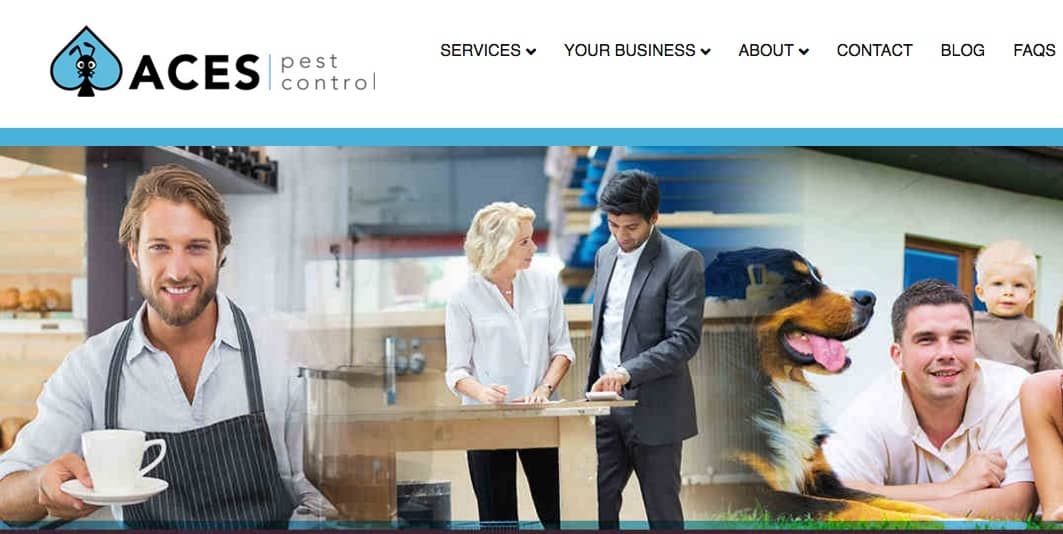 BEST FOR
Low-Toxic and Effective Pest Fumigation
SERVICES
Residential

Business

Rentals

Food Services

Warehousing

Retail

WEBSITE
https://commercialpestcontrol.net.nz/
ADDRESS
17 Rawene Road, Birkenhead, Auckland 0626, New Zealand
CONTACT DETAILS
+64 27 693 6007
OPERATING HOURS
Monday to Saturday: 9am – 5pm
Hire Aces Pest Control and wipe out the aggressive pest infestation in your house or shop. It is owned and operated by Owen Stobart, who has extensive experience in the field.
He earned his bachelor's degree in Entomology from Victoria University. Also, he is Pro Trains-qualified in Urban Pest Management and Timber Pest Management.
With the silver bullet guarantee, he provides effective and low-toxin treatments for ants, borers, mice, rats, spiders, wasps, silverfish, fleas, flies, bedbugs and cockroaches.
Since their treatments have very low toxicity, they will be safe for your family, children, and pets. As a result, you'll have a better, cleaner and more comfortable home.
Highlights
Low-toxicity and effective treatments
Can get rid of all sorts of pests
Extensive field experience
Silver bullet guarantee 
Customer Reviews
Here's what Wendy Birmingham has to say on Google Business:
"Excellent service. Pests are gone exactly as Owen said they would be.  Happy that I am able to have a follow up included if they return.  Highly recommend this company."
2)  Bug King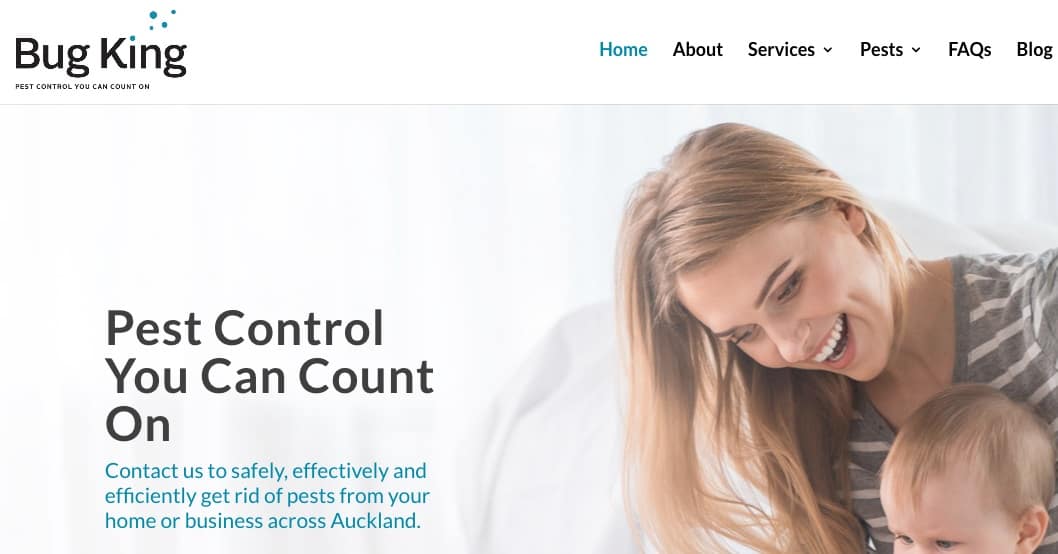 BEST FOR
Safe, Quick and Effective Pest Control
SERVICES
Residential

Commercial

Pests

Property Managers

Accommodation

Food Service

WEBSITE
https://www.bugking.co.nz/
ADDRESS
Auckland, New Zealand
CONTACT DETAILS
0800 54 64 54
OPERATING HOURS
Monday to Sunday: 7am – 7pm
Pests on the loose in your home — like rodents, cockroaches, or spiders — rob you of your peace of mind. Therefore, you need a pest control service that can respond quickly… one like Bug King!
Bug King is dedicated to providing swift, safe and effective pest control to homes and businesses. They do this through their safe chemicals and modern techniques.
Before fumigating your home, the team will expertly assess the situation to bring about the best pest treatment solution. They will get rid of pests with minimal downtime.
As customers will agree, Bug King is truly the king — one of the best fumigation Auckland specialists.
Highlights
Swift, safe and effective pest control
Fast response
Offer a range of fumigation services
Expert and brilliant team
Customer Reviews 
Check out the review of Uli Knapp on Google Business:
"Mark and his team are excellent. One of the fastest, most efficient and professional service that I have ever experienced. Not only did they take care of my wasp problem, they also took great care in keeping harm away from my beehives. I can highly recommend Bug King."
3)  Flick Anticimex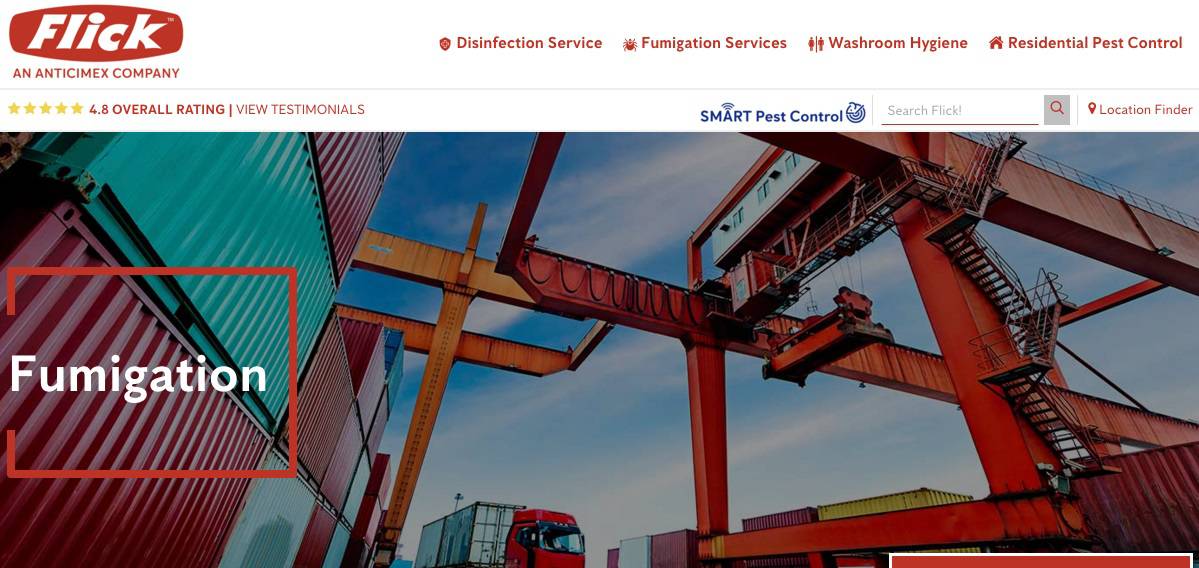 BEST FOR
Import or Export Pest Fumigation
SERVICES
Quarantine Fumigation

Cleaning

Freezing

WEBSITE
https://flick-anticimex.co.nz/
ADDRESS
15 Waokauri Place, Mangere, Auckland 2022, New Zealand
CONTACT DETAILS
0800 101 969
OPERATING HOURS
Monday to Friday: 8am – 5pm
Flick Anticimex is a fumigation and pest control company serving clients in Mangere and Greater Auckland. Their specialty lies in import and export cargo pest control.
They'll help you comply with the stringent demands of the Ministry for Primary Industries (MPI), which is the local authority for shipments going in or out of New Zealand.
Cockroaches, moths, termites, ants, mosquitoes, wasps, pest beetles, borers — they can handle all that. They'll keep pests from affecting food quality, for instance.
Moreover, they can disinfect commercial spaces to be free from viruses, bacteria and fungi. All surfaces will be cleaned using only safe and effective low-toxic solutions.
Highlights
Specialises in import and export cargo pest control
Knowledgeable and efficient team
Uses safe and effective solutions
Also offers disinfecting work
Covers Mangere and Greater Auckland 
Customer Reviews 
One client, J. Anthony, commented on the website:
"Your service technician is lovely and always happy even though she is not doing the most pleasant of jobs."
4)  NZ Pest Control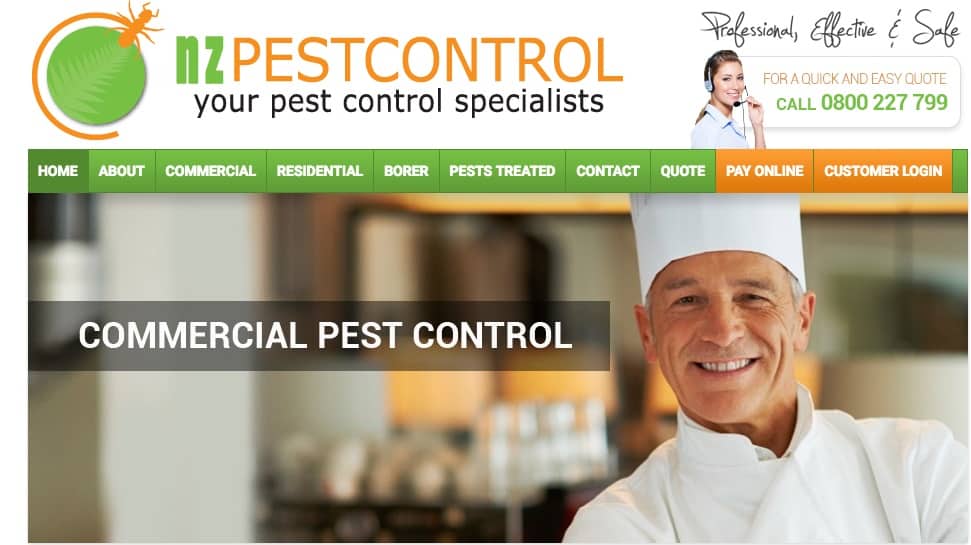 BEST FOR
Cost-Effective Treatments
SERVICES
Residential Pest Control

Commercial Pest Control

Borer Treatment

WEBSITE
http://www.nzpest-control.co.nz/
ADDRESS
Auckland, New Zealand
CONTACT DETAILS
+64 800 227 799
OPERATING HOURS
Monday to Friday: 9am – 5pm
For a cost-effective pest control treatment, look no further than NZ Pest Control. They're also one of the best fumigation Auckland specialists and we'll show you why.
First, their team are certified handlers, meaning they know how to fumigate or do treatments safely. They also carry public liability insurance for your confidence.
They can handle a wide range of pests such as ants, cockroaches, bed bugs, borers, possums, rodents, fleas, flies, mosquitoes, spiders and wasps. No matter how large or small the task, the NZ Pest Control Team is capable of taking it on.
Highlights
Cost-effective pest control treatment
Approved handlers certificate
Fully trained and insured
Handle a wide range of pests
Customer Reviews 
BH SABRISKI, one client, mentioned on Google Business:
"Contacted NZ Pest for treatment of Borer. From first contact to completion of treatment by Stuart, we experienced nothing but exceptional service. Fair price for excellent outcome. Thank you Stuart! Highly recommend."
5)  Go Pest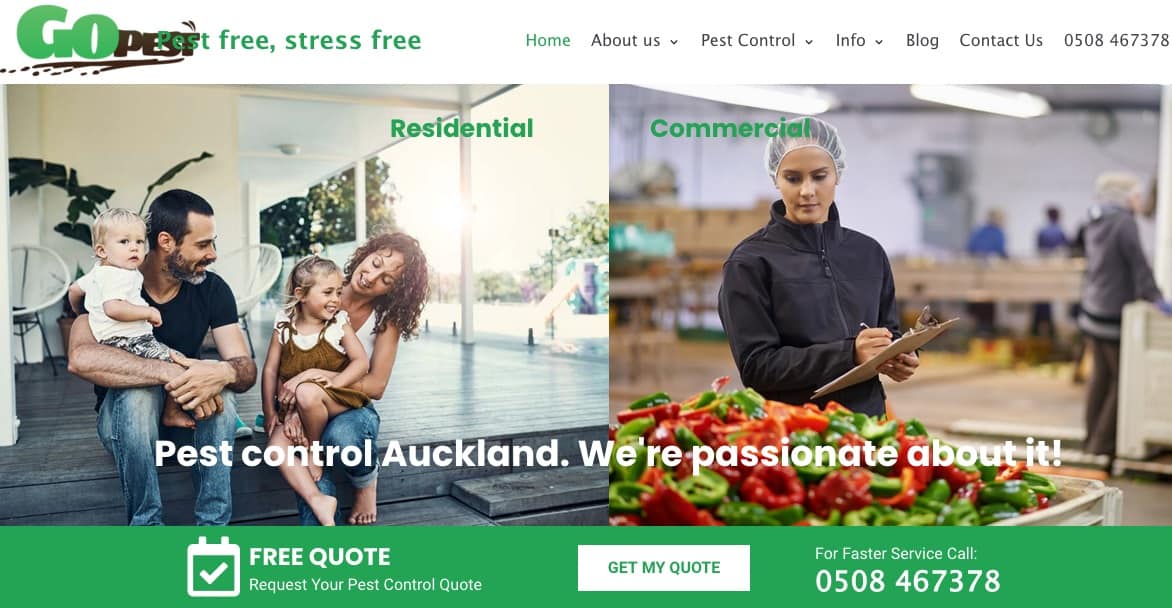 BEST FOR
Honest and Prompt Fumigation Service
SERVICES
●     Food manufacturing & processing plants

●     Restaurants, bars, cafés, bakeries and vineyards

●     Schools & preschools

●     Supermarkets, dairy, fruit and vegetable shops

●     Warehousing and storage facilities

●     Residential property management and social housing

●     Shopping centres and food courts

●     Offices, churches and sports facilities

●     Hospitals, clinics, and health centres

WEBSITE
https://www.gopest.co.nz/
ADDRESS
Auckland, New Zealand
CONTACT DETAILS
0508 467 378
OPERATING HOURS
Monday to Friday: 9am – 5pm
Keep out the upsetting pests for good by getting Go Pest. They specialise in both residential and commercial pest control services in and around Auckland.
Formed in 2011, Go Pest started almost purely by chance. At that time, Wayne had a white-tail spider treatment done at his house and it was done awfully and poorly.
That's when he decided to set up the company, offering safe and effective services. The Go Pest team members today live up to Wayne's aims, being described as punctual, honest, reliable, and efficient.
They cater to a wide range of commercial businesses including the hospitality and food industries. For this, you can call them for a no-obligation free site visit and inspection.
Therefore, Go Pest is deserving of being called one of the best fumigation Auckland specialists.
Highlights
Specialise in residential and commercial pest control services
Safe and effective methods
Honest and prompt pest control specialists
No-obligation free quote
Customer Reviews
Here's a review from Andree as can be found on the website:
"Absolutely brilliant service, super friendly and very experienced. During our long run with a rat problem on the property Wayne has become part of the family, it's taking a while but we must have had most of the rats in Auckland around our place due to neighbours with a compost heap. We're certainly doing our bit to eradicate a vast population of rats. Luckily they haven't been inside. All traps and bait are carefully erected so as not to be accessed by my or neighbours cats, that is so appreciated."
6) EcoSan Solutions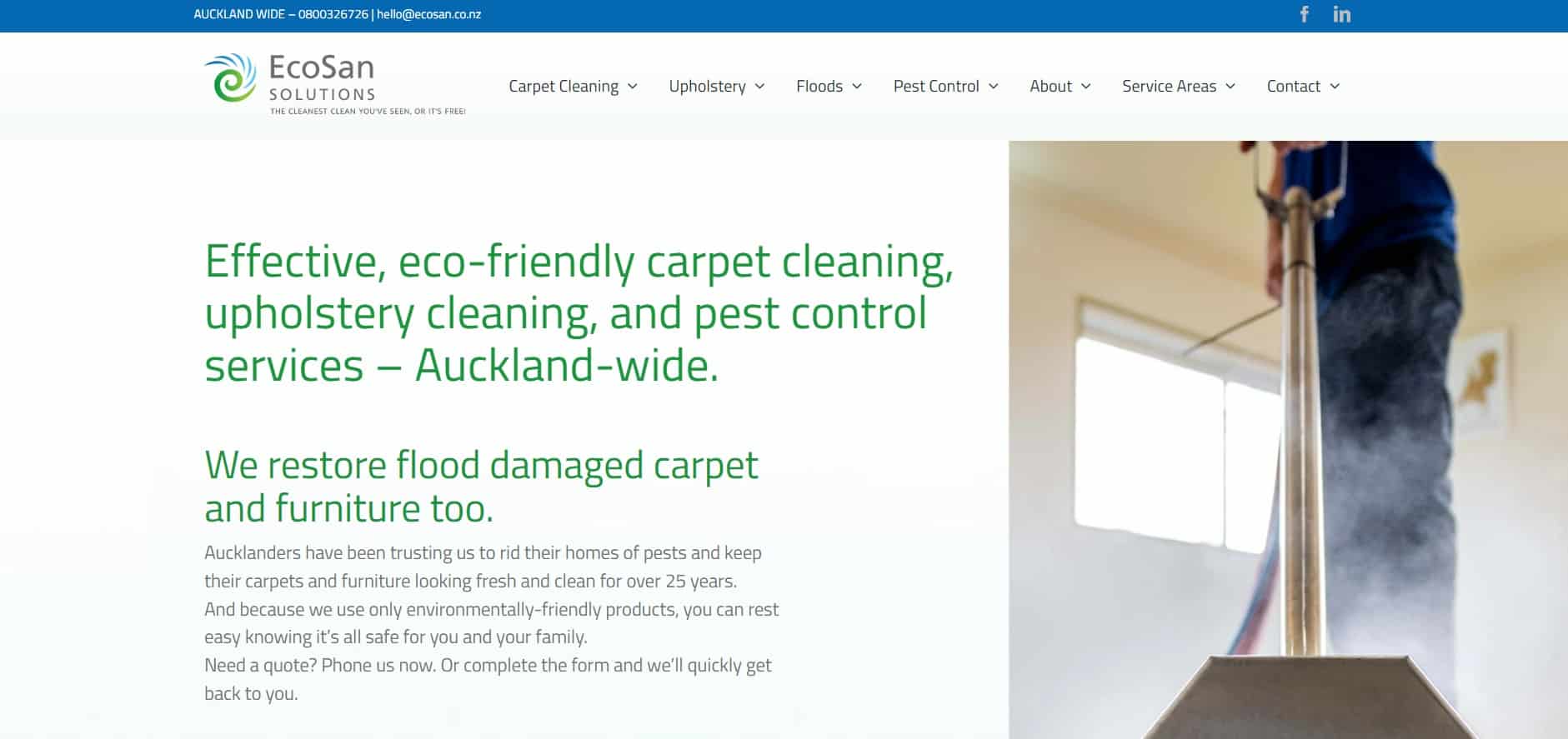 BEST FOR
Eco-friendly and Inclusive Packages
SERVICES
Pest Control, Carpet Cleaning
WEBSITE
https://www.ecosan.co.nz/
ADDRESS
481 Rosebank Road, Avondale, Auckland
CONTACT DETAILS
0800 326 726 |

[email protected]

OPERATING HOURS
Monday – Friday : 8am – 5pm
EcoSan Solutions is a professional company that delivers to clients efficient, eco-friendly, and reliable cleaning services in the area such as pest control, upholstery cleaning, restoration services, and carpet cleaning among many others.
We like that the products they use for cleaning are safer for pets and people, so that there will be no issues with the environment. EcoSan cleaning products won't leave residuals in waterways or rivers and fabrics, carpets and surfaces stay cleaner longer and free of pests too.
Aside from being a member of the PMANZ, they are also adequately registered and trained annually so that their staff has the right skills and knowledge in applying the services that they offer.
Though they do not have packages and rates readily available on their website so clients may need to request a quotation or schedule an assessment with them beforehand.
Nonetheless, with their fully insured and licensed personnel, quality products and equipment, and wide scope of service, we highly recommend them to clients in the area looking for professional cleaning and pest control services.
Highlights
People and eco-friendly products
Adequately trained personnel
Insured services
Customer Reviews
Here are some reviews from their clients:
"Just wanted to say thanks for the great job that Reuben performed for us last Thursday in cleaning the moldy chair seats and carpet in Edward Knox room. The chairs have come up like new and whole room smells cleaner and fresher… Thanks once again."
"Really good service, insects gone, were very efficient, and that you turned up when you said you would."
So that's all for the best fumigation Auckland specialists! You can let these exterminators get rid of the unwanted visitors in your home or business — for good.
Any questions so far about the companies we listed? If you have anything for us, just drop us a message and we'll get back to you as soon as possible.
In addition, you may also like to read about the best cleaning services in Auckland. A cleaner home will certainly keep the pests away as well as make you proud about it.