The 7 Best Funeral Directors in Auckland
Planning a funeral is something that almost everybody will experience in their lifetimes, and it's wise to plan ahead for it. When it comes to showing one last act of love for the deceased, people usually want the best service that's available.
Choosing one of the best funeral directors in Auckland is a great start to help you plan the final services. To help you select the best, we based our criteria on the cost, packages offered, extra services, and feedback from their previous clients.
As we mentioned earlier, funerals aren't the most affordable expense. So let's discuss the cost first.
How much do funeral directors cost in Auckland?
Not many people consider the costs of a funeral, but it's an expense definitely worth planning for. Whether you're preplanning your own service or dealing with the loss of a loved one, the costs can be quite significant.
The entire cost of a funeral in Auckland can average between $8,000 to $10,000. However, if you select a premium casket or added services to basic packages, you can easily spend around $15,000 to $20,000 in total.
Caskets alone can cost $5,000 while securing a council-controlled burial plot can reach up around $6,000 in Auckland. Although there are more affordable options out there, due to the time-sensitive nature of arranging a funeral service, there may not be a lot of available options when the time comes.
Now, even if the government can provide you with a Work and Income Funeral Grant of up to $2,152.66, this still leaves a considerable balance for you to deal with. With all these costs to consider, we're not surprised that funeral homes offer preplanned funerals to help you anticipate these staggering expenses.
To give you a better idea of how much typical services and fees might cost when planning a funeral, we've summarized some of the average prices below.
| SERVICE | AVERAGE COST |
| --- | --- |
| Simple Cremation Package | $3,300 |
| Simple Burial Package | $2,100 |
| Premium Burial Package | $7,000 |
| Funeral Professional Service Fee | $2,895 |
| Memorial Service | $1,200 |
| Urn (Medium-Sized) | $300 |
| Casket | $3,000 |
| Transfer Fee of Deceased | $300 |
| Transfer Fee (After Hours Charge) | $200 |
| Embalming | $850 |
| Doctor's Fee | $250 |
| Death Certificate | $33 |
| Newspaper Notice (Obituary) | $170 |
| Hearse Hire | $300 |
| Flowers | $250 |
| Chapel Hire: | $300 |
| Clergy | $250 |
| Organist | $150 |
| Celebrant | $575 |
| Livestreaming of Service | $800 |
| Service Sheets | $3.50 each |
| Catering | $15.00 per person |
The Best Funeral Director in Auckland
Funerals aren't cheap, so it's good to know how much you should expect to spend. With that out of the way, we can now take a look at our selections for the top funeral directors in Auckland.
1. Tipene Funerals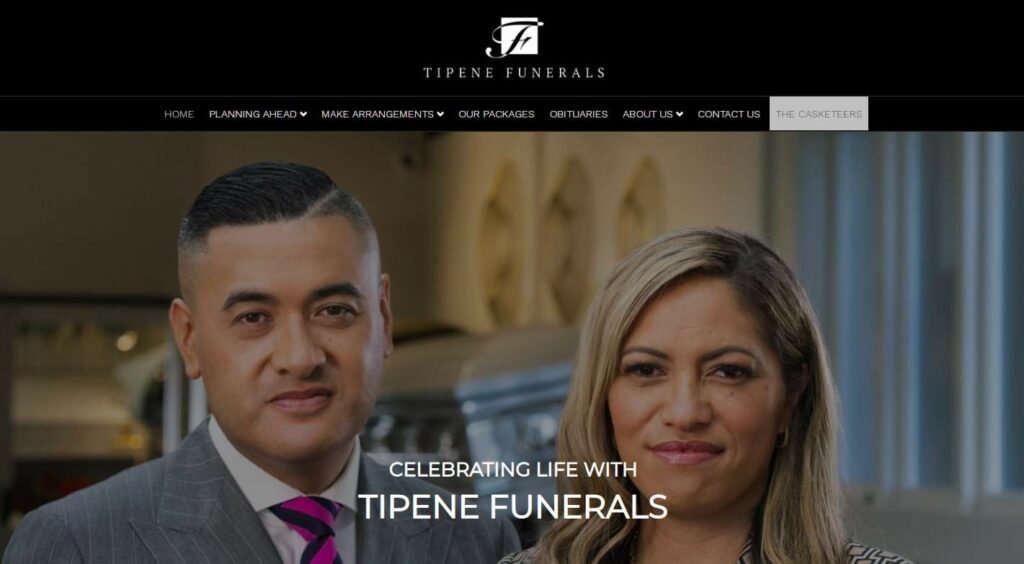 Test
Info
SERVICES
Cremation, Burials, Embalming, Prepaid Funerals, Caskets
WEBSITE
https://www.tipenefunerals.nz/
ADDRESS
24 Hill Street, Onehunga, Auckland 1061, New Zealand
CONTACT DETAILS
Toll-Free: 0800-266-662

Email: [email protected]

OPERATING HOURS
Monday to Friday: 9:00am - 5:00pm
Tipene Funerals was founded by Francis and Kaiora Tipene who are also the Managing and Funeral Directors. Their family-owned and operated business even has its own reality TV Series named "The Casketeers" which first aired in 2018.
Their fame aside, they have over 15 years of combined experience in the funeral industry. They're also graduates of Funeral Directors courses from WelTec (Wellington Institute of Technology).
Tipene Funerals offers a wide range of caskets featuring premium options such as Westminster Rosewood and the Status Maori Carved. However, they have more affordable options as well like the Grosvenor Mahogany and MDF Stained Maple.
We like Tipene Funerals because you can customize a casket with your own design, while still keeping with standard regulation sizes. This is vital because some crematoriums don't accept customized caskets.
If you're looking for an eco-friendly option, Tipene Funerals has a few offerings as part of their portfolio as well. You can choose from a standard Solid Pine Casket or their Willow Coffin for a more environmentally friendly option.
What we like best about Tipene Funerals though is that making arrangements with them is fairly simplified, which helps to ease the burden of an already stressful time. They only have four packages to choose from, namely Direct Cremation, Simple Funeral, and two options for a Full Funeral.
All four packages already include uplift and transfer from the place of passing to anywhere within Auckland. They also supply some form of paperwork of the deceased such as a death certificate or registration of death.
Each funeral package already includes the complete embalming treatment, a matte veneer casket of standard size, and a white grave marker with an engraved nameplate.
The Full Funeral Options are the more premium options that have additional benefits, such as the inclusion of a hearse and casket floral arrangements. Option 2 however already provides a Polished Richmond casket, so you don't have to worry about choosing one anymore.
Tipene Funerals also offers Pre-Planned funerals, so you can take the burden away from your loved ones in your time of passing. You can fully customize the ceremony how you like from the floral arrangements, music, and even a payment plan.
Tipene Funerals is one of our top funeral directors in Auckland because they make the entire process easy for the bereaved. With only four comprehensive packages to choose from that have all the basics covered, they're an option worth considering in the city.
Simplified process
Comprehensive packages
Offers customized caskets
Offers payment plans for pre-planned funerals
Only one cremation package
Not for those who want lots of customizations
Customer Reviews
Communication was awesome
"Logan was very helpful and humble today. Handled things amazingly. Communication was awesome. Thank you for your kindness in such stressful times. Kia ora Logan." – Jamie Davis
Support they gave was over and above
"They are an amazing professional and loving crew. They are the only funeral home I trust with my loved ones. Recently lost my dad and the amazing aroha and support they gave was over and above. They slowly take you through all the aspects of exactly how you want your tangi experience to be." – Jon Ruka
2. Ese Tatupu Funeral Directors & Mortuary Embalmers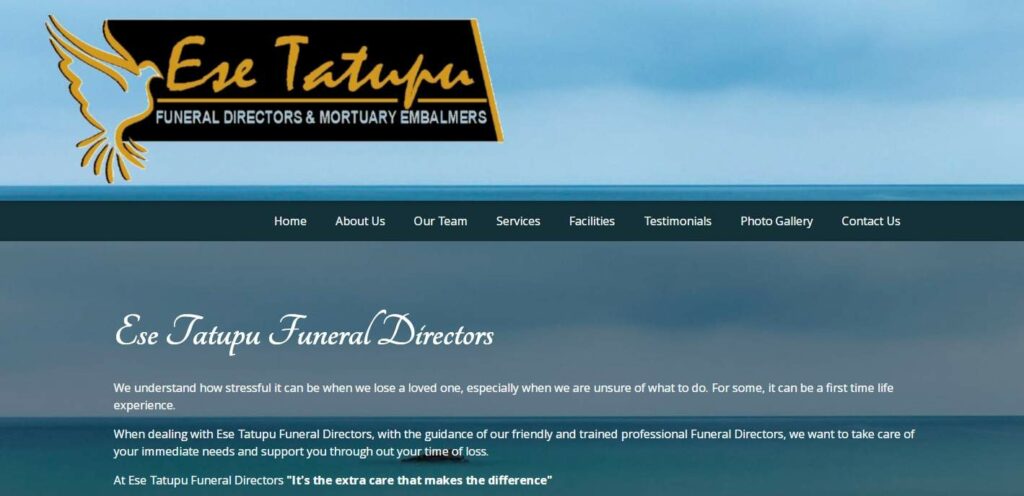 Test
Info
SERVICES
Funeral Service, Cremation Service, Cemetery Service, Pre-Planned Funerals, Repatriation (National and International Transfers), Exhumation (Dis-internment), Catering Contractors, Funeral Pamphlets, Slide Show Service, Funeral Badges, Funeral Tee Shirts, Headstone Advise, Embalming, Technical Embalming Support Team
WEBSITE
https://www.tatupufunerals.co.nz
ADDRESS
18 Norman Spencer Drive, Manukau City Centre, Auckland 2104, New Zealand
CONTACT DETAILS
Phone: (09) 262-3700

Fax: (09) 262-3705

Email: [email protected]

OPERATING HOURS
Office Hours:

Monday to Friday: 8:30am - 4:30pm




After Hours & Weekends:

By Appointment




Funeral Operations:

24 Hours, 7 Days
Ese Tatupu is a certified funeral director providing funeral services to the residents of Auckland. He also serves as a supervisor for embalming students and aspiring funeral directors at the Wellington Institute of Technology (Weltec).
His family-owned business is primarily known for catering to the different cultural traditions and customs of the area. Each of his funeral directors is certified and trained with a range of qualifications that include diplomas in funeral services and certificates in funeral directing and embalming.
Ese Tatupu's funeral directors are likewise registered members of several associations such as the Funeral Directors Association of New Zealand, New Zealand Embalmers Association, and New Zealand Disaster Response Team.
As fully licensed embalmers, they can handle several approaches to preparing the recently deceased per religious and cultural requirements. Although their embalming facilities are off-site, it still allows ample time for visitation, safety from infection, and putting the final touches on any burial arrangements.
We like Ese Tatupu Funeral Directors and Mortuary Services because they offer professional catering. Bundling food with their funeral services is helpful because the bereaved can sometimes forget that they need to feed visitors, which can sometimes be a 24/7 affair.
Moreover, the funeral directors here have vast experience in transferring caskets locally and abroad. They can assist in streamlining the complex transportation and payment process, which often involve a lot of technical and legal requirements.
If you would like to pre-plan a funeral, Ese Tatupu Funeral Directors and Mortuary Services offers to accommodate future arrangements so that you don't have to worry about it anymore when the time comes. This includes paying for it in advance so that the financial burden won't fall to your loved ones.
One reason to choose Ese Tatupu Funeral Directors and Mortuary Services is the range of caskets they offer, which come in a mix of different styles and colors. However, if you have specific requirements, either for religious or cultural reasons, they can accommodate those as well.
They offer premium options such as a Kingswood Dark Oak Couch but they also have more affordable options like the Basic or Disposable Casket. They can provide you with a catalog to view the various options but you can also visit their casket showroom to see the models first hand.
We also like the three types of grave markers they have on hand that cater to various religious or cultural beliefs. These are Religious markings, the Star of David, and Non-Religious variants.
They also have eight kinds of urns to choose from if you decide on cremation as a final rite. Their casket-shaped urns come in four finishes, with optional raised lid models such as their premium Rosewood Mahogany.
Aside from their standard services, they also offer to provide for some of the smaller details such as funeral pamphlets, slideshows, badges, t-shirts
3. Souly Funerals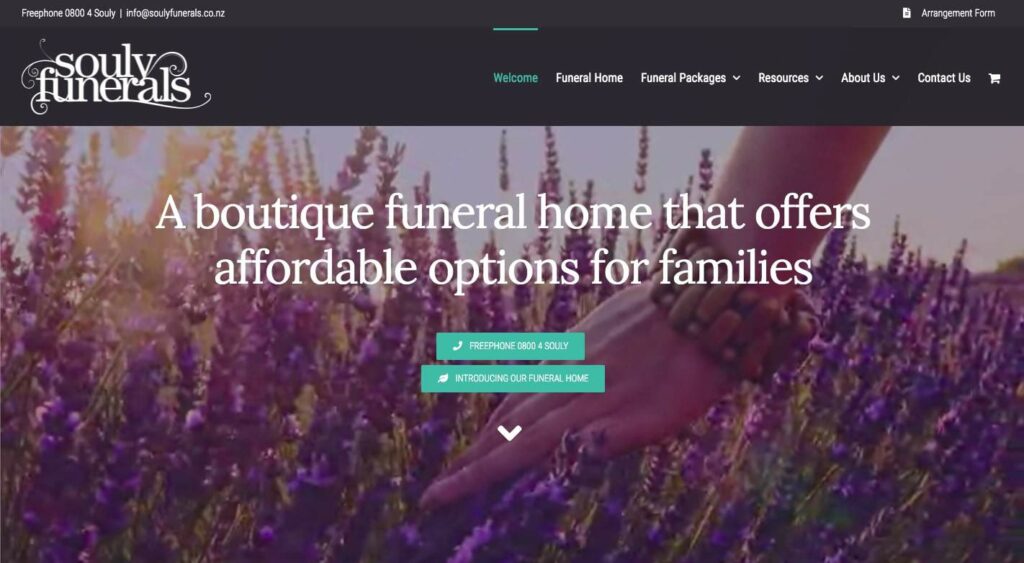 Test
Info
SERVICES
Cremation, Eco Cremation, Traditional Cremation, Funeral Cremation Service, Stillborn Cremation, Graveside Burial Graveside, Traditional Burial, Traditional Funeral Burial Service
WEBSITE
https://soulyfunerals.co.nz/
ADDRESS
1/9 Cortina Place, Pakuranga, Auckland 2010, New Zealand
CONTACT DETAILS
Toll-Free: 0800-476-859

Mobile: (022) 044-1842
Souly Funerals is a family-owned and operated business, providing funeral services to Auckland residents. It was founded in 2013 by Brad and Aleisha Morris who are both qualified funeral directors.
They aim to provide affordable and culturally sensitive services, whether it's a full traditional funeral or one that strives to be more eco-friendly. They are flexible and can customize packages that satisfy your needs and requirements.
They can also take care of the smaller details such as flowers, balloons, service sheets, memorial books, and catering, just to name a few. You may also use your preferred minister, priest, or celebrant for any or all of the funeral or remembrance services. Souly Funerals
One reason to consider Souly Funerals is that they don't charge extra for work performed after hours, weekends, or public holidays. This applies to any hearse transfers or the completion of a funeral arrangement.
While they may not be members of Funeral Directors Association of NZ (FDANZ), they are a part of NZ Embalming Association. Brad Morris is a qualified embalmer as well and regularly attends conferences and seminars to stay up to date with the latest practices.
They have seven cremation packages which can be quite confusing to choose from. There are four affordable non-viewing options and three packages that allow you to upgrade the casket, view the deceased or choose the cemetery location.
On the other hand, Souly Funerals offers three burial service packages, all of which have the option to upgrade the casket. However, only the Funeral Burial and Traditional Funeral service offer embalming and viewing, while the Graveside Burial doesn't include a remembrance service.
We give them kudos for creating several packages because they provide a solid array of options to choose from that target specific needs quite well. We like that Souly Funerals offers simple and affordable options for those that don't need all the extras that funeral services usually come bundled with.
Provides seven cremation options and three burial packages
Has affordable and simple packages for budget conscious
Members of NZ Embalming Association
Not a member of Funeral Directors Association of NZ
Customer Reviews
Made a difficult time more manageable
"Thank you both for taking care of my family. You've looked after my Dad, Nan and recently my Mum with professionalism & compassion. You've both made a difficult time more manageable and I appreciate all that you do for the family and their loved ones." – Laura Cobbett
Highly recommend
"Thank you Aleisha and Brad for your wonderful service. I remembered the way you looked after my mum when she passed away in 2014 and decided I would only have you to take care of my dad at his passing. Dad recently passed away and you were just as lovely to deal with as you were with mum. Your ability to handle the people you are dealing with both professionally and empathetically is outstanding. I would highly recommend your services to anyone needing kind, gentle support when dealing with the death of a loved one." – Lisa Newband
4. State of Grace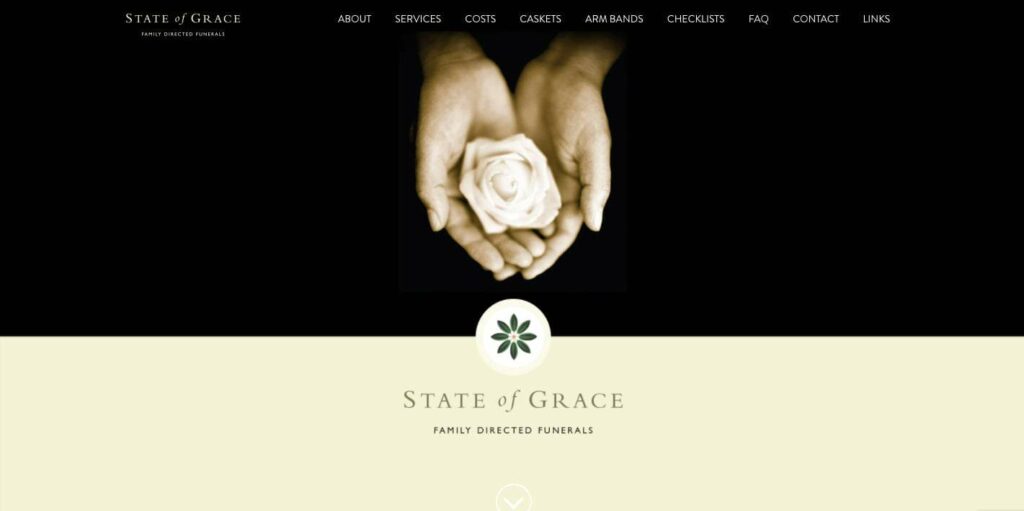 Test
Info
SERVICES
Home Care, Eco Funeral Care At Our Premises, Funeral Pre-Planning, Logistical Assistance, Transport, Cremation & Burial, Remembrance Services, Embalming, Conventional And Traditional Services
WEBSITE
https://www.stateofgracefunerals.co.nz/
ADDRESS
Original Location

PO Box 60 285

Titirangi

Auckland 0642




North Location

PO Box 8

Albany

Auckland 0752

CONTACT DETAILS
Toll-Free: 0800-764-722; 0800-477-133

Phone: (09) 827-6454; (09) 447-1285

Email: [email protected]
State of Grace was established by Deb Cairns and Fran Mitchell to provide a better option for home-based funerals with more personal care. Part of what makes their business unique is that they prioritize sustainable business practices.
However, they still provide traditional Catholic burials and cremation as options for final rites. Their funeral services can be held in their establishment or someplace with personal significance to you or the recently deceased.
State of Grace highly encourages those who are grieving to participate in the planning or assisting of the funeral arrangements. If you choose a home service, you can perform the washing and dressing of the deceased loved one's body.
Don't worry, someone from State of Grace will always be on-site to guide and lend a hand to make sure you're comfortable with the tasks. They'll also ensure that regulations are being followed.
Now, another way State of Grace handles funerals in a sustainable way is to prioritize not embalming the body with chemicals unless necessary. Instead, they keep the deceased in a cooled environment on their premises where the family or other guests can visit and stay in a private lounge to pay their respects.
For home-based funerals though, the deceased can be kept cool by using icepacks, although in our opinion, this may not be an ideal option. Luckily, State of Grace can still perform traditional embalming services if you prefer to do so via Auckland Mortuary Services.
If you wish to plan your funeral in advance, this funeral director may not be an ideal choice. While they can secure your future arrangements, State of Grace does not accept prepayment, so you'll have to make separate financial preparations.
Nevertheless, State of Grace will offer full assistance in terms of securing medical documentation, death certificates, or any other legal paperwork that is necessary.
If you don't have a burial plot yet, they can help you arrange for a spot at their eco-burial in Waikumete Cemetery. While they only offer a single location at the moment, they can assist in finding you another eco-burial plot in a different area for pre-planned funerals.
State of Grace offers a solid range of caskets, but what makes them unique is that they have their own line of caskets. Although they only have three options available, these are all sustainably produced with a low environmental impact.
They can likewise arrange other details of the remembrance service such as flowers, obituaries, and eulogies. While the families are welcome to handle these, it's good to know that State of Grace can pick up the slack if needed.
Prioritizes sustainable and eco-friendly practices
Prefers not to embalm due to harsh chemicals
Offers casket rentals
Manufactures their own line of eco caskets
Only uses ice packs to cool the body for in home funerals
Only has one eco-burial site
Customer Reviews
Top marks to this company
"I cannot speak highly enough of the wonderfully caring way my father's funeral was dealt with. Everything went smoothly with no glitches – a sign of a well-run operation. Fran was absolutely lovely and really easy to deal with. And the flowers were beautiful and lasted for weeks. Top marks to this company." – Lewis Marson
Sensitive, practical and caring management
"State of Grace were recommended to me by a friend. Their sensitive, practical and caring management of my mother's funeral was wonderful. I felt I concentrate on saying farewell to her and not worry about any of the arrangements. Thank you to everyone at State of Grace." – Tony Ramsay
5. Morrisons Funerals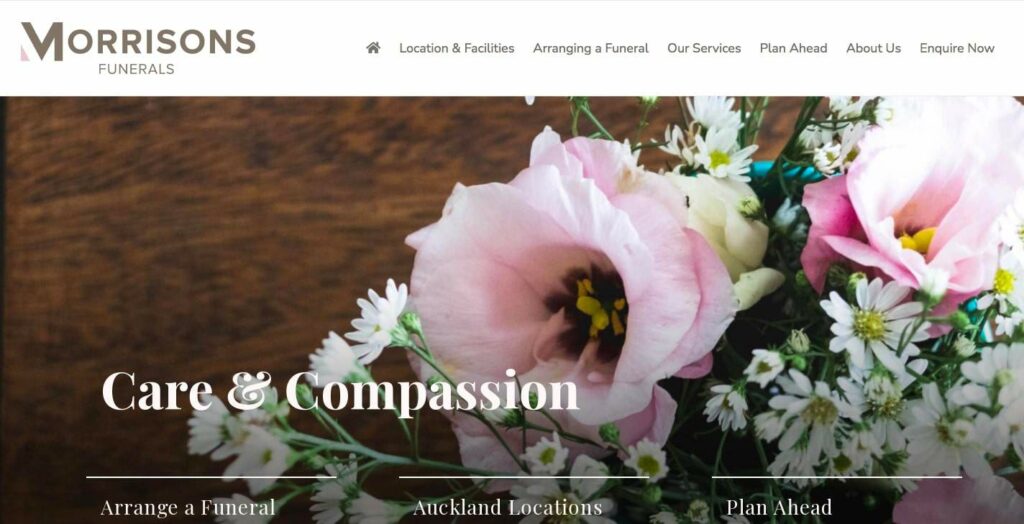 Test
Info
SERVICES
Pre-planning, Cremation, Burials, Repatriation, Basic Estate Work, and Maori Funerals
WEBSITE
OPERATING HOURS
24/7
ADDRESS
3 Korma lane, Panmure
CONTACT DETAILS

Email: [email protected]

09 527 1866
Morrison Funerals was founded in 1921 by William and Margaret Morrison and is now under the care of their grandsons Andrew and Rob.
Their main facility is in Henderson, but they have two others in Glen Innes and Royal Oak. However, if you're interested in cremation, it's best to book their Henderson site, as this is where their crematorium is located.
Morrison Funerals has facilities where you can hold the service or viewing and they can also accommodate those who prefer the comfort of their homes. If choosing the latter, you'll need to select the clothing beforehand but you can assist in dressing your deceased loved one if you wish.
However, they can arrange for the remembrance rites in any location, whether it's in your home's garden or a place of significance for the family of the deceased.
For those who are holding a religious service, Morris Funerals can hire a minister or priest and they have chapels available for use in their locations. They can likewise arrange for a religious or non-religious celebrant, an organist, service sheets, memorial books, obituaries, and more.
One of Morrison Funerals' unique services is to provide live in-house and remote web-streaming of services, online tributes, and the ability to purchase flowers through the web. This is helpful for those who cannot travel or are immobile but still want to send their condolences or attend the service virtually.
Morrison Funerals can likewise arrange for repatriation of the deceased should they pass away overseas. They'll handle all of the paperwork necessary, whether it's technical, legal, or medical requirements.
Now, if you wish to preplan your funeral, they can keep records of all the arrangements you would like performed at the time of your passing. Prepayment for preplanned funerals can be done through the FDANZ Funeral Trust or the FDANZ funeral prepayment plan.
What we especially like about Morrisons is the options of vintage cars and modern hearses to transport the deceased. For a unique and classy send-off, we suggest choosing from the '49 Rolls Royce Hearse, '73 Cadillac, and either a '17 or '61 Dodge Hearse.
They also have a wide selection of caskets which are best viewed at the showroom in their Henderson and Glen Innes showrooms only. You can select from models that are luxurious and eco-friendly or opt for a custom casket crafted by local designers.
Now, if your service involves cremation, Morrison Funerals has an even wider selection to choose from. They offer designs such as Scatter Art Print, Solid Rimu Photo, Madrid, Metal, Veneer Rosewood & White Urn, and Veneer Duo.
Offers vintage hearses for a unique send-off
Open daily with after hours services
On-call funeral director 24/7
Royal Oak locations has limited services and no showroom
Only has one crematorium
No funeral packages
Customer Reviews
Really lovely and the staff were kind
"Brian Stott from Morrison Funeral homes is a gem of all gems while you are organizing the burial of a loved one. Pat the Celebrant was so lovely and caring in her words. The flowers from Morrison's Flowers I asked for were brilliant and exactly what I wanted for my mum. I am so glad I had Morrison's to handle all the details of my mum's burial and made this sad moment flow without causing more stress on you at this truly difficult time. We had booked an afternoon tea and cakes after the service which was really lovely and the staff were kind." – Catherine Gadsby
Great service and friendly professional people
"Great service and friendly professional people, would definitely recommend them. Lot's of parking and everything is well set out from viewing beforehand and the service on the day, and never felt rushed and the refreshments afterwards was well laid out." – Marcel Muller
6. Aroha Funerals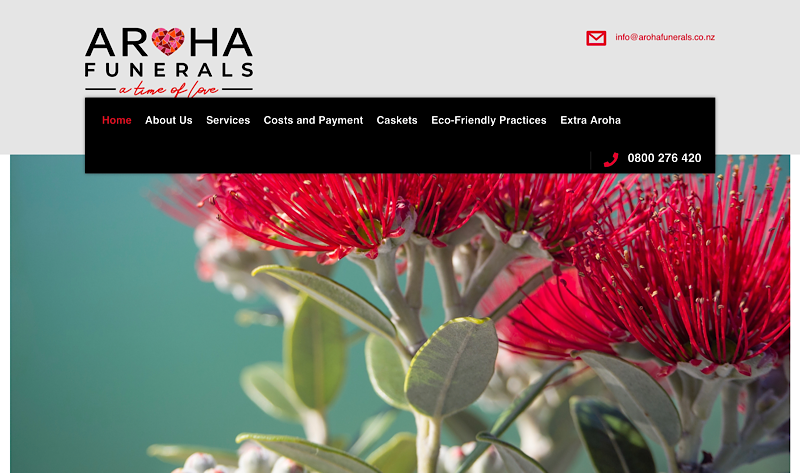 Test
Info
SERVICES
Pre-planning, Cremation, Burials, Repatriation, Basic Estate Work, and Maori Funerals
WEBSITE
OPERATING HOURS
24/7
ADDRESS
3 Korma lane, Panmure
CONTACT DETAILS

Email: [email protected]

09 527 1866
With two locations available in Auckland, Aroha Funerals provide a complete package of funeral services to its clients.
They offer funeral pre-planning, simple cremations and burials, and funeral arrangements. Simple cremations and burials cost $3,200.
Other costs such as the doctor's fee, cremation certificate, and the likes are paid on behalf of their clients. These are then invoiced after the funeral.
Aside from funeral services, Aroha Funerals also offer a wide variety of caskets from Korowai Caskets to Wicker Caskets and other types. Price starts at $620.
In 2021, they were a finalist in the Sustainable Business Awards and a finalist for excellence in customer service delivery by the Westpac Auckland Business Awards.
2 locations in Auckland
Rentable caskets are available
Offers pre-funeral planning
Has eco-friendly practices 
Offers post-funeral support
Available 24/7
Simple burial package price slightly higher than the average
Customer Reviews
Warm, professional, knowledgable staff
"The women at Aroha Funerals are incredible: warm, professional, knowledgeable and always happy to go the extra mile. As a celebrant, it's my honour to work alongside this family-owned business, whose compassion and sensitivity is crucial at the most difficult times in people's lives. I highly recommend Janet and her team." – Sandy Millar
Most caring wonderful ladies at Aroha Funerals
"Aroha funerals are the most caring wonderful ladies, no detail is too difficult, they are so sensitive and kind their approach is always the family wishes first. Our funeral director was Racheal Nash who is the most experienced caring person imaginable, she took care of our son and family at the most difficult of times with so much grace I can not speak more highly of her service. Our sons memorial was uplifting and celebrated him perfectly. We will always be very grateful to have experienced Aroha's genuine love and compassion. The whole team are very special humans thank you all💖." – Sandie Keefe
7. Lagoon View Funeral Services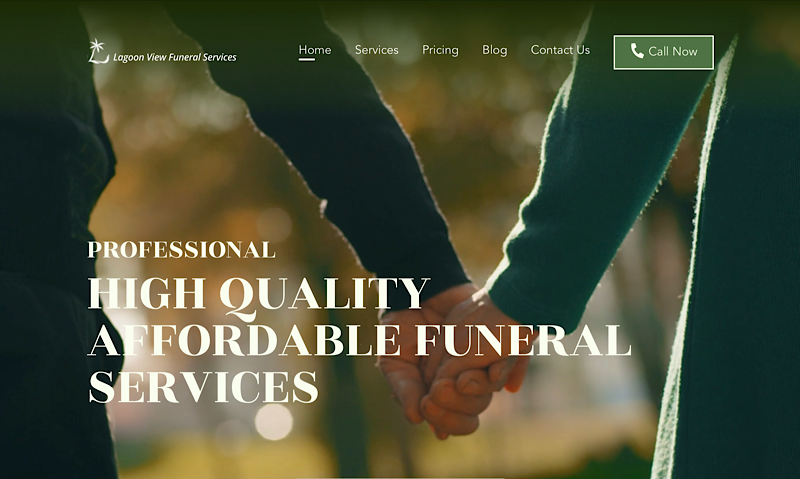 Test
Info
SERVICES
Pre-planning, Cremation, Burials, Repatriation, Basic Estate Work, and Maori Funerals
WEBSITE
OPERATING HOURS
24/7
ADDRESS
3 Korma lane, Panmure
CONTACT DETAILS

Email: [email protected]

09 527 1866
If you're looking for a funeral director that offers a wide range of services, Lagoon View Funeral Services is worth checking out. Based in Auckland, they provide complete funeral services for those who have passed.
Lagoon View Funeral Services does not limit itself to pre-planning, cremation, and burials. They also offer repatriation and basic estate work to clients.
In terms of pricing, they offer different packages that come with different inclusions. The prices of these packages start at $560 for a Basic Direct Cremation up to $5600 for repatriation.
In addition, we like that they preserve the tangihanga tradition when it comes to funerals. This is another special way to go back to one's own roots.
Multiple funeral options to choose from
Has different funeral packages available
Upholds tradition
Funeral service can be adjusted
Open 24/7
No casket and urn selections available on the website for viewing
Customer Reviews
Here are some Google reviews from their previous customers:
"A big big thank you to all the wonderful staff. It's been a month since we buried my partner and Lagoon View Funeral Staff went above and beyond. They helped my son who was so worried about everything. They are wonderful wonderful people. Thankyou so so much again." – Sharlene Williams

"amazing professional services. best prices." – Josephine Joyce
FAQs about Funeral Directors
---
That's our list for the best funeral directors in Auckland. If you're in a time of grieving right now, we hope this article helped.
Have you used a funeral director before that we didn't mention? If you think it should be included in our list to help others out, please send us a message.
If you're considering preplanning your funeral or simply want to prepare your finances to make sure your family doesn't bear the financial burden, check out these helpful links below: