The 6 Best Furniture Restoration Auckland Services
Your furniture may have lost its brilliance by now from the daily wear-and-tear at home. Fortunately, we've collected the best furniture restoration Auckland services for you here to give your timber investment a new lease on life.
We selected those who have the skill, care, and attention to detail to rejuvenate your furniture. As constant communication is important, we picked those that have this too.
Additionally, we checked what customers have been saying so that we can be sure we picked the right ones — and we realised that we did!
Now, without further ado, here are the companies that offer the best furniture restoration Auckland services.
1)  Paragon Furniture
BEST FOR
Stunning Furniture Restoration
SERVICES
Furniture Repair

Upholstery

Paintwork

WEBSITE
https://paragonrestoration.wixsite.com/paragon
ADDRESS
18 Airborne Road, Unit 17, Rosedale, Auckland, 0632, New Zealand
CONTACT DETAILS
094446343

0274895959

OPERATING HOURS
Monday to Friday: 8am – 6pm

Saturday: 9am – 3pm

Sunday: Closed

After hours by arrangement
Even tired-looking furniture can be spruced up to look as if you've just gotten it from the store. For all kinds of furniture restoration and repair, just call Paragon Furniture.
They have more than 20 years' industry experience serving Auckland clients. They can handle furniture repair, upholstery and re-painting work for antique and modern pieces.
Their goal is to get your furniture back to the way it was — in fact, to a stunning, revived finish. According to clients, their work is done with care and great attention to detail.
They are open from Mondays to Saturdays as well as for after-work hours (you'll have to inform the team in advance).
Highlights
Stunning furniture restoration
20 years' experience
Offer a range of services
Careful and professional team
Customer Reviews
Check out Tom Bishop's review on Google:
"Outstanding quality in furniture repair — excellent work done with care and attention. Craig took extra trouble to match hard-to-find fittings on old (70s) Scandinavian pieces. The chairs look like new. Highest recommendation for this work."
2)  PKR Philip King Restorations Ltd
BEST FOR
Guaranteed Furniture Work
SERVICES
●     Repairs

●     Stripping, staining, polishing

●     French polishing

●     Building missing drawers

●     Baizing of games tables, cutlery drawers etc

●     Mother of Pearl inlay

●     Repairing leadlight cabinet panels

●     Repairing wooden statues

●     Replacing leather inserts on desks, bureau

●     Smoke & water damaged furniture – removing odour & restoring to original

●     Caning of chairs & couches

●     Re-silvering of mirrors

●     Furniture alterations

●     Re-making of legs, arms, missing mouldings

●     Replacing veneers

WEBSITE
http://philipkingrestorations.co.nz/
ADDRESS
3/195 Marua Road, Ellerslie, Auckland 1051, New Zealand
CONTACT DETAILS
09 526 0112
OPERATING HOURS
Monday to Friday: 8am – 4.30pm
Philip King Restorations is a trusted furniture restoration and repair company based in Ellerslie. They have a small dedicated team with a combined experience of 70 years.
They can restore all types of furniture from tabletops to treadle sewing machines, and everything in between. Their professional team takes into mind the period that the piece is from and will maintain its integrity if this aligns with your desired result.
That said, if the furniture piece requires more fine-tuning to match your taste, they can do it for you at no extra charge.
To top this off, all work is guaranteed for your satisfaction. This is why they have some of the best furniture restoration Auckland services.
Highlights
Superb furniture restoration
Vast range of carpentry skills
Combined 70 years' experience
Guaranteed work
Customer Reviews
Here's the feedback of one customer, Roger Hawkins, on Google:
"William and Brian did the most spectacular job on my new Kauri display stand. Beautifully finished in lacquer, done on time and at a very reasonable price. 10 out of 10."
3)  Dovetail Restorations Ltd
BEST FOR
Reliable and Honest Service
SERVICES
●      Repolishing

●      Replacement of cracked/broken various types of furniture items

●      Re-upholstery services

●      Indoor and outdoor furniture

●      Rattan and Riempie Services

●      Commercial

WEBSITE
https://dovetailrestorations.co.nz/
ADDRESS
7 Selwyn St Onehunga Auckland 1061, New Zealand
CONTACT DETAILS
09 636 6100

027 224 8620

OPERATING HOURS
Monday to Friday: 7.30am – 4pm
For furniture work that you will be proud of, Dovetail Restorations is a fantastic choice. Since 1989, they've always prided themselves on their reliable and honest service.
They have a number of commercial clients who have been impressed with the quality and punctual work they bring, not to mention their prompt communication.
Basically, they put together the furniture's broken limbs, install new fittings, repaint, reupholster, and repolish. Rattan and riempie furniture restoration are also offered.
Besides restoring furniture, they can repair particular elements in your home interior: for instance, wooden balustrades or cabinets.
Highlights
Quality and punctual work
Trustworthy furniture crew
Great range of services
Established in 1989
Customer Reviews
A restaurant manager, Matteo, said on the Dovetail's website:
"We use Dovetail Restorations, always reliable, always available, never a job too small or too big. You can ask for a quote, they are very honest and it's very clear that they know their stuff. Avi and the Dovetail team are a five star business."
4)  Jonathan Burgess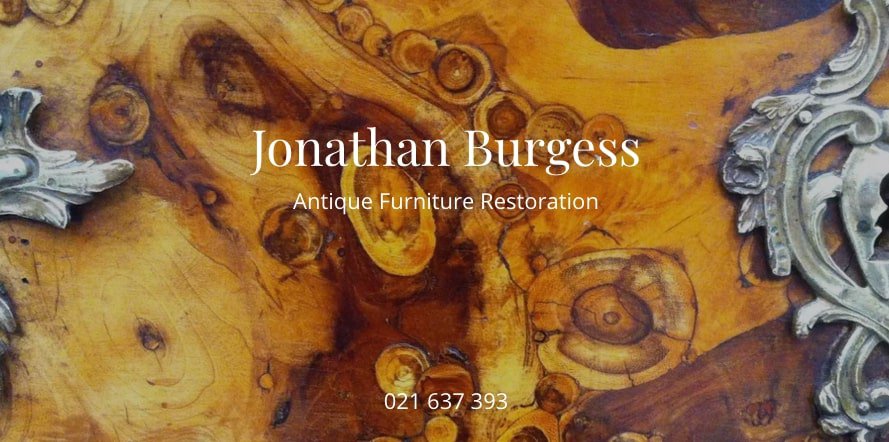 BEST FOR
Antique Furniture Restoration
SERVICES
Wooden Furniture Repairs

French Polishing

Waxing

Gilding

Replacing Leather Inlays

Marble Repairs

WEBSITE
https://antiquerestorer.co.nz/
ADDRESS
2/305 West Tamaki Road, Wai-O-Taiki Bay, Auckland, New Zealand
CONTACT DETAILS
021 637 393
OPERATING HOURS
Monday: 8.30am – 5pm

Tuesday to Thursday: 9am – 5pm

Friday: 9am – 4pm
Sprucing up your sentimental 1950s antiques or furniture dating back to the 1600s? If so, you're in luck, as Jonathan Burgess can restore them to be as good as new.
Jonathan boasts 2 decades of experience, having worked in the United Kingdom and New Zealand (in Auckland).
He offers a range of services, including waxing, gilding, leather inlaying, marble repairs and french polishing. Your restored antique will get its magic back!
Feel free to talk to Jonathan via phone or email. You can even add photos to your conversation so that he can give you an accurate quote.
Highlights 
Antique restoration specialty
Outstanding work
2 decades of experience
Offer a range of services
Customer Reviews 
Need more evidence that Jonathan offers some of the best furniture restoration Auckland services for antiques? Here's what Mark Colthart wrote on Google:
"Jon did an incredible job restoring two pieces of our family's antique furniture. They are now restored to their former glory and take pride of place in our living room again. Very highly recommended."
5)  Earthwood Furniture Restoration
BEST FOR
Spectacular Finish
SERVICES
Wooden Furniture Restoration

Stain Matching

Timber Coating and Finishing

WEBSITE
https://earthwood.co.nz/
ADDRESS
34 Mill Road, Helensville, Auckland 0800, New Zealand
CONTACT DETAILS
+64 21 288 1884
OPERATING HOURS
Monday to Friday: 7.30am – 4.30pm
With over 45 years of experience, Earthwood offers some of the best furniture restoration Auckland services. They can do your pieces with any finish that you want.
They can fix any furniture under the sun too — from chairs to hutches and coffee tables to cabinets, dresser tables and wooden surfaces such as wall panels and timber flooring.
Most of their clients were blown away by the lovely results because at Earthwood, the furniture work is done to a very high standard. Both the function and style of your wooden pieces will be restored completely to last through the ages. 
Highlights
Restores all kinds of furniture
High standard of work
More than 4 decades in the business
Desired furniture finish 
Customer Reviews 
Check out the comment of one client, Hannah, on Google Business:
"We've just taken delivery of the cabinet and chair and we're really pleased. They both look great, the chair particularly is quite a transformation. Thank you for your fantastic work, we won't hesitate to call you again in the future should we have the need."
6) DK Upholstery
BEST FOR
Recovering Antique, Domestic or Commercial Furniture and Car, Boat Upholstery
SERVICES
Car Interior Recovery, Customer Furnitures, Furnitures Upholstery Recovery
WEBSITE
https://earthwood.co.nz/
ADDRESS
303 Rosebank Road, Avondale, Auckland 1026, New Zealand
CONTACT DETAILS
Mobile: 0272887408
Office: 098288458
Factory: 098288458
Email: [email protected]
OPERATING HOURS
Monday to Friday 8am to 5pm
Saturday 8am to 1pm
Now if we're talking about recovering furniture upholstery, then there is no forgetting DK Upholstery.
DK Upholstery specialises in the recovery of antiques, domestic and commercial furniture, and car and boat upholstery. The company is operated by owner Din, whose 35 years in the upholstery industry allows DK Furniture to confidently and competently work on a wide array of items.
These items, aside from upholstery work, also include custom made furniture for homes, offices, reception areas and other commercial spaces.
DK Upholstery is fully equipped and is made up of a team of highly skilled, experienced individuals, all of whom will stop at nothing to deliver the best results to the company's clients.
Aside from working on the items themselves, DK Upholstery also offers free delivery to ensure that the items get to clients safely.
This dedication to customer satisfaction, paired with the quality of service, results in DK Upholstery being a highly recommended company for furniture restoration needs.
Highlights
Offers free quotations
Excellent workmanship
Wide range of upholstery services
Provides custom pieces
Free delivery
And there you have it for the best furniture restoration Auckland services list. We hope that you're able to find the company that is best suited to restoring your furniture for you.
Do you have any feedback from this topic? If you have one, let us know about it: just send us a message and we'll get right back to you.
What's more, you may want to read about the best upholstery cleaning companies in Auckland. Clean upholstery will prolong the life of your chair and make it look dashing for your friends or guests at home.