The 8 Best Gutter Cleaning Services in Auckland Reviewed
Are the seasons taking their toll on your gutters? You're in luck because we've got a list of companies offering the best gutter cleaning in Auckland for you today!
This curated list of cleaners is made up of pros with the experience and know-how to clean up your gutters and other parts of your home.
With so many different companies out there, we narrowed it down to those that offer the most comprehensive services, have good reputations, and have favorable client feedback.
How much does gutter cleaning cost in Auckland?
Before you get around to looking at our list though, we'll need to talk about cost first so that you can make a more informed decision.
Gutter cleaning in Auckland is different from hiring an electrician or plumber because they don't need a license to operate. Therefore, having your gutter cleaned will be more affordable compared to hiring a registered tradesman.
Gutter cleaners in Auckland can charge in three different ways: labor per hour, meters of gutter, and a flat rate. The last option is usually the most common, as the cleaner will have already factored in the size of your property and the time needed to clean into their rate.
A multi-level home or property will naturally cost more than a bungalow, since scaffolding may be needed. Typically, cleaning the gutters of a single-story 300 square meter home will cost around $300 to $350.
Take note that the estimated price above only refers to cleaning and doesn't factor in repairs. Moreover, not all gutter cleaners can fix damaged gutters – nor can they unblock clogged drainpipes.
Typically, these companies have a range of other cleaning services that range from power washing the exterior to water blasting your driveway. The table below shows the most common cleaning services offered by gutter cleaners and the average estimated prices for a single-story home.
Typical Service Cost of Gutter Cleaning in Auckland:
| | |
| --- | --- |
| Exterior House Washing | $365.00 + |
| Window Cleaning (Exterior and Interior) | $240.00 + |
| Roof Washing & Treatment | $350.00 + |
| Gutter Cleaning | $250.00 + |
| Driveway Water Blasting | $250.00 + |
| Decks, Fences and Patios Water Blasting | $250.00 + |
The Best Gutter Cleaning in Auckland
Now that we know the average price of having your home and gutters cleaned, we can take a look at our picks for companies offering the best gutter cleaning in Auckland.
1. KleanFreaks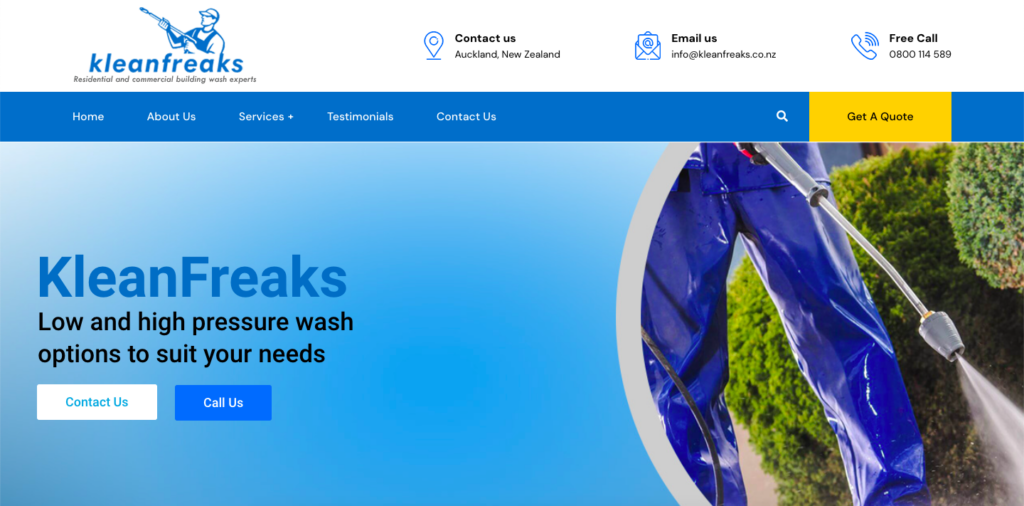 KleanFreaks is one of the best residential and commercial building wash experts in the Auckland area.
We like the wide range of services they offer, which includes Gutter Cleaning, House Washing, Roof Treatments, Roof Cleaning, Window Cleaning, Commercial Building Wash, Waterblasting, and Drain Cleaning/Hydro Jet Flushing.
We think they're great at everything that has to do with gutters. They specialize in gutter cover, gutter cleaning, and gutter repair.
Their team knows exactly how to maintain gutters to keep them efficient all the time.
What's great is that they can get the gutter cleaning done in a day in most cases, and they do it expertly.
The experience and expertise of their team is evident in their excellent workmanship and service delivery.
We like that they price their impeccable professional services affordably. They even offer a free quote for their services.
We highly recommend!
Wide range of services
Free quote available
Affordable pricing
Excellent workmanship and service delivery
Operating hours unavailable
2. Franklin Exterior Care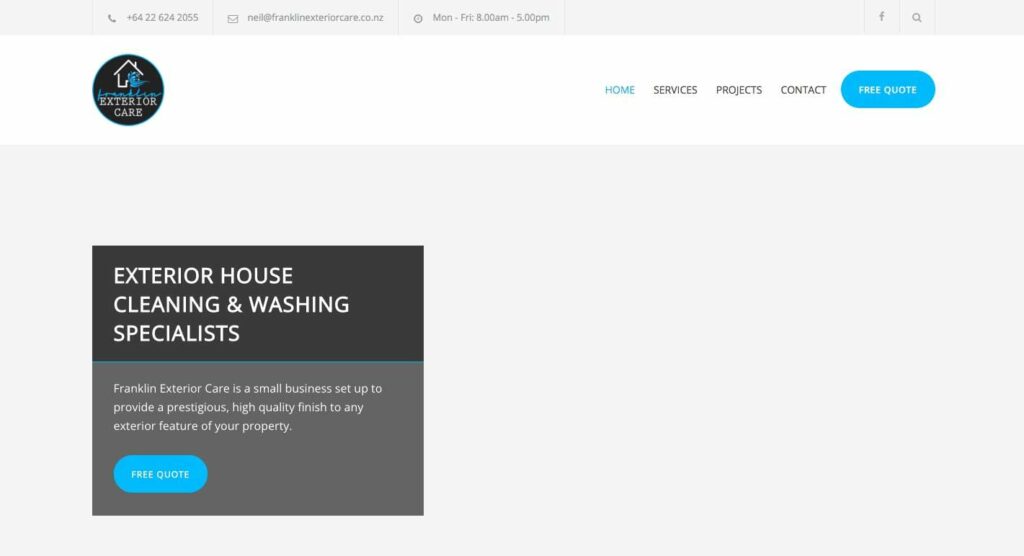 SERVICES
Moss And Mould Treatment, Exterior House Wash, Gutter Cleaning, Window Cleaning, Deck Wash, Patio Wash, Driveway Wash, Fence Wash, Roof Moss, Mould Treatment
WEBSITE
http://www.franklinexteriorcare.co.nz/
ADDRESS
18 The Glade North, Pukekohe, Pukekohe Hill 2120, New Zealand
CONTACT DETAILS
Phone: (09) 392-8000; (022) 624-2055
Email:

[email protected]

OPERATING HOURS
Monday to Friday: 8:00am – 5:00pm
Franklin Exterior Care is a local, family-owned business founded by Neil Llewellyn Howe-Pullen in 2018. Their services focus on exterior house washing, although they provide other property maintenance services as well.
This company primarily focuses on soft-washing methods to clean the exterior of your home. We like this gentler approach because it ensures that the paint or other fragile surface materials don't get damaged in the process.
Franklin Exterior Care can accept a range of different jobs for various property sizes, whether a large mansion or a modest modern bungalow. Using up-to-date cleaning techniques and methods, this company can protect the outside of your home from the unwanted growth of organisms.
One of their specialties is cleaning out mold, moss, mildew, and grime – especially those that end up on your roof or in your gutters. Franklin Exterior Care's treatment regimens take some time to take effect though, which is around 2 to 3 weeks before all the organisms disappear.
Gutter cleaning is one of their specialties, as you may expect of a company on this list: they're experts at clearing out debris that may block drainage. They'll ensure free-flowing gutters to prevent any water from seeping into the cracks and crevices of your roof or walls.
One reason to go with Franklin Exterior Care is that they only use commercial grade, biodegradable, and environmentally-friendly products. They do not use harsh chemicals when washing the exterior of your house, so their cleaning procedures are safe for pets, people, and plants.
Their working hours are quite flexible as well, accommodating to what time suits you best. And that is an important factor for us in choosing the best gutter cleaner in Auckland.
Although they cover the greater Franklin area, Franklin Exterior Care is willing to travel out of their usual service radius to accommodate new clients. So even if you're looking for gutter cleaning in West Auckland, it might pay to give them a call to see if they can go out your way.
You can expect extra charges though if you're too far out, but since they give free quotations, you can give them a call to find out how much it will cost. That's still a win-win situation in our books!
Uses only biodegradable eco-friendly products
Specializes in moss and mould treatment
Flexible scheduling hours
Can service outside of Franklin area
No after-hours services
Doesn't use high-pressure washing
Customer Reviews
Prompt and professional service
"Had Neil in to clean roof and blast fences on all sides of property. The place looks sparkling new. Prompt and professional service. No hesitation to recommend to anyone else!!" – Randal Liupuhi
Great communication
"Neil was great to deal with, great communication even when away on holiday. He has cleaned and treated my roof and it looks great! I totally recommend his service." – Kristy Horton
3. Eco Exterior Clean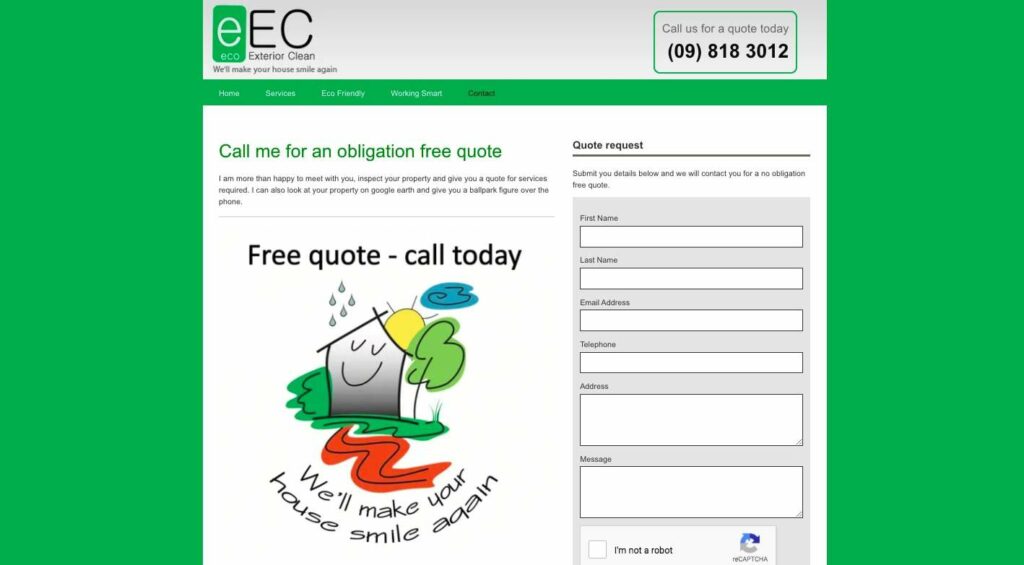 SERVICES
House Washing, Gutter Cleaning, Roof Treatment, Concrete Pathways, Water Blasting
WEBSITE
https://www.ecoexteriorhousewashing.co.nz/
ADDRESS
84 Warner Park Avenue, Laingholm, Auckland 0604, New Zealand
CONTACT DETAILS
Phone: (09) 818-3012
Email:

[email protected]

OPERATING HOURS
Monday to Friday: 8:00am – 5:00pm
Saturday: 9:00am – 5:00pm
Eco Exterior Clean offers house maintenance services for the entire Auckland region. So next time you're wondering "Is there gutter cleaning near me?" Well, wonder no more because these guys will do it for you, anywhere you are in Auckland.
Aside from gutter cleaning and mould removal, they can also wash your pathway, decks, roofing, and fences.
Offering competitive prices and free no-obligation quotations, Eco Exterior Clean can visit your property for a hands-on inspection. If you need an immediate estimate though, they can analyze your property's size via Google Earth and provide a ballpark estimate!
We love this resourcefulness and it definitely saves a lot of time. A bonus when it comes to choosing the best gutter cleaners in Auckland.
One reason to choose Eco Exterior clean is that they use products that are supplied by the Eco Store, which are environmentally friendly. These green solutions don't have harsh and toxic substances, making them safe to use around your garden, pets, and family.
Eco Exterior Clean uses their own specially formulated solution to clean the outside of your home, which they claim will also protect the paintwork and cladding. They will also use soft brushes to get rid of stubborn dirt and will finish it up with low-pressure washing.
This same low-pressure wash method is also applied to your roof, but with a different cleaning formulation that can get rid of moss, lichen, algae, and mold. It will seep right into the spores and will naturally degrade in about six months with the changing of seasons.
Half a year is a long time, so if you want to eliminate those unwanted organisms posthaste, Eco Exterior Clean can repeat the process one and a half months after the first cleaning to jumpstart the process.
Using the same techniques, Eco Exterior Clean can also thoroughly clean your spouting while they're up on the roof, which includes surface cleaning of the downpipes. They'll remove leaves and other debris to make sure there are no blockages to the flow of rainwater.
Offering their cleaning services to both homes and businesses, Eco Exterior Clean comes with the owner-operator's personal guarantee. If a client isn't happy with the results, they'll even rush back and spot clean completely free of charge.
Surprisingly, Eco Exterior Clean is actually a one-man operation run by owner Rene Jansen, who personally does all the cleaning. Dealing with the owner and operator means that you'll get that extra special touch, which makes this company one of our top picks for the best gutter cleaners in Auckland.
Uses eco-friendly cleaning materials
Deal directly with the owner
Can provide immediate quotations without visiting site
Free remedial spot cleans
Doesn't accept credit cards
Closed on Sundays
One-man operation
Customer Reviews
Very professional service
"Rene arrived on time, so I was off to a good start. I was delighted with the very professional service. Rene had been strongly recommended by several people so I felt confident about using him. The house, deck and paved areas came up a treat, and Rene also came to clear the leaves from the gutters. I will definitely be using his company again." – Angela Flitta
4. Gutter Cleaning by Ashley Mason Spouting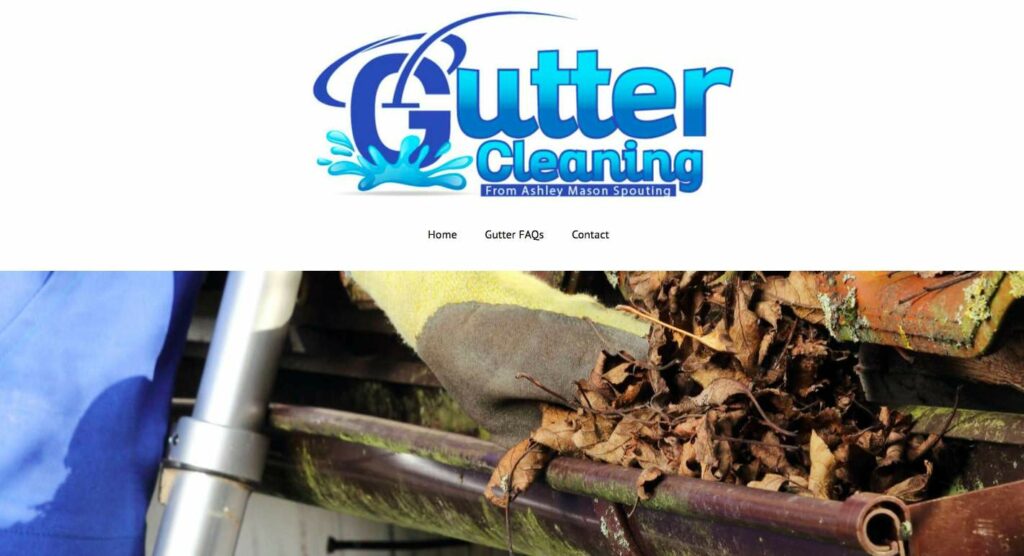 SERVICES
Gutter Cleaning, Maintenance, Spouting Installation, Flushing, Maintenance, Installation, Repairs, Cleaning, Replacement
WEBSITE
http://gutterclean.co.nz/
ADDRESS
6 Peek Street, Ellerslie, Auckland 1051, New Zealand
CONTACT DETAILS
Phone: (021) 119-6903; (09) 525-0640
Email:

[email protected]

OPERATING HOURS
24 Hours a Day, 7 Days a Week
Founded by Ashley Mason in 1992, Gutter Cleaning has been in the business of keeping gutters pristine for quite some time. With over 25 years of experience, we think it's safe to say they've seen most of the common issues that gutter cleaners in Auckland have.
So, whether your gutters are overfilled with leaves or need a thorough surface cleaning, Gutter Cleaning by Ashely Mason Spouting has got it covered. You can even schedule regular scheduled cleaning with this company to prevent rodents and insects from making homes in your gutters.
They recommend that gutters be cleaned at least twice a year to ensure that there is unobstructed water flow. Neglecting your gutters can lead to damage, pests, and mold which can compromise the health of people living in your home.
Moreover, once the unwanted organisms have already made a home in your gutters, it can be difficult to remedy and is admittedly beyond this company's job description already.
So after cleaning out the debris, Gutter Cleaning by Ashely Mason Spouting will give your gutters a hose cleaning to ensure that water flow is free-flowing. They'll also do a surface cleaning and a quick inspection for any damage that can lead to leaks or long-term damage to structures.
Aside from this, Gutter Cleaning by Ashley Mason Spouting also offers spouting installs, which is a godsend given the unexpected weather changes in Auckland. This helps prevent leaks, damage, and flooding to your place during torrential rains.
For extra protection, they can also install special Typhoon PVC piping to ensure your house stays safe during turbulent weather. It will also easily stand up against the harsh four seasons that New Zealand is known for.
Getting your free quote for gutter cleaning doesn't need a personal visit either since you can get an easy online quote by filling up a webform online and estimating your property's size. They provide 24/7 services as well, which make them one of our top picks for best gutter cleaning in Auckland.
Specializes in gutters and spouting
Can install Typhoon PVC piping
Accepts cheques and direct debit payments 
24/7 services
No marketing discounts or promotions
Lack of online presence
Doesn't use eco-friendly products
Customer Reviews
Happy to recommend
"Looks like we got our gutters cleaned just before it was too late. Big storm the week after and no flooding or damage. I'm happy to recommend Ashley." – Paul Robertson
5. Cleanse Right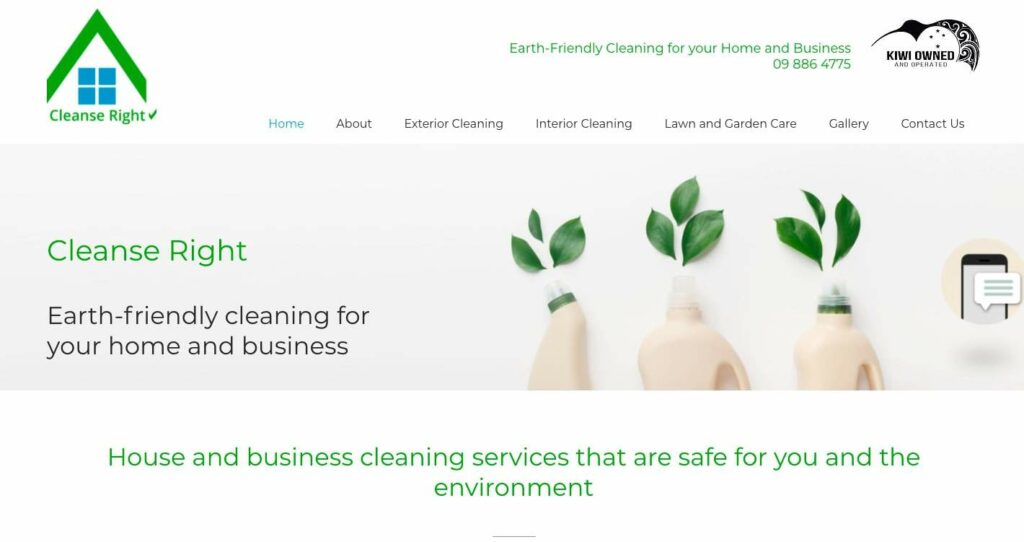 SERVICES
Exterior Cleaning, Interior Cleaning, Lawn & Garden Care
WEBSITE
https://www.cleanseright.co.nz/
ADDRESS
29 Alabaster Drive, Papatoetoe, Auckland 2025, New Zealand
CONTACT DETAILS
Phone: (09) 886-4775
Email:

[email protected]

OPERATING HOURS
Monday to Saturday: 8:30am – 5:00pm
Cleanse Right was founded by Ben Davey and Sifa Fukofuka in 2019 to provide eco-friendly cleaning solutions. Although they started as an exterior cleaning company, they have expanded their services to include garden care and interior cleaning as well.
This one-stop shop can handle both residential or commercial cleaning across the entire Auckland region. Their services include end-of-tenancy cleaning, carpet shampoos, deep cleaning, and sanitizing.
Cleanse Right prides itself on using only eco-friendly products and cleaning techniques. So whether it's cleaning your gutters or controlling the weed growth in a garden, this company's methods are safe for your family, pets, and plants.
While Cleanse Right might be a small team of five experienced cleaners, what they lack in manpower, they make up for in skill and specialized tools. One example is that they can use a self-contained truck carrying up to 1200 liters of non-potable water if there are water restrictions or no source of water.
For pressure washing commercial buildings, they'll obtain their own scaffolding since their cleaners have "work at height" qualifications. Cleanse Right is fully insured to protect your home and business, and they practice stringent safety measures as well.
Moreover, they can also create customized cleaning solutions depending on your property's needs. They've developed a variety of cleaning treatments that will hold up against dirt, lichen, and mold that are safe and effective.
To clean your gutters and roof, they do soft-washing methods while using eco-friendly cleaning substances. While this will eradicate unwanted organisms, they can also do high-pressure water blasting if needed.
Before they leave any work site, Cleanse Right will even provide clients a checklist to ensure that service was done correctly. This includes checking that no dirt, dust, stains, or odors were left behind once they have completed their cleaning.
So if you're meticulous and value eco-friendly cleaning products, Cleanse Right can easily be the company to offer the best gutter cleaning in Auckland for you.
Only uses green cleaning products and techniques
Offers seasonal promotions
Can create customized cleaning plans
Can bring their own self-contained water truck
Offers clients a final checklist of tasks
Small team of five cleaners
May not be suitable for large multi-story commercial buildings
Closed on Sundays
Customer Reviews
Would highly recommend
"Sifa was polite, friendly, turned up when he said he would and did a wonderful job on our pergola, it is lovely and clean again, and a very reasonable price. Would highly recommend and use his services again in the future! Thank you so much!" – Sally Lush
Fantastic business to deal with
"Cleanse Right is a fantastic business to deal with. They've completed work on my rental properties, and I recently requested a job on my elderly mother's house. Ben & Sifa are great communicators and service is always prompt, and completed to a very high standard. They were very respectful of my elderly mother, and she was absolutely delighted with the job. THANKS guys! Highly recommended." – Karen Knight
6. Kleen 4 U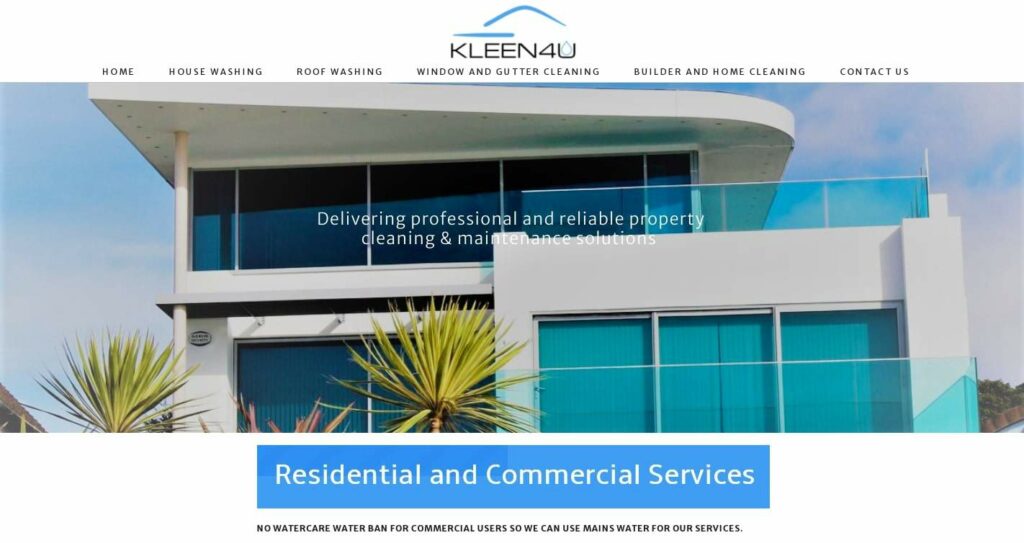 SERVICES
House Washing, Water Blasting, Window Cleaning & Repair, Gutter Cleaning & Repair, Roof Washing And Residential And Commercial Cleaning, Solar Panel Cleaning, Carpet Cleaning, Move In/Move Out Cleaning, Downspout Cleaning, Gutter Repair, Post Construction Cleaning, Upholstery Cleaning
WEBSITE
http://www.kleen4u.co.nz/
ADDRESS
1053 Scenic Drive North, Swanson, Auckland, 0816
CONTACT DETAILS
Phone: (021) 222-2225
Email:

[email protected]

OPERATING HOURS
Monday to Saturday: 8:00am – 9:00pm
Kleen4U was founded by Stephen Ackroyd in 2012, offering cleaning services for residential and commercial property owners. They have remained a family-owned-and-operated business and continue to serve the residents of Auckland today.
They offer a wide range of services that mainly focus on house washing, water blasting, gutter cleaning, and residential cleaning among others. One of their specialties though is working with real estate or property managers, offering special deals to spruce up and maintain their properties.
Kleen4U is fully insured and you're more than welcome to request to see their health and safety policy. All of this company's employees are qualified to work heights and have received training in basic first aid as well.
With safety measures as one of its core principles, this means you don't have to worry as Kleen4U works on your roof, multi-story buildings, or when cleaning your pipes.
They can climb up to your gutters to check that there is no blockage so that rainwater can drain properly. Kleen4U can clean these parts of your home to prevent rusting gutters, blockage in your downpipes, and water damage to other parts of your property.
Since they're qualified for height work, they can likewise install, remove and clean gutter whiskers. If they spot some damage, Kleen4U can also repair cracked or broken gutters and downpipes to ensure the integrity of your property.
They can unblock downpipes and links to stormwater drains too, which is part of their gutter cleaning services. Moreover, they can fit in diverters or flush caps for properties connected to tank water as well.
If you would like to have your gutter cleaning scheduled, you can set up a recurring annual cleaning with Kleen4U. They suggest doing so during the transition period between fall and winter, when the leaves have already fallen from the trees, to make the most of the service.
This kind of service is perfect for those who have really busy schedules. Imagine having your gutters cleaned regularly without you even thinking about it: many would agree this is essential in choosing the best service for gutter cleaning in Auckland.
We like Kleen4U not just for their comprehensive services, but for their specialized gutter cleaning as well. They are ideal for those in real estate but can offer their services to homeowners also, making them one of our top choices for gutter cleaners in Auckland.
Offers a wide range of cleaning services
Operates until 9:00pm
Comprehensive gutter cleaning services
Deals only for real estate and property management
Doesn't use eco-friendly materials
Customer Reviews
Fantastic service at a great price
"I have used Kleen4U on 3 or 4 occasions over the past 5 years and have always found them to be professional and reliable. Stephen is meticulous in his attention to detail. I've had my driveway cleaned, outdoor tiles and decking cleaned, and our house and windows cleaned and every time we've been very impressed with both the final product and how competitive the cost was. Fantastic service at a great price. I wouldn't consider using anyone else and can't recommend highly enough." – Tim Littler
Highly recommend
"Just wanted to say a big Thank You for doing such a great job for us. It really helped my stress levels knowing we had someone we could rely on. I would highly recommend Kleen 4 U for house cleans of a Holiday Rental. Much appreciated." – Trish Manning-Harris
7. skyHIGH Roof and Gutter Cleaning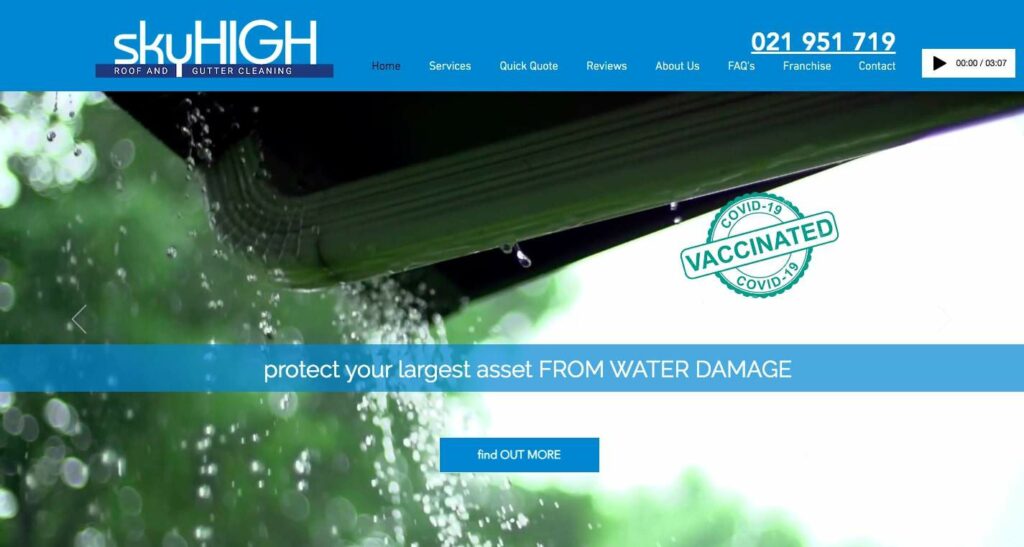 SERVICES
Gutter Cleaning, Roof and Exterior Soft Washing
WEBSITE
https://www.skyhigh.nz/
ADDRESS
PO Box 69, Clevedon 2248, Auckland
CONTACT DETAILS
Phone: (021) 951-719
Email:

[email protected]

OPERATING HOURS
Monday to Friday: 8:00am – 5:00pm
Weekends by arrangement. Urgent call outs are available
skyHIGH is one of our top picks for gutter cleaning companies in Auckland because they use innovative vacuum technology. Their system can draw 8000 liters of airflow per minute to gather all the debris from your gutter as opposed to flushing it down your pipes.
This means that not only do they prevent or avoid blockage of your pipes, but they don't need to walk all over your roof to get the job done. Their high-powered fully portable and self-contained vacuum can perform the task safer and more efficiently.
This means they don't have to use ladders because their vacuum is capable of reaching heights up to 12 meters from the ground! While it may seem difficult to operate, it's actually safer than traditional methods.
Despite the safer technique and tools, skyHIGH is still fully insured and is a member of SiteSafe New Zealand.
All of this does come at a price though, quite literally. For this kind of service, you can expect to pay a premium over more conventional methods of cleaning.
Moreover, skyHIGH does have two requests – make sure the dogs are locked up and they'll need at least a gap of at least one meter around your property. If you can comply, there's no need for you to be around while they work.
Nevertheless, they don't need to plug into your power outlet, so you don't have to worry about your bills skyrocketing. They have their own power supply that will provide the necessary juice for their high-tech vacuum.
Take note though that their advanced vacuuming system only cleans around the head of downpipes, meaning they can't remedy any blockages. So if your drain is blocked, you'll still have to call a separate tradesman (preferably a plumber) to resolve the issue.
Nevertheless, skyHIGH provides a fast, convenient, and high-tech solution to a chore that you should be accomplishing at least once a year. If you decide to acquire their services for gutter cleaning in Auckland, they can also offer you before and after photos of the job they performed.
Uses high-tech vacuum system for cleaning
Can work without ladders up to heights of 12 metres
Can do urgent call outs
Provides their own power supply
Cannot fix blocked downpipes
Needs a gap of one meter around your property to work
Customer Reviews
Excellent job
"Dave was amazing, great guy, reliable equipment, coped with the beehives onsite, did an excellent job and I was very happy with his communication and pricing" – Angela Sinclair
So impressed
"Could not have asked for better service from the first phone call to the completion of the job 24 hours later. So impressed that we have asked Dave to return on a regular basis. Thank You" – Janet Taylor
8. Spray And Wash Solutions (formerly North Shore Wash)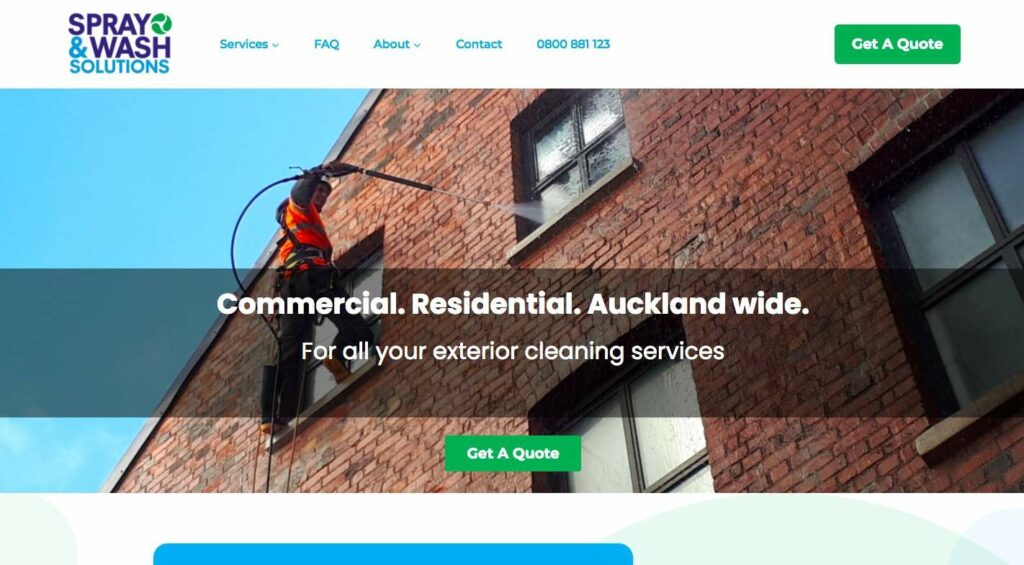 SERVICES
Deck Cleaning, Gutter Cleaning, Roof Cleaning, Exterior House Wash, Paving, Driveway Cleaning, Roof Treatment, Fence Cleaning, Pre Paint Clean, Spider Treatment
WEBSITE
https://sprayandwash.co.nz/
ADDRESS
8C Piermark Drive, Rosedale, Auckland 0632, New Zealand
CONTACT DETAILS
Toll-Free: 0800-881-123
Email:

[email protected]

OPERATING HOURS
Monday to Friday: 9:00am – 5:00pm
Spray and Wash (formerly known as North Shore Wash) is a professional cleaning and water blasting company that offers a variety of house washing services. It was established in 2014 and can service both residential and commercial properties in the entire Auckland region.
This family-owned and operated business offers a wide array of pressure washing services. They can handle projects of any size which include commercial buildings, houses, roofs, gutters, car parks, decks, and driveways.
They provide free "no-pressure" or no obligation quotations as well. While the pricing may be a little steep, this comes with the owner's assurance that they follow every safety measure and local ordinance to get the job done.
Spray and Wash only uses biodegradable soft chemical washing materials, with a team that's been fully trained to work on a variety of structures. They are qualified to work at heights, are trained in damage-free washing techniques, chemical handling, and have received training on how to use pressure washers properly.
As a SiteSafe certified business, Spray and Wash can provide you with customized safety documentation to comply with any of your requirements. Gutter cleaning can be dangerous, but Spray and Wash have all the appropriate safety equipment to get the job done quickly and easily.
Part of their duties in gutter cleaning include ensuring that all dirt and debris is removed so that rainwater doesn't get into any cavities or spaces in your roof. They will also apply special cleaning methods to metal gutters to prevent premature rusting and damage.
If you decide not to be around while Spray and Wash works, they can provide before and after photos of their work to ensure your satisfaction.
Spray and Wash is one of our top picks for gutter cleaning in Auckland because of their safety systems and use of biodegradable materials. With an owner's guarantee accompanying each work, this cleaning company is an option worth considering if you need your gutters cleaned.
Overall, if you're looking for gutter cleaning in North Shore and want a company that's been around for almost 8 years, then you should consider Spray and Wash.
Free quotations
Wide variety of house washing services
Member of Exterior Cleaning Industry Association
Can exterminate spiders
Doesn't install downpipes or gutters
Expensive compared to competitors
No discounts or promotions offered
Customer Reviews
A great job done
"Thanks Henry to you and the lads who washed and treated my home. Although you were not the cheapest option I am pleased I went with your company. A great job done by smiling and polite people well done!" – Paulette Ramsay
Things to Consider When Hiring a Gutter Cleaner in Auckland
Hiring a professional cleaner to handle your gutters can be a difficult decision. While choosing the right one isn't rocket science, we've provided a few tips for you to consider:
1. Get multiple quotations
Most, if not all, gutter cleaning services in Auckland will provide a free no-obligation estimate beforehand. This gives you the benefit of shopping around for the best price before you commit to a company.
2. Watch out for promotions or deals
Most gutter cleaning in Auckland occur during late fall or early winter, so you can expect companies to offer discounts or promotions before that time comes. However, it's not that common for gutter cleaning to be on sale, so if you stumble upon one, you may want to consider it.
3. Bundle up your services
Gutter cleaning is usually just one of the many services that cleaning companies offer, which can include roof cleaning, driveway cleaning, and more. Bundling up several parts of your home to be cleaned could get you a better deal than if you just have gutter cleaning done.
4. Ask about repairs
Not all gutter cleaners in Auckland are qualified or skilled to perform repairs if they spot any during their inspection. You'll want to choose a gutter specialist that can also do minor fixes.
5. Ask for references
Just like with electricians and plumbers, asking for references for previous work can help you choose the company for the best gutter cleaning in Auckland for your property. Oftentimes, these companies can also show photos of their previous projects.
FAQs about Gutter Cleaning in Auckland
---
And there you have it – our list of companies offering the best gutter cleaning in Auckland. Next time you need your gutter cleaned, we hope you'll pick one of the names listed above!
Do you have any questions or suggestions to improve our list? Talk to us by sending us a message, and we will get back to you as soon as possible.
Now, if you also have a leaking roof and want to have that repaired as well, we have your back. Check out our list of the best roof repair services in Auckland.