By Isla Thompson
Have autumn leaves and debris filled up your gutter line? You have to address that before the water starts building up and entering your home. However, it can be dangerous to fix it yourself, so we've listed the best gutter cleaning specialists in Auckland today.
These experienced cleaners have the equipment and familiarity to leave your gutter free of leaves, dirt, and rubbish. If your gutter is old and rusty, they can also replace it with a newer one.
What's important in looking for gutter professionals is their safety in doing the work both for them and your property. And of course, completing the task within the given time frame is ideal.
Without any more ado, here's our lineup for the best gutter cleaning specialists in Auckland!
1)  The Clean Gutters Company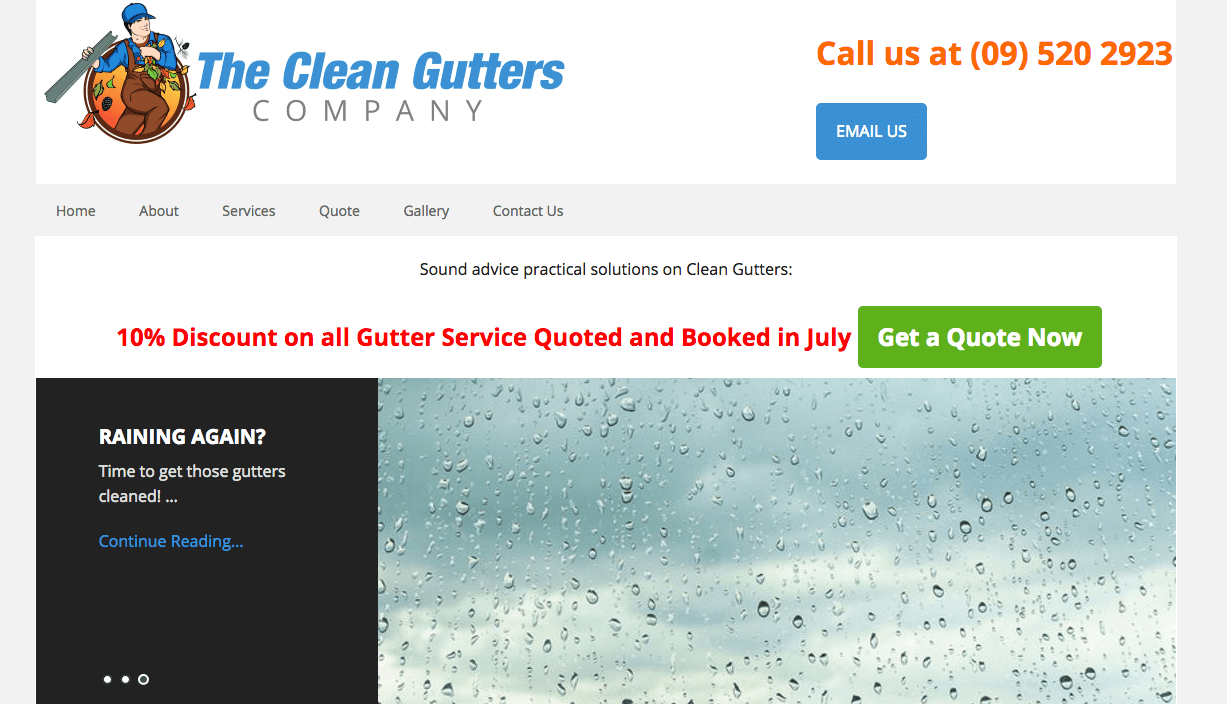 | | |
| --- | --- |
| Areas covered | Auckland and the surrounding areas |
| Services | Gutter Cleaning, Gutter Repairs and Installs, Lichen and Moss Roof Treatment |
| Address | Auckland, New Zealand |
| Contact no | (09) 520 2923 |
| Website | https://cleangutters.co.nz/ |
The Clean Gutters Company is an Auckland-based residential and commercial gutter cleaner offering a full range of services. It is Work Safe certified, with a team that has over 30 years of combined experience.
Your roof will be cleared of leaves, dirty water, or rubbish along the full length of the house. And they can install or replace almost all types of guttering.
With safety and quality gutter cleaning in the mix, they are some of the best gutter cleaning specialists in Auckland you can call!
Highlights
Spotlessly clean gutter
More than 30 years experience
Can replace or repair almost all brands
Work Safe certified
Decent prices
Customer Reviews
Antony Perkins was impressed with the service from The Clean Gutters Company from Google Business. He wrote:
"Awesome service from Clean Gutters and they cleaned my gutters 3 months ago and it is very nice and tidy. They are a team with professional people and good communication.I have recommended them to many of my friends and relatives. Brilliant!!"
2) Franklin Exterior Care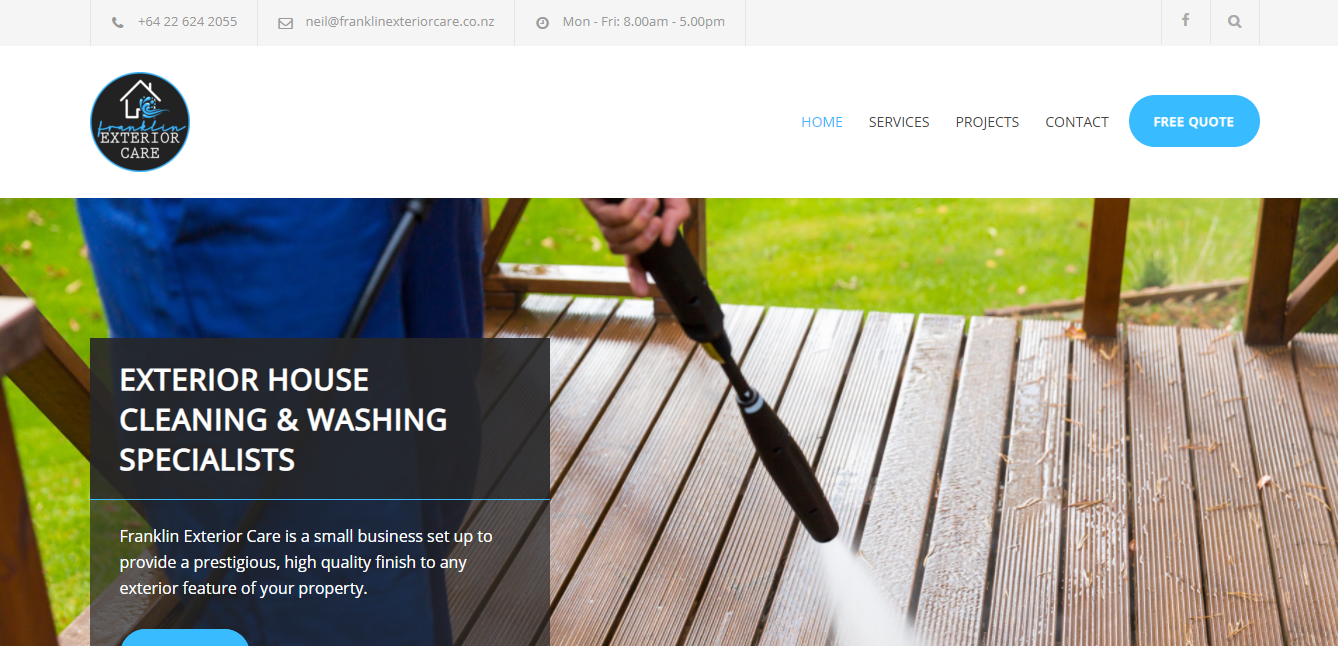 Franklin Exterior Care is a small business for all kinds of improvements in the exterior feature of any property. The team is set up to provide a prestigious, high-quality finish to any exterior.
They are based in Pukekohe, South Auckland. The team also covers the wider Franklin area including Onewhero, Pukekawa, Tuakau, Pukekohe, Waiuku and Bombay.
The dedicated team at Franklin Exterior Care is happy to travel. They are also available to contact for consultations and see how they can help.
Highlights
Free quotation
Moss and mould treatment
Quick and professional
Customer Reviews
Here are some examples of the feedback posted by customers on Google Reviews:
"Neil was great to deal with, great communication even when away on holiday. He has cleaned and treated my roof and it looks great! I totally recommend his service."
"Had Neil in to clean roof and blast fences on all sides of property. The place looks sparkling new. Prompt and professional service. No hesitation to recommend to anyone else!"
3)  Eco Exterior Clean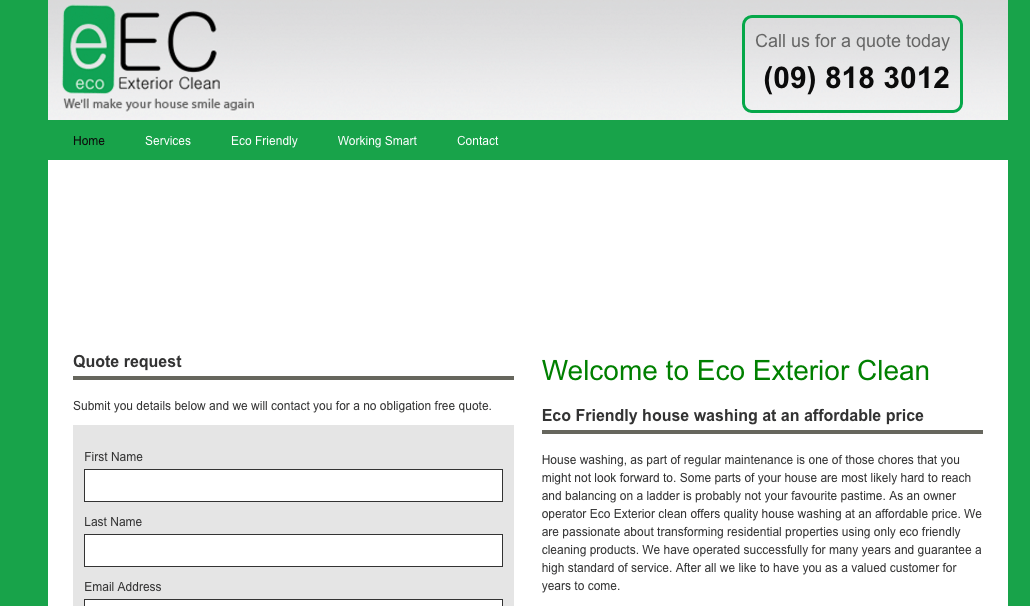 | | |
| --- | --- |
| Areas covered | Auckland and the surrounding areas |
| Services | Gutter Cleaning, Roof Treatment, House Washing, and Water Blasting Services |
| Address | 84 Warner Park Avenue, Laingholm, Auckland 0604, New Zealand |
| Contact no | (09) 818 3012 |
| Website | https://www.ecoexteriorhousewashing.co.nz/ |
Give a clean shine to your gutter with washing courtesy of Eco Exterior Clean. Even the thick mould and lichen that's been around for ages in your gutters will be cleared away.
Eco Exterior Clean offers house maintenance services for all Auckland homeowners. Aside from gutter cleaning and mould removal, they can also wash your pathway, decks, roofing and fences.
With them, no nooks or crannies will be left unwashed and treated. And yes, you get a competitive price for their wash-ups and satisfaction that's priceless.
Highlights
Uses eco-friendly cleaning agent
Super clean result
Affordable prices
Customer Reviews 
Let's see the 5 star Google review of Angela Flitta:
"Rene arrived on time, so I was off to a good start.  I was delighted with the very professional service.   Rene had been strongly recommended by several people so I felt confident about using him.   The house, deck and paved areas came up a treat, and Rene also came to clear the leaves from the gutters.   I will definitely be using his company again."
4)  Pristine Gutter Clean Ltd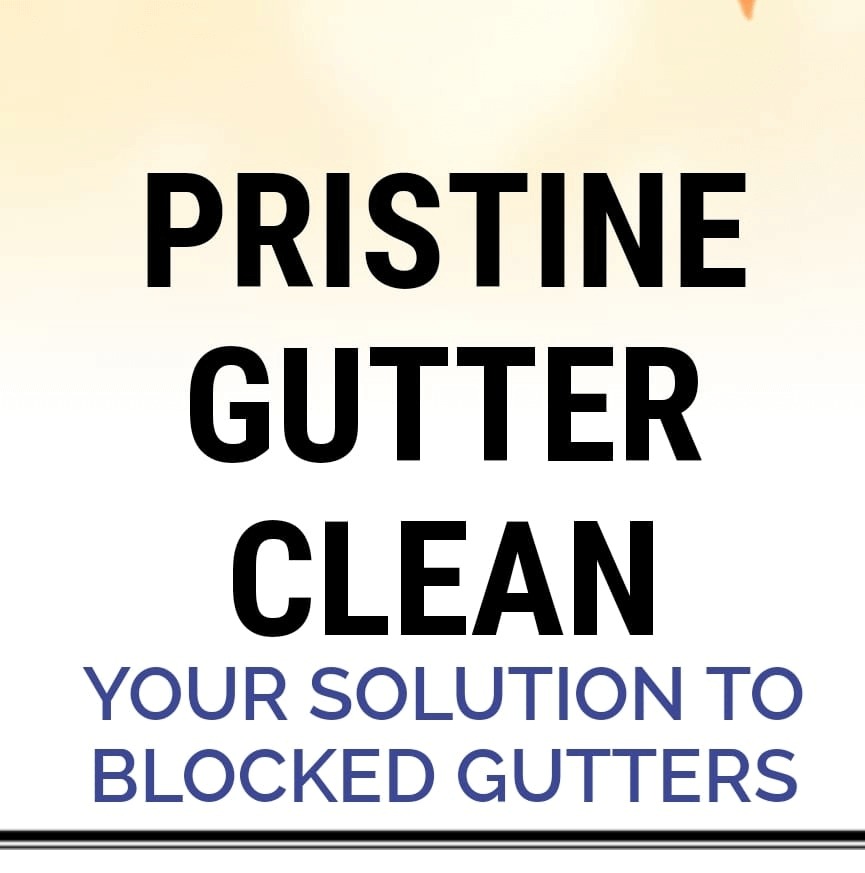 | | |
| --- | --- |
| Areas covered | Greater Auckland area |
| Services | Gutter Cleaning, Before and After Gutter Photos, and Blocked Gutter Inspection |
| Address | Auckland, New Zealand |
| Contact no | 021 996 440 |
| Website | https://pristinegutterclean.co.nz/ |
Like an innovative and fast gutter cleaning with photographic evidence? Contact Pristine Gutter Clean! They use a high-powered vacuum that can remove debris from your gutter like leaves, tennis balls, plants, or plastic.
This is more effective and safer than the conventional method, since the staff doesn't have to climb up to the roof. Not to mention they'd be able to clean all sections in record time.
Then afterwards, they will provide you with photos that show the before and after state of your gutter to ensure that you are confident and satisfied with their service.
Highlights
Uses a waterless vacuum to clean your gutters
Cost-effective prices
Safe and reliable service
Provides before and after gutter photos
Customer Reviews
On Google Business, Katie Avers mentioned:
"Amazing service, presentable staff in uniform that are very kind and cautious while navigating around your property. Could not be happier with how clean my gutters are. They provided me with before and after photos and took away all the gutter gunk to be disposed of! Thank you pristine gutter clean!!"
5)  Gutter Cleaning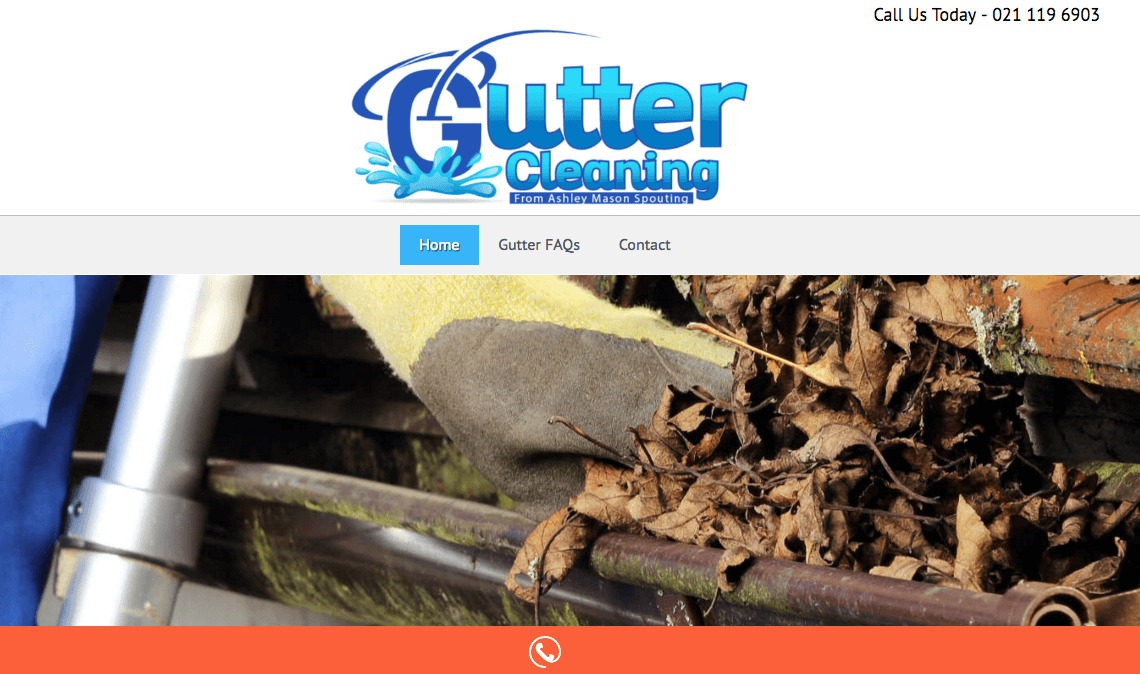 | | |
| --- | --- |
| Areas covered | East and Central Auckland areas |
| Services | Gutter Cleaning, Maintenance, Spouting Installation |
| Address | Ellerslie, Auckland, New Zealand |
| Contact no | 021 119 6903 |
| Website | http://gutterclean.co.nz/ |
Your gutters need to be cleaned at least twice a year lest they attract rodents and insects. You can call on Gutter Cleaning to help make your home a healthy place to live in.
With over 25 years of experience, Ash of Gutter Cleaning is certainly one of the best gutter cleaning specialists in Auckland. He can clean up the most overfilled or dirtiest of gutters for you.
Aside from this, he also offers spouting installs, which are important given the unexpected weather changes in Auckland. This helps in avoiding leaks, damage, and flooding to your place during torrential rains.
Highlights
Punctual and efficient service
More than 25 years' experience
Provides gutter cleaning and maintenance
Customer Reviews
As per the website, Paul Robertson writes:
"Looks like we got our gutters cleaned just before it was too late. Big storm the week after and no flooding or damage. I'm happy to Recommend Ashley."
6. Cleanse Right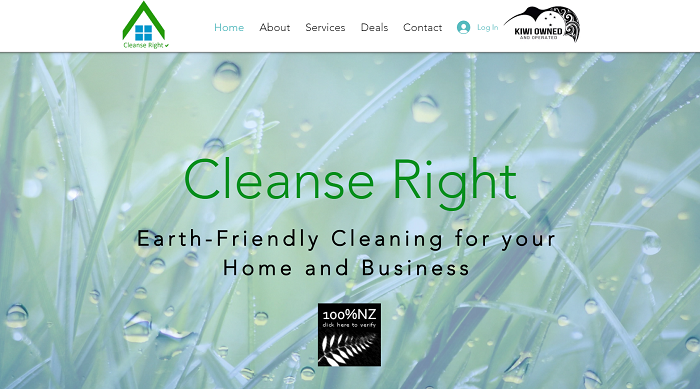 Founded in 2019, Cleanse Right is a cleaning company dedicated to providing quality cleaning services that won't harm the client's property or the earth. They achieve such a feat by only using eco-friendly products and cleaning processes.
One of the best things about Cleanse Right is that they're organised in their cleaning services. They provide clients with a complete checklist to ensure that no dirt, dust, stain, or odour is left once they have completed their cleaning.
Highlights
Comprehensive cleaning services
Cleaning deals available
7. Kleen 4 U

Areas covered
Auckland, Orewa, Whangaparaoa, Millwater, Gulf Harbour, Dairy Flat, North Shore, Albany, Helensville, Riverhead, Kumeu, Coatesville, Hobsonville Point, Warkworth, West Auckland
Services

House Washing, Roof Washing, Window and Gutter Cleaning, Builder and Home Cleaning

Address
Auckland, New Zealand
Contact no
021 222 2225
[email protected]
Website
http://www.kleen4u.co.nz/
Kleen 4 U is a company that covers a wide area for their cleaning service.
They offer residential and commercial cleaning services which includes House Wash and Water Blasting, Roof Wash and Treatments, Builders and Interior Cleaning, and of course, Window and Gutter Cleaning.
As a company that has been running for years on end, Kleen 4 U can assure you that you'll receive nothing but quality work from them. Contact them now to book a service.
Highlights
Uses Auckland Council approved non-potable water for use during the water ban
Professional cleaning service
8. skyHIGH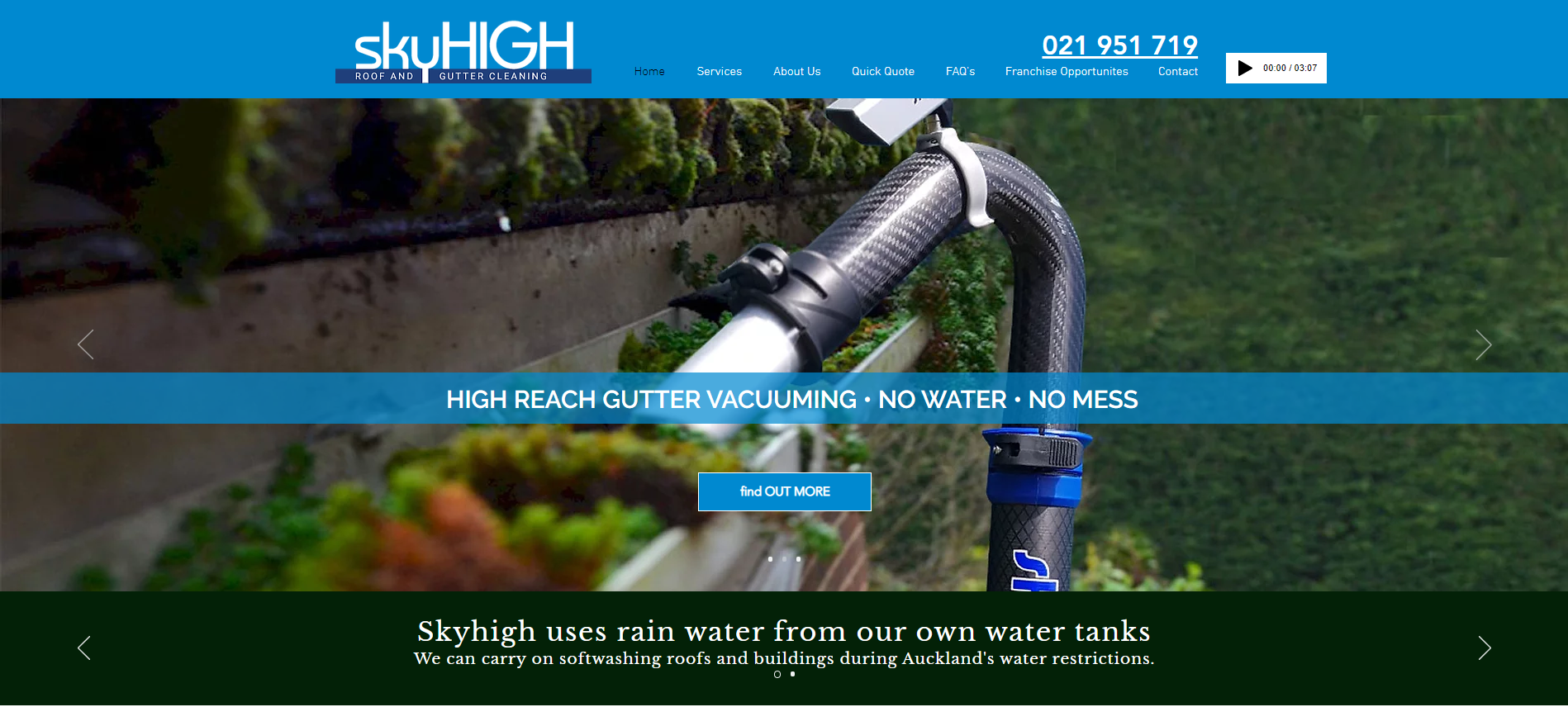 skyHIGH is a roof and gutter cleaning company that uses the latest innovative vacuum technology for its services. They offer commercial and residential gutter cleaning services, capable of reaching heights up to 12 metres from the ground. Check out a demo video on their web site.
They use a high powered vacuum system drawing 8000 litres of airflow per minute to suck up all the debris from your gutters instead of flushing it down your down pipes potentially causing blockages. They also don't need to walk on your roof to get the job done.
No matter what you need, skyHIGH guarantees high-quality work. They're the ones to call if you need your gutters cleaned.
Highlights
Uses vacuum system for cleaning instead of water
Can reach heights up to 12 metres
Customer Reviews
Have a look at what some of their customers say:
"This is the first time to use Dave's service. I would like to say: his service is really beyond my expectation. He is a very highly efficient communicator. I can expect to receive his feedback within a few hours, via text or email. He spent about 3 hours in our house and also did my neighbor's house. My neighbor used few different suppliers before and she is really happy with Dave's job. She said Dave is the best one among three gutter cleaning companies she has used. Recommend!!!" – Jiahyu HUAN
"Dave was amazing, great guy, reliable equipment, coped with the beehives onsite, did an excellent job and I was very happy with his communication and pricing" – Angela Sinclair
"Could not have asked for better service from the first phone call to the completion of the job 24 hours later. So impressed that we have asked Dave to return on a regular basis. Thank You" – Janet Taylor
9. North Shore Wash

Areas covered
Greater Auckland and North Shore
Services
Deck Cleaning
Gutter Cleaning
Roof Cleaning
Exterior House Wash
Paving, Driveway Cleaning
Roof Treatment
Fence Cleaning
Pre Paint Clean
Spider Treatment
Address
North Shore
Contact no
0800 88 11 23
[email protected]
Website
https://www.northshorewash.co.nz/
North Shore is a professional company that offers a variety of house washing services. They're well-known as one of the best water blasting experts in North Shore.
If you hire them to get your gutters cleaned, you can rest assured that they will do quality work. If you're interested, contact them now!
Highlights
Free quote available
Wide variety of house washing services
10) Gutter Foam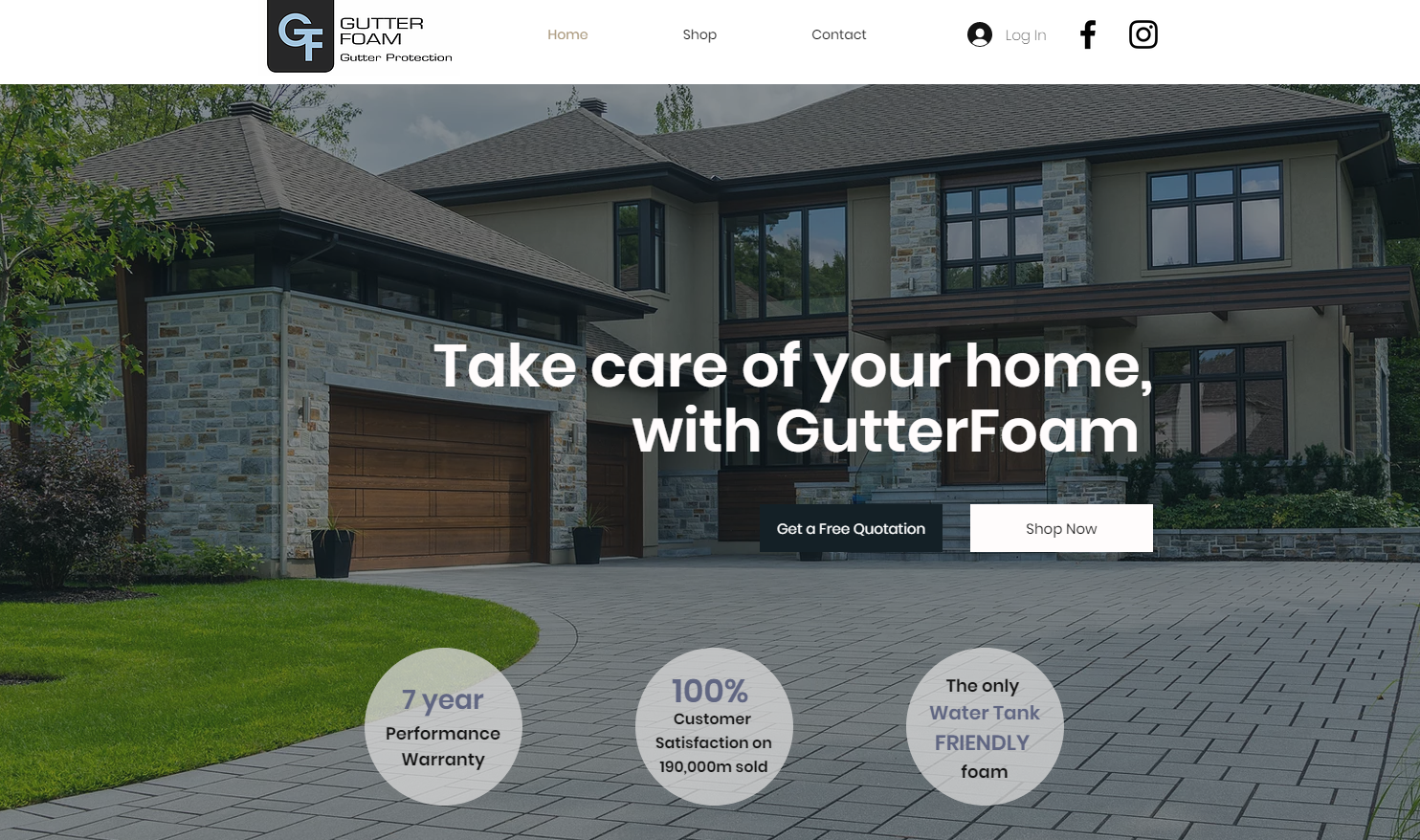 Areas covered
Auckland-wide
Services
Signature GutterFoam Product
Address
Foundry Road
Silverdale, Auckland 0932
Contact no
Tel: 0800 488 234
Website
https://www.gutterfoam.co.nz
Keeping our gutters clean is one way of keeping our properties clean and healthy. If you're looking for a gutter solution that's a little more permanent, why not consider GutterFoam?
GutterFoam is the 4-in-1 signature product of the company with the same name. We strongly recommend the product because it prevents debris, stops birds from nesting, cleans the water going through the gutter, and stops mosquitos and other insects from breeding.
Not only that, but it comes with three different variations, all of which can be customised to fit the client's gutter.
If you're looking to save money from constant gutter cleaning, consider GutterFoam. The company offers free quotation for those who are interested.
Highlights
Free quote available
Warranty provided
Ships nationwide
Quick delivery
In any case, these are the best gutter cleaning specialists in Auckland. The featured companies can give you first-rate gutter cleaning and maintenance for your residential properties.
Do you have any questions about the gutter professionals mentioned? Talk to us by sending us a message, and we will get back to you in a bit.
Other than that, if your home is leaking from the roof, we have your back. For this you can read our article about the best roof repair services in Auckland.