The 16 Best Gyms in Wellington
We become more productive when we train our bodies habitually. If you want to work your body and achieve your fitness dreams, we've listed the best gyms in Wellington here for you.
Our list is based on the well-regarded gyms of the city capital. We chose those with excellent trainers, a range of exercise programmes, and clean and modern facilities.
Needless to say, you'll meet like-minded people that will make your exercise a lot more fun and enjoyable.
The Best Gyms in Wellington
Are you ready to push your body to the limit? Here's our roundup of the best gyms in Wellington!
1) Urban Fitness
Are you training hard to become strong, fit, and confident? If you are, Urban Fitness could be for you.
It is owned by Mike Young, a professional CrossFit competitor. The gym was established in October 2015 and offers a diverse range of classes.
Classes include Urban Metcon which is a group fitness programme that incorporates strength training, high-intensity interval training, and functional movement.
For those who are competing to win, the Urban Athlete class is perfect. It is a blend of weightlifting, gymnastics, and CrossFit for a challenging yet rewarding workout.
All the coaches have the world-class experience to whip you back into shape, discipline when you slack off or even help you win trophies and medals.
Pros
Perfect for those who are looking for high-performance training
Experienced coaches
Flexible schedule
Diverse range of classes, including Olympic Weightlifting and Urban Metcon group fitness
Cons
The gym is open only in the morning during the weekends
Customer Reviews
On Google Reviews, they have been downright superb. All clients praise the facilities, welcoming coaches, and friendly members, as well as the varied sessions offered.
One client, Stacey, wrote this about Urban Fitness:
"Moved down to Wellington at the beginning of the year from the Bay and was a little nervous about starting a new gym. That didn't last long though, everyone including the coaches were so welcoming! Nearly all day open gym time fit perfectly for my training and they have a couply well set up weightlifting platforms. Would absolutely recommend this gym to anyone. The coaches are amazing and have a wealth of knowledge. Top notch place for everyone, whether you're just starting out on a fitness journey or have been at it for a while.
11/10 would recommend."
Also, another client, Carlos, stated:
"More than just a gym, this is a vibrant community of like minded people that make it fun even when you're pushing yourself to your physical limit."
2) Studio 41
If you're committed to switch towards a healthy lifestyle or raise your fitness level, Studio 41 is a great gym. In fact, it's one of the best gyms in Wellington.
All under one roof, their nutritionists, health experts, and trainers will work with you to help achieve your fitness goals.
Whether it be to burn the extra baby fat on your body or to build up your strength, they can help you. Their trainers will guide you on how to use the gym's modern weight equipment.
Classes run daily from Monday to Friday from 6 am till night, and Saturday to Sunday from 7 am till night. You can therefore squeeze in some training after your work.
Pros
Produce top results for clients
Holistic approach of exercise, nutrition, and health
Tailor-made fitness programme
Knowledgeable trainers
Have the latest gym equipment
Cons
Limited workout programmes
Customer Reviews
Achieving a perfect score on Google, the Studio 41 gym has excellent trainers, facilities, and MAT therapists who can help you manage the pain you're feeling from an injury.
Here's what Lee has to say about Studio 41:
"Really good classes and personal trainers. Equipment good, nice clean changing rooms, great showers. Highly recommended!"
Also, Hayley M. shares her fitness journey with Studio 41:
"A big shout out to Ben for helping me achieve my goals over the last 10months. Could not have done it without you and I have never enjoyed training more than I do now. I'll take all my new skills with me into my next chapter."
3) Habit Health
Habit Health is a leading health provider with over 80 locations across New Zealand.
Not only do they offer personal and corporate fitness, but also injury rehabilitation and workplace health assistance to get you back to work pain-free.
The health club is located at the iconic Majestic Centre. You'll be blown away by the stylish but functional facilities of a cardio room, weight room, and 33-metre crystal blue swimming pool.
If you want to shed a few pounds in the heat, they have a steam room or sauna to detoxify your body. Of course, they also have a clean and relaxing shower so you can be refreshed after the sauna.
Their membership packages start from $24.50 per week. This can include access to all gym facilities, group fitness classes, a personal trainer assessment, and others.
Furthermore, Habit Health offers an extensive range of ACC programmes for health and well-being. They also offer a wide range of services from children's health to physiotherapy.
Pros
Offers one-on-one or small group workout sessions
3-Time New Zealand Fitness award winner
Provides nutrition advice, massage therapy, and physical therapy
Has a 33-metre saltwater lap pool
Complete amenities such as a sauna, steam room, and spa
Also has ACC programmes
Cons
Higher-priced membership packages compared to other gyms
Electronic lockers not working right
Customer Reviews
One client was grateful that the staff helped him recover from an injury. Others cited the gym to have friendly and helpful staff and modern facilities and equipment.
One client, Kamaal, wrote this of the gym:
"Fantastic gym in the heart of the CBD. The staff is great and helpful. Equipment is in good shape and the pool is awesome. The lockers are sometimes problematic, but just minor nuisance that infrequently comes up."
Furthermore, Raph gave this feedback:
"People saying it's expensive… For the price of 2 burger meals (and/or some beers) the week you got a full and unlimited access to modern equipment, sauna and swimming pool in the full middle of the city, inside the tallest tower of Wellington. It's all about choices and priorities. Great place."
4) Les Mills
In 1968, Olympian Les Mills opened the first Les Mills club in Auckland. It has kept its torch burning with group fitness classes, which are the heart and soul of the gym.
With a mission to keep New Zealanders fit for life, its group fitness classes consist of BODY PUMP, GRIT, and RPM. However, you can sign up for personal training too.
During this pandemic, you can keep up your training routine right in the comfort of your living room. The Les Mills on Demand gives you unlimited access to over 1,000 exciting workouts.
Furthermore, they have neat, top-of-the-line gym equipment, from the awesome gym and boxing studio to premium changing rooms.
Oh, and they also have free Wi-Fi so that you can check your feed on Instagram after your workout.
Pros
Specialises in group fitness classes
Top-of-the-line cardio equipment
Cycling included in membership
Positive and professional team
Awesome gym facilities
Offer Les Mills on Demand – unlimited access to over 1000 Les Mills online workouts
Free Wi-Fi
Cons
Crowded space
Disorganised class schedule
Customer Reviews
One client said that the classes were great and challenging and that the staff was friendly.
Daniel, one client, said this on Facebook:
"Les Mills deserve a 5 stars, not only because of their effective classes, but also because of their support team. Got to put membership on hold for 3 months because of injury – done straight away. Then have to extend another 2 weeks because of travelling purpose – done. Now have financial problem, ask them to cancel my membership for the time being – no worries, we can put it on 3 months suspension and you can decide later. All the emails and calls were responded with a supportive and friendly attitude. Thank you so much."
And here's a unique perspective from one fitness instructor:
"I love Les Mills! I am a certified instructor in many of their programs and I am so in love with what they bring every time! Changing the world, one fitness class at a time."
5) Snap Fitness Johnsonville
Be it night or day, you can work out anytime you want at Snap Fitness Johnsonville. It has the equipment you need to work up your heart rate, lift weights, or do HIIT.
Despite being a small gym, they can provide personalised service to meet your body goals. The staff has also been said to be kind and friendly by people.
True, it doesn't have all the gym machinery, nevertheless, it has the essentials needed. Always, the team works hard to give you a positive experience here.
Currently, Snap Fitness operates in 270 locations with 170 franchises in 2 countries.
Pros
24/7 gym
Gives a positive workout experience
Safe and clean environment
Outstanding customer service
Kind and friendly staff
Cons
Customer Reviews
Snap Fitness is one of the most popular gyms in New Zealand. The gym has received clients' acclaim for its old-fashioned focus on delivering great service and quality.
Let's see Tessa's review on Snap Fitness 24/7 in Johnsonville:
"Very great. Although it is not a big gym, it is clean and having everything that I need for my workouts. The customer services are good as well. They always respond my queries in time. The trainers there don't force me to buy many lessons. I just need to let them know when I'll be available and they will arrange a lesson for me. If I need more, I can just buy one more lesson when the lesson finishes."
Also, here's one more feedback from a customer named Adrian:
"The only good thing for me j- ville was this gym, other than that it sucked in j- ville. People were mostly friendly. Staff were nice, owner real nice guy too, thanks for letting me use the gym, cheers!"
6) WellFit Studio
Personal fitness doesn't just start or stop at working out. If you want to achieve results, you should work with expert fitness trainers. These are part and parcel of the packages offered by WellFit Studio.
WellFit Studio provides comprehensive services from beginning to end. Their consultation includes pre-exercise setting, goal setting, and initial programming. After you've reached your fitness goals, they make sure that you maintain your ideal fitness levels.
Their trainers are more than qualified when it comes to their work. With their help. your health and fitness goals can easily be achieved.
Pros
Consultation includes exercise & medical history

Comprehensive support

Environment is free from risk and harm

State-of-the-art facilities
Cons
Limited number of trainers
7) Elevate+
A full body workout seems hard to achieve within a short period of time, but Elevate+ will be able to help you do just that. They're well-known for their High-Intensity Resistance Training, an exercise that can be done for just 45 minutes. Each session is different from the last, but all are equally challenging and worth attending.
They have packages at various prices, so you're sure to find a membership that will fit your budget. With the help of their passionate and experienced staff, you're sure to achieve the fitness goals you've set for yourself.
Pros
Wide range of fitness services

Passionate and energetic team

Challenging exercises

Affordable prices
Cons
8) CrossFit Porirua
CrossFit Porirua is one of the best gyms to go to if you're looking for casual exercising or even a more comprehensive fitness class. Established in 2013, CrossFit's goal is to create an encouraging environment where everyone is welcome to reach what they want in life, may it be as simple to become healthier, or for a more oriented toning.
All the coaches and staff is readily available to assist and guide you through your fitness journey, so make sure to consider opting for a membership at CrossFit Porirua.
Pros
Classes available for teens and adults alike

Wide range of classes

Specialized coaching

Quality capped classes
Cons
Membership is neede for some amenities

A bit pricier compared to other gyms
Customer Reviews
Receiving a perfect 5-star rating on Google Review, CrossFit Porirua is definitely one to look out for as they provide a well-rounded service that can be key to fitness journey. Take a look at some of the feedbacks to further prove their effectiveness as a gym in Wellington:
"Excellent coaching and supportive culture for both CrossFit and strength classes. Great use of technology for checking out upcoming workouts and tracking progress towards fitness goals." – Matt Thomas
"Great friendly atmosphere, coaches and members alike. Was really nervous about attending CrossFit and PT sessions here but felt really supported by a knowledgeable team and great environment. Cant wait to attend here more." – Rochelle Boreham
9) SWET
If you're looking for a gym that offers casual pop-ups to the gym, SWET is definitely the place for you. For only $25, you can opt for the casual entrance fee rather than a longer time of commitment like their 6 and 12-month memberships.
What's more is that they offer a 2-week trial for you to test out the facilities. Don't waste your opportunity to try out SWET's amazing gym and fitness assistance, inquire on their website now!
Pros
Offers both online and offline classes

Cheaper membership fees

Small population per schedule

Has an application for tracking
Cons
Limited classes available
Customer Reviews
Take a look at Charlotte Miller, one of SWET's avid members, had to say about their overall service:
"Well equipped gym and friendly staff, Ricky is an enthusiastic personal trainer with some awesome playlists!"
10) Fit4
Workout at your own pace and without worrying about space in Fit4. This 24 hour access gym only accepts a maximum of 100 members at a time, which ensures that you will be able to use their equipment comfortably.
Their gym is equipped with the latest facilities, with separate areas of their own. With the help of their personal trainers, you'll be able to pursue your fitness goals at your own pace and your own time.
Pros
Capped at 100 members

24 hour access

Personal trainers available

Tailored training plan
Cons
Limited number of members allowed at a time
11) ONI
Pursuing your fitness goals is a continuous process. Oni can help you attain those goals by helping you become independent from memberships and achieve long term success.
With that in mind, they have various services available for you to try — some of which include personal training, nutrition coaching, massage therapy, and more. Their use of traditional and modern methods are sure to help increase the effectiveness of their services.
Pros
Geared towards long term fitness
Wide range of services
Expert trainers
Innovative in methods and equipment
Cons
12) Maia Crossfit
Maia Crossfit is a place that supports growth among their members, always pushing for greater challenges and supporting the journey through fitness. With their amazing team of coaches, rest assured that your regimen, if ever you take up on personal training, would be appropriate to your goal and your current abilities.
Their gym is fully-equipped and safe for everyone to use. The facilities are clean and overall, the price you have to pay to use it would be well worth it.
At Maia Crossfit, you are guaranteed exceptional care and excellence. Contact them now to check out available slots and coaching.
Pros
Encourages personal development
Amazing coaches
Competitive rates
Cons
Last minute bookings aren't always accepted
Customer Reviews
With a high rating on Google Review, it's not surprising that Maia Crossfit's clients are very much satisfied with their services and facilities. Check one feedback here:
"Most excited I have ever been to go and work out. Wonderful coaches and members. Heaps of support and knowledge."
13) Instinct Fitness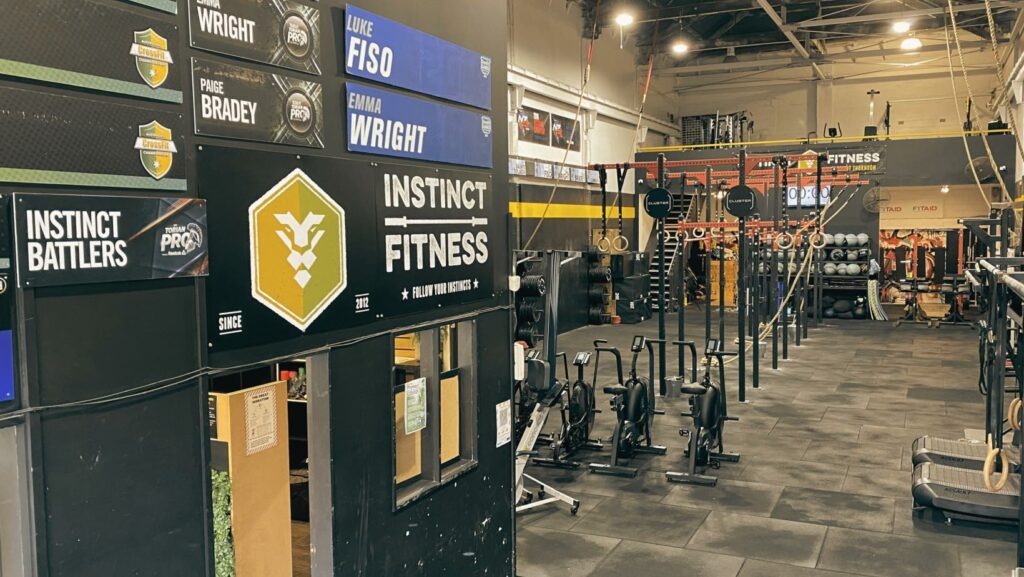 If you're looking to start CrossFit or would like to get back to the grind, we recommend paying Instinct Fitness a visit when in the Thorndon Quay area.
Instinct Fitness is the premier Gym in Wellington. It features a passionate community of fitness loving individuals who welcome both experienced and beginner fitness enthusiasts alike.
The gym offers a free introductory class to newcomers, giving them a glimpse of the friendly, competitive atmosphere in the gym as well as the extensive collection of gym equipment that members can use.
Additionally, Instinct Fitness offers CrossFit classes, Personal Training, Specialty Barbell and Gymnastics classes and Kids/Teens CrossFit classes.
There are two membership options available at Instinct Fitness. One is for 3x Weekly Visit priced at $48/week and the other is for Unlimited Membership, which is rated $55/week.
Once one is ready to commit, members can easily book a slot at the gym through Instinct Fitness' website. The schedule calendar offers options for free gym use as well as cross-fit sessions.
Pros
Offers free info class

Accommodates both beginners and experienced clients

Convenient online booking process
Cons
14) Conquer Health and Fitness
Conquer Health and Fitness is a training facility that strives to give each individual they handle quality life through a personalized regimen for their health and fitness. With over 10 years in the industry, they have since then handled a diverse set of clients along the way.
Their services are nothing short of diverse as well since they have used various combinations of these such as Naturopath and Homeopathy to treat clients the best that they can.
With a degree in Health Science, clients can be assured that a thorough assessment will be in place along with full-time guidance from them every step of the way.
No worries for clients who are on a budget since all inclusions and packages are stipulated online and can also be booked with such.
Only one professional is given a face, however, so there might be slot limitations despite the flexible scheduling. Nonetheless, with their long-term regimen – it is ideal for clients experiencing injuries and the like.
Pros
Full body assessments available
Highly certified professionals
Holistic approach to wellness
Cons
Customer Reviews
Here are some reviews from their clients:
"Having a personal trainer like Ravi he has helped me keep on track – training wise and nutrition. Ravi is brilliant with the knowledge he has and has personally helped me beat all of my personal bests in weightlifting."
"I have really enjoyed training under Ravi. He understood what I wanted to achieve and used his extensive knowledge to tailor a programme to fit my needs. He is a calming motivator who has been supportive throughout my challenge of getting I have seen Ravi work with people of all levels of fitness and I can see he truly enjoys helping people get moving and work towards a healthier lifestyle."
15) Capital Gymnastics Club Incorporated
Capital Gymnastics Club Incorporated is a center that offers and accommodates a variety of gymnastics classes for a wide range of purposes such as recreation, competitive, and artistic among many others. It is also a charity supported by a local volunteer committee as well.
Having offered classes ever since the early 1970s, they have since then moved to their current venue which proves to be more accessible to residents in the area and has since then expanded to accommodate both female and male students.
We like that their website is full of vital information that clients may make use of should they be interested in availing of their services in which booking can be done readily on their site as well at any time the client finds it convenient for them.
With a wide range of classes available that can accommodate both beginner and intermediate-level gymnastics, we like that each class is also described comprehensively in that clients can be sure that each student is given adequate and individualized attention to make the most out of their classes.
Overall, with their fully equipped facilities, accessible location, and certified instructors, we highly recommend them to clients looking to learn gymnastics at a location near their area of residence.
Pros
Specializes in Gymnastics
Various class variations available
Certified instructors
Cons
16) Loúka CrossFit
Loúka CrossFit is a fitness gym that brings the Lyall Bay community together through various high-intensity activities and programs that is according to the individual's needs and ability.
We find their classes to be very accommodating to all individuals and ability levels such that children, mothers, and teenagers get adequate and proper attention in every session.
The gym itself is also very spacious and adequately contains all vital fitness equipment for clients to make the most out of their stay with them and test their limits during every visit.
Though there is a variety of membership packages clients can choose from, their rates are slightly high and can be paid on a weekly basis compared to other comprehensive gym memberships.
Overall, with a welcoming community and equally accommodating classes for all age groups, we highly recommend to clients in the area who are interested in avail of gym memberships with no minimum terms and access to a wide variety of classes as well.
Pros
Age-friendly options
Membership packages available
Fully equipped gym
Cons
Gym membership is paid weekly
FAQS about the Best Gyms in Wellington
Table of Comparisons
Below is an overview of the classes, membership fees, amenities, and current deals of some of the best gyms in Wellington.
---
And that finishes our list for the best gyms in Wellington. They should be your first stop when you want to burn the fat and laziness away by getting a disciplined workout.
Do you have any questions or comments about our picks? If you have one, kindly leave us a comment below, and we'll get right back to you.
At any rate, if you want a calmer, gentler exercise, you may want to try yoga. For this, you can read about the best yoga studios in Wellington.