By Tony Wang
Pests not only cause disturbances at your place, but also pose a health risk. Problems with pests are common and can more often than not become worse when not addressed quickly. In this case, you'll need the best Hamilton pest control companies to do that.
We found the ones who provide safe and effective solutions to eradicate your pests. Aside from this, we chose those who observe the best health and safety practices.
If you're ready, we now give you the best Hamilton pest control companies!
1)  Rentokil
BEST FOR
Quick, Safe and Responsive Pest Control
SERVICES
Ants

Flies

Spiders

Bed Bugs

Fleas

Wasps

Birds

Cockroaches

Mosquitoes

WEBSITE
https://www.rentokil.com/nz/hamilton/
ADDRESS
9-13 Norris Avenue, Te Rapa, Hamilton 3200, New Zealand
CONTACT DETAILS
+64 7-849 8849
OPERATING HOURS
Monday to Friday: 9am – 5pm
For over 50 years, Rentokil has been a trusted service provider of pest control solutions across Hamilton, Waikato Region and New Zealand.
Rentokil's services are offered to residential, industrial and commercial clients. They can treat a wide range of pests, from house flies to cockroaches to aggressive wasps.
They have a lot of clients in food processing as well as in the hotel and office industries. Safety and health standards are strictly followed by their expert pest technicians.
As one of the best Hamilton pest control companies, their team stays up-to-date with the latest pest techniques and methods to offer you a safe and swift outcome.
Highlights
Quick, safe and responsive pest control
Uses the latest trends and techniques
Safety and health compliant
50 years of experience
2)  Pest Attack Pest Control
Protect your home from bothersome and dirty pests by calling in Pest Attack Pest Control. Their specialists will provide a lasting solution to your pest problems.
They are PMANZ-registered pest controllers trained to use special pest control equipment and handle chemicals safely for occupants, children, pets and even your things. This makes them one of the best Hamilton pest control companies.
Cockroaches, ants, wasps, bed bugs, spiders, carpet beetles, rodents, and moths — the team are knowledgeable and know how to handle or treat each one of them.
Another benefit here is that you get a guaranteed service. If their work has not been satisfactory for you, the team would be more than happy to come back and fix it.
Highlights 
Provides a lasting and safe pest solution
PMANZ-registered
Handles a wide variety of pests
Guaranteed service
3)  SWAT Pest Control
BEST FOR
Environmentally Friendly Pest Control Products
SERVICES
Bugs & Flies

Spiders

Rodents

Cockroaches

Ants

Fleas

Bed Bugs

Wasps & Bees

Borers

Birds

Possums

Rabbits

Goat Culling & Deer Culling

WEBSITE
https://www.swatpestcontrol.co.nz/
ADDRESS
8 Menzies Street, Beerescourt. Hamilton 3200, New Zealand
CONTACT DETAILS
0800 792 873

027 208 5556

07 847 9763

OPERATING HOURS
24/7
Another of the best Hamilton pest control companies is SWAT Pest Control. It is led by Shane Wickham, a licenced pest controller with 2 decades of experience.
They pride themselves on using eco-responsible, tested products to eradicate the pests while adhering to safety and health policies for commercial and home premises.
Your problem is their problem and they provide a tailored solution that fits your requirements. The team aims to deliver an exceptional and personal service to their clients.
Highlights 
Exceptional and personal service
Licenced pest controllers
Uses environmentally-friendly pest control products
Adheres to health and safety policies 
Customer Reviews 
Let's see a review of one client on the website: 
"I have been thrilled with the results of your treatment of my house with regards to the cockroaches! Such a relief not to see scurrying creatures or to cope with the little black deposits!"
4)  Kiwinoy Pest Control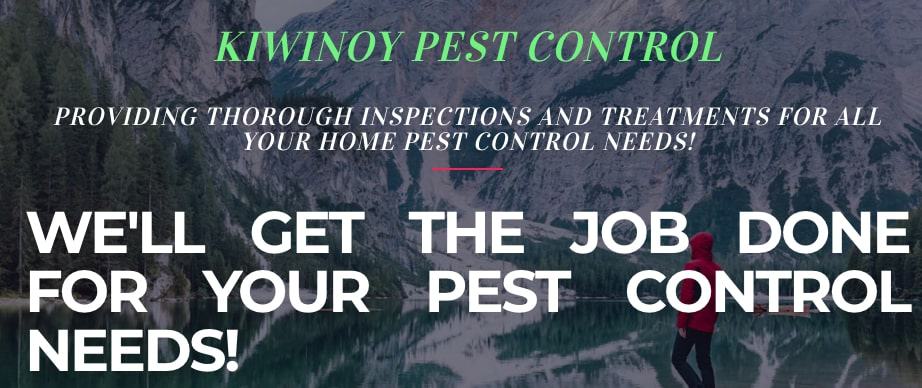 BEST FOR
Residential Pest Control
SERVICES
Rodents

Wasps

Cockroaches

Bed Bugs

Fleas

Spiders

Crawling & Flying Insects

WEBSITE
http://www.kiwinoy.com/
ADDRESS
14 Archer Court, Hamilton East, Hamilton 3216, New Zealand
CONTACT DETAILS
021 205 5940

07 444 5380

OPERATING HOURS
Monday to Friday: 9am – 5pm

Saturday: 10am – 3pm
Kiwinoy Pest Control is a Kiwi-Filipino-owned pest control business based in East Hamilton. Their treatments are eco-friendly, non-toxic and people- and pet-safe.
They pride themselves on bringing high-quality pest control and home inspection services at low rates in the Waikato and Bay of Plenty Regions.
Whether you have a battalion of ants marching up and down your walls or a silverfish infestation, the team will see to it that these creatures are eliminated.
Though they specialise in residential pest control, they can also take commercial and industrial pest extermination jobs.
Highlights
High-quality pest control
Kiwi and Filipino owned company
Use eco-friendly and safe chemicals
Serve Waikato and Bay of Plenty Regions
5)  Professional Pest Control
BEST FOR
Value for Money
SERVICES
Wasp

Bee

Fly

Possum

Ant

Rodent

Insect

Bed Bug

Borer

WEBSITE
http://professionalpestcontrol.co.nz/
ADDRESS
P.O. Box 8108, Glenview, Hamilton 3245, New Zealand
CONTACT DETAILS
07 829 3478

021 714 808

OPERATING HOURS
24/7
Make your annoying pest issues a thing of the past once and for all. If you're looking for competent handlers who give you value, choose Professional Pest Control.
Professional Pest Control has been operating for 10 years in the business. During that time, they have earned an excellent reputation in solving clients' pest problems.
Their professional, well-equipped team can handle a wide range of pests for residential and commercial spaces. This includes spiders, rodents, wasps and bees, and borers
Furthermore, your safety is always at the top of their list. Their technicians use carefully-selected products responsibly and with the clients in mind. Plus, they are security-vetted so you can let them enter your premises without worry.
Highlights
Value for money
Have the latest equipment
Decade of experience
Use carefully-selected products
Security-vetted technicians
Customer Reviews 
Check out the comment of Sarah Bogun on Google: 
"These guys are great, they turned up on time!!!! and where happy to spend the time to fully explain what they did and how it worked. I would definitely recommend them to others and will be using their services again in the future, thanks :-)"
And that completes our list of the best Hamilton pest control companies. By choosing them, you'll have a pest-free and healthy home environment for your family and friends.
Think that we missed a pest control provider? If we did, just let us know by dropping us a line and we might include them here.
Aside from that, you may like to read about the best carpet cleaning services in Hamilton. After all, a cleaner home (and carpet) is less attractive to crawling and flying pests.