The 8 Best Home Builders in Christchurch
Building your dream home in Christchurch? We know great builders who can help you out. In fact, we've compiled a list of the best home builders in Christchurch!
We selected the ones who have a solid reputation for creating stylish and functional homes around the city. And we chose those who maintain excellent communication, stick to their promises, and who are friendly and dedicated.
Furthermore, we looked at what their previous clients said about them. This let us know that we had been actually right in selecting the builders for this list.
You can go on and browse the companies below to see what they have in store for you. So, without any further ado, here are the best home builders in Christchurch!
1)  Signature Homes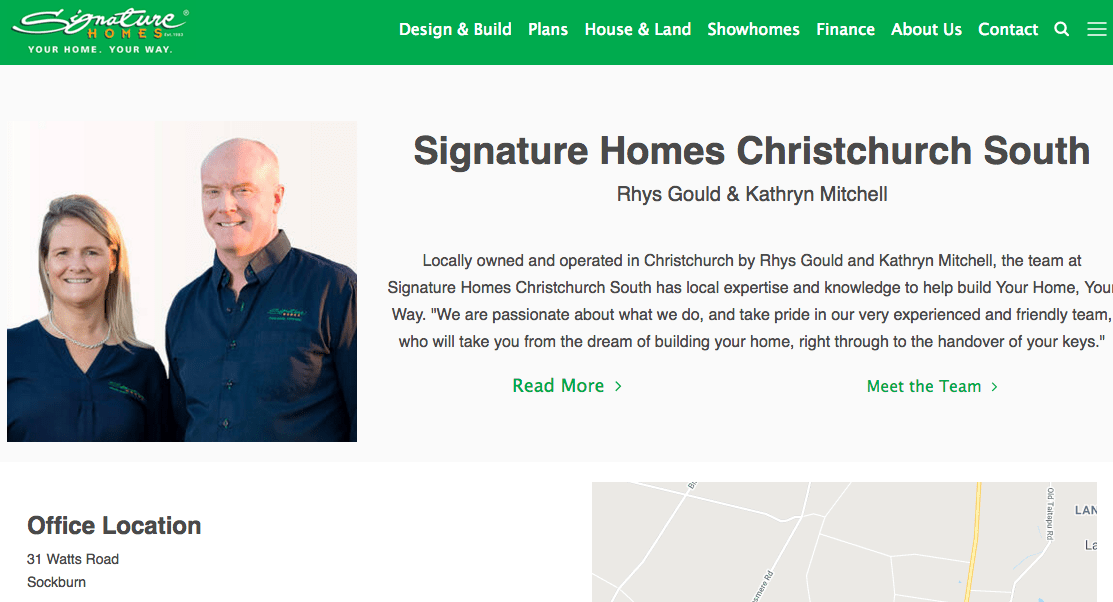 BEST FOR
Beautiful Architecturally Designed Homes
SERVICES
Design & Build

Plans

House & Land

Showhomes

Finance

WEBSITE
https://www.signature.co.nz/franchise/signature-homes-christchurch-south
ADDRESS
31 Watts Road, Sockburn, Christchurch, New Zealand
CONTACT DETAILS
New Home Enquiries: 0800 844 488

Other Enquiries: 03 342 7788

OPERATING HOURS
Monday to Friday: 9am – 5pm
You can depend on Signature Homes for all your design and building needs. Established in 1983, they have a strong reputation for building stunning, functional homes.
Whether you're building from the ground up, demolishing an old dwelling and rebuilding again, or choosing from their house & land packages, they've got your back!
You'll only have to pay the amount that's stated in the building agreement: there will be no nasty surprise fees. And build completion dates are adhered to at all times.
For these reasons, we included Signature Homes in our list of the best home builders in Christchurch!
Highlights
Stunning, functional homes
Established in 1983
One-stop solution for your new home needs
Honest and trustworthy service 
Customer Reviews
Here's an excerpt from one buyer, Joyce Jeramie Lapojapo, on Facebook: 
"Olivia worked overtime and even on sundays to process our documents. The construction of building started immediately upon receiving the council building permit and we saw the progress everyweek. The Project manager keep on updating us on progress. Our bank loved the communication with the builder. They turned over our house earlier than expected date. We really love this house  Signature homes built. Easy to maintain and loved the view.  Thank you for your presents and Thank you for building my family dream ( to have our own house)."
2)  Homes by Maxim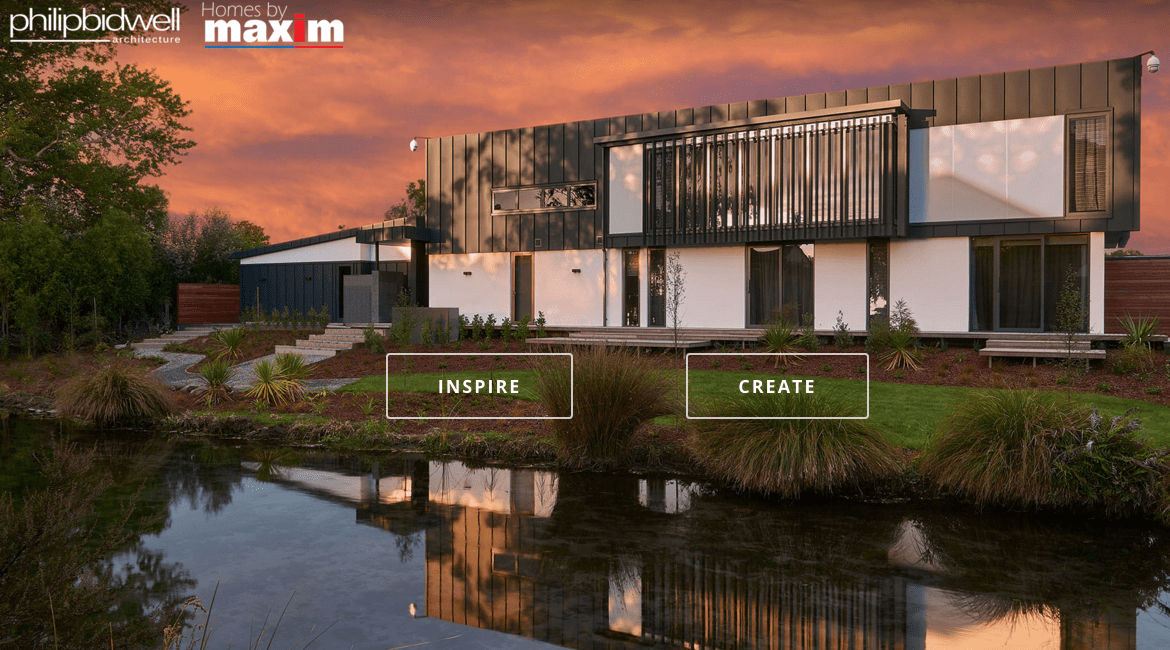 BEST FOR
Elegant, Luxurious Dream Homes
SERVICES
Custom New Builds

House Plans

WEBSITE
http://homesbymaxim.co.nz/
ADDRESS
238 Annex Road, Middleton, Christchurch 8011, New Zealand
CONTACT DETAILS
+64 3-943 0799
OPERATING HOURS
Monday to Friday: 8am – 5pm
Tranquility and cosiness is a great combination for a home. That is what Homes by Maxim offers, along with an elegant and luxurious feel.
Their chic and contemporary homes are designed to accent the natural elements of a property, all while giving families maximum comfort and relaxation.
The staff here will handle everything from design to handover, ensuring that the new home is council-approved, pristine and tidy, and perfectly ready before you move in.
After you've moved in, they will still check on you for 12 months to ensure your house is defect-free. Don't forget that you also get a 10-year structural warranty for your home!
Highlights
Elegant and luxurious dream home
Accommodating and reliable staff
Tranquil and cosy feel
10-year structural warranty
Customer Reviews
Let's take a look at what ylster f said on Google Business: 
"Best architectural house company in town I could say. Quality job with wonderful design, I could not find anyone better to be honest."
3)  Golden Homes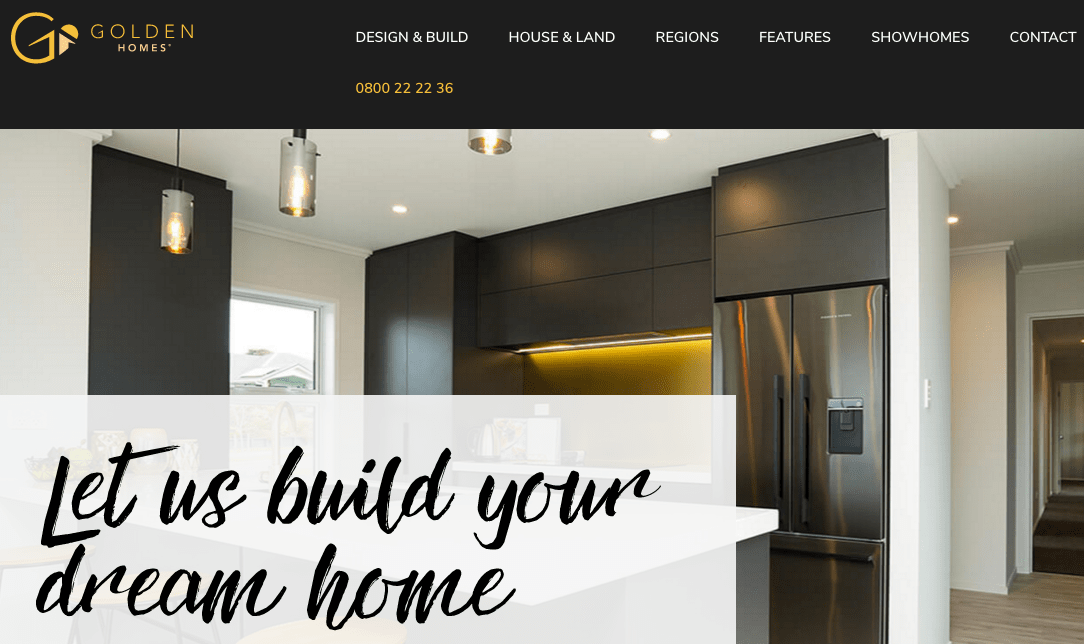 BEST FOR
Superior Gold Standard Building System
SERVICES
Design & Build

House & Land

WEBSITE
https://www.goldenhomes.co.nz/
ADDRESS
Golden Homes 3 Otley Street, Christchurch Central, Christchurch 8013, New Zealand
CONTACT DETAILS
+64 3-377 7940
OPERATING HOURS
Monday to Friday: 8.30am – 5pm
For a long-lasting home designed for NZ weather and conditions, you should get in touch with Golden Homes.
All their homes are built with the Gold Standard Building System, having premium-quality finishes, fittings, and floorings. These are even equipped with the latest appliances!
No matter if you're a first-time buyer or investing in Golden Homes properties, their team is more than happy to assist. For your dream home that will last for years and years, you can leave it to Golden Homes, one of the best home builders in Christchurch!
Highlights
Gold Standard Building System
Customised house designs or options
Seamless building process
Long-lasting home
Customer Reviews
Here's what Duan and Sallie Scott wrote on the web page:
"The first house we looked at that was under construction was a Golden Home and we really liked it. That got us thinking!
Golden Homes have a good management team which kept everything well on track- the build was completed within the time frame. We also appreciated the 3 month quality check- we've heard of other builders only offering 1 month, which isn't quite long enough to test out the quality and finish of a home. The 3 month allowance was quite generous."
4)  Stonewood Homes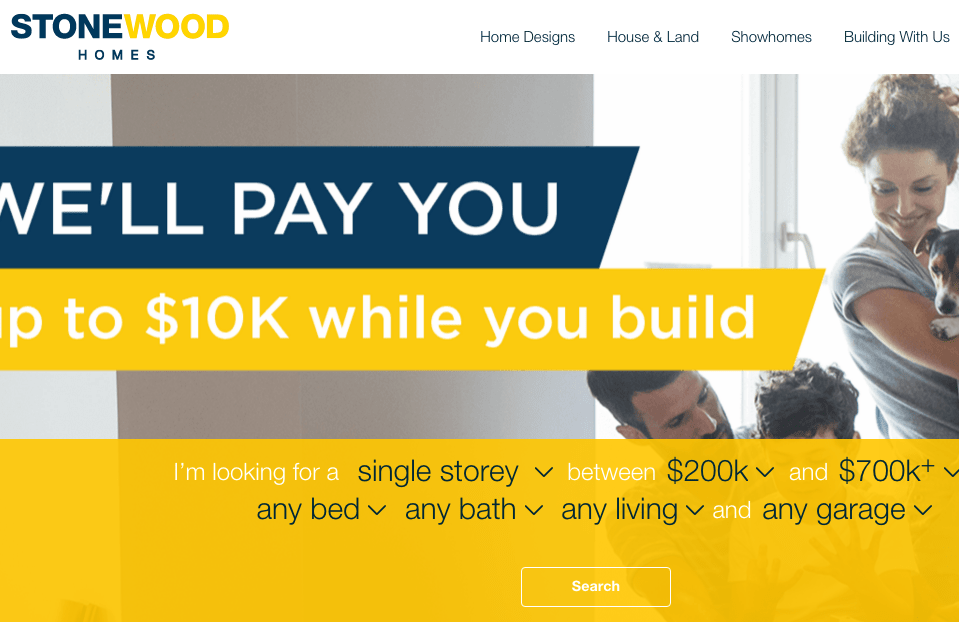 BEST FOR
Eco-Friendly New Builds
SERVICES
Home Designs

House & Land

Showhomes

WEBSITE
https://stonewood.co.nz/
ADDRESS
99 Clarence Street, Riccarton, Christchurch 8011, New Zealand
CONTACT DETAILS
+64 3-354 2344
OPERATING HOURS
Monday to Friday: 8.30am – 5pm
Offering houses with unrivalled quality and value, Stonewood Homes has a nationwide network from the North Island right down to the South Island.
They offer home designs and house and land plans that cater to the Kiwi lifestyle and budget. Furthermore, they make sure the houses they put together are elegantly furnished and are low-maintenance.
With over 30 years' experience, Stonewood Homes has built homes and helped many families realise their dreams. You'll see their remarkable attention to detail all throughout the house if you work with them.
Also important is that they build their homes with the environment in mind. They use non-toxic materials, renewable resources, and eco-friendly appliances where possible.
Highlights
Unrivalled house quality and value
Over 30 years' experience
Offer home designs and house and land plans
Use eco-friendly products where possible
5)  Orange Homes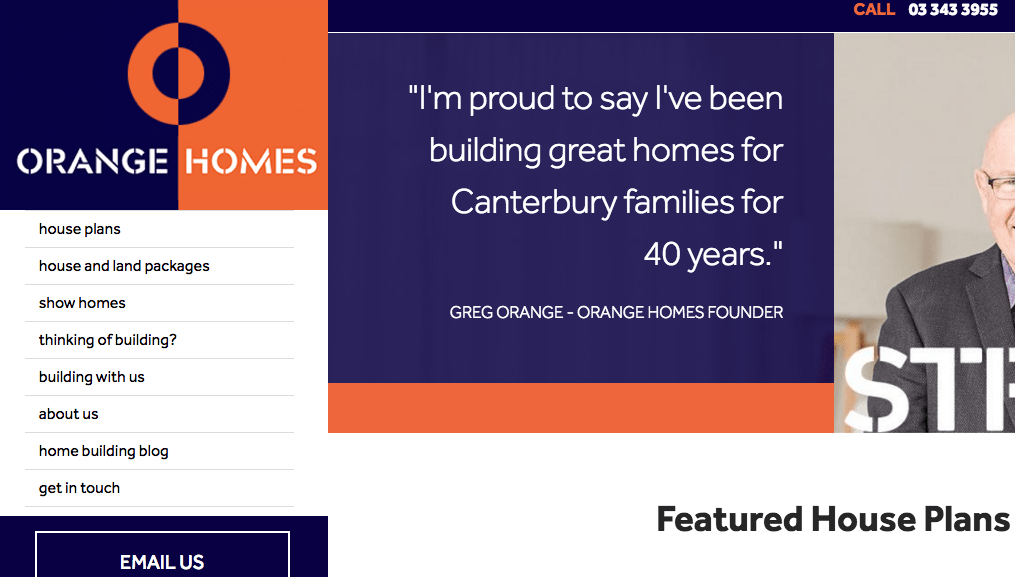 BEST FOR
Flexible Service and Supportive Staff
SERVICES
House Plans

House and Land Packages

Show Homes

WEBSITE
https://www.orangehomes.co.nz/
ADDRESS
245 Annex Road, Christchurch, New Zealand
CONTACT DETAILS
03 343 3955
OPERATING HOURS
Monday to Friday: 8am – 5pm
Home building can be such a complicated process that you need expert advice and support all the way! In this, Orange Homes excels and is therefore an awesome choice!
Greg Orange, founder of Orange Homes, states, "I'm proud to say I've been building great homes for Canterbury families for 40 years." That experience will stand you in good stead if you work with them.
With a range of different house plans, you can choose the size of the house, the arrangement of the rooms, and the view that you'll have — or build from square one.
The staff are incredibly supportive and flexible throughout every stage of the building. They are also very transparent, so there won't be any shocker prices… or any of those sneaky hidden fees you sometimes get with other builders!
Highlights
Awe-inspiring, cosy homes
Range of different house plans to choose from
Incredibly supportive and flexible
Have served clients for over 40 years
No shocker costs or hidden fees 
Customer Reviews
Need more proof that they are some of the best home builders in Christchurch? One customer, Julia Johnston, shared this on Facebook:
"Building with Orange homes has just been so easy, even during lockdown they kept us up to date and worked hard to get it built ASAP when lockdown ended. They listened to what we wanted to design a property to suit. Really happy with the house and impressed at how easy the process has been. You can be involved as little or as much as you want. Highly recommend Orange Homes."
6) Park Homes NZ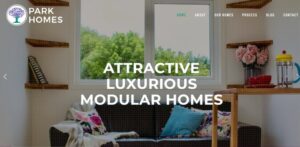 | | |
| --- | --- |
| BEST FOR | Tiny houses and modular homes |
| SERVICES | Builders of tiny houses and transportable houses, all integrating Passivhaus design |
| WEBSITE | https://www.parkhomes.co.nz/ |
| ADDRESS | 1200 Main North Road, Kainga, Christchurch 8083, New Zealand |
| CONTACT DETAILS | |
| OPERATING HOURS | Monday – Friday: 8:30am–5pm |
Park Homes NZ is surely one of the best options if you're looking for a home builder in New Zealand. They offer cost-efficient ways of processing with the use of sustainable materials, done not only to lessen the rates but also to help the environment.
With their amazing range of innovative designs and highly professional staff, you're sure to get the best outcome for your home.
Contact Park Homes NZ now for a more detailed explanation and quotation.
Highlights
Affordable pricing
Stylish designs
Over 35 years of experience
Winner 5th Annual International Construction & Engineering Awards 2020: Best Sustainable Housing Designer – New Zealand
Customer Reviews
Here's what K. Wilkinson, Park Homes NZ's previous client, had to say about their services:
"Our finished Park Home is better than we could have imagined. It is extremely high quality, spacious and absolutely beautiful. Paul and Pascale are passionate, kind and generous and we loved working with them – couldn't recommend them more."
7) Hallmark Homes NZ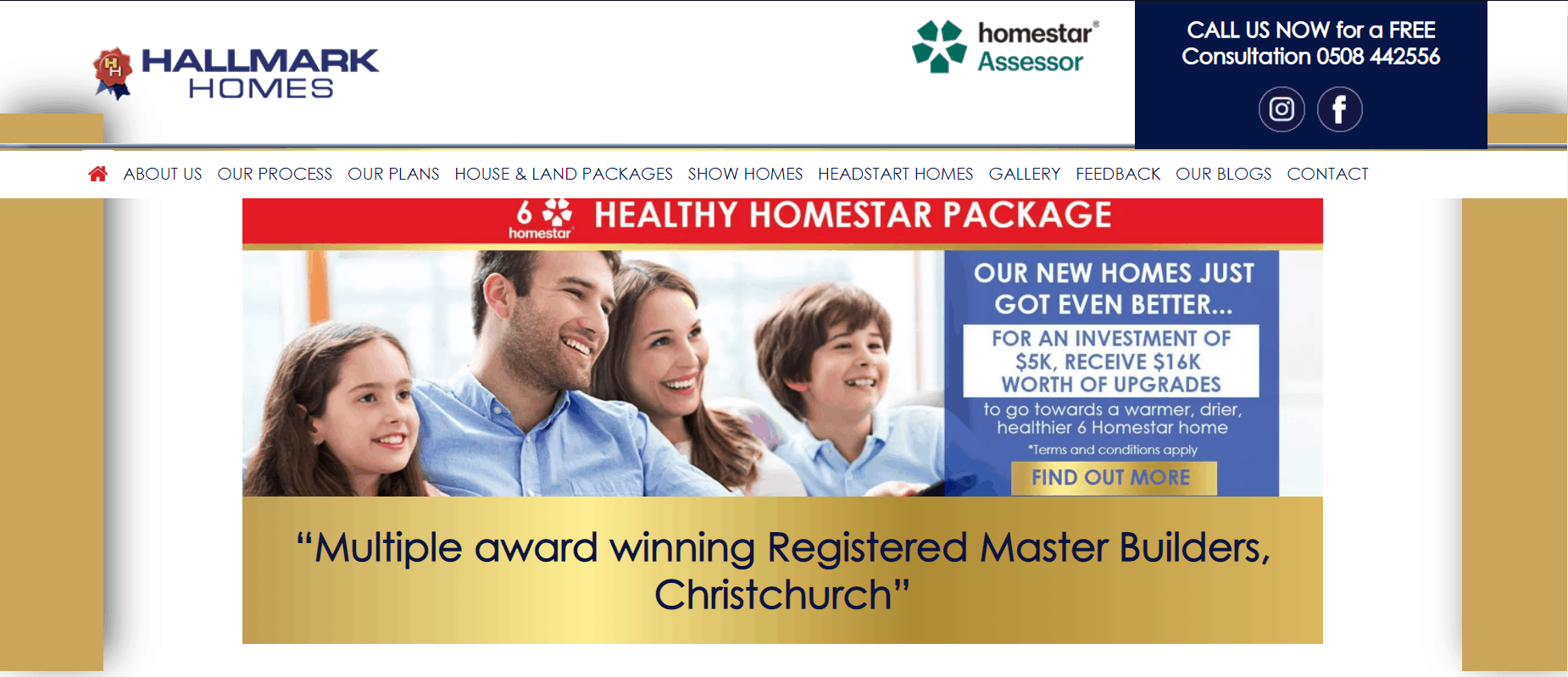 BEST FOR
Quality New Home Builds / Eco friendly – superior standard homes and friendly and flexible service
SERVICES
Design and Builds
Bespoke plans
House and Land packages
Showhomes
3D immersive design experience – Walkthroughs and Augmented Reality

WEBSITE
https://www.hallmarkhomes.co.nz/
ADDRESS
10c Craft Place, Middleton (Office) // 162 Southfield Drive, Te Whariki, Lincoln (Showhome office)
CONTACT DETAILS
[email protected] // 0508 442 556
OPERATING HOURS
8:30 – 5pm (Office) // Thursday – Sunday 12-4pm (Showhome only)
For outstanding quality new home builds, you need to contact Hallmark Homes.

They are award-winning New Build design specialists, with expert in-house designers and an experienced and friendly project management team that is sure to give you a great building experience. The team is famous for carefully listening to your needs and will pay extreme attention to detail to ensure your home is exactly how you want it.

Hallmark Homes offers it all – Not only do they have a great range of plans to choose from, but they can bring these to life – using walkthrough and Augmented Reality technology. You can have peace of mind knowing exactly what your brand new home is going to look like.
They take pride in their work and will invest as much effort into your home as if it were their own. 
Hallmark Homes understands that building a new home can be daunting, and so communication is key! That's why they offer 24/7 access to your home. 
You can check out your financials, schedule, or specifications at any time through their Hallmark 'App'. It's as easy as the click of a button.

With over 100 years of collective experience in their team, it's safe to say you'll be in good hands. But don't just take our word for it! Hallmark Homes has been building industry-leading, quality homes for years. Their showhomes have won countless awards. They're always looking for ways to improve. If you're interested in building higher quality, eco-friendly homes, make sure to ask them about their Homestar promotion.

So, if you're looking to build a quality new home, with a team that listens to your wants and needs, offers flexibility, friendly expert advice, 24/7 access to your project, and a stress-free experience. then be sure to check out Hallmark Homes.
Highlights
12 month maintenance period
Comprehensive 10 year Master builders warranty
Amazing customer service
8) S. C. Harris Builders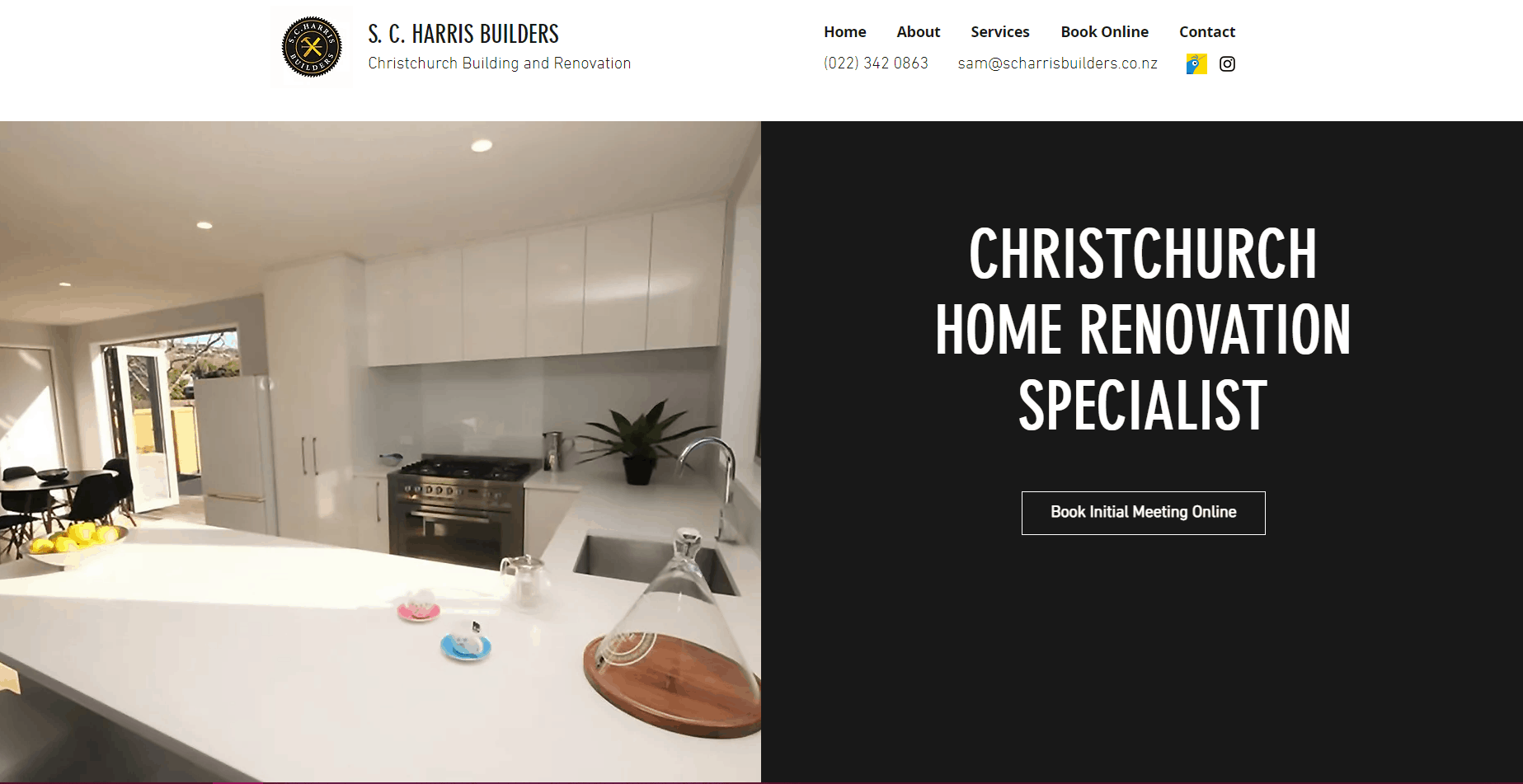 BEST FOR

One-stop solution to building a new home

SERVICES

Home Renovation & Restoration, Deck & Porches Construction, Bathroom Renovation, Project Management, Project Planning & Consent

WEBSITE
https://www.scharrisbuilders.co.nz/
ADDRESS

34 Young St, Somerfield, Christchurch, 8024 New Zealand

CONTACT DETAILS
(022) 342 0863
[email protected]
OPERATING HOURS

Monday – Friday: 7am–5pm
S. C. Harris Builders is a company that offers a comprehensive range of services for residential building. They do renovations, restorations, and construction of whole houses, or just certain parts of homes.
Moreover, they can also help with the planning and managing of home projects. Their numerous connections to skilled architects, as well as the Christchurch City Council, will ensure that you won't need to worry about any consent or planning concerns.
Their team consists of professionals and experts in the industry, so expect that they will be there with you every step of the way to provide quality work. With their help, you will have enough time to build your new home while still being able to focus on other parts of your life.
Best of all, the hassle-free services that S.C. Harris Builders can provide are all available for competitive prices. With their eye for detail, versatile skillset, and reasonable rates, S. C. Harris Builders is a company you should consider for home building.
Highlights
Licensed building practitioner
Home renovation specialist
Decades of experience
Owner-operated company
Customer Reviews
Check out these reviews left by satisfied clients:
"S.C. Harris Builders recently built a deck for us, the team we're ultra professional from design through to the end product which we are delighted with, they worked through the cold and rain in the middle of winter and despite being told by others that we couldn't have it exactly how we wanted S.C.Harris managed it no problem within a week. I highly recommend this business to anyone else considering a deck build or other renovation or building work"
"Sam was hired for some repairs on a house we were doing the roof on he turned up when he said he would communicated throughout the whole process and his pricing was fair all round excellent reliable and honest service would 100% reccomend to all!"
"Would 110% recommend Sam to anyone looking for a builder. Found him by chance on Google and turned out to be just the bloke I was after. Honest, straight up and managed everything end to end. Gave me just the result I was after."
And there you have it for the best home builders in Christchurch! As you can see, you're just one call away from these talented workers who will build your perfect dream home for you.
Do you have any questions or suggestions about our discussion here? If you have one, feel free to send us a message and we'll get right back to you.
Also, you can check out our other design and building lists if you want. For instance, you can try the best interior designers in Christchurch for help decorating your home sweet home.