The 6 Best Induction Cooktops in NZ
Looking for the best induction cooktops in New Zealand? If you are, today's article is for you!
We've compiled a list of the top options here. But we'll first discuss the factors to consider when buying an induction stove. That way, it will be easy for you to choose one from our list that fits your lifestyle and budget.
What to Look for in an Induction Cooktop
Here are the things you have to look for when getting an induction cooktop:
1) Size and Layout
To determine the right size and layout, you have to consider how much food you're cooking and the available space in your kitchen to fit the induction cooker in.
Induction cooktops are typically available from 60 to 90 cm, and somewhere in between. You can also find portable models that range between 35.5 and 65 cm.
Each induction cooktop can have 1 to 6 cooking zones on which the cookware is placed. Keep in mind that these zones' positions and sizes can vary among products.
Also, the cookware must be made of iron and be the right pan or pot size for the appliance. Otherwise, it won't start to cook when you place the pan onto the hob.
2) Performance
Induction cooktops should be fast-heating, energy-efficient, and safe to use. But how do you know if they can cook food quickly without wasting energy?
To know if an induction cooktop heats food quickly, look at the power rate on the specs page. Generally, these appliances have around 1000 W to 2000 W of power.
The higher the power rating, the faster the food gets heated or cooked on the induction cooktop. However, a higher power rating also means a higher power cost.
Pro tip: you can also gauge the cooktop's performance by the manufacturer's warranty. If a product has a warranty for a year or more, the hob is likely to be good.
3) Features
Here are some features of induction hobs that can make your cooking easier and safer:
Flexi-Zones – These combine the cooking zones that allow you to cook large rectangle or oval pans, or several small pots at one time, giving you flexibility.
PowerBoost – This feature raises the current power of a particular zone to instantly heat your food.
Residual Heat Indicator – This light warns you that the cookware is hot. It will switch off once the temperature has gone down to a safe level.
Safety Sensors -These automatically adjust the heat level of your hob so the cooking zone or cookware won't be damaged.
Timer – A timer stops the cooking after a set period. Induction cooktops can have one timer for the entire unit or for each cooking zone.
Keep Warm -used to simmer or cook food at a lower temperature.
Child-Safety Lock – This locks the control panel of the cooktop to prevent curious fingers from changing the setting or getting harmed.
4) Ease of Cleaning
Most cooking leaves a mess afterwards with spills, grime, and fingerprints. It helps for the induction stove to be easy to clean so you're ready to cook for the next round.
You should only use a soft sponge to wipe the cooking surface and to avoid scratching it. And don't let the gunk accumulate because it becomes harder to clean once it dries.
The Best Induction Cooktops in New Zealand
You now know how to buy an induction cooktop. If you're ready, here is our list of the top induction cooktops in NZ!
1) SMEG 60 cm Induction Cooktop (SI7643B)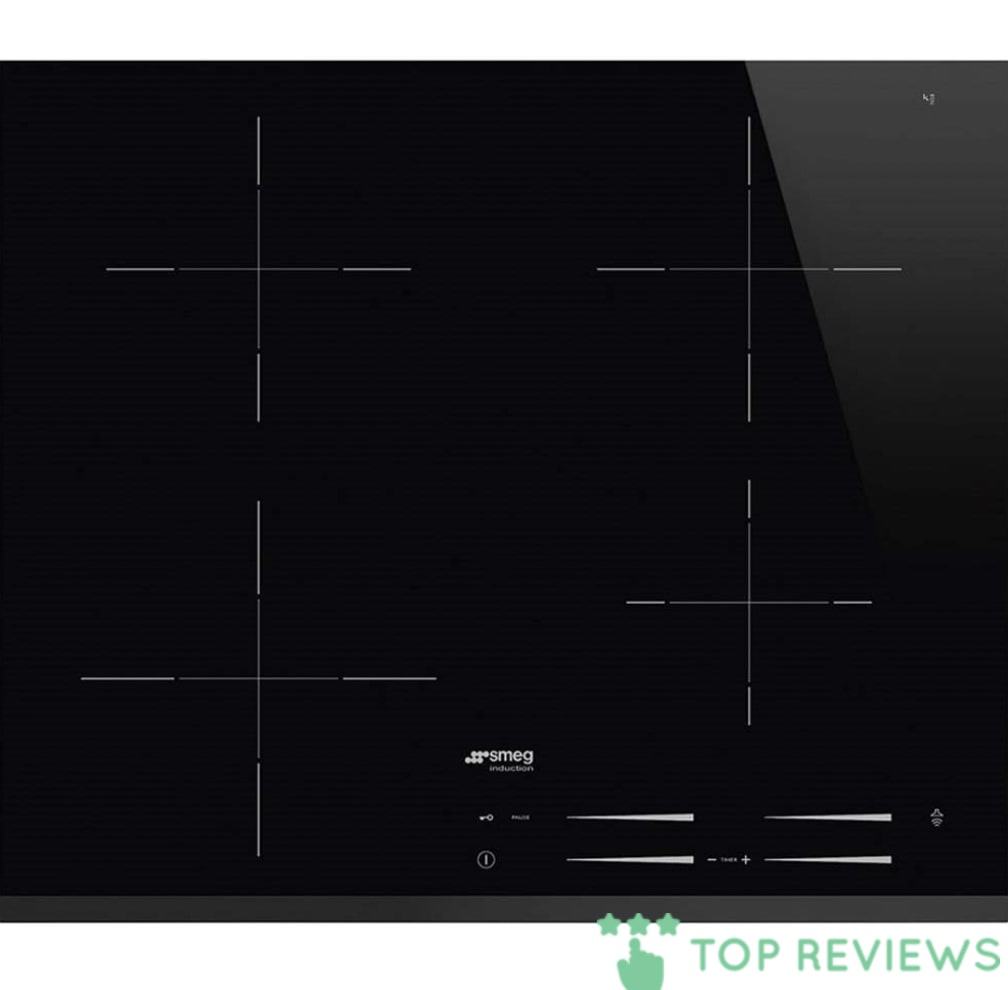 Best for
Precise heating control
Size
60 x 51 x 4.9 cm (W x D x H)
No. of cooking zones
4
Control
Electronic/touch
Power rating
Back left: 1800 W
Front left: 2300 W
Back right: 1400 W
Front right: 1800 W
Price
$1,469
The Smeg 60 cm induction cooktop provides elegant style and versatile slider control, where you can adjust each cooking zone in 14 power levels from low to high.
With black ceramic glass material and a bevelled front edge, this induction cooktop will be a stylish addition to your kitchen and will let you cook exciting gourmet meals.
This is also packed with dependable safety features including residual heat indicator, overheat protection, timer, and key or child-safety lock.
The front left burner has a power rating of 2300 W, front-right and back-left at 1800 W, and back-right at 1400 W. As you can see, it's powerful enough to heat a wide variety of food.
Plus, you are assured of the product's quality with a 2-year guarantee. Although a bit on the expensive side, this iconic 4-burner cooktop from Smeg will last for many years.
Pros
Intuitive slider control
Modern and sleek design
Overheat protection
Child-safety lock
Cons
Expensive
Easy to scratch
2) Breville 37 cm Portable Induction Hob (LIC400BLK2IAN1)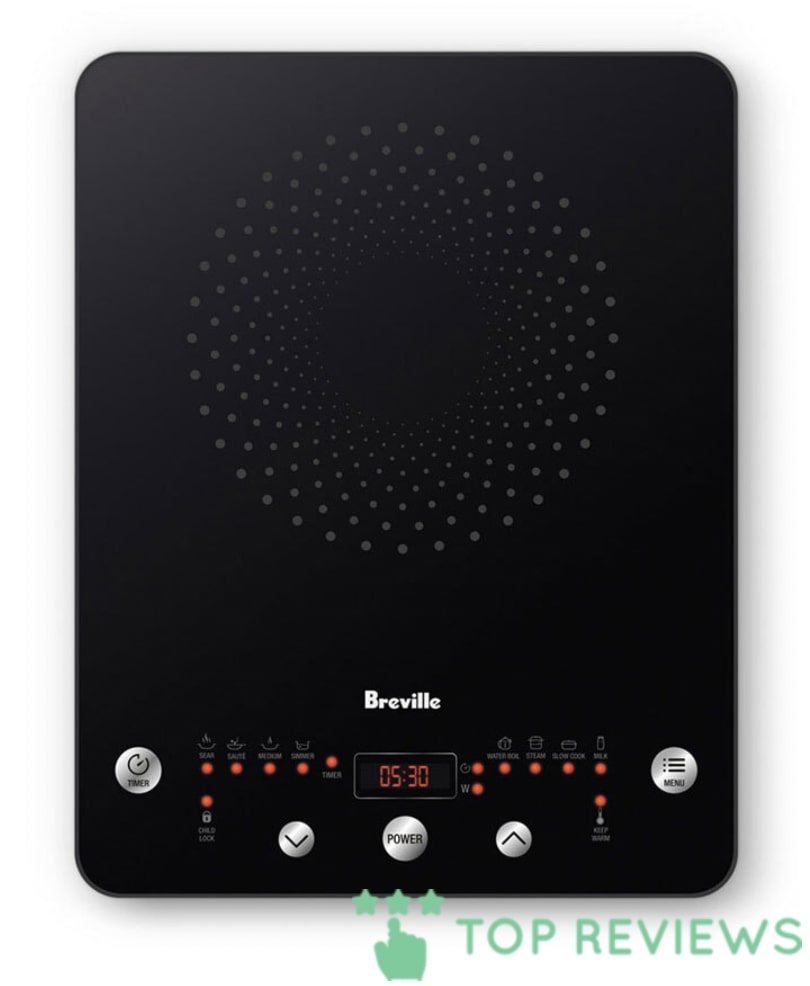 | | |
| --- | --- |
| Best for | Portable induction cooktop |
| Size | 37.2 x 29 x 4.5 cm (W x D x H) |
| No. of cooking zones | 1 |
| Control | Electronic |
| Power rating | 2100 W |
| Price | $176.36 |
If you need to heat food on your camping trip or overnight stay, you should bring the Breville 'The Quick Cook' Portable Induction Cooktop with you.
The portable cooktop measures just 37.2 cm across and has one cooking zone.
You'll find simple buttons and red LED indicator lights to help you choose the cooking type you prefer, like sear, simmer, boil, saute, steam, slow cook, milk, or medium.
Features that come with this cooktop include a timer, child lock, and keep warm function. It is a small, powerful product with an easy-to-clean ceramic glass surface.
As you can see, it has all the makings of a great portable induction cooker with a great budget price!
Pros
Portable induction hob
Energy-efficient LED display
Child-safety lock
Affordable
Cons
Only one cooking zone
Vintage buttons
Customer Reviews
According to customers, this cooker works just as advertised. It heats up quickly and is easy to use and store.
Check out one customer's review on eBay AU:
"Having not had induction before this takes a little getting used to as it heats very quickly, but when the operator gets the hang of it it is a very good unit. Just keep the temp low to start with and work up :)"
Furthermore, here's a feedback from another owner:
"This is a great hot plate. Easy to use. When not in use it is very light to pack away ie in our situation with limited space in a granny flat, it is stored on top of the fridge with a tea towel over it."
3) Fisher & Paykel 60 cm Induction Cooktop (CI604DTB4)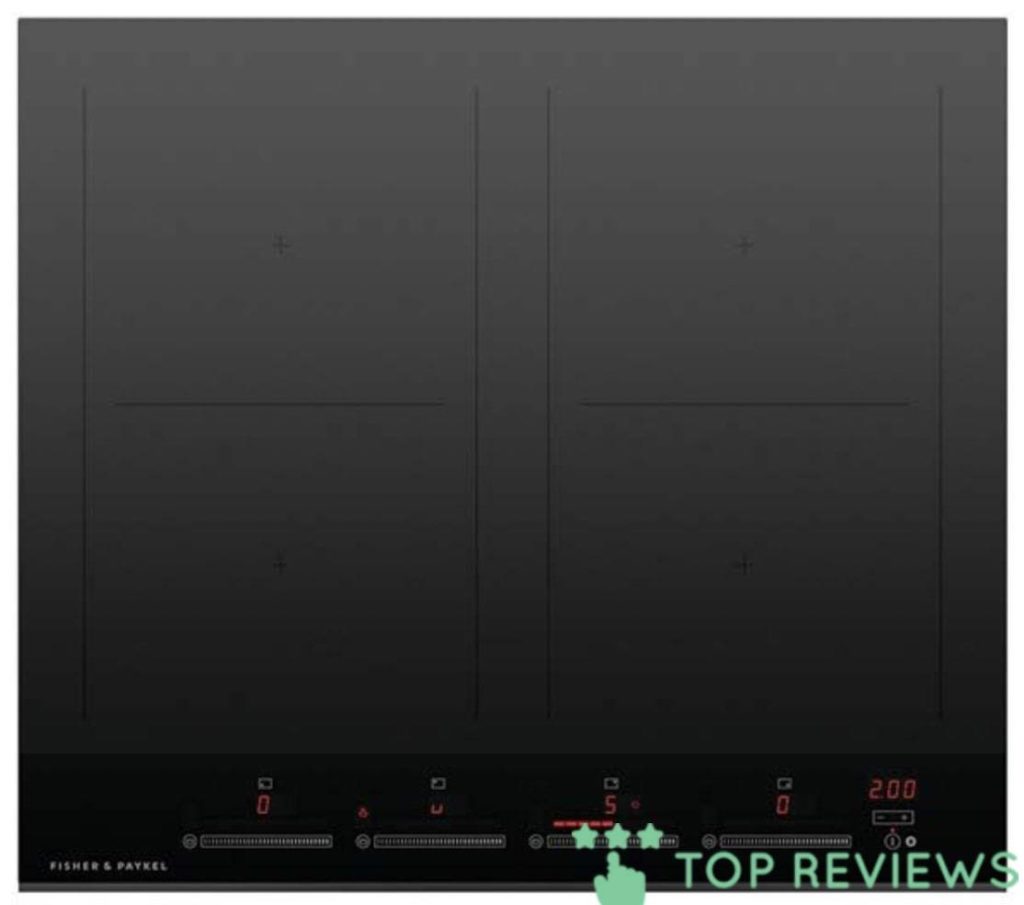 Best for
Smart performance and safety features
Size
60 x  53 x 5.4 cm (W x D x H)
No. of cooking zones
4
Control
Soft-touch and touch and slide
Power rating
Left front zone: 2100 W
Left rear zone: 2100 W
Right front zone: 2100 W
Right rear zone: 2100 W
PowerBoost: up to 3700 W
Price
$2,229
The Fisher & Paykel 60 cm Induction Cooktop epitomises induction cooking at its best.
With a sensor that only starts to cook upon recognising the cookware above it, the hob let's you save more energy at home compared to using gas and electric cooktops.
Once you select your desired heat level, the appliance starts without delay. It's also safer given the handy features of spillage auto-off, safety timeout, and key lock.
But the standout feature here is the SmartZone, which lets you pair two cooking zones into one. Yes, you can use 2 SmartZones simultaneously to cook your favourite dishes.
Also, it looks pretty good on a counter with its attractive matte black design profile, coupled with subtle black glass and red numbers.
Pros
Bridgeable cooking zones
Simple and intuitive controls
Instant heat response
Broad range of features
Cons
4) Midea 59 cm 4-Zone Induction Cooktop (MC-IF7251J1-A)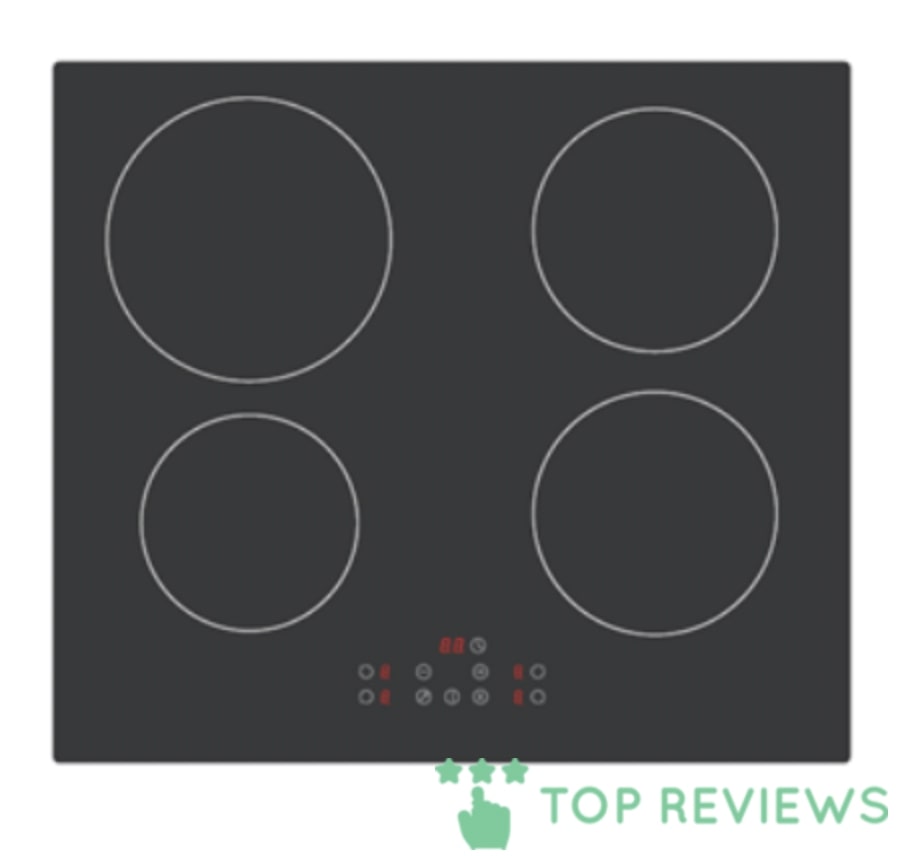 Best for
Budget 4-burner induction cooker
Size
59 x 52 x 6.2 cm (W x D x H)
No. of cooking zones
4
Control
Electronic
Zone size/power rating
Left Front Zone  
16 cm; 1300/1500 W (booster)  
Left Rear Zone  
21 cm; 2300/2600 W (booster)  
Right Rear Zone  
18cm; 1800/2000 W(booster)  
Right Front Zone  
18 cm; 1800/2000 W(booster)
Price
$399
For an induction cooker that won't need you to break the bank, you might want to consider Midea's 59 cm 4-burner induction cooktop.
This simple hob features 9-stage power settings, a 99-minute timer, a child-safety lock, and an automatic safety switch-off for peace of mind.
If you need to sear meat or lamb chops, just turn on the PowerBoost for faster cooking time. There is maximum power for each zone, as indicated in the table above.
With the Midea 59 cm induction cooktop, you will have an efficient, safe, and fun cooking experience to prepare food for yourself and your family!
Pros
Affordable
9-stage power settings
Automatic safety switch-off
Child-safety lock
Cons
Confusing zone sizes and power ratings
5) Electrolux 60 cm Induction Cooktop (EHI645BD)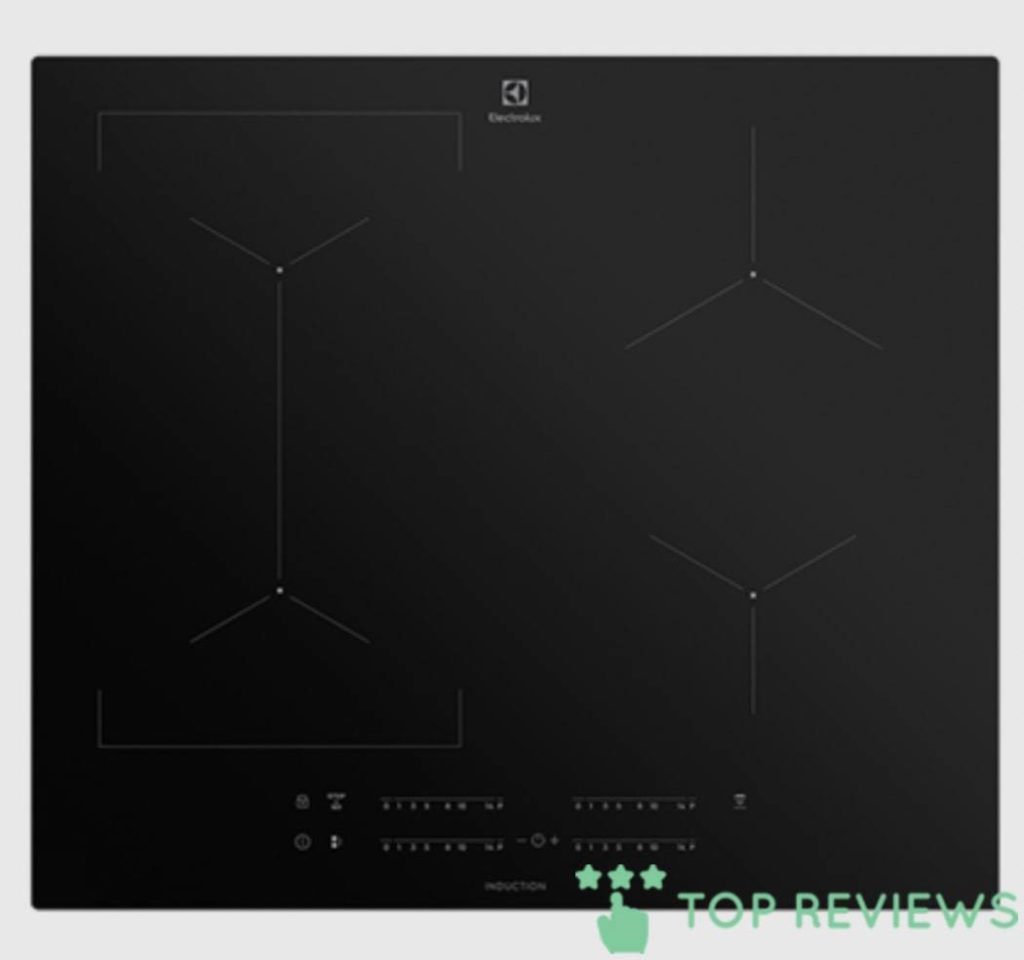 Best for
Roasted or grilled food
Size
59 x 52 x 5.5  cm (W x D x H)
No. of cooking zones
4
Control
Touch and slide
Zone size/power rating
Left Front Zone  
2300/3200 W (booster)  
Left Rear Zone  
2300 W
Price
$2,689
Have to serve hot and delicious food for a dinner party? You need a cooktop that's up to the task—and the Electrolux Induction Cooktop 60 cm is it.
Its key feature is the FlexZone, which lets you bridge cooking zones for large grill plates or pots. Both the timer and temperature of the FlexZone can be adjusted.
Did someone interrupt you while you were cooking? With the Stop and Go function, you can put the food in keep warm mode and pick up later where you've left off.
The hob also features Hob2Hood Technology, wherein the rangehood (sold separately) turns on as you cook on the hob as well as sets the most suitable fan speed for that.
It has other features available like timer, auto-warm, and pot detector – nothing earth-shaking. However, it still fits into our list of the best induction cooktops in NZ thanks to overall performance!
Pros
Flexible induction cooker
Seamless control panel
Stop and Go function
Easy to clean
Cons
Expensive
Not a lot of features for the price
6) BRANDT Induction Cooktop 77cm (BPI6449BL)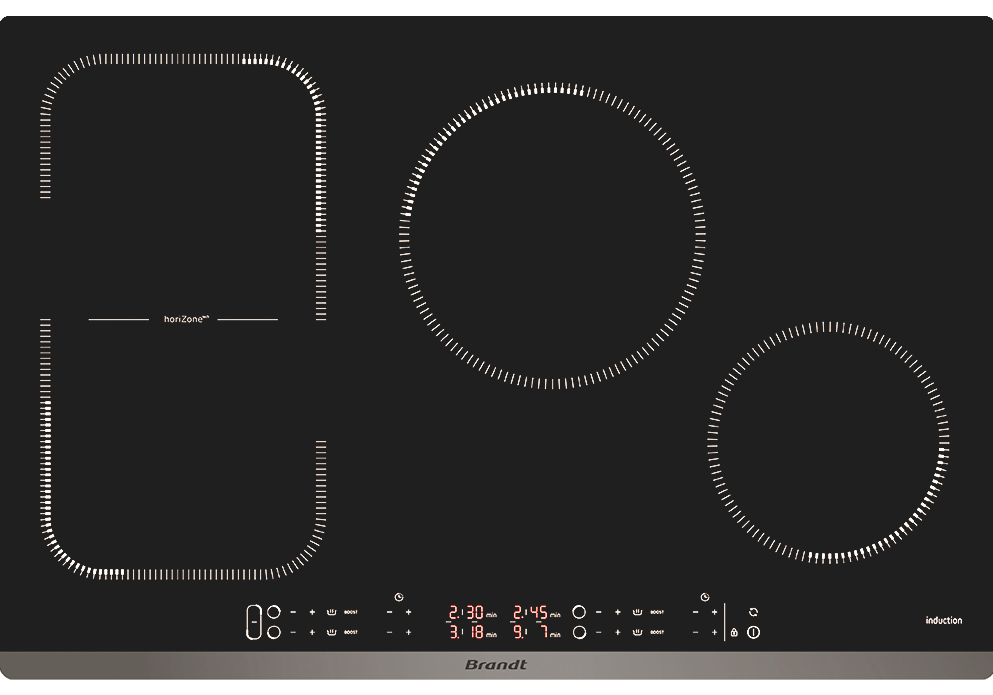 Best For
Providing services to many industries
Size
770mm w x 510mm d x 4mm h
No. of cooking zones
4
Control
Monday – Friday, 9:00 AM to 6:00 PM
Power rating
MAXI POWER FOR HEATER N°1 (W) 4000
MAXI POWER FOR HEATER N°2 (W) 3100
MAXI POWER FOR HEATER N°3 (W) 2800
Price
$1,999.00
If you're looking for a fireless stove that can handle many pots at the same time with the highest quality, then the BRANDT Induction Cooktop might be what you're looking for.
With its full length of 77cm, 4 cooking zones with horizon and boost functions, It has max power that reaches 4000 and even a timer for each zone. The most important part about this product is that it has all of Brandt's 10 safety features, which include a Residual heat indicator, anti overflow, auto stop, child lock and more!
This induction cooker also doesn't have a plug so it isn't portable, and instead, requires electrical installations. It is the perfect electric stove for apartments with residents who has a love for cooking.
Pros
HoriZonetech zoneless cooking
Touch-sensitive controls
Cooking memorisation
Child Lock
Cons
FAQS about the Top Induction Cooktops in NZ
---
And that's all for the top induction cooktops in NZ. We bet you'll enjoy a lot of good food by using them to cook different recipes.
Any questions or thoughts about this list? If you have one, kindly send us a message and we'll get back to you as soon as we can.
Also, if you need a kitchen cabinet, you can read about the best kitchen cabinet shops in Auckland. They can custom-make a cabinet for you and fit your new induction cooker too!