The 6 Best Insurance Brokers in Hamilton
It isn't easy choosing an insurance policy, especially when it's your first time to do so. It's best to hire an insurance broker to guide you through the ins and outs of the process.
Finding the best insurance brokers in Hamilton is no easy task, so we've done the research to help you out! Our top picks were based primarily on the brokers' reputations' among their clients and the products that they offer.
If you're interested in learning more, let's talk about expenses first. You'd be surprised how much a broker is going to cost you.
How much do insurance brokers cost in Hamilton?
There are many reasons you should hire an insurance broker. However, the best part is that they don't cost anything at all!
Insurance brokers receive commissions after a client signs a policy, which is actually paid by the insurance company. The percentages brokers receive can vary greatly, depending on the insurer and the insurance policy that they sell.
Most commissions earned from personal insurance (life, home, health, etc.) usually range from 2% – 8%. So for the sake of example, a $1 million policy can earn a broker around $20,000 to $80,000.
Moreover, brokers also earn a commission on premiums with a rate that can range from zero to 8%. So if your monthly premium is $800, your broker can earn as much as $64 each month or around $768 per year.
However, for commercial, domestic (home and property) or business insurance, brokers stand to gain a higher percentage, which can be as high as 25%. This will largely depend on the industry of the client or the policy they acquire though.
Below is an example of commission percentages that brokers can earn from business and domestic insurance:
| | |
| --- | --- |
| INSURANCE | COMMISSION PERCENTAGE |
| Marine Industry | 15 – 21% |
| Commercial Vehicles | 12 – 15% |
| Liability | 0 – 25% |
| Construction | 10 – 24% |
| Natural Disasters | 7 – 10% |
| Home and Contents | 22 – 24% |
The Best Insurance Brokers in Hamilton
Now that we know you'll spend nothing for their services, we can now take a look at our list of the best insurance brokers in Hamilton.
1. LifeCovered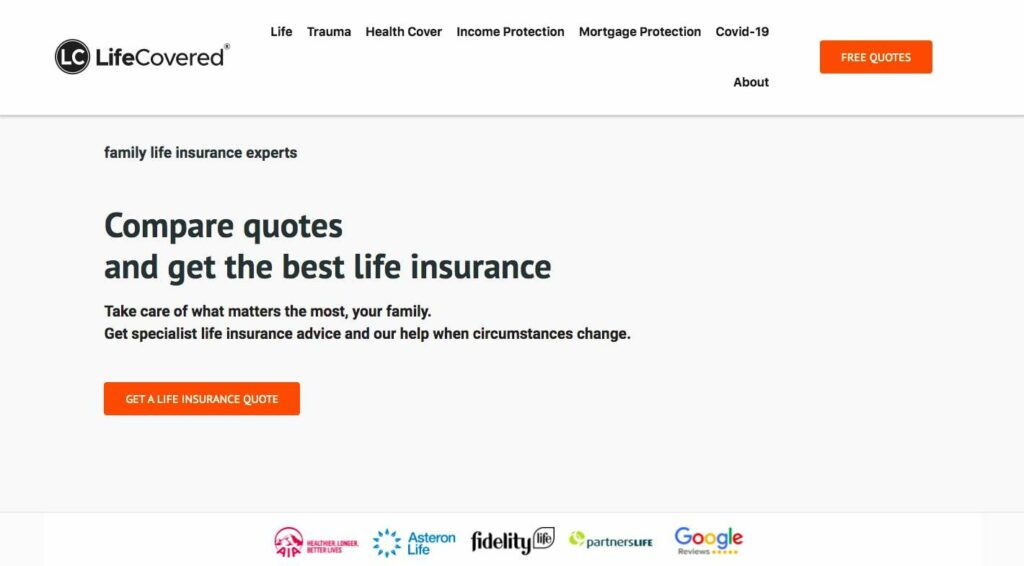 SERVICES
Life, Trauma, Health Cover, Income Protection, Mortgage Protection, Covid-19
WEBSITE
https://www.lifecovered.nz/
ADDRESS
10 Bryce Street Hamilton Central, Hamilton 3204
CONTACT DETAILS
Toll-Free: 0800-259-925
Phone: (09) 869-8322
Fax: (09) 353-1801
Email:

[email protected]

OPERATING HOURS
Monday to Thursday: 9:00am – 7:00pm
Friday: 9:00am – 5:00pm
Saturday: 9:00am – 12:00pm
Willi Olsen is a registered life insurance broker who started LifeCovered in 2017. He has a financial background in banking and aims to share with clients his strategies for financial planning.
Although he only holds a Transitional License granted by the Financial Markets Authority, Willi Olsen is currently studying for a Graduate Diploma in Business Studies and Personal Financial Planning to become a Certified Financial Planner (CFPCM).
LifeCovered, just like any insurance brokerage, offers several options for you to protect your finances and your family. One reason to consider them an option is that they only collaborate with insurers that have a credit rating of A- or higher.
They offer policies from some of the most-recognized companies in New Zealand such as AIA, Asteron Life, Fidelity Life, and Partners Life. They also offer a range of products that cover almost every basic need including trauma, health cover, income protection, mortgage protection, and life insurance.
LifeCovered offers free quotations regardless of what product you're interested in – all you have to do is fill out a short questionnaire online with a few basic questions. If you already have an existing life insurance policy, LifeCovered can do an initial free assessment of it as well.
We like their life insurance products because they consist of tax-free one-off payments and offer global coverage. Your policy will also automatically upgrade should the companies improve their packages.
However, do take note that self-inflicted injuries, suicide, and hazardous activities are not covered in their products. Moreover, non-payment of premiums isn't covered in the event of unforeseen circumstances.
Nevertheless, their life insurance products offer terminal illness benefits and critical illness cover, which offers protection for you and your family. You can also increase your sum assured if "special events" occur such as a promotion at work or having a child.
If you're looking for comprehensive life insurance, LifeCovered is an option worth considering. They have multiple benefits and offer automatic upgrades, making them one of our top picks for insurance brokers in New Zealand.
Only offers products from companies with high credit rating
Specializes in life insurance
Has mobile app to easily manage account
Only partners with companies that have A- or more financial ratings
Founder is not yet a Certified Financial Planner 
Doesn't offer business insurance
Customer Reviews
Highly recommend
"I am very pleased to write this short review about LifeCovered and in partiuclar Willi Olsen…
What Willi did brilliantly and succinctly was help me understand all the facts so i could make an informed decision. There was no charge for Willi's consultation which lasted 30-40 minutes…I highly recommend Willi's service to anyone who needs help with Life insurance or clarification about life insurance they have. Its worth calling Willi to make sure you are paying the correct premiums and that you are getting the best deal. Thank you, Willi. Fantastic work." – Mark Stone
Thorough, helpful, knowledgable and efficient
"I reached out to LifeCovered and Adel could not have been more thorough, helpful, knowledgable and efficient! She took us through everything in detail and we had our life and trauma cover sorted in one week and for the first time we actually fully understood our cover, thanks to Adel. The personal approach that Adel took was great and she really understood what was important to us and what we wanted to achieve in our budget and she gave us excellent advice to get what we needed! Could not recommend this company more highly!" – Melissa Platt
2. Waikato Insurance Brokers Life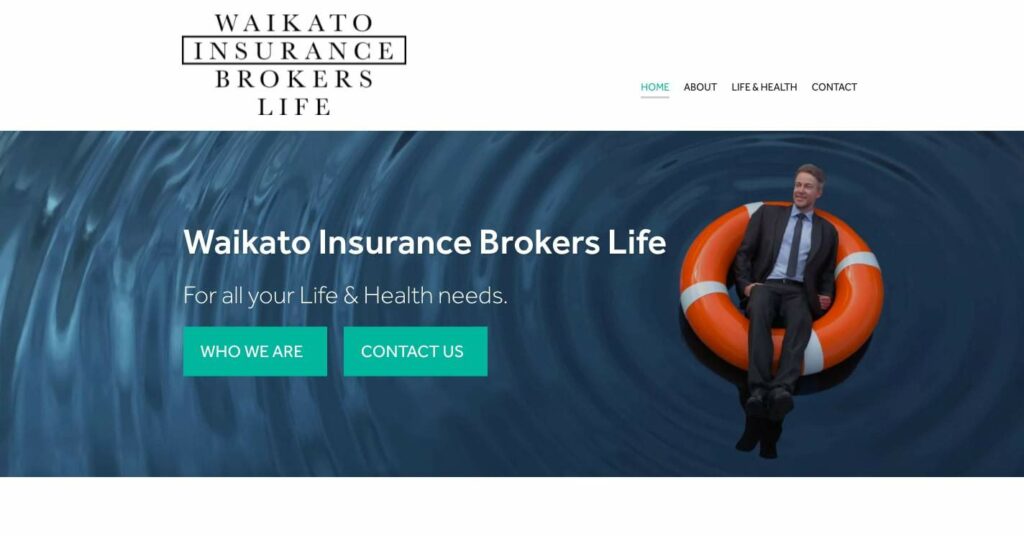 SERVICES
Life, Disability Income Protection, Trauma, Total & Permanent Disability, Medical & Health Cover
WEBSITE
https://www.wiblife.co.nz/
ADDRESS
27 Harwood Street, Hamilton Central, Hamilton 3204, New Zealand
CONTACT DETAILS
Phone: (027) 585-8164
Email:

[email protected]

;

[email protected]

OPERATING HOURS
Monday to Friday: 8:30am – 5:00pm
John Higgins, the founder of Waikato Insurance Brokers, has over four decades' worth of experience in insurance. So if an experienced life insurance broker is what you're looking for, suffice it to say, you may have found one.
Waikato Insurance Brokers offers insurance products that are made to specifically match their clients, whether it's for an individual, families, professionals, or businesses. They typically provide cover for disability, income protection, trauma, medical, and health.
They primarily collaborate with only acclaimed insurance companies to ensure the best policies for their clients. And while the options may be few, these include giants such as Partners Life, AIA NZ, Asteron, Fidelity Life, Cigna, and NIB.
Although Waikato Insurance Brokers are located in Hamilton, they can provide their services all over New Zealand. As members of the Steadfast Group broker network, they can tap into a wide network of collective knowledge.
When it comes to your personal insurance needs, they provide a range of life and health options. Whether it's security for when a spouse or partner passes away or financial assistance to cover surgical costs, Waikato Insurance Brokers has it covered.
Even though they're a small company, they provide insurance options for businesses as well. However, their specialties are mostly on protection against financial loss if a partner or key person passes away or becomes incapacitated due to illness.
In short, if you're looking for an experienced broker to find you the best life or health insurance, Waikato Insurance Brokers should be on your list. They work with reputable companies and can find you the policy that you need.
Experienced broker can help explain policies to you
Part of the  Steadfast Group broker network
Offers comprehensive life and health insurance
Only offers life and health insurance
Only works with 8 insurance companies
Customer Reviews
Highly recommend!
"Awesome Insurance team. Really good to deal with. Highly recommend!" – J Everson
Great people to work with
"Great people to work with" – Peter Neustroski
3. Ruys & Co Insurance Ltd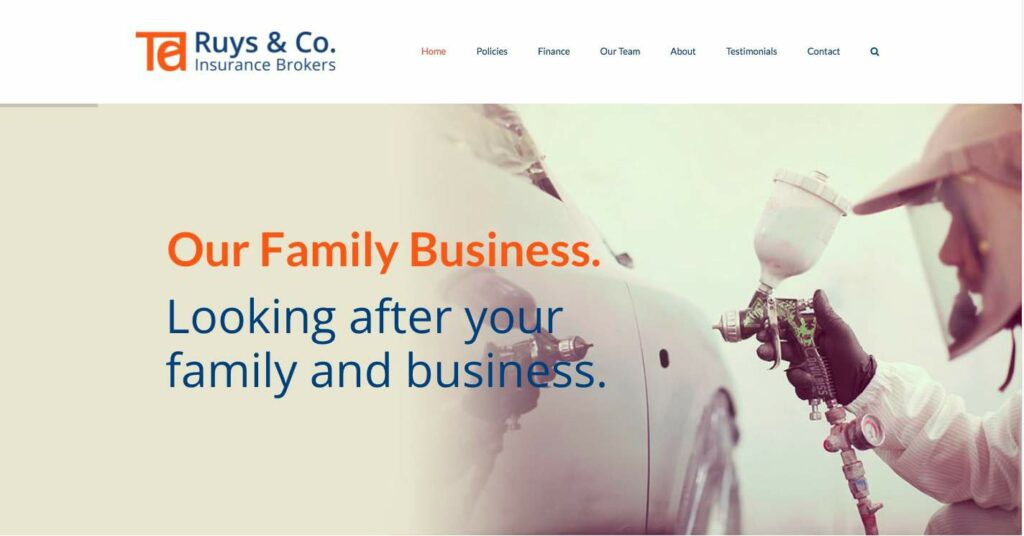 | | |
| --- | --- |
| SERVICES | Commercial, Rural, Domestic, Travel, Motor, Marine, Life & Health |
| WEBSITE | https://www.ruys.co.nz/ |
| ADDRESS | 1138 Victoria Street, Whitiora, Hamilton 3200, New Zealand |
| CONTACT DETAILS | Phone: (07) 839-0515; (07) 839-0606 |
| OPERATING HOURS | Monday to Friday: 9:00am – 5:00pm |
Ruys & Co Ltd was established by Ted & Helen Ruys in 1980. Upon their retirement, the company was then purchased by their daughter Sandy and her husband in 2008.
The company is currently a member of the NZbrokers Group, which is composed of like-minded local insurance brokers offering their services. As a collective, they serve over 120,000 clients and manage a premium of $440 million.
As part of the NZbrokers Group, Ruys & Co Ltd. has access to exclusive insurance products and benefits that they can offer their clients. These include risk assessment solutions, competitive pricing for premiums or cover for businesses or families.
One of their most comprehensive products is their commercial insurance, which has a wide array of options to choose from. They offer business interruption insurance that can give you a blanket of safety for any losses that can occur due to unforeseen events to protect your profits.
They also have policies that can cover accidental damage to company vehicles such as truck fleets, taxis, or trailers. They likewise offer cover for liabilities and special insurance to protect your marine cargo and shipments.
Although they may have a special focus on businesses, Ruys & Co caters to individuals as well. They offer comprehensive coverage for life, health, travel, and domestic insurance.
However, take note that their life & health products are offered in collaboration with Lime Group, which is made up of local insurance experts. So if you don't deal with Ruys & Co, you may be speaking to one of Lime Group's brokers instead.
If you're worried about large one-off payments for their insurance products, Ruys & Co conveniently offers a flexible premium payment plan through Hunter Premium Funding. They offer monthly payment options that are lighter on your budget, but you'll need to be assessed beforehand in order to qualify.
Wide assortment of insurance products for businesses
Can provide cover for cargo and company fleets
Has access to exclusive products as members of NZbrokers Group
Monthly payment options for premiums
Caters more toward commercial clients
Teams up with a third party brokerage for life and health insurance 
Customer Reviews
Efficient, professional, honest
"My wife and I have been clients of E. Ruys and Co Ltd since the purchase of our business in 2008. We have had several claims for various items over the past 8 years, and to date have always found the team efficient, professional, honest and in general a pleasure to deal with. I would have no hesitation in recommending Trevor and his team to any prospective client." – Barry Marshall, Aitkenhead Distributors Ltd
Extremely professional
"Tyrepro Hamilton Ltd has been using Ruys & Co as our Insurance Brokers for the last 20 years. During this time we have always found them to be extremely professional and they have sorted any problems and claims we have had promptly and efficiently…Trevor and staff are always available to answer any questions we may have and we certainly would have no hesitation in recommending Trevor and Sandy of Ruys & Co for all your insurance needs." – Julie & Paul Atkin, Tyrepro Hamilton Ltd
4. Bridges Insurance Services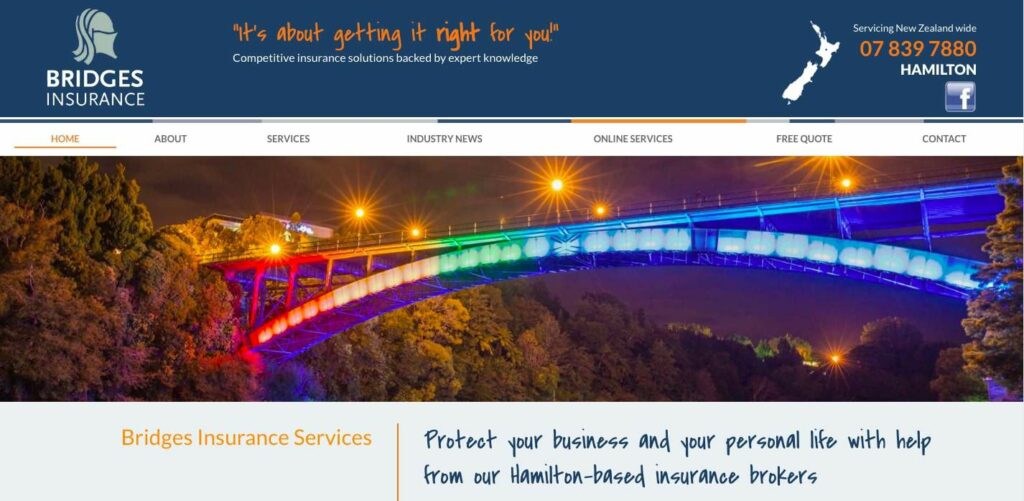 SERVICES
Business Insurance, House, Contents & Car Insurance, Fleet & Heavy Motor Insurance, Civil & Construction Insurance, Liability & Professional Indemnity Insurance, Farm Insurance, Trades Insurance
WEBSITE
https://www.bridges.co.nz/
ADDRESS
11 Clifton Road, Hamilton Central, Hamilton 3204, New Zealand
CONTACT DETAILS
Phone: (07) 839-7880
Email:

[email protected]

OPERATING HOURS
Monday to Friday: 8:00am – 5:00pm
Bridges Insurance Services was established over three decades ago, providing specialized insurance solutions in Waikato and the rest of New Zealand. Each insurance product and solution they offer is tailor-made for the needs of each client.
Whether you're searching for business insurance for your restaurant or a specialized solution for your farm, Bridges Insurance Services has you covered. They market themselves as a non-corporate brokerage firm that can provide for the needs of both individuals and large corporations.
Some of their key insurance products include protection from cyber attacks, which most brokers don't offer as part of their business packages. Going with Bridges Insurance Services gives you this added benefit to protect your business from phishing, viruses, loss of data, electronic theft, and more.
Other business products they offer are key person insurance, cover for liabilities, fleet insurance, and heavy vehicle insurance, among others. They can help you navigate the complex world of business insurance to ensure you get the coverage that you need.
Moreover, as a member of NZbrokers Management Limited, Bridges Insurance Services has access to special services, products, and overseas-based options as well. This can provide you with an advantage in IT, education, training, technical insurance products, and claims support as well.
They are partnered with 28 key insurers that mostly have a financial rating of A+, while some have BBB ratings. If you're not satisfied with any of the policies offered, Bridges Insurance Services can reach out to other insurers as well.
You can easily arrange for an online quotation via a webform but you can also set a meeting with one of their brokers. They offer free quotations, whether online or in-person, with two brokers who are fluent in Mandarin for your convenience should you need it.
Offers insurance against cyber attacks
Member of NZbrokers Management Limited
Partnered with over 28 insurance companies
Some insurance partners are rated BBB
Caters more toward businesses rather than individuals
Customer Reviews
Will definitely recommend
"It's excellent to have [all our insurance] in one place. It's been a pleasure, and very easy, to work with you throughout this process of getting some security in place! We will definitely recommend you." – Lisa Clausen, Facilitator & Changeologist, Humanly
Professionalism, expertise and experience
"I have a number of properties insured with Bridges Insurance, ranging from my own home through to multi-tenancy blocks . We also have business insurance with Bridges. We have been genuinely surprised at the value of the policies, along with the extensive cover. The professionalism, expertise and experience is greatly appreciated…I can concentrate on running my business secure in the knowledge that my insurance requirements are up to date, relevant and value for money." – David Kneebone, General Manager, Lodge Rentals Hamilton
5. Aon New Zealand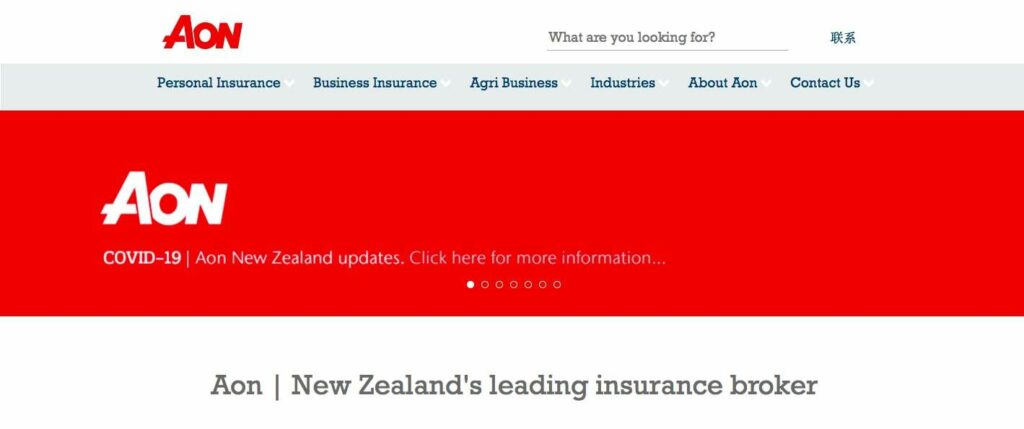 SERVICES
Boat Insurance Car Insurance Home and Contents Aon KiwiSaver Scheme Life and Health Insurance Travel Insurance, Corporate Insurance SME Business Insurance, AgriBusiness, Industries
WEBSITE
https://www.aon.co.nz/
ADDRESS
Aon – HamiltonAon House, Cnr Tristram & Thackeray Streets, Hamilton 3204
Aon – Hamilton – Agri9 Innovation Way, Horotiu, Hamilton, 3288
CONTACT DETAILS
Aon – Hamilton
Phone: (07) 837-7100
Email:

[email protected]



Aon – Hamilton – Agri
Email:

[email protected]


Phone: (07) 834-6260
OPERATING HOURS
Monday – Thursday: 8:30am – 5:00pm
Friday: 8:30am – 4:00pm
Aon New Zealand is a part of the Aon Corporation, which has its headquarters based in London. This company's brokers specialize in offering insurance products for individuals, businesses, and rural industries.
With a vast network of branches in over 120 countries, Aon has close to 70 offices in New Zealand alone. If you're looking for a broker with an office you can easily access across the country, then Aon is worth considering.
We like Aon because of their wide array of services, offering almost everything that can cover an individual's needs such as life, health, and travel insurance. They also offer Aon Kiwi Saver Scheme, which is essentially a way for you to invest your money through their network of fund managers.
However, they are better known for their specialized insurance products for specific industries.
AonAgri offers several insurance products to protect agri-businesses such as apiculture, dairy, horticulture, crops, livestock, and more. They can provide cover for your property, assets, business interruptions, farm valuations, and liabilities.
Now, if you own a farm or deal with livestock, Aon is an ideal choice. You can easily receive quotations and purchase insurance online for your livestock.
Aon also provides cover for a wide array of large businesses and industries such as aviation, entertainment, and construction just to name a few. Aon can present risk assessments along with offering protection for injuries in the workplace as well.
Aon provides policies from over 18 major insurers, negotiating the best deal for your needs. While we expected them to partner up with more insurance companies, Aon shines in the diversity of products they can offer.
However, Aon charges "administrative fees" for their services that cover their expenses and disbursements. This will only come into effect if you decide to either "act on their advice" or continue with one of their insurance policies.
Nevertheless, Aon has brokers that can speak more than one language, so that they can discuss your insurance needs in a language you prefer. Although most of the brokers mostly speak Mandarin, Cantonese, Foo Chow, it can be convenient for those that need it.
Offers products for agri-businesses and rural-based industries
Multiple locations around New Zealand
Has multilingual brokers
Charges administrative fees
Only offers policies from 18 insurers
Expensive premiums
Customer Reviews
Very helpful
"Very helpful, highly recommend this Co, staff are willing to help, & claims fairly assessed, & honoured." – Owen Foster
6. Abbott Insurance Brokers
SERVICES
Business insurance
Personal insurance
Life & health insurance
KiwiSaver & home loans
WEBSITE
https://abbott.co.nz
ADDRESS
Level 2 Abbott House 128 Kilmore Street Christchurch 8013
CONTACT DETAILS
TEL: 03 366 7536
FAX: 03 379 5395
OPERATING HOURS
Monday – Friday, 8:30 AM – 5 PM
Abbot Insurance Brokers made it in this list due to their specialization in risk advice and insurance solutions for business. They are made up of experienced and professional brokers. With the primary goal of protecting their client's position and future financial well-being, they use a tailored insurance program that is compatible with the client's needs and goals.
They provide great service by identifying your risks and the plans to protect you. They do this by aiding you with insurance, managing your renewals, and regularly reviewing your coverage to ensure you have the best policies and competitive premiums.
We find their travel insurance to be incredibly beneficial for people who often move a lot either due to work or their hobbies. Some of the benefits that can be availed through this travel insurance are overseas medical and hospital, cancellation fees & lost deposits, Hijack & kidnap, and accidental death or disability
With everything they have to offer we truly believe that Abbot Insurance Brokers is one of the best insurance brokers in Hamilton. They have great customer support and they are well-known for their customer-tailored insurance plans.
Great customer support
Tailored Plans
Experienced brokers
Customer Reviews
Professional and efficient
"As a client and having had a recent claim. I can honestly say the professionalism and efficiency they provided me was flawless." – Axel Scheffel
Excellent service and communication
"Excellent service and communication- great to deal with, especially when working through claims with your insurer. Would recommend their services to everyone" – Matt Loose
FAQs about Insurance Brokers
---
And we've come to the end of our list for the best insurance brokers in Hamilton! Did you find what you were looking for?
We worked hard to curate this list, but sometimes we miss a few good options. If we've missed an insurance broker you think we should add, please send us a message, and we'll check them out!
Now, if your broker has already found you a policy, you may need a lawyer to review it or for when you file a claim. We've got you covered with a list of the best lawyers in Hamilton to help you out when that time comes.