The 7 Best Insurance Brokers in Wellington
Are you beginning to think about your health and family's financial security? You're in luck because we've got a list of the best insurance brokers in Wellington for you today!
Navigating the world of insurance can be tricky, so we've done the research for you to make the process easier. We based our top choices on the insurance products they offer, their range of services, and what their clients have to say about them.
Don't worry about them adding to your expenses, by the way: insurance brokers won't cost you a single dollar! If you want to know why, read on below.
How much do insurance brokers cost in Wellington?
The best part about choosing an insurance broker is that you don't have to worry about expenses. Technically, you don't have to pay them anything directly for their services.
Insurance brokers earn through commissions paid by the insurance companies, which are usually based on the value of your policy. Brokers can receive two types of commissions, namely an "initial" commission and an "ongoing" commission.
The "initial" or upfront commission is the first payment they'll receive, which is given upon signing a client with a policy. This is usually the largest payout and can be as much as 220% of your first year's premium.
The "ongoing" commission, on the other hand, is an amount they receive based on your commission's annual premium. This usually ranges from 5% to 30% of your policy's premium.
So for example, if you sign a life insurance policy worth $50,000, they can receive as much as $110,000 initial commission. If that same policy has an annual premium of $20,000, your broker can receive a yearly payment of up to $6,000.
Since different insurance products can have different commission rates, we've summarized them for you in the table below.
| INSURANCE PRODUCT | INITIAL COMMISSION | ONGOING COMMISSION |
| --- | --- | --- |
| Personal Life, Trauma, Permanent Disability, and Income Protection | 10% to 220% of the first year's premium | 5% to 30% of the annual premium, paid annually |
| Business Life, Trauma, Permanent Disability, and Income Protection | 10% to 220% of the first year's premium | 5% to 30% of the annual premium, paid annually |
| Health Insurance | 30% to 140% of the annual premium | up to 20% of the annual premium, paid annually |
| Group Insurance products | 20% of the annual premium | up to 20% of the annual premium, paid annually |
The Best Insurance Brokers in Wellington
Now that you know how much your broker earns in terms of commissions, let's take a look at our picks for the top insurance brokers in Wellington.
1. Policywise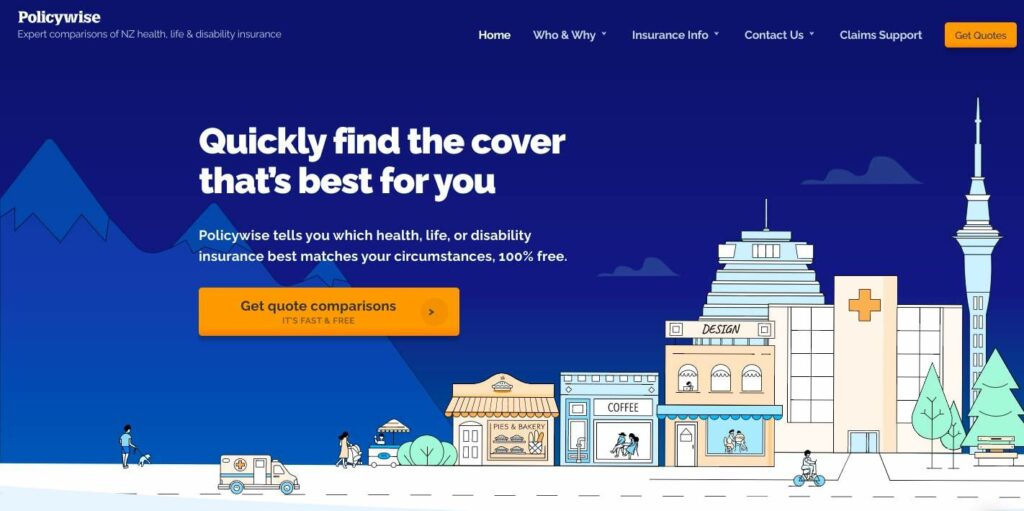 | Test | Info |
| --- | --- |
| SERVICES | Health Insurance, Life Insurance, Trauma Insurance, Income Protection, Total Permanent Disability Cover |
| WEBSITE | https://www.policywise.co.nz/ |
| ADDRESS | Level 1, Tawa, Wellington 5028, New Zealand |
| CONTACT DETAILS | Toll-Free: 0800-109-473 |
| OPERATING HOURS | Monday to Friday: 8:30am - 5:00pm |
Policywise was founded in 2018 by Calum MacLeod to simplify the process of choosing insurance for New Zealanders. The company does this by providing an easy way to compare the policies offered by the top insurers.
Each staff member at Policywise is a licensed financial adviser, meaning that whoever answers the phone can help you out with all your questions and needs. However, because their service is primarily online, you can conveniently get a quote no matter where you are.
Policywise focuses solely on health, life & disability insurance instead of offering you a variety of different products. They've chosen to specialize in only these three categories to provide you with comprehensive and in-depth advice.
They are partnered with AIA, Partners Life, Asteron Life, Fidelity Life, Cigna, Acucro, Nib, and Southern Cross. Although it's a short list, these companies are regarded as the nine most popular insurers in New Zealand.
We like that Policywise offers a 14-day free-look period, which essentially means you can cancel and get a full refund if you don't want to continue your policy. However, "clawing out" of your agreement after this two-week grace period will incur service fees.
As mentioned earlier, Policywise aims to keep it simple, and one way they do this is by providing you with a short printable report with a one-page table of your best options. This report also has explanations of each policy's features in layman's terms.
Moreover, their in-house software will present you with comprehensive comparisons of different insurers on the features you need most in a policy. They'll line up these features side by side so that you can quickly see which policy favors your needs the most.
Now, this comparison report will already have been narrowed down to your best options, with the corresponding premiums as well. With their comparison table, you can quickly focus on only the policies that serve your needs, saving you time and effort.
In short, if you're looking for a broker that can quickly provide you with an easy-to-understand comparison of policies across different insurers, Policywise is a solid choice. Hence, this company makes it to our list of one of the top insurance brokers in Wellington.
14-day free look period
Provides a quick comparison of policies from different insurers
All staff members are licensed financial advisers
Only provides life, health and disability insurance
Only offers policies from nine insurers
Customer Reviews
Considered and impartial
"I recently talked to Calder with a view of changing my existing health insurance policy. I really appreciated his help in guiding me through different products and figuring out what was best for me. His opinion was considered and impartial, allowing me to come to my own decision." – Claire Lefevre
Very understanding and accommodating
"George was fantastic, he listened to my family needs and provided easy to understand options for our health insurance. He was very understanding and accommodating when I had to postpone our chats last minute due to a six month old, and made the whole process really easy. Highly recommend especially for anyone time-poor with kids!" – Justine Glucina
2. Finsol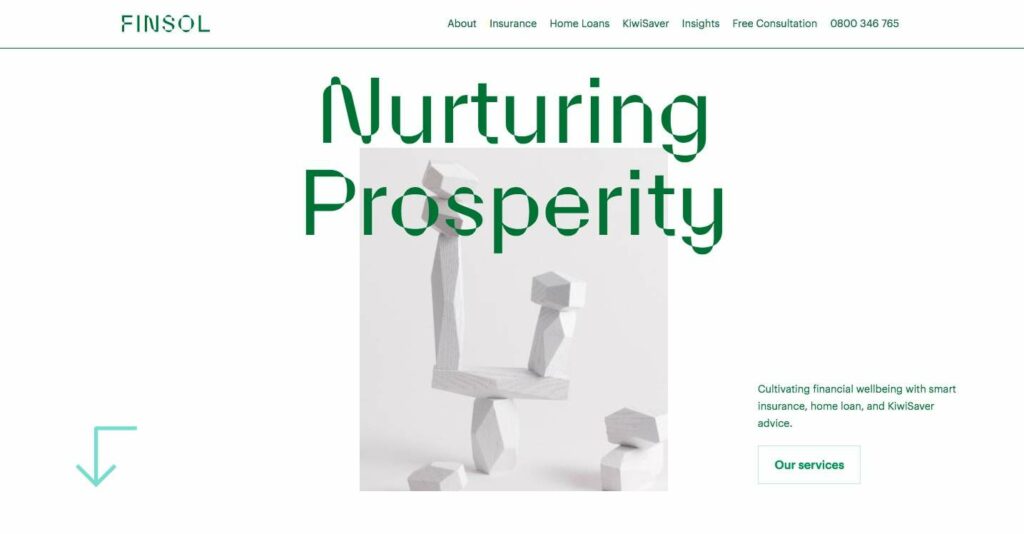 | Test | Info |
| --- | --- |
| SERVICES | Life, Trauma, Income Protection, Disability, Key Person, Shareholder Protection, Business Debt Protection, ACC Coverplus Extra, Home Loans, Booster Kiwisaver |
| WEBSITE | https://www.finsol.co.nz/ |
| ADDRESS | NTT, Tower, Level 22/157 Lambton Quay, Wellington Central 6011 |
| CONTACT DETAILS | Phone: (06) 650-5162 |
| OPERATING HOURS | Open 24 Hours |
Finsol was founded by Gareth Dobson in 2010, a licensed financial adviser with over a decade of experience. He also has a background as a qualified electrician which puts him in a unique position to understand his clients' needs even better.
He has won several NZFSG and industry awards, helping him lead a team that has over four decades' worth of combined experience. Finsol has likewise won multiple awards for its services as a digitally innovative firm.
One way they do this is by providing clients the option of conducting consultations and meetings through online video. They also use various software and tools to facilitate signing the necessary documents right on your phone or tablet.
The main insurers Finsol works with are AIA, Accuro, Asteron Life, Cigna, Fidelity Life, NIB, Partners Life, and Southern Cross. However, they may reach out to other companies beyond this list of providers.
‍While they won't charge any fees with regards to insurance, they may charge for financial advice needed to secure your loans. For this service, they charge a minimum of two hours at $250 per hour.
Nevertheless, Finsol's life insurance packages are quite comprehensive, offering a lump-sum payment for your beneficiaries to cover things such as funeral costs, debt, or to keep a family business running. However, Finsol will also make sure your policy works in tandem with your will to ensure your estate can be distributed properly.
Moreover, what we like best about Finsol is their free trauma cover for your children if you apply for life insurance. The Kids Serious Trauma Cover provides a lump sum of $50,000 if your child is ill to cover medical costs or your time away from work.
Since the founder is a tradesman, Finsol has also included ACC CoverPlus Extra in its services, which provides disability cover for sole traders and business owners. It can cover up to 80% of your lost income due to injuries or illness, and Finsol can guide you through the tedious process of filing claims as well.
Open 24 hours a day, 7 days a week
Can sign all documents without face-to-face meetings
Free trauma cover for kids if you sign life insurance
Charges minimum of $500 for financial advice for loans
Focuses more on personal insurance than business
Customer Reviews
Fantastic
"Pat is truly fantastic. Anytime I have a question he answers it right away. He goes above and beyond to help us out, whether it be driving to us to sign a form, or taking the time to explain the impacts of a certain policy vs another. His number 1 priority is to ensure that I'm happy with the insurance I have, and will loop back to check that it's still suiting my needs.Would recommend Pat to everyone I know." – Brittany Hoare
Everything's easy and well explained
"We came in knowing that we needed life & health insurance, but knowing absolutely nothing about what that actually meant, and Pat has made us feel completely confident and safe the whole way through! Everything's easy and well explained. We feel like we can completely trust his recommendations and never felt forced into something we didn't need. 10/10 would recommend Pat again" – Henry Benn
3. Velocity Financial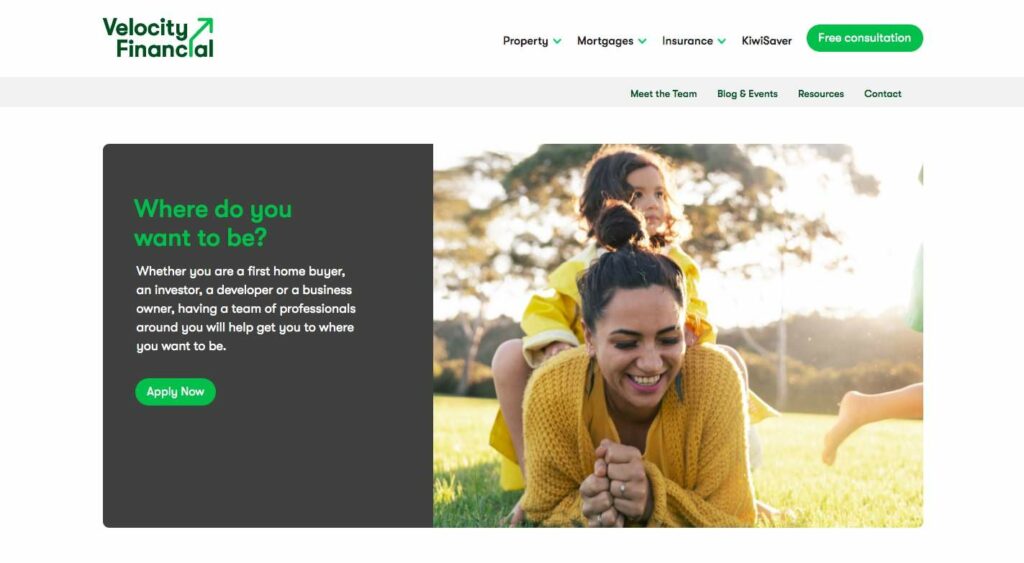 Velocity Financial was founded by Graham Goodisson over two decades ago, initially helping people buy their first homes. With a team of licensed experts, they have expanded their offerings to include various insurance products for both individuals and businesses today.
They offer three tiers of life and health insurance namely "Bare Bones", Medium and Full. The most basic plan only offers a lump sum payout to cover debts and mortgage insurance, while medium adds trauma and health cover.
Their Full cover is comprehensive, adding payouts to cover funeral expenses and living costs of surviving dependents, which can be given as a lump sum or monthly payments. It also includes disability, trauma, income protection, and health insurance with diagnostics and testing.
Velocity Financial offers policies from 28 different insurers, which can potentially provide you with more than enough options to choose from. The companies on their list include AIA, Asteron Life, Nib, Partners Life, and Southern Cross, among others.
While service is generally free, if you discontinue your policy within 27 months, they'll charge you for their time at a rate of $200 per hour. However, the maximum that they will charge is $3,000.
Now, if you're looking to insure your home, assets, business, or need general insurance, this will be provided by the Caveo team operated by Velocity Financial. So whether you're looking to protect your home from damage or need to ensure your livelihood, they've got it covered.
Velocity Financial also offers businesses their Employee Momentum Program, which provides a comprehensive and customized insurance package for employers to offer their employees. It provides guaranteed acceptance to an insurance plan with full cover and employees have the option to add their family or partners as well.
Comprehensive full-coverage life insurance
Partnered with 28 insurers
Employee Momentum Program
May charge service fees for cancellations
May charge fees for large time consuming policies for corporations
Customer Reviews
Incredible responsive
"Simon and the team at Velocity are outstanding and amazing, incredible responsive, literally could not have achieved what we needed to without Simon's guidance and patience. Thank you very much." – Dennis & Julia
No hesitation recommending
"Brendon and the team at Velocity are amasing, incredible responsive in these tough times and also kept me informed on how the process is progressing. No hesitation recommending Velocity Financial." – Ben Duflou
4. Capital Advice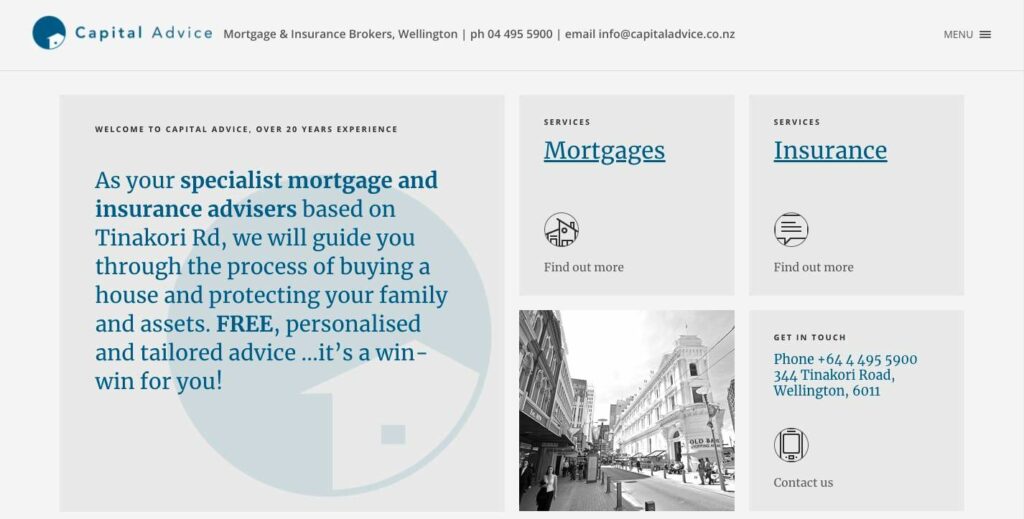 Test
Info
SERVICES
Personal Insurance, Business Risk Insurance, General Insurance, First Home Loans, Property Investing, Mortgage Review
WEBSITE
https://capitaladvice.co.nz/
ADDRESS
344 Tinakori Road, Thorndon, Wellington 6011
CONTACT DETAILS
Phone: (04) 495-5900

Email: [email protected]

OPERATING HOURS
Monday to Sunday: 8:00am - 5:00pm
Capital Advice has over 75 years of experience in handling mortgages and insurance. This small team has established solid relationships with various lenders and insurers to provide you with policy options that can cater to your needs.
Now, this small team of four is composed mostly of mortgage advisers, so if you're looking for insurance, you'll probably be dealing with Tracey Verrenkamp. Her work ethic centers on the premise of "recommending" insurance plans and advice as opposed to selling them.
As the resident Risk Insurance Adviser at Capital, she can advise you on life, health, mortgage, income protection, disability, and trauma insurance. These cover the basics of what any individual may need, whether it's to look out for their family's health or their financial security.
Capital Advice also offers several business insurance products namely shareholder protection, key person cover, business continuation, and group insurance. Tracey Verrenkamp can advise and assist you in developing a strategy to protect your business so that you're aptly prepared for any unforeseen circumstances.
Kit Jackson is another adviser at Capital Advice who will help you out on other general business insurance needs and protection for your home and vehicle. He is also the current owner and mortgage adviser at Capital Advice, and has over 18 years of experience in finance.
Now, as they don't deal with anyone that doesn't pay them a commission, they have never charged a client for their services.
However, they will not do so without full disclosure and your approval. This way, you can decide if you want to go with that policy or seek other options.
We definitely commend them for their goal of having an ongoing relationship with their clients and providing on-going support with policy servicing and claims.
Open daily, even on weekends
Specializes in mortgage and risk insurance
May offer non-commission policies
Only one resident insurance adviser
Customer Reviews
Expert and very efficient service
"I highly recommend using Capital Advice. They have always provided expert and very efficient service. They are proactive and are only too willing to assist in providing the right solution for you. They give helpful advice and guidance. I cannot fault them . They get a big five star rating from me. Thanks Capital Advice you take the stress away and make it easy for your clients." – Stephanus Vluggen
Responsive and highly professional
"I had a great experience with Kit at Capital advice. He was responsive and highly professional and assisted me greatly during a time of huge change for me. I really valued how prompt he was and how he worked hard to get the best deal for me while also answering all my (many!!!) questions. Thanks so much!" – Rebecca Sinclair
5. Aon (Wellington)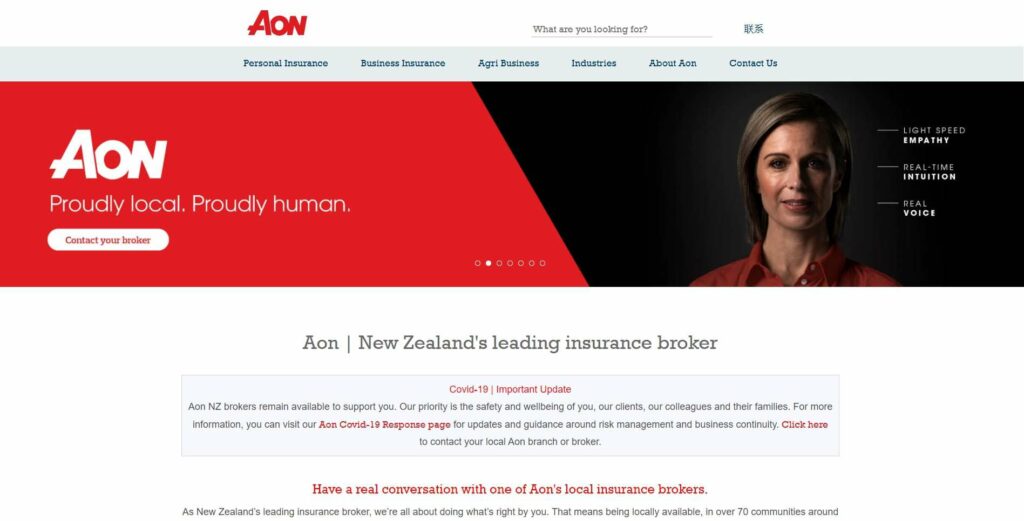 Test
Info
SERVICES
Boat Insurance Car Insurance Home and Contents Aon KiwiSaver Scheme Life and Health Insurance Travel Insurance, Corporate Insurance SME Business Insurance, AgriBusiness, Industries
WEBSITE
https://www.aon.co.nz/
ADDRESS
Level 3/1 Willis Street, Wellington Central, Wellington 6011
CONTACT DETAILS
Phone: (04) 819-4000

Email: [email protected]

OPERATING HOURS
Monday - Thursday: 8:30am - 5:00pm

Friday: 8:30am - 4:00pm
Aon New Zealand operates as a part of the Aon Corporation, which is originally based in the UK. They specialize in offering a variety of "every day" and "non-everyday" insurance products for individuals, businesses, and industries.
They have over 70 branches in New Zealand and a wide network spanning across over 120 countries. They are a great choice if you're looking for a broker that's easily accessible wherever you may be.
One reason to consider Aon is simply due to their vast selection of services that go beyond the usual offer of life, health, and travel insurance products. Moreover, they offer the Aon Kiwi Saver Scheme, which lets you use their fund managers to assist you in investing your money.
But what really makes Aon unique are their specialized insurance products that cater towards agri-businesses and the industry sector.
AonAgri can help local businesses involved in apiculture, dairy, horticulture, crops, and livestock acquire protection for their invaluable contributions to the economy. Under the cover that Aon provides, you can be protected from damage to your property, assets, business interruptions, farm valuations, and liabilities.
Moreover, Aon also offers cover for large businesses like aviation, entertainment, and construction, just to name a few. Aon can provide risk assessments and offer protection to companies against injuries that may befall employees.
Do take note though that Aon charges "administrative fees" for their services to cover their expenses and disbursements. This will automatically come into effect if you decide to "act on their advice" or continue with one of their insurance policies.
Aon can present policies from over 18 major insurers, with a diverse lineup of products that have been handpicked for the New Zealand landscape. They'll act as an intermediary between you and the insurers, negotiating the best deal for your needs.
Offers products for agri-businesses 
70 locations around New Zealand
Has multilingual brokers
Can purchase livestock insurance online
Charges administrative fees
Expensive premiums
Customer Reviews
Very helpful
"Very helpful, highly recommend this Co, staff are willing to help, & claims fairly assessed, & honoured." – Owen Foster
6. Dixon Financials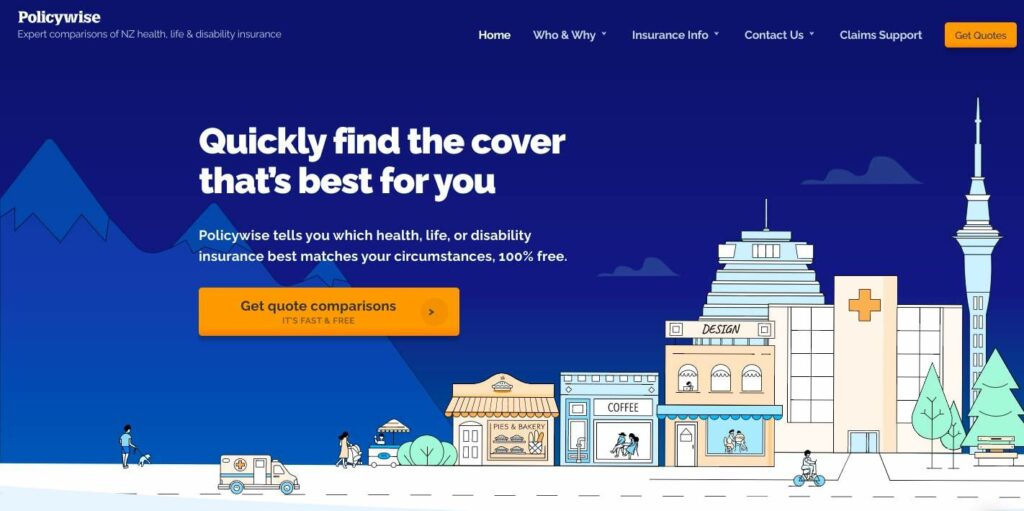 Dixon Financials is an expert when it comes to handling various financial situations for individuals to make them easily comprehensible. Founded and operated by Jonny Dixon, they have since then offered services such as insurances and mortgages among others.
Working with various insurance companies, they can effectively serve as the individuals who bridge your needs with the most appropriate company for each client.
Not only do they help clients connect with the company best for them but also guide them through the whole process of planning, reconstructing, and executing their finances.
There might be instances for limitations when it comes to personnel since it is operated by only one individual which could call for some hindrances in scheduling and slots.
Overall, clients have had a pleasant experience with them since they are able to effectively break down the whole process. They enable clients to have full control over their finances whilst receiving timely guidance.
Accommodates various types of insurances
Highly certified professionals
Effective and timely advice
Operating hours unavailable
Customer Reviews
Here are some reviews from their clients:
"Jonny was great to deal with. He makes everything easy and simple while being transparent and reliable, a team player interested in the best for his clients." – Tarren Richardson
"Jonny makes insurance as interesting and painless as it can be. He explains everything so what I know what I'm covered for and I know I can change it when things change in my life. I feel like I am in control of the process." – Ryan K
7. Andrewes Risk Management Ltd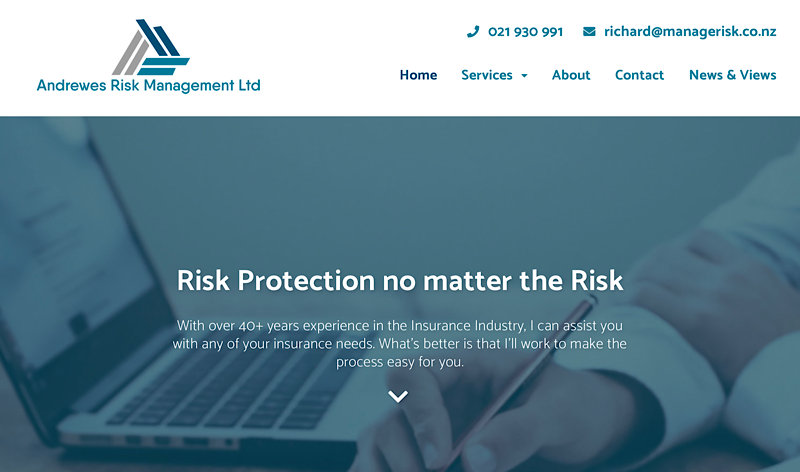 Richard Andrewes, the founder of Andrewes Risk Management Ltd, is no stranger to the insurance industry. He has already gained experience for over 40 years as a corporate and commercial broker.
In the year of 2000, he was awarded as the NZ Broker of the Year for New Zealand by CIBNZ. Apart from that he is also a registered financial advisor in insurance broking and has earned a few more qualifications.
The company offers a wide range of services including personal insurance, business insurance, specialist cover, and professional services. This is great for those looking for an all-in-one broker who can assist in several ways.
On their website, no information on pricing is available. There were also no insurance packages mentioned so it's hard to tell if they offer those, but an enquiry can be made through their website.
Andrewes Risk Management Ltd is based in Kapiti Coast and opens at 9:00 am to 5:00 pm on Mondays to Fridays.
Owner has over 40 years of experience
Offers a wide range of insurance services
Has other professional services
No pricing and packages available for viewing 
Closed on weekends
FAQs about Insurance Brokers
---
And that's our list of the best insurance brokers in Wellington. Were you able to find one that you think is a suitable match for your needs?
There are a number of other great insurance brokers out there, so if we missed your favorite one, please let us know!
Now, if you're looking for a broker to assist you with a home loan, we've got you covered. Check out our reviews of the best mortgage brokers in Wellington to help you get the home of your dreams!