By Isla Thompson
Want to refresh the interiors of your old home or looking to polish the looks of your new one? Design and planning is extremely important here, so if you want a professional, we've collated the best interior designers in Wellington to work with you.
The best interior designers marry form to function. They don't just consider the style of their plans but also think about the number of people in a space, the size of the rooms, your items, comfort, and utility.
If you don't know where to find interior designers like these, let us help you. We've gone looking for the top interior design firms in the area and listed them here.
At any rate, let us now present the best interior designers in Wellington! They are:
1)  D for Design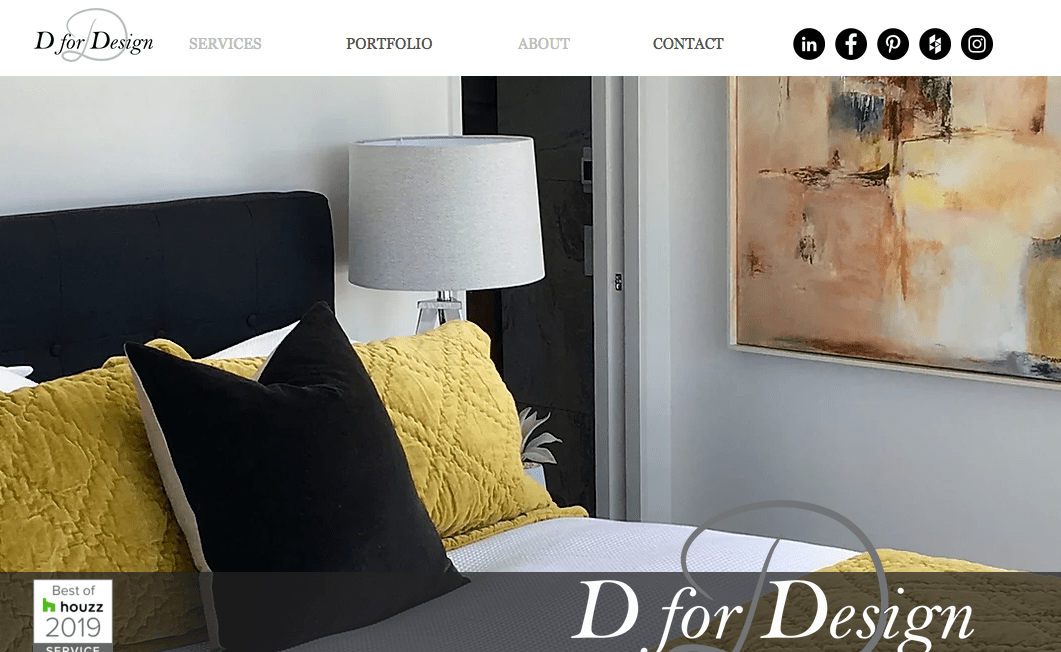 | | |
| --- | --- |
| Best for | Elegant and Luxurious Style |
| Services | Interior Design, Home Styling, Concept Design, Product Sourcing and Buying |
| Address | Paraparaumu Beach, New Zealand |
| Contact no | +64 27 229 3325 |
| Website | https://www.dfordesign.co.nz/ |
D for Design enhances the look of any room and can turn it into a thing of beauty. It is done by the skilful use of pastel colour schemes, table tree accessories, and custom-made furniture.
Sandra Aiken, the director of D for Design, has a wealth of experience with small- and large-scale projects such as apartments, farm houses, and coastal homes.
She's known for her refined yet comfortable designs and is certainly one of the best interior designers in Wellington.
Highlights
Exquisite and likable design
Graduated with a Design degree
Over 15 years of experience
Customer Reviews
On Google Reviews, Liz Koh recommends Sandra:
"As soon as I started working with Sandy I knew she was someone I could trust completely. She understood exactly what would appeal to me and came up with a design for my new beach house that I absolutely love."
2)  Wendy Bradford Interior Design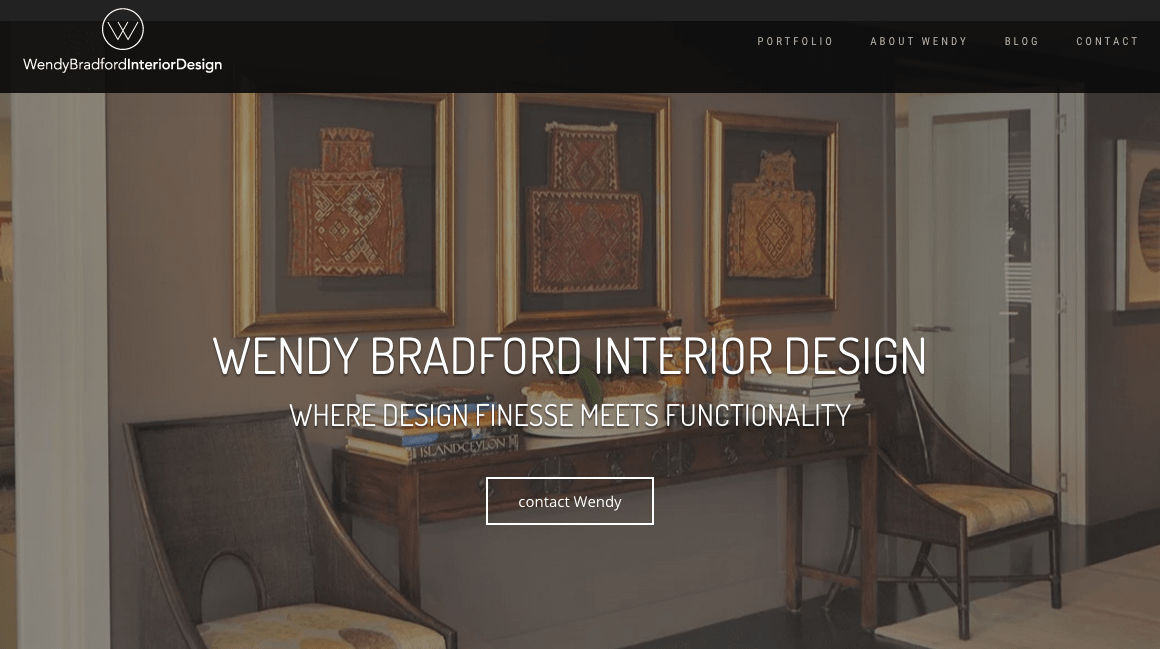 | | |
| --- | --- |
| Best for | Spacious yet Functional Design |
| Services | Project Planning, Furniture and Furnishings, Colour Schemes, Kitchen and Bathrooms, Lighting and Flooring |
| Address | 212 Oriental Parade, Oriental Bay, Wellington 6011, New Zealand |
| Contact no | +64 21 711 002 |
| Website | https://wendybradford.co.nz/ |
Making use of simple things like lighting, colour, and space can create an aesthetic finish. Wendy Bradford Interior Design does just that and also makes sure that the function is still there.
She can liaise with the architect to discuss your project plans or work with her own team. Since your own design concept is important, she listens closely to your requests.
Wall tiles, flooring, kitchen top, & bathroom vanities are sourced and supplied to you. And all her designs have a sense of peace, elegance, and usability that you can see lasting for many years.
Highlights
Brings design and function
Easy communication
Furniture sourcing
Customer Reviews
Celia Smout describes Wendy Bradford Interior Design, taken from the website:
"Wendy has worked for me on and off for the last fifteen years. Wendy uses her initiative and imagination to give us the best possible result. She is committed to high standards of quality and expects the outcome of her work to last many years."
3)  Honour Creative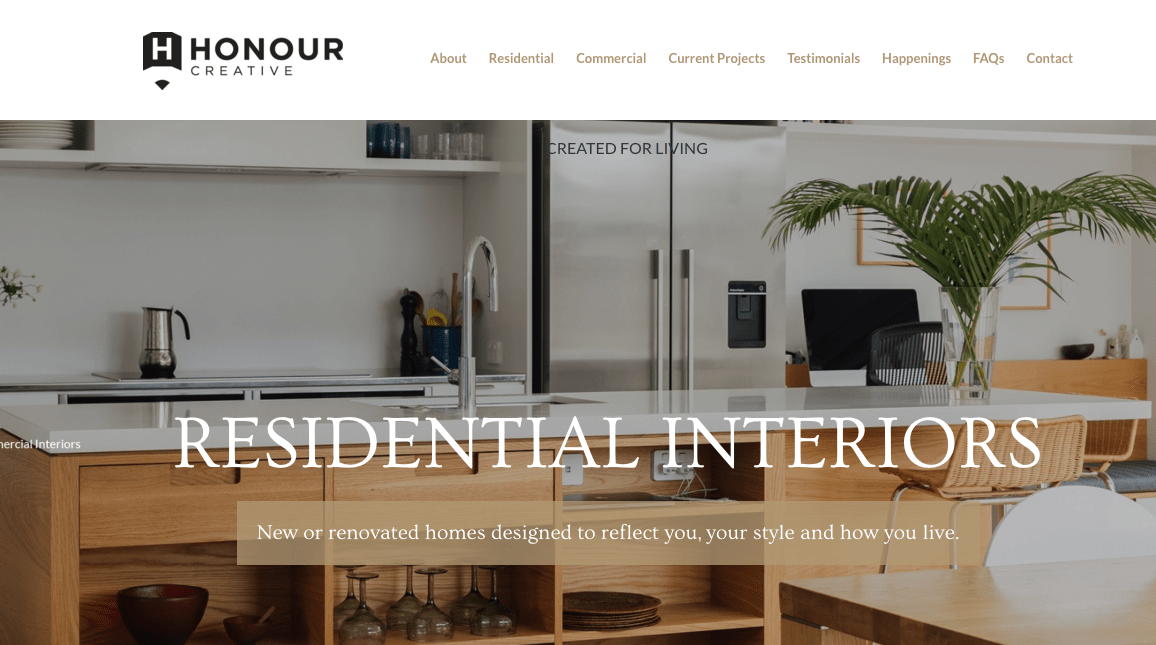 | | |
| --- | --- |
| Best for | People-Centric Interiors |
| Services | Residential and Commercial Interiors, Custom Solutions, Community Spaces |
| Address | Level 2, Hope Gibbons Building, Wellington, New Zealand |
| Contact no | 027 474 9194 |
| Website | https://honourcreative.com/ |
A design can be showy and impressive but Honour Creative strives for more. It aims for the whole gestalt or an intuitive design that the customers will love and enjoy as they see it day by day.
To do this, Frances Fraser first tries to know about you and what you love, about your family, experiences, and desired outlook. Customers have said she is easy to work with and friendly.
You don't have to worry about the furniture either, as she can procure it for you. She can even have it custom-made.
Highlights
Bespoke design reflecting you
Product sourcing
Professional and talented
Customer Reviews
From Google Reviews, Jennifer Crehan mentions:
"I used Honour Creative for a redesign of my home office space. Frances was an absolute pleasure to work with. She took the time to really understand my brief and in doing so was able to produce creative designs that perfectly matched my sense of style."
4)  Homes with Soul Ltd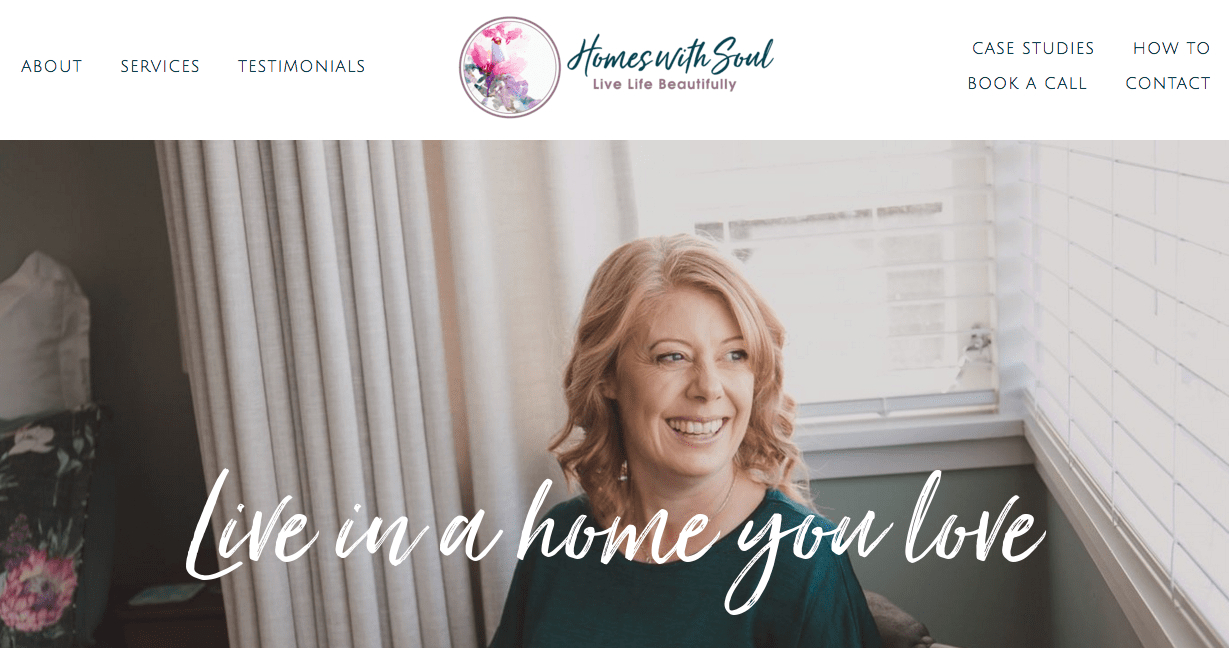 | | |
| --- | --- |
| Best for | Affordable Interior Design |
| Services | Interior Design and Project Management |
| Address | 5 Harrison Street, Brooklyn, Wellington 6021, New Zealand |
| Contact no | +64 21 912 238 |
| Website | https://www.homeswithsoul.co.nz/ |
If you are a little tight on your budget, Home with Soul will solve your problems. Nicci Tong lends her expertise whether you need a simple redesign or a time-bound renovation.
Here, you can be more relaxed as everything will be taken care of from start to finish. The goal is to make your room jive with your personality and interest.
We included Homes with Soul among the best interior designers in Wellington because of its affordability, work rapport, and fresh and thoughtful design.
Highlights
Affordable price
Nice and considerate design
Customer Reviews
Parker left a review on its website that reads:
"My living room just didn't work … a beautiful room, which I almost never used because it felt awkward and didn't have natural flow…. Then I met Nicci….
It is now the most friendly, comfortable room I enjoy being in and am proud to entertain my friends in."
5)  Wall St Designs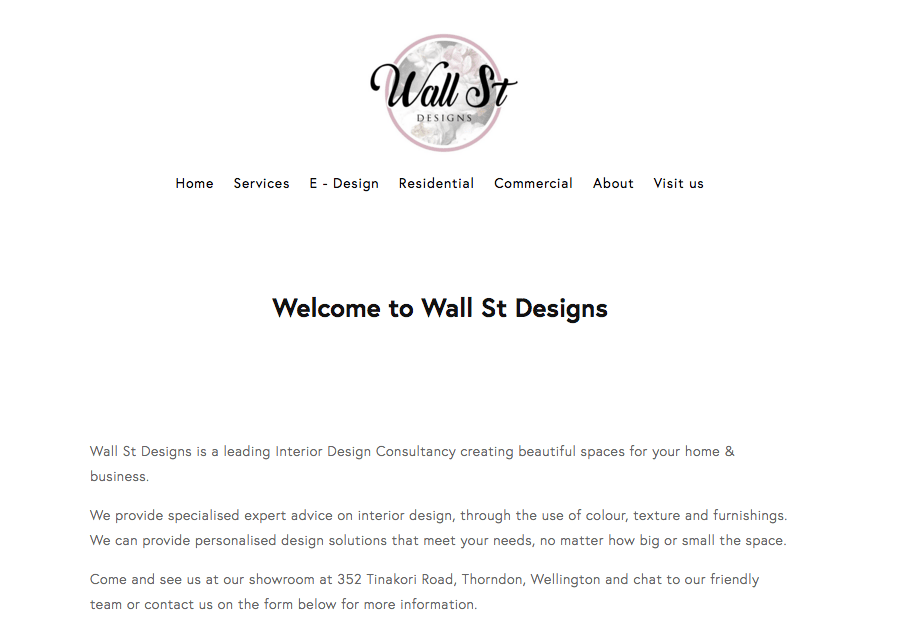 | | |
| --- | --- |
| Best for | Creative Styling |
| Services | Interior Design Consultation, E-Design, Window Dressings, Upholstery and Bespoke Furniture, Lighting and Flooring, Wallpaper and Fabric |
| Address | 352 Tinakori Road, Thorndon, Wellington 6011, New Zealand |
| Contact no | +64 4-499 8684 |
| Website | https://www.wallstdesigns.com/ |
Having art in your decor makes a house more pleasant and cosy to live in. Somehow it satisfies us in an emotional or subtle way — this is what Wall St Design can do for you.
It serves as a consultancy firm as well as an interior designer. They are creative people who bring a pop of colour into your room, beautiful upholstery, fancy artwork, and pendant lighting.
They charge NZ$325 and NZ$895 for single and multiple rooms respectively. With this company being one of the best interior designers in Wellington, you should have a go at their service.
Highlights
Naturally creative team
Can supply your furniture or lighting
Really cool pendant lights
6) Compose Interiors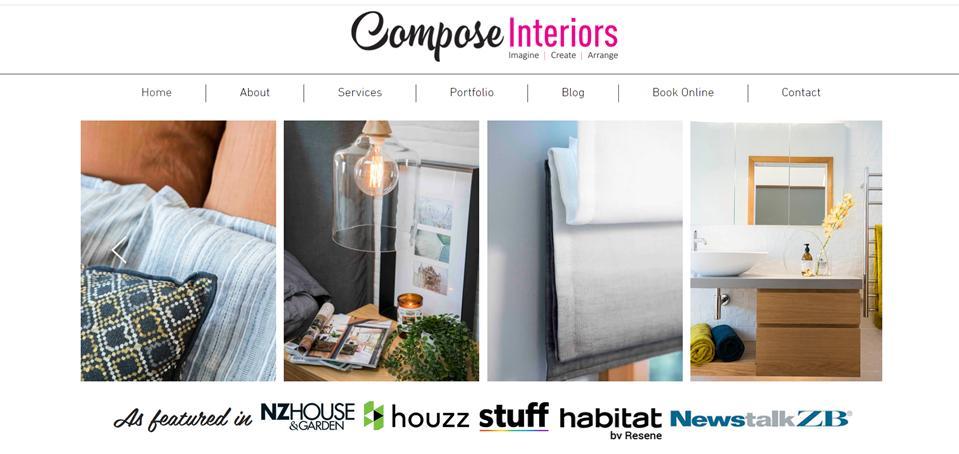 Best for
Creative flair for designing
Services
SPATIAL & CONCEPT DESIGN, DESIGN & SPECIFICATION, DESIGN MANAGEMENT, FURNITURE & FINISHING TOUCHES
Address
Wellington, New Zealand 5012
Contact no
021 144 7704
[email protected]
Website
http://www.composeinteriors.co.nz/
Compose Interiors is the company to acquire services for anything that involves interior design. They offer spatial and concept design, management, and furniture, as well as finishing touches.
The owner, Debbie Omond, is also the director of Compose Interiors and her expertise in the field is surely something you should take up on. With her knowledge, amazing skills, and flair for designing, satisfaction is guaranteed.
Check out some of their previous work on the website. Contact Compose Interiors and talk about your budget and preferred styles and they'll do it for you.
Highlights
Time-efficient
Competitive rates
Saves you from stress
Customer Reviews
Here's what Darryl Oldfield had to say about Compose Interiors on Google Review:
"We used Debbie from Compose Interiors, who was recommended to us by a friend, to help us with a "refresh" of our home. This included painting, wallpapering, flooring, curtains and blinds as well as a complete re-fit of our bathrooms. She met with us and we discussed the brief and Debbie came back and presented us with mood boards. This was fantastic as seeing her design options and ideas made the decision overall very easy. She absolutely "nailed" the brief and Debbie was very inspiring with her planning, design and product knowledge. We would absolutely recommend Debbie from Compose Interiors to anyone wanting help with renovating or refreshing there home. We are very happy with our new look home."
7) YOYO Design by Kiwis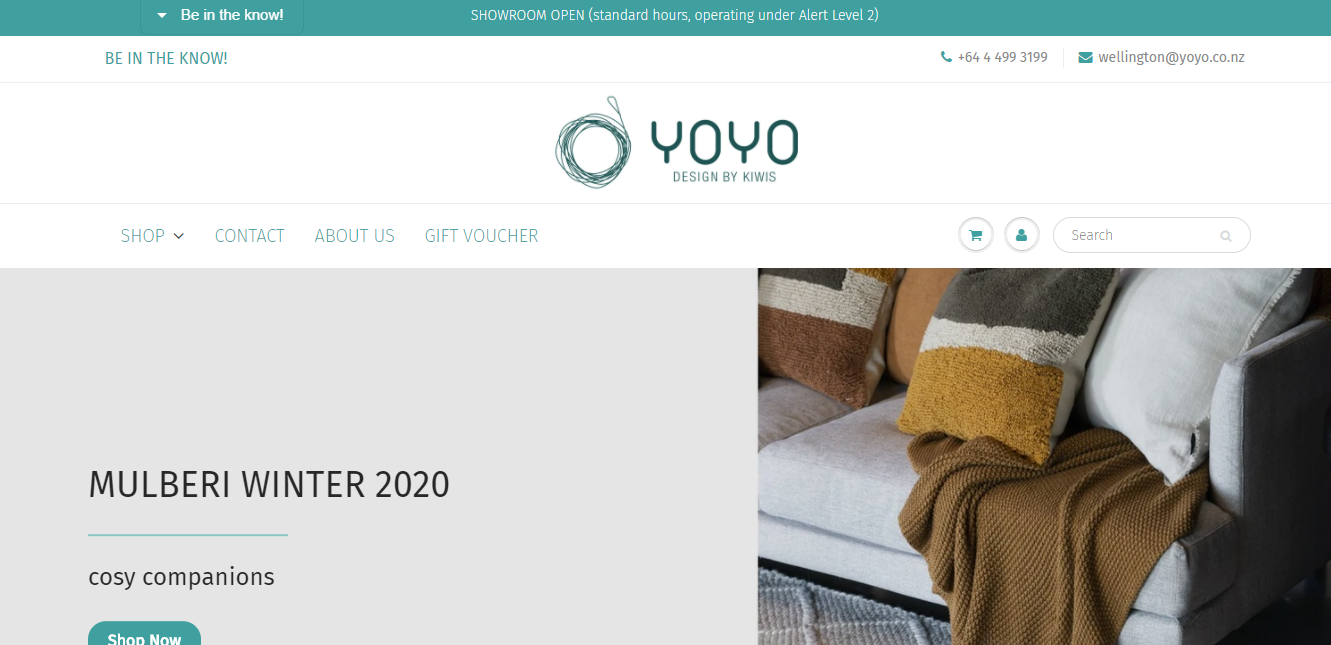 BEST FOR
Customized furniture
WEBSITE
http://yoyo.co.nz/
ADDRESS
262 Thorndon Quay
Pipitea, Wellington 6011
New Zealand
CONTACT DETAILS
64 4 499 3199/[email protected]
OPERATING HOURS
Mon-Fri 9am-5pm
Sat-Sun 10am-4pm
As a revelation to Todd and Fiona, with their desire to connect inspiring Kiwi Furniture, Homeware, and Lighting Design with its customers, YOYO has come into fruition. The primary desire of YOYO is to individualise spaces with inspiring Kiwi Furniture, Homeware and Lighting Design.
With a showroom and online presence for innovative Kiwi Designers, YOYO provides for the enthusiasts of quality, functional design with inspiration and accessibility. YOYO sources, and designs quality Kiwi Furniture, Homeware and Lighting.
On the other hand, YOYO customers are given the opportunity to customise the majority of the designs. Alongside YOYO, customers can really hold the creative reigns, and individualise their space.
Highlights
Free consultation
Wide-range of furniture
Hassle-free delivery options
Customer Reviews
Here are some examples of the feedback posted by customers on Google Reviews:
"Great place to buy furniture and interesting things for the house. VERY unique products, high quality. The staff are great and give good advice. Free Parking."
"Lovely NZ-made furniture. We buy all our furniture here. Lovely customer service and delivery service!"
8) Shoestring Decor Blinds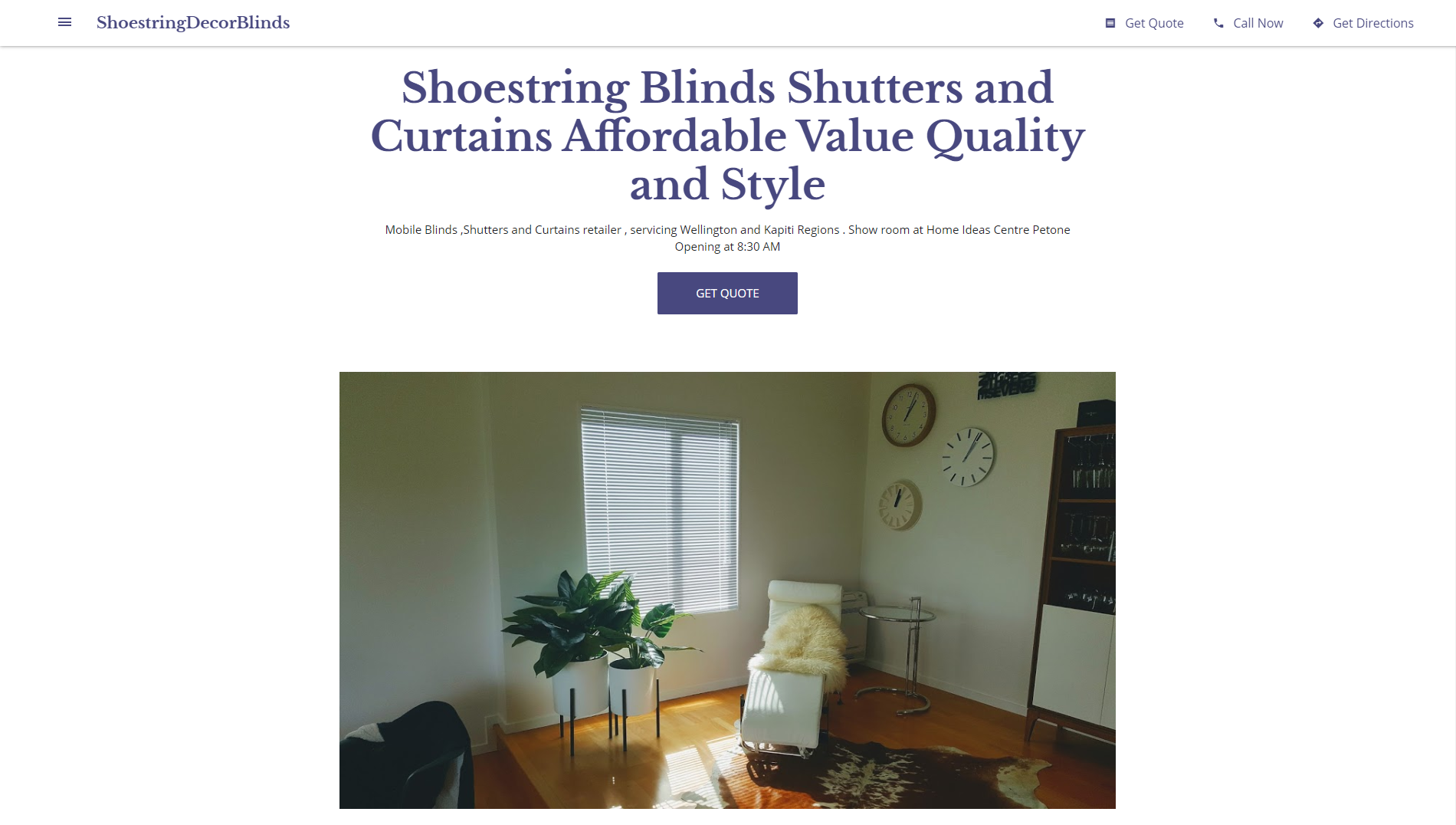 BEST FOR
Affordable and Stylish Services
WEBSITE
https://shoestring.business.site/
ADDRESS
215 Home Ideas Centre Petone
9 Sunrise Boulevard
Tawa
Wellington 5028
New Zealand
CONTACT DETAILS
0800 040 800
022 354 4304
OPERATING HOURS
Mon: 8:30 AM – 5:00 PM
Tue: 9:00 AM – 4:30 PM
Wed: 9:00 AM – 7:00 PM
Thu: 9:30 AM – 7:00 PM
Fri: 9:30 AM – 5:00 PM
Sat: 10:00 AM – 2:00 PM
Sun: Closed
When it comes to window insulation, Shoestring Decor Blinds is one of the best. They offer a wide variety of products for the most affordable prices.
Best of all, their products come with a 5-year warranty. Make sure to contact them for the most budget-friendly blinds and curtains.
Highlights
Affordable prices
Wide range of products
5 year warranty
And that's our list of the best interior designers in Wellington. Get ready to have spectacular designs for your interiors with their assistance!
Have you any questions for us relating to this topic? Kindly send us a message and we'll get right back to you.
Like interior designers, electricians are a big part of the team in when setting up a space for its inhabitants. If you need them too, you can read about the best electricians in Wellington.