The 7 Best Juicers in New Zealand
Want a juicer that can make producing fresh drinks out of fruit a breeze? If so, we've got you covered, as we're looking at the best juicers in New Zealand for today's roundup!
There are many brands and models of juicers, though, even in our already-shortened list. That's why, to go with our list of the top juicers, we've also included a guide to picking a juicer for your needs.
To help you pick the right juicer for you, we'll just go over some basics, as you'll find below. However, feel free to skip them and go straight to the best juicers in New Zealand if you don't need a guide to picking a juicer.
Whatever the case, let's start!
Things to Consider Before Purchasing a Juicer
Choosing a juicer is essentially about considering how you'll be using it and for what. In any case, let's break that down — here are the things you need to consider:
1) Juice Quality
You would like a juicer that wrings out the fruits and vegetables almost completely. That means that nothing goes to waste, and that the juice will have freshness and flavour as well as retain most of the fruit's nutrients.
This way, you'll enjoy using the juicer with fruits and vegetables, and produce a delicious drink day-in and day-out.
Note that power counts too in this area, as a juicer with less power won't be able to extract the juice from leafy greens like lettuce, celery, spinach or wheatgrass. You will need a minimum of 400W to pull this off.
Juicers offering less power will usually be a bit cheaper, but ultimately, they also have lower capabilities. As such, we strongly advise sticking to the 400W minimum when buying one.
2) Price
It's good to remember that buying a juicer is an investment. We just said it, but it bears repeating: cheaper ones lack the power to get the most out of your fresh produce, and consequently may contribute to higher power bills and food wastage.
On the other hand, mid-range priced models or above are typically more efficient, which will save you big bucks in the long run (and a lot of headaches).
3) Warranty
This is especially important as there is no assurance that your newly-bought juicer will still work smoothly as time progresses. Sometimes, there could be factory defects or minor issues that need fixing.
If you have a warranty, maintenance and repairs are covered, and you have nothing to worry about. Hence, you can look for a warranty that lasts for a decade, or better yet, a lifetime.
4) Ease-of-Use and Efficiency
Besides what we've mentioned, a juicer has to be simple to use. You'd like something that won't be a pain to assemble and disassemble, let alone to clean.
Some have automatic pulp ejection that makes the cleanup a no-brainer. There are also ones that have a wider chute so you won't always have to cut or chop your food into pieces.
5) Quietness
It would be nice if the juicer works quietly in order to not wake up the neighbours at night, disturb the work-at-homers, or trouble the baby.
The ones we picked are mostly quiet ones, so you shouldn't have too much of a problem here, fortunately.
6) Size
Of course, it helps to have a smaller/slimmer juicer so that it can be easily cleaned and stored. That helps to keep your kitchen or space neater and smarter, with more space to spare.
Apart from that, size plays an important role in the ergonomics of juicers, as a larger size means a heavier machine, and a heavier machine is clearly a disadvantage in terms of portability and cleaning.
7) Type
There are two main types for a juicer: Masticating and Centrifugal. Here's a quick note about them.
Centrifugal juicers are efficient and great at extracting juice from the fruit or vegetable. These are built with a metal blade that spins at fast speeds to churn out fresh juices, though they come up short when you're trying to juice fibrous or tougher greens.
Masticating juicers use an auger or a screw-like mechanism to crush and grind down the fruit or vegetable to pulp, in effect, making for a more nutritious drink than centrifugal juicers. They produce less heat and foam. With less oxidation or foam, you delay juice spoilage. Plus, they should be your choice for extracting juice from leafy vegetables like wheatgrass and spinach.
The Best Juicers in New Zealand
Now that you know the fundamentals to getting a new juicer, we can now outline the best juicers in New Zealand!
1) Russell Hobbs Cold Press Slow Juicer
Easiest-to-Use Juicer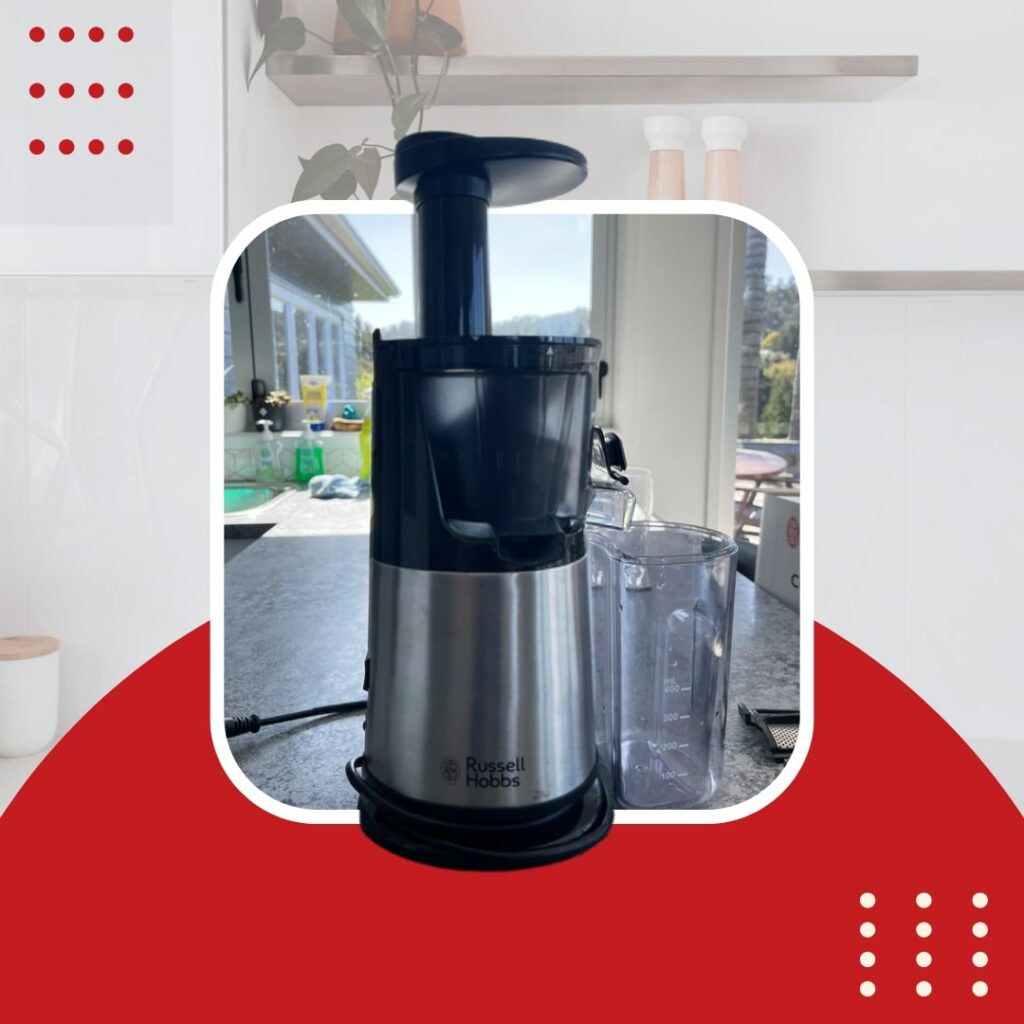 Price: $349.99
Squeeze the most out of your fresh vegetables and fruits, including the nutrients and antioxidants, into your container. You can do this by having the premium Russell Hobbs Cold Press Slow Juicer!
This juicer gives you efficiency, quietness, and no more wastage of fresh produce. It will save you from having to procure new supplies in the marketplace or grocery too often due to failed juicing attempts.
Your kitchen will love it and so will you with its small, compact footprint and easy cleaning of parts. Needless to say, its stainless design is uber-stylish too.
Buying this juicer will also get you the 1L juice pitcher, by the way.
Overall, the Russell Hobbs Cold Press Slow Juicer is your pal in concocting nutritious juice at home. We believe it's among the best juicers in New Zealand you can get now.
Pros
Makes high-quality juices
Efficient and simple to use
Great for juicing celery
Easy to clean
Cons
Small feed entails more preparation to be done
Customer Reviews
One customer, Tricia, wrote a favourable review about this juicer on productreview.com.au:
"It is extremely quiet, easy to clean, just remember to cut the vegetables or fruit as per the manual. All juicers have various pieces to clean, I think this one is very easy to use compared to others that I have had. It does celery easily. I am happy."
2) Breville Juice Fountain
Best Overall Juicer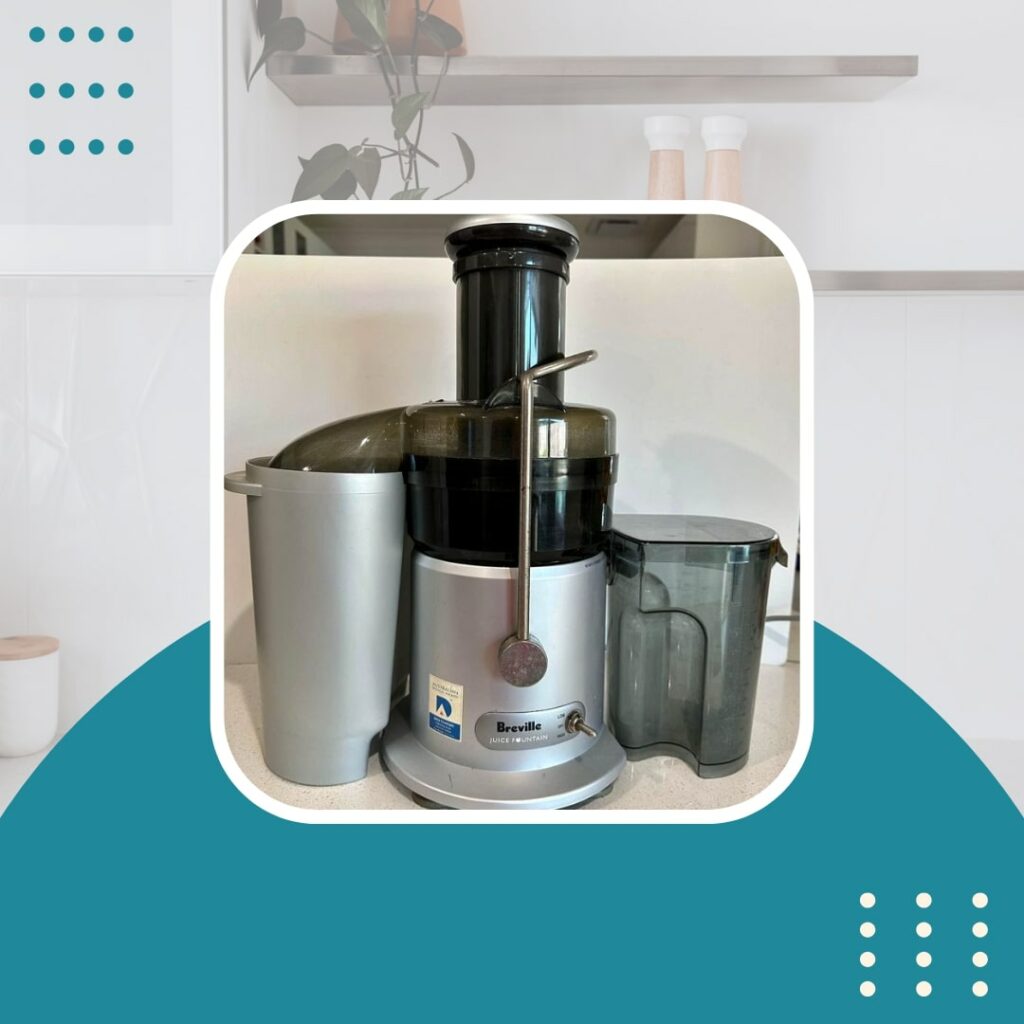 Price: $314.99
Back in 1999, Breville sent shockwaves to the industry through its pioneering whole fruit juicer. The tradition continues with the Breville Juice Fountain — this time with a 25% larger chute.
Whether it's a mango, peach or apple, it can crush it to its pulp while keeping the vitamins and minerals intact, considerably better compared to other brands.
Finished in a clean, metallic style, this will look great sitting on your kitchen countertop or beside your coffee makers. Even after some time, it will still look as if you've just bought it yesterday!
Depending on your preference, there are 2 different speeds to choose from for your juices. The slower one will be excellent if you want to really relish the juice flavour, whereas the faster one is great for quickies.
With all of this, you can see that the Breville Juice Fountain is another of the best juicers in New Zealand.
Pros
Can juice large fruit
Neat and stylish design
Easy assemble and disassemble
Quiet operation
Cons
Customer Reviews
Feedback has been a very positive one for the Breville Juice Fountain.
Most of what customers have said is that the whole pulp is all dried out from the first juicing. Add to that its being easy to assemble and disassemble, and the superb taste quality.
Joanna, a customer from Amazon Australia posted a review:
"I bought this product a few weeks ago and love the juice that comes out. It feels smooth to drink – there is a smooth creamy froth that is a thin layer of fine, tastiness. Not like in other machines I've had in the past. I find it quiet, especially compared to a blender. Clean up is easy enough. I've used this for celery juice and mixed juices. The fibre is fairly dry and not much more juice comes out if I put it through a second time. This design is easy to use, easy to clean and reassemble and easy to take out the fibre catcher and put it through again."
3) Healthy Choice Electric Slow Cold Press Juicer
Best for Those on a Budget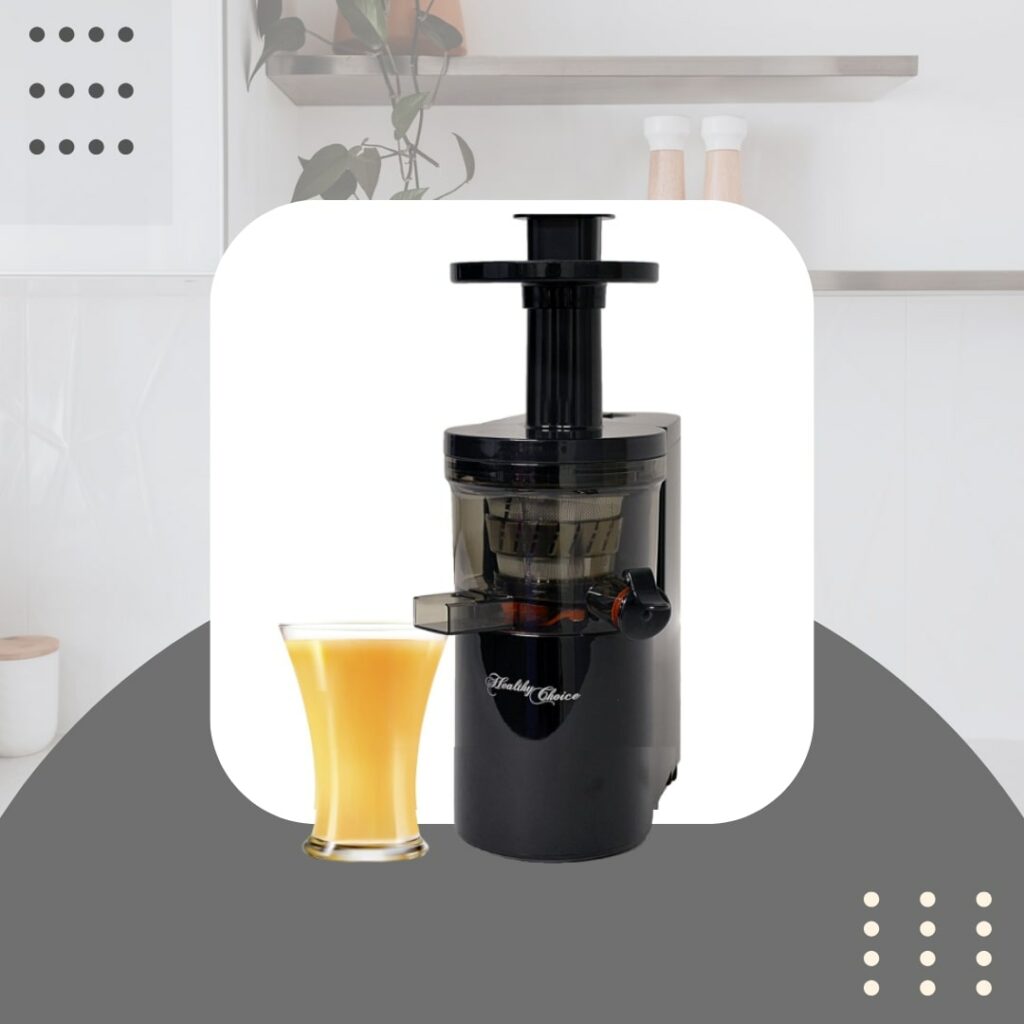 Price: $149.44
Starting your journey toward a healthier lifestyle? You can start by getting the Healthy Choice Slow Cold Press Juicer. It can press your choice of fruits and vegetables and turn it into a delicious and healthy drink.
Cold press juicers are efficient options to get in that they use the lowest levels of heat and power, yet make the most out of fresh greens and fruit that you put in them.
Slices and dices of fruit and vegetables can be fed into this one's wide 4cm chute. Doing it won't be any effort, as it smoothly presses down on them without any fuss.
To clean up the leftover pulp and fibre, all you have to do is pour some water down the chute and activate the reverse mode of this juicer. Very simple!
What's more, it is made with BPA-free material that's totally safe for you and your family! Now you can stick to your healthy diet week after week!
Pros
Awesome juicer that makes tasty and healthy juices
Quiet and simple to use
4cm-wide chute
Easy cleanup
Cons
Plastic material is only average in durability
4) Omega J8006HDS Nutrition Center Masticating Juicer
Best for Healthy and Flavoursome Vegetable and Fruit Juices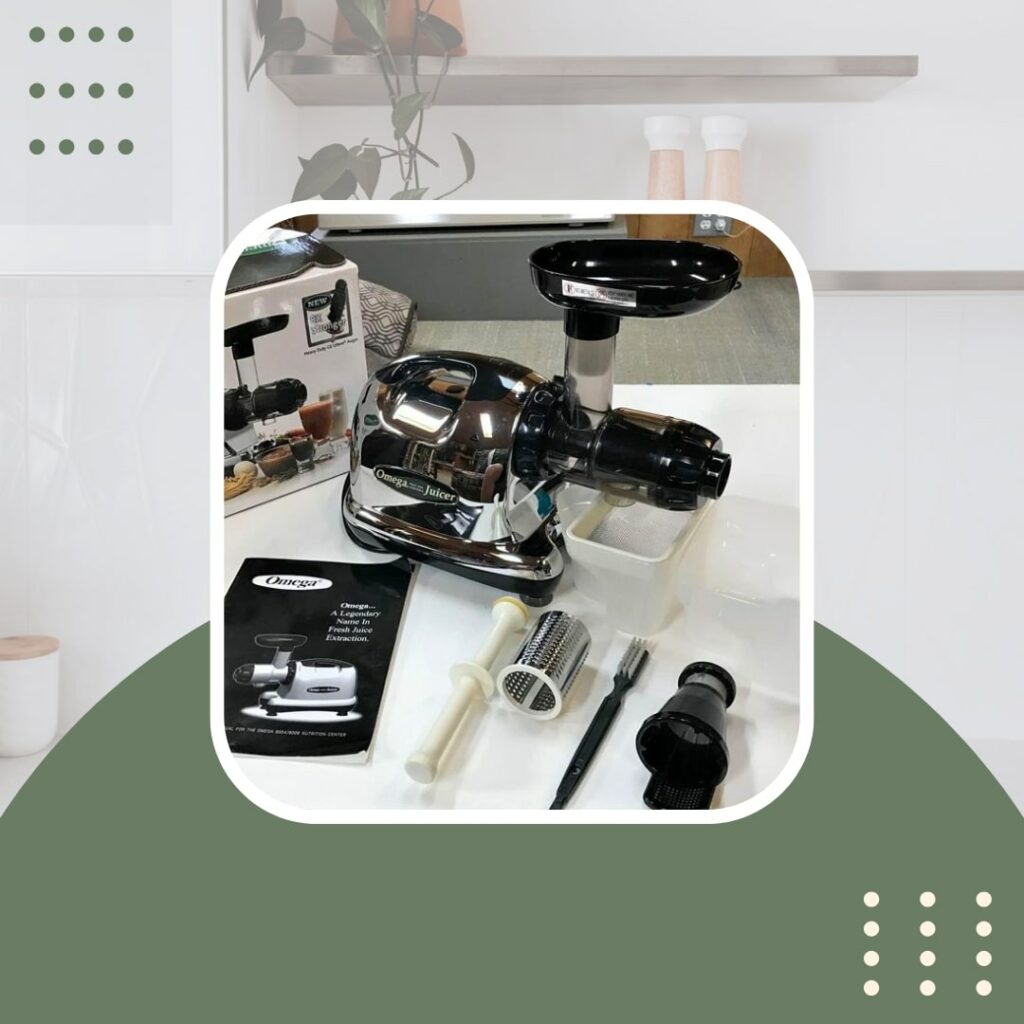 Price: $638
Are you up for the Holy Grail of all juicers, the MVP of nutrition and healthy juices? It's this bad boy right here — the Omega J8006HDS Nutrition Center Masticating Juicer!
Not only can it make healthy fruit and veggie juices, but it can also do delectable nut milk, nut butter, sorbet, ground beans, minced herbs, not excluding those leafy green and wheatgrass juices.
With an 80 RPM auger, it presses your fresh produce completely to extract wonderful, nutrient-rich juices. There is also less buildup of heat and oxidation for a longer shelf life for your drinks.
Coupled with that, you'll have a higher juice yield, so it allows you to save on your market or grocery expenses for fruit and greens.
Since the product is whisper-quiet, you can still listen to your favourite song or talk to someone in the room while you are juicing. And, cleaning has never been easier than it is with this one, thanks to the automatic pulp ejection.
Once you have washed it, it's ready again for a new recipe or juice you'd like to try out! So, boost your immunity and resistance with delicious juices using the Omega J8006HDS anytime you want!
Pros
Versatile — can make a variety of foods
Retains flavour, antioxidants and enzymes
Higher juice yield
Save up on grocery expenses
15-year warranty
Cons
Harder to use than vertical model juicers
Expensive price
Customer Reviews
Where would you find a juicer that's solidly built, quiet and easy to clean, and supplied with a confidence-assuring 15-year warranty? One Omega customer totally recommends this product and many other owners of the juicer agree.
Another customer, JK1980 wrote a review:
"I purchased the J8006HDC(Same as J8006HDS, but in Chrome). This machine is solid, even the plastic pieces are heavy and substantial. My first recipe I did was " No cold for me", which can be found on Omegajuicers.com. It was delicious and very easy to make. I used pre-washed baby carrots instead, about 6 equaled one med carrot. The pulp I am using to make bran muffins. The orange peal and excess pulp I threw into a small crock pot with a cinnamon stick, water and a few whole cloves, instant potpourri."
5) BioChef Axis Cold Press Juicer
Best for Fibrous Greens Juices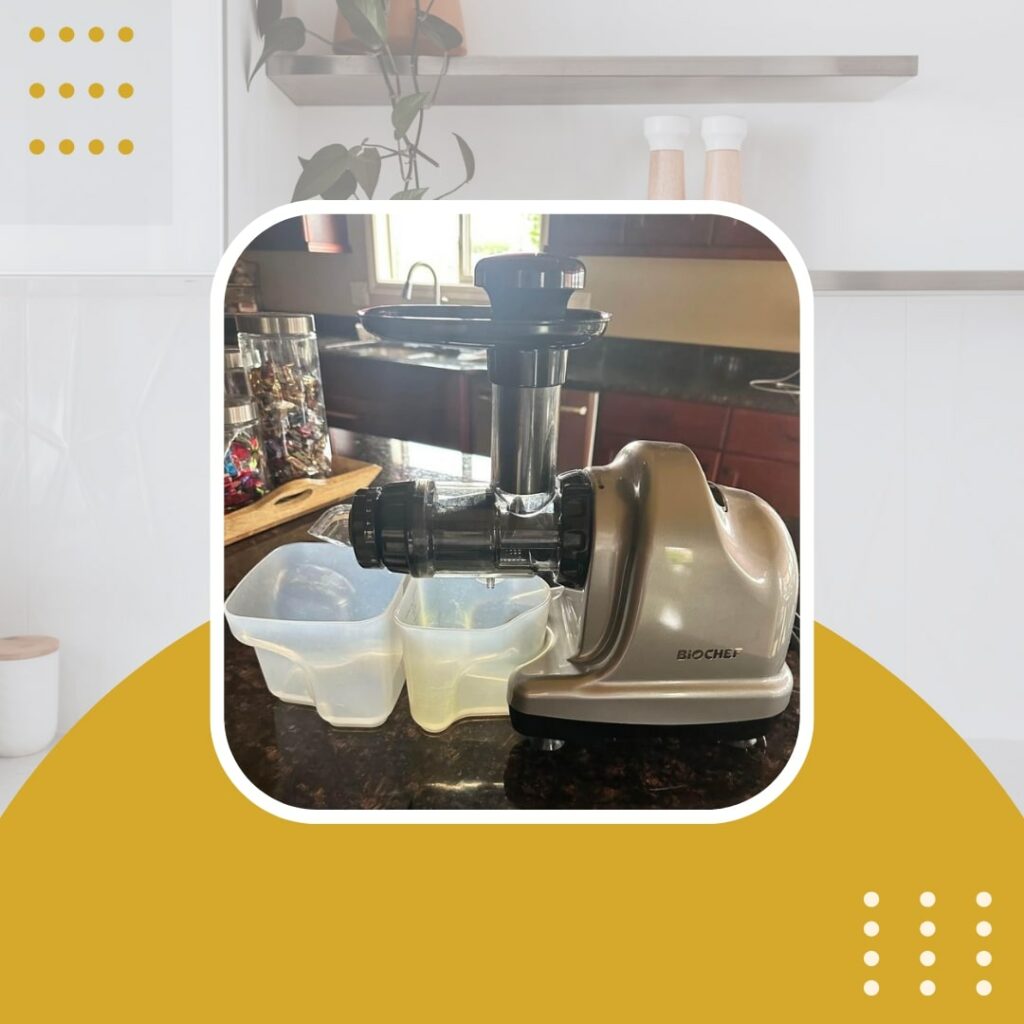 Price: $389
Find It Here On Vitality 4 Life
Half the price of the previous juicer without a drop in quality is the BioChef Axis Cold Press Juicer. With powerful crush technology, it is excellent at juicing fibrous greens such as wheatgrass, kale, and spinach.
One of its neat features is the wide chute measuring 4.5 x 4.5 cm that can take some veggies whole! You can even add spices or ingredients along with them to produce a more natural flavour.
And as fantastic as it is in making juices, it can easily shift into a food processor unit to whip up delicious nut butters, side dips, purees, sweet fruit sorbets, baby food, and your favourite pastas.
The BioChef Axis also sports a neat and modern finish without being too hefty. It comes with the complete set of parts you need to have a wholesome and healthy food.
Lastly, you are backed by a 20-year motor and 10-year parts warranty for your peace of mind. That just proves it is a strong contender for the title of best juicer in New Zealand!
Pros
Outstanding quality of juice and food
Wider chute that can take some veggies whole
Modern and neat style
Easy to clean
Long-term motor and parts warranty
Cons
Some customers experienced quality issues
Customer Reviews
This juicer has a good score on Amazon. Customers mentioned that it is of a very high quality, stable, and quiet. One also liked the reliable pasta attachment that comes with the product.
Also, Christine E writes a review:
"This is the best juicer I've ever used and works really well with celery, which I and my sister juice every day. It's also by far the quietest and is super sturdy and much easier to clean than other juicers I've had. It also came with a spare screen, which I really appreciate, since that's usually the first thing that becomes problematic with a heavily used juicer."
6) Optimum H3000 2nd Gen – COLD PRESS BIG MOUTH JUICER
Best for Incredibly Easy Juicing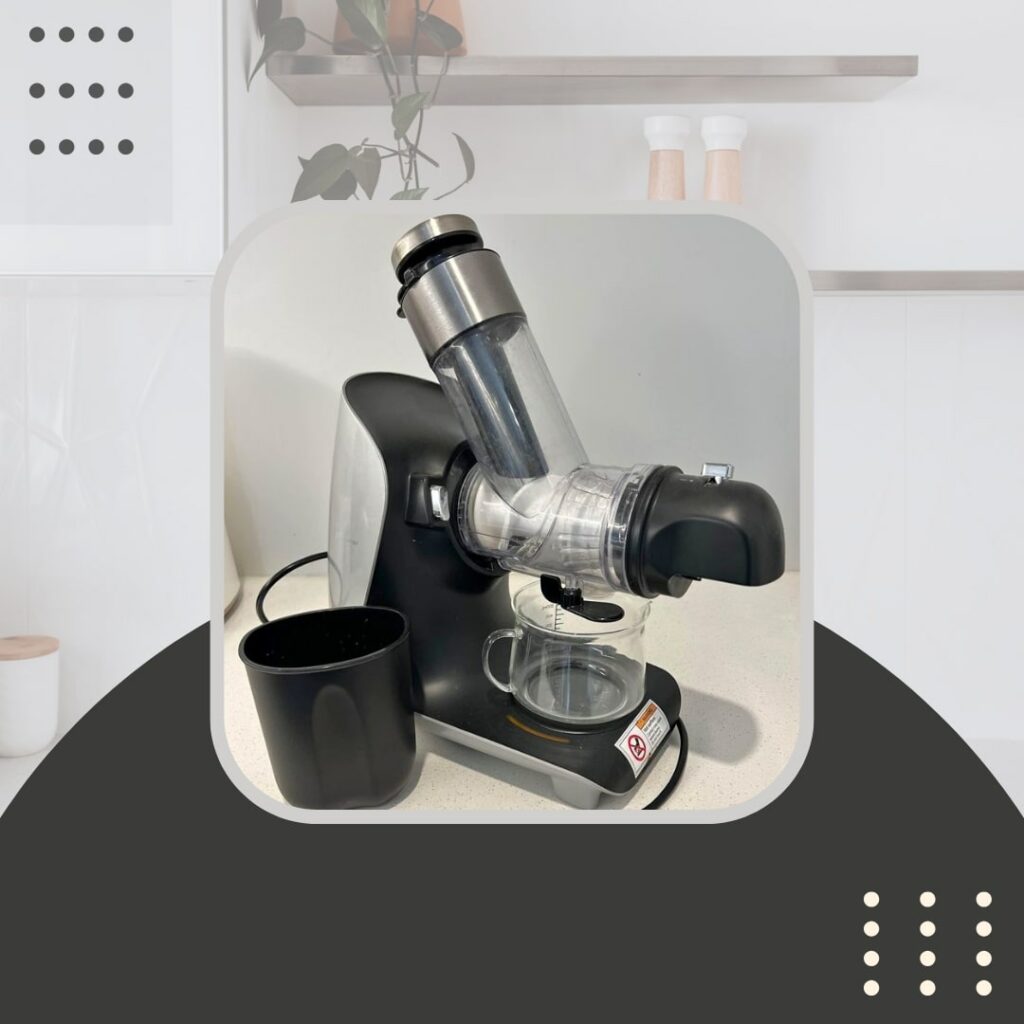 Price: $799 | Sale Price: $549
There's no other product better than the Optimum H3000 2nd Gen when it comes to easy juicing. It features a sleek. stylish, and ergonomic design, made all the more better by its various innovative functions.
The chute is 7.6 cm, which means that no chopping is required before juicing. Meanwhile, its horizontal extrusion technology and high rpm makes the juicing process more efficient and maximises juice yield.
It also has an innovative warming function, perfect for making baby food in a jiffy. No matter what you make, its ceramic juicing screw ensures that cleanup won't be difficult either.
Pros
Innovative warming function
Sleek, stylish design
Easy to clean
Additional 350 ml portable vacuum cup
Cons
7) Optimum 600M Compact Cold Press Juicer
Best for More Juice and Less Pulp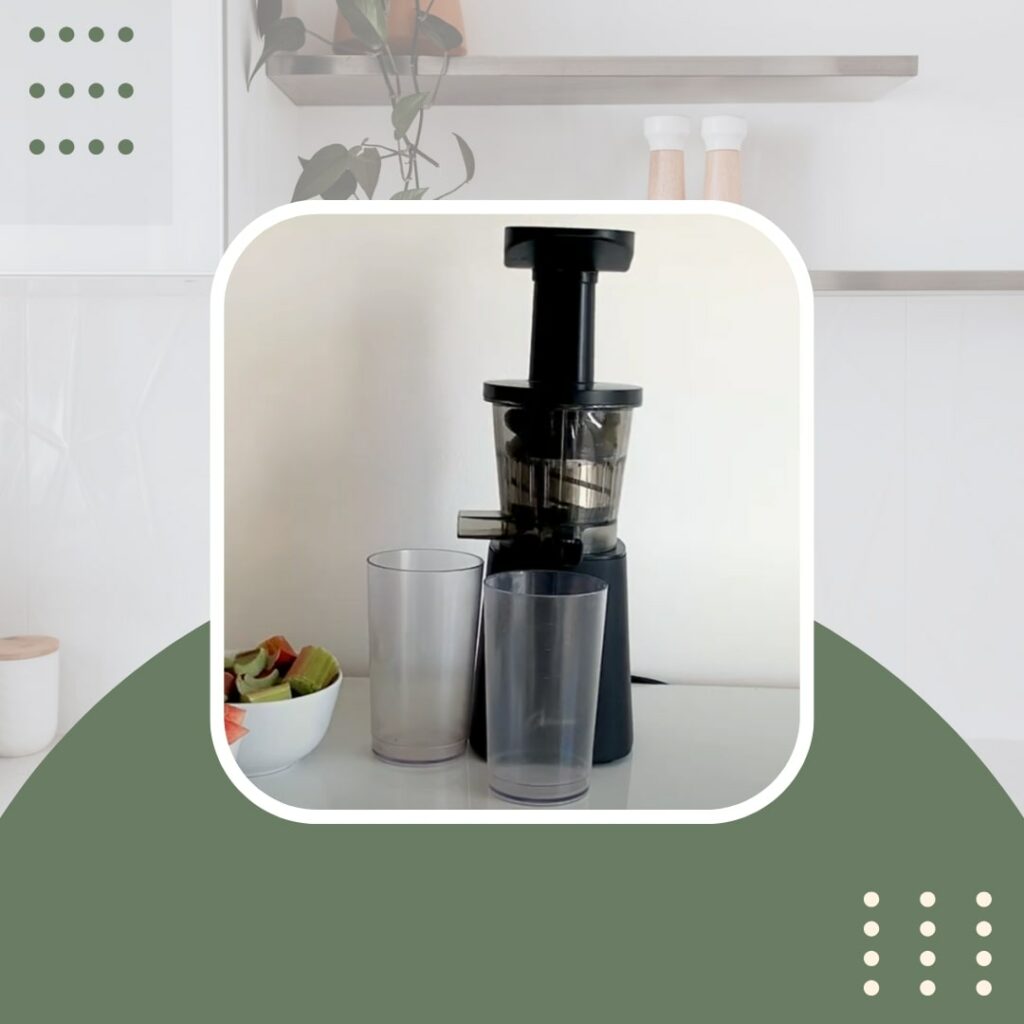 Price: $675 | Sale Price: $349
Support your healthy lifestyle to the fullest with the help of the Optimum 600M Compact Cold Press Juicer. It's the best juicer to consider when it comes to getting all the juice you can without the pulp.
With this juicer you're not only making the most of your fruits and vegetables, but also reducing the loss of nutrients from oxidation. It's also easy to assemble and clean, so don't worry if your juicing gets a little messy.
It has a safety feature in the form of a switch, where if feeding tube isn't locked properly with the grinding cup, it won't start. With all its benefits and functions, the Optimum 600M Compact Cold Press Juicer is one of the best additions you can have in your kitchen.
Pros
Compact and streamlined design
Safety switch feature
Low noise level
Easy to assemble and clean
Cons
Relatively small juice capacity
And that's all for the best juicers in New Zealand. If you need to detox your body and keep healthy, these centrifugal and masticating juicers would be good to have!
Do you have any questions about our topic today? Don't hesitate to ask us or tell us what you think of it, just send us a message and we'll come back to you in a bit.
Other than fresh squeezed juices, you may also like to make the perfect espresso or latte at home. In this case, you can read about the best coffee machines in New Zealand.