The 5 Best Junk Removal Wellington Professionals
Getting rid of the various bits of clutter in your house can be a hassle. Fortunately, we can help you with this, as we've chosen the best junk removal Wellington professionals to present to you on this list!
We picked the ones who are prompt, fast and efficient in removing the rubbish or junk from your premises. Then we chose the ones who care about the environment (they have to practise eco-friendly disposal), have reasonable rates, and are personable and friendly.
Furthermore, we read some client reviews as well — telling us we had been right in including them on this list.
Soon, you'll have a more spacious and relaxing home without all the junk. We now bring you the best junk removal Wellington professionals!
1) CJ's Junk Removal Service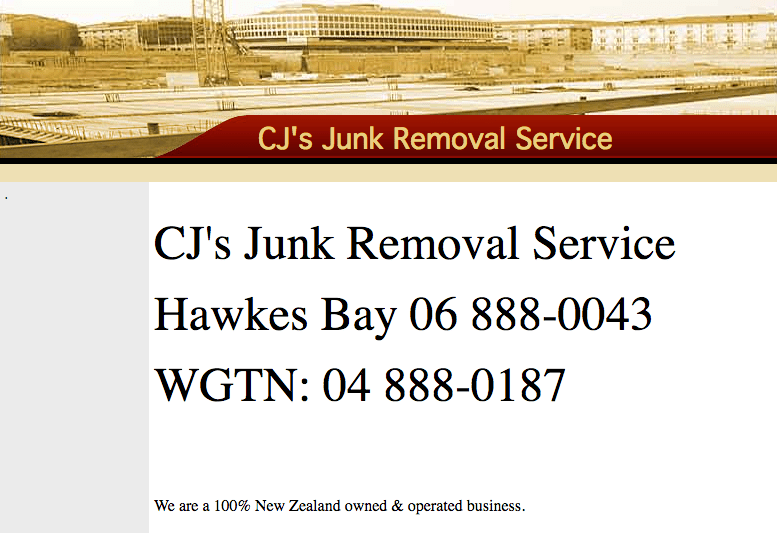 BEST FOR
Honest & Hardworking Staff
SERVICES
● Old Appliances, Fridge, TVs, Washing Machines etc

● Metal

● Old Furniture

● General Household Items

● Old computers E-Waste

● Tyres (Recycled & Exported)

● Paint

● Old Gas Bottles

● Beds

● Green Waste

● Concrete

● Building / Renovation Waste

● Deceased Estates

● Rental Waste Left Behind

WEBSITE
http://www.cjsjunkremoval.co.nz/
ADDRESS
33 Thompson Street, Mount Cook, Wellington 6011, New Zealand
CONTACT DETAILS
04 888 0187
OPERATING HOURS
Monday to Thursday: 9am – 5.30pm

Friday: 9.30am – 4.30pm

Saturday: 9am – 4.30pm
If you're searching for an honest and trustworthy service, CJ's Junk Removal Service is an awesome choice! They are a recognised junk removal company based in Mount Cook, Wellington.
Unlike other companies, they remove junk or rubbish by hand, labouring and lifting heavy items such as appliances and furniture. This helps them to recycle and reuse what they can.
These things are then given to poor families around Wellington or Hawke's Bay. Their drive is to work for the community — to get from them but also give back to them.
Since doing everything manually can be dangerous for their health, they come prepared for this. They are approved gas handlers and are trained in safe chemical disposal too.
Highlights
Honest and trustworthy service
Environmentally responsible
Hardworking & certified staff
Gives back to the community
Customer Reviews
One client, Caleb Snowdon, shared on Google Business:
"Charles was great to deal with and the service was quick and pain free. We had four desks that needed dismantling and removing and Charles did not hesitate to take it, where almost 4 other businesses claimed this was the type of work they did but were quick to turn the work down. Charles and Alex were quick and quiet in getting the job done. Highly recommend!"
2) Wellington Rubbish Removals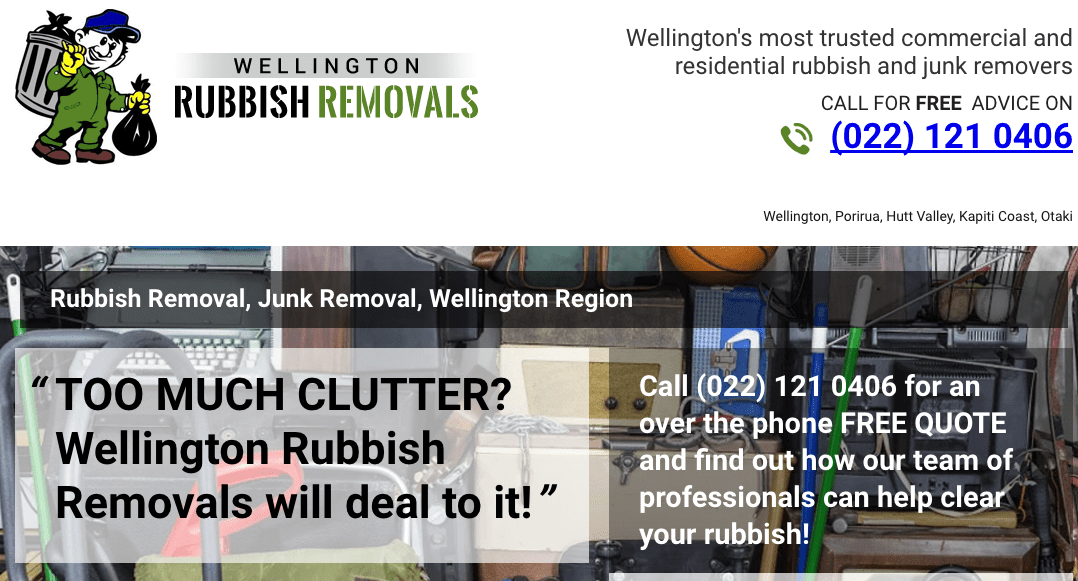 BEST FOR
Environmentally-Friendly and Safe Junk Removal
SERVICES
Electronic and Electrical Goods

Rooms and Garages

Deceased Estates

Old Bikes, Cars and Other Vehicles

Green Waste

WEBSITE
https://www.wellingtonrubbishremovals.co.nz/
ADDRESS
10 Monorgan Road, Strathmore Park, Wellington 6022, New Zealand
CONTACT DETAILS
(022) 121 0406
OPERATING HOURS
Monday to Thursday: 8am – 7pm

Friday & Saturday: 8am – 5pm

Sunday: 8am – 7pm
Declutter your house or commercial grounds of unwanted junk by contacting Wellington Rubbish Removals. Here, you'll meet Jamie McCarthy who will be the one to help you!
He can gather useless bicycles, rusty iron, broken furniture, rectangular glass, and green waste. These will then be disposed of in the most eco-friendly and safest manner.
As much as possible, these things will be re-used or repaired, or given to others who may need it. These people are dedicated to protect the environment however they can.
They are composed of a safety-vetted, hardworking team that works to keep your place neat and tidy at all times. With them, you'll have 100% guaranteed satisfaction.
As you probably see for yourself, they naturally belong amongst the best junk removal Wellington professionals!
Highlights
Eco-friendly and safe junk disposal
Versatile and have a great scope of services
Safety-vetted, hardworking team
100% guaranteed satisfaction
Customer Reviews
By the way, they can also take big loads too. Here's one client, Matthew, who said on the website:
"Jamie was great. Not having a towbar means it's hard for us to take large loads to the tip. Being able to get Jamie in and clear everything out for us in one swoop means we're able to put our cars back in the garage again!"
3) Junk Trackers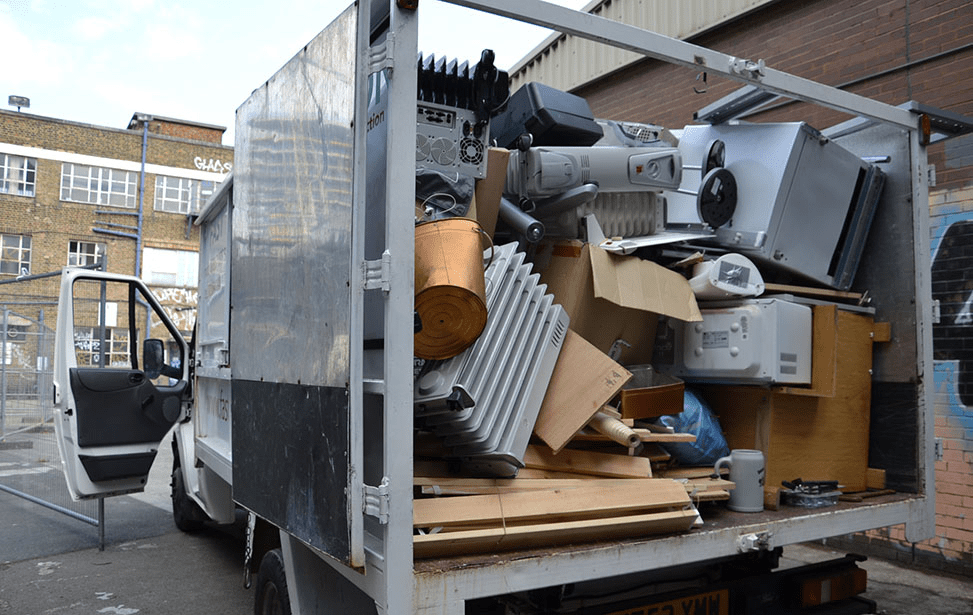 BEST FOR
Affordable Rates
SERVICES
● Demolition or Construction Waste Removal

● Mattress Removal

● Estate Clean-outs

● Basement Clean-outs

● Garage Clean-outs

● Yard Waste Removal

● Old Furniture Removal

● Large Appliance Removal

● Computers and electronics

● Special Event Trash Removal

● Weekly Trash Removal

● Piano Removal

● Green Waste Removal

WEBSITE
http://www.junktrackers.co.nz/
ADDRESS
1316 High Street, Taita, Lower Hutt 5011, Wellington, New Zealand
CONTACT DETAILS
+64 22 108 7484
OPERATING HOURS
Monday to Sunday: 7am – 6pm
For commercial and residential junk disposal at a bargain price, get in touch with Junk Trackers! From construction waste to piano removal, they have you covered!
Welly owned and operated, their customer service is quick and prompt to respond to your calls. They ensure that the service for you is as easy and stress-free as possible.
Where does your waste or junk go with them? They'll donate usable items to suppliers or people, reuse and recycle — trying to the best of their ability not to just send junk to the waste dump.
Junk Trackers also covers the whole Wellington Region including Hutt Valley and Kapiti Coast.
Highlights
Affordable rates
Quick and prompt response
Easy and stress-free junk disposal
Cover the entire Wellington region
Customer Reviews
One customer, Jodie Cullen, comments on Google Business:
"Have used Junk Trackers twice now and both times have been amazing and efficient. Would recommend to anyone and will definitely use again in the future! Thanks so much guys!"
4) 0800 Go Junk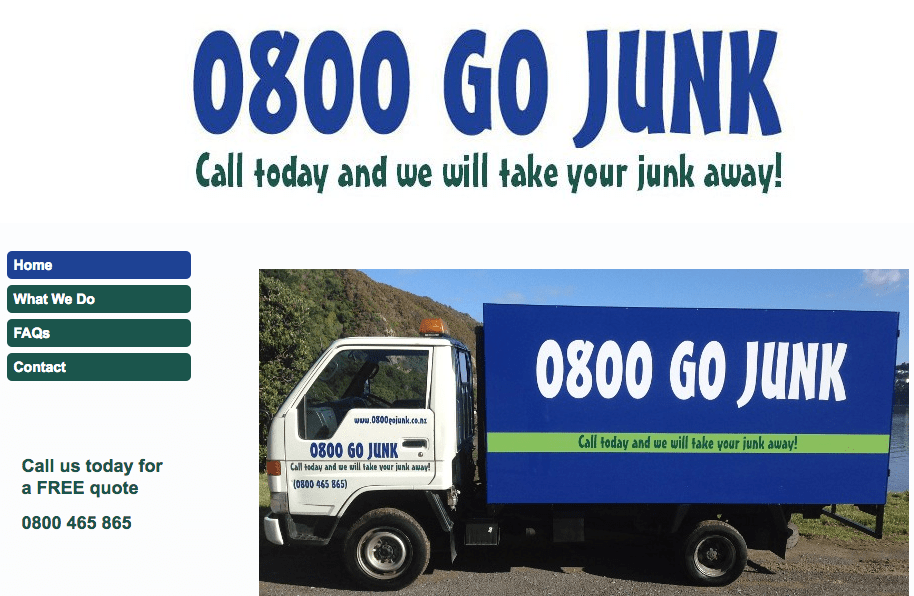 BEST FOR
Same-Day Junk Removal
SERVICES
Unwanted Junk

Furniture

Office Items

Outdoor Equipment

Whiteware

Green Waste

Rubbish Removal

WEBSITE
https://www.0800gojunk.co.nz/
ADDRESS
Wellington, New Zealand
CONTACT DETAILS
0800 465 865
OPERATING HOURS
—
If you have any junk that needs to be hauled away, just dial 0800 Go Junk! They come to you in clean uniforms and a blue truck with loads of space at the back.
It's really simple to work with them too. You just show them the things you don't need anymore and let them do the rest! That includes the heavy lifting, sorting, loading, donating, and recycling!
Items that they can remove are unwanted junk, furniture, office items, outdoor equipment, whiteware, green waste and rubbish.
Some of the best junk removal Wellington professionals, their service is friendly and affordable and they can take all your problems away for a clear and relaxed space.
Highlights
Friendly and affordable service
Can remove all sorts of junk and rubbish
Covers the Wellington Region
Simple and hassle-free process
5) Hutt Mover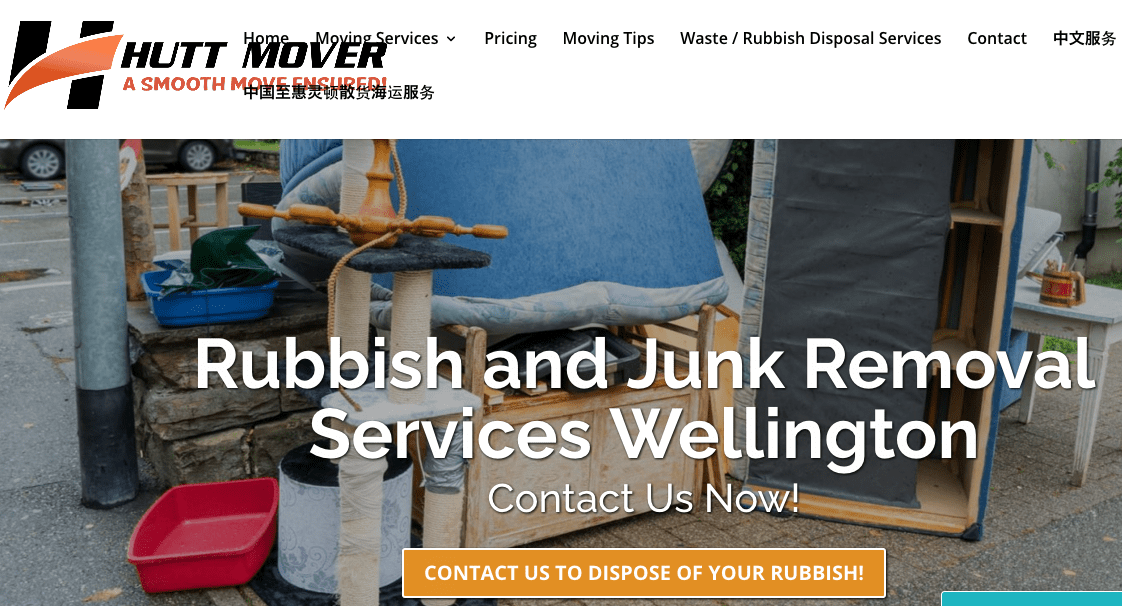 Hutt Mover has a mission to help people — help them move or dispose of their rubbish and junk. They are caring, helpful, and simply some of the best junk removal Wellington professionals.
They are dedicated to providing reliable, helpful and efficient services for disposal and recycling of building waste, unwanted furniture, appliances and garden waste.
If you're looking for service value, then Hutt Mover is the perfect company choice! With them, you'll get a reasonable price and satisfaction of a job well done and then some!
Note, however, that they don't remove liquid or food waste. They are open 7 days in the week and you can get a comprehensive quote through their online form or by phone.
Highlights
Genuine care and helpfulness
Offers a range of furniture and appliance disposal services
Reliable, helpful and efficient team
Value for money
Customer Reviews
Check out Heidi Wruck's comment on Facebook:
"Absolutely amazing. Fast, efficient, practical, logical, professional. They did a great job and even helped me when I badly rolled my ankle. Couldn't have asked for better service! And what a great price!!"
And that's all for the best junk removal Wellington professionals! Now you know whom to call to dispose of your unneeded items, knowing that they will be re-used, recycled or upcycled.
Any questions or thoughts about our topic for today? If you have one, just send it over to us by message and we'll get back to you in a jiffy!
Also, since people often call for junk removal services when they are moving out, you might be interested in reading about the best moving companies in Wellington too! Check out that list if you also need movers in the area.