The 9 Best Laminate Flooring Auckland Installers
Laminate flooring is resilient, exquisite and easy to install in your house. But not all laminate flooring has great quality, which is why we've compiled a list of the best laminate flooring Auckland installers here.
We selected the ones who offer a fine and economical range of laminate flooring. In addition, we picked those with reliable installers and stellar customer reviews.
If you're ready, allow us to present to you the best laminate flooring Auckland installers. Check them out below to see which ones you should contact.
1)  Laminate Direct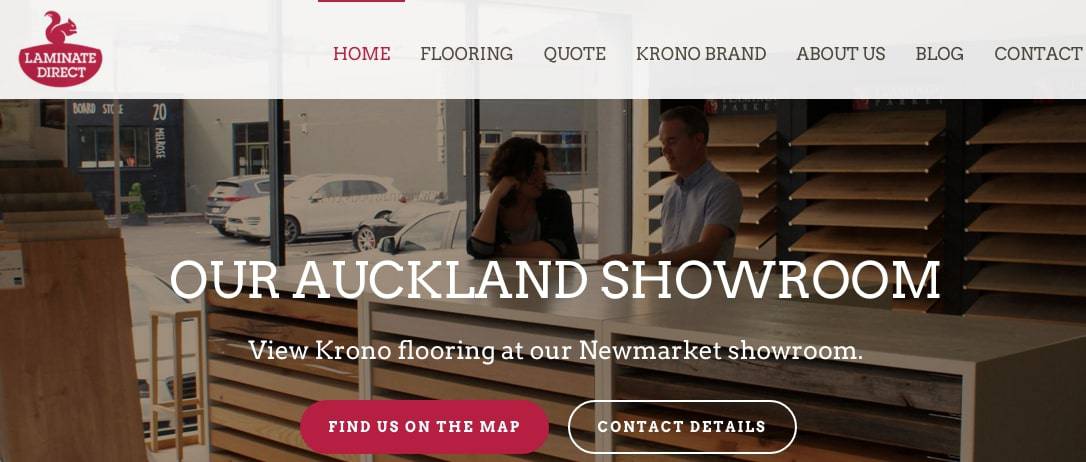 BEST FOR
German-Quality Laminate Flooring
SERVICES
Laminate Flooring

 

Flooring Underlay

Flooring Installation

WEBSITE
https://laminatedirect.co.nz/
ADDRESS
2 Roxburgh Street, Newmarket, Auckland 1023, New Zealand
CONTACT DETAILS
+64 9-523 1839
OPERATING HOURS
Monday to Friday: 8am – 4pm

 

Saturday: 10am – 1pm
Laminate Direct is a distributor and installer of the Krono Original laminate flooring from Germany. Not only does it have an authentic timber finish but it has exceptional durability too.
They have a team of expert installers with a decade of experience. They can provide advice on finding the perfect flooring finish and tone for your house.
For extra quietness, you can also choose to install an underlay for your Krono laminate flooring. This removes the drum-like noise when you're walking on it.
On top of that, the flooring comes with a confident 20 to 30 year warranty, which suggests that the team provides a remarkable product and service.
Highlights
German-made laminate flooring
Experienced and knowledgeable installers
Flooring underlay installation offered
20 to 30 year warranty
Customer Reviews
One client, Garrick Chong, mentioned on Google Reviews: 
"Amazing experience, staff were extremely reliable and helpful, and we soon found the product we wanted at a reasonable price."
2)  Prime Floors

BEST FOR
Wholesale Prices
SERVICES
Laminate Flooring

 

Hardwood Flooring

WEBSITE
https://www.prime-floors.co.nz/
ADDRESS
Unit 3, 930 Great South Road, Penrose, Auckland 1061, New Zealand
CONTACT DETAILS
+64 9 580 2479
OPERATING HOURS
Monday to Friday: 9am – 5.30pm

 

Saturday: 10am – 2pm
If you're searching for laminate flooring at super-affordable prices, then look no further than Prime Floors. Their flooring products are at wholesale prices here.
They stock high-quality flooring brands from leading suppliers. They offer a ton of options for hardwood and laminate flooring in various textures, colours and functions.
Laminate flooring is great for the DIY'er because it's easy to install with no need for glue. You simply snap the parts together across the entire length of the room.
Furthermore, the team stands behind their products with up to 30 years of warranty.
Highlights
Super-affordable prices
Large range of quality laminate flooring
Have a team of installers
Up to 30 years of warranty
Customer Reviews
Prime Floors has some of the best laminate flooring Auckland installers. Check out the review of one customer, Ray Lee, on Google.
"Jack came to our place for a measure and quote. The price was very reasonable, and gave us expert advice along the way for our renovation. Not to say the installation was done to perfection (I am a very very picky person), we are loving our new floors!
Highly recommended."

BEST FOR
Unparalleled Service
SERVICES
Carpet

 

Laminate

Timber

LVT & Hybrid

Sheet Vinyl

Tiles

Accessories

Floorcare

Installation

DIY

WEBSITE
https://www.flooringxtra.co.nz/
ADDRESS
14 Link Drive, Wairau Valley, Auckland 0627, New Zealand
CONTACT DETAILS
+64 9-447 1414
OPERATING HOURS
Monday to Friday: 9am – 5pm

 

Saturday: 10am – 5pm
Formed in 2008, Flooring Xtra is one of the most respected and largest flooring retailers in New Zealand, with over 60 stores.
They offer a vast range of flooring products that are of high quality, including carpet, laminate, timber, tiles, LVT and hybrid, sheet vinyl, and various accessories.
Their laminate flooring is also so craftily made that you can't tell the difference between it and real wood flooring. Also, the former is very durable and doesn't cost a lot.
Also, the Flooring Xtra team is said by clients to provide a prompt and excellent installation. Thus, they have some of the best laminate flooring Auckland installers.
Highlights
Affordable rates
High-quality laminate flooring
Great install workmanship
Over 60 stores nationwide
Customer Reviews
This Google review came from one of their clients, Paul and Debbie:
"Mark couldn't of been any better to deal with. He was patient, informative, and helpful every step along the way. The installers were also nice to deal with, turned up on time and did a great job. We love our floors and look forward to our new carpet. Thanks."
4)  Power Dekor Floors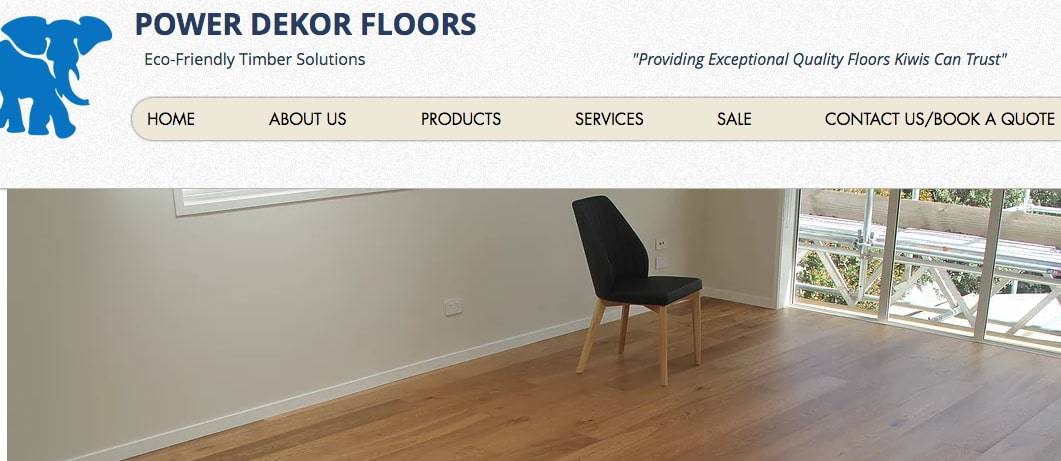 BEST FOR
Premium Laminate Flooring
SERVICES
Engineered Hardwood Flooring

 

Laminate Flooring

Waterproof Flooring

Acoustic Underlay

Accessories

WEBSITE
https://www.powerdekorfloors.co.nz/
ADDRESS
6/63 Arrenway Drive, Rosedale, Auckland 0632, New Zealand
CONTACT DETAILS
+64 9-444 8288

 

OPERATING HOURS
Monday to Friday: 9.30am – 5pm

 

Saturday: 10am – 3.30pm
Transform areas in your house with premium laminate flooring. Power Dekor's flooring has fantastic quality and feel, and has earned them global recognition.
Using leading-edge technology, they precisely capture wood grain and texture in their laminate flooring. Its 3-layer system provides more comfort underfoot.
In addition, the flooring has micro-beveled edges that let the boards look seamless and natural in every section and corner of your home.
Their laminate floor products are warranted for 35 years for residential homes and 10 years for commercial settings.
As their clients can attest, they also have some of the best laminate flooring Auckland installers.
Highlights 
Award-winning company
Premium laminate flooring
Expert installers
Solid warranty
Customer Reviews
Here's Tina and James Heart's review on Google:
"These guys really know what they're doing. I am so stoked with the new bathroom laminate. Thanks Linson"
5)  Creative Flooring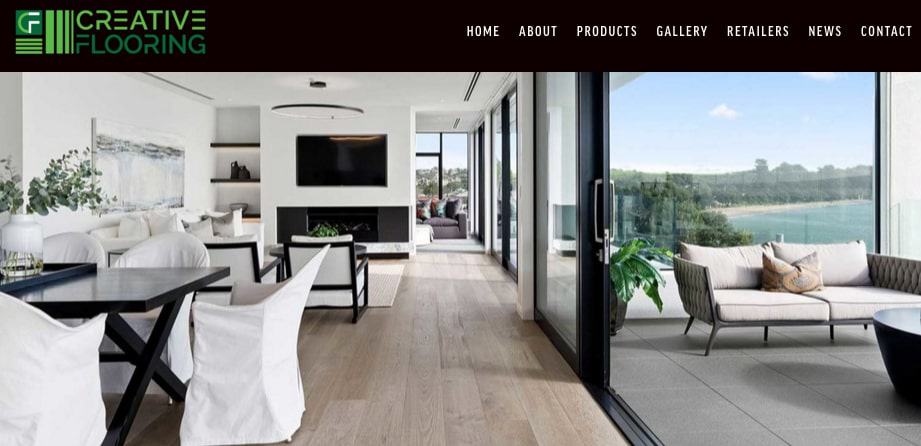 BEST FOR
Bespoke Laminate Flooring
SERVICES
Wood

 

Cork

Acoustic Cork

Laminate

Waterproof

Self-Adhesive Floor Protection

WEBSITE
https://creativeflooring.nz/
ADDRESS
115A Diana Drive, Wairau Valley, Auckland 0627, New Zealand
CONTACT DETAILS
+64 9-440 9625
OPERATING HOURS
Monday to Friday: 8.30am – 4.30pm
At Creative Flooring, they offer a great range of wood and cork flooring solutions in different grades, finishes and colours.
That's why they are a leader in the NZ flooring industry — you can get creative with their options to find something that naturally fits your home style and personal taste.
By the way, their laminate flooring can withstand the hard bumps of daily living. It features a melamine surface, making it scratch-resistant and resilient.
As we were saying, you can find different shades for your laminate flooring here, from dark, intense colours to light, pleasant ones.
Creative Flooring also offers flooring installation services aside from helping you plan and design. This means that you don't have to worry about anything — they have you covered from start to finish.
Highlights
Bespoke and resilient laminate flooring
Great range of flooring options
Full flooring service including installation 
Customer Reviews
On the webpage, Chrissie Ross who is one of their clients, stated: 
"I thoroughly recommend Creative Flooring for their knowledge and professionalism with my recent floor installation. There were a number difficulties to be overcome and Susie and the Creative Flooring team provided experienced, professional advice and solutions. We now have a beautiful floor which we are proud of. I could not imagine dealing with a better and more experienced team!"
6) Floorco Design Centre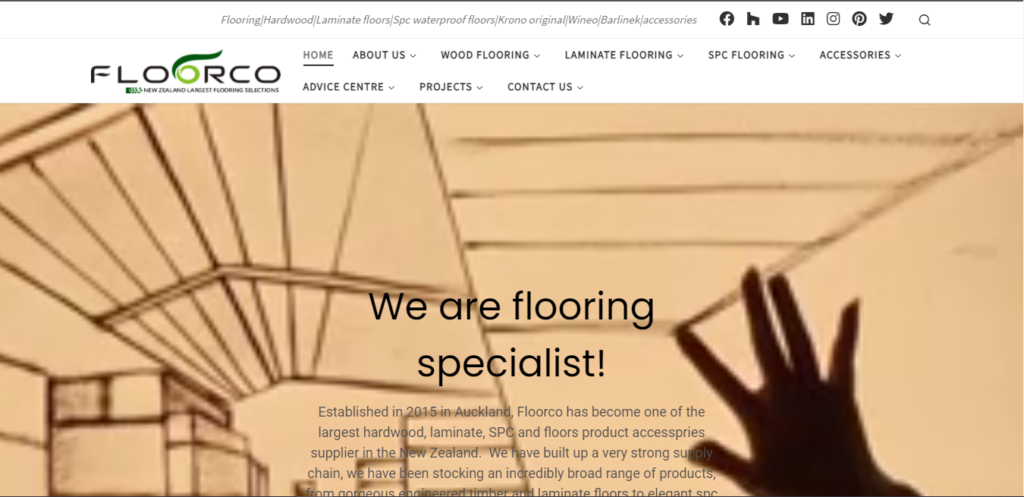 BEST FOR   
Expertise 
SERVICES
Real wood
Laminate
SPC floors
Flooring accessories
WEBSITE
https://www.floorco.co.nz/
ADDRESS
25 Enterprise street . Birkenhead Auckland
CONTACT DETAILS
021 199 0887 / 021 0591393
OPERATING HOURS
Tuesday-Friday: 10.30am- 4.00pm
Saturday-Sunday: 11.00am-3.00pm 
With over 200,000 sqm of floorings sold and installed, Floorco Design Centre is an expert in hardwood, laminate, and SPC floorings.
Floorco Design Centre only partners with brands with sustainable practices and products.
Their brands for laminate flooring include well-known names in the industry, such as Krono and Stepcasa. Thus, you can expect floorings that are durable yet comfortable.
Their 1200 sqm showroom will help you find the most naturally-looking laminate floorings that are also affordable. But what makes Floorco Design Centre stand out from other competitors is that it offers a lifetime warranty for its services.
Highlights
Krono, Stepcasa, Atwood, and Wineo laminate floorings
1200 sqm showroom
Same products for 10% lower price
Lifetime warranty
Customer Reviews
Read this review that B.b Hill wrote on Google Business to know more about Floorco Design Centre's products and services:
"Really good choice of laminate floors and hard wood flooring. Excellent  customer service. huge stock available in this trouble time, this is unbelievable! Visited Mt wellington to find flooring for our Auckland city hotel project. Terry and Michelle is Really helpful. and i believe we save much! ordered  4025m2!  picked up today!"
7) Complete Flooring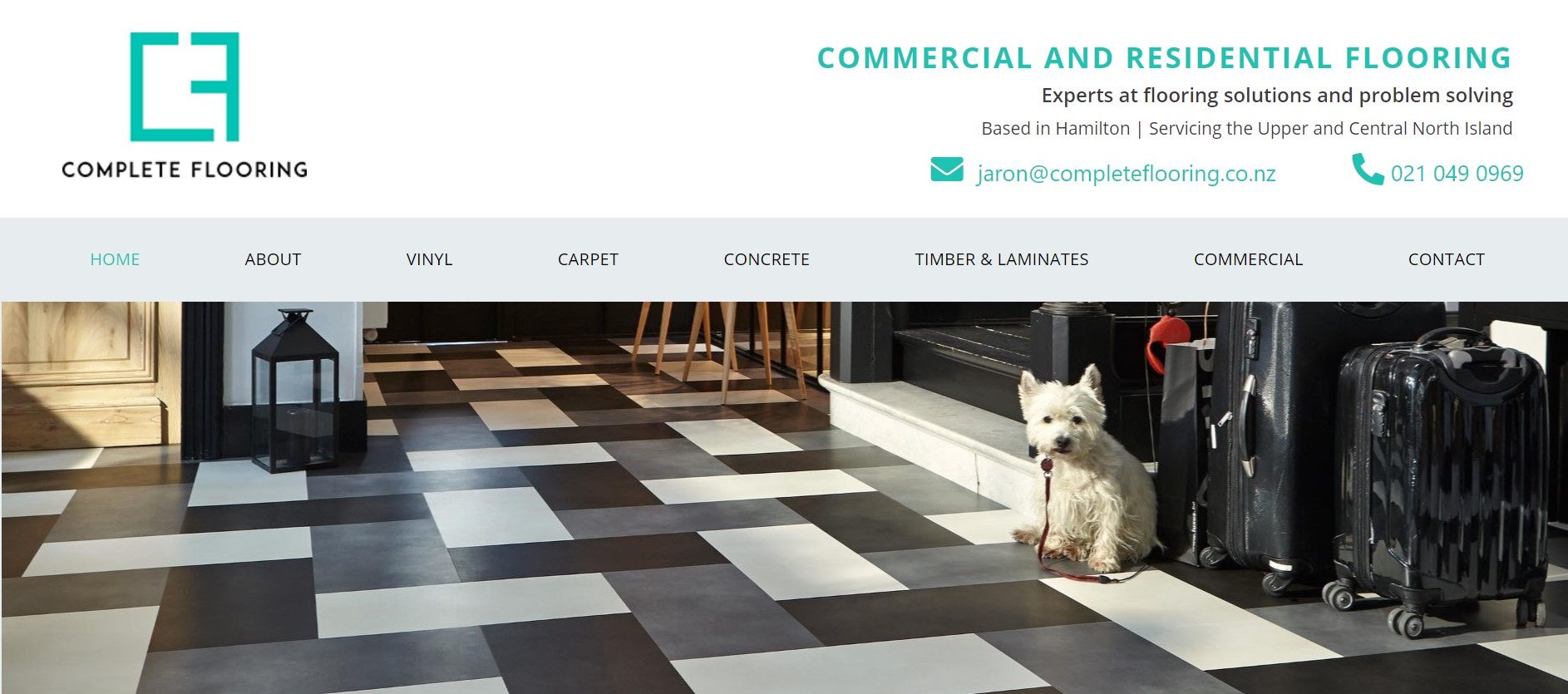 BEST FOR
commercial carpet and vinyl flooring
SERVICES
VINYL
CARPET
CONCRETE
TIMBER & LAMINATES
COMMERCIAL
WEBSITE
http://www.completeflooring.co.nz/
ADDRESS
10B Haig St, Frankton, Hamilton 3204
CONTACT DETAILS
021 049 0969
[email protected]
OPERATING HOURS
Mon to Sat – 6.30am to 6.30pm
Complete Flooring offers a comprehensive range of flooring services that you can acquire, one of which, is laminate flooring. They also have a whole lot more, like luxury tiles, carpet laying, and concrete polishing.
Their team promises high-quality results that would definitely last you a lifetime, so no more repairs for the time being. Their solutions to your problems caters unique to what you need, ensuring that you get maximum benefit at the best price.
What's more, is that they also take care in choosing products wisely, boasting to be a company that's solvent-free since 2007.
Opt for a company that takes care of your needs and your safety and satisfaction in the long run, contact Complete Flooring now!
Highlights
Environmentally friendly services
Wide variety of flooring work
8) Pro Timber Floors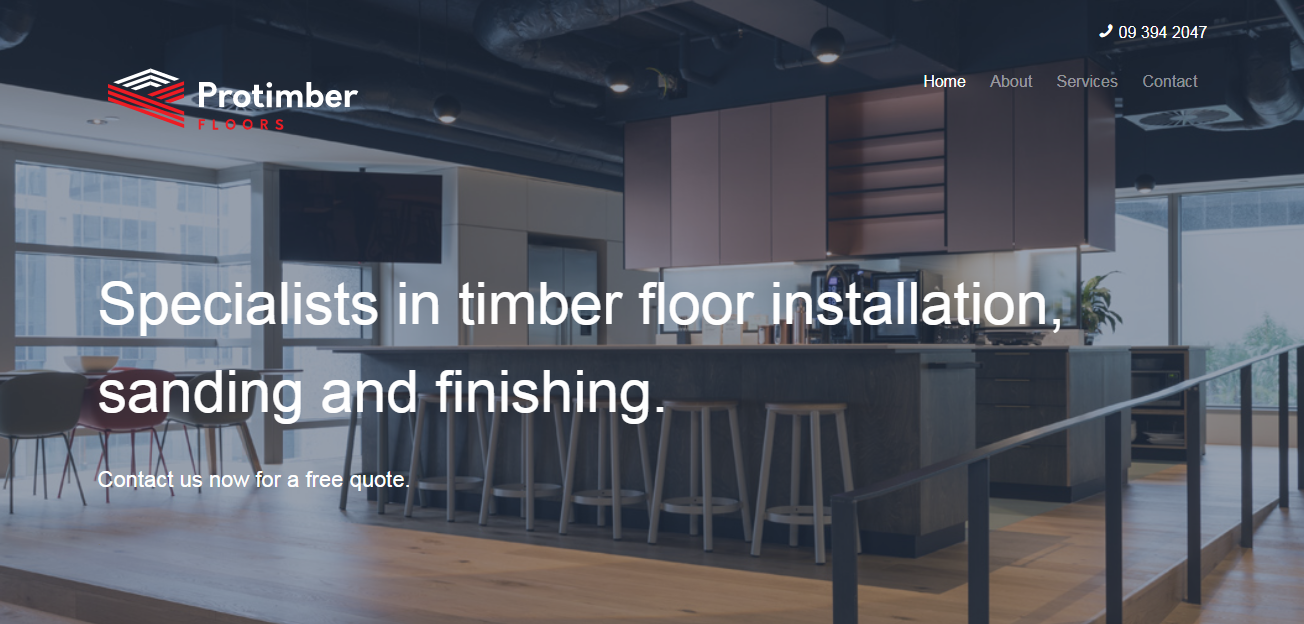 BEST FOR
Flooring
SERVICES
Uplift existing floor coverings
All aspects of substrate preparation including application of moisture barrier system
Acoustic underlay supply and installation
Stair Installation
Floor repairs
Sanding and finishing of timber floors
Engineered/solid/laminate/parquet over concrete, ply, particle board or existing tongue and groove flooring
Supply of timber flooring products, adhesives and accessories
WEBSITE
http://www.protimber.co.nz
ADDRESS
New Zealand
CONTACT DETAILS
09 394 2047
[email protected]
OPERATING HOURS
24/7
Pro Timber Floors offers top-notch timber sale, maintenance, and repair services in the area. Their many years of experience in the industry is one of the main reasons why they are known for delivering only the best quality products and services.
 Their team of qualified installers is dedicated to providing high-quality results to their customers. Satisfaction is guaranteed when it comes to their work.
Highlights
Full sample service
Extensive selection and variety
High-quality products
Free quote available
9) Floorco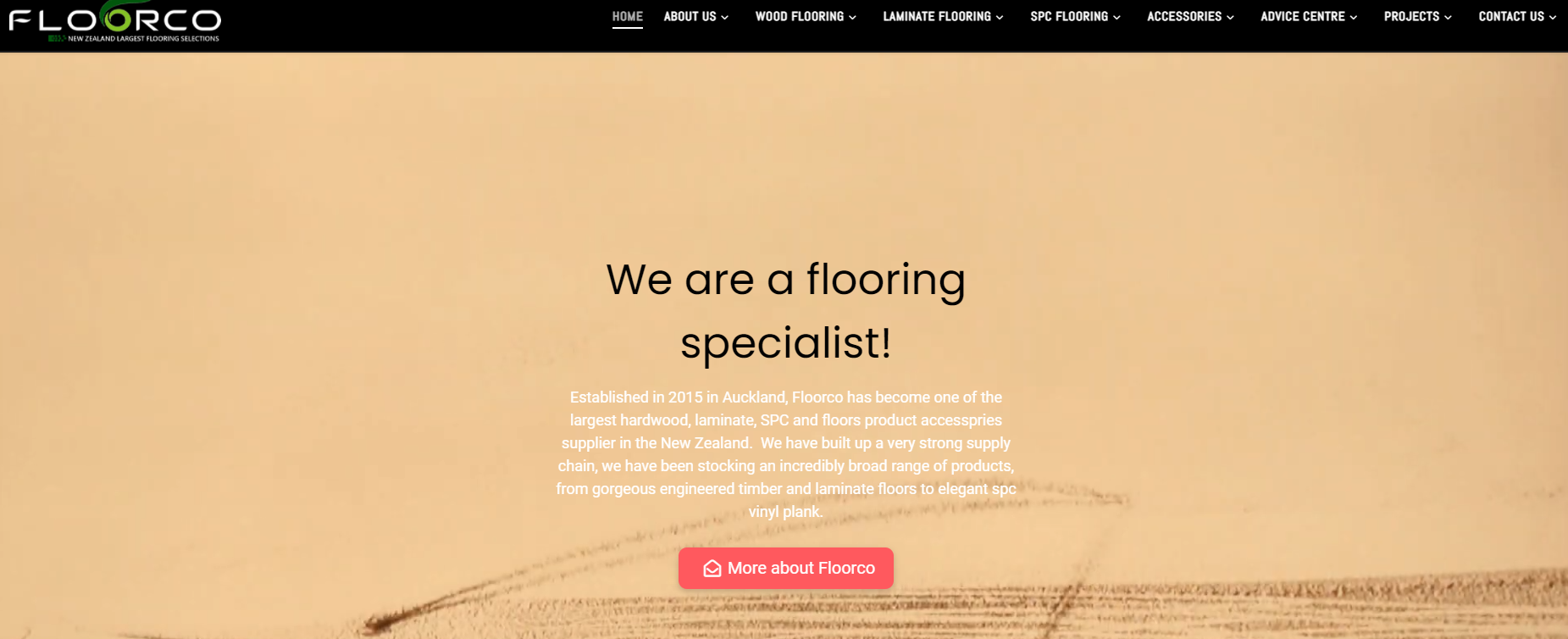 BEST FOR
Various flooring options
SERVICES
Wood flooring, Laminate flooring, SPC flooring, Flooring accessories
WEBSITE
https://www.floorco.co.nz/
ADDRESS

TRADING CENTER&WAREHOUSE
118 Carbine road.
Mt Wellington

DESIGN CENTER&SHOWROOM
25 Enterprise street.
Birkenhead

CONTACT DETAILS
Phone: Michelle 021 059 1393
Phone: Terry 021 199 0887
Email: [email protected]
OPERATING HOURS

TRADING CENTER&WAREHOUSE
Monday-Friday
10:30 am-1600 pm
Saturday
10:30am-15:30pm

DESIGN CENTER&SHOWROOM
Tuesday-Friday
10:30 am-1600 pm
Saturday & Sunday
11:00am-15:30pm
If you're in need of new flooring and are unsure of what to get, then you may want to consider one of the largest floor product suppliers in New Zealand.
Floorco was established in 2015 and has steadily grown to be a go-to for quality hardwood, laminate, and SPC floors and accessories in the country. The company has an excellent supply chain, stocked with a wide range of products, including but not limited to engineered timber, laminate floors, and SPC vinyl planks.
Aside from the flooring, Floorco is also known for its design centre and showroom, a location in which clients can check their desired flooring before making a process. By establishing this design centre, Floorco has managed to offer both convenience and accessibility.
Combined with its quality products, these make Floorco one of the best and most recommended flooring companies in New Zealand. 
Highlights
Offers both hardwood and laminate flooring
Showroom available
Sells flooring and accompanying accessories
Plenty of stocks available
And those were the best laminate flooring Auckland installers you can call. These professionals can help you pick the right design and install it at home.
Think we missed anything on this list? If so, let us know about it and we might add them to this very list.
Check out our other home improvement and design lists also. For example, you may want to see the best interior designers in Auckland to declutter and style up your place.