The Top 4 Landscaping Contractors in New Zealand
Think your property is missing a little something? That's where landscapers come in – the best ones can help transform any outdoor space from generic to unique.
To help you find the right contractor for your project, we've reviewed the best ones in the country, considering factors such as quality of work, expertise, and more. See which companies made our list!
The Cost of Landscape Contractor Services in New Zealand
The cost of landscaping contractor services in New Zealand can vary significantly depending on the types of services requested.
While the cost of a basic garden tidy-up can start at around 200 NZD, more complex tasks such as hard landscaping and deck installations can range anywhere from a few thousand to tens of thousands of dollars.
Additionally, some landscaping services may also require additional materials and planting, which can increase the total cost.
Hence, it is best to consult a landscaping professional to get a more accurate cost estimate for specific projects.
Below is a reference of what sort of prices you can expect for various landscape contractor services
| Services | Price Estimates |
| --- | --- |
| Plant installation | 400 to 800+ NZD |
| Installation of gravel and pavers | 30 to 50+ NZD per square metre |
| Retaining walls construction | 30 to 50+ NZD per square metre |
| Decking installations | 25 to 50+ NZD per square metre |
| Pergola construction | 2,500 to 4,500+ NZD per square metre |
| Lawn and hedge trimming | 50 to 90+ NZD |
| Irrigation installation and maintenance | 650 to 2,000+ NZD |
| Fencing | 200 to 1,000+ NZD per metre |
| Pressure-washing: | 0.15 - 1.00+ NZD per square metre |
How We Chose the Top Landscape Contractors in New Zealand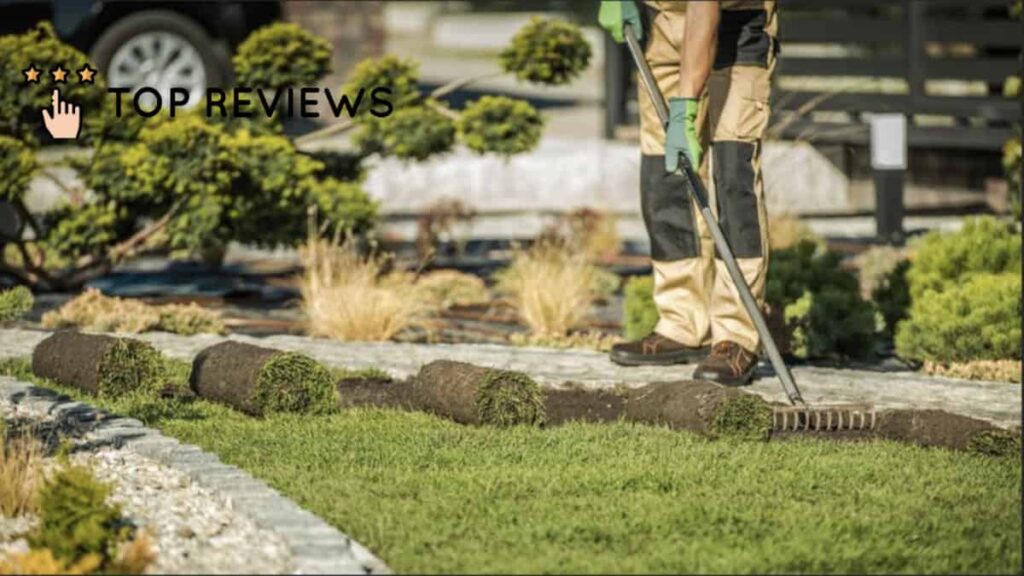 We chose the top landscape contractors in New Zealand based on these criteria:
1. Sculptural Landscapes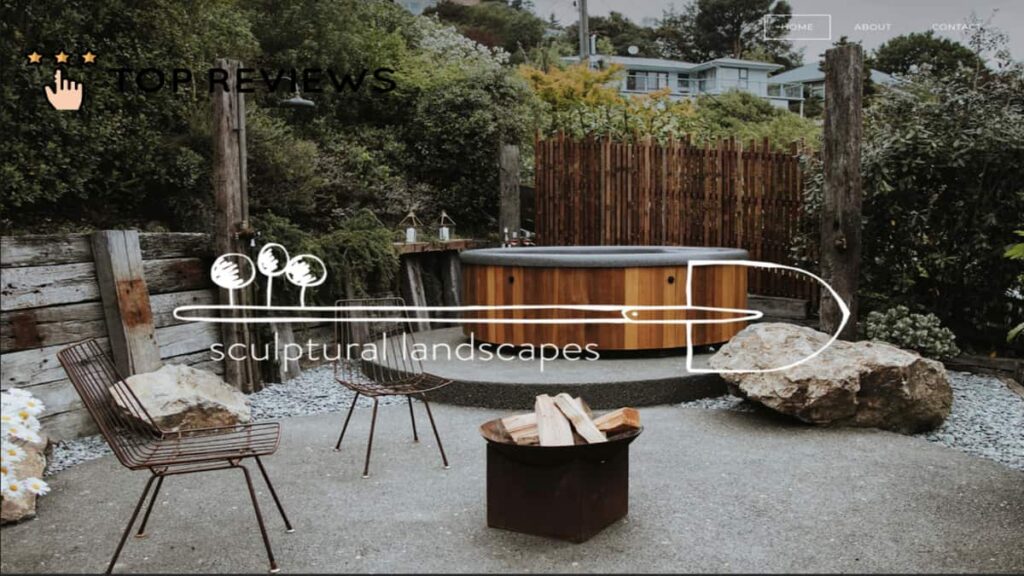 Test
Info
SERVICES
Outdoor Landscape
WEBSITE
Sculptural Landscapes
ADDRESS
19J Heathcote Street, Woolston, Christchurch 8023, New Zealand
CONTACT DETAILS
+64 3 390 9983
OPERATING HOURS
Monday to Friday: 7 AM to 6 PM

Saturday to Sunday: Closed
| | |
| --- | --- |
| Communication | ★★★★☆ (4/5) |
| Attitude | ★★★★★ (5/5) |
| Organization | ★★★☆☆ (3/5) |
| Safety | ★★★★★ (5/5) |
| Insurance & Licenses | ★★★★★ (5/5) |
| Quality | ★★★★★ (5/5) |
Sculptural Landscapes is one of the premier landscape companies in New Zealand. In our observations of them, we found their team of landscape contractors to be quite conscientious and dedicated, which quickly set them apart from the competition.
First of all, the process of working with their landscape contractors is top-notch. The quality of their contractors' communication when evaluating a project or making recommendations stood out to us.
We liked how they really took the time to understand their clients' needs before moving any project forward, which we thought could help to create a better experience overall.
Additionally, their attention to detail and focus on precision results in a landscape that looks great and stays that way for a long time.
One thing that we didn't always appreciate, though, was the lead time some of their contractors have taken with respect to scheduling their services. While it is understandable that they prioritize safety, efficiency, and quality of work, this can lead to some delays in projects.
However, this is a minor issue, and overall, the quality of their services more than makes up for it.
In conclusion, we recommend Sculptural Landscapes for their attention to detail and willingness to really get to know customers. They're among the best options we found when you want to ensure the contractor follows your preferences.
Excellent communication with clients 
Precise and detailed 
Prioritize safety 
Customer Reviews
Fantastic landscape design from start to finish
With a partner who is a perfectionist I knew I had to make a careful decision when choosing a landscaper to take on the big change we wanted for our front garden area and now that it is completed I know I made the right decision. The team at Sculptural Landscapes were fantastic from landscape design to finish. The work was meticulous and when they left everything was spotless. We absolutely love what they have done and are looking forward to enjoying our beautiful new space. The other reviews say it all about the team with their communication, punctuality, hard work & attention to detail. I can't recommend them highly enough. — Shannon Cook
Professional and great landscape job
A great experience. I had some major tree work undertaken and they came up with ideas I hadn't thought about to improve my section in terms of the work I thought I wanted undertaken !. Actual delivery was professional and job was tidy at the conclusion. Will get them back next year. — Andrew Mclachlan
2. Epic Landscape Design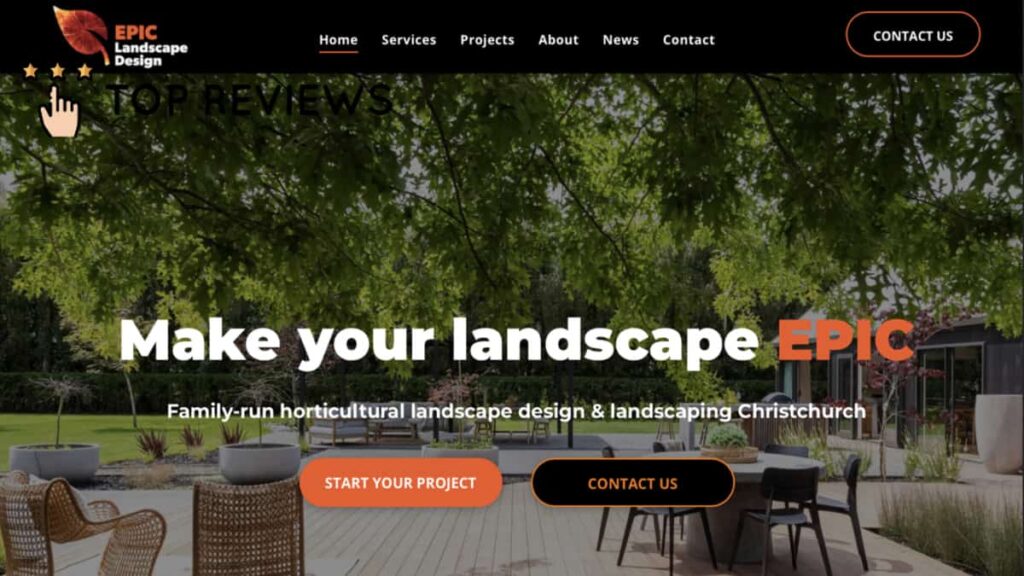 Test
Info
SERVICES
Consultation, Planting Design, Plant Sourcing, Full Landscape,Construction Drawings, 3D Modeling, Lighting Plans, Horticultural Consultancy & Maintenance, Landscape Construction
WEBSITE
Epic Landscape Design
ADDRESS
Serves Christchurch area
CONTACT DETAILS
+64 27 688 4155
OPERATING HOURS
Monday to Friday: 8 AM to 5 PM

Saturday & Sunday: Closed
| | |
| --- | --- |
| Communication | ★★★★☆ (4/5) |
| Attitude | ★★★★★ (5/5) |
| Organization | ★★★★☆ (4/5) |
| Safety | ★★★★★ (5/5) |
| Insurance & Licenses | ★★★★★ (5/5) |
| Quality | ★★★★☆ (4/5) |
Many satisfied customers of Epic Landscape Design highly recommended their services to us and anyone looking for exceptional landscaping services in Houston.
They claimed that their team of contractors is knowledgeable and professional and always goes above and beyond to ensure clients are satisfied.
One of the things we first noted about Epic Landscape Design when observing their landscape contractors in the midst of a project is their attention to detail. We liked how they took the time to listen to their client's needs and preferences, and worked diligently to bring their vision to life.
Plus, their work is not only beautiful but also functional and sustainable, which is important for the environment.
From a glimpse at their online gallery, we could see how they tried to incorporate nature in all of their client's projects.
Moreover, their customer service was top-notch. We found that they were always responsive, friendly, and willing to answer any questions we had.
However, we think that Epic Landscape Design could improve in terms of pricing. While their services are worth every penny, it would be helpful if they could provide more detailed pricing information upfront to help clients make informed decisions.
Overall, we understand why many recommended Epic Landscape Design to us as they do display outstanding work, professionalism, and customer service.
Top-notch customer service
Functionable and sustainable landscapers
Estimates could be more detailed
Customer Reviews
Exceptional to work with
Luke at Epic Landscapes was exceptional to deal throughout our entire landscaping project. We had a very general idea of what we wanted to achieve. Luke listened to our ideas and added his magic touch to give us a design far better that we ever imagined. The space that has been created is outstanding, we are absolutely thrilled with the results. We would highly recommend Luke and his team. — Phillipa Stewart
Extensive landscape experience and passionate
Luke is hugely talented, knowledgeable and passionate about landscape design. His extensive experience and horticultural knowledge sets him apart from others. Would highly recommend him if you are looking to get your dream outdoor space. — Simon Mullinger
3. Warwick Price Landscaping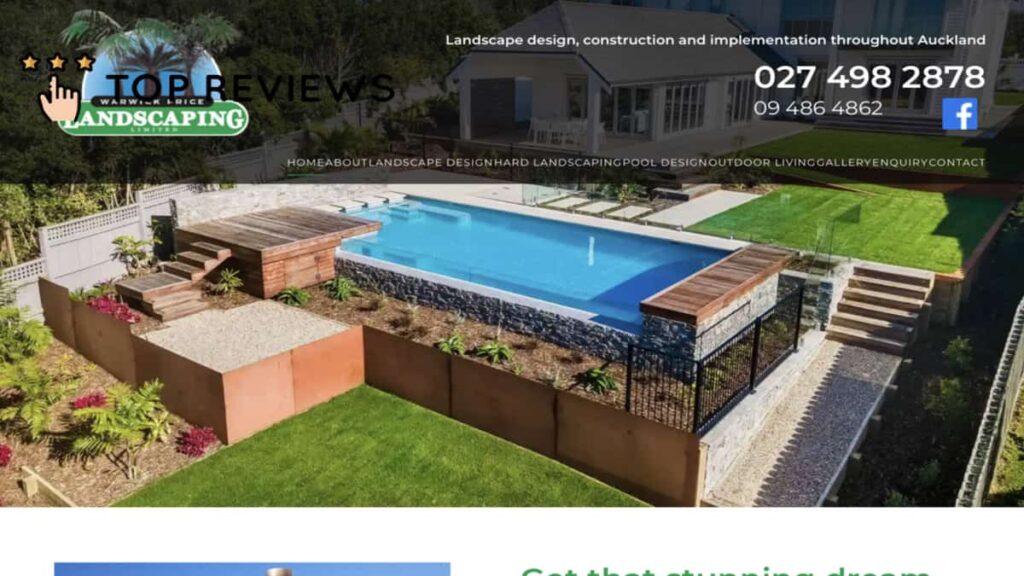 Test
Info
SERVICES
Landscape Design, Hard Landscaping, Pool Design, Outdoor Living
WEBSITE
Warwick Price Landscaping
ADDRESS
7 Sanders Avenue, Takapuna, Auckland 0622, New Zealand
CONTACT DETAILS
+64 9 486 4862
OPERATING HOURS
Monday to Friday: 7:30 to 5 PM

Saturday to Sunday: Closed
| | |
| --- | --- |
| Communication | ★★★★☆ (4/5) |
| Attitude | ★★★★★ (5/5) |
| Organization | ★★★☆☆ (3/5) |
| Safety | ★★★★☆ (4/5) |
| Insurance & Licenses | ★★★★★ (5/5) |
| Quality | ★★★★★ (5/5) |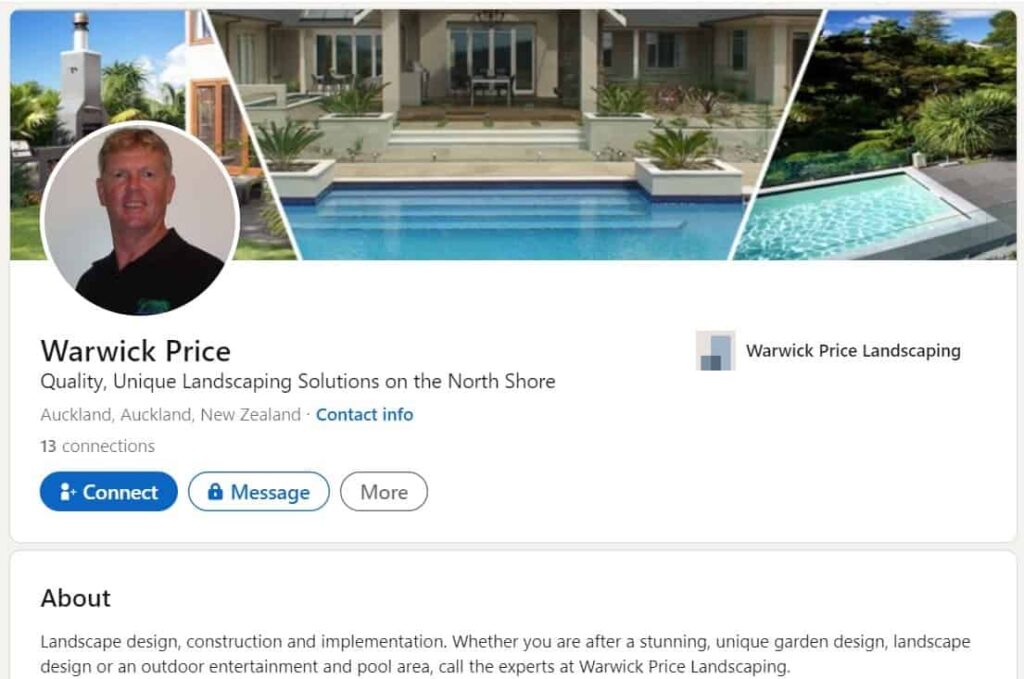 Warwick Price Landscaping was described to us as a reputable provider of landscaping services that gets both hardscape and softscape elements. Their former clients said they can make a garden beautiful while being mindful of the environment.
When observing them, we particularly liked the quality of workmanship that their landscapers and contractors provided. Their work was precise and exact, with attention to detail that didn't go unnoticed by our incognito observers.
Plus, the team was also very professional, efficient, and polite. Questions were answered and advice was given freely to ensure that we knew exactly what the landscape would look like before the process began.
Even their budgeting looked neat. We checked the client's first quotation and the project ended up looking very close to that in total costs at the end.
The only aspect of the process that could have been improved would have been the communication between the landscape contractor and ourselves.
You see, while they were polite and professional, we felt more could have been done by them to keep the customer in the loop throughout the project.
Precise and exact 
Efficient and polite 
Not as much communication as others
Customer Reviews
Finds cost effective solutions
Warwick was a pleasure to deal with. He had fast and professional communication, got the job done on time, and the outcome was fantastic. His team transformed our back yard from run down to a beautiful space, in a week. He found cost effective solutions that were within our budget & made the process feel easy. Highly recommended! — Dave Cameron
Professional and keeps you updated
Super delighted with our outdoor pool, patio and fireplace. The end result is a magical outdoor entertaining area for us to enjoy with family and friends. Warwick and the team were professional and kept me updated through the development and delivered on time. — Hannah Lyness
4. Ground Up Landscaping Ltd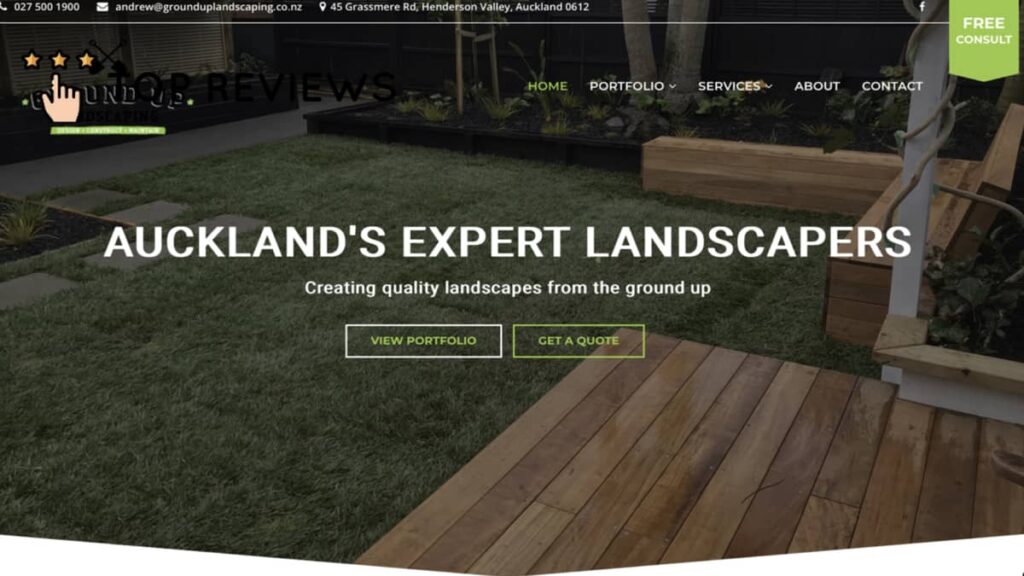 | Test | Info |
| --- | --- |
| SERVICES | Landscape Maintenance, Design & Construction |
| WEBSITE | Ground Up Landscaping Ltd |
| ADDRESS | 45 Grassmere Road, Henderson Valley, Auckland 0612, New Zealand |
| CONTACT DETAILS | +64 27 500 1900 |
| | |
| --- | --- |
| Communication | ★★★★☆ (4/5) |
| Attitude | ★★★★★ (5/5) |
| Organization | ★★★★★ (5/5) |
| Safety | ★★★★☆ (4/5) |
| Insurance & Licenses | ★★★★★ (5/5) |
| Quality | ★★★★★ (5/5) |
Ground Up Landscaping has landscape contractors that do excellent work throughout the entire country. Hence, we shadowed a few of their landscape contractors on their projects to see if they are as good as the claims we heard.
First of all, we noted that their process starts with a free consultation, where they assess the needs of their customers and provide them with a tailored plan based on their specific desires.
We like this because it helps to ensure their clients get exactly what they're looking for… and the results are often incredible.
Like most of our other picks, they have fantastic attention to detail, which we see is what helps them to create truly unique designs, tailor-made for each customer.
We found their process of creating tailored landscape designs to be simple yet effective. We observed how they first use computer-aided design to create the foundation of their design, before using specialist landscaping materials to bring it to life.
We thought this was clever because it ensures they always deliver the highest-quality results. Most mistakes are identified before they start working with concrete materials, after all.
And from what we've seen, the team at Ground Up Landscaping are all highly experienced and knowledgeable, making them the perfect choice for anyone looking to create the perfect outdoor space. From gardens to golf courses, they are confident they can create something truly stunning.
One of the things we like the least, though, about Ground Up Landscaping is that while their work is of top quality and the results are always excellent, they can be a bit pricey.
All in all, we believe Ground Up Landscaping are among the best landscape companies in New Zealand because of their attention to detail and use of specialist materials that ensures their clients get unique, tailored landscape contract services that are sure to impress.
Detailed work 
Good at creating unique landscapes
Customer Reviews
Self sufficient and hardworking
Andrew and his team removed and replaced a 15 meter retaining wall in 10 working days with a new boundary fence around the property.
Very professional and hard working.
They seemed self sufficient and got everything done surprisingly fast! — Kaleb Carr
Genuine and down to earth experience
Really enjoyed dealing with Andrew and the team at Ground Up. Genuine, down to earth guys who made the entire experience easy and stress free with an awesome result. Can't recommend enough. — Phil Bristow
FAQs About Landscape Contractors in New Zealand