The 5 Best Laser Hair Removal Clinics in Wellington
Tired of shaving or waxing your body every now and then? Well, you don't need to — with the best laser hair removal clinics in Wellington that we've covered here — it won't be necessary anymore!
The best laser hair removal clinics are ones that you can trust to perform the procedure without scarring your skin or missing too many follicles. That way, you get truly smooth skin with a minimum of fuss.
Anyway, if you're eager to see what we mean, allow us to line up our list for the best laser hair removal clinics in Wellington! Here they are:
1)  Waxnlaser Hair Removal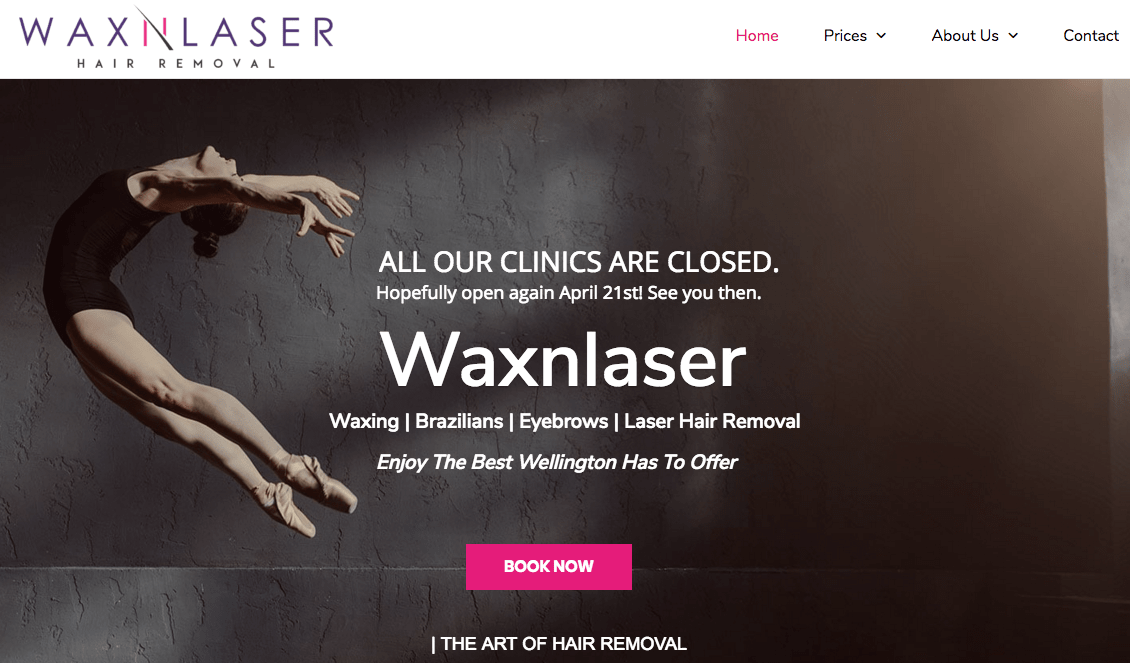 | | |
| --- | --- |
| Services | Waxing, Brazilian, Eyebrows, Laser Hair Removal |
| Address | Level 1/39 Johnston Street, Wellington 6011, New Zealand |
| Contact no | (04) 499 5859 |
| Website | https://waxnlaser.co.nz/ |
Waxnlaser Hair Removal is a self-proclaimed pioneer of the hair removal industry in New Zealand. They offer both waxing and laser hair services intersecting with both past and present cosmetic treatments.
They are safe and qualified operators of the Elos Plus Diode Laser. This is a high-powered instrument that shoots light into the bulb of the hair without any pain that irritates your skin.
Whether it's the arms, legs, Brazilian or bikini, those unwanted hairs will gradually come off with their help… and soon you can have that beach workout or tanning session in the sun you've always wanted.
Highlights
Offers waxing and laser treatments
Uses the powerful Elos Plus Diode Laser
Safe and effective
Friendly beauticians
Customer Reviews
From Google Reviews, Izsi Salmon wrote:
"Super nice girls, gorgeous clinic, I actually look forward to my waxing appointments here! They make everything so efficient and comfortable. I've had a couple of different beauticians and it's always top standard."
2)  Your Skin & Laser Clinic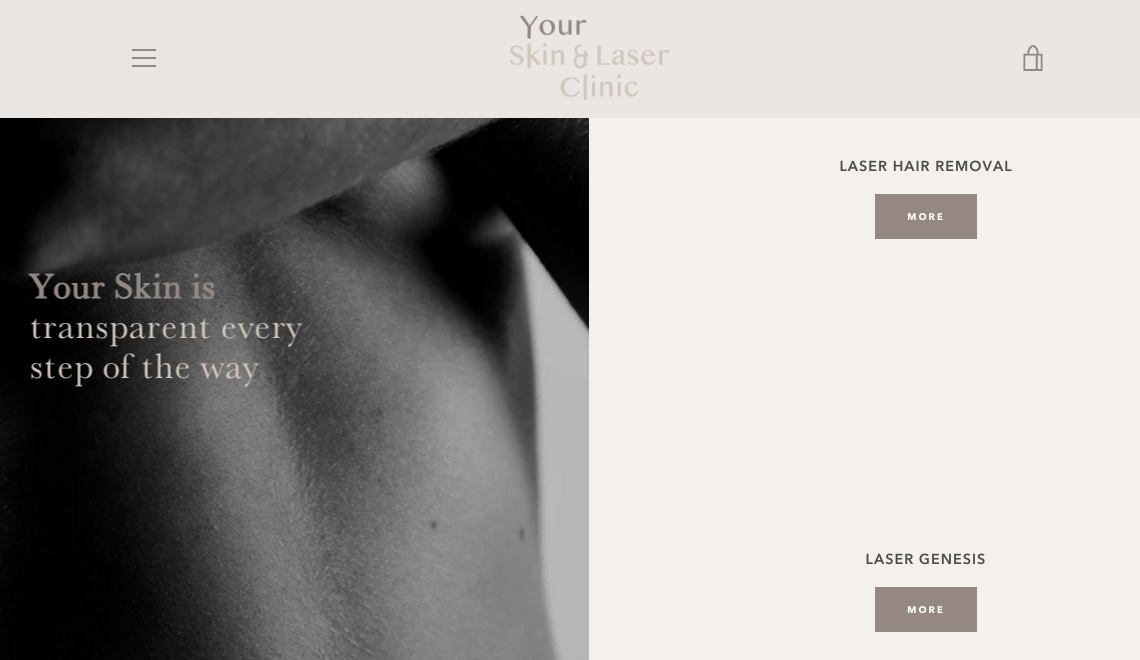 | | |
| --- | --- |
| Services | Laser Hair Removal, Laser Genesis, Micro Needling, Facial Vessels, Pigmentation Removal, Skin Peels |
| Address | Shop 4, 1 Grey Street Wellington, 6011, New Zealand |
| Contact no | (04) 213 9119 |
| Website | https://yourskinandlaser.co.nz/ |
Sometimes, we lose our confidence thanks to unwanted hair. To regain it, Your Skin & Laser Clinic offers a variety of services including Laser Hair Removal, microneedling, skin peels, and removal of facial veins and pigmentation.
They use a top-of-the-line Cutera Excel HR that removes obtrusive hair from your face or body. It has sapphire cooling that takes away the burn at every pulse for a comfortable and painless treatment.
Your clinician will also explain clearly what you should do before, during, and after the treatment to keep your skin prepared and prevent skin irritation or damage.
Because they are there for you every step of the way, caring for you, we included this for the best laser hair removal clinics in Wellington.
Highlights
Range of skincare services
Utilises Cutera Excel HR
Qualified staff
Reminds you what to do pre- and post-treatment
Customer Reviews 
Natalia Pawlikowska writes on Google Reviews:
"Jay is an excellent therapist who takes her time to examine the skin in order to offer the most suitable treatment. She is also really kind and makes you feel very welcome and relaxed in her clinic. Strongly recommended!"
3)  Off & On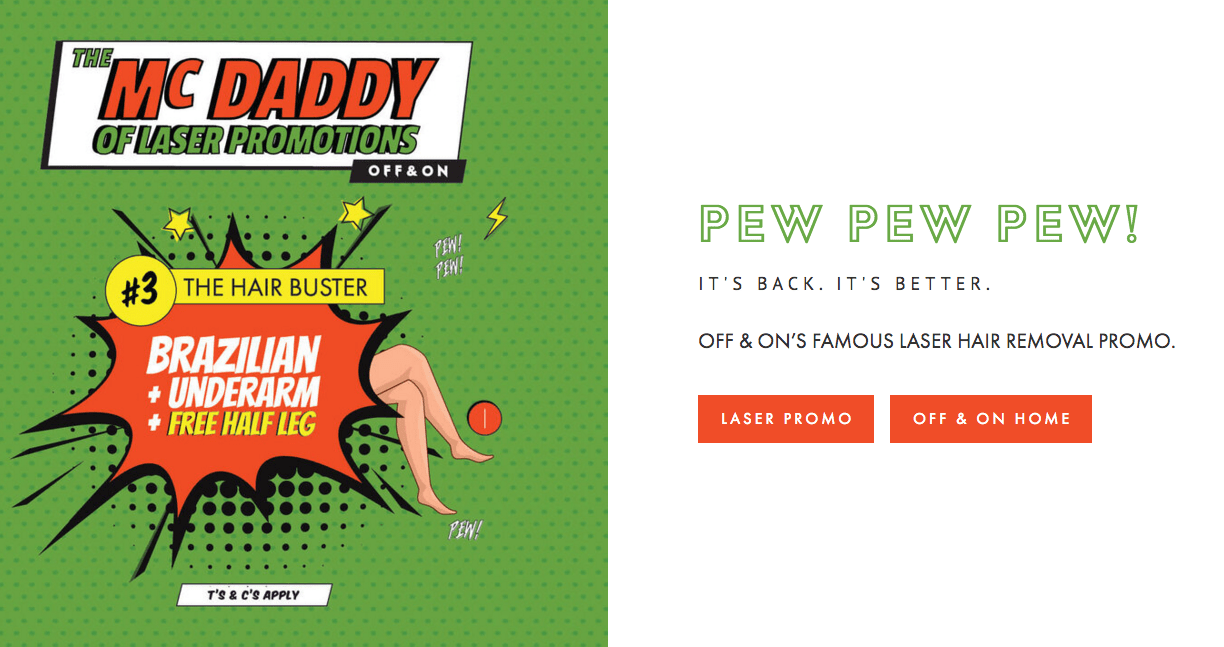 | | |
| --- | --- |
| Services | Laser Hair Removal, Waxing, Dermaplaning, Pigmentation, Brows, Microblading |
| Address | 22 Panama Street, Wellington 6011, New Zealand |
| Contact no | (04) 499 1540 |
| Website | http://www.offandon.co.nz/ |
Get ready to have your brows and furry self pew pew pewed here! Off & On is a waxing and laser hair removal specialist based in the coolest little capital of the world!
They have a certified team that strives to expand and hone their laser skills with regular industry training. With the Candela Gentle Max Pro, they can take on most complexions while cooling your body.
Choose from Classic, Brazilian, McManscape, and Smooth Operator combos. And the best part, when you avail of their packages, is that you get a squeezable beaver freebie (stocks are limited, though, so hurry!).
Highlights
Offers cosmetic waxing and hair removal
Awesome value packages
Highly trained clinicians
Free beaver stress toy
Customer Reviews
From Google Reviews, Lucy Johnston mentioned:
"Beautiful space with the most amazing staff who make me feel so special every time I go. The services are pain free, professional and have a great result. Highly recommended!"
4)  Avana Cosmetic & Laser Clinics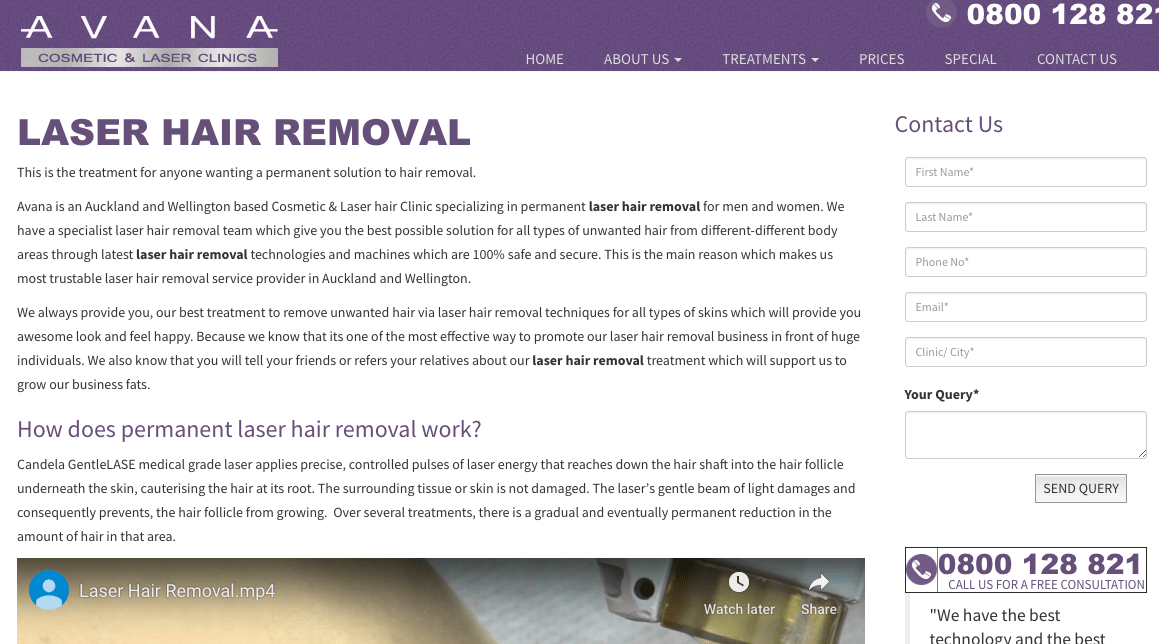 | | |
| --- | --- |
| Services | Laser Hair Removal, Tattoo Removal, Soft Peel, Pigmentation and Lesion Removal, Microdermabrasion, Facelifts, Acne Removal, Cosmetic Teeth Whitening, Wrinkle Reduction, Body Sculpting and Contouring |
| Address | 44 The Terrace, Ground Floor, Wellington CBD, New Zealand |
| Contact no | 0800 128 821 |
| Website | https://avana.co.nz |
For a decade and more, Avana Cosmetic & Laser Clinics has been providing clients with safe and affordable laser treatments and cosmetic services. That makes them one of the best laser hair removal clinics in Wellington.
If you are going for a permanent hair removal, they are the perfect clinic to do that. Their machine is the Candela GentleLASE that is designed for all skin types for both men and women.
There's mild to no pain with this laser's cooling technology. After several sessions, your body will be completely free of unwanted hair and for good!
Highlights
Safe and affordable laser treatments
Over 10 years of experience
Latest equipment and machines
Certified personnel
Permanent laser hair removal
Customer Reviews
Coming from Google, Phoebe Hodgins mentioned how her treatment with Avana went:
"Have really enjoy coming to Avana clinic and working with Ronnie…For someone who is a novice with laser treatments and skin care, I have really appreciated the time Ronnie has taken to teach me about how to care for my skin better and enjoyed the laughs in the process!"
5)  Caci Thorndon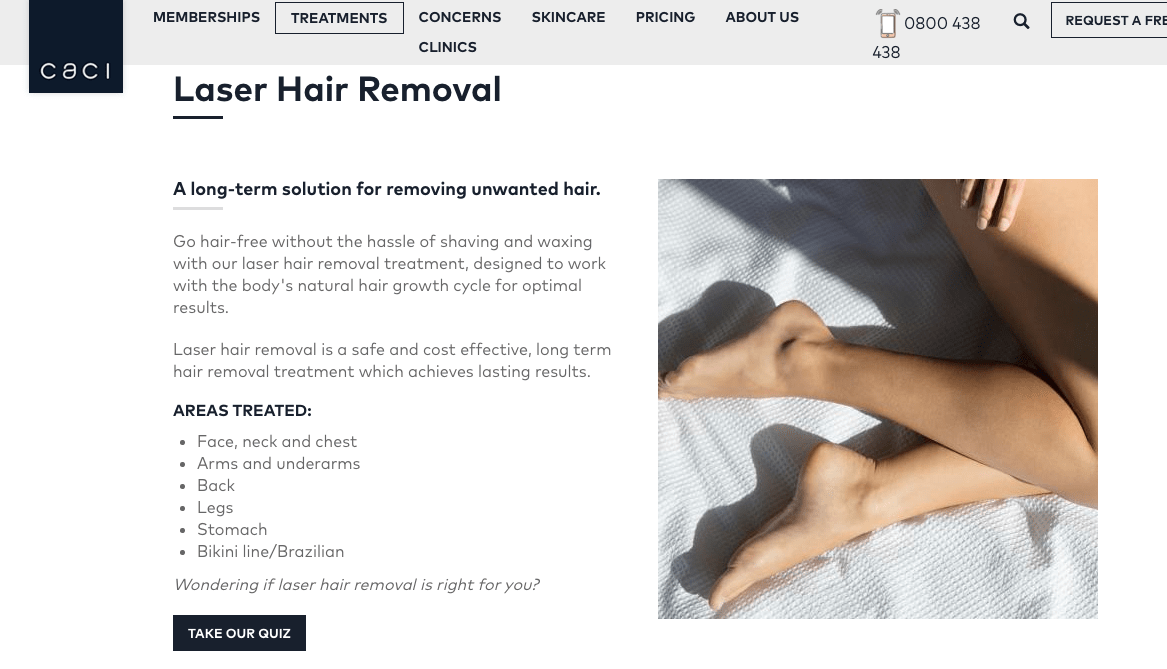 | | |
| --- | --- |
| Services | Laser Hair Removal, Microdermabrasion, Light Therapy Skincare Infusion, Facelift, Microneedling, Botox, Lip Enhancement, Cryolipolysis, and Beauty Therapy |
| Address | 177 Thorndon Quay, Pipitea, Thorndon 6011, Wellington, New Zealand |
| Contact no | 0800 438 438 |
| Website | https://www.caci.co.nz/laser-hair-removal |
If you want a laser hair treatment that's natural and safe, get in touch with Caci Thorndon. They employ both VPL and Diode lasers that you can discuss with them (in order to know what's best for you).
Their therapists are down-to-earth, caring, and professional. Their laser treatment will reduce your hair based on its natural growth cycle until it's flawless and completely removed.
This will leave your skin soft and smooth for the ultimate beauty experience. Hence, Caci certainly belongs to this list of the best laser hair removal clinics in Wellington.
Highlights
Flawless skin results
Over 25 years of experience
Caring and down-to-earth therapists
Offers VPL and Laser Treatment
Customer Reviews
Jade praised Caci in their laser treatment programme of her bikini line problem. Her review can be seen on the Caci website:
"I'm quite a dark haired girl down under, and have hair that grows very course and thick! So it's always been a problem and an insecurity of mine more so to the point. I felt embarrassed wearing bikinis etc as I would always have a terrible bikini line. When I first got told about Caci's hair removal I didn't think it would even work, I'm now 7 treatments down the line and completely hairless! Absolutely shocked, it doesn't grow back at all."
And there you have it for the best laser hair removal clinics in Wellington. These specialists will provide you with safe and incredible hair removal, making you even more gorgeous or handsome!
Any questions about laser hair removal, though? Ask us anything, just send us a message and we'll get back to you in a bit.
Other than that, if you have acne, wrinkles, or rashes, we've also gone ahead and found the best dermatologists in Wellington for you. Like the hair removal centres we've listed here, those dermatologists are also highly adept and have the latest equipment to treat your skin.