6 Best Lawn Mowing Professionals in Auckland
Mowing your lawn can be a hassle to your weekend plans. But there's a better idea and it is to call the best lawn mowing professionals in Auckland who will keep your lawn trim, fresh, and green while you sit back and relax.
It is essential to entrust your lawn to a company that has a good amount of experience, knowledge, and expertise. Our featured list has companies that meet those criteria so that they can take care of your lawn in the best way.
Most of them also offer side services beside mowing your lawn. They can plant new seeds, take out pests, design or landscape, trim the border hedges, and even water-blast stubborn stains.
With that in mind, let's start with the best lawn mowing professionals in Auckland!
1) Auckland Gardening Ltd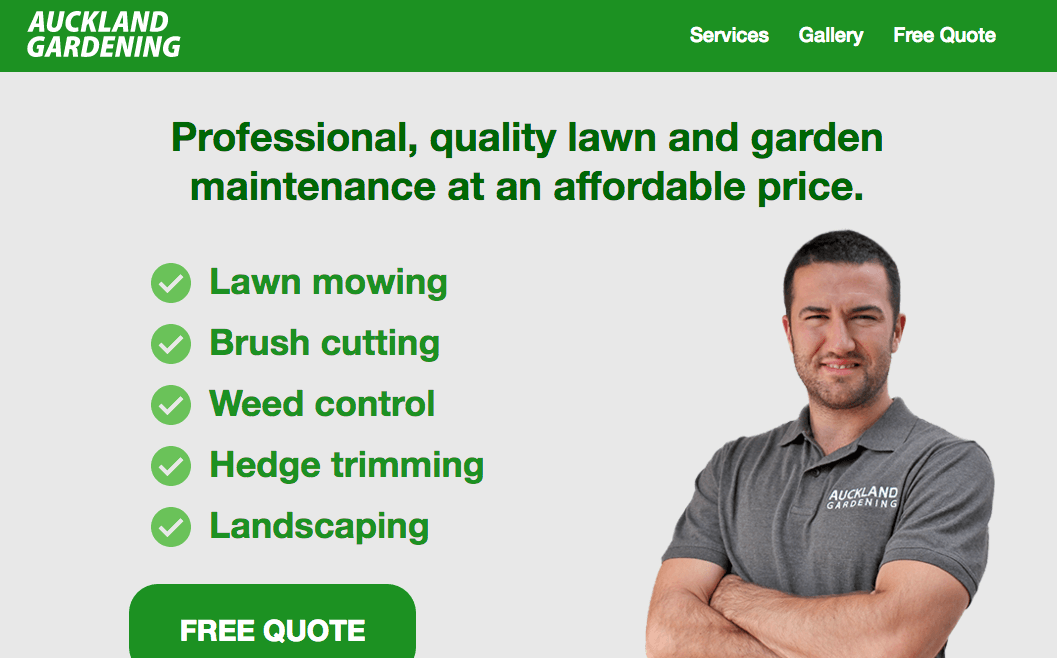 | | |
| --- | --- |
| Areas covered | Auckland-wide |
| Services | Lawn Mowing, Weed Spraying, Hedge Trimming, Chain Sawing, Garden Cleaning, and Landscaping |
| Address | 186A Henderson Valley Road, Henderson, Auckland 0612, New Zealand |
| Contact no | +64 27 955 7006 |
| Website | https://aucklandgardening.co.nz/ |
If you are too busy to mow your lawn, then look no further than Auckland Gardening. They offer residential property lawn mowing and garden care services at a value-giving price.
They cut neatly, giving particular attention to the edges. This prevents grass trespassing to another section of your lawn, driveway, or walking paths.
As you can see from their outstanding customer reviews, they are one of the best lawn mowing professionals in Auckland! Your lawn is sure to be cleaner and more inviting afterwards!
Highlights
Great before and after comparisons
Proper and neat grass cutting
Affordable prices
Also offers gardening service
Customer Reviews
Megan Andrew commends Auckland Gardening Ltd at Google. It reads:
"Daniel and his crew did a fantastic job. There was clear and efficient communication right from the beginning. The work was done promptly and to a great standard. I fully recommend Auckland Gardening Limited."
2) Yard Smart NZ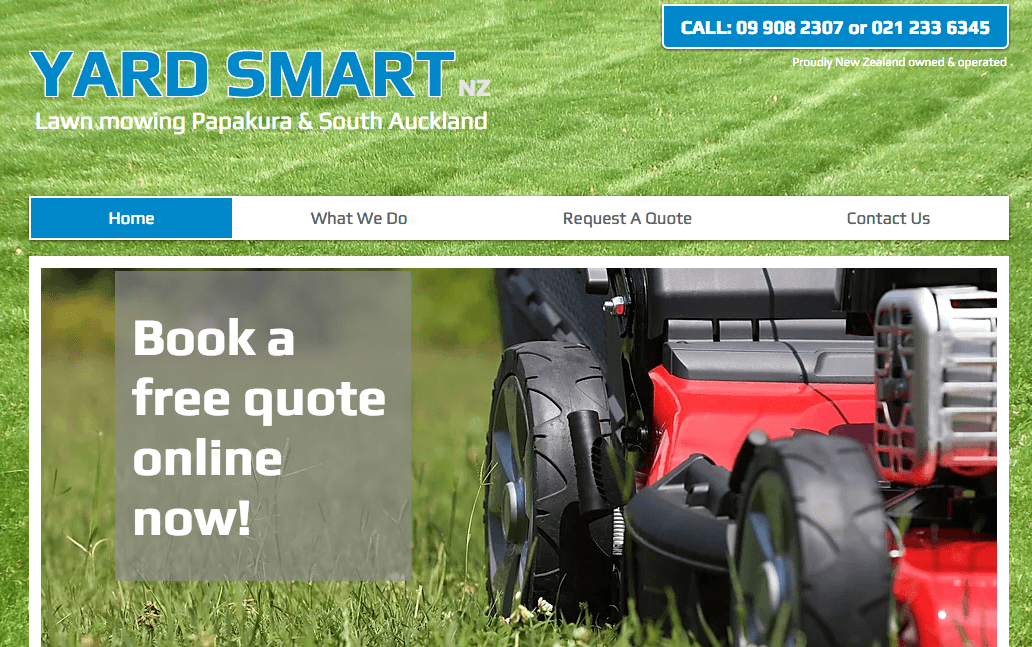 | | |
| --- | --- |
| Areas covered | South Auckland, Papakura, and surrounding areas |
| Services | Lawn Mowing, Hedge Trimming, and Garden Tidying |
| Address | South Auckland, New Zealand |
| Contact no | 09 908 2307 or 021 233 6345 |
| Website | https://www.yardsmartnz.co.nz/ |
Yard Smart NZ is a small family-owned mowing company based in South Auckland. They can provide one-off or regular mowing to take care of your lawn in your available schedule.
They are experts in their field and are capable of keeping your lawn cut and finished, and your hedges attractive and tidy. Your home has never had a better mowing before!
Along the way, they can work as your trusted gardener to take out the weeds, aerate the soil, or re-establish your plants. A full service for yet another of the best lawn mowing professionals in Auckland.
Highlights
Neat lawns and hedges
Family-owned for a hands-on service
Also offers garden maintenance
Customer Reviews
Here's a short but informative review from Dorothy O'Connor:
"I have found Kelly to honest, willing and reliable, always happy to please, he has been doing my lawns for over 3 years."
3) EzyMow Lawnmowing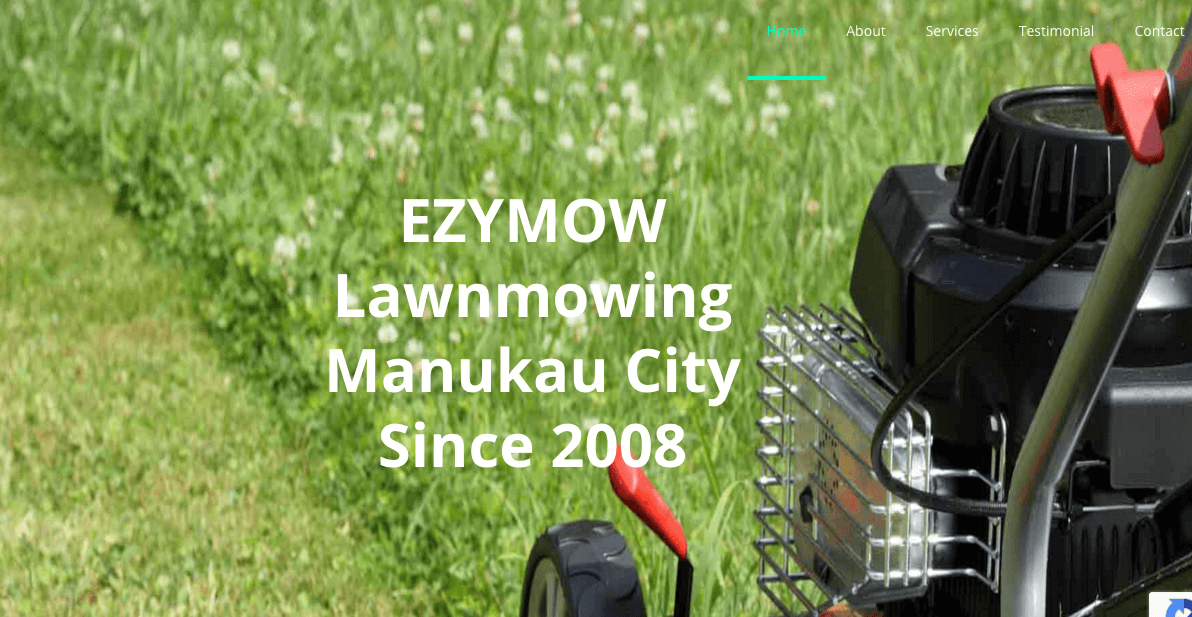 | | |
| --- | --- |
| Areas covered | Some areas in South Auckland |
| Services | Lawn Mowing, Hand Mowing, Ride On Mowing, Edge Trimming, Air-Blown Paths, and Weed Control |
| Address | Musick Point Road, Bucklands Beach, Auckland 2012, New Zealand |
| Contact no | +64 021 0247 5434 |
| Website | https://www.ezymow.co.nz/ |
Looking for more freedom and personalised lawn mowing? You've got it with EzyMow Lawnmowing. They specialise in trimming commercial lawns, although they cut residential lawns too.
Do you want the cut to be partial or full, regular or one-off? Are you good with them using a mulcher or catcher mower? Whatever your choices, they carry out their work to a high standard every time.
What's more, they have an approachable and friendly team that can advise you to better care for your lawn or garden. And the best part is that you get an affordable rate with their service.
Highlights
Specialises in small or large scale commercial mowing
High quality mowing
Affordable prices
Kind and friendly staff
Customer Reviews
Scott Henderson said from Google Business:
"EzyMow lawn mowing is so EZY to deal with. Excellent value and always friendly service with a smile. I would not hesitate to recommend these guys for all your lawn care needs."
4) Dino Mow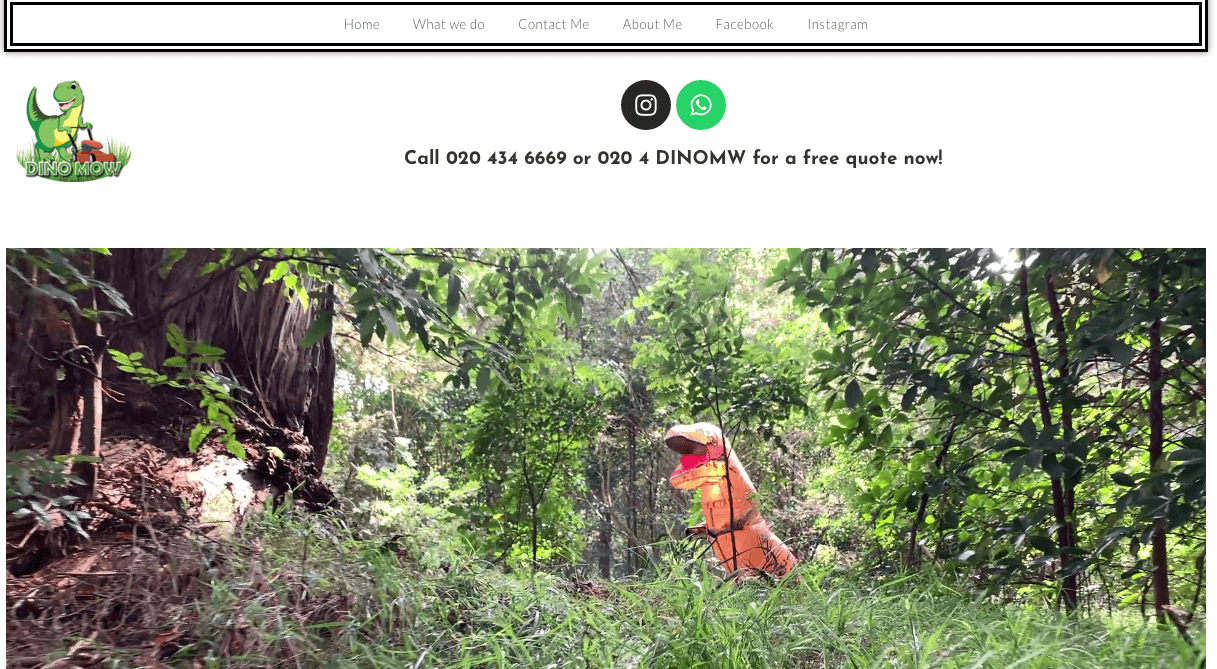 | | |
| --- | --- |
| Areas covered | Auckland and the surrounding areas |
| Services | Lawn Mowing, Edge Cutting, Weed Removing, Garden Care and Maintenance, Tree Removal, Rubbish Removal, and Residential Management |
| Address | 28 Tomintoul Place, Highland Park, Auckland 2010, New Zealand |
| Contact no | 020 434 6669 or 020 4 DINOMW |
| Website | https://www.dinomow.co.nz/ |
Take some time off and let a dino buddy cut your lawns neatly. Formed by Ridwan, Dino Mow is a solo specialist mowing service for homes and residential properties within Auckland.
Despite working by himself, Ridwan is a skilled and versatile mower who also offers edge pruning, rubbish removal, garden maintenance, and tree removal to keep your home welcoming.
You can let him do fortnight mowing, every month or a complete one-off service. As customers can attest, Dino Mow is one of the best lawn mowing professionals in Auckland.
Highlights
Dependable and freshly cut lawns
Full range of service
Residential mower specialist
5) It's Grass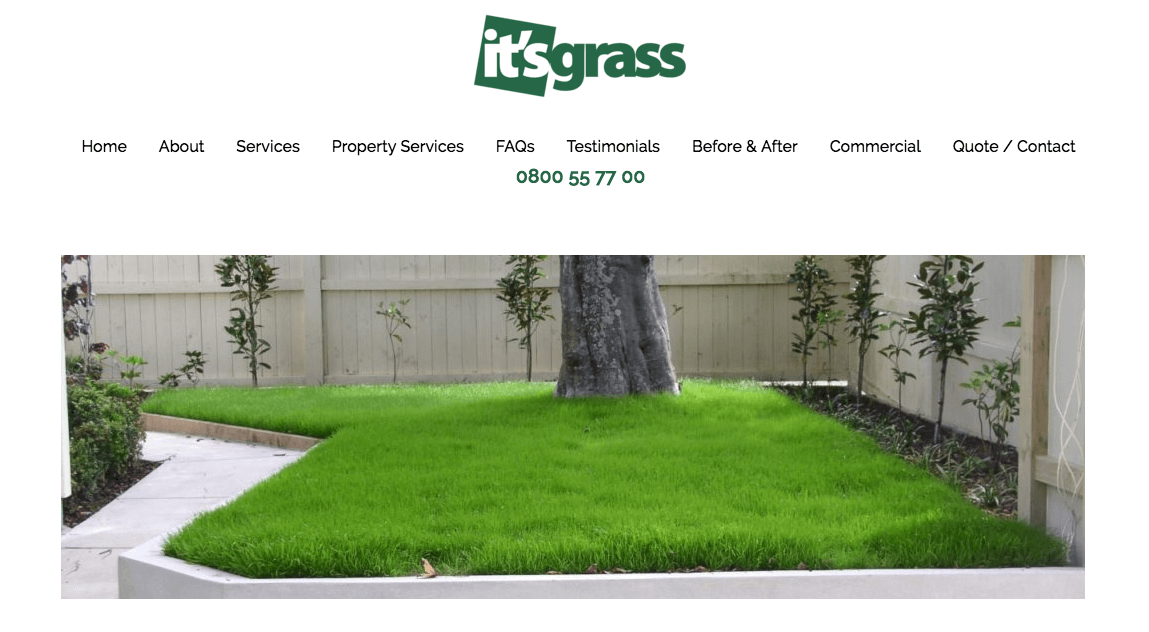 | | |
| --- | --- |
| Areas covered | Greater Auckland Region |
| Services | Hydroseeding, Grass Seed Wool Blankets, Roll On Ready Lawns, Lawn Care and Maintenance |
| Address | Auckland, New Zealand |
| Contact no | 0800 55 77 00 |
| Website | https://www.itsgrass.co.nz/ |
If your lawn is in a bad state and has to be replanted, try the hydro-seed magic from It's Grass. It involves spraying an organic formula onto the ground that will result in a beautiful, lush lawn in only 21 days.
Aside from hydro-seed lawns, they also offer roll-on blanket lawns planted with the seeds of your liking to let it grow for that upcoming party in your house or office.
To maintain it, the team can cut the excess grass, take out the weeds, and ensure it's conducive to growing and being productive. Note that for this, it's best to let the professionals do the work.
Highlights
Get a vigorous, healthy lawn in three weeks' time
Lawn care for a tiptop condition
Expert and experienced staff
Seed planting instantly enlivens your house
Customer Reviews
Google reviewer Josh Brljevich noted:
"Great company to work with very professional did a great job and left the place very tidy highly recommended will use in the future A+++"
6) Crewcut Lawn & Garden
| | |
| --- | --- |
| Areas covered | New Zealand-wide |
| Services | Residential Lawn Mowing, Garden Bags, Commercial Lawn Mowing, and Garden Services |
| Address | Wellington, New Zealand |
| Contact no | 0800 800 286 |
| Website | https://www.crewcut.co.nz/wellington |
If you're looking for a cost-effective home and business lawn mowing, why not consider Crewcut Lawn & Garden? The company has been around for more than 25 years and holds an ISO 9001 certification that shows they aim to consistently bring quality lawn services to their clients.
The company offers a wide array of services for residential and commercial properties, and it's not just lawn mowing. Crewcut Lawn & Garden also takes pride in their top-notch hedge and tree trimming, water blasting, and gardening clean-up services.
Now, the reasons why we included Crewcut & Lawn and Garden on this list doesn't just stop with their list of services. They're also notably one of the companies with the farthest reach in the entire country, offering to service New Zealand-wide.
Moreover, they have unparalleled customer service thanks to their reliable client management systems and a swiftly responsive team. They also try to be sustainable as possible in their work.
But the really important thing is that they will leave your lawn fresh, neat, and verdant. And you can also have them maintain your lawn weekly, biweekly or monthly.
Highlights
Passionate and dedicated team
First-rate lawn mowing work
Decent prices
Unparalleled customer service
Customer Reviews
Nicole Mika left a review on Facebook. She wrote:
"Awesome company to deal with. Always on time with pick up, friendly service and I appreciate that they will take away extra rubbish without hesitation. I would recommend this service to anyone who is wanting good service and reasonable rates."
And there you have it for the best lawn mowing professionals in Auckland. You can absolutely depend on these companies to make your lawn bright, fresh, and wonderful every time.
Do you have any questions about the ones we listed? You can drop us a line and we will get back to you in a bit.
At any rate, if you are thinking of doing your lawn yourself, then you could read about the best lawn mowers in New Zealand. Those mowers can cut your lawns remarkably for a fresh and neat background!