The 6 Best Lawn Mowing Specialists in Wellington
Dreaming of having a picturesque lawn? It takes regular maintenance to have one, but there are a lot of professionals who can provide just that. If you want someone to take care of your lawn for you, you're in luck, as we've rounded up the best lawn mowing specialists in Wellington for today's list.
We handpicked the ones who are seasoned gardeners, professional, prompt, and reliable. Furthermore, we checked the customer reviews to see if each one is a worthwhile company to call.
So if you're ready, let's move on to the best lawn mowing specialists in Wellington who will give your lawns a beautiful and healthy finish!
1)  Jim's Mowing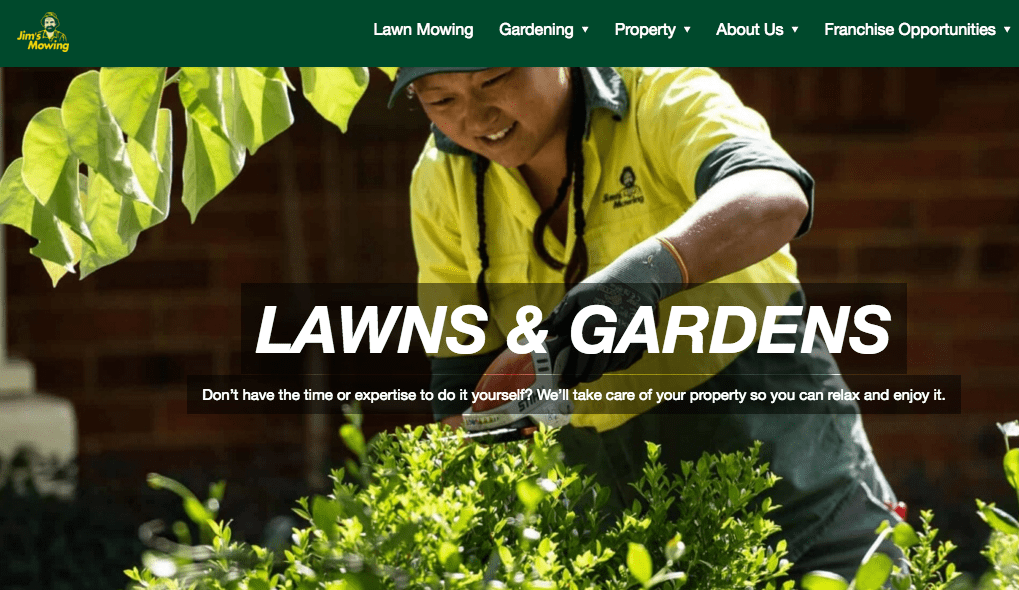 | | |
| --- | --- |
| Best for | Excellent Lawn Care Services |
| Services | Lawn Mowing, Weeding and Pest Control, Fertilising and Soil Management, Aeration and Coring, Turf Laying and Repairs |
| Address | 99 Farnham Street, Mornington, Wellington 6021, New Zealand |
| Contact no | 0800 454 654 |
| Website | https://www.jimsmowing.co.nz/ |
To whom should you entrust the mowing of your lawn? We are confident that you can trust Jim's Mowing! They are a franchise company that has a great reputation across all branches in New Zealand.
A personable yet competent team will attend to your needs whether it's regular or one-off mowing. They are fully insured as well, ready for the unlikely event that something goes wrong.
Besides mowing, they can also maintain your lawns by weeding, removing pests, fertilising, aerating, and more to keep your lawn presentable and healthy.
Highlights
Remarkable lawn mowing
Highly skilled and friendly team
Fully insured trade
Offers complete lawn and garden care services
Customer Reviews
As stated on the website, Sam Walker from Lower Hutt commented:
"Awesome service and good value, regular lawn mowing but also anything from spraying to pruning and clearing. Highly recommend Kip"
2)  Wellington Mowing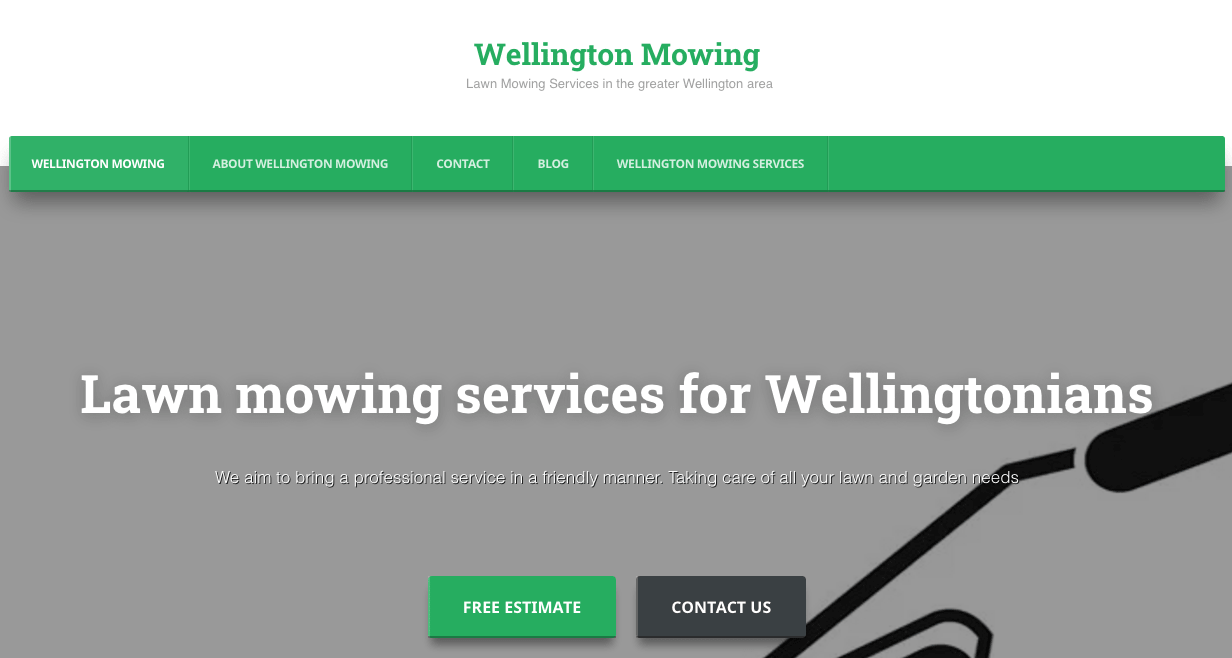 | | |
| --- | --- |
| Best for | Professional and Friendly Gardeners |
| Services | Lawn Mowing, Hedge Trimming, Gardening, Planting and Tree Pruning |
| Address | 20 Doris Gordon Cres, Wellington, New Zealand 6035 |
| Contact no | 020 4180 6722 |
| Website | http://wellingtonmowing.co.nz/ |
If you are leasing your property to tenants, or just want your home to look inviting for your guests, Wellington Mowing is one of the best lawn mowing specialists in Wellington.
Your unruly lawn will get a neat, thorough cut for a refresh along its edges. After that, they can take out the weeds in between the cracks, and prune hedges and trees.
To keep everyone safe including your pets, the team only uses eco-conscious fertilisers in lieu of the more toxic options. Also, the team is hardworking, always friendly, and always carries out their work with a smile!
Highlights
Professional and kind gardeners
Complete service from mowing to gardening
Only uses safe, organic fertilisers
Affordable prices
Customer Reviews
Shana wrote as posted on Wellington Mowing's website:
"You have been great. I really appreciate the care you have taken with each mow to bring it back to life. If I need a lawnmower in the future you'll be the first person I call."
3)  Crewcut Lawn & Garden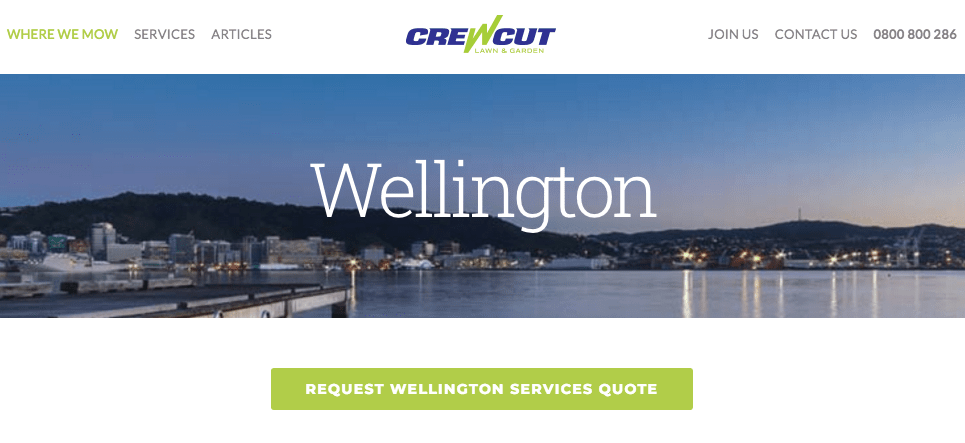 | | |
| --- | --- |
| Best for | Passionate and Dedicated Technicians |
| Services | Residential Lawn Mowing, Garden Bags, Commercial Lawn Mowing and Garden Services |
| Address | Wellington, New Zealand |
| Contact no | 0800 800 286 |
| Website | https://www.crewcut.co.nz/wellington |
For cost-effective home and business lawn mowing, Crewcut Lawn & Garden is your best bet. It is currently managed by Fran and Noel who are passionate about giving you the best service.
They have unparalleled customer service thanks to their reliable client management systems and a swiftly responsive team. They also try to be sustainable as much as possible in their work.
But the really important thing is that they will leave your lawn fresh, neat, and verdant. And you can also have them maintain your lawn weekly, biweekly or monthly.
Highlights
Passionate and dedicated team
First-rate lawn mowing work
Decent prices
Unparalleled customer service
Customer Reviews
Nicole Mika left a review on Facebook. She wrote:
"Awesome company to deal with. Always on time with pick up, friendly service and I appreciate that they will take away extra rubbish without hesitation. I would recommend this service to anyone who is wanting good service and reasonable rates."
4)  John's Jobs Ltd.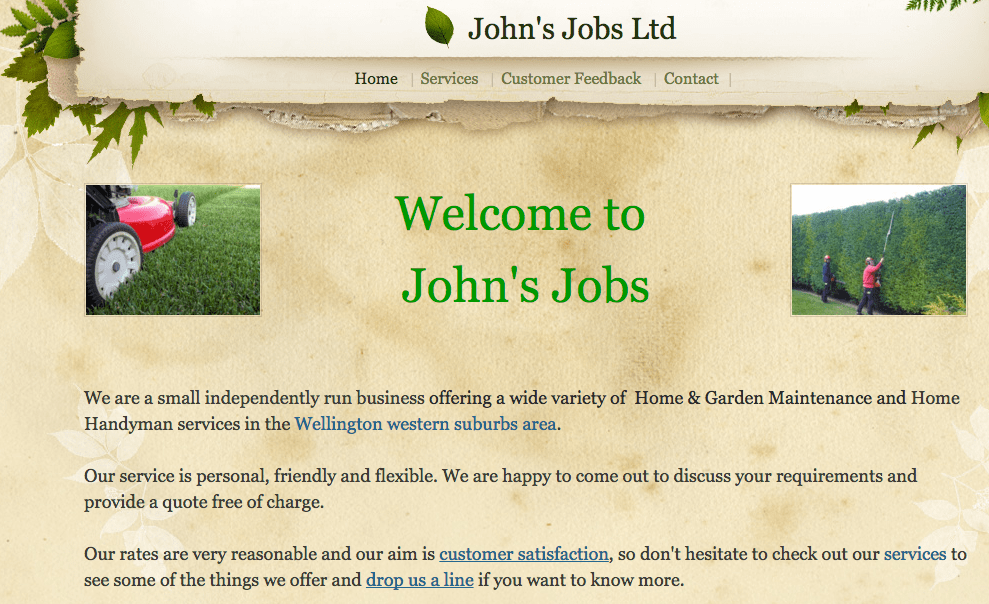 | | |
| --- | --- |
| Best for | Customer Satisfaction |
| Services | Lawn Mowing and Care, Hedge and Tree Trimming, Tree Removal, Tree Planting, Section Clearing, Rubbish Removal, Gardening, Water Blasting, Handyman and Carpentry Jobs |
| Address | Wellington, New Zealand |
| Contact no | 021 686 315 |
| Website | http://www.johnsjobs.co.nz/ |
If you live around West Wellington and require a quality mowing job done, get in touch with John's Jobs. It's a small independent business offering gardening and handyman services.
John devotes his personal time and attention to tidying up your lawn and garden. He never hesitates to do more for the customers, and makes certain they are satisfied.
Other than that, prices are reasonable and communication is impeccable with information being clearly explained to you to give the best finish for your lawn!
For gardener and carpenter combinations, John's Jobs is one of the best lawn mowing specialists in Wellington!
Highlights
Locally run, independent business
Versatile and skilled technician
Great communication
Reasonable prices
Customer Reviews
Leon from Johnsonville comments on the John's Jobs website:
"John is a reliable person kept me updated on when he would do the job. Did a great job and a neat and tidy result. I will recommend him to do any job required. Job well done."
5)  SelectLawnMowing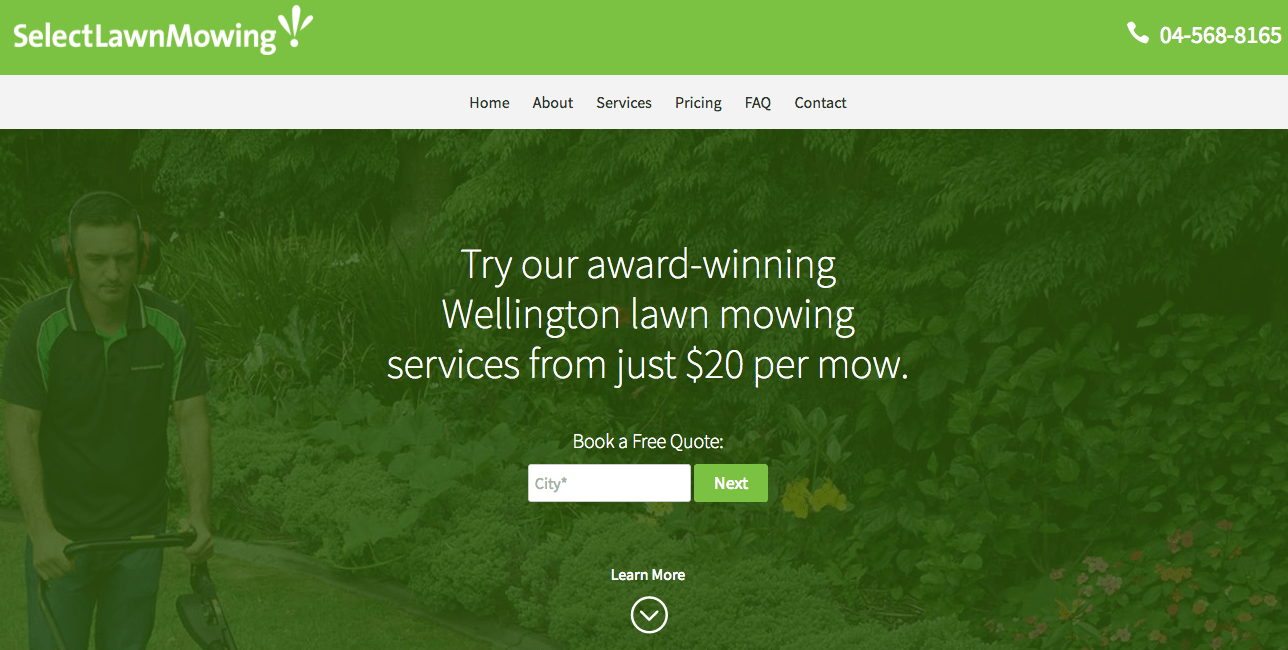 Take the stress out of cutting your lawn by calling in SelectLawnMowing! Their tagline 'we take more care' is what sets them apart as one of the best lawn mowing specialists in Wellington.
They usually mow lawns every two weeks; however, that can be altered based on what will work for you. They also use a mulcher that leaves the grass on your lawn to nourish it.
What's more, the team is secured with Public Liability Insurance in the unlikely event of loss or damage to your home. And they are reliable and trustworthy, say their regular customers.
Highlights
Will give your lawn a neat and beautiful cut
Uses a commercial mulch mower
Reliable and trustworthy gardeners
Liability-insured for your peace of mind
Customer Reviews
As posted on their website, Julie stated:
"Reliable, punctual, easy to deal with and the cheapest quote I could find for getting out of having to mow the lawns!"
6) Lawnz Plus Hutt Valley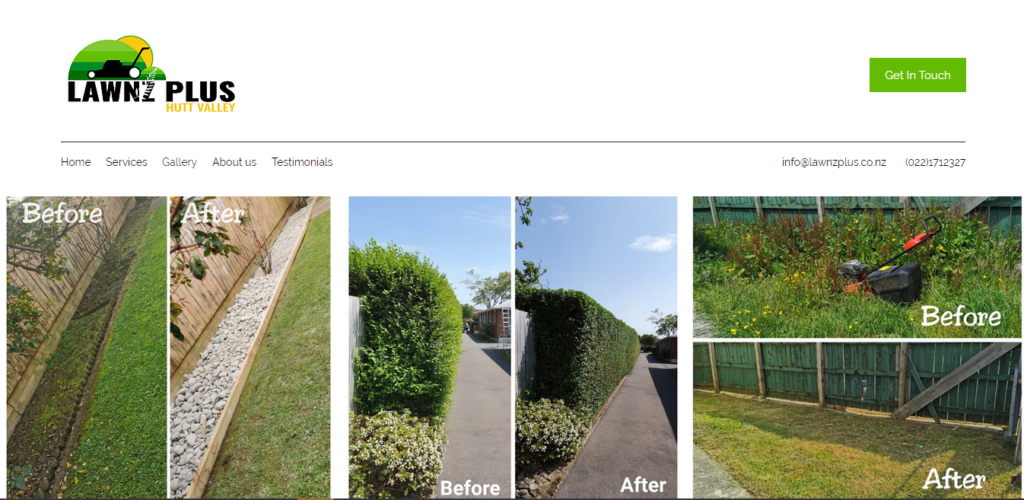 | | |
| --- | --- |
| Best for | Accommodating and friendly services |
| Services | Lawn mowing, edge trimming, weed spraying, re-barking garden beds, house washing, gutter clearing, tip runs, trimming small trees |
| Address | 1398 High Street, Taita, Lower Hutt 5019, New Zealand |
| Contact no | +64 22 171 2327 |
| Website | https://www.lawnzplus.co.nz/ |
Lawnz Plus Hutt Valley offers various lawn care services, which its staff delivers promptly and efficiently. Their professional services are also known to be friendly.
Their services include hedge trimming, weed spraying, and small tree trimming. You can even rely on them for gutter cleaning and house washing, as long as your house is only one-storey tall.
But the best thing about Lawnz Plus is that it offers regular services such as lawn mowing and edging for as low as $30 per fortnight.
Highlights
Wide variety of home exterior and lawncare services
Biweekly lawn mowing services services
Reliable services
Excellent communication
Customer Reviews
Hinanui Taputo wrote this on Lawnz Plus' Facebook page:
"Great professional service. Friendly company. Easy to deal with. Exceeded our expectations. Highly recommend."
And there you have it — the best lawn mowing specialists in Wellington. Now you know you can call these remarkable mowers, and they will make your lawn fresh, neat, and amazing in no time.
Has everything been clear about the companies we included? Perhaps you have questions — throw it our way via messaging, and we will get back to you in a bit.
To go with your welcoming lawn, you may need other property maintenance services. In this case, you can read about the best handyman Wellington professionals for a one-stop solution.