The 6 Best Locksmiths in Christchurch
Today, we will show you the best locksmiths in Christchurch. These are the guys you should call if you get locked out of your house or car, need a new safe installed, or want CCTV installed for the safety of your family.
To find these, we have narrowed them down based on Google reviews and experience in the industry. Without further ado, let's get started with our list of the top Christchurch locksmith services!
1. 0800 Locked Out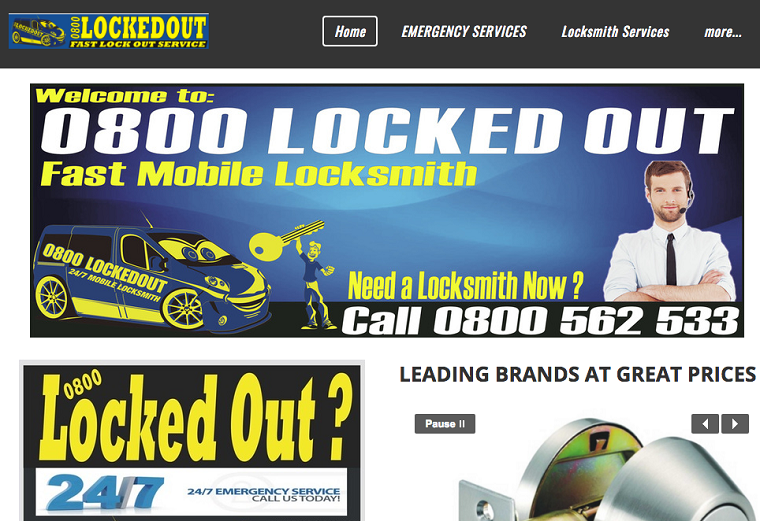 | | |
| --- | --- |
| Areas covered | Christchurch wide |
| Main office | Linwood, Christchurch |
| Services | Lockouts, Lock Servicing, Key Cutting, Master Key System, Car Alarm Installation and Programming, Transponder Keys |
| Emergency call-out | Yes |
| Contact no. | 0800 562 533 |
| Website | http://www.0800lockedout.com/ |
 0800 Locked Out is a veteran of the locksmith industry with more than 40 years of service. They handle all locks that are broken (whether it be a broken door handle or transponder key), car alarm, master key, and key cutting.
They cover all areas of Christchurch and are easily called during emergencies 24 hours and 7 days a week.
What keeps this business running is their dedication to customer satisfaction — as long as the problem is not solved for you, they can't ignore that.
So, if you're confronted by a technical locking task or are accidentally locked out, you know whom to call!
Customer Reviews
 Let's see some reviews from Google Reviews. Both gave this locksmith a 5-star score.
 Angela Hewinson comments:
 "…Mattlock Locksmiths were by far the friendliest, most efficent and most affordable! They definitely went over and beyond to make sure i would have my keys in time to get my son from school…."
 And also, Lyn Harris-Hogan says:
 "Great service . sorted my combo lock while I waited . friendly and helpful . would go again"
2. James Bull Locksmiths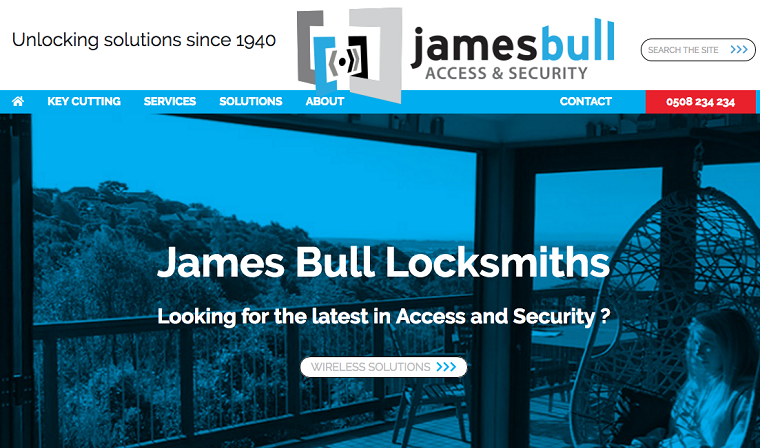 | | |
| --- | --- |
| Areas covered | Christchurch area |
| Main office | Sandyford St., Christchurch |
| Services | Key Cutting, Car Lockout, Lock Installation (any type), Access Control System, and Safes |
| Emergency call-out | Not specified |
| Contact no. | 0508 234 234 |
| Website | https://www.jamesbull.co.nz/ |
 James Bull has been providing security solutions such as locks and access control to hospitals, hotels, offices, and homes for 80 years now. In the course of it, they grew and evolved with their skills and expanded their clientele.
Why are they part of the best locksmiths in Christchurch? Simple — they function as a dynamic team where their experience and talent lead them to the root of the problem and solve it.
Not only that but their prices are fair and affordable compared to others. And they have a wealth of hardware for the right door handle, lock, keys or anything that you'll find useful and valuable that you can use for a long time.
Customer Reviews
 Let's see what customers have to say from Google Reviews about this locksmith.
Klemens Cathcart said with 5 stars:
 "Friendly and very helpful. Was in a tight spot on a Friday afternoon with a car that was not going anywhere; Chris and his colleagues were awesome and got me back underway. Highly recommend!"
 John McKirdy, same rated it with 5 stars and mentioned:
 "Friendly, fast and well priced. For our Toyota key they used a computerised machine that decoded the old key and generated a 'factory new' key rather than duplicating the worn key. Took only a couple of minutes."
3. Ross Galt Lock & Alarm Ltd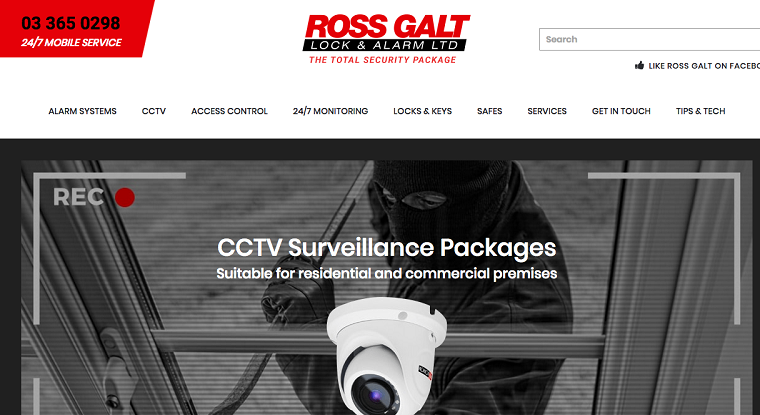 | | |
| --- | --- |
| Areas covered | Christchurch area |
| Main office | Sydenham, Christchurch |
| Services | Automotive, Restricted Key Systems, Access Control, and Security Safes |
| Emergency call-out | Yes |
| Contact no. | 03 365 0298 |
| Website | https://www.rossgalt.co.nz/ |
 For a two-in-one package of security and locks, Ross Galt is the specialist you're looking for. It's been a commercial and domestic locksmith for 50 years and is Master Locksmiths Association certified.
Their services and products are priced competitively to give you good value. If you ask what makes them stand out from the market, it's their repairs as well as products for sale.
For locks, they offer restricted key systems and access controls wherein you decide who, what, and up to what extent others can enter the place.
No task is too big or small for them, so if you need a hand, just contact them. Emergency callouts are also available.
Customer Reviews
 Here's Jodee Merito from Google Reviews with a 5 star score:
"Fantastic service, very knowledgeable tech and good price, will certainly use again when needed."
Likewise, Adrienne Lissaman from Avonside Girls High School writes:
"Avonside Girls High School has thousands of doors. After losing most of them to earthquake damage, we decided to leave the original keys with our staff.
Ross Galt have been incredible in creating a whole new master key system from scratch. They have been so helpful and made our lives so much easier."
4. Christchurch Lock and Key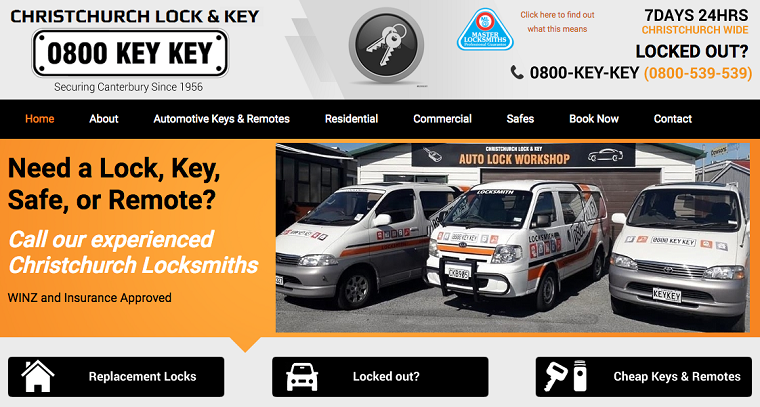 | | |
| --- | --- |
| Areas covered | Canterbury Region and Christchurch |
| Main office | Papanui, Christchurch |
| Services | Residential, Commercial, Automotive, Safes, and Remotes |
| Emergency call-out | Yes |
| Contact no. | 0800 539 539 |
| Website | https://www.chchlockandkey.co.nz/ |
 Now we have Christchurch Lock and Key, a family-owned locksmith business since 1956.
It's conveniently located at the corner of Wyndham St. and Papanui Rd. with a large parking space. Not to mention, if you let them fix your car's locks, you get a free courtesy car ride (isn't that cool?)
Now going back to the subject, Christchurch Lock and Key have certified locksmiths that handle simple door and window locks to commercial access systems and automotive keying and remote.
With them, you can expect quick response and service, a good price, and knowledgeable and kind technicians.
Customer Reviews
 Stuart Dickie relates his experience from Google Reviews:
 "Dan is the man. I lost my key to my Honda cbr600  and my bike has a immobiliser system. Honda couldn't help me but they put me on to dan and he was able to Sort out new key and chip by getting into the ecu of my motorbike and going from there and now my bike goes. Thanks mate ."
 Another client, Karen Docherty states:
 "Received the best customer  experience  from this company.  They went above and beyond  to ensure my spare specialist car key and house keys were operating perfectly.  Highly recommend… Thank you."
5. JDM Parts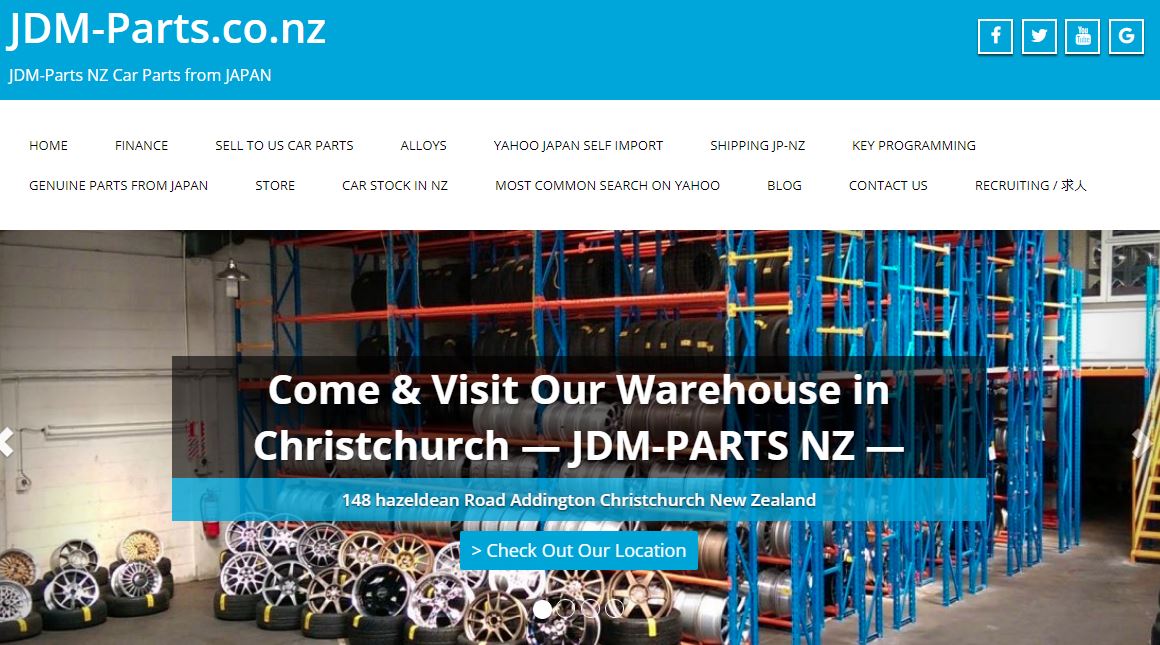 Areas covered
Christchurch wide
Main office
Addington, Christchurch
Services
Transponder Programming, Smart Key Programming, Key
Cutting, Master Key System, Car Alarm Programming, Transponder Keys
Emergency call-out
No
Contact no.
03-343-1349
Website
https://www.jdm-parts.co.nz/
JDM PARTS NZ is a transponder Key Programming / Auto locksmith Specialist.
If you were to lose your keys to your car/motorbike/van, or if for example a vehicle you purchased only had one set of keys, then an auto locksmith can make car keys fast.
JDM PARTS NZ Auto locksmith services having been offering replacement car keys and transponder key programming for many types of cars.
They also offer the following services in Christchurch: Smart key remote key duplication, key copy, key programming, key coding, key duplication, auto locksmith, auto electrician, synchronization, key adaptations, adding key, synchronisations, key synchronisations, lost car keys, smart keys replacement, unlock & key, and replacement remote car keys.
Customer Reviews
Matt Yates' Facebook recommendation:
 "Good amount of selection for tyres & alloys and nice guys to deal with!"
6. Armstrong Smarter Security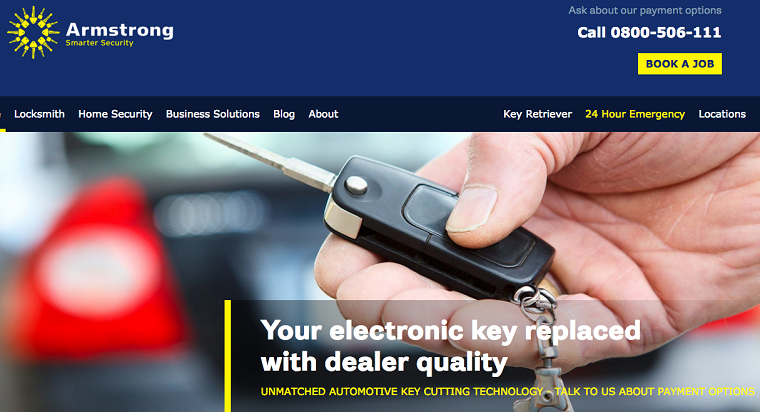 | | |
| --- | --- |
| Areas covered | New Zealand wide |
| Main office | Middleton, Christchurch |
| Services | Locksmith, Home Security, Business Solutions, and Key Retrievers |
| Emergency call-out | Yes |
| Contact no. | 03 343 6099 |
| Website | https://www.armstrong.co.nz/ |
 And now for the last of our picks for the best locksmiths in Christchurch, you have the trustworthy locksmith, Armstrong Smarter Security!
They are proud of their after-sales support and 12-month warranty for the service and repair they do. Usually, companies that have this have high-quality performance.
You can count on this locksmith, especially when it comes to security systems and CCTVs. They also offer transponder keys that are almost as good as the originals.
Other than that, any locking issue or problem is solvable by them. And their emergency lines are open 24 hours and 7 days a week.
Customer Reviews
 Celine Bloxham, grading it a 5 stars from Google Reviews wrote:
 "Professional, friendly, fast and great pricing. If I ever need them again I will be calling Armstrong."
---
And that concludes the lineup of the best locksmiths in Christchurch. In case you lose your keys or find yourself locked out of your own car, just Google these locksmiths and call them right away.
Did we miss any other locksmiths in town? If so, you can tell us, just write it in the comment section and we'll update the list.
You now know about some of the great locksmiths in Christchurch, but what if you live nearer in Auckland? It's cool, just read our article on the best locksmiths in Auckland then.